Easy Gluten Free Biscotti Recipe
Growing up, I was never the biggest fan of dried fruit. When people called it 'Nature's Candy' I thought it was false advertising…Candy it was most definitely not.
Throughout the festive season, it was commonplace for my mum to make her classic twist on Biscotti. The recipe was nothing out of the ordinary or had quirky ingredients, but it was made with love. There was one caveat though- It would take me a good 10 minutes to finish one Biscotti- purely because I would dissect each and every single piece of dried fruit in it. After having to give the house a solid vacuuming every time I ever consumed this, mum finally reached her tolerance level and realised that omitting the dried fruit would save all the hassle. To make up for the lack of dried fruit, she doubled the amount of pistachios– nothing I'd complain about!
Biscotti has the reputation for being a 'tough' style of cookie- more crispy than chewy. Through some testing, my mum (who enjoys cookies on the softer side) found that removing the dough from the oven whilst it is just undercooked and letting it cool completely- allows for a softer, chewier cookie! So, no excuses- get the coffee prepped and get ready for some serious dunking!
Mum's Fruit Free Biscotti (Adapted from Donna Hay Magazine)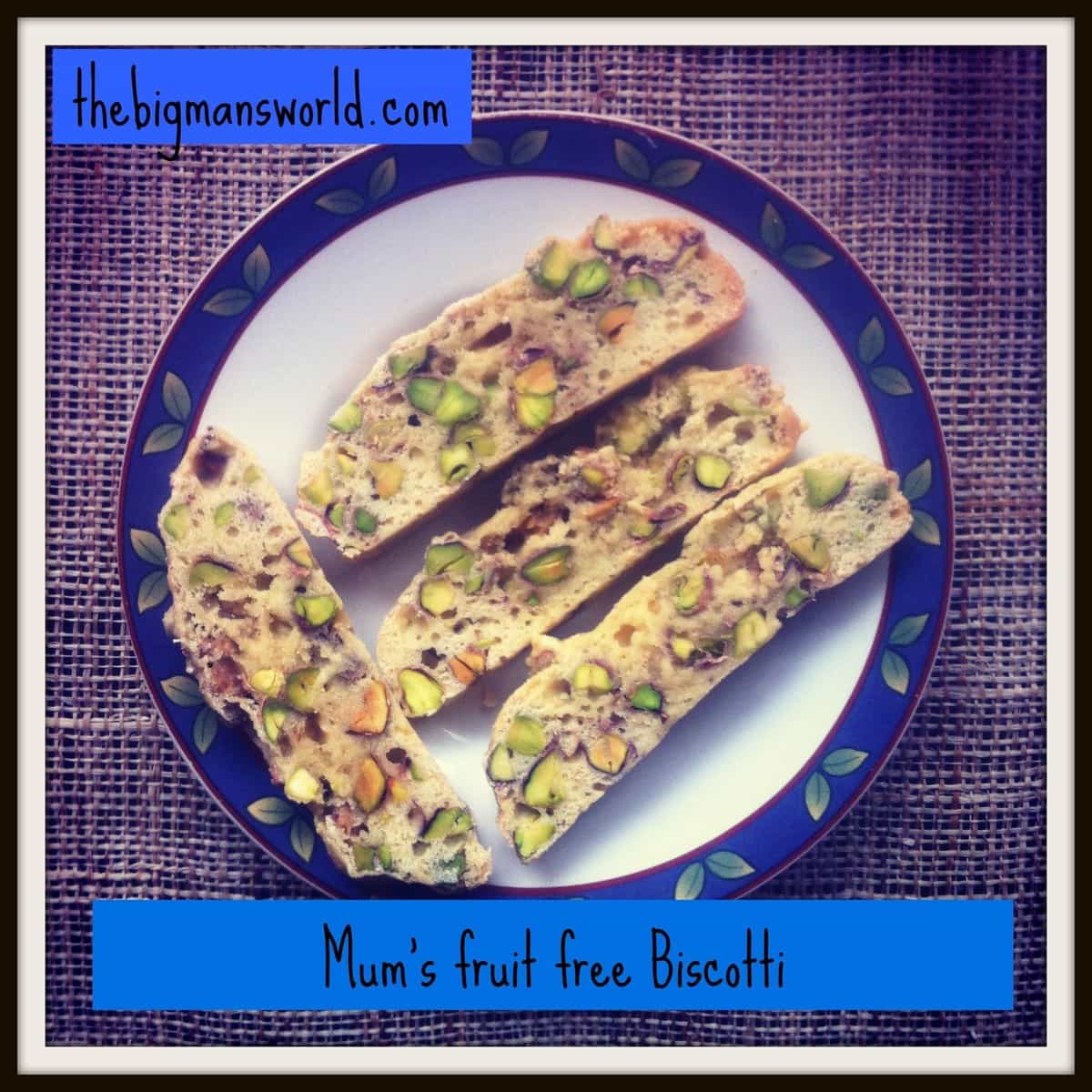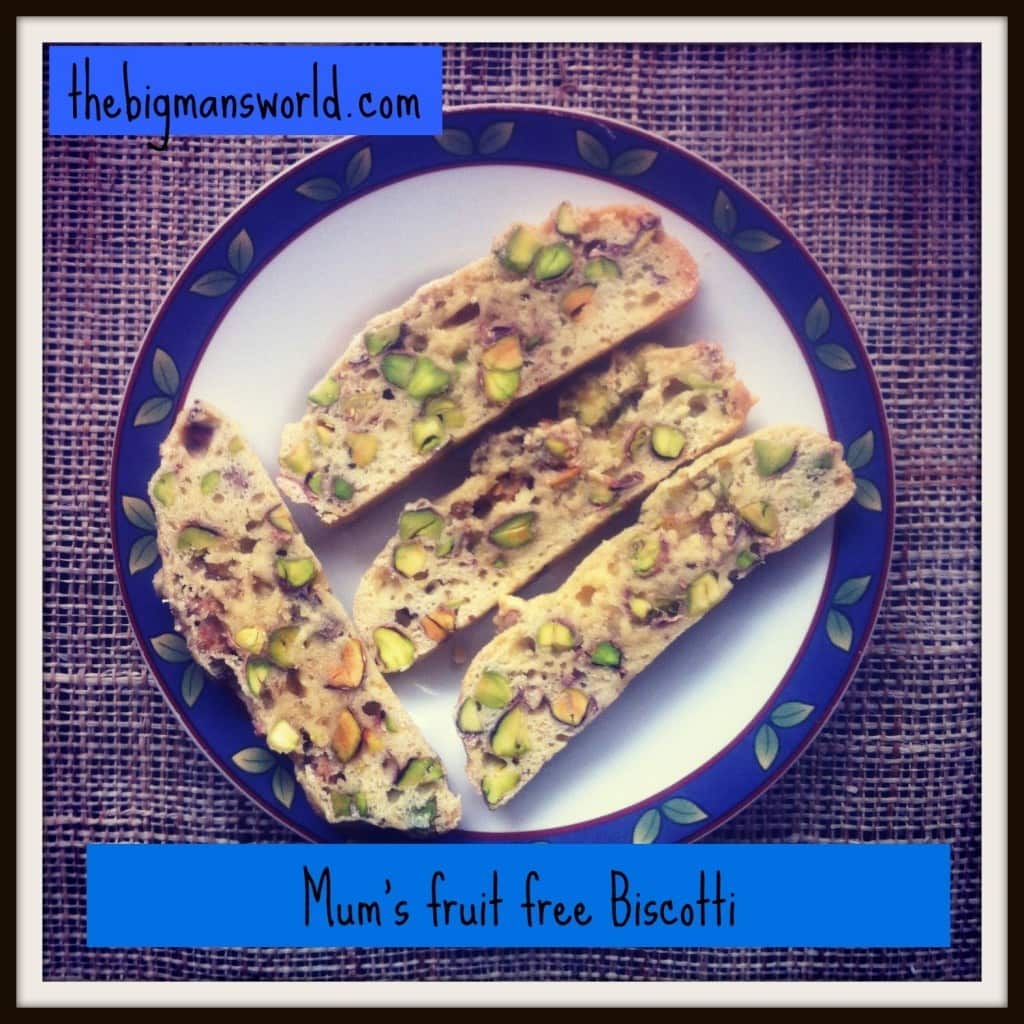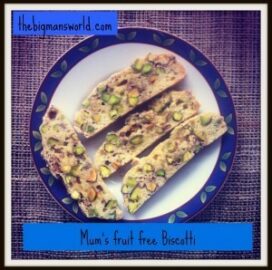 Ingredients
• 1 cup gluten free flour

plus more for kneading

• 1 tsp baking powder

• 1/4 cup caster sugar

• 2 eggs

• 1 tsp vanilla extract

• 2 cups shelled

unsalted pistachios

1.

Preheat the oven to 180 degrees Celsius and line a baking tray with baking paper.
Instructions
Preheat the oven to 180 degrees Celsius and line a baking tray with baking paper.

In a large mixing bowl, sift through the flour, add the baking powder and mix until combined. In a small bowl, whisk the eggs with the vanilla extract. Add the egg mixture to the flour mixture and stir until just combined. Add the shelled pistachios and ensure they are well incorporated into the dough.

On a floured surface, pour the dough from the bowl and lightly knead it until the clumps are removed.

Form the dough into a log shape and place gently on a baking tray and put in the oven for approximately 25 minutes, or until slightly firm. Keep oven turned on.

Remove the log shaped dough from the oven and allow to cool completely.

Once cooled, slice the dough into thin slices (about 1 cm each) and spread out back into the baking tray and put it back in the oven for a further 10 minutes.
Notes
Biscotti is traditionally very crispy- If you prefer it to be more soft, stop at step 5 and simply slice up. The Biscotti will remain slightly soft. Both versions can be kept in a covered container for up to 4 weeks.
Adapted from Donna Hay Magazine
***
Hope you all have a great weekend, friends- Hope to see you for this week's Spill it, Sundays– this week's theme details in this post!
What is your favourite sweet pairing with coffee/tea/hot beverage?
Favourite nut in a biscuit/cookie?
Did you have a 'go to' biscuit/cookie recipe growing up?