Foolproof Vegan Chocolate Cupcakes (No milk!)
The BEST and easiest vegan chocolate cupcakes! Moist, fluffy, and with a light exterior, they require no plant milk and no egg substitutes at all!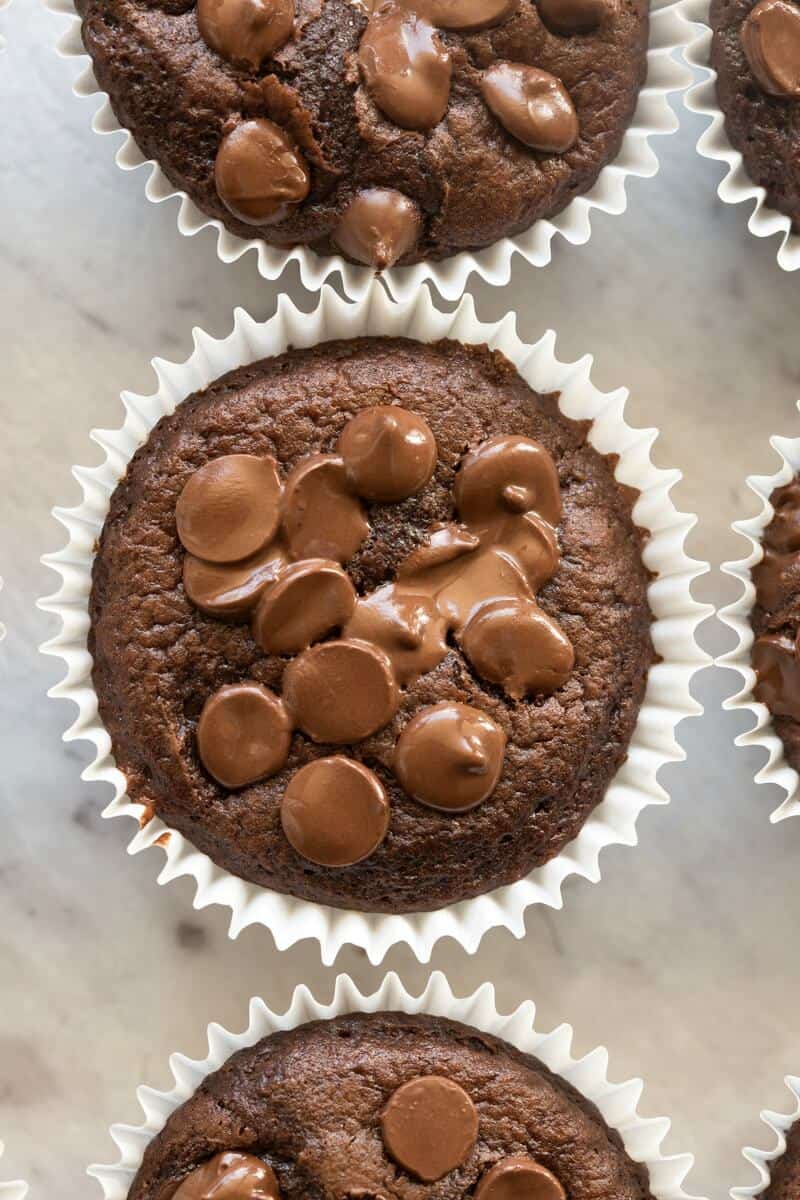 These easy and simple vegan chocolate cupcakes were adapted from my easiest vegan chocolate cake. They take half the time but have all the flavor and texture we love.
What I LOVE about this recipe is that these delicious cupcakes use basic pantry staple ingredients.
However, they do NOT taste basic.
Fluffy, moist, and with the most delicious chocolate flavor, they have a light exterior- what you NEED in an amazing chocolate cupcake. They taste so delicious, you won't even need frosting for them.
They require just one bowl to make and takes minutes to prepare. No fancy mixers or kitchen gadgets required.
Seriously, these are the BEST vegan and gluten-free chocolate cupcakes ever.
How to make the best vegan chocolate cupcakes from scratch
The Ingredients
All-purpose flour– A simple flour, perfect for simple cupcakes. I opted to use gluten-free flour, to keep it gluten-free, too.
Cocoa powder– Sometimes cocoa powder can have clumps, so sift it thoroughly beforehand. For a richer chocolate flavor, use dark cocoa powder.
Sugar– These cupcakes are so flexible, so you can use any sugar you like- white, brown, coconut palm sugar. You can even keep them sugar free, by using any sugar free baking blend (like swerve).
Baking soda– Gives the muffins some rise and width. Like the cocoa powder, sift it if it contains clumps.
Salt– Brings out the sweetness of the muffins!
Instant coffee– Optional, but highly recommended! Instant coffee intensifies the chocolate flavor, without tasting any coffee at all.
White vinegar– works with the baking soda to leaven the muffins. You can use apple cider vinegar or lemon juice.
Vanilla extract– A MUST for any cupcake or baked good recipe.
Oil– I've used both coconut oil and vegetable oil, and couldn't taste any difference at all. You can use any oil of choice, like sunflower or canola oil, too.
Water– To mix it all together! You can use plant-based milk, but it's not necessary at all!
Chocolate Chips– Optional, but as I didn't use a frosting, I thought these would be better.
The Instructions
To start, whisk together your dry ingredients into a large mixing bowl. Then, form 3 wells into the dry mixture. Add the vinegar in one, vanilla extract in the other, and finally, the oil in the third. Gently mix it together, until it is just combined. If you are using chocolate chips, fold them through at the end.
Then, distribute the cupcake batter evenly amongst a 12-count muffin tin. I always place muffin liners in them, ensuring easy removal and even easier cleanup. Bake the cupcakes at 180C/350F for 15-17 minutes, or until a toothpick comes out 'just' clean.
Finally, allow the cupcakes to cool in the pan for 10 minutes, before carefully transferring them to a wire rack to cool completely.
If desired you can frost them instead of adding chocolate chips.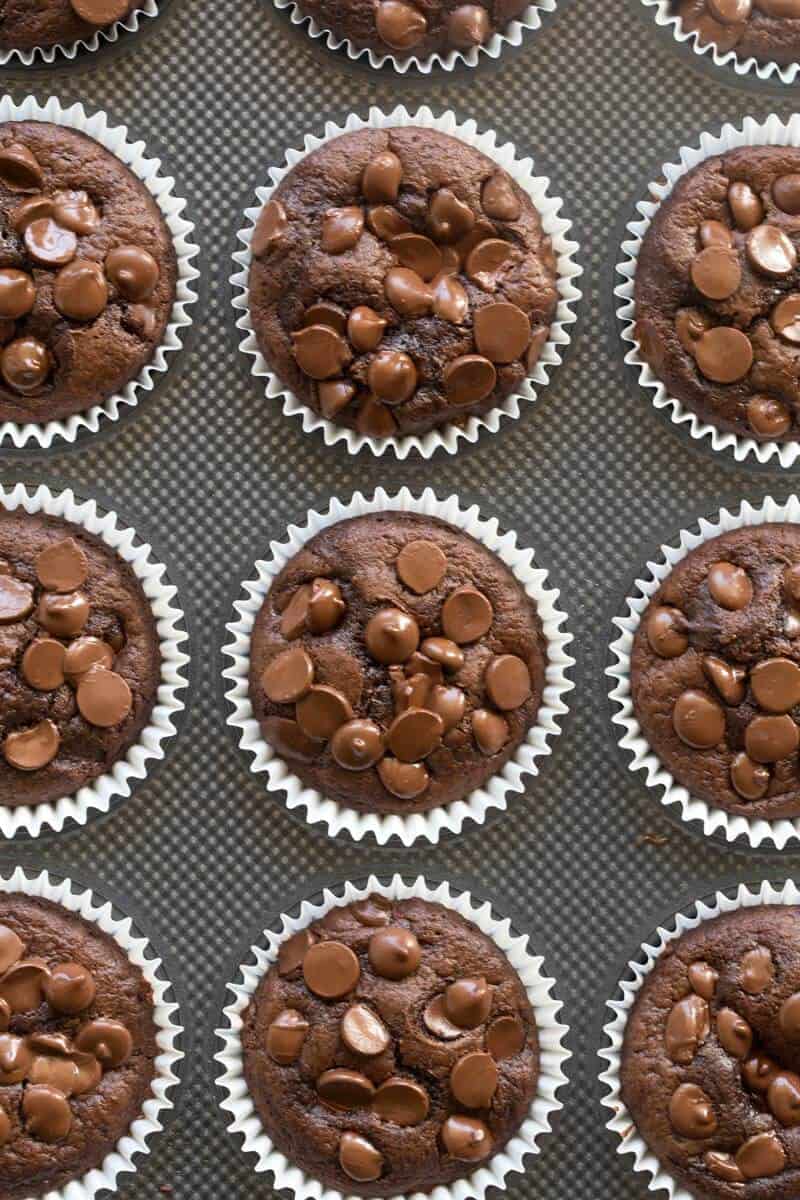 Storing and Freezing Chocolate Cupcakes
Storing Cupcakes– Leftover cupcakes can be stored in a sealable container in the refrigerator, for up to 7 days.
To freeze– Place cupcakes in a ziplock bag and keep in the freezer for up to 6 months.
To thaw– Microwave for 20-30 seconds, or overnight in the fridge. Cupcakes are best enjoyed at room temperature.
NOTE: Freezing tips are for unfrosted cupcakes. If you've frosted them, I don't recommend freezing.
More delicious vegan dessert recipes you'll enjoy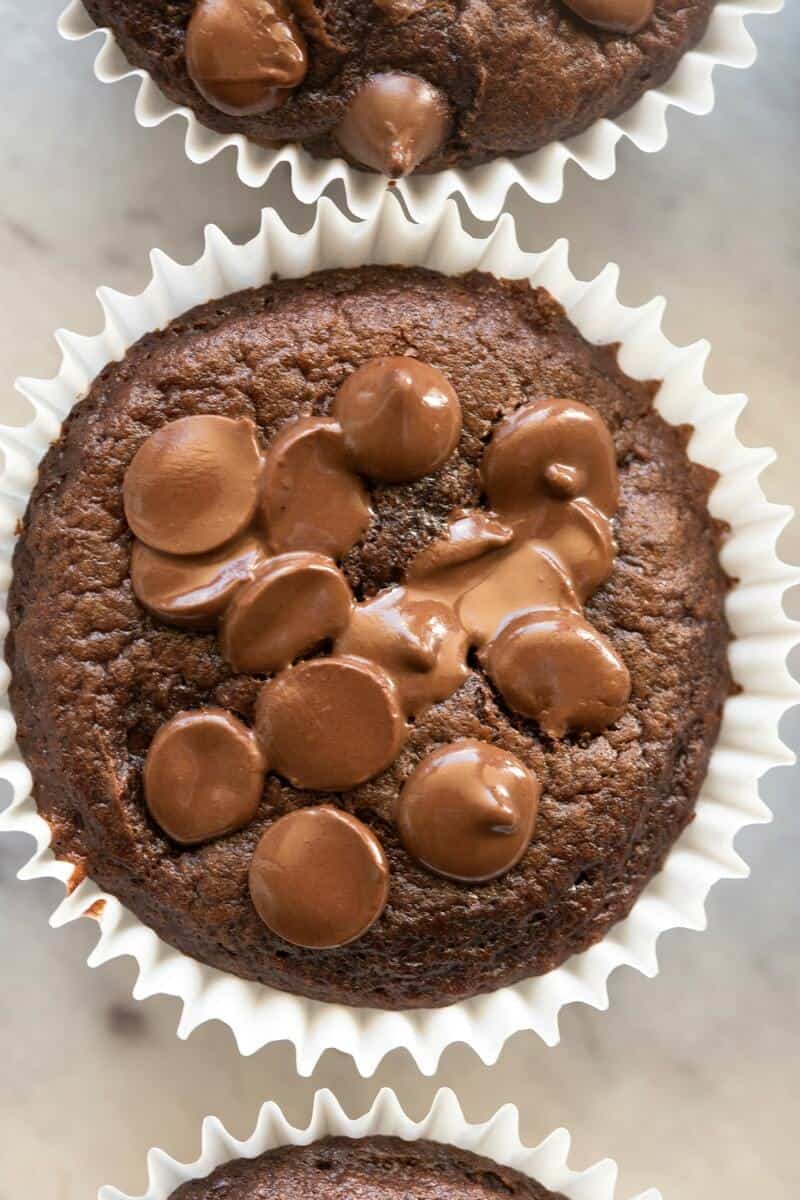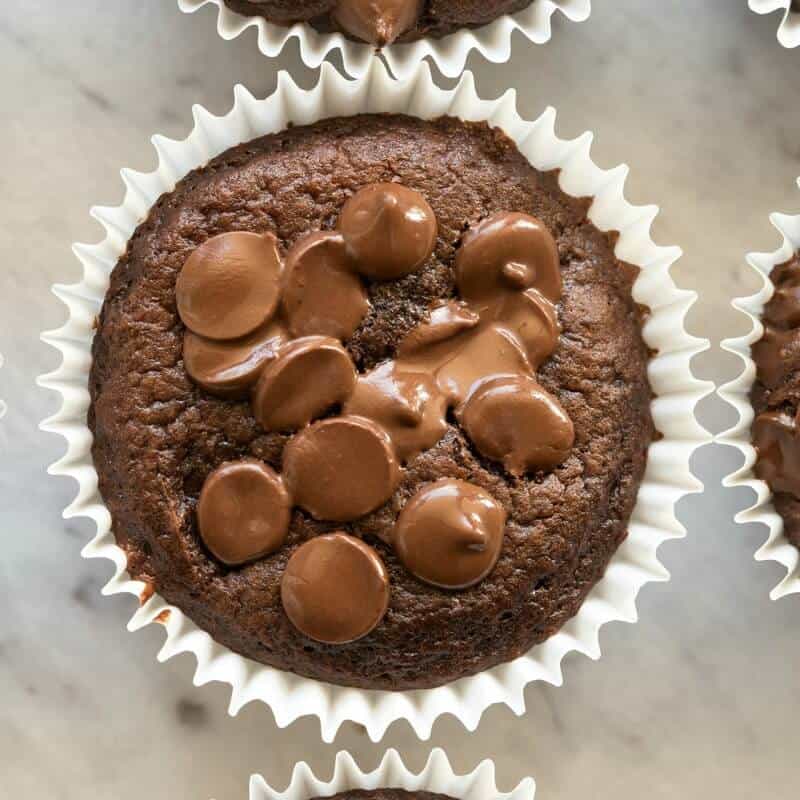 Vegan Chocolate Cupcakes (Gluten-Free)
The BEST and easiest vegan chocolate cupcakes! Moist, fluffy, and with a light exterior, they require no plant milk and no egg substitutes at all. Gluten-Free and Dairy-Free.
Print
Rate
Instructions
Preheat the oven to 180C/350F. Line a 12-count muffin tray with muffin liners and set aside.

In a large mixing bowl, combine your flour, cocoa powder, sugar, baking soda and salt, and mix well.

Form 3 wells in the dry mixture. In each well, add the vinegar, vanilla extract and oil. Mix well, until combined. Fold through the chocolate chips.

Distribute the cupcake batter evenly amongst the muffin tins, approximately 2/3 full. Bake the cupcakes for 15-17 minutes, or until a skewer comes out just clean.

Remove from the oven and let cool in the pan for 10 minutes, before transferring to a wire rack until cooled completely.
Notes
* All-purpose flour, white whole-wheat flour, and gluten-free flour can be used.
** White sugar, brown sugar, coconut palm sugar, and a sugar free granulated sweetener will work.
*** Apple cider vinegar and lemon juice can replace the white vinegar
**** Start with 1/2 cup of chocolate chips and add more if desired
TO STORE: Leftover cupcakes should be stored in the fridge, in a sealable container or on a plate, covered in plastic wrap. They will keep for at least 5 days.
TO FREEZE: Freeze leftover cupcakes in a ziplock bag and keep frozen in the freezer. They will keep well frozen for up to 6 months.
Key Recipe Equipment and Ingredients
Nutrition
Serving:
1
muffin
|
Calories:
177
kcal
|
Carbohydrates:
29
g
|
Protein:
2
g
|
Fat:
6
g
|
Sodium:
204
mg
|
Potassium:
37
mg
|
Fiber:
1
g
|
Vitamin A:
3
IU
|
Vitamin C:
3
mg
|
Calcium:
4
mg
|
Iron:
1
mg
|
NET CARBS:
28
g