Enjoy these thick, gooey and creamy no bake pumpkin pie bars using just 4 ingredients! These healthy no bake snack bars are completely paleo, vegan, gluten free, sugar free and dairy free!
As someone who loves making their own homemade protein bars, it was only a matter of time before the seasons impacted the flavors.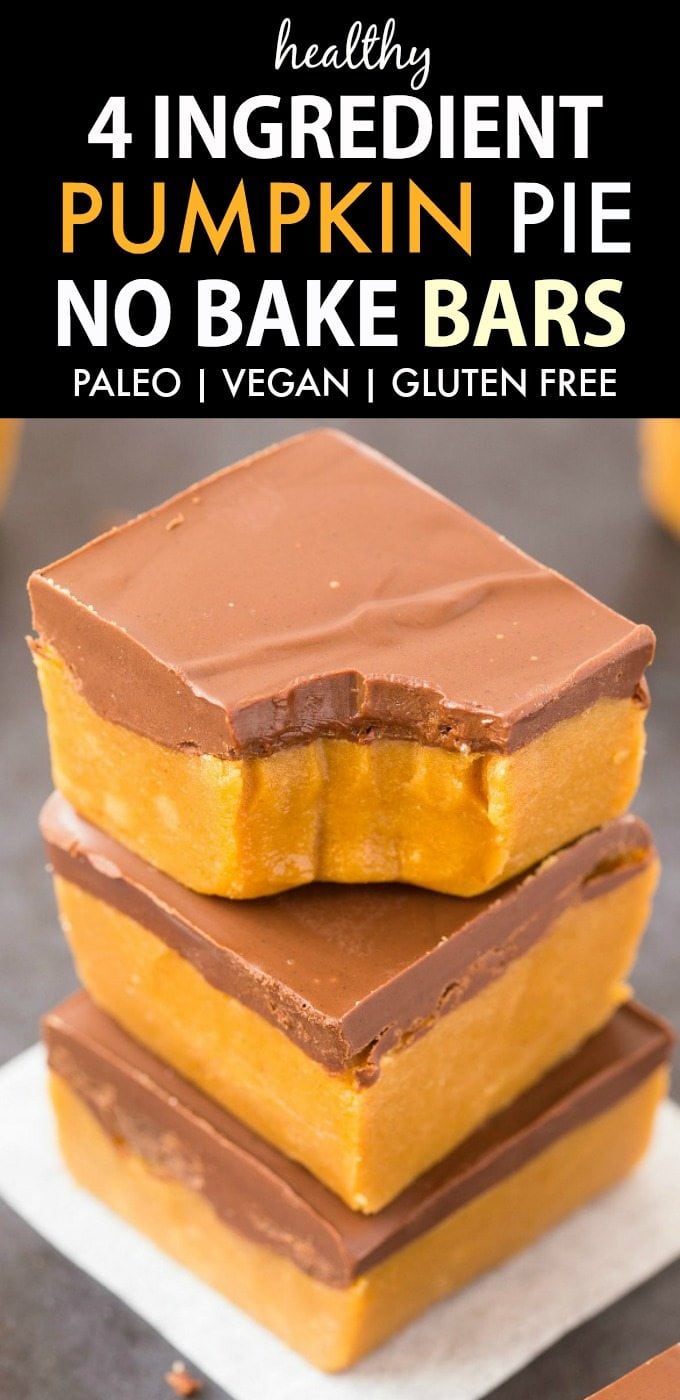 With fall and Autumn fever in the air, it means one thing and one thing only- Pumpkin.
After I shared these homemade pumpkin peanut butter cups (inspired by Reese's Peanut Butter Pumpkins, but guilt-free!), I've tried to incorporate pumpkin into anything.
Why make your own protein bars when the market is saturated with them? Firstly, they are healthier for you, because you know what goes in them. Secondly, they are cheaper and contain no artificial ingredients. They also don't need to be seasonally appropriate.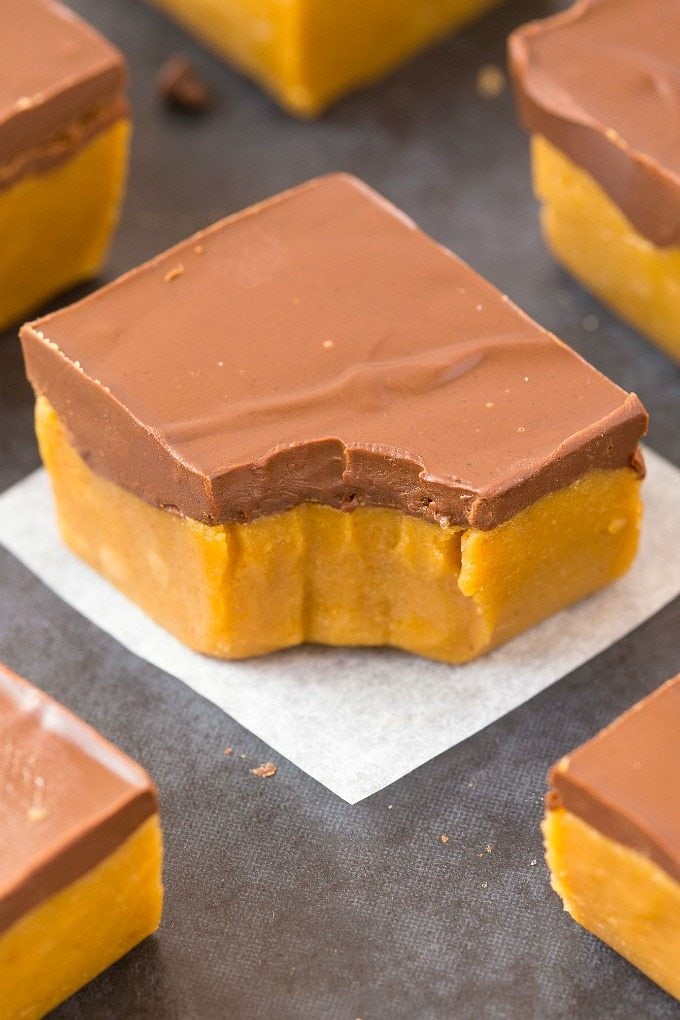 With Starbucks flaunting the Pumpkin Spice Latte and coffee shops replacing their white cups orange, the world is clearly on board.
Pumpkin pie is definitely a fan favorite when it comes to pumpkin recipes. While I'm still tweaking some actual pie recipes, I can easily emulate the flavor and creamy texture in healthy no bake bar form.
These no bake pumpkin pie bars taste like dessert but are actually incredibly healthy. They need just four ingredients, and no need to turn on the oven. You even have the option to add a boost of protein, something I'm a huge fan of doing.
I mean, I published a cookbook chock full of snacks and desserts secretly packed with protein!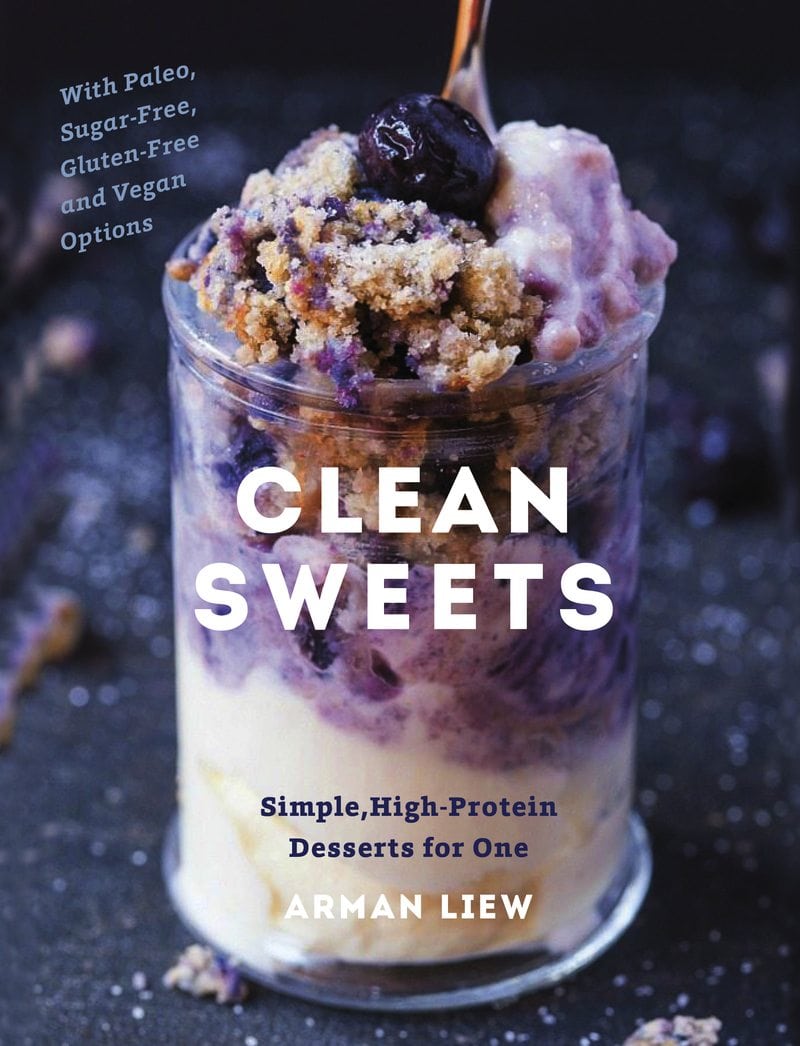 The pumpkin pie base is thick, creamy and smooth, and tastes better than pumpkin pie filling. I mean, that IS the best part of pumpkin pie. The texture is incredible, and have the perfect balance of sweetness and pumpkin flavor. Not only do they taste delicious, they are fool-proof and super simple to whip up. A quick, easy, no-mess recipe ready in minutes!
How to do create the pumpkin pie flavor and texture without the usual unhealthy ingredients? Easy.
Instead of using pumpkin pie filling, I used unsweetened pumpkin puree. I am one for quick and time effective recipes, so used canned pumpkin puree. I am a fan of using this as it only has one ingredient- pumpkin!
If you don't have access to canned, unsweetened pumpkin, you can easily make your own. This is what I often do whenever I'm based in Australia, where pumpkin puree isn't readily available. For this method, I steam Kent or Jap pumpkin until soft and tender. I cool it completely then mash until completely smooth. I keep whatever is leftover in freezable 1/2 cup portions for other pumpkin recipes.
Coconut flour is key, as it has a thickening power which helps keep the bars firm and portable, without the need to refrigerate. You can use almond flour or oat flour, but you'll need to double it and ensure the bars are always refrigerated.
I opted to use a combination creamy cashew butter and maple syrup (monk fruit sweetened) as they both are mild tasting and let the pumpkin flavor shine. If you don't have or want to use either of those, I'd suggest sunflower seed butter or almond butter (the former perfect to keep this nut-free). You can use any sticky sweetener, but be wary that it will no longer be a completely sugar-free recipe.
As mentioned earlier, I added a protein boost, using protein powder. I find adding it helped to keep me more satisfied and also work as a more filling and well-rounded snack. If you do choose to add some protein powder, please check out my tested recommendations– I cannot vouch for any other brands or blends. Also, be sure you like the taste of your protein powder, as the flavor may take over!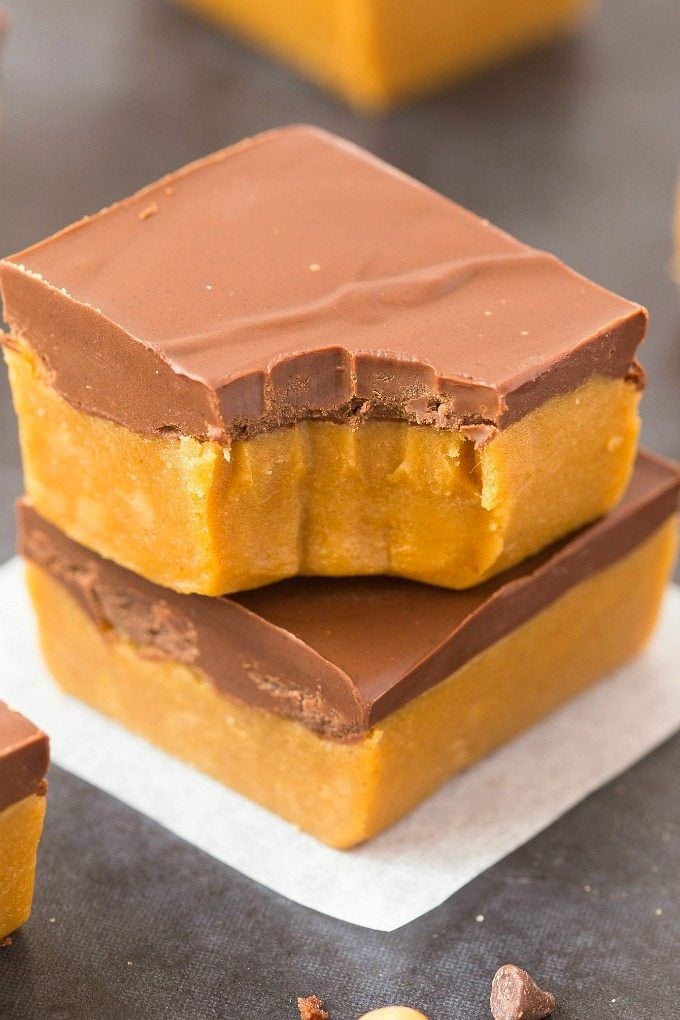 You'll notice that I omitted pumpkin pie spice in the recipe. I purposely did that as I found the combination of ingredients (especially the use of creamy cashew butter and syrup) really helped bring out the natural pumpkin flavor. If you do choose to add it, the cinnamon and clove flavors will be very evident.
Want to take these no bake pumpkin pie bars up a notch? A layer of chocolate on top never hurt! You can easily use one of my healthy frosting recipes (one of them is even protein-packed!) or simply melt your favorite chocolate on top. I either melt my favorite dairy free chocolate chunks or this stevia sweetened chocolate.
As someone who is living the single life, I obviously get tired of the same recipes over and over again. As such, my freezer is full of random bars, bites, and snacks. These no bake pumpkin pie bars are no different. I can guarantee that they are freezer friendly, so don't be afraid to make a double or triple batch. Simply freeze them in single bar portions, for quick grab-and-go snacks.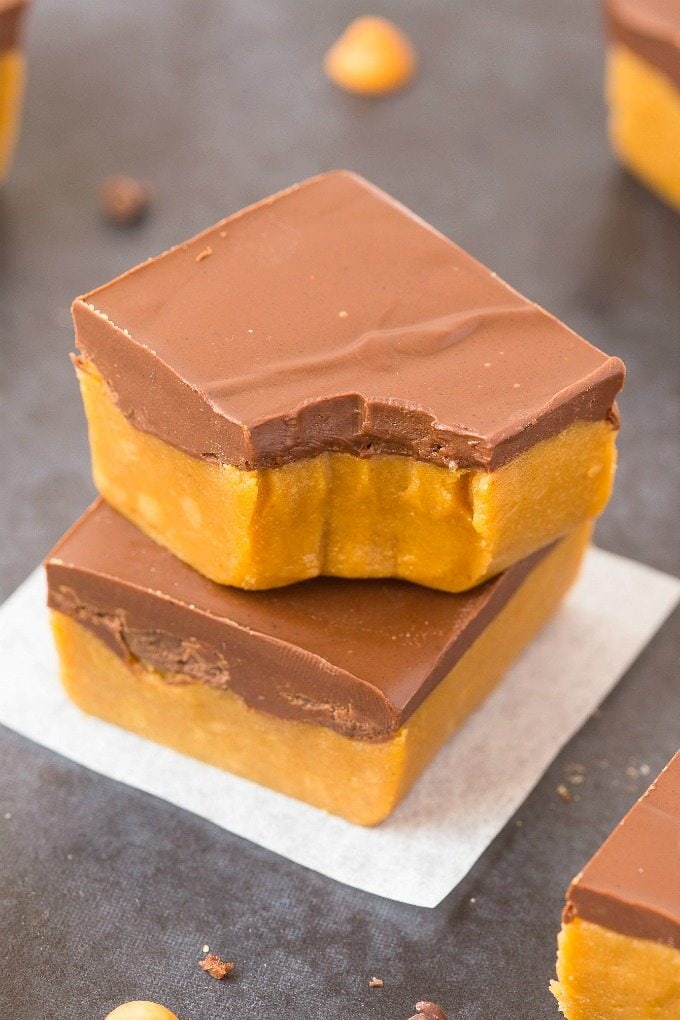 For those who've been skeptical of pumpkin in protein snacks or desserts, I promise this recipe will have them converted. When I shared them with some friends at the gym, they immediately asked for the recipe and where to get pumpkin puree from. My sister requested a batch for her snacks between classes. I even made some to keep in my fridge (which already has these protein fudge bars tucked away!).
Snack, dessert or even a cheeky breakfast, these no bake pumpkin pie bars are your answer. Whether you follow a paleo, vegan, gluten free or sugar free diet, you're covered. This quick and easy recipe will be your new favorite!
PS- If you love this recipe, you'll LOVE this peanut butter breakfast bar which also requires ZERO baking- Just check it out below!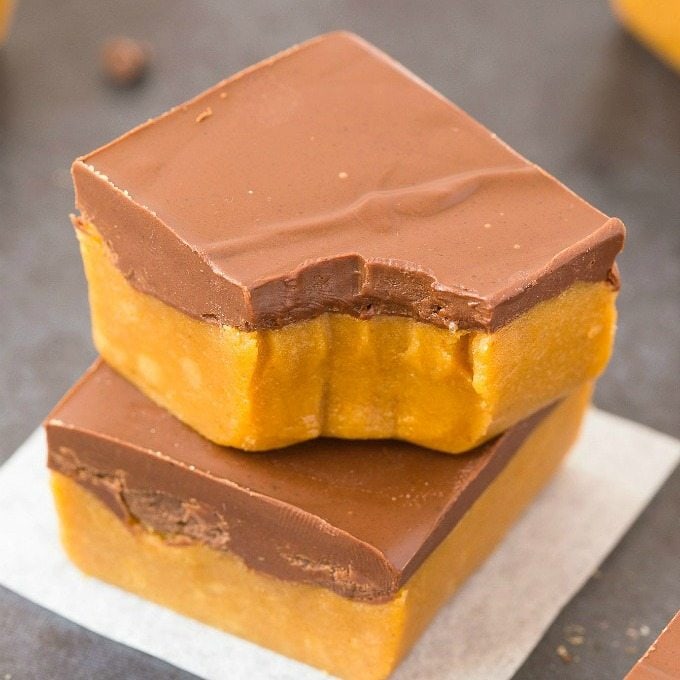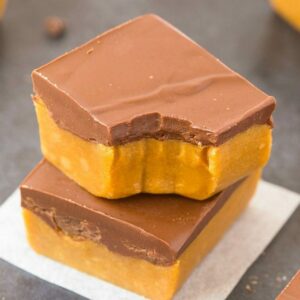 Healthy 4 Ingredient No Bake Pumpkin Pie Bars
Enjoy these thick, gooey and creamy no bake pumpkin pie bars using just 4 ingredients! These healthy no bake snack bars are completely paleo, vegan, gluten free, sugar free and dairy free!
Ingredients
For the chocolate frosting
Instructions
Line a large 8 x 8-inch baking pan with parchment paper and set aside.

In a large mixing bowl, add your dry ingredients and mix well.

In a microwave safe bowl or stove top, combine your nut butter with sticky sweetener and melt until combined. Pour wet mixture into the dry mixture and mix until thick and crumbly.

Add pumpkin puree, starting with half a cup first. If still too crumbly, add up to an extra half-cup. Batter should be thick. Transfer to lined baking pan and refrigerate.

Once cool, top with optional chocolate frosting before cutting into bars.
Notes
Protein powder is optional- Feel free to omit.
* For a stronger pumpkin flavor, feel free to add more than half a cup. To compensate for the moisture, add extra coconut flour as needed.
Healthy 4-Ingredient No Bake Pumpkin Pie Bars can keep at room temperature but are best refrigerated. They are also freezer friendly and perfect to portion up in single-serving bars.
Nutrition
Looking for more healthy pumpkin sweets? Gotcha covered!
Healthy Fluffy Flourless Pumpkin Pancakes
3 Ingredient Flourless Pumpkin Cookies
No Bake Pumpkin Spice Latte Bars

Disclosure: This post may contain affiliate links. I may earn a small commission for my endorsement, recommendation, testimonial, and/or link to any products or services from this website.