Thick and fluffy double chocolate pancakes which are low in carbs and calories yet you'd never be able to tell! Made with NO grains and completely sugar free, these pancakes are naturally paleo, gluten free, grain free, sugar free and comes with a tested vegan option!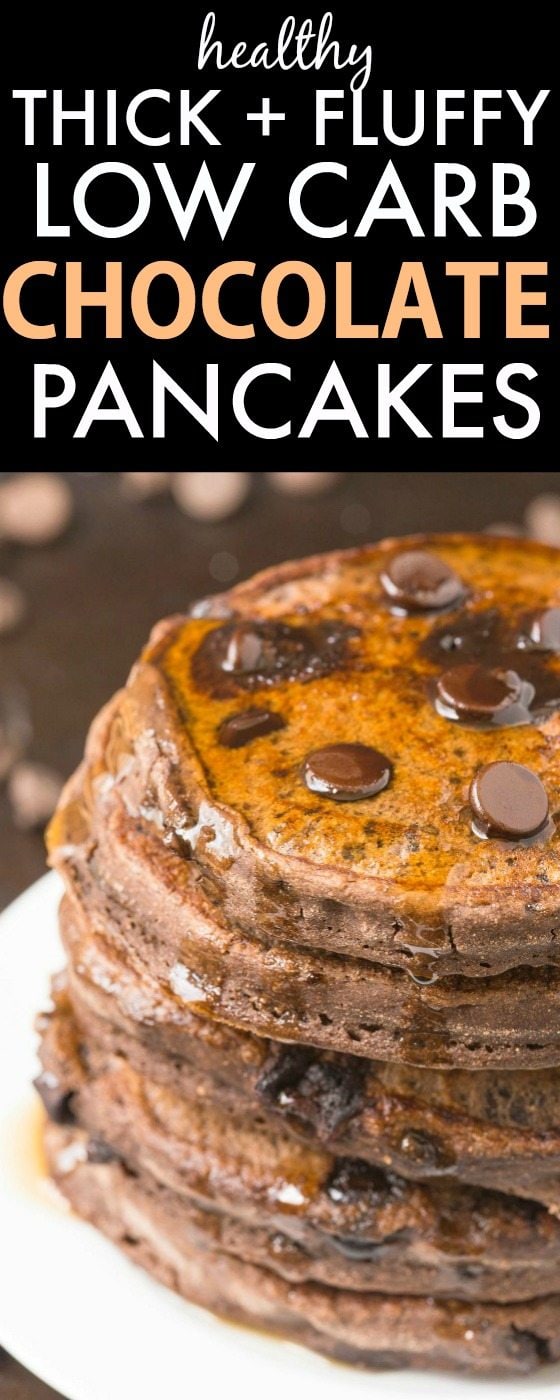 $17.
That is how much I spent on 3 different types of yogurt.
Why?
Because the infamous low carb FLUFFY pancakes just got fluffier.
Ever since I first shared these healthy low carb vanilla pancakes, they've been a popular breakfast choice amongst man of you however at times, there has been one slight dilemma- Some have had trouble getting them to be super fluffy. While I try to be as descriptive and specific with my instructions, I sometimes forget to provide troubleshooting advice or proper directions, especially in recipes with options.
So let's talk reiterate the cooking process properly before we rant about the price of yogurt and variety used.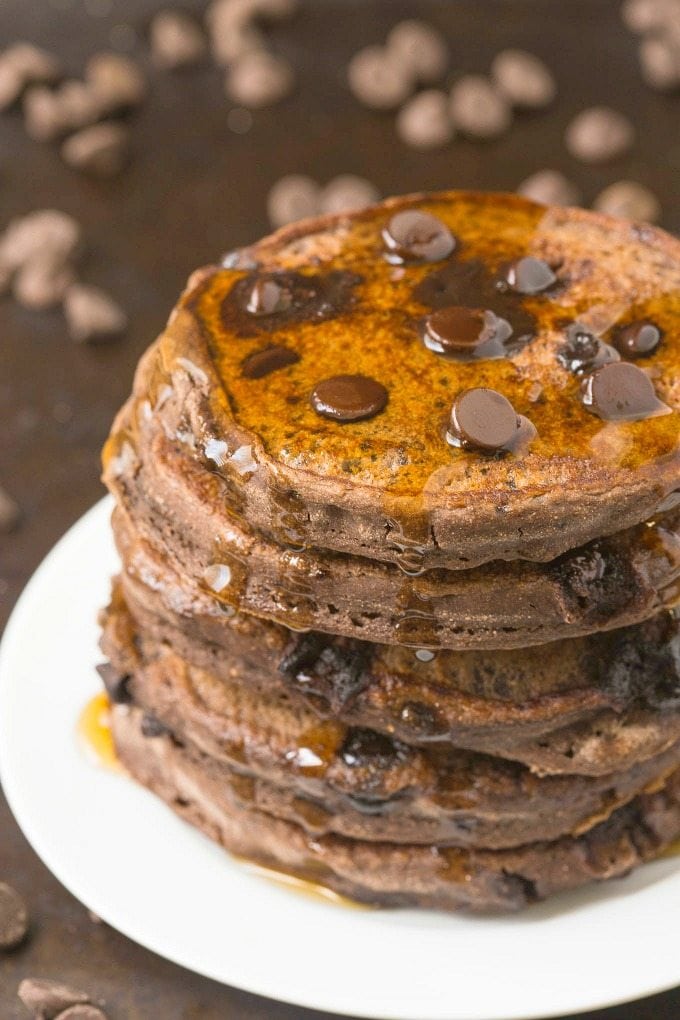 So the cooking process first-
I feel like a broken record, but the key here is patience. While there are some pancake recipes which literally take minutes from prep to plate, any of these fluffy low carb ones take a little longer…but it's totally worth it. Heat up your frying pan on medium heat and then once hot, you turn it down to low heat. Only then do you start putting the pancakes on top. Because the heat is now on low, you'll need to wait until the bubbles start appearing on the edges, which is the sign they can be flipped. Once flipped, you allow the pancakes to continue cooking, and you'll start to see some amazing thick and fluffy action happening. Around the 2 minute mark, the pancakes should be done.
Repeat the process until all are cooked and you'll be rewarded with a thick and fluffy stack of low carb pancakes every single time.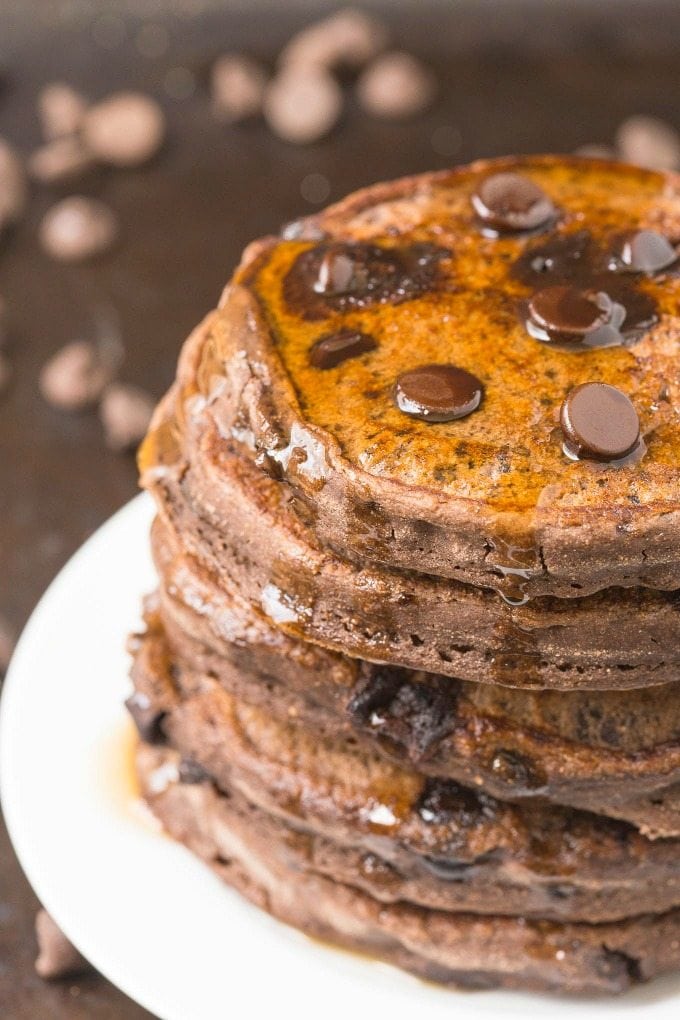 Is it more time consuming? Yes.
However, you get this MASSIVE healthy stack of pancakes which just so happen to be ridiculously low carb too (thanks to the high fiber/low carb coconut flour and use of egg whites). This means you totally get the green card to go crazy on the carb-heavy toppings, if that's what you choose.
Or in a sandwich.
Or with a side of sugar.
Or as it is.
They are THAT good.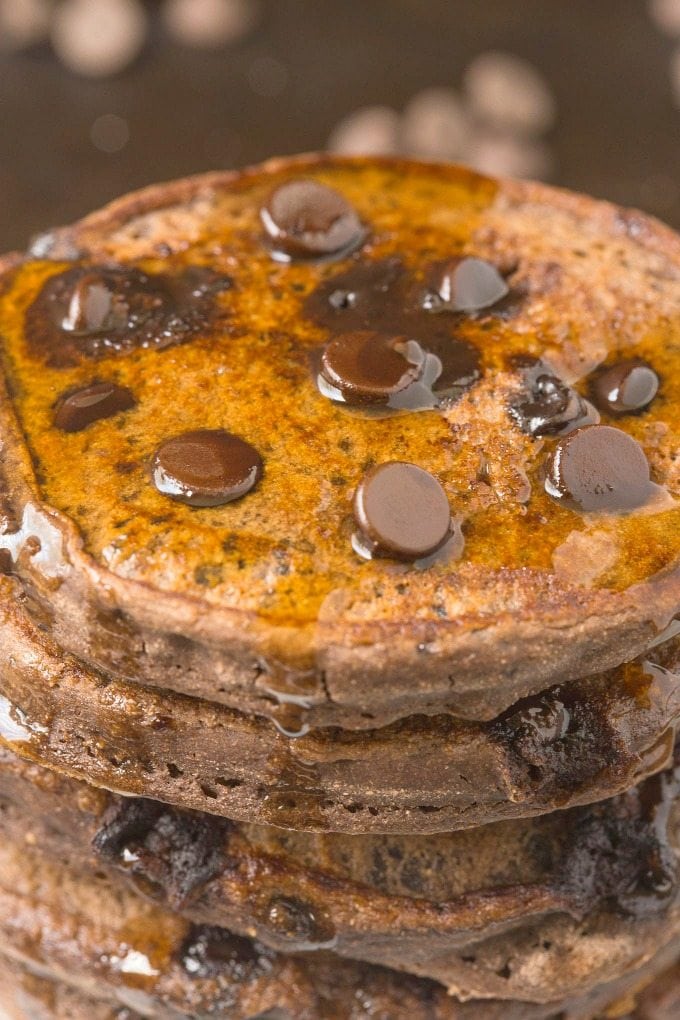 Anyway, let's discuss the $17 cost of those yogurts.
For the low carb vanilla pancakes and the low carb chocolate chip pancake recipes, there is a need for either applesauce or mashed pumpkin to give them a tiny bit of moisture and aid the texture. However, there was ONE other option which I hadn't tried…until now. Reader Amy (Hi!) emailed to say she didn't have either of those on hand but had used a dairy free yogurt blend instead and it worked well for her. I'd previously made pancakes with Greek yogurt before so wanted to see how it would fare with coconut yogurt and soy yogurt too, so bought a TINY container of both….which came to $17 (along with a plain Greek one too).
So let's throw that into the mix too- You can use applesauce, mashed pumpkin/starch OR your yogurt of choice. Now that we have that sorted, these double chocolate pancakes have your name on them!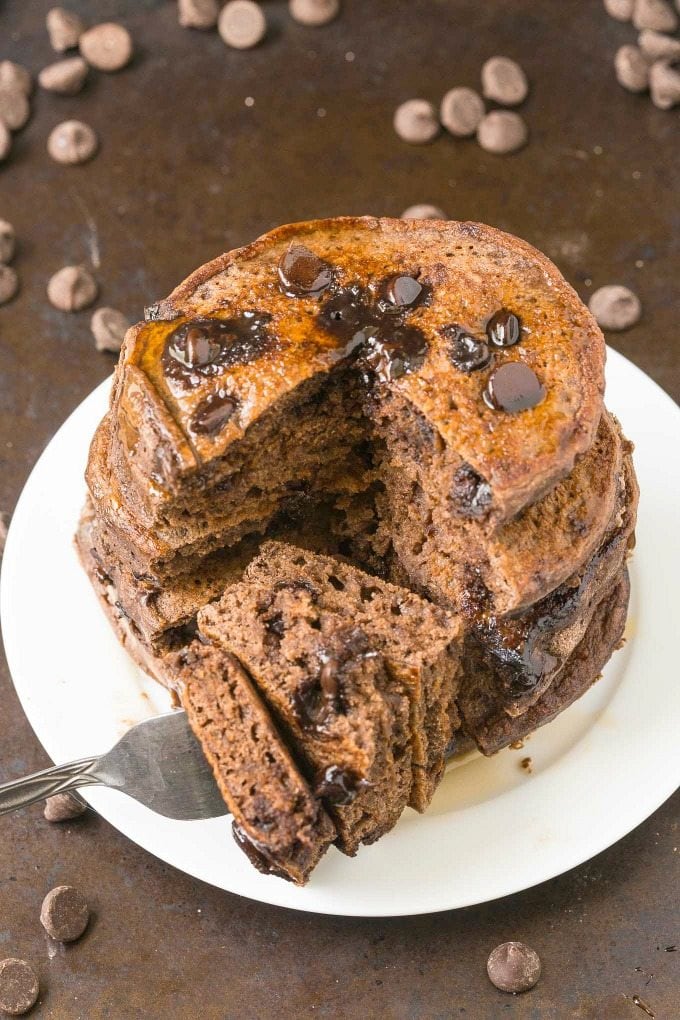 These healthy low carb double chocolate pancakes are thick, fluffy and have the most amazing texture ever, aided by the double dose of chocolate throughout! Unlike traditional pancakes made of white flour, sugar and butter, these are based off coconut flour, egg whites (or egg replacement, if you go the vegan route!) and a few little extras which also make them incredibly low in calories- Perfect to get FANCY with the toppings! These fluffy pancakes are also suitable for those following a paleo, gluten free, grain free and dairy free lifestyle, and come with a tested vegan option, thanks to this amazing egg replacement option.
HACK! The infamous cocoa powder debate- Long term readers know I'm a huge fan of this dark cocoa powder but I found with these specific pancakes, the non-Dutch processed kind worked out much better and had a fluffier texture! If you have the option, go the latter one. Also, as mentioned in the previous pancake post, I prefer using the mini chocolate chips over these chocolate chips and these chocolate chunks, as they tend not to clump up and distribute more evenly. Saying that, to each their own, just DON'T omit!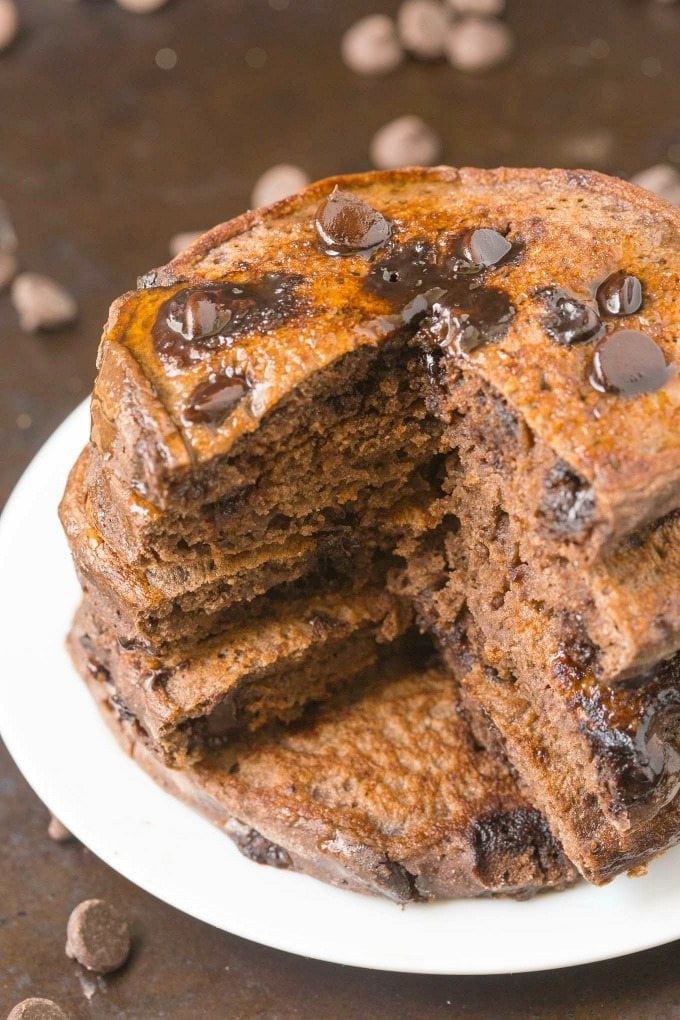 Make these healthy thick and fluffy low carb double chocolate pancakes and please- If there is one recipe worth waiting it out for, it's these.
Slow and steady wins the race takes the fluff factor to the next level.
Share this recipe on Pinterest
Love this Healthy Fluffy Low Carb Double Chocolate Pancakes recipe?
Share it with the world on Pinterest.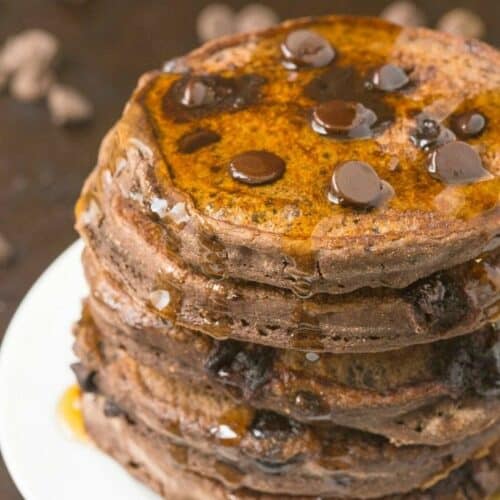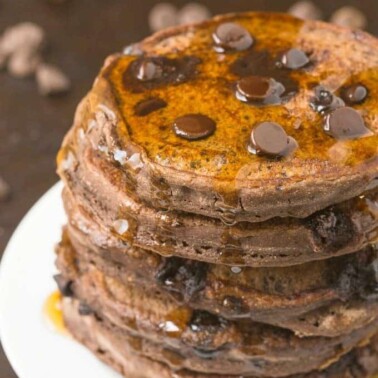 Healthy Fluffy Low Carb Double Chocolate Pancakes
Thick and fluffy double chocolate pancakes which are low in carbs and calories yet you'd never be able to tell! Made with NO grains and completely sugar free, these pancakes are naturally paleo, gluten free, grain free, sugar free and comes with a tested vegan option!
Instructions
In a large mixing bowl, sift the coconut flour, granulated sweetener of choice, cocoa powder, sea salt and baking powder to avoid clumps. Mix well to combine.

In a small bowl, whisk the egg whites or ener-G egg with the vanilla extract. Add to the dry mixture, along with the applesauce or yogurt. Using a tablespoon at a time, add dairy free milk until a thick pancake batter is formed. Stir through the chocolate chips, but do not over mix. Allow to sit temporarily. If batter becomes too thick, add a dash more milk.

Spray a pan with cooking spray and heat on low/medium. Once pan is extremely hot, pour batter using a 1/4 cup at a time. Cook pancakes for 2 1/2- 3 minutes or until the edges just start to bubble, before flipping and cooking for an extra 2 minutes or so. Repeat until all the pancakes are cooked.

Stack, top and dig in!
Notes
* For sweeter pancakes, add an extra tablespoon
** Depending on the brand of coconut flour, you'll most likely need more.
*** Adjust accordingly- If carbs are not an issue or you want more chocolate, add more.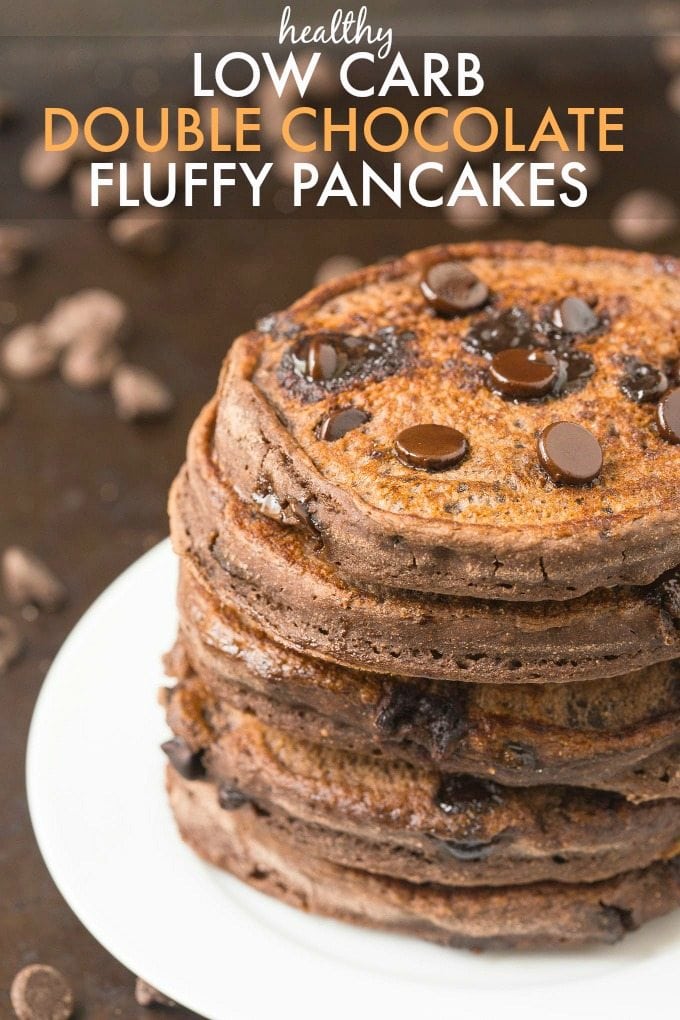 More delicious recipes loaded with double the chocolate? Gotcha covered!
Healthy 1 Minute Double Chocolate Muffin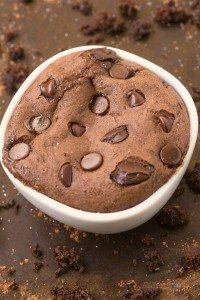 Healthy Double Chocolate Overnight 'Baked' Oatmeal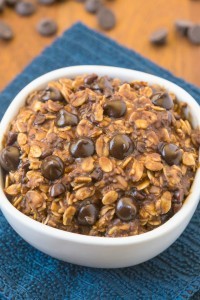 Healthy Grain Free Double Chocolate Blondies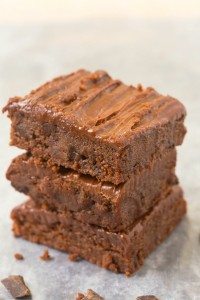 Are specialty yogurts a complete rip-off in your neck of the woods?
Are you a patient cook? For these…YES.
Disclosure: This post may contain affiliate links. I may earn a small commission for my endorsement, recommendation, testimonial, and/or link to any products or services from this website.