A quick and easy recipe for healthy homemade keto Twix bars made with cookie nougat, gooey caramel, and chocolate coating! Completely sugar free and low carb, it's so simple to make and protein-packed, you'll never buy store bought again!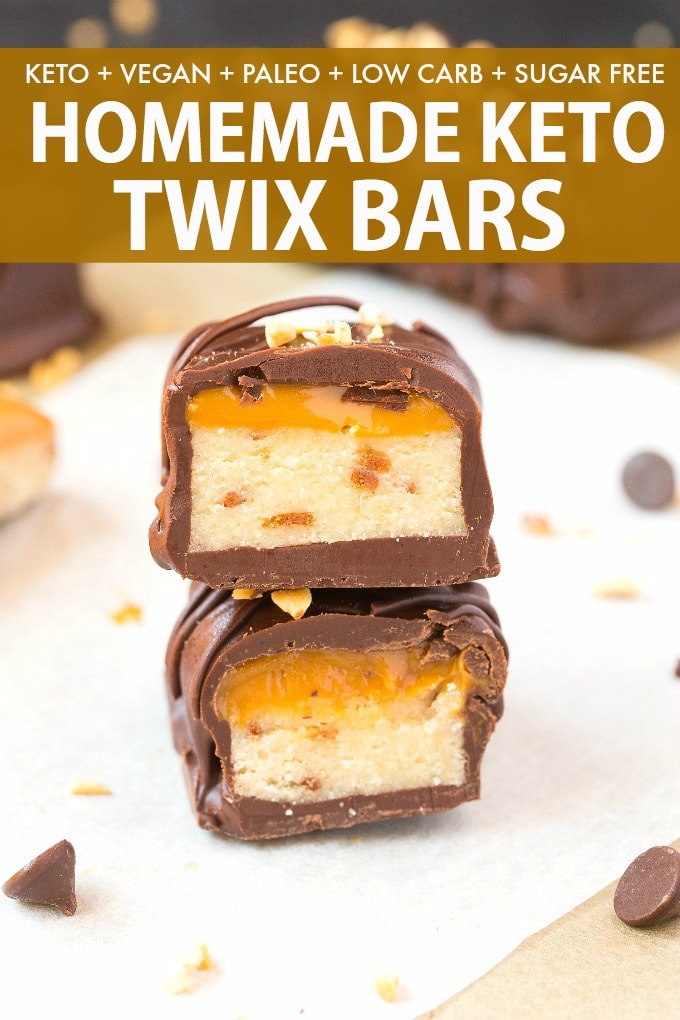 Keto Twix Bars
Making healthier and copycat versions of my favorite candy bars should be my new full-time job.
Keto kit kat bars, homemade healthy bounty bars, and even healthy snickers bars have already been made, so it is now time for a Twix makeover!
Twix bars are made of a cookie center, a gooey caramel and covered in chocolate. People often question whether Twix bars are cookie bars or candy bars. I am on team candy bar, purely because they are found in the candy aisle!
While Twix bars may be found in the candy aisle, my homemade Twix recipe doesn't contain the same ingredient list. In fact, far from it!
The ingredients I use may be healthier, but I promise you it tastes just the original…if not better!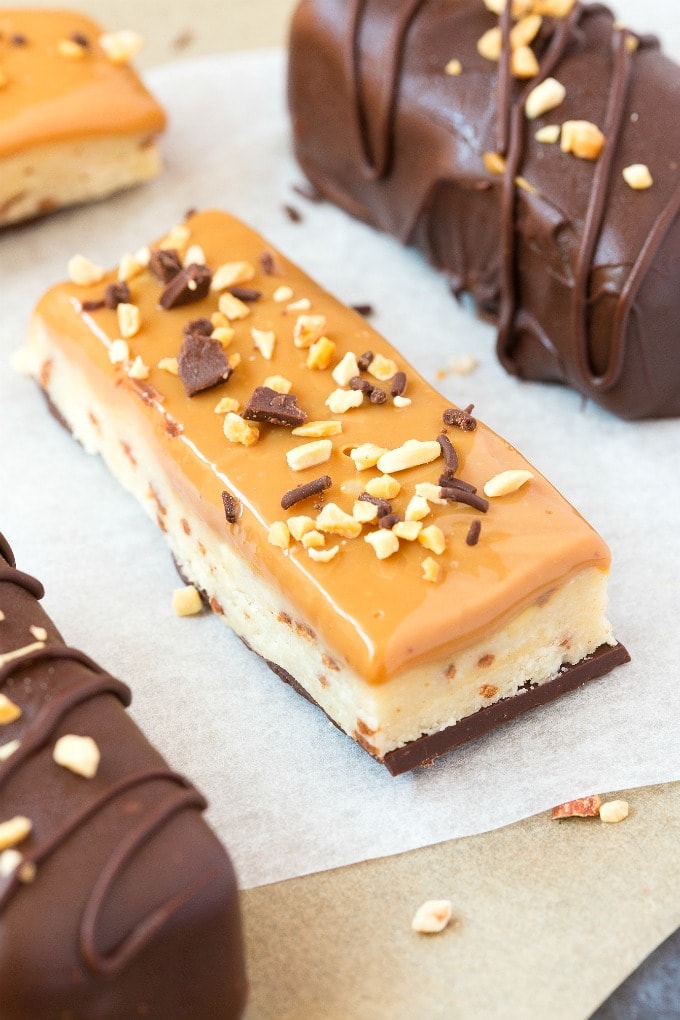 Taste-wise, it is sweet and creamy, with the delicious combination of the gooey cookie base, creamy caramel and of course, the chocolate coating.
In terms of texture, it is a DREAM! A thick and chewy cookie nougat, studded with some crushed cookies. The healthy caramel layer is smooth and creamy, with a hint of sea salt. The chocolate coating is firm and perfect to bite into!
Not only are these keto Twix bars low carb and sugar free, but they are also completely paleo, vegan and gluten-free!
To make homemade Twix bars, you only need to prepare three easy layers-
Cookie nougat layer
Caramel Layer
Chocolate Coating
It may seem complicated, but I promise it is super simple and you will satisfy ALL keto chocolate dessert cravings!
THE COOKIE BAR LAYER
The cookie nougat layer is made with coconut flour and almond flour and sweetened with a granulated sweetener and a keto maple syrup. It is also studded with crushed keto cookies.
I used crushed up keto peanut butter cookies, but you can also use flourless keto chocolate cookies.
THE CARAMEL LAYER
Making a healthy homemade caramel is so easy, and made without dates!
To make an easy gooey caramel, there are two options-
The latter is perfect for those wanting to keep this vegan-friendly and dairy free.
THE CHOCOLATE LAYER
It's easiest to use keto chocolate which melts, as it makes it so much easier and quicker to make!
I prefer using keto chocolate chips, as they melt easier and I prefer the taste. However, some people aren't huge fans of the extended ingredient list.
You can make your own keto chocolate by melting a 100% bakers chocolate bar (it's unsweetened!) and then add some liquid stevia, to sweeten it.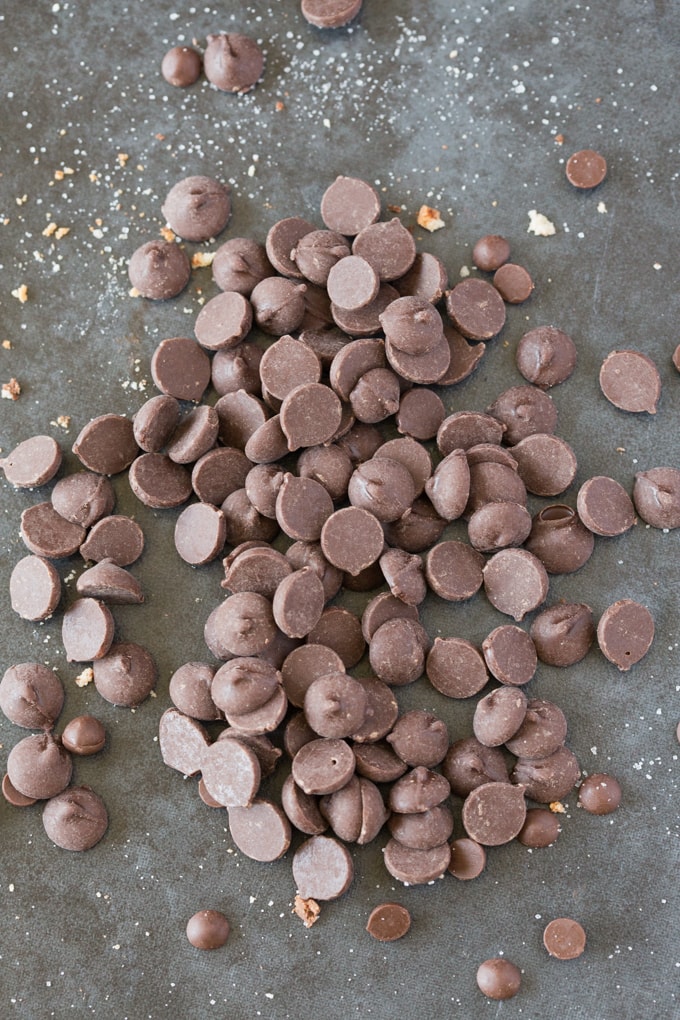 TIPS FOR PERFECT TWIX BARS
I often get questions of how to form perfect shaped candy bars, and with a recipe like this which requires a couple of steps and several layers, here are my top tips for making candy bars like this.
For easy removal of bars, I used a brownie pan and simply filled each cavity layer by layer. When you are ready to coat the bars in the chocolate, simply remove them from there and voila- You are done!
Alternatively, you can use a loaf pan or square pan, and form in one big bar. Once ready to coat them in chocolate, slice them into bars and go from there!
Homemade Twix bars can keep at room temperature, but the best way to enjoy them is thawed slightly, after being refrigerated. These bars are also freezer friendly, and can keep for ages- I found one perfectly delicious after 6 months!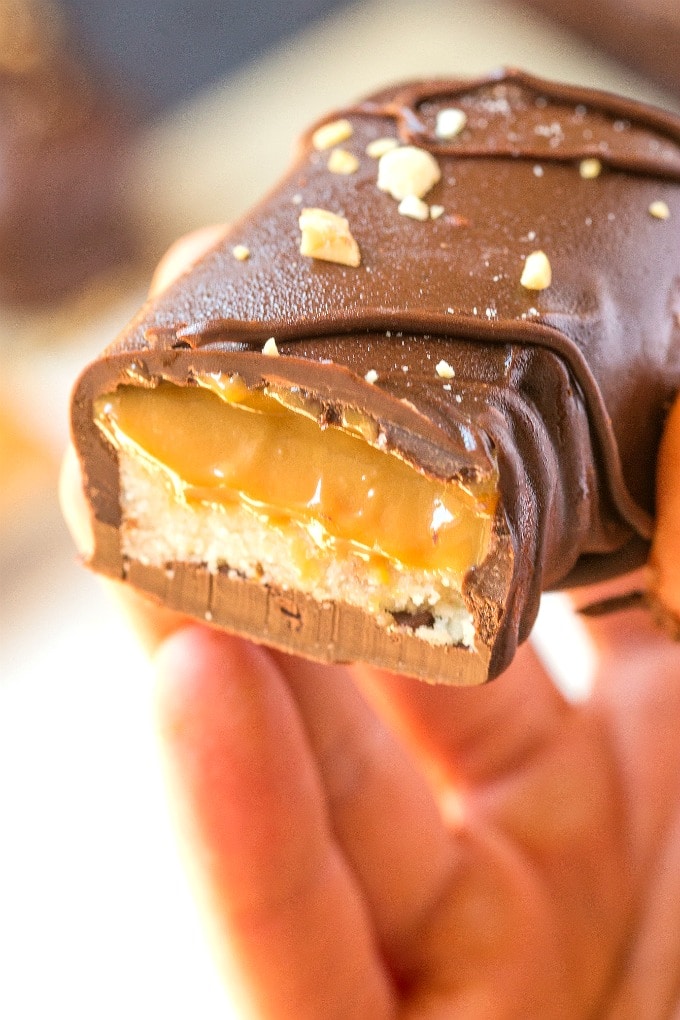 Don't let the copycat candy bar title fool you- These homemade keto Twix bars are secretly healthy and so good, you'll be making them weekly!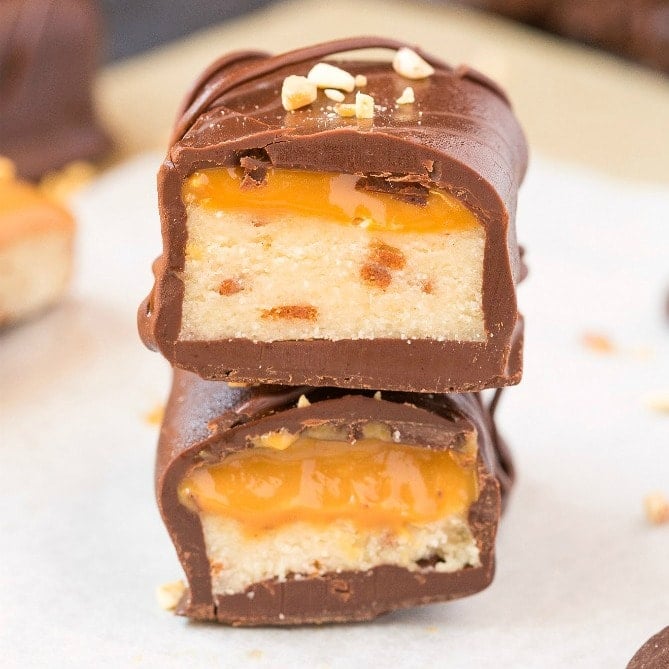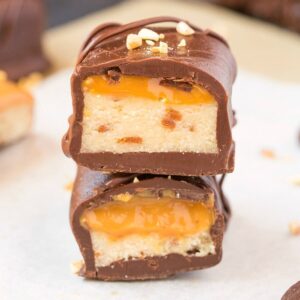 Keto Twix Bars
These healthy homemade Twix bars are keto friendly and made completely sugar free and low carb! A cookie bar base, topped with gooey caramel and covered with chocolate!
Ingredients
For the chocolate coating
Instructions
Line a square pan or loaf pan with parchment paper and set aside.

In a large mixing bowl, add your coconut flour, almond flour, and granulated sweetener of choice. Mix very well. Stir through your syrup and mix until a thick dough remains.

Add your crushed cookies and using a tablespoon, add your milk of choice slowly until a thick batter remains. If the batter is too thick, continue adding milk. Once desired texture is achieved, transfer the batter to the lined pan and refrigerate.

In a microwave-safe bowl or stovetop, combine your cashew butter, syrup and coconut oil and heat until combined. Whisk very well to ensure the coconut oil is fully mixed it. Pour the caramel over the cookie bar nougat layer and place in the freezer.

Once the bars are firm, remove from pan and cut into 18 bars. Place back in the freezer again.

Melt your chocolate chips. Remove the Twix bars and using two forks, dip each bar in the melted chocolate until evenly covered. Continue until all the bars are covered. Refrigerate until firm.
Notes
* For a non-keto option, you can use maple syrup or agave nectar. Non-strict vegans can use honey.
** Can sub for any crushed cookies of choice
*** Depending on the flour/s you use, you will likely need more than this.
Healthy Homemade Keto Twix Bars (Vegan, Paleo) are stable at room temperature but are best kept refrigerated. They are freezer friendly for up to 6 months.
Nutrition
Serving:
1
Bar
Calories:
111
kcal
Carbohydrates:
8
g
Protein:
4
g
Fat:
7
g
Fiber:
5
g
Vitamin A:
150
IU
Vitamin C:
3.3
mg
Calcium:
50
mg
Iron:
0.7
mg
NET CARBS:
3
g

Disclosure: This post may contain affiliate links. I may earn a small commission for my endorsement, recommendation, testimonial, and/or link to any products or services from this website.