Homemade Kit Kat Bars- A delicious homemade vegan and gluten free copycat recipe for kit kat bars! Crispy, crunchy and sweet in one, they are a GAME CHANGER!
My recipe for homemade kit kat. Made with easy, healthy and simple ingredients. No bake, 5 ingredients, Gluten Free, Vegan, Dairy Free, Refined Sugar Free.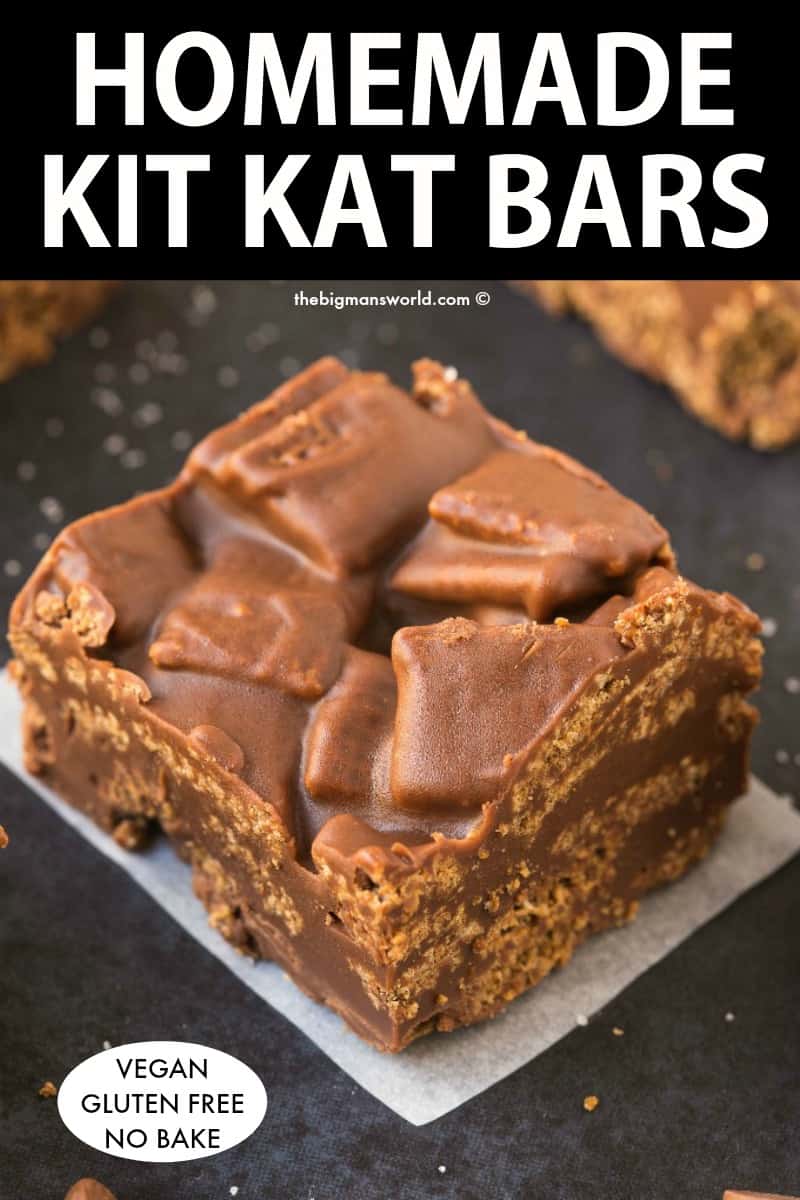 Homemade Kit Kat
The original no bake chocolate peanut butter crunch bar recipe has set off a trend and it ain't stopping. The first was the paleo version of it and now? I merged two popular candy bars in one to create the ultimate no bake treat to satisfy any sweet tooth!
Many years ago, there used to be only one kind of kit kat- The original. Several years later, the ever popular kit kat crunch bar came into the picture, and it soon became one of my favorites.
Kit Kats are unique candy bars, as they have a chocolate wafer in the center. When I was creating this recipe, I didn't want to use wafer cookies, as every packaged brand I saw contained multiple variations of sugar and a slew of other ingredients. I wanted to keep the recipe simple, so the thought of developing a homemade wafer biscuit went out the door.
Following a keto diet? Try homemade keto kit kar bars.
Healthy Kit Kat Recipe
I needed to narrow down a cereal or clean eating cookie which could resemble the texture of a kit kat and remembered one of my all time favorite snacks of all time- Chex Mix.
For those who don't know what Chex mix is, it's a combination party mix of Chex cereal with fun additions- Candy, peanut butter, nuts, fruits and well…anything. On its own, the Chex cereal provides a wafer-like consistency, without any of the added nasties in the original cookies.
BINGO. We've got our kit kat base so let's add the rest of the ingredients!
How do you make Kit Kats from scratch?
Making homemade kit kat bars is ridiculously quick and easy, and need just one bowl.
The easiest way to make them is to place your dry cereal in a large mixing bowl. Set that aside, as you won't need it until the very end.
Find a large microwave-safe bowl or a large saucepan. Place ALL your other ingredients into them, and heat/microwave until melted. Whisk it well.
Finally, you'll pour the melted mixture over the dry cereal and mix well (with a spatula!) until fully combined. Transfer everything into a lined square pan, and refrigerate until it is firm.
Still craving chocolate? Make These Fudgy Keto Brownies.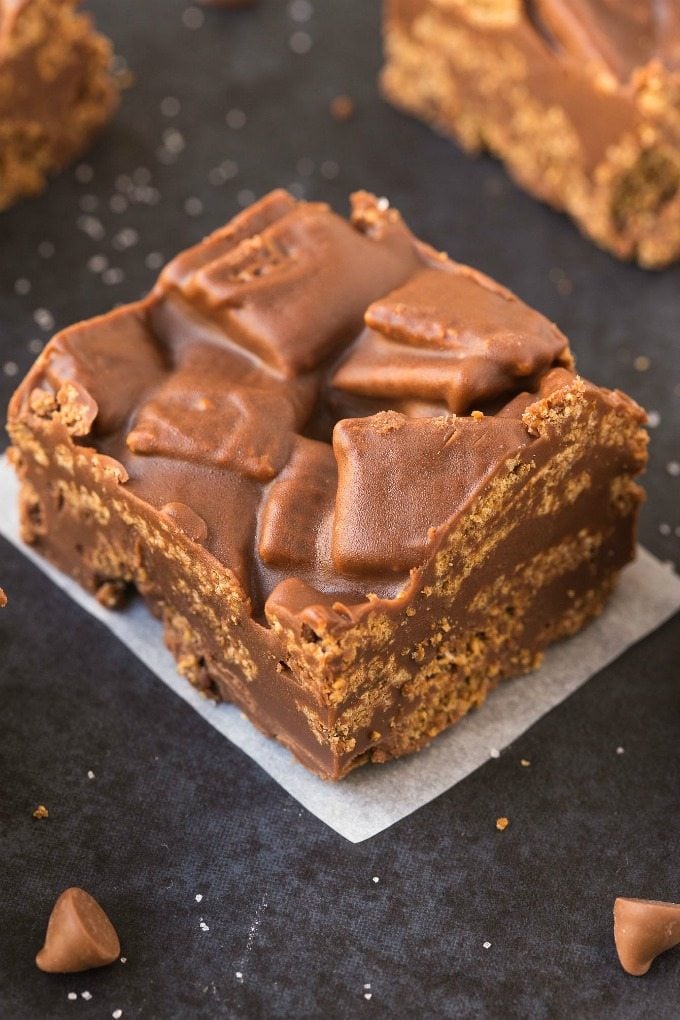 Are kit kat bars healthy?
Traditional kit kat bars are candy bars, something you wouldn't eat regularly. Like any food, you would enjoy them occasionally, or when you want a treat.
They are very high in sugar, saturated fats and processed carbs.
My Homemade version is the opposite. It is refined sugar free (sweetened with dairy free chocolate chips and pure maple syrup!) and has wholesome un-refined carbs (whole grain cereal). The coconut oil and peanut butter add healthy fats.
Compared to the original, the homemade version is healthy.
So how do these homemade kit kat taste like?
The texture of these no bake bars is perfect for those who want in on ALL the action. They are crispy, crunchy, sweet and have pockets of pure chocolate goodness. The combination of Chex cereal to chocolate is on point, and every bite is a flavor explosion!
The chocolate base is made up of four easy ingredients, which allows these bars to firm up nicely and be sliced into moreish pieces. These ingredients are baking chocolate, pure maple syrup, coconut oil and of course, smooth peanut butter.
Love homemade Candy? Try Homemade Twix Bars.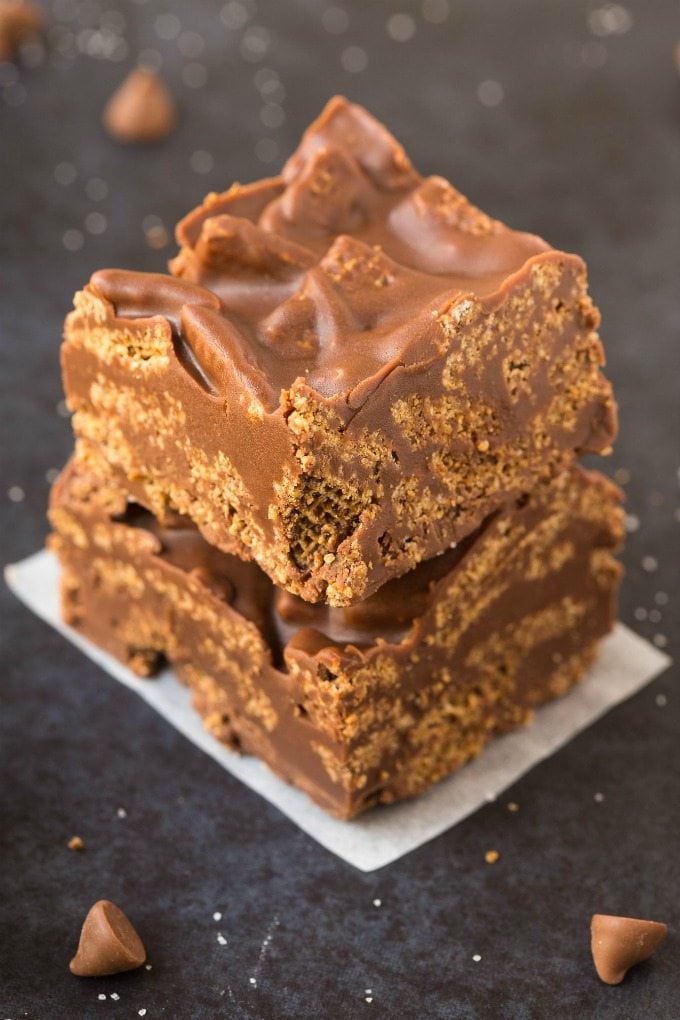 Kit Kat Ingredients
You only need 5 ingredients to make these healthy homemade Kit Kat Bars
Pure maple syrup
Coconut Oil
Peanut Butter
Chocolate Chips
Chex Cereal
A sticky sweetener like maple syrup is key, as it helps firm the bars up, and adds a subtle sweetness. If you don't have maple syrup, you can use agave nectar, brown rice syrup, coconut nectar or even honey. Please note, the honey is very overpowering and can be hard to hold up.
As a fan of dark chocolate, I used my favorite dairy free chocolate chips. They are sweet, but not overpowering, and they also don't have a bitter aftertaste. You are welcome to use any baking chocolate of your choice, though! You'll then add in your coconut oil and your drippy peanut butter.
Coconut oil is necessary to keep these crunch bars firm, but if you are a fan of butter, that works too. Peanut butter is my nut butter of choice, as I really enjoy the flavor and it marries well with chocolate.
For those with nut allergies or not a fan of peanut butter, you've got options! Peanut butter can be subbed for almond butter or cashew butter. Soy nut butter and sunflower seed butter are fantastic swaps if you want to keep this entire recipe allergen-friendly too (just be sure to use butter over coconut oil!).
For my friends who want to keep this completely sugar free, this is absolutely possible. Swap out the sticky sweetener for this monk fruit sweetened maple syrup. It is the only sugar-free sweetener that works, as the others simply won't hold up. Secondly, you'll want to use either an unsweetened dark chocolate bar or a stevia sweetened chocolate bar. Both work fine, it just depends on how sweet you want the final result to be!
As mentioned earlier, I used Chex cereal, but any dry and crispy cereal will work. Be sure that whatever you use is gluten free and vegan.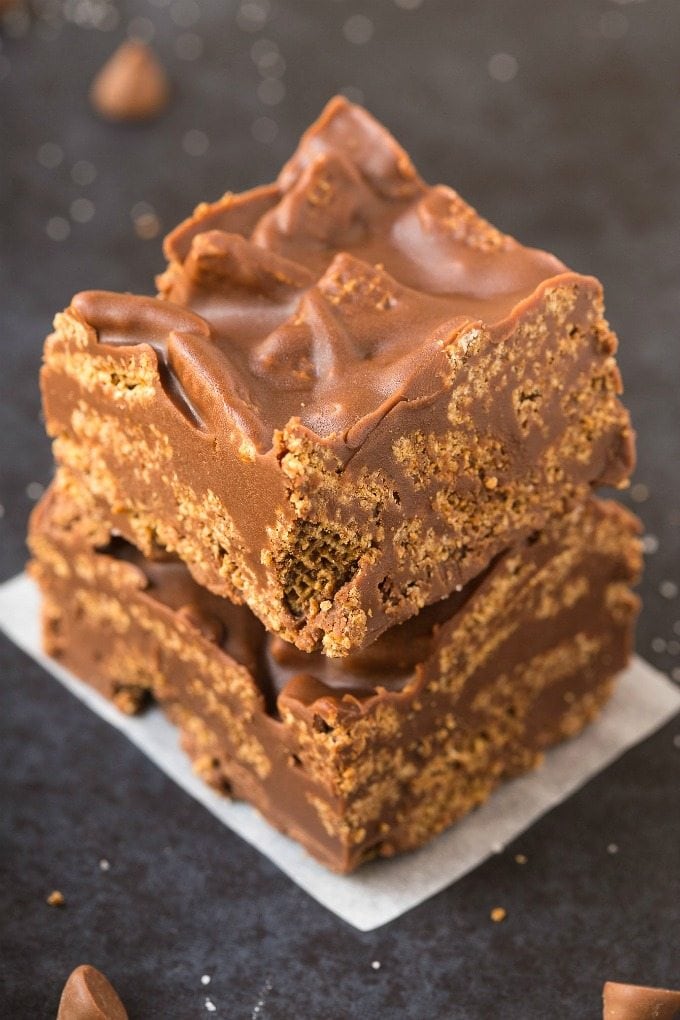 Storing homemade kit kat bars
While these kit kat bars will keep well at room temperature, they are best stored in the refrigerator, in a sealed container.
Refrigerated kit kat bars will keep fresh for up to 4 weeks, but I promise you they will NOT last that long.
Can you freeze kit kats?
If you are anything like me, portion control can sometimes be a little bit of a problem.
To combat that, I love freezing these bars to enjoy for a longer period of time.
Wrap each bar individually in parchment paper, before placing in ziplock bags, to avoid freezer burns.
Frozen kit kats will keep fresh for up to 6 months.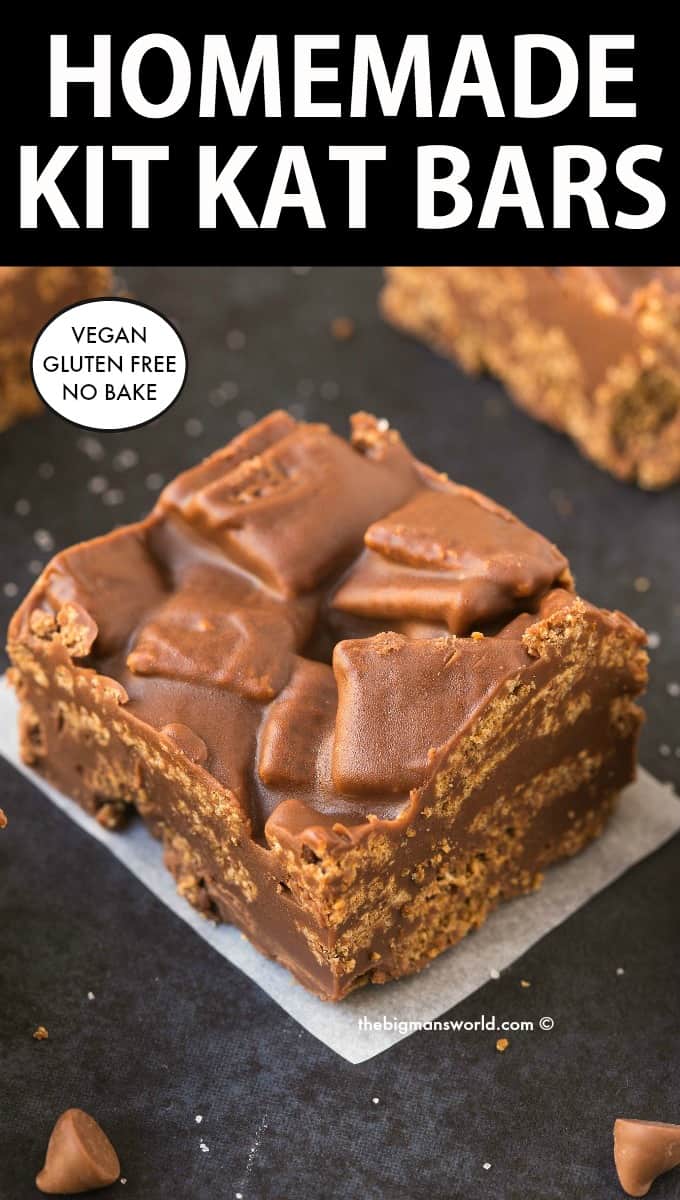 More homemade no bake dessert recipes
3 Ingredient No Bake Cornflake Crunch Bars
No Bake White Chocolate Raspberry Cookies
Watch the step-by-step video BELOW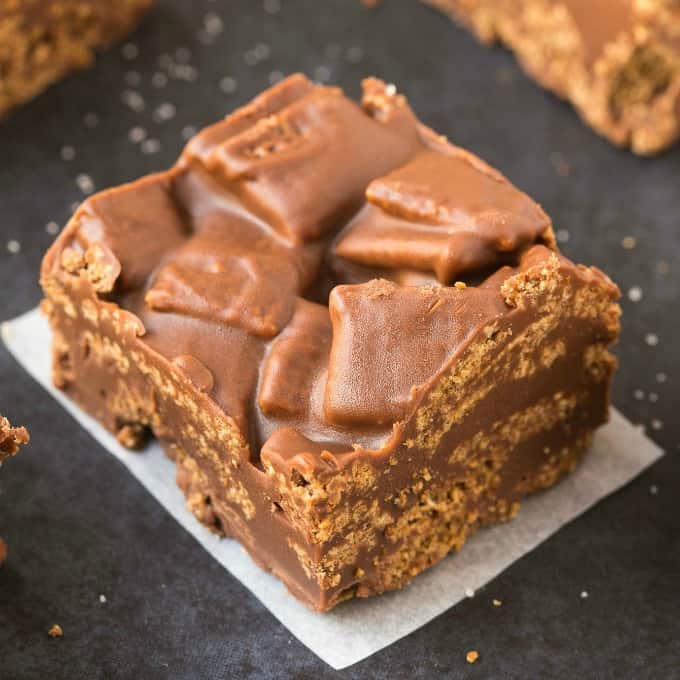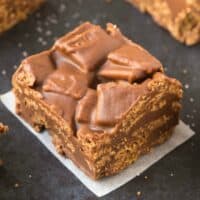 Homemade Kit Kat Bars
Healthy No Bake Peanut Butter Kit Kat Bars using just one bowl, 5 ingredients and less than 2 minutes! This quick and easy snack or dessert is naturally gluten free, vegan, dairy free and can be made sugar free! 
Print
Rate
Instructions
Line an 8 x 8-inch deep dish or deep baking tray of choice with parchment paper and set aside.

Add Rice Chex cereal (or chex cereal of choice) in a large mixing bowl and set aside.

In a microwave safe bowl or stovetop, combine all your other ingredients and heat until melted. Remove from microwave/off stove and whisk until completely incorporated.

Pour the wet mixture over the Rice Chex cereal and mix until combined. Pour into the lined baking dish and refrigerate until firm (at least an hour). Remove and cut into bars.
Notes
For the keto option, check out the recipe here.
Healthy No Bake Peanut Butter Kit Kat Bars can be kept at room temperature in a sealed container. They are best kept refrigerated for up to 4 weeks.
Nutrition
Serving:
1
Bar
|
Calories:
170
kcal
|
Carbohydrates:
16
g
|
Protein:
4
g
|
Fat:
12
g
|
Sodium:
80
mg
|
Potassium:
90
mg
|
Fiber:
2
g
|
Vitamin A:
63
IU
|
Vitamin C:
1
mg
|
Calcium:
39
mg
|
Iron:
2
mg
|
NET CARBS:
14
g