Healthy Tiramisu Oatmeal

I love coffee. To me, this is liquid gold. I also love Italian desserts. If you want proof- Check out my recap of
the Great Gelato Challenge
. How does one marry two of their favourite things, coffee and Italian desserts? Have tiramisu.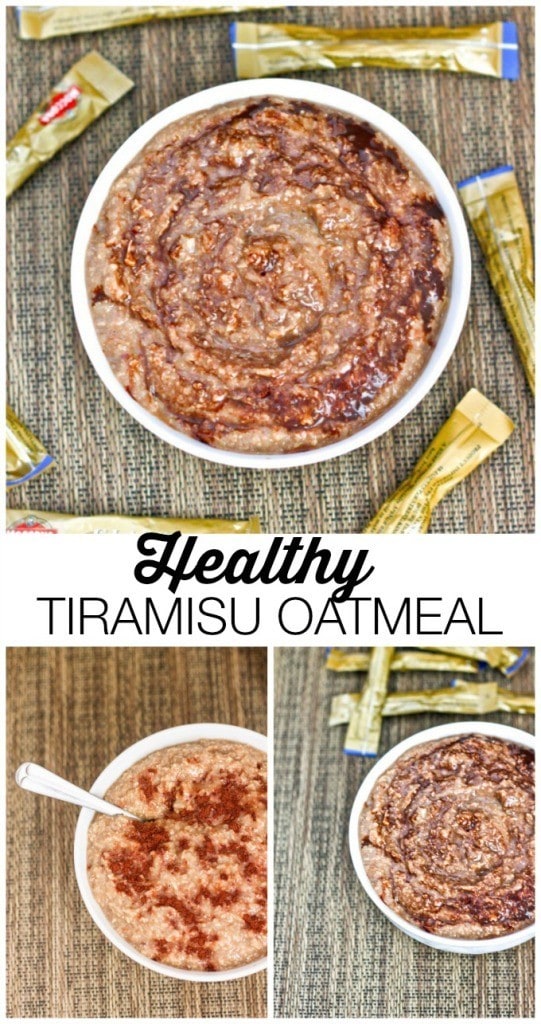 Growing up, I was never allowed to order Tiramisu at an Italian restaurant. Why? Because it contained coffee. In my mum's eyes- Coffee under the age of 18 was illegal. The same goes to watching M15+ rated movies and talking to the opposite gender. As with anything banned or taboo, you fight against it- and I did. When I was out, I'd order cappuccinos and when my ice cream flavour of choice would often be coffee flavoured.
These days, I am a coffee snob and I will judge a cafe based on their espresso…except in America. I am a tacky tourist and I dance around with a starbucks cup in my hand like Paris Hilton and her silly pooch.
Tiramisu, for those of you unfamiliar with it, is a mousse like cake with flavours of coffee, chocolate and cream on top of a sweetened biscuit like base. My favourite part of it is everything BUT the base- seriously, it's a waste of cake.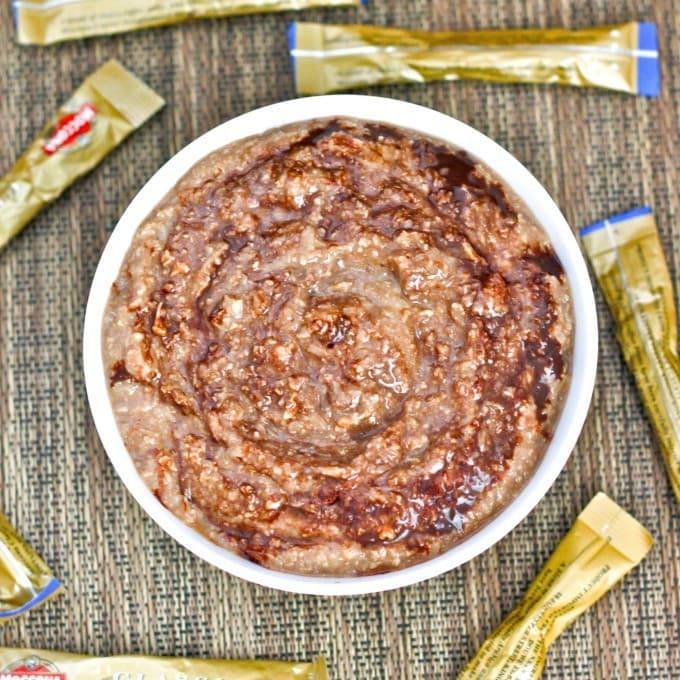 This healthy tiramisu oatmeal pudding incorporates the flavours of tiramisu, but also it's light, fluffy, texture. Made with my standard method (the day before), it is worth waking up to. High in protein, no added sugar and a gluten free option– this will be the ideal start to your day. Let's not forget the topping- Don't bother hunting down marscapone for it- you can use greek yogurt, cream cheese or even ricotta.
The best thing? You can omit your morning coffee. It's a two in one. BOOM.
Healthy Tiramisu Oatmeal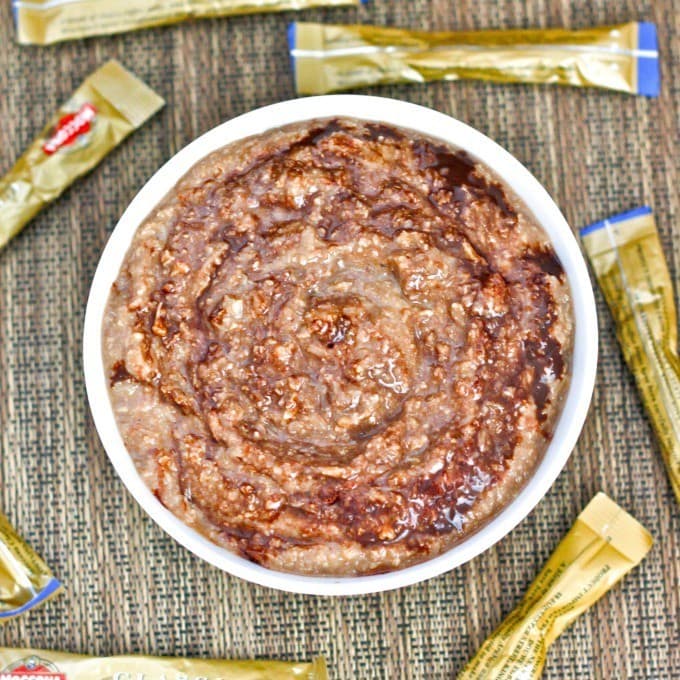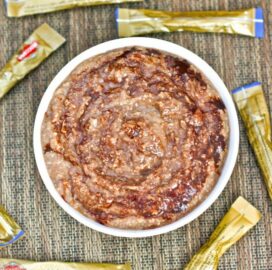 Healthy Tiramisu Oatmeal
A delicious breakfast choice which tastes exactly like the infamous Tiramisu dessert- with a healthy punch to boot!
Print
Rate
Ingredients
1/2

cup

rolled oats

1/2

teaspoon

of salt

3/4

cup

milk of choice

1

large egg

2

egg whites

2

teaspoon

of instant coffee

1

teaspoon

of cocoa powder

2

teaspoon

Natvia natural sweetener/1 Tablespoon Norbu sweetener
For the topping
2

tablespoon

cream cheese

can sub for 2% greek yogurt or ricotta

1

tablespoon

cocoa powder

Milk to thin

1

teaspoon

native natural sweetener/norbu sweetener
Instructions
In a small mixing bowl, whisk together the egg whites and whole egg and set aside.

In a saucepan, combine the rolled oats, salt and milk of choice and heat until all the liquid is absorbed. Add the egg mixture and whisk well into the oats. Continue stirring for approximately 2-3 minutes, until fully cooked and fluffy. Remove from the heat.

Add the instant coffee, cocoa powder and sweetener and mix until fully incorporated. Refrigerate mixture overnight.

Before eating, combine the cream cheese, cocoa and sweetener in a small bowl. Slowly add in milk until a thick sauce is formed. Top on oatmeal pudding and dig in!
Notes
This oatmeal can be eaten warm, but it's best to make overnight for the true tiramisu flavour. Feel free to adjust amount of coffee based on preference- I like it really strong so opt for 2 teaspoons.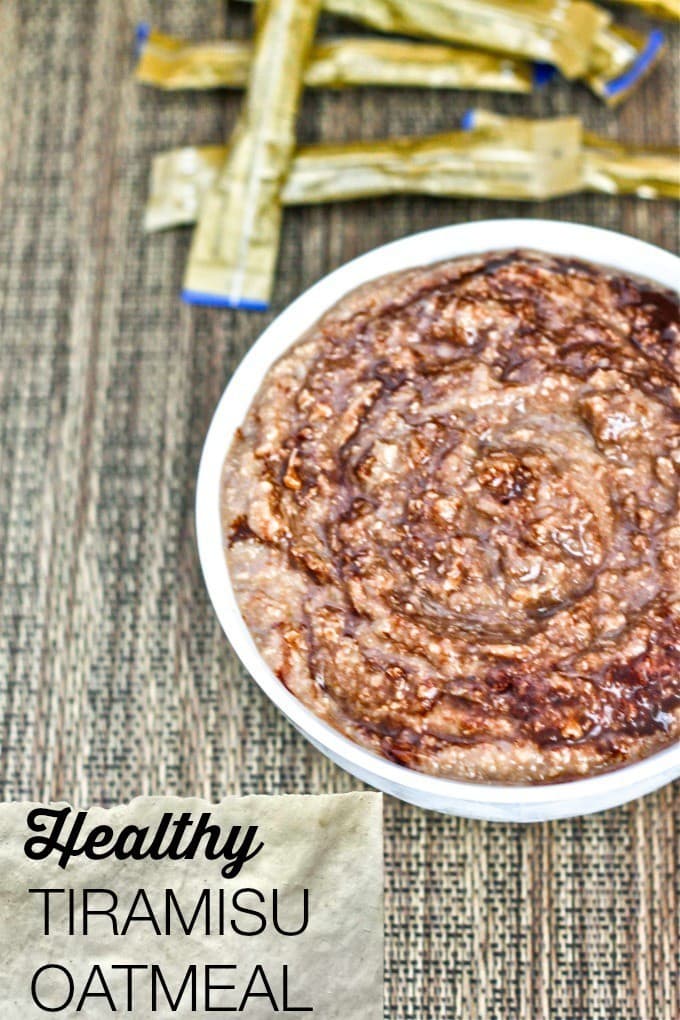 The filtered water pairs with the sea salt which brings out the natural sweetness of the oats- something which is important when subbing filtered water for milk.
EDITED TO ADD– In honour of this month's Recipe Redux- I retried this recipe to mesh with this week's theme- Adding some liquor or spirit to a recipe. What better way to do so than in a Tiramisu!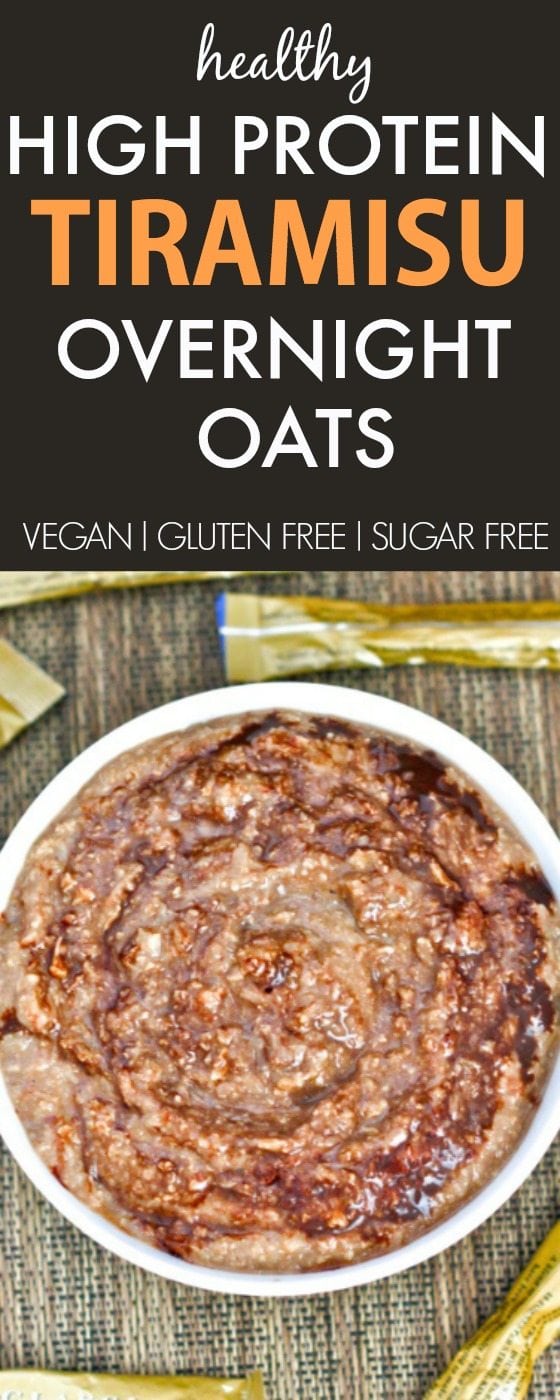 To make take this delicious breakfast into one more adult centric- Add 1 shot of Kahlua (or Bailey's Irish Creme) to take it to that next level. It pairs perfectly with the milky texture and coffee flavour!

Be sure to stop by the other Redux member's recipes…but maybe limit yourself to one or two recipes to try out a day. We want to stay sober here! 😉
Hope to see you all on Sunday for some Spill it, Sundays action- don't forget to dig through your archives to highlight some of your classic posts and recipes worth pinning!
Are you a fan of coffee or coffee flavoured foods?
At what age did you start drinking coffee?
What is your favourite Italian dessert?