Healthy, delicious, and filling- this classic vanilla oatmeal is the perfect way to start your day. It is dairy-free and naturally sweetened, and you need only 10 minutes to make it.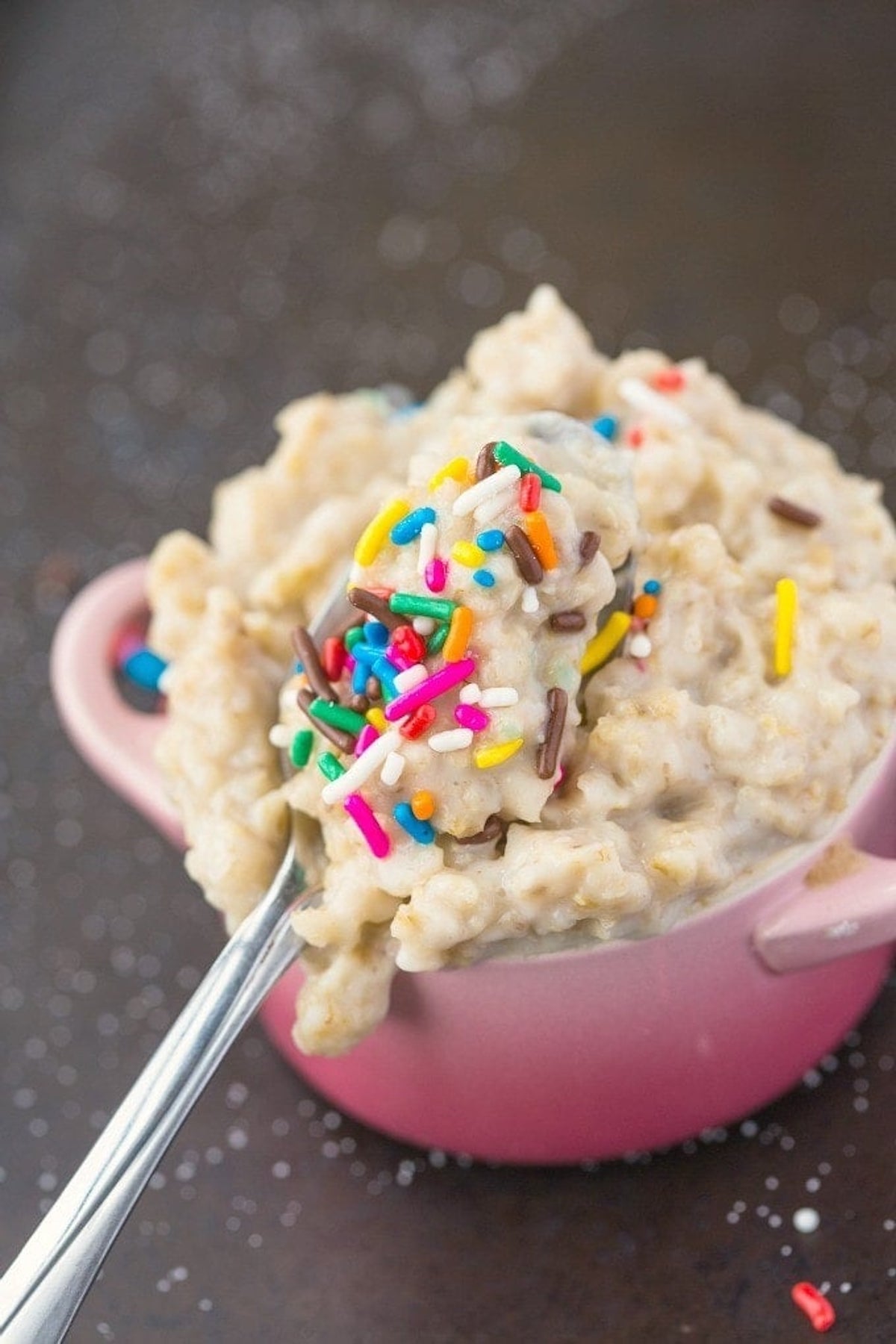 Regardless of the season, oatmeal is always a consistent breakfast option for myself and my family. It's such a blank canvas that you can adjust to with different flavors like snickers oats or tiramisu oats. I like to keep things elegant snd simple, which is where my vanilla oatmeal comes into play.
Table of Contents
Why you'll love this recipe
It is healthy. With oats taking center stage, you get a wholesome breakfast with slow-burning carbs, beta-glucans, and proteins fueling you through the morning. Also, you'll note how the recipe does not contain added fats, refined flour, or dairy and is mildly sweetened with maple syrup.
Ideal for meal prep. Making for one or four, the effort is the same! Scale up the recipe and make a hearty breakfast for the whole family or, as I do, my weekly meal prep.
Quick and easy. While overnight oats are one of my favorite ways to enjoy oats, I love the hearty, porridge-like oats on cold days. This one-pot vanilla oatmeal recipe is perfect for people who like simple recipes with minimum appliances and utensils to clean after!
Perfect hot or cold. Enjoy it stovetop or make vanilla overnight oats with one simple tweak.
Ingredients Needed
For such a decadant looking (and sounding!) breakfast, you'll love the simple and easy ingredient list. Here is what you'll need:
Rolled oats. For people who love a bit of texture or bite, rolled oats are a great choice. If you prefer your oats to be super mushy, use quick oats. You can use steel-cut oats, but you'll need to adjust the cooking time.
Almond milk. Vanilla almond milk goes well with this recipe. But you're welcome to use any dairy or plant-based milk you choose.
Salt. Oats have a subtle, natural sweetness enhanced with just a pinch of salt.
Vanilla bean paste. I always have some in my fridge for special recipes. If you have only vanilla extract, use it to make this oatmeal.
Maple syrup. My favorite sweetener to use for oatmeal or hot cereals because a little goes a very long way.
Cinnamon. Who can resist the warm notes of woody cinnamon during winter? I know I can't! Freshly ground cinnamon is LOVE!
How to vanilla oatmeal
If you love my classic vanilla pudding and the texture of cooked oats, you're looking at your next favorite breakfast recipe! Here's how you make it.
Step 1- Boil the oats. Combine vanilla almond milk, oats, and salt in a saucepan and bring it to a boil.
Step 2- Cook the oats. Once the milk boils, simmer the mixture for 3 to 4 minutes until oats soak most of the liquid.
Step 3- Flavor. Stir in the vanilla, maple syrup, and cinnamon and cook until you achieve the perfect, creamy texture.
Step 4- Serve hot. Transfer the oats into serving bowls, add toppings, and enjoy hot!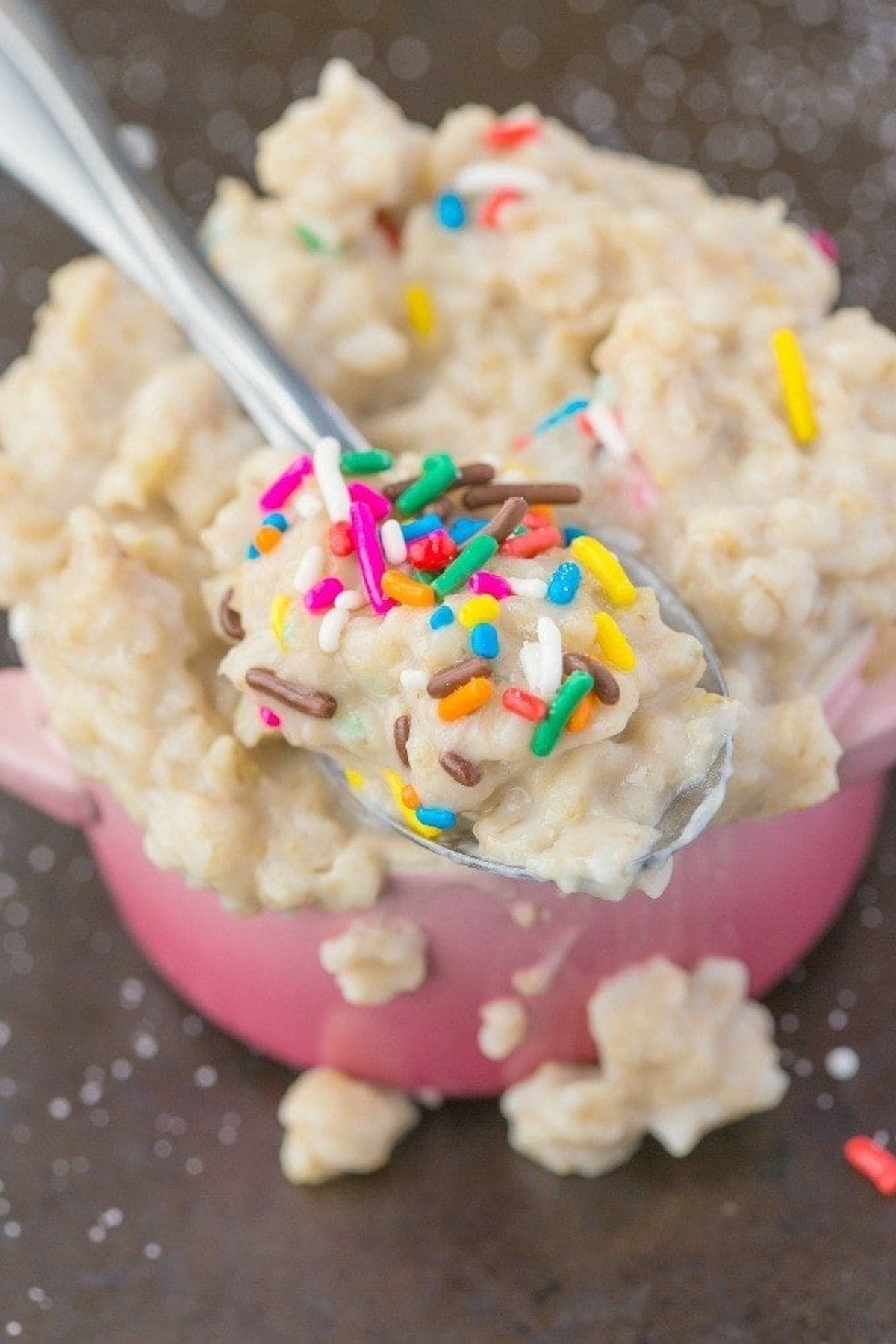 Recipe tips and variations
Adjust the consistency. It is all about your preference! I like my oatmeal porridge-like and almost slurpable. If your oats dry out, add milk to revive them and cook until you get the desired consistency.
Keep stirring the pot. Once your oatmeal simmers, stir it constantly to prevent it from sticking to the saucepan. Also, don't rush your oats! Cook them at a low-medium heat for the desirable, soft texture.
Taste before you serve. Oatmeal develops its flavor as it cooks and thickens after you take it off the heat. Before serving, do a quick taste-check of the oatmeal to see if it is lacking anywhere. Finish with a pinch of salt, a dollop of Greek yogurt, or a drizzle of sweetener to adjust the taste.
Use different spices. If you're not a fan of cinnamon, we may not become friends! But you can still enjoy delicious oatmeal flavored with nutmeg, cardamom, pumpkin spice, or poppy seeds.
Play with the sweetener. Although I have used maple syrup in this recipe, you can use date syrup, agave syrup, monk fruit sweetener, or sugar-free alternatives to sweeten vanilla oatmeal.
Storage instructions
To store. If you make a big batch or have leftovers, refrigerate for a week for readymade breakfast.
To freeze. Oatmeal is freezer-friendly. Portion into single-serve portions into freezer-safe containers and consume within six months.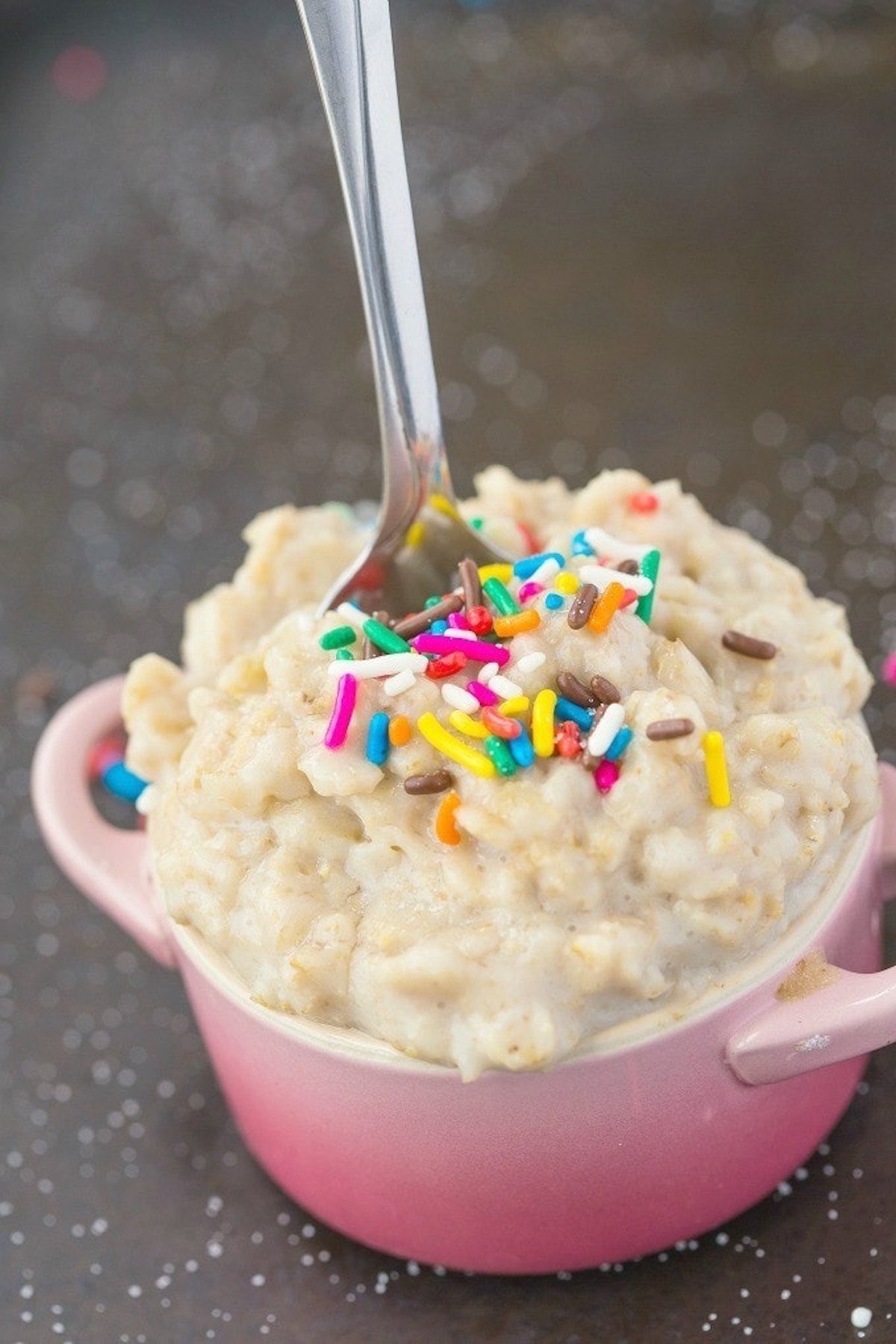 More quick oatmeal recipes to try: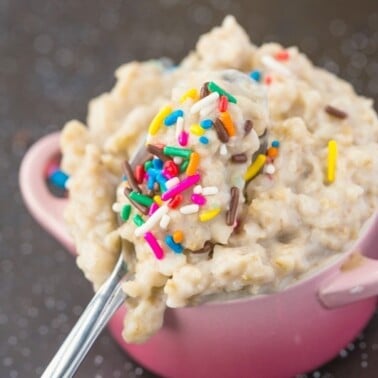 Vanilla Oatmeal
Healthy, delicious, and filling- this classic vanilla oatmeal is the perfect way to start your day. It is dairy-free and naturally sweetened, and you need only 10 minutes to make it.
Instructions
In a small saucepan, add the vanilla almond milk, oats, and salt, and bring to a boil.

Once boiling, reduce the heat to a simmer and cook for 3-4 minutes, until most of the liquid is absorbed.

Whisk in the vanilla bean paste, maple syrup, and cinnamon and cook until oats are to your desired texture.

Remove from the pot, add toppings, and serve immediately.
Nutrition
Serving:
1
serving
Calories:
249
kcal
Carbohydrates:
43
g
Protein:
7
g
Fat:
6
g
Sodium:
911
mg
Potassium:
194
mg
Fiber:
5
g
Sugar:
13
g
Vitamin A:
1
IU
Vitamin C:
0.02
mg
Calcium:
348
mg
Iron:
2
mg
NET CARBS:
38
g
Disclosure: This post may contain affiliate links. I may earn a small commission for my endorsement, recommendation, testimonial, and/or link to any products or services from this website.