A smooth, creamy and delicious oatmeal which has the taste and texture of actual vanilla cake batter! This healthy vanilla cake batter oatmeal can be enjoyed hot or cold and is suitable for those following a vegan, gluten-free, dairy free and sugar free lifestyle!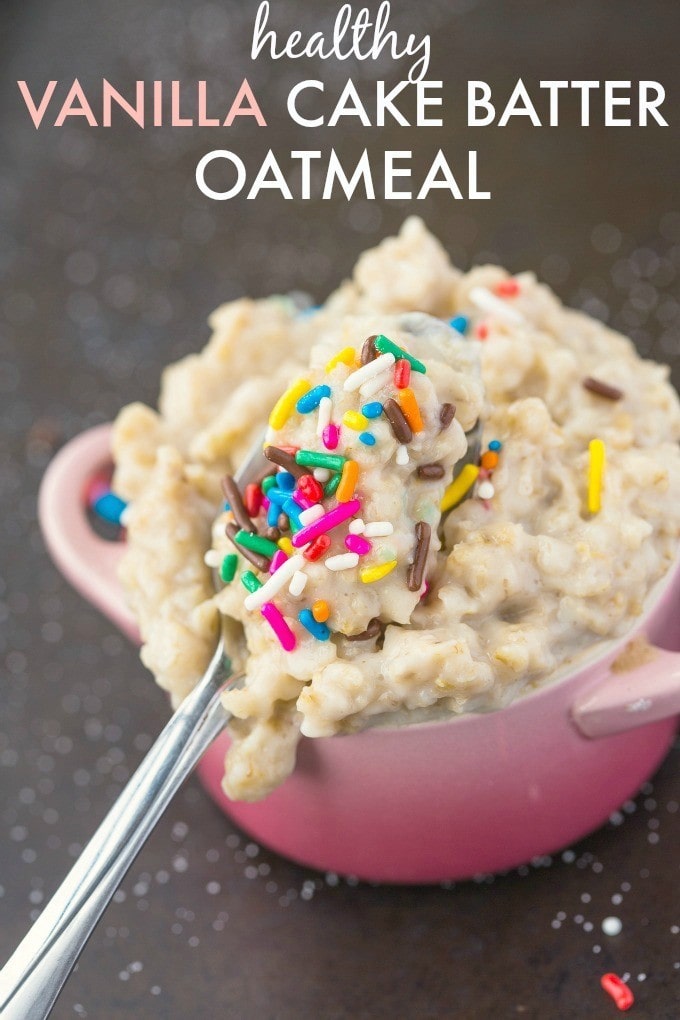 I used to always think that most people were team chocolate but based on requests, it looks like 2016 might be all things vanilla on TBMW.
Okay, let's not get too excited here. Vanilla will be present but let's not ignore chocolate completely.

MY OTHER RECIPES
On Monday's post, I announced that each week I'll be sharing a reader requested recipe!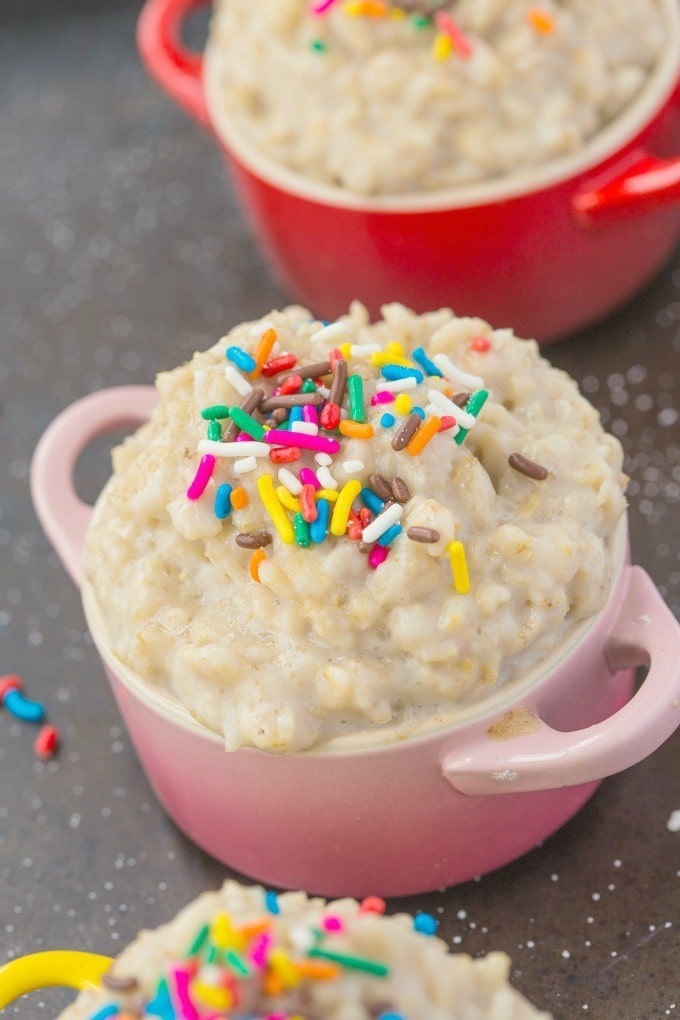 Ever since I consistently started sharing recipes on here, oatmeal recipes have been some of my favorite and most popular. It's no surprise- People love breakfast and people love oatmeal. Looking through my oatmeal archives, there's been quite some variety. From Baklava oatmeal to sticky cinnamon roll batter oatmeal, there's a ton of variety.
What's been the most popular ones have been the most classic – The two front-runners being the original cake batter oatmeal shared in 2014 and this brownie batter oatmeal shared early 2015.
BATTER UP? HEEEEEEY.
The number 1 request I'd have whenever I'd share an oatmeal recipe (or even breakfast ones!) would be to share a classic vanilla flavor. I knew the first oatmeal recipe for 2016 AND the first reader request recipe had to be just that- Healthy Vanilla Cake Batter oatmeal so friends, that's what's on the menu books for today.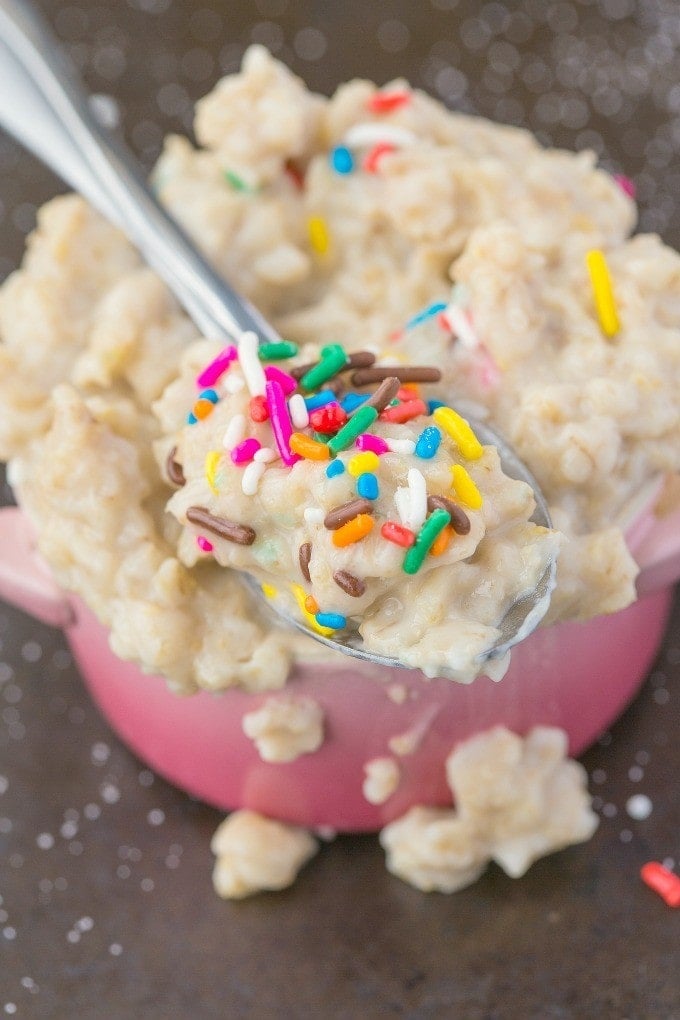 It's also WHAT I ATE WEDNESDAY so let's check out a day which involved ridiculous snacking and ending in an overpriced brown box from Whole Foods.
Oh, Los Angeles.
Breakfast- Vanilla Cake Batter Oatmeal (eaten overnight style for ultimate cake-like texture!). Snack- A freezer burnt slice of this 4 ingredient chunky banana bread. It was an end piece and the size of a small child and I loved it. Lunch- Lunch was random. I ate 3 scrambled eggs, some Persian cucumbers and some carrots with a homemade avocado dip. Dinner- So this might the most random Whole Foods meal ever. I had- Mac and Cheese, some beef curry, tofu, Jalapenos and…..Okay, so I LOVE their bottled sweet chilli sauce which I think is 99% sugar. I got a side of that to 'dip'. I also got a small container of curried chicken salad. I was stuffed and have no regrets.
Now for today's recipe- Healthy Vanilla Cake Batter oatmeal!
When it comes to oatmeal, I am all about texture with SOME toppings. Sometimes I see recipes out there which look like those frozen yogurt cups- You know what I mean? A small amount of oats (yogurt) and a plethora of toppings- Fruit, candy, unicorn feathers and Kim Kardashian's shoe.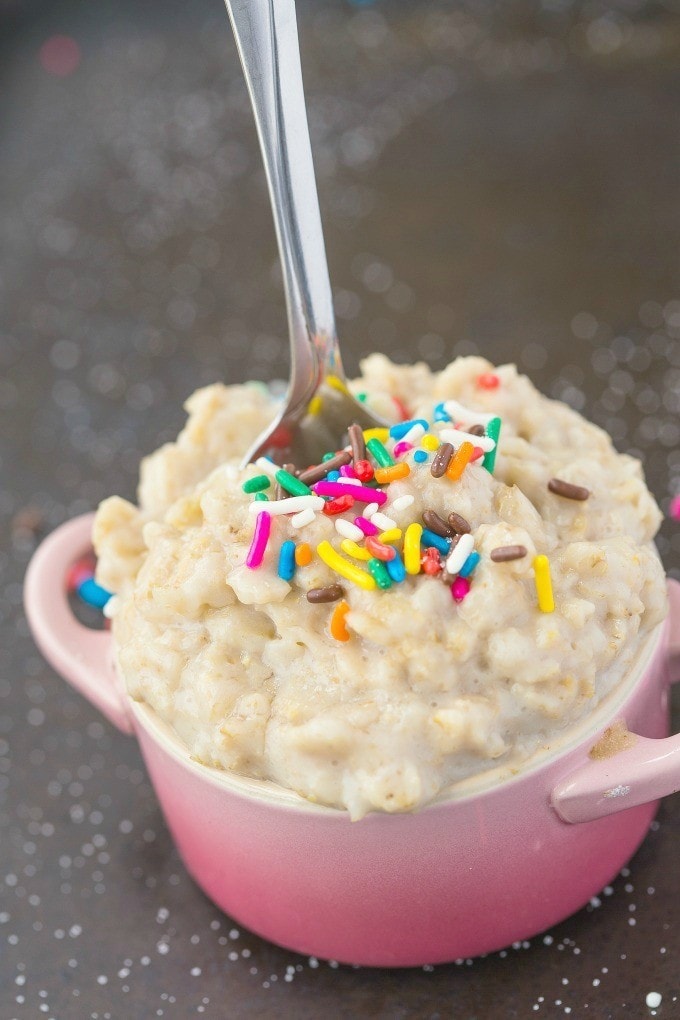 This healthy vanilla cake batter oatmeal fits the bill nicely. It has the actual taste and texture of cake batter and flavored with vanilla in JUST the right amount (let's not recall the time I accidentally added a TABLESPOON of extract to a bowl of oatmeal). It's creamy, smooth and NOT watery or has too much liquid- It's thick and could if you like a smoother oatmeal, YOU add the extra milk in it! For such a decadent looking breakfast, it's actually ridiculously healthy and has no sugar whatsoever and is packed full of protein! It's also suitable for those following a vegan, gluten free and dairy free lifestyle!
HACK! I know some are on team overnight oatmeal and some are on team steaming hot oatmeal (Is anyone on team lukewarm?). I've shared two tested methods which are suited to fit the bill whichever team you're playing on! The best thing is both can be prepped before and even be bulk cooked too! I recommend this vegan protein powder which has amazing texture, this coconut flour and these jumbo rolled oats.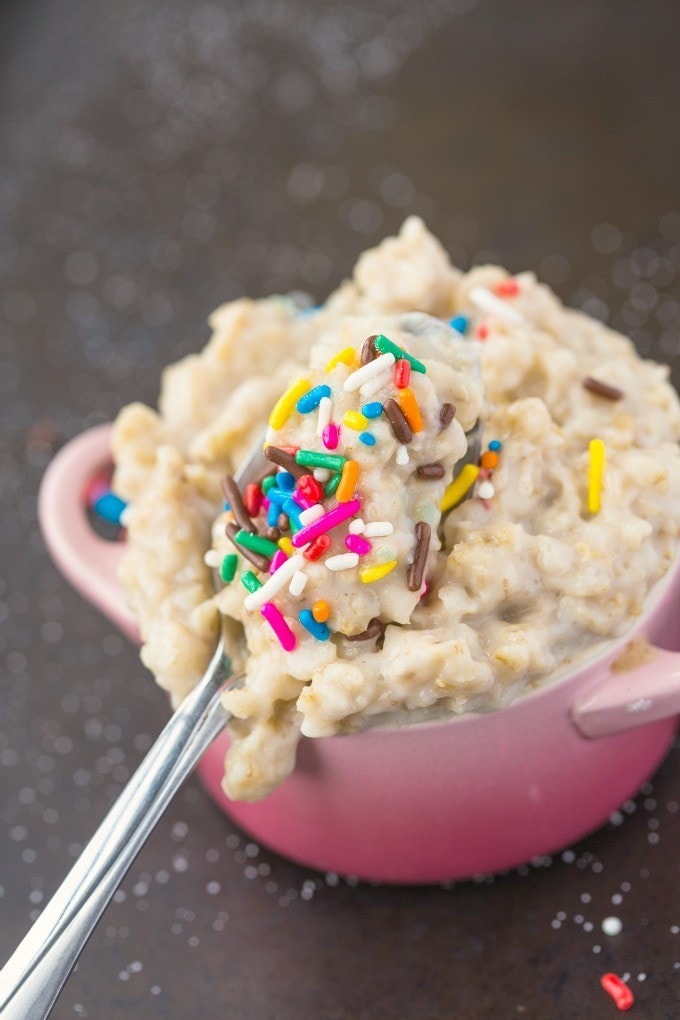 Make this healthy vanilla cake batter oatmeal and here's to the first of many reader request recipes to come!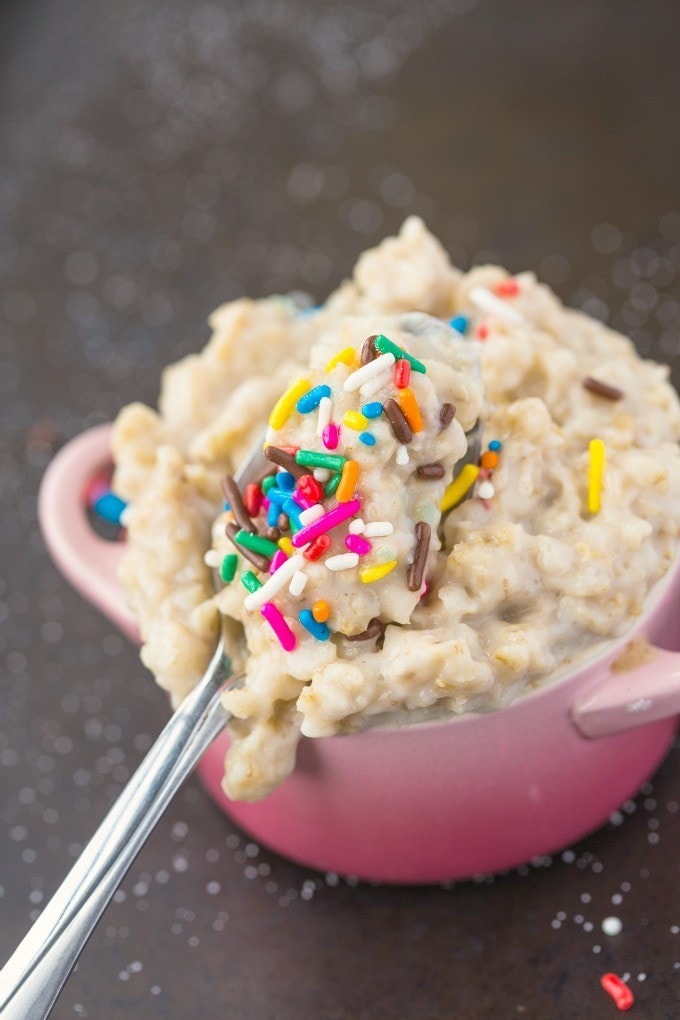 Healthy Vanilla Cake Batter Oatmeal
2016-01-06 00:18:20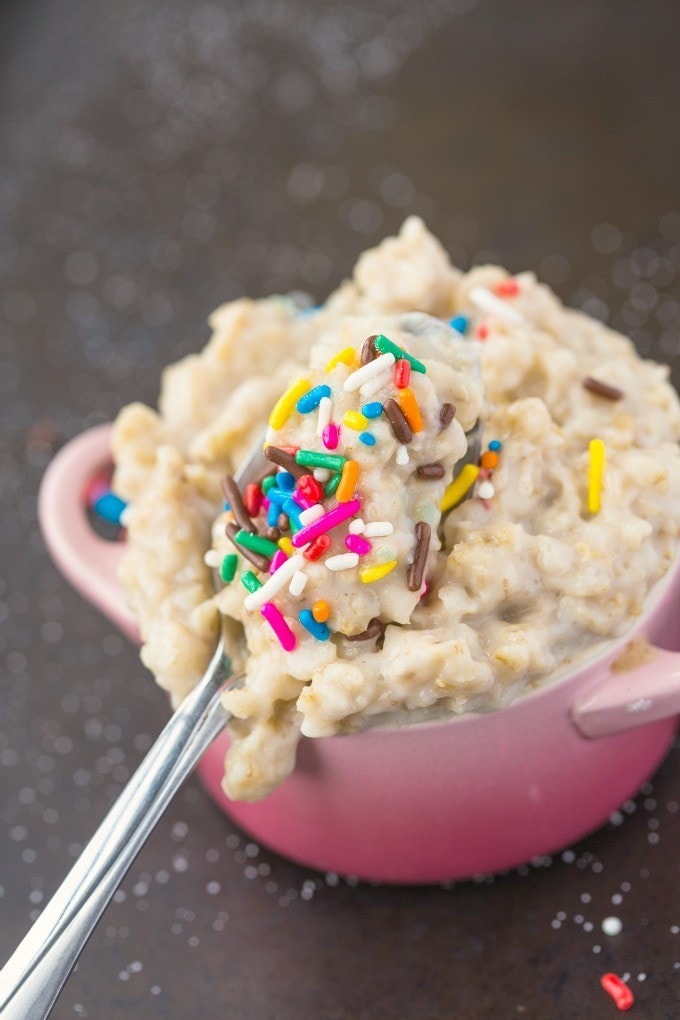 Serves 1
A smooth, creamy and delicious oatmeal which has the taste and texture of actual vanilla cake batter! This healthy vanilla cake batter oatmeal can be enjoyed hot or cold and is suitable for those following a vegan, gluten-free, dairy free and sugar free lifestyle!
Ingredients
1/2 cup rolled oats (I used gluten free rolled oats)
pinch sea salt
1 1/4 cups dairy free milk of choice, divided
1/2 tsp vanilla extract
1 large egg (for a vegan option, sub for 1 flax egg- 1 T flax + 3 T water)
1 scoop of vanilla protein powder (optional but highly recommended)
1 T coconut flour, sifted
1 T granulated sweetener of choice (optional)*
Sprinkles to top, optional
Instructions
Combine oats, salt and 1 cup of milk in a saucepan or microwave safe bowl until most of the liquid is absorbed. Whisk in the whole egg very well (or flax egg) and continue cooking for another 1-2 minutes, until oats are extremely fluffy.
Stir in the vanilla protein powder, sweetener of choice, vanilla extract and coconut flour until fully combined- Oatmeal mixture should be extremely thick. Add in the extra 1/4 cup of milk and ensure it is well mixed. Once this is done, refrigerate uncovered.
The next morning, stir the oatmeal very well and top with nut butter/sprinkles etc. Reheat if desired.
Notes
* If protein powder is sweetened, omit.
The protein powder is optional- If you omit, decrease the dairy free milk by 1/4 cup.
Ensure you use the whole egg over egg whites (if not using flax egg) as it provides the cake batter like texture. If you don't have coconut flour, add a tablespoon of flaxmeal, oat flour or almond flour.
The Big Man's World ® https://thebigmansworld.com/
Your turn! Let's see what you've been eating!
Hot cereal, cold cereal or no cereal?
What is your favorite kind of dressing? Blue cheese, you kill me (with your voice).