Foolproof Banana Muffins (eggless, gluten-free, vegan)
These are the BEST easy banana bread muffin recipe you'll ever make, and they happen to be vegan! No eggs, No refined sugar, No oil, no dairy, but perfect every time.
The easiest, most delicious banana muffins made without eggs! Simple ingredients combined together to produce moist banana bread muffins with the most tender exterior! Made with easy pantry staples and ingredients, you probably have everything on hand right now!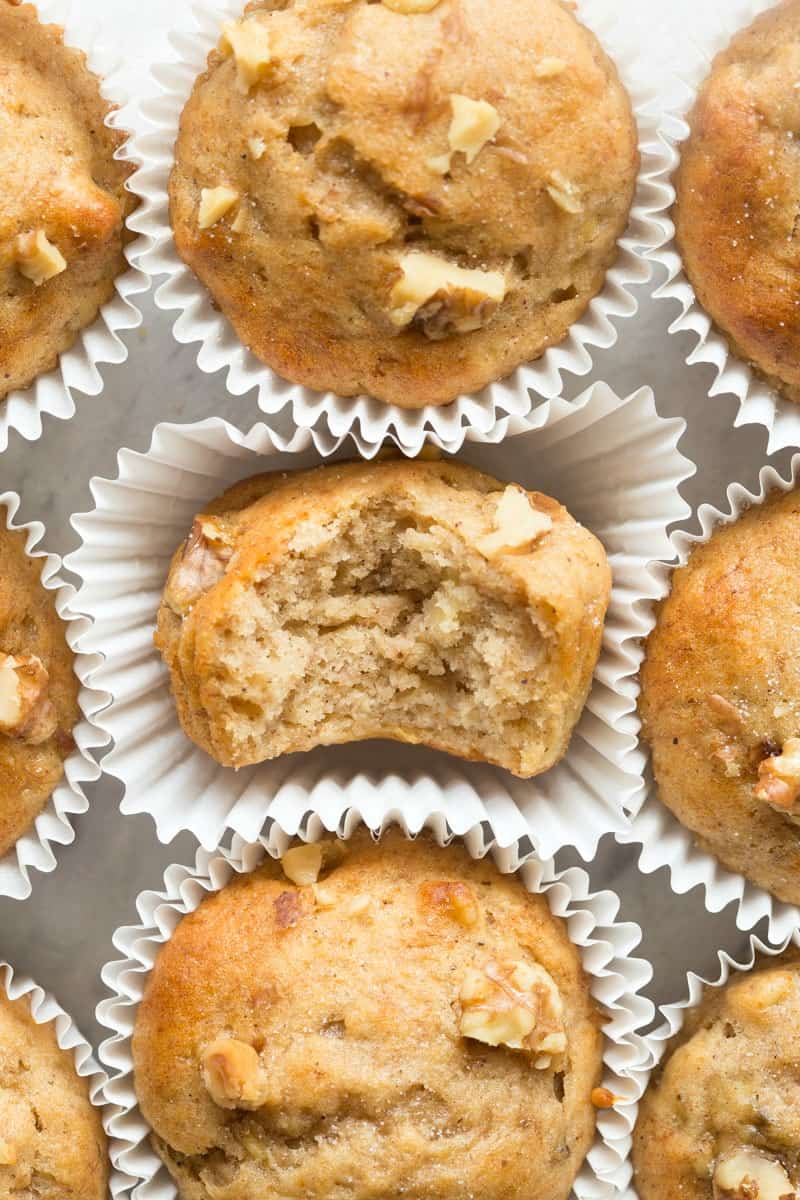 Growing up, banana muffins were a staple in my household. Every week, my mum would make a batch of incredible banana muffins that rivaled any bakery out there.
I've revamped her classic recipe to give it a vegan and eggless makeover! Its texture is just what you want in a gorgeous banana muffin- Fluffy and moist on the inside, incredibly tender on the outside.
Taste-wise, it's sweet, loaded with warm cinnamon spices, and perfect paired with coffee, tea or a small smear of butter.
Why these are the BEST vegan and gluten-free banana muffins
Whenever I veganise or try a recipe without eggs, I'm often afraid that it won't be as good as it's 'made with eggs' counterpart.
These vegan banana bread muffins truly are the BEST. They rise up, cook beautifully, and look exactly like those bakery-style banana muffins. Also, they have no milk and no dairy, but you'd never be able to tell.
They are also secretly healthy and use wholesome ingredients like wholewheat flour, have no added sugar and perfect for lunch boxes, work parties or afternoon tea.
The best part of these healthy banana muffins is that they use EASY pantry staple ingredients.
I understand many of you are looking for quick and easy recipes that use pantry ingredients, and these fit the bill.
Bonus? They are a fabulous recipe to get your kids to help you out with!
How to make easy healthy vegan gluten free muffins with banana
While you can easily make these muffins in just one bowl, you can make it even easier, by using a stand mixer!
The Ingredients
Bananas– Mashed, overripe bananas work best. Use either 3 large bananas or 4 medium bananas.
Granulated sweetener of choice– Any granulated sweetener will work- White sugar, brown sugar or coconut sugar. To keep it sugar free, use granulated monk fruit sweetener.
1 flax egg– Replaces any need for eggs in the recipe! To make a flax egg, combine 1 tablespoon of ground flaxseed with 2.5-3 tablespoons of water. Let it sit for 10 minutes, for a gel to form.
Dairy free butter– A vegan butter substitute, you can also use coconut oil, but it won't be as tender.
All-purpose flour– Use either all-purpose white flour or whole wheat flour. I used a gluten-free all-purpose flour, and it worked beautifully (as pictured!).
Baking soda– To help the muffins rise.
Baking powder– aids the baking soda!
Salt– To bring out the sweetness!
Vanilla extract– A must for all sweet baked goods!
The Instructions
Making these banana muffins is so simple and follows a 3-step process.
Step 1- Prepare the flax egg by combining 1 tablespoon of ground flaxseed with 2.5 tablespoons of water. Let it sit for 10 minutes, for a gel to form.
Step 2- Add the wet ingredients into a large mixing bowl, or stand mixer. Mix until combined. Add the rest of the ingredients and mix well, until fully incorporated.
Step 3- Distribute amongst 12 muffin tins, about 2/3 of the way full. Bake for 18-20 minutes, or until a toothpick comes out just clean.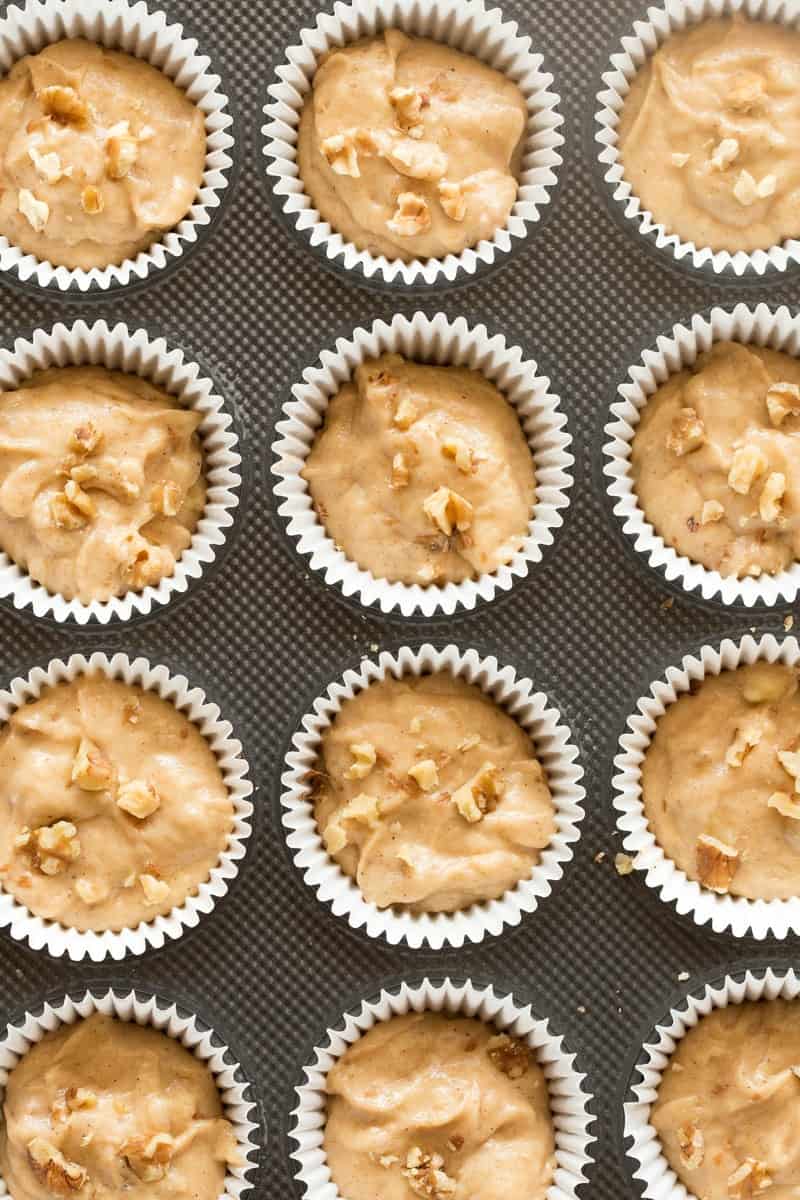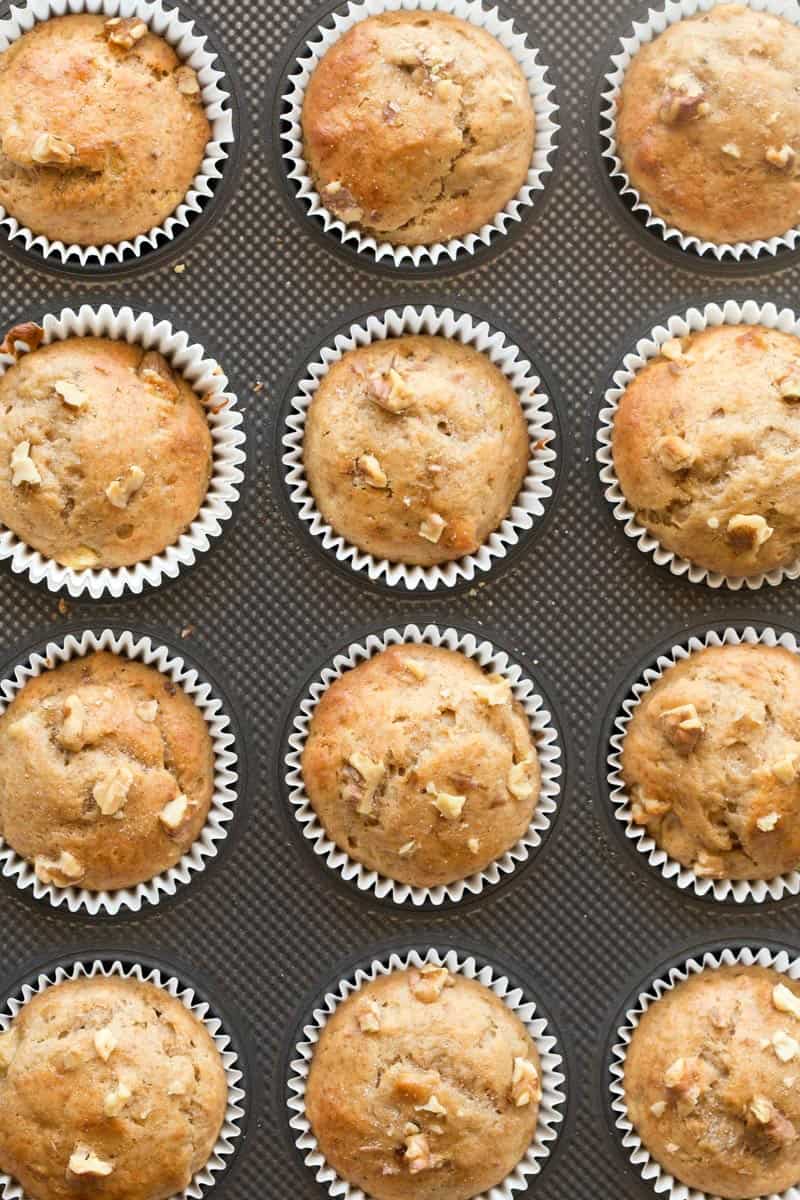 Can I use eggs If I am not vegan?
For those of you who don't follow a vegan diet, you can replace the flax egg by using whole eggs.
Simply swap out the ground flaxseed and water combination (what is used to make a flax egg) with one whole egg. Be sure the egg is at room temperature too.
Storing eggless banana muffins
To store: Vegan banana muffins must be stored in the fridge, to avoid them spoiling. Either wrap them individually in saran wrap or plastic wrap or place them all on a plate and cover that completely with the wrap. They will keep fresh for 2 weeks.
Personally, I prefer wrapping them individually as they make a fantastic grab and go breakfast (when I'm in the car) or healthy dessert after dinner!
How to freeze healthy banana muffins
To freeze: Vegan banana muffins are freezer friendly and are suitable to be frozen to enjoy later. Again, wrap them individually to avoid having to thaw them all out (these cannot be re-frozen once thawed!) and place them in ziplock bags.
Frozen banana muffins will freeze well for 6 months.
To thaw: Thaw frozen banana muffins at room temperature, or allow to sit overnight in the fridge. Do not microwave or heat in the oven from a frozen state, or else they will become soggy!
How many calories in a vegan banana muffin?
These healthy vegan banana muffins are what I love to call the 150 calorie muffin. Per one muffin, you'll find only 3 grams of fat and just 150 calories.
Store-bought banana muffins usually clock in 350 calories- You save 200 calories with this recipe!
Want a low carb banana bread? Try this recipe.
Banana bread muffin variations
Banana Walnut Muffins. Fold through 1/4 cup of chopped, unsalted walnuts into the batter. Reserve a handful to top the muffins with prior to placing them in the oven.
Banana Blueberry Muffins. Toss 1/4 cup of fresh or thawed (from frozen) blueberries in 2 tablespoons of flour. This will ensure the blueberries don't sink into the batter. Fold through the blueberries into the batter at the very end.
Banana Chocolate Chip Muffins. Add 1/4 cup of vegan chocolate chips into the batter.
Banana Peanut Butter Muffins (chunky monkey). There are two options here- Either swirl smooth peanut butter over the tops of the muffins just before baking. Or option 2- Fill each muffin halfway in the muffin tin, add a tablespoon of peanut butter in the center and pour remaining banana muffin batter over the top.
Banana Nutella Muffins. Swirl a tablespoon of homemade vegan Nutella through each muffin once it has been poured into the muffin tin.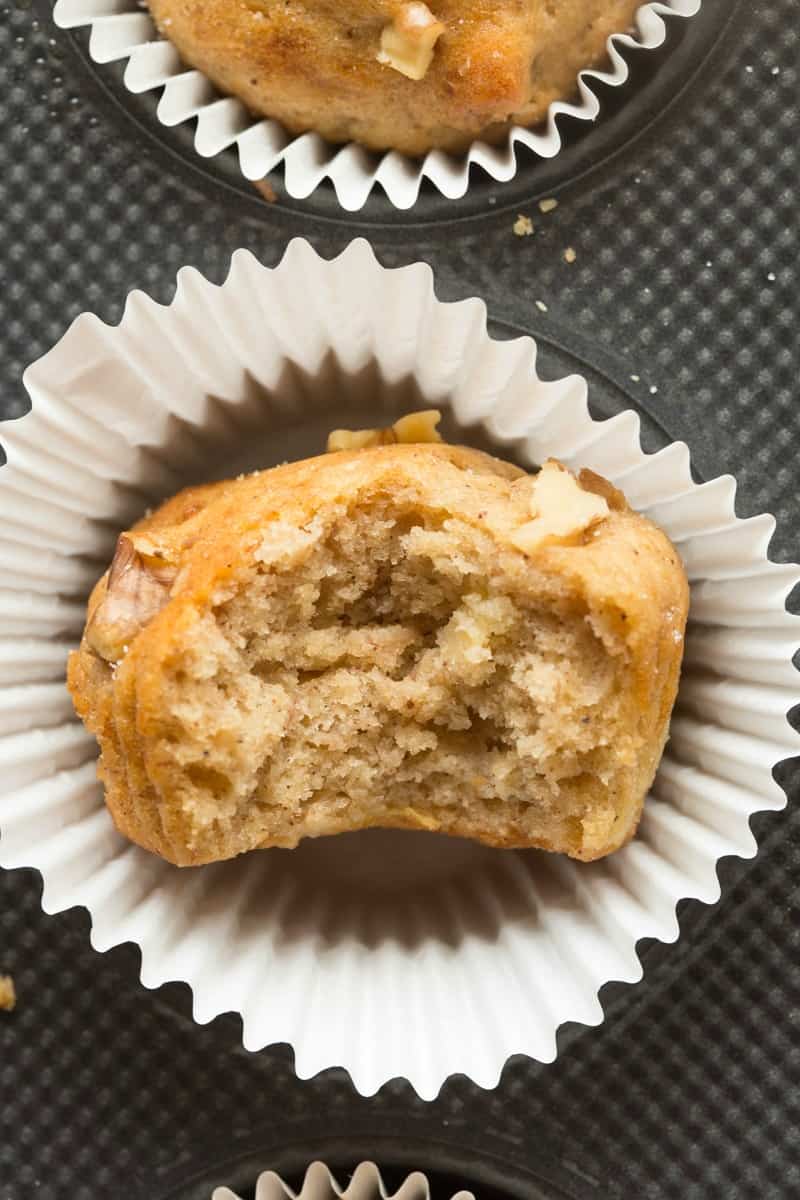 More easy and delicious eggless pantry recipes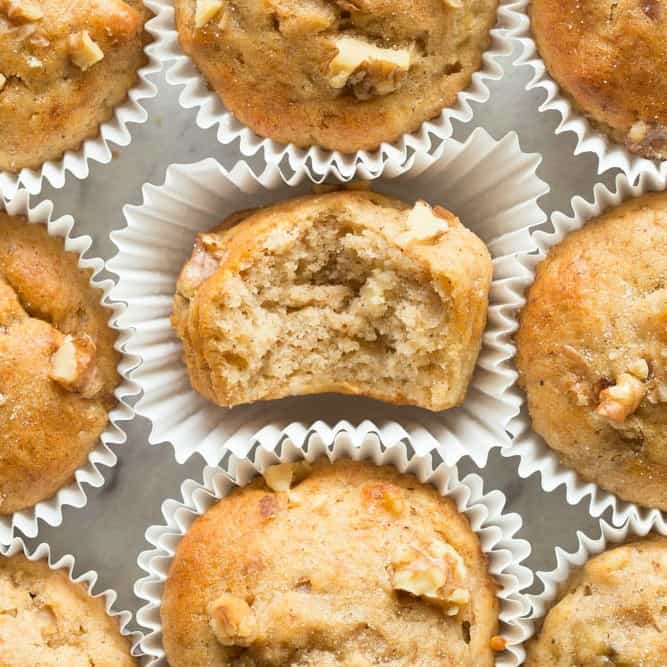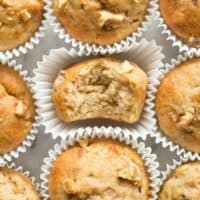 Healthy Banana Muffins (Vegan, Gluten Free)
The best easy and healthy eggless banana muffins made with simple pantry staple ingredients! Naturally gluten free and vegan, they are moist, tender and kid friendly!
Print
Rate
Ingredients
3

large

bananas

1/2

cup

sugar of choice

brown, white, coconut, monk fruit

1

egg OR egg substitute

flax egg, chia egg etc * See notes

1/3

cup

vegan butter

can use butter if not vegan

1

tsp

baking soda

1

tsp

baking powder

1

tsp

vanilla extract

1/2

tsp

salt

1 1/2

cups

Flour of choice

White, wholewheat OR all-purpose ** See notes
Instructions
Preheat the oven to 180C/350F. Line a 12-count muffin tin with muffin liners and set aside.

In a stand mixer or mixing bowl, add your bananas (mashed), sugar, egg substitute (or egg) and butter and mix until combined. Add the rest of the ingredients and mix until fully incorporated.

Distribute the batter amongst the muffin liners, about 2/3 of the way full. If desired, top with chopped walnuts. Bake for 20-22 minutes, or until golden brown on top and a skewer comes out clean.

Allow muffins to cool in the muffin tin for 20 minutes, before transferring to a wire rack to cool completely.
Notes
* To make a flax egg, combine 1 tablespoon of ground flaxseed with 3 tablespoons of water. Let it sit for 10 minutes, to form a gel. That is now a 'flax egg'.
** This recipe has been tested with white flour, wholewheat (wholemeal) flour and all-purpose flour. I cannot vouch for any other flour used.
Key Recipe Equipment and Ingredients
Nutrition
Serving:
1
muffin
|
Calories:
150
kcal
|
Carbohydrates:
26
g
|
Protein:
2
g
|
Fat:
5
g
|
Sodium:
386
mg
|
Potassium:
143
mg
|
Fiber:
1
g
|
Vitamin A:
281
IU
|
Vitamin C:
3
mg
|
Calcium:
29
mg
|
Iron:
1
mg
|
NET CARBS:
25
g