This vegan zucchini bread is a moist and tender loaf that uses simple ingredients! Made in just one bowl, it's a delicious quick bread recipe.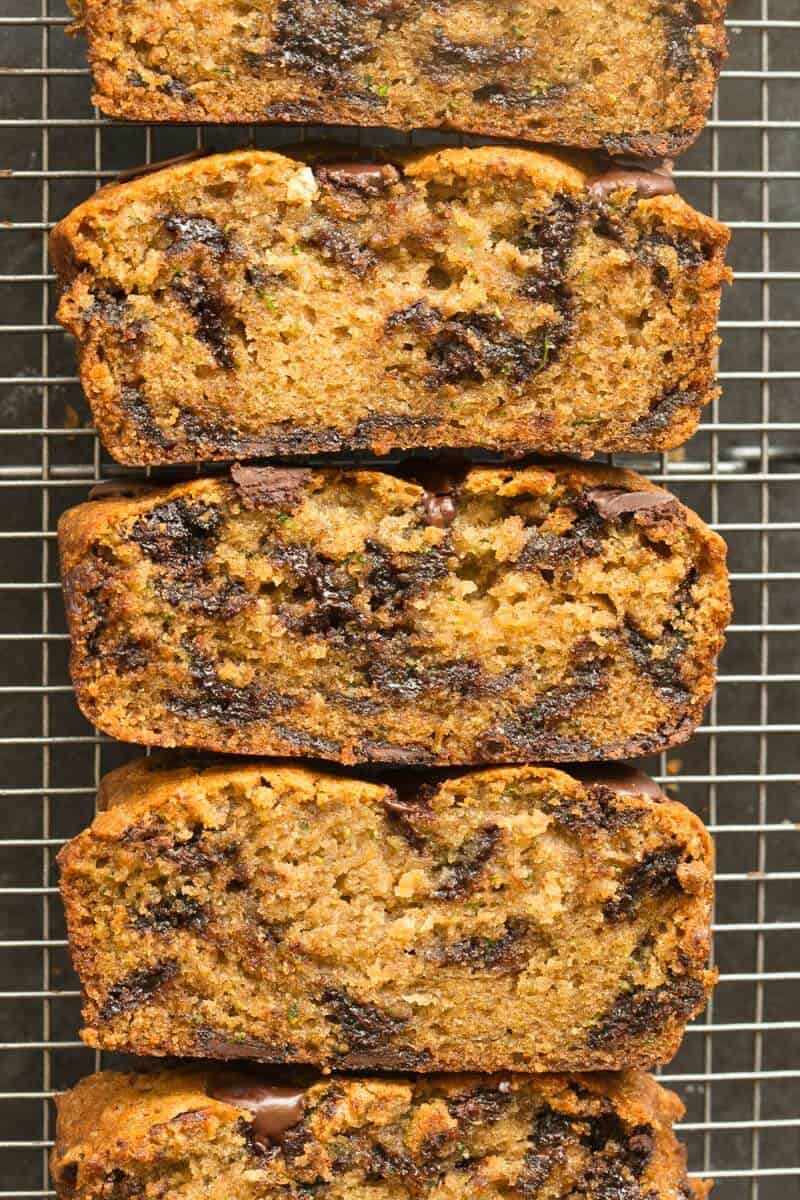 Not sure what to do with your leftover zucchini? Make this zucchini bread recipe.
This quick bread comes out tall and gorgeous, with a lovely tender crumb. The interior is moist and fluffy, with shreds of zucchini and melty chocolate chips throughout.
Like many of my vegan recipes, this one tastes just as good as any quick bread made with eggs and dairy. It's simple to make and tastes incredible.
Ready to whip up a loaf?
Ingredients needed
Zucchini bread is a simple creature: an easy baked good using flour, sugar, and plenty of zucchini. There is a few secret ingredients that ensure this bread is moist and tender through the full storage time. Here's what you'll need to make vegan zucchini bread:
All-purpose flour. Either white flour or wholewheat flour work.
Baking powder and baking soda. Gives the bread some rise and fluffiness.
Sugar. White sugar, brown sugar, or a sugar-free substitute all work. I've also tried this with coconut palm sugar and really enjoyed the flavor.
Cinnamon. Gives the bread a delicious flavor, and pairs beautifully with the zucchini.
Non-Dairy yogurt. My secret ingredient! Non-dairy yogurt replaces the need for any butter. Using non-dairy yogurt also means we don't need to use any bananas!
Zucchini. A must, obviously! Use a firm zucchini, and grate both the skin and the flesh.
Oil of choice. Coconut oil, vegetable oil, or sunflower oil are all fantastic oils to use in this.
Vanilla extract. Gives baked goods that extra flavor, and of course, perfect for a loaf of sweet bread.
Chocolate Chips. Optional, but HIGHLY recommended.
How to make vegan zucchini bread
This recipe is easy to make: the only thing to remember is to avoid over-mixing the batter. Here's the basic idea of making this bread (or see the recipe below for specifics):
Make the batter: Mix the dry ingredients together in a large bowl. In a separate bowl, mix the wet ingredients, including the zucchini, until combined. Combine the wet and dry ingredients until incorporated. Using a rubber spatula, fold through the chocolate chips.
Transfer the mix into a greased loaf pan and use a rubber spatula to even out the top.
Bake the vegan zucchini bread for 45-50 minutes, or until a skewer comes out mostly clean. Let the bread cool completely before slicing and serving.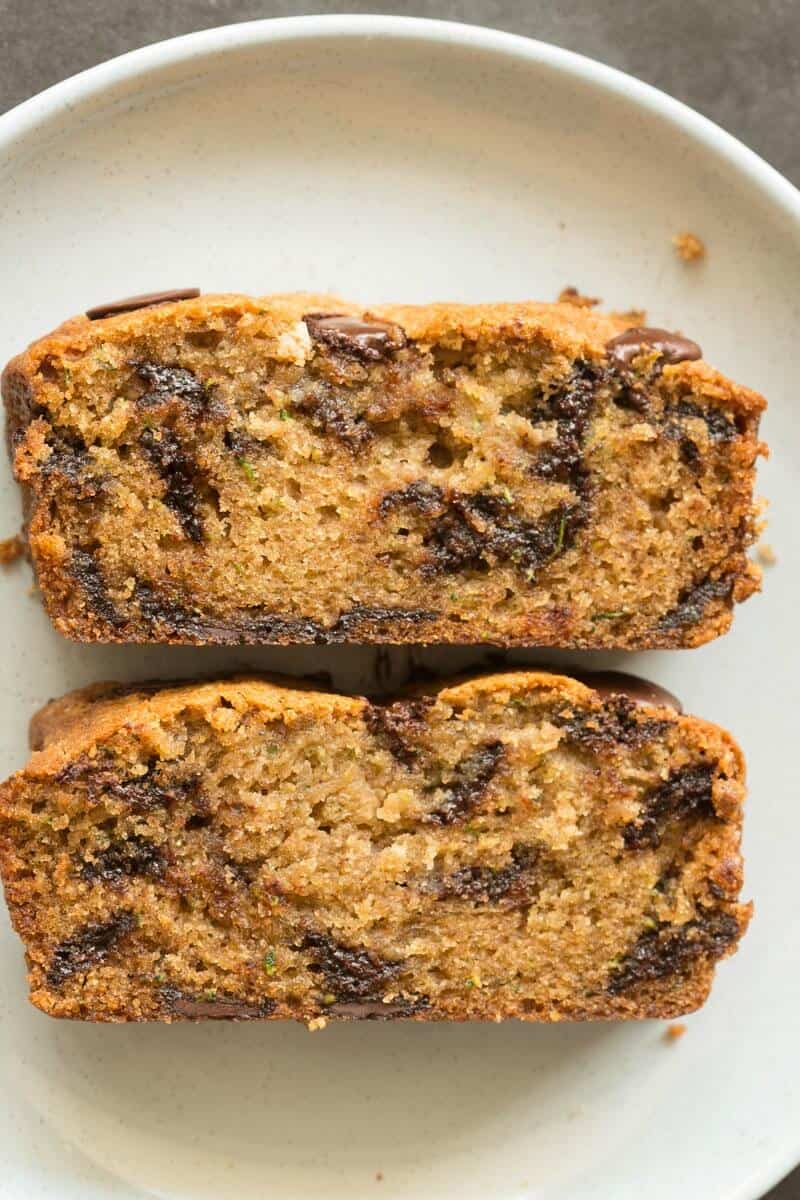 Tips to make the best recipe
If your zucchini is watery, lightly pat it with a paper towel. You don't want to squeeze all the moisture out, as it helps the bread be moist.
Do not over-mix the batter, as this can affect how nicely it rises. Gently mix until just combined, before folding through the chocolate chips.
Oven makes and models vary. Check your loaf around the 55-minute mark, using the skewer test. If the skewer comes out still wet, continue baking.
To avoid the tops of the loaf browning, I often place tin foil on top halfway through.
Dietary swaps and substitutions
This quick bread is easy to adapt to other diets and also can be jazzed up to change it's flavor. Here are some fun options:
Lower the fat by subbing out half the oil with unsweetened applesauce.
Make it gluten free by replacing the flour with a gluten free flour blend.
Cut the sugar by swapping out the sugar with a sugar substitute (like allulose).
Add mix-ins like walnuts, pecans, or raisins.
Cut the carbs by making a keto zucchini bread instead.
Storage info
Wondering what is the best way to store vegan zucchini bread? Here are best practices for vegan bread storage:
Up to 1 week: Store at room temperature in a sealable container. To keep it extra moist, add a sheet of paper towel on top.
1 week or more: This bread stores well in the refrigerator, too! Let it sit at room temperature for several minutes before enjoying.
6 months: Freeze in ziplock bags for up to 6 months.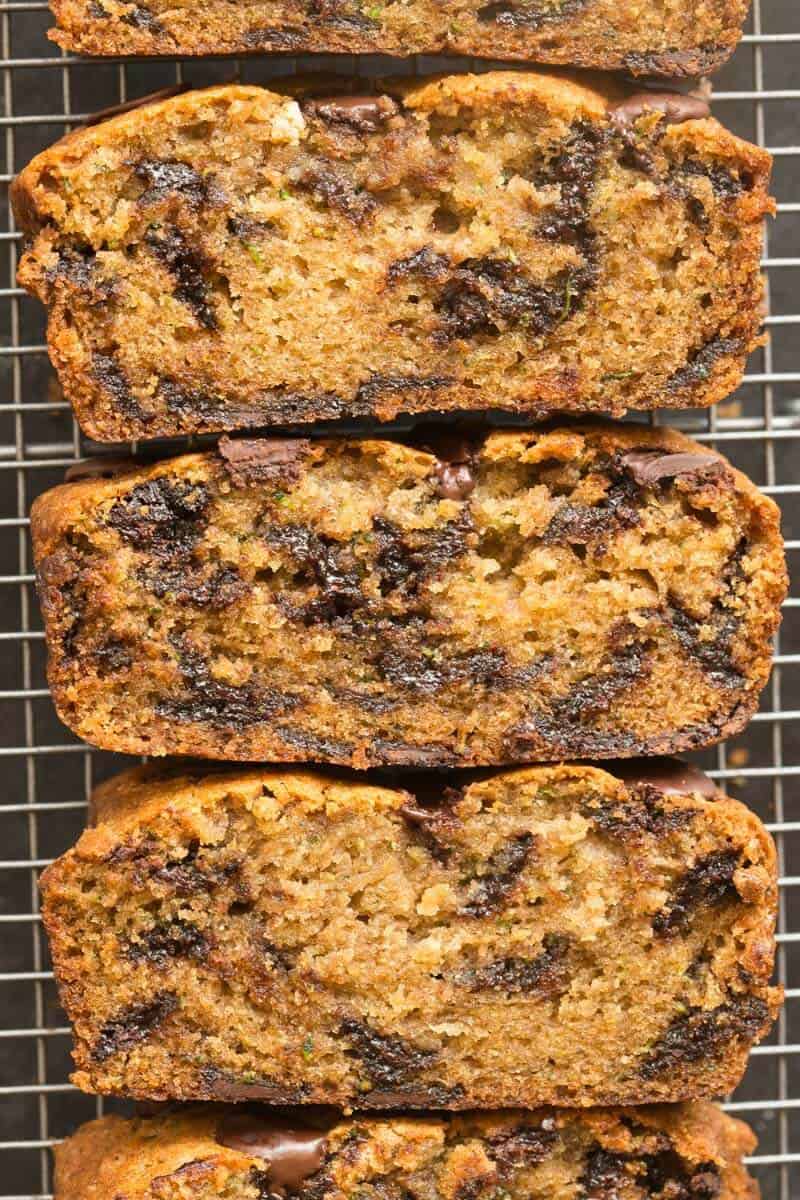 More vegan quick bread recipes to try
Frequently Asked Questions
Why is my zucchini bread wet?
If you don't squeeze out excess moisture from the zucchini, you risk the inside of the loaf being heavy and wet.
Why is my zucchini bread gummy?
If you over-mix the batter, you risk the bread overcooking quickly and yielding gummy slices.
Is this recipe gluten free?
You can use gluten free flour instead of all purpose flour and yield a quick bread suitable for celiacs.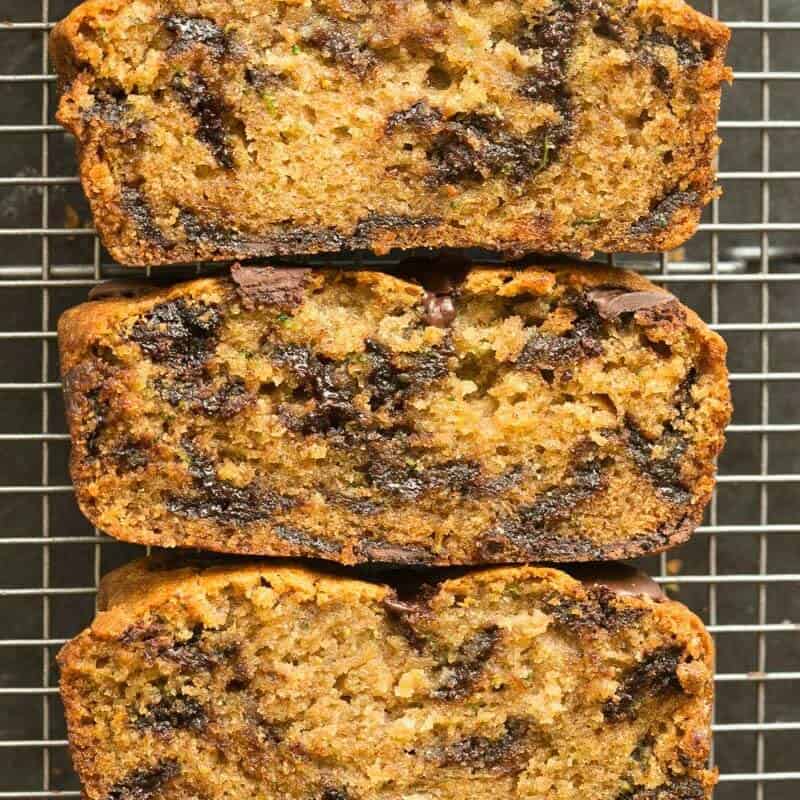 Best Vegan Zucchini Bread
This vegan zucchini bread is a moist and tender loaf that uses simple ingredients! Made in just one bowl, it's a delicious quick bread recipe. 
Print
Rate
Instructions
Preheat the oven to 180C/350F. Line a 9 x 4 loaf pan with parchment paper, allowing 1-2 inches overhanging. Set aside.

In a large mixing bowl, combine your flour, sugar, baking powder, baking soda, salt and cinnamon and mix well. In a separate bowl, mix together your oil, yogurt, vanilla extract and shredded zucchini, and mix well. Add your wet and dry ingredients together and mix until just combined. Fold through your chocolate chips.

Transfer your batter into the lined pan. Bake for 55-60 minutes, or until a skewer comes out mostly clean.

Remove from the oven and let cool in the pan for 20 minutes, before transferring to a wire rack to cool completely.
Notes
* I used Bob's Gluten Free All Purpose Flour.
** I used both coconut palm sugar and brown sugar, and both worked well. White sugar and a sugar free substitute can also be used.
*** Coconut oil, vegetable oil, sunflower oil, and safflower oil
Remember, oven times vary depending on their make. It may take up to 75-80 minutes to cook fully.
TO STORE: Place slices of zucchini bread in a sealable container, and keep them in the refrigerator. It will keep fresh for up to 7 days.
TO FREEZE: Leftover zucchini bread can be placed in a ziplock bag and stored in the freezer for up to 6 months.
Nutrition
Serving:
1
Slice
|
Calories:
187
kcal
|
Carbohydrates:
29
g
|
Protein:
2
g
|
Fat:
9
g
|
Sodium:
185
mg
|
Potassium:
17
mg
|
Fiber:
1
g
|
Vitamin A:
17
IU
|
Calcium:
34
mg
|
Iron:
1
mg
|
NET CARBS:
28
g