The BEST vegan strawberry ice cream recipe made with just 3 simple ingredients- Thick, creamy, and ridiculously easy! No refined sugar, no dairy, and no ice cream maker needed! Keto, Gluten-Free, Paleo, Dairy Free.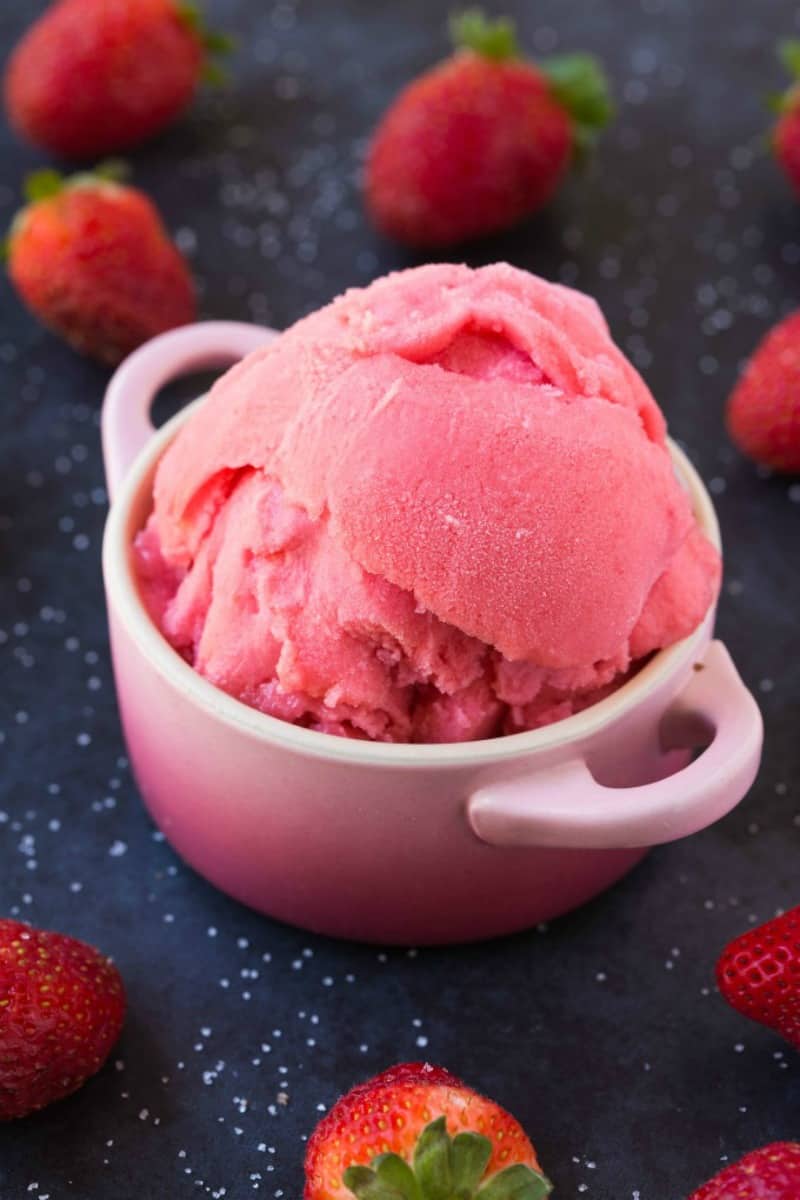 Dairy Free Strawberry Ice Cream Recipe
We love our no-churn ice cream recipes here. Some of our favorite homemade vegan ice cream recipes include vanilla ice cream, chocolate ice cream, and coconut milk ice cream.
It's time for a strawberry to get in on some action!
What does 'no-churn ice cream' mean?
Before you scoff at this recipe and claim you don't have an ice cream maker, this recipe is 100% made WITHOUT an ice-cream maker!
No churn strawberry ice cream refers to producing a delicious ice cream without the need for an ice cream maker! This easy fool-proof no-churn strawberry ice cream combined frozen strawberries, coconut milk, and a sticky sweetener of choice.
In fact, I used my blender to make it and it created a dreamy, creamy, and completely guilt-free ice cream. For those without a blender, this can be made in the food processor too! Naturally vegan and dairy free, it's also paleo, gluten-free, and easily made keto!
This truly is the BEST dairy free strawberry ice cream recipe.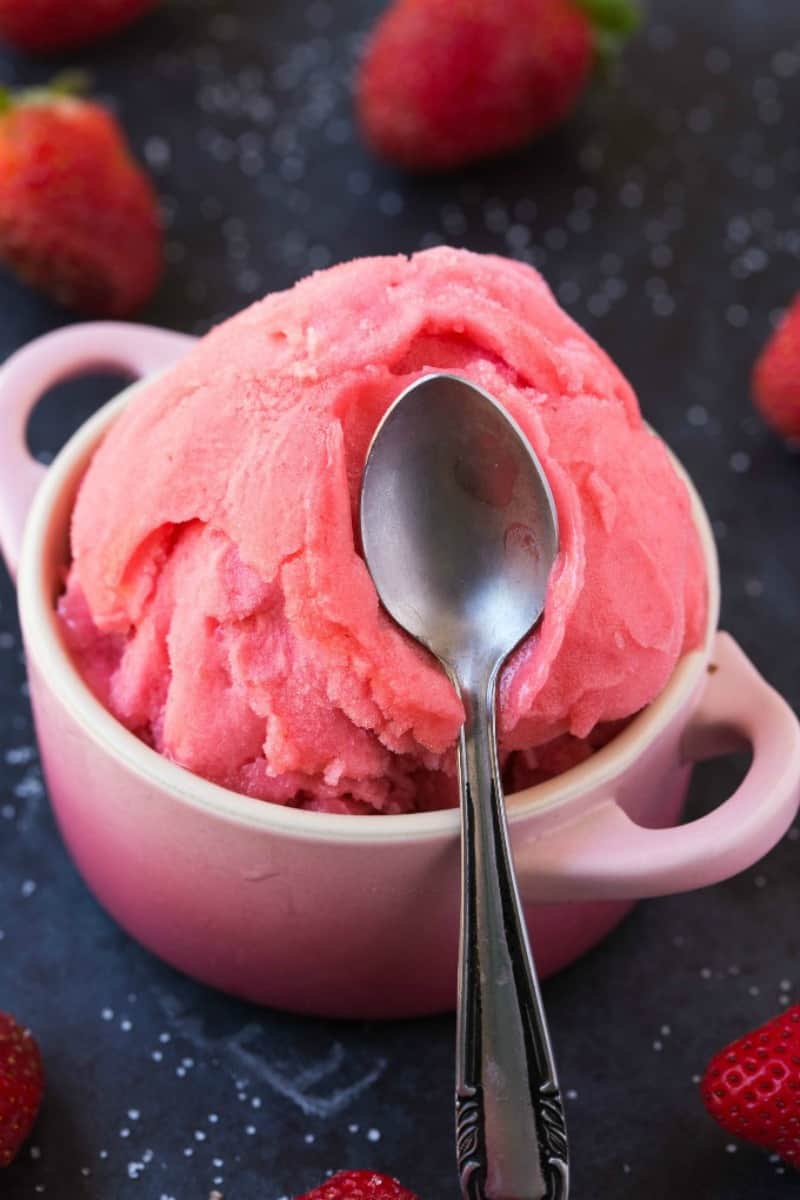 How to make no churn strawberry ice cream
The Ingredients
Coconut Milk

Maple Syrup (or keto maple syrup)

Strawberries

Xanthan Gum (optional)
Coconut Milk
Canned coconut milk is the main ingredient for this ice cream.
Ensure it is full-fat, otherwise, it won't work out. Once chilled, turn the can upside down and pour the liquid into a cup or mug and reserve it to be poured into the ice cream mixture after the cream- It will ensure the ice cream is creamier and the cream is well blended. What you'll have left is the thick coconut cream, so throw that in the blender, followed by the coconut milk.
Frozen Strawberries
Frozen strawberries add a thickness and creaminess, along with strawberry flavor.
Ensure your strawberries are frozen, otherwise, it will result in relatively icy ice cream after it's been frozen and slightly thawed. If possible, use cut-up fresh strawberries or pre-packaged frozen pieces.
Maple Syrup
Maple syrup provides extra sweetness and overall lightness to the ice cream. Before you roll your eyes and proclaim that it is 'sugar', you'll only be using a half cup for the entire recipe.
Xanthan Gum (Optional)
For ultra-creamy and super silky ice cream, feel free to add a teaspoon of xanthan gum.
Xanthan gum is a gluten-free thickener, but be warned- A tiny amount goes a very long way. Even accidentally adding a little extra will result in a wasted recipe!
The instructions
Freeze the loaf pan– Freeze a loaf pan 30 minutes before preparing your ice cream. This will ensure the ice cream will not have any freezer burns and freeze the mixture evenly.
Blend your coconut milk individually– Add the layer of coconut cream and blend lightly. Add the rest of the coconut milk and blend until combined.
Add your strawberries and sticky sweetener– To the blender, add your frozen strawberries and sticky sweetener and blend well, until smooth and creamy.
Freeze the mixture then stir it– Pour the vegan strawberry ice cream mixture in the frozen loaf pan. For the first hour, stir the mixture every 15 minutes, to ensure the mixture doesn't freeze into a solid ice block.
Can I make this a keto strawberry ice cream?
Yes, this recipe can easily be made keto!
Although strawberries do contain some carbs in them, they are a low net carb fruit, and the amount used in this recipe is a very small portion.
The only ingredient swap you'll be using from the original recipe is the maple syrup. Traditional maple syrup is not keto-friendly, but this recipe works with keto maple syrup. It has the same texture as traditional maple syrup and provides both sweetness and a creamier texture to the ice cream.
NOTE: Other sugar free syrups will NOT work. They contain too much extra water in it and will yield an icy texture.
Storage Tips
To store

: Leftover strawberry ice cream can be stored in the freezer, for up to 1 week. Be sure you keep it in a freezer-friendly container.

To thaw

: Because this ice cream has no dairy and no refined sugar, you need to thaw it for 15-20 minutes, before scooping into bowls.

To re-freeze

: I don't recommend re-freezing the strawberry ice cream once it has been thawed. Re-freezing it causes the mixture to ice up, and the next time you remove it to enjoy, it will be rock hard solid.
Dairy Free Strawberry Ice Cream Tips
Use a good quality blender or food processor. This ensures the ice cream is blended well, which in turn, freezes so much better.

Don't use fresh strawberries. Fresh strawberries tend to impact the texture of the ice cream and be difficult to firm up. If you only have fresh strawberries, freeze them prior to making the ice cream.

Your coconut cream MUST be chilled and MUST be from a can. Room temperature coconut cream will weaken the thickness of the ice cream. Do not use carton coconut milk or other milk alternatives.

You can use an ice cream maker if you have one on hand. Be sure to follow the instructions as listed on the make and model of it.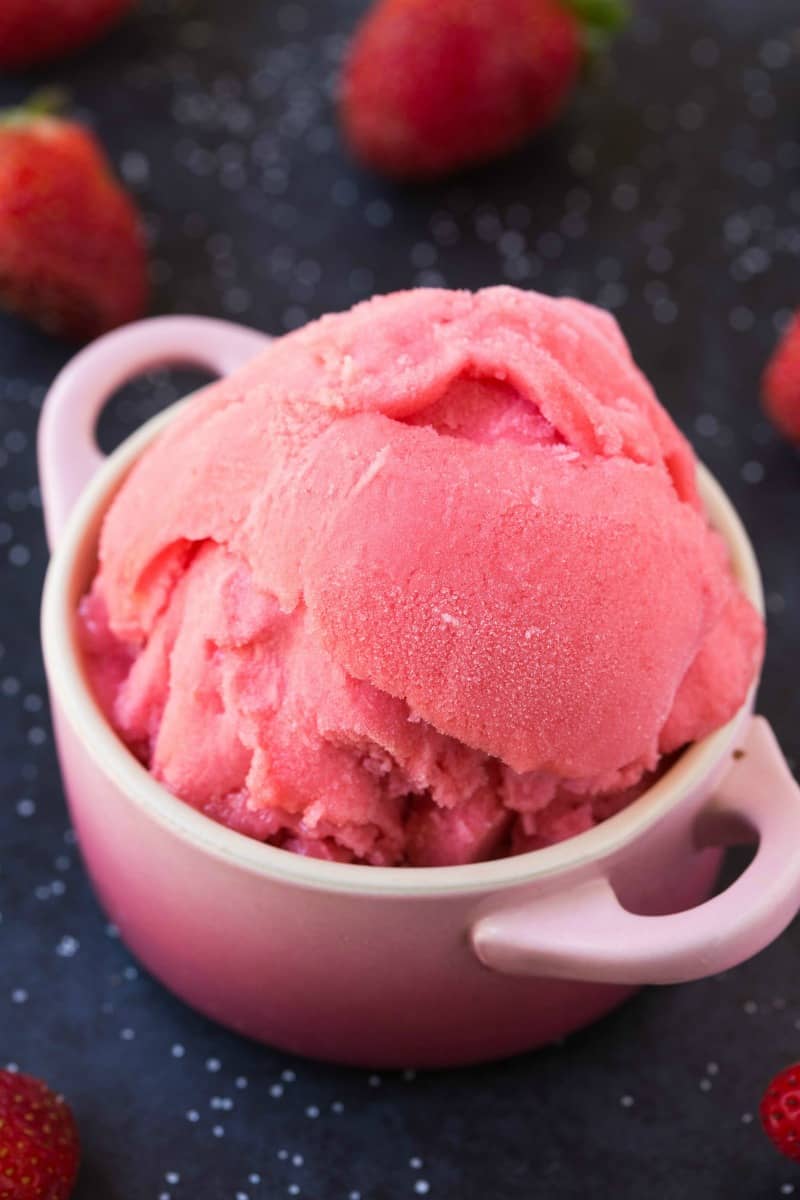 More EASY ice cream recipes you'll enjoy
WATCH THE STEP-BY-STEP VIDEO BELOW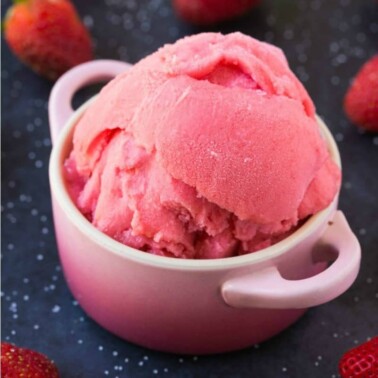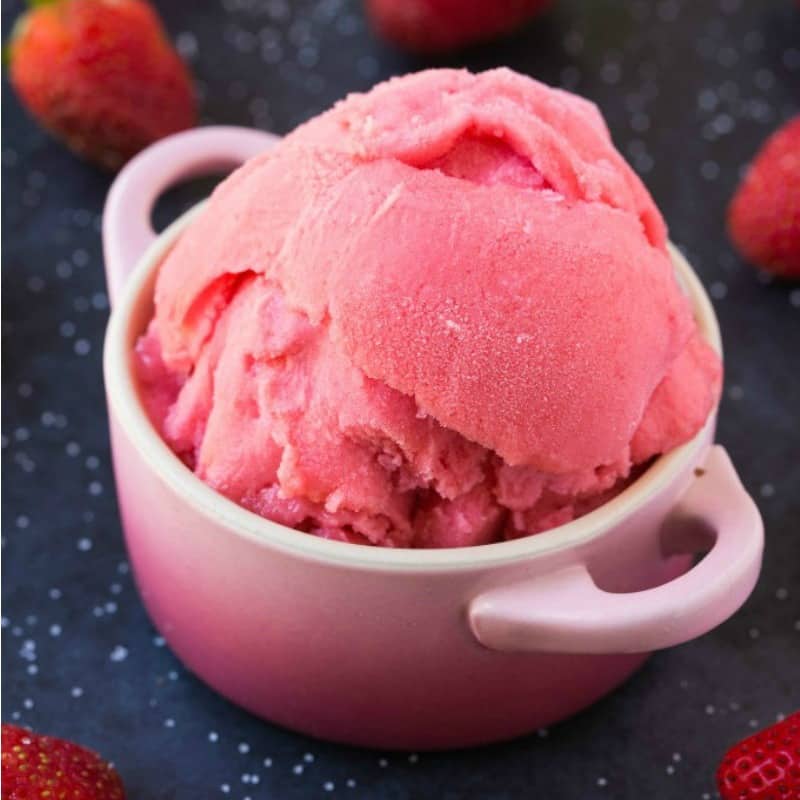 Vegan Strawberry Ice Cream
Thick, creamy and ridiculously easy no churn vegan strawberry ice cream! This easy dairy free strawberry ice cream recipe uses just 3 ingredients and requires no ice cream maker! Paleo, gluten-free and a keto option!
Instructions
Place a loaf pan in the freezer.

In a high speed blender or food processor, add your chilled coconut milk, adding the layer of cream first, followed by the liquid. Add your frozen strawberries and maple syrup and blend until thick and creamy. Do not over blend, or it will become too icy when thawing.

If you choose to use xantham gum, add it halfway through blending and do not over blend.

Pour the strawberry ice cream mixture into the frozen loaf tin. To ensure it doesn't become too icy, lightly mix your ice cream ever 20-30 minutes for the first hour.

Thaw for 10-15 minutes before eating. Lightly wet an ice cream scoop before scooping the ice cream into a bowl.
Notes
* Full fat coconut milk from a can.
** To keep it keto, use keto maple syrup.
This 3 Ingredient ice cream is best enjoyed fresh on the day it is made. If you do enjoy it at a later time, thaw it out for an extra 15 minutes or if possible, break into pieces and reblend lightly- This will result in a soft-serve like texture.
If you love homemade dairy free ice cream, you'll enjoy this banana smoothie and mixed berry smoothie.
Nutrition
Serving:
1
serving
Calories:
196
kcal
Carbohydrates:
11
g
Protein:
3
g
Fat:
17
g
Sodium:
16
mg
Potassium:
371
mg
Fiber:
6
g
Vitamin C:
45
mg
Calcium:
27
mg
Iron:
2
mg
NET CARBS:
5
g
Disclosure: This post may contain affiliate links. I may earn a small commission for my endorsement, recommendation, testimonial, and/or link to any products or services from this website.