This zucchini casserole showcases fresh zucchini baked with a luxurious cream sauce, melted cheese, and breadcrumbs in one easy, yet downright delicious dish. It's the perfect casserole for weeknight dinners or special occasions!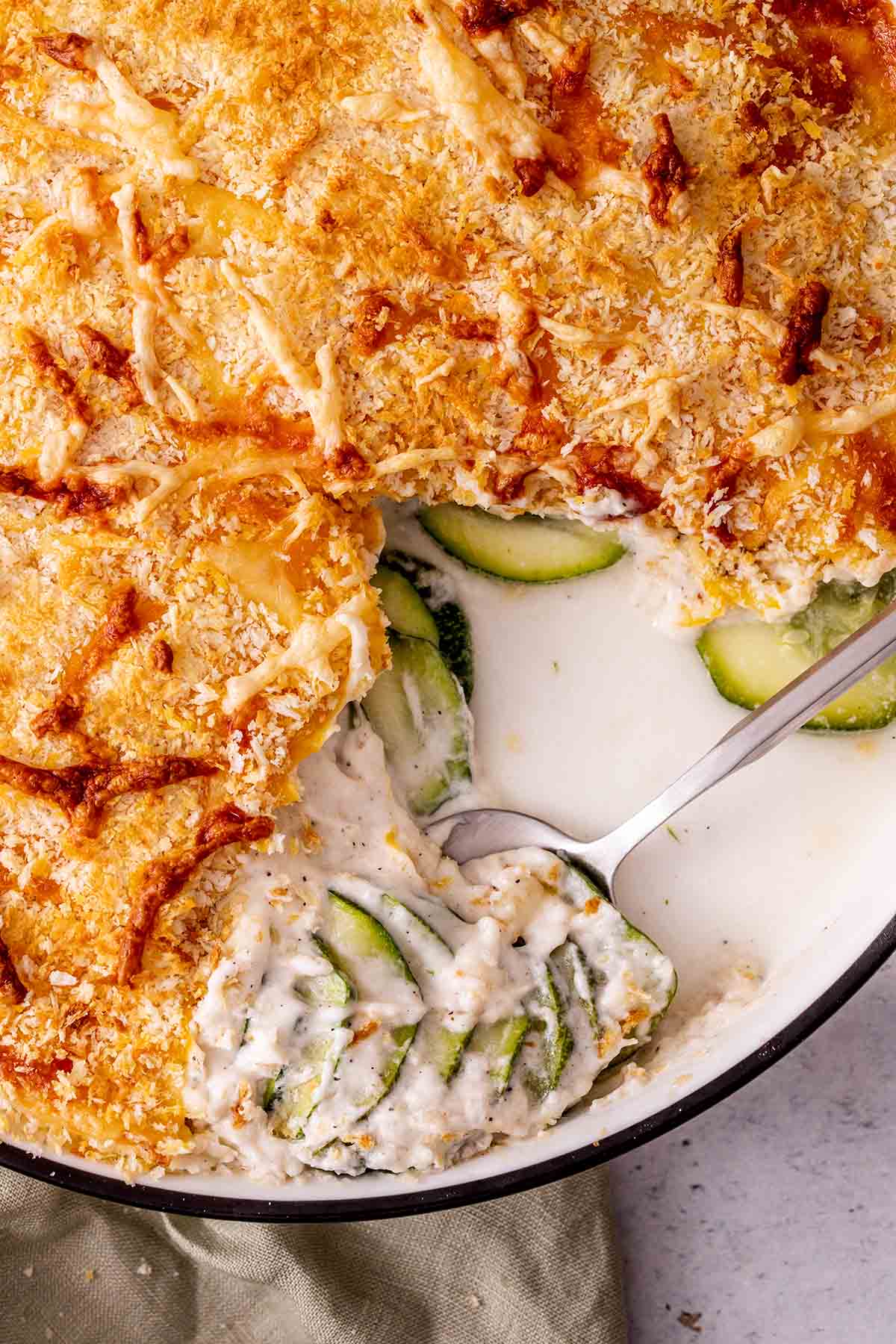 Thinly sliced zucchini covered in a creamy and cheesy sauce and baked with crispy bread crumbs on top? Count me in! Also known as zucchini gratin, this is the perfect recipe to use up tons of zucchini or when you need a little green on your plate!
Garden-fresh zucchini is abundant during summer. Pick up a bunch from the garden, farmer's market, or grocery store and indulge all summer long! It's the best summer squash to bake into this casserole.
Table of Contents
Why this recipe works
Easy and convenient. Whenever you need an easy dinner idea that doesn't require any special techniques or hard-to-find ingredients, turn to zucchini squash casserole! Like a squash casserole, this is one of our family go-to's when we need something simple, healthy, and outright delicious!
Very versatile. Get creative with it! You can easily personalize this recipe by using different cheeses, herbs and seasonings, seasonal produce, and so on.
Nutritious and delicious. This easy squash casserole recipe is a wholesome meal that's bursting with all of the healthy benefits of zucchini, including a long list of vitamins and minerals.
Delicious side or main dish. What I love most about this cheesy zucchini bake is that it works wonderfully as a comforting side dish as well as a kid-friendly, vegetarian main course!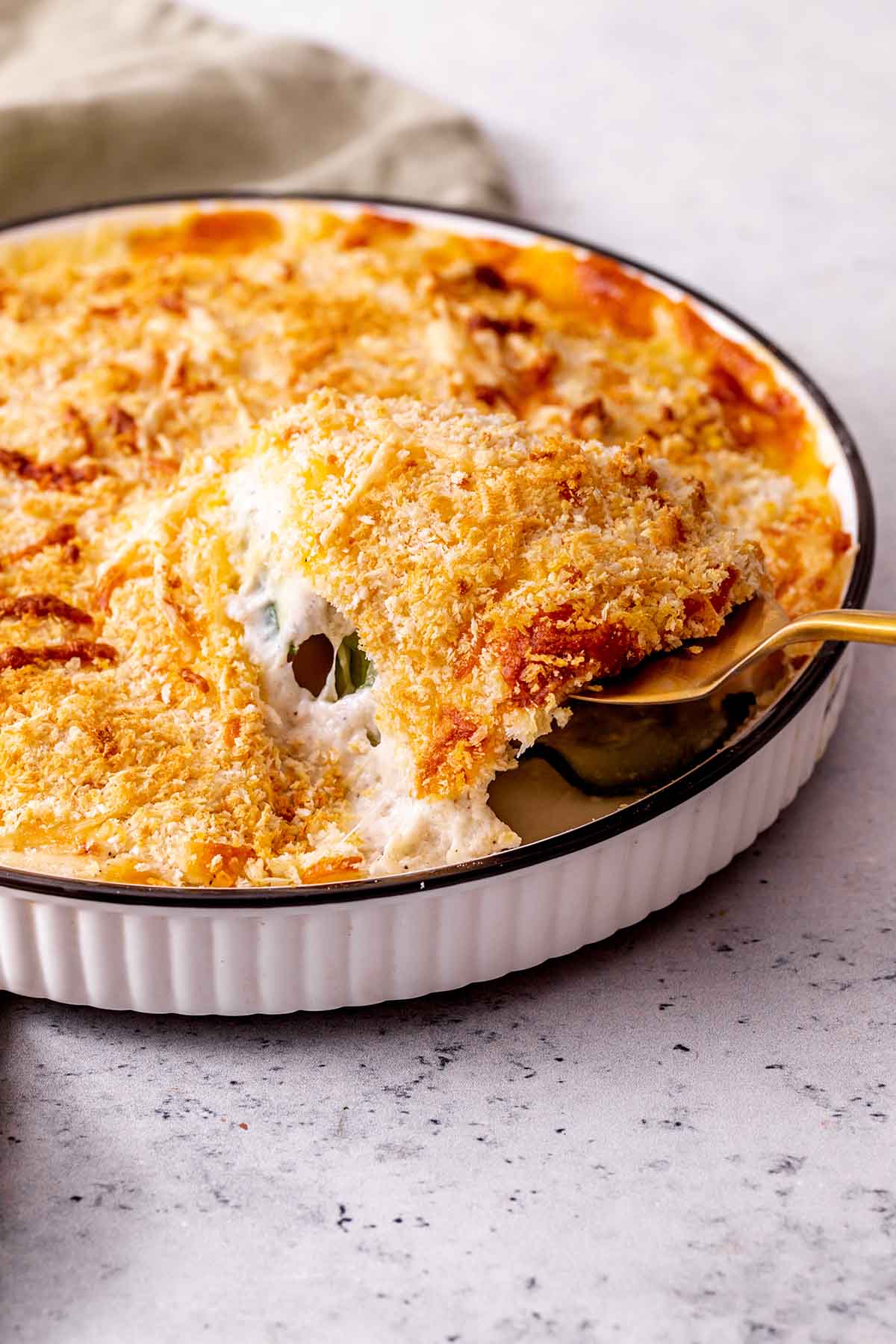 Ingredients needed
This zucchini squash casserole is made with a short list of simple ingredients you probably already have in your kitchen. This is everything you need:
Zucchini. I recommend using medium-sized zucchini for this casserole. The larger zucchinis tend to have more seeds, less flavor, and a higher water content, thus giving you a bland and soggy casserole.
Butter. Melted butter is the rich, velvety base for the cream sauce.
Flour. To mix with the butter and create a thickening roux.
Cooking cream. Use heavy cream or whole milk. The fattier the cream/milk, the more thick and creamy your sauce will be.
Dry spices. Garlic powder, onion powder, salt, and pepper round all of the delicious flavors together.
Parmesan cheese. Remember to shred the parmesan yourself. Freshly shredded cheese always tastes and melts the best, thus giving you the best-tasting cream sauce.
Shredded cheese. There are no rules when it comes to the cheese! I like to top this casserole with a blend of shredded cheddar and mozzarella but feel free to experiment with gruyere, fontina, gouda, or any other favorites.
Panko breadcrumbs. Once toasted, these crunchy breadcrumbs act as a delightful crispy topping on the casserole.
How to make zucchini casserole
Salt the zucchini. Sprinkle the zucchini slices with salt and let the excess moisture sweat out before neatly arranging the slices in a baking dish.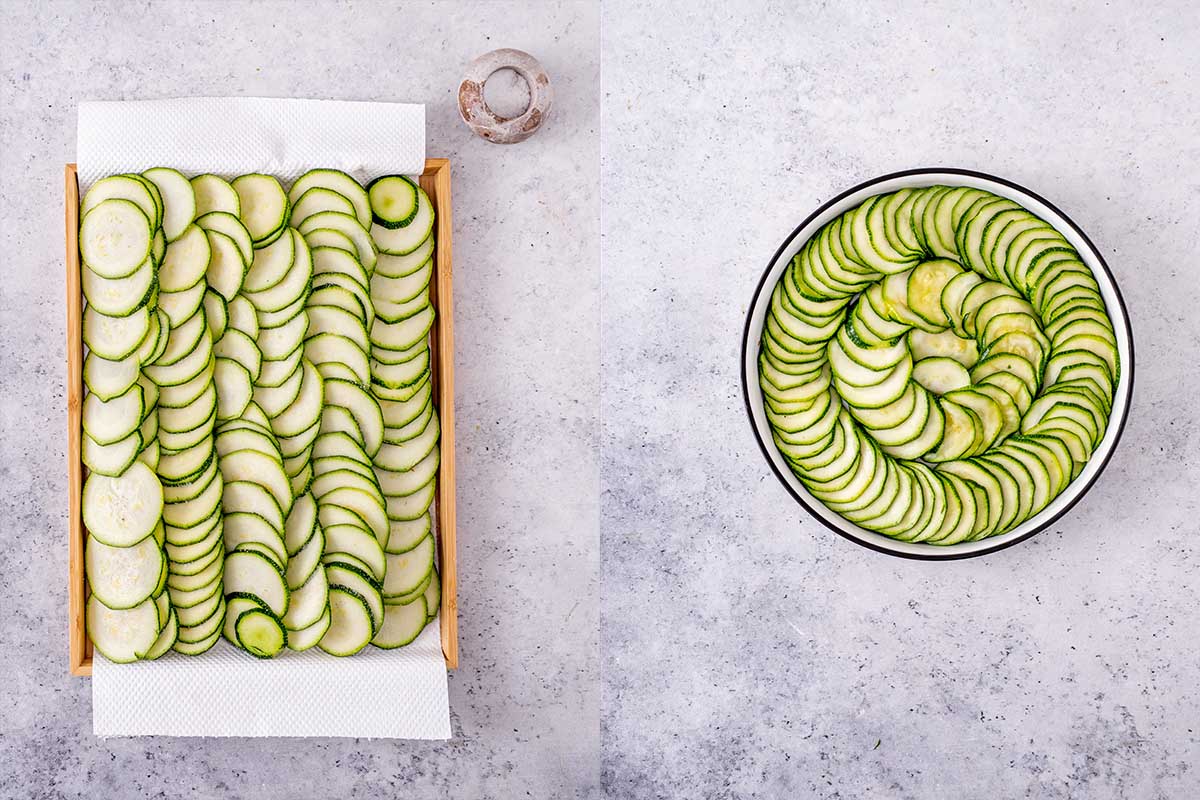 Make the cream sauce. Melt the butter in a saucepan. Add the flour, letting it cook for 1 minute. Pour in the cooking cream and let the mixture thicken before adding the spices and parmesan.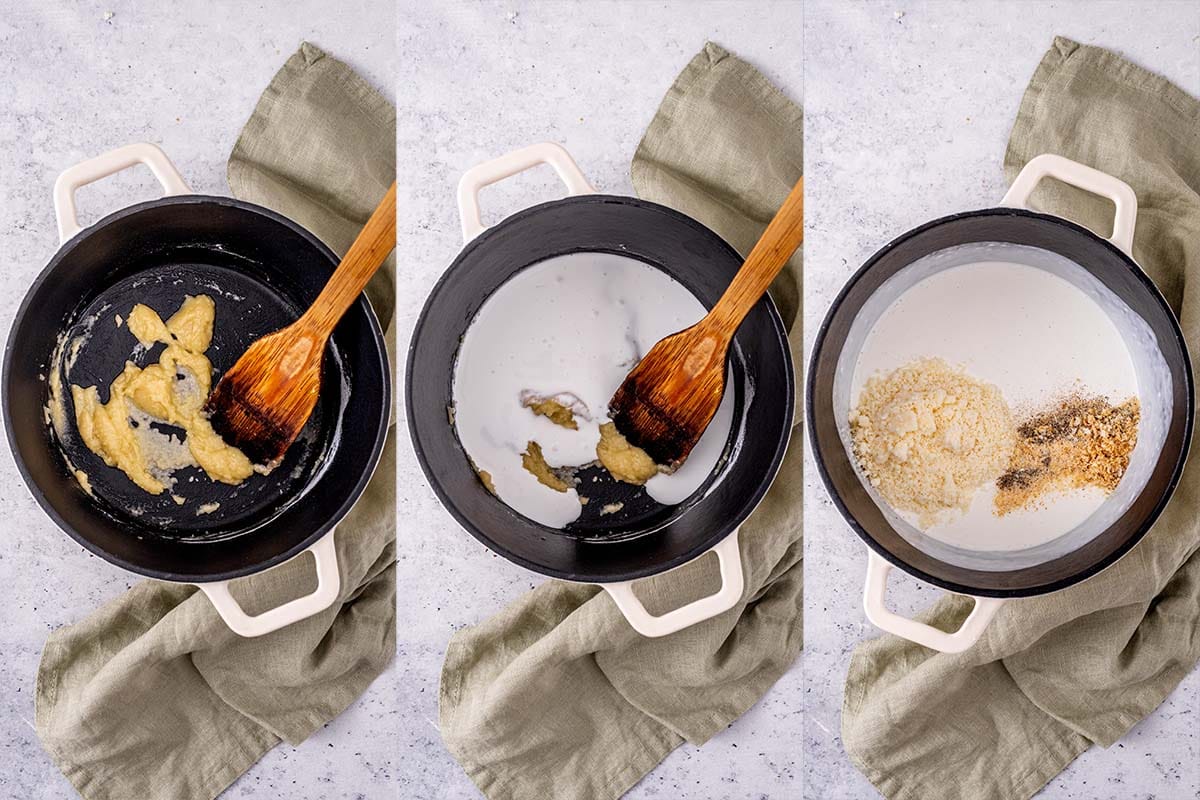 Assemble the casserole. Pour the cream sauce over the zucchini, sprinkle with a layer of shredded cheese, and top with the breadcrumbs.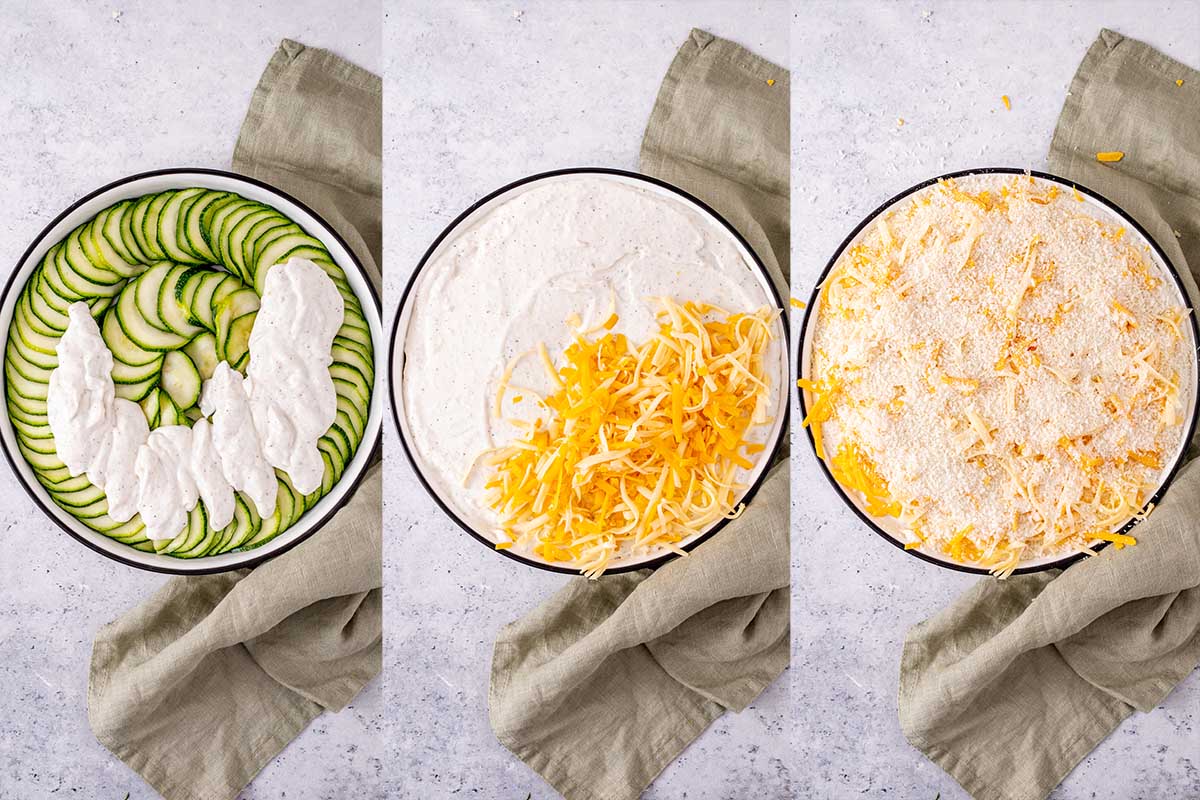 Bake. Bake until the top is golden brown. Slice and enjoy!
Recipe tips and tricks
Always salt the zucchini. If you skip this step then your zucchini casserole could turn out soggy! After salting and draining the zucchini, gently blot the slices with a paper towel to soak up the excess water and salt.
Don't overbake! Because no one likes overcooked mushy squash. Only bake the casserole until the top is golden and the middle is hot and bubbly.
Rest before serving. Take the casserole out of the oven and set it aside to rest for a few minutes. This will help the sauce firm up slightly and will make the casserole easier to slice.
Recipe variations
Ratatouille-inspired: Eat the rainbow by layering even more sliced veggies in the casserole! Just like ratatouille, you can use sliced eggplant, yellow squash, tomatoes, bell peppers, mushrooms, and onion. Keep the cream sauce or swap it for marinara or pomodoro sauce.
Add bacon or sausage: Sprinkle cooked and crumbled bacon or sausage over the sliced zucchini.
Top with cracker crumbs: As a nod to old-fashioned zucchini casserole, sprinkle the top with crushed Ritz crackers instead of breadcrumbs.
Experiment with seasonings: Season the casserole with fresh or dried Italian herbs, like basil, oregano, thyme, rosemary, or red chili flakes.
Swap the sauce. Try using a store-bought creamy sauce, like alfredo, instead of cream sauce to simplify this recipe.
What to serve with a zucchini casserole?
You'll love this casserole both as a main and a side. When served as a side dish, the creamy bites of zucchini pair perfectly with simple, flavorful proteins, such as smoked chicken, roasted turkey, pork tenderloin, ham, and ribs.
Want it as a main instead? Serve the creamy and comforting casserole with hearty sides, like roasted vegetables, grains, or a fully loaded salad for a well-balanced vegetarian meal.
Storage instructions
To store: Store the leftovers in a covered baking dish or an airtight container in the fridge for 3 to 5 days.
To freeze: Let the baked casserole cool completely, then store the individual servings in airtight containers in the freezer for up to 6 months.
To reheat: Add the leftovers to a baking dish covered with foil and reheat in a 400ºF oven for 15 to 20 minutes. Remove the foil and continue baking until the breadcrumbs are slightly crisp again.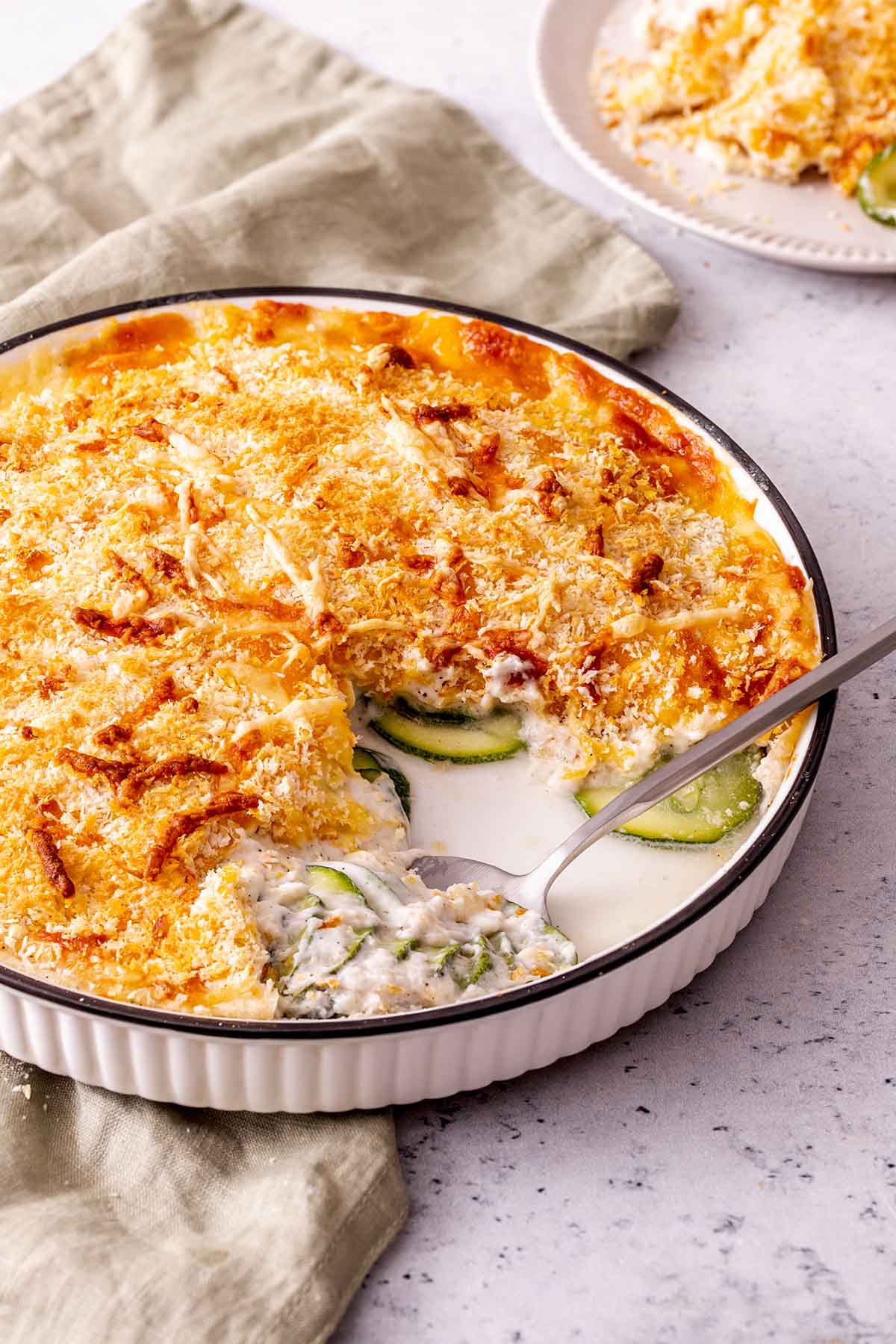 More casseroles and veggie bakes
Frequently asked questions
Can you freeze the zucchini casserole before baking it?
Freezing the assembled casserole is so handy when you want to make this recipe in advance. Simply layer the zucchini, sauce, cheese, and panko in a baking dish, cover the top with plastic, and freeze for up to 1 month.
When it's time to eat, let the casserole thaw in the refrigerator before baking as normal.
Do you peel zucchini for a zucchini casserole?
No need. Keeping the zucchini skin intact helps the slices stay firm and hold together rather than becoming a soggy mess.
Why is my zucchini casserole watery?
Did you forget the salt and drain the zucchini? That's the top cause of a soggy or watery zucchini casserole. Also, overcooking the zucchini can draw out excess moisture, so keep an eye on your casserole as it bakes.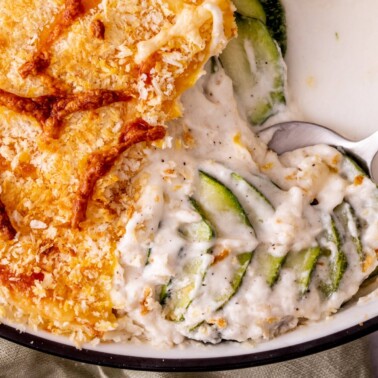 Zucchini Casserole
This zucchini casserole features sliced zucchini layered and covered in a creamy and cheesy sauce topped with crunchy bread crumbs!
Ingredients
3

medium

zucchini

2

tablespoons

butter

2

tablespoons

all-purpose flour

2

teaspoons

garlic powder

1

teaspoon

onion powder

1

teaspoon

salt

1/2

teaspoon

pepper

10

ounces

heavy cream

1/2

cup

cheddar cheese

shredded

1/2

cup

mozzarella cheese

shredded

1/4

cup

parmesan cheese

shredded

1/2

cup

panko breadcrumbs
Instructions
Slice the zucchini into ¼-inch thick slices and sprinkle with salt on a flat surface with paper towels. Leave the zucchini for 10 minutes to sweat the excess moisture.

Preheat the oven to 200C/400F. Arrange the zucchini slices in a baking dish.

In a saucepan, melt the butter on medium heat. Add flour and cook for 1-2 minutes. Add cooking cream and cook until the mixture starts thickening. Add spices and parmesan. Combine well and pour over the zucchini in the baking dish.

Sprinkle the cheese over the mixture, followed up with panko breadcrumbs.

Bake in the oven for 30 minutes until the casserole gets golden brown on the top.
Notes
TO STORE. Store the leftovers in a covered baking dish or an airtight container in the fridge for 3 to 5 days.
TO FREEZE. Let the baked casserole cool completely, then store the individual servings in airtight containers in the freezer for up to 6 months.
TO REHEAT. Add the leftovers to a baking dish covered with foil and reheat in a 400ºF oven for 15 to 20 minutes. Remove the foil and continue baking until the breadcrumbs are slightly crisp again.
Nutrition
Serving:
1
serving
Calories:
327
kcal
Carbohydrates:
12
g
Protein:
9
g
Fat:
28
g
Sodium:
1438
mg
Potassium:
350
mg
Fiber:
1
g
Sugar:
4
g
Vitamin A:
1198
IU
Vitamin C:
18
mg
Calcium:
224
mg
Iron:
1
mg
NET CARBS:
11
g
Disclosure: This post may contain affiliate links. I may earn a small commission for my endorsement, recommendation, testimonial, and/or link to any products or services from this website.