These 2 minute flourless English muffins will satisfy ALL bread cravings, with a healthy twist! Made with no yeast, oil or flour, this two minute microwave English muffin is naturally gluten free, vegan, dairy free, sugar free and check out the paleo/grain free option below! There is also an oven made option too!

Notice a theme here?

MY OTHER RECIPES
The last time we had Nat on here, she shared these delicious flatbreads. Now? She's sharing these flourless English muffins. This MAY or may not be my sneaky way to get her to really showcase her savory side (which she claims to be absent…I doubt that).
Just wait until next month- We'll probably see a Vegan roast dinner made in a blender.
Wait, no.
***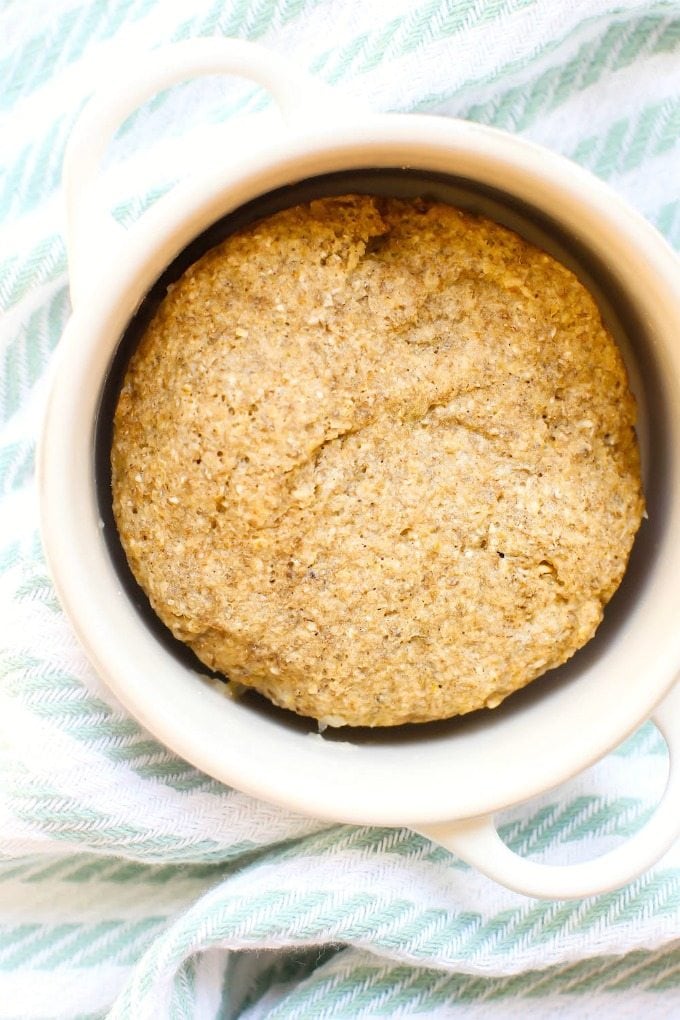 English muffins are NOT just for the elderly. It's not true. Myth busted.
I bet you didn't even know that myth existed, did you? Well, it did…in my head…and probably only in my head. But it needs to be addressed just in case you have this muffin misconception hanging out in your head too.
It's the fault of bad marketing really, that's what planted this mythical myth in my mind. English muffin manufacturers should really think twice before boasting all over the packaging about 'nooks and crannies'. Because you know what 'crannies' sounds a lot like? Grannies. And the word 'nooks' doesn't exactly have a hip modern vibe either.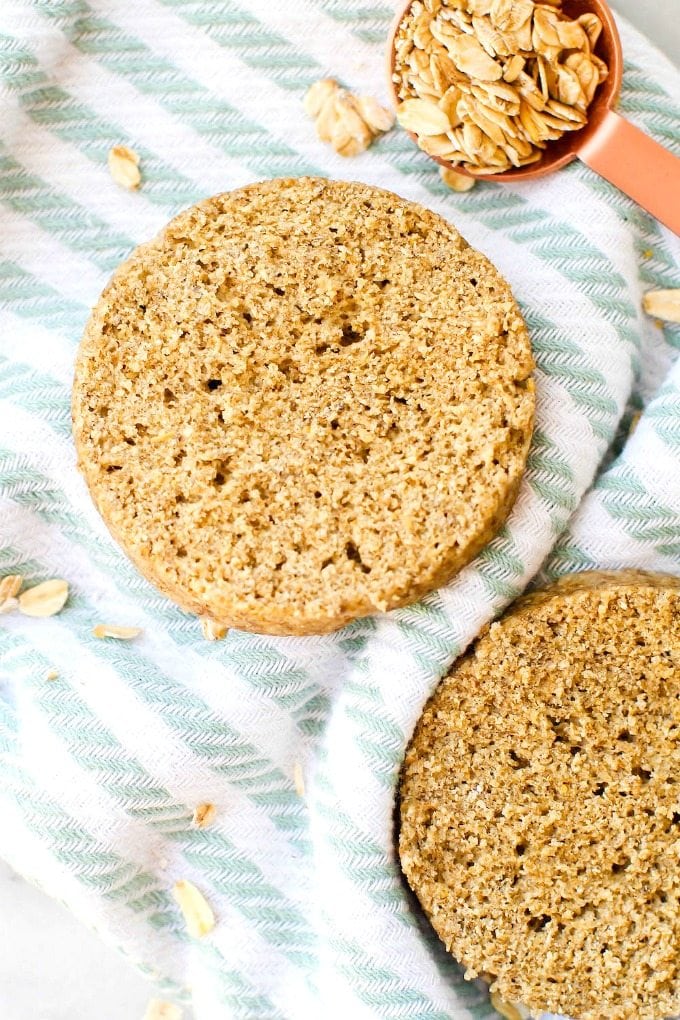 How silly of them to pick a tagline with such a potentially problematic connotation, geez! But between those two not-so-mouthwatering words I completely wrote off the whole food for a long, long time, only eating muffins of the domed-top, cupcake-wannabe kind.
But then the internet introduced me to something new that made me reconsider my judgment on English muffins. It's good at that, the internet. That something was an English muffin IN A MUG!?! Because everything is instantly 100 times cooler when baked in a mug, everybody knows that. Laziness has no age limits—it appeals to all of us. Like those puzzles that say on the box ages 4-99. And I don't remember being 3 well enough to say for sure, but it's possible really easy, almost instant microwave muffins would've appealed to me then too.
Editors note- Seriously, mugs are life.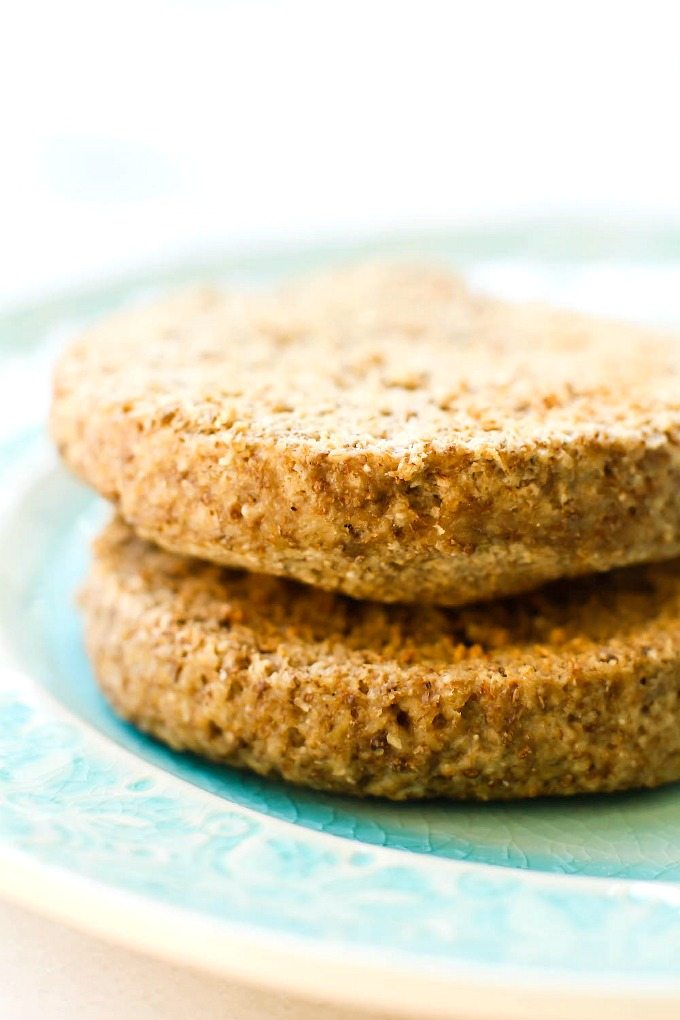 Anyways…ramekin at the ready, I was prepared to give English muffins a two-minute microwave chance to redeem themselves.
The thing is, most of these microwave English muffins contain egg. So not vegan. So no redemption for me yet. Now of course,Arman and his masterful mug-baking ways has already taken care of this problem with a vegan option on his original Microwave English Muffin recipe. And most importantly on the banana bread one. Always thinking of everyone with the substitutions.
Editors note- The banana bread one was totally made with Nat in mind. I mean, it's her in fruit and muffin form.
But in case you hadn't noticed, I have a massive love for all things oat. I try to contain it and give other flours a chance every once in a while. Like that time last week when I made a pie crust out of almond flour. Almond flour. Me. Not so say it didn't feel a bit funny, it did. But back to oats…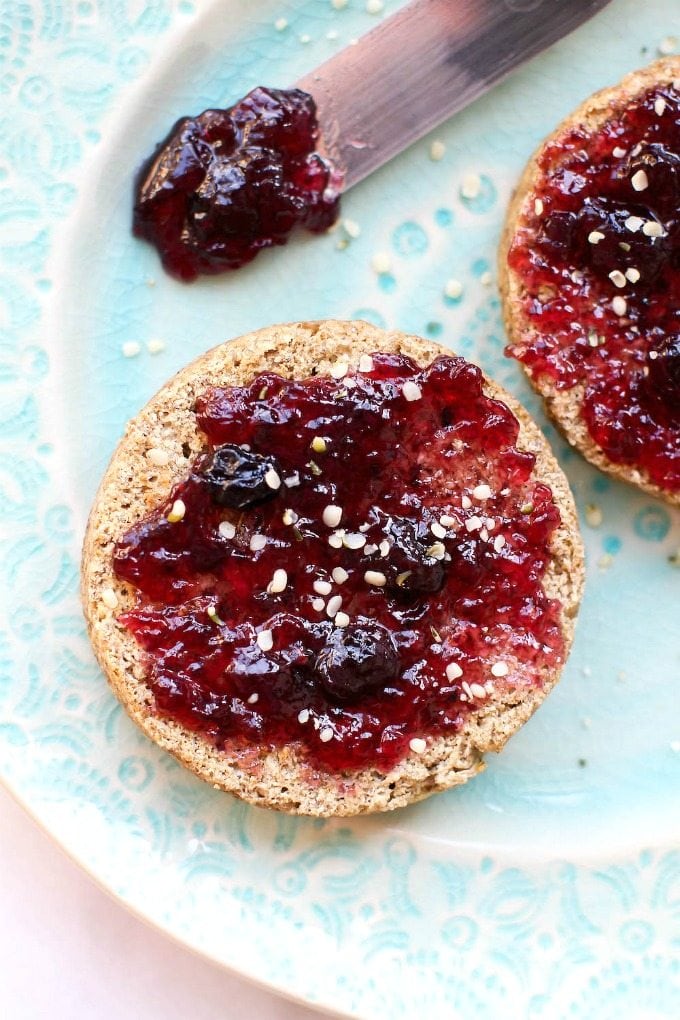 Just like in this flatbread, I love using oats for bread-y and baked things. Plus, using the precursor to oatmeal in an already breakfast recipe just feels like you are infusing extra breakfast-ness into it, you know? Like breakfast made out of breakfast. Don't let all this breakfast talk fool you though, this Flourless 2 Minute English Muffin could easily take on delicious snack duty too.
Now about the actual making of this muffin. I think it's pretty obvious oats are one of the 5 ingredients involved. For binding, this recipe uses chia seeds. I prefer chia to flax here because the flavor is much less noticeable. Instead of mixing the chia seeds with water to make an "egg", you simply grind them up with the oats into a homemade chia + oat "flour". Then add the wet ingredients, mix, mug, microwave, and done! Unless you wanted to toast it, of course.
You could go the traditional topping route with butter or vegan butter smeared on while toasty warm for all that melty magic. Or toast it up and add your favorite jam like I did—sprinkle of hemp seeds optional (but makes for a more interesting photo). Or a savory breakfast sandwich. Or make a nut butter banana sandwich. Or English muffin avocado toast. Or…well you get the idea—it's deliciously versatile!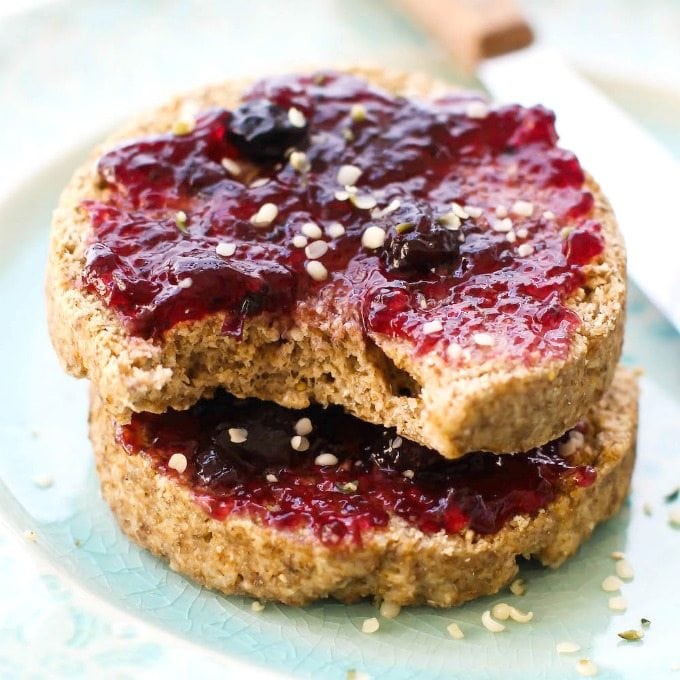 Editor's notes- This is the kind of simple recipe you can throw in a blender together and pour into a greased ramekin/bowl/mug and BAM- Instant English Muffin. I found the perfect sized 'mug' is actually the generic cereal bowl from Ikea. Any microwave friendly cereal bowl works and I recommend it, as it cooks evenly. Not only that, it's perfect to slice in half, toast and spread!
For those without a microwave, simply bake in an oven safe ramekin for 350 for 12-15 minutes, or until fully cooked in the center and the edges are golden brown.
Make these healthy two minute flourless English Muffin and let's raise our pinky fingers.
I mean, hello.
English.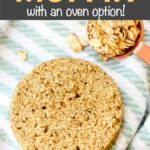 2 Minute Flourless English Muffin
These 2 minute flourless English muffins will satisfy ALL bread cravings, with a healthy twist! Made with no yeast, oil or flour, this two minute microwave English muffin is naturally gluten free, vegan, dairy free, sugar free and check out the paleo/grain free option below! There is also an oven made option too!
Print Recipe
Instructions
In a blender, combine the oats, chia seeds, baking powder, and salt. Blend on high until finely ground.

Transfer to a bowl, add the applesauce and nondairy milk, and mix to form a sticky dough.

Place the dough in a ramekin and flatten.

Microwave for 2 minutes on high.

Let it cool for about 5 minutes before removing from the ramekin.

Slice in half, toast, and enjoy with toppings of choice.
Notes
This can be made in the oven- See notes above
Nutrition
Serving:
1
muffin
|
Calories:
174
kcal
|
Carbohydrates:
22
g
|
Protein:
7
g
|
Fat:
6
g
|
Fiber:
10
g
|
Vitamin A:
2
%
|
Vitamin C:
2
%
|
Calcium:
2
%
|
Iron:
2
%

Friends, make sure you've connected with Natalie, not just on her blog, but via social media- She can be found on Facebook, Twitter, Instagram, Youtube and Pinterest.
What is your topping for English muffins? Butter = nooks and crannies.
The Big Man's World is a participant in the Amazon Services LLC Associates Program, an affiliate advertising program. This means that if you click and make a purchase, TBMW receives a small commission, at no cost to you. Cheers, hugs, and handshakes for supporting TBMW!