Easy Vegan Macaroons made with just 4 ingredients- No baking required! This no bake macaroon recipe has no eggs and made without sugar, but you'd never tell!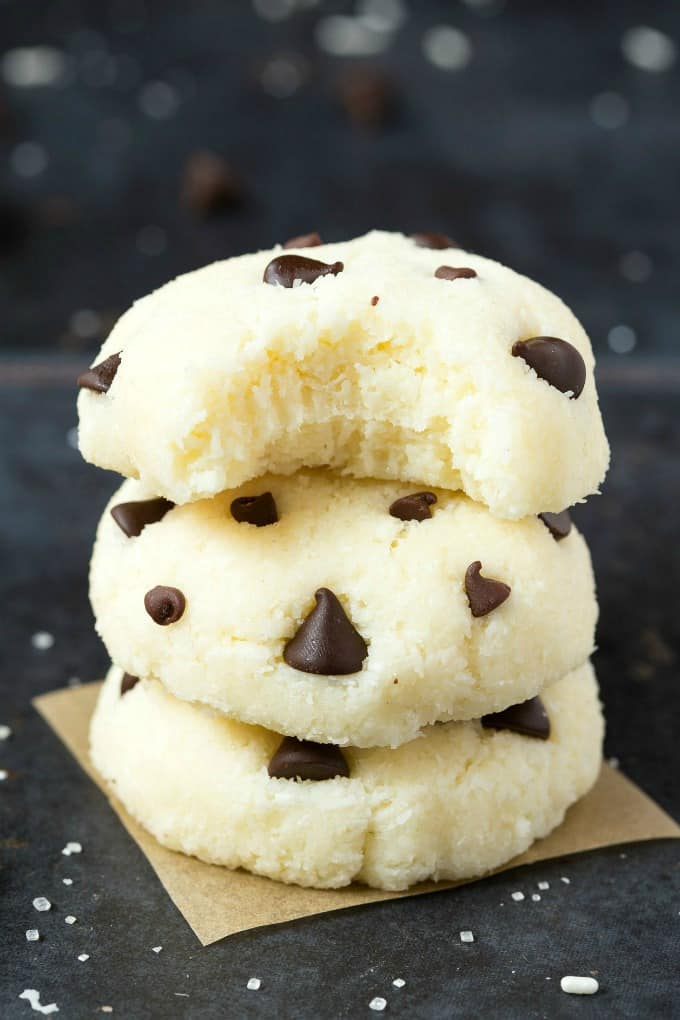 When it comes to no bake keto desserts, I've been making cashew butter fat bombs, peanut butter balls, and these simple coconut macaroons.
These keto friendly macaroons are my new favorite low carb dessert recipe. They use simple ingredients, and unlike traditional macaroons, they require no baking!
I already have a recipe for keto coconut cookies, so I wanted something different!
What is a coconut macaroon?
Coconut macaroons are a flourless cookie made with a combination of almond flour, shredded coconut, and sweetened with some form of sugar. Contrary to popular belief, coconut macaroons DO have coconut in them, often in the mixture and also coated.
Macaroons differ from macarons. While both are cookies, the macaroons use coconut, and macarons actually use meringue (beaten egg whites and sugar). The latter also can have multiple colors and flavors.
Why make this Vegan Macaroons recipe? 
Unlike traditional macaroons, these are secretly healthy and require no baking.
A fabulous recipe for coconut macaroons without sugar, they use just 4 ingredients and take 5 minutes to prep. They also happen to be completely vegan, paleo, and gluten-free, but you'd never tell.
Seriously, they are so easy to make. Technically, they are low carb coconut cookies, but macaroons sound so much fancier!
How to make Vegan Macaroons
The Ingredients
Unsweetened shredded coconut– Be sure your coconut is unsweetened and contains no added sugar. I used finely milled shredded coconut flakes, also known as macaron coconut or desiccated coconut.
Almond Flour– Helps hold the macaroons together better! I used blanched almond flour, to ensure the macaroons keep their light color.
Keto Maple Syrup– Adds sweetness, and helps hold the macaroons together.
Coconut Milk– To mix into the cookies and to thicken the batter. Any milk will work.
Chocolate Chips– Optional, but recommended! You can make chocolate drizzled macaroons by drizzling chocolate on top!
The Instructions
Making these vegan and keto coconut no bake macaroons is ridiculously easy!
You'll start by combining your coconut and almond flour and mixing well. Add in your syrup and it will yield a crumbly texture. Add your coconut milk and mix well, until a thick batter is formed. If the batter is a little too crumbly, add more milk.
Let the batter sit for around 10 minutes. Then, using your hands, form small balls of dough. Place them on a lined plate and press into a cookie shape. If desired, add chocolate chips and refrigerate until firm.
Ingredient Substitutions and Tips
Unsweetened Shredded Coconut
There are several kinds of shredded coconut on the market. I always recommend unsweetened shredded coconut, to keep it keto friendly and sugar free.
If you can find macaroon style coconut, that is an even better option, as it is finely milled (often referred to as desiccated coconut).
Almond Flour
There are several kinds of almond flour/meals on the market, and while they generally can be used interchangeably, they do affect the taste and texture.
Blanched almond flour– I prefer using this form of almond flour, purely because it provides a light, almost-white color- Something I wanted for a coconut-heavy recipe. It also is extremely finely milled
General Almond Flour– Almond flour is similar to blanched almond flour, although it is darker, thanks to their skins remaining on them when processed.
Almond Meal- Grittier than the two aforementioned blends, the meal has a distinct almond flavor and can often need a little extra sticky sweetener added to shape into cookies.
Keto Friendly Sweeteners
Keto Maple Syrup– Keto maple syrup is the only keto-approved sticky sweetener that acts like maple syrup. It's sweet, low carb and completely sugar free, making it suitable for a ketogenic diet.
Liquid Stevia- I often use liquid stevia to enhance the sweetness of a recipe. vanilla stevia is my favorite, as it also means I don't need to add any vanilla extract
Monk fruit sweetener– A granulated natural sweetener which is low carb, keto-friendly and zero calorie!
Refined Sugar Free Sweeteners
Any of the below mentioned sticky sweeteners can be used. Be wary that honey is not strictly vegan and that brown rice syrup is not overly sweet, but SUPER sticky!
Pure maple syrup
Agave nectar
Honey
Brown Rice Syrup
Keto Chocolate Chips
Storage Tips
To Store: Low carb macarons are soft and fudgy in texture and must be stored in the fridge at all times. Keep them in a covered container, and they will remain fresh for 2 weeks.
To Freeze: You can freeze keto vegan macaroons, by wrapping them in parchment paper and placing them in the freezer. They can be kept frozen for up to 6 months.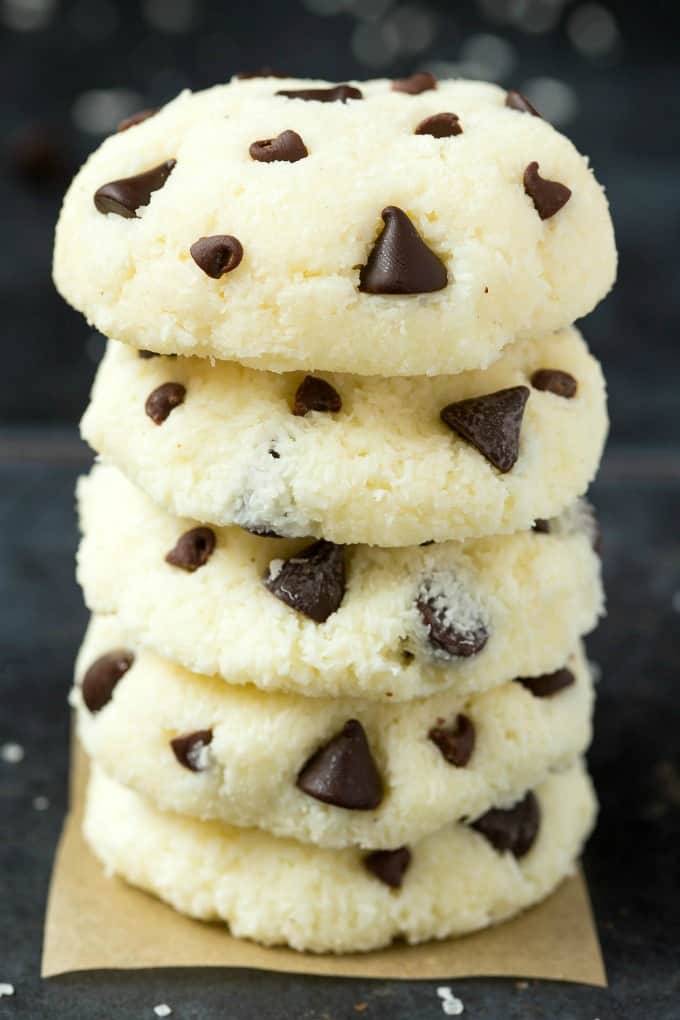 More easy keto no bake desserts you'll love!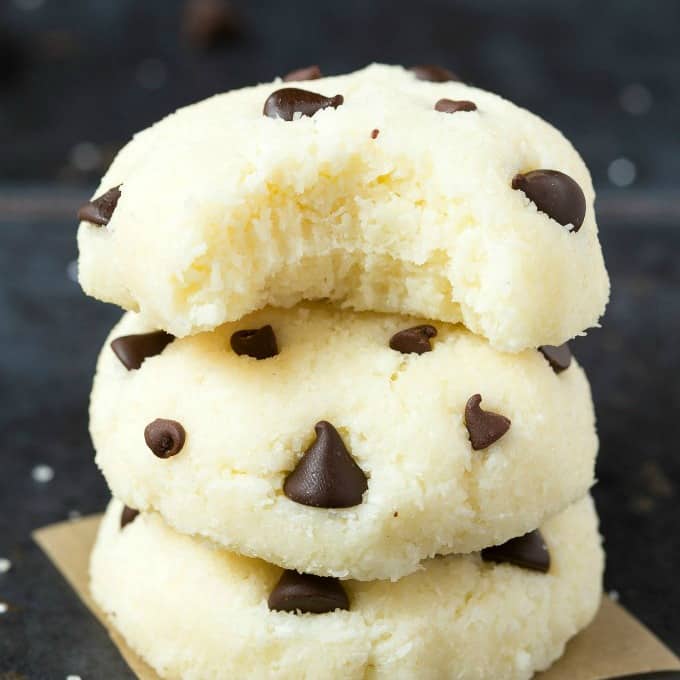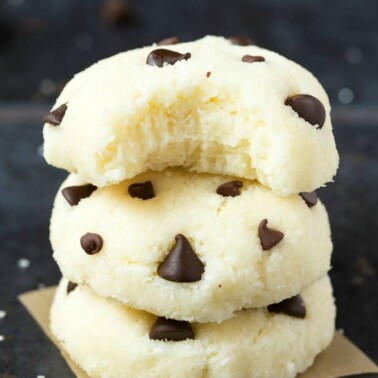 Vegan Macaroons
Easy no bake keto coconut macaroons recipe- 4 Ingredients and ready in 5 minutes, these Vegan Macaroons are a delicious low carb no bake dessert! Vegan, Gluten Free and Paleo.
Instructions
Line a large plate or baking tray with parchment paper and set aside.

In a large mixing bowl or high-speed blender, combine all your ingredients until fully incorporated. If the batter is too crumbly, add a little more sticky sweetener and/or coconut milk until a thick batter remains.

Using your hands, form into small balls. Press each ball lightly into a cookie shape. Refrigerate or freeze until firm.
Notes
* Maple syrup, monk fruit maple syrup, brown rice syrup, agave, and honey all work.
** I use canned coconut milk as it is thicker than milk from a carton. If you use carton milk, you may need to increase your sticky sweetener to compensate.
If you love keto coconut macaroons, you'll also love keto English muffins and keto mug brownies.
Nutrition
Serving:
1
macaroon
Calories:
40
kcal
Carbohydrates:
3
g
Protein:
1
g
Fat:
4
g
Potassium:
3
mg
Fiber:
2
g
Vitamin A:
150
IU
Vitamin C:
0.8
mg
Calcium:
20
mg
Iron:
0.5
mg
NET CARBS:
1
g
Disclosure: This post may contain affiliate links. I may earn a small commission for my endorsement, recommendation, testimonial, and/or link to any products or services from this website.