All the flavours and textures of a S'mores bar in a healthy no bake (protein packed!) cookie- These cookies are high in protein, gluten free, vegan, low in sugar and ready in less than 5 minutes- Perfect for snacking!

No Bake S'mores Protein Cookies
So not only am I converting my favourite desserts into healthy oatmeal puddings, I seem to be doing them in snack form too. I can live with that. I also seem to have taken the No Bake Boy title to heart– and whipped out more in this genre.
After my success with using kettle corn in my no bake Kettle Corn Granola Bars, I wondered what else could be whipped into a flour like consistency and add the necessary flavour to other snacks.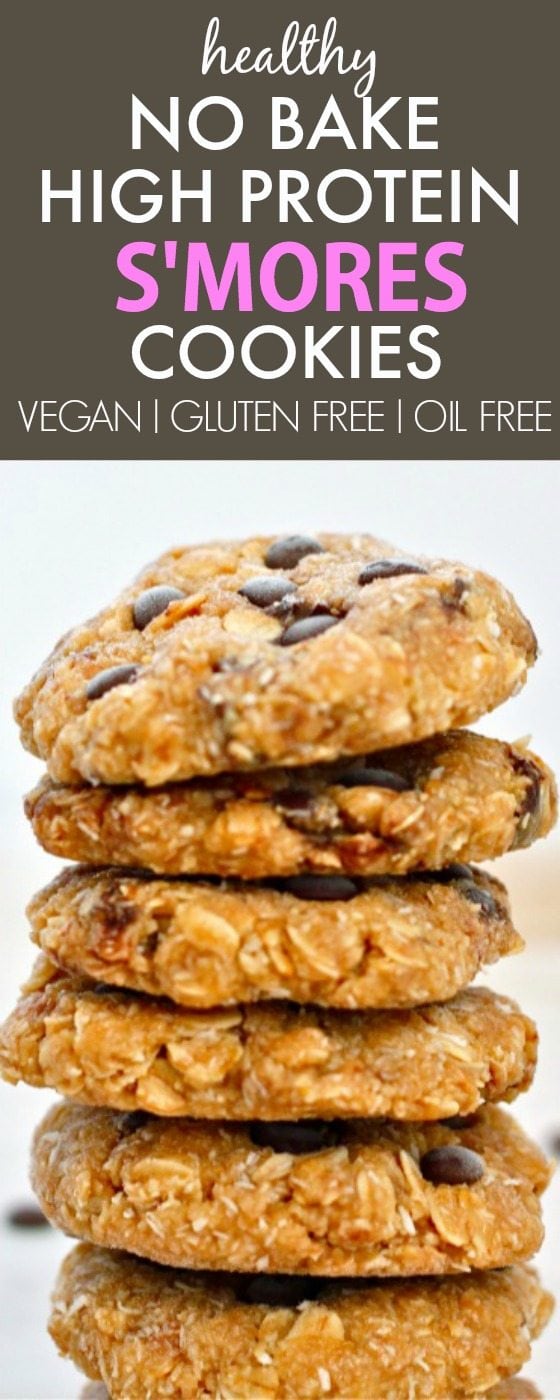 I love quest bars because not only do they have a solid dose of fiber and protein, but they actually taste like what they claim- and you know how I feel about false advertising. That is why with these cookies, they had to taste like an actual S'mores- minus the burnt tongue and sticky fingers….and a campfire.
You could be raising your eyes and thinking 'How can they be healthy? They have marshmallows and chocolate chips in them!'. Well, build a campfire and jump into it bridge and get over it. These cookies tick the boxes in terms of nourishing carbohydrates from the oats, protein from the protein powder and a dose of those healthy fats thanks to the nut butter. Why not add something fun too? Thank you marshmallows and chocolate chips.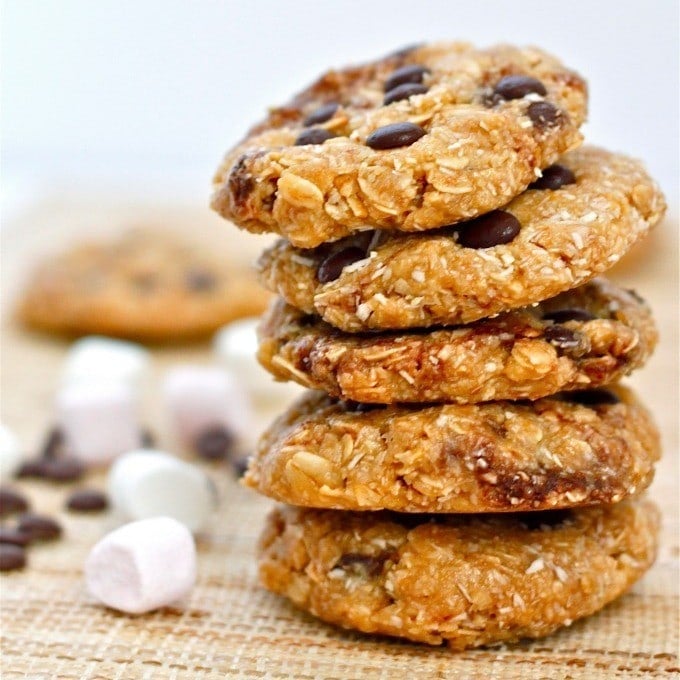 High in protein? Yep. High in fiber? Yep. Healthy fats and nourishing carbohydrates? Yep. Some fun add ins? You bet. You could probably call these a green vegetable and count it as part of your 5 a day…
Just kidding, we're not a bunch of twats here. Just make them, eat them and dance around a (mock) campfire.
No Bake S'mores Protein Cookies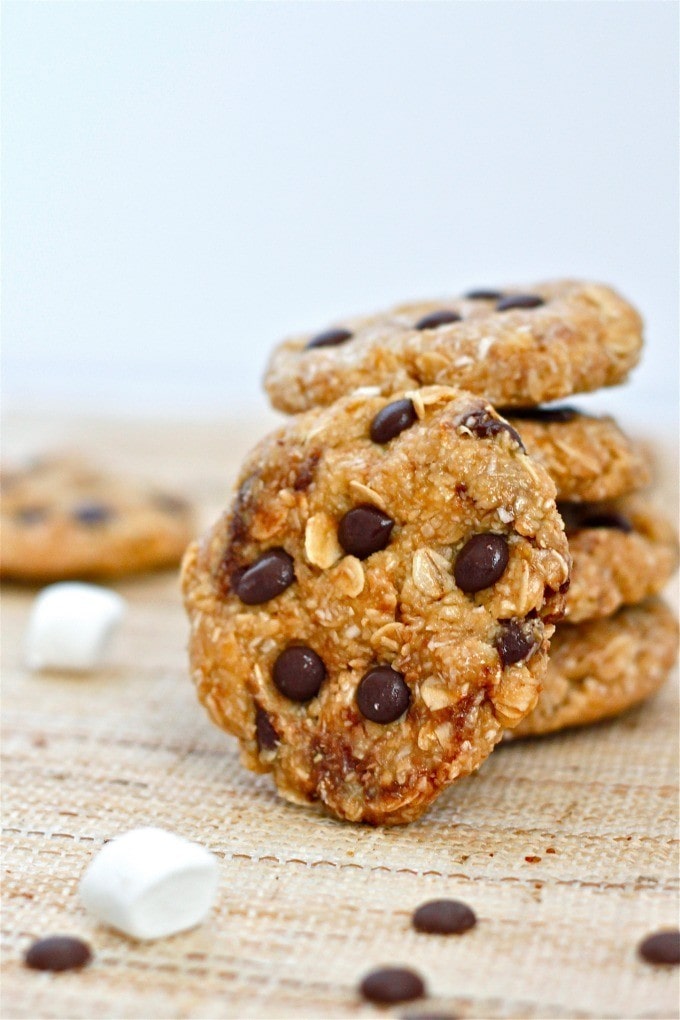 If you love no bake cookies, you'll ADORE this Healthy No Bake GIANT Cookie FOR ONE! Check out just how easy it is below!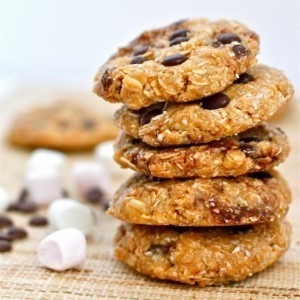 No Bake S'mores Protein Cookies
A delicious No Bake protein cookie which tastes exactly like a S'mores bar....minus the campfire!
Instructions
In a large mixing bowl, combine the rolled oats, oat bran, graham cracker crumbs, protein powder, natvia sweetener and salt. Set aside.

In a small bowl, combine the nut butter of choice and brown rice syrup and microwave for 2 minutes, or until melted.

Pour the wet mixture into the dry and mix until well combined. Add the milk then slowly incorporate the mini marshmallows, as they will start to melt.

Form into palm sized cookies and lay on a baking sheet or plate. Evenly top each cookie with chocolate chips and freeze for an hour or refrigerate for 4 hours/overnight.
Notes
* I used Dandie's vegan mini marshmallows
Avoid using a chocolate or cinnamon flavoured protein powder as it detracts from the s'mores taste.
Similarly, try to stick to a mild tasting nut butter like cashew or almond.
You can sub the brown rice syrup for honey (if not strictly vegan) or maple syrup, but add an extra 2 tablespoons.
Depending on the protein powder of choice, you may need more milk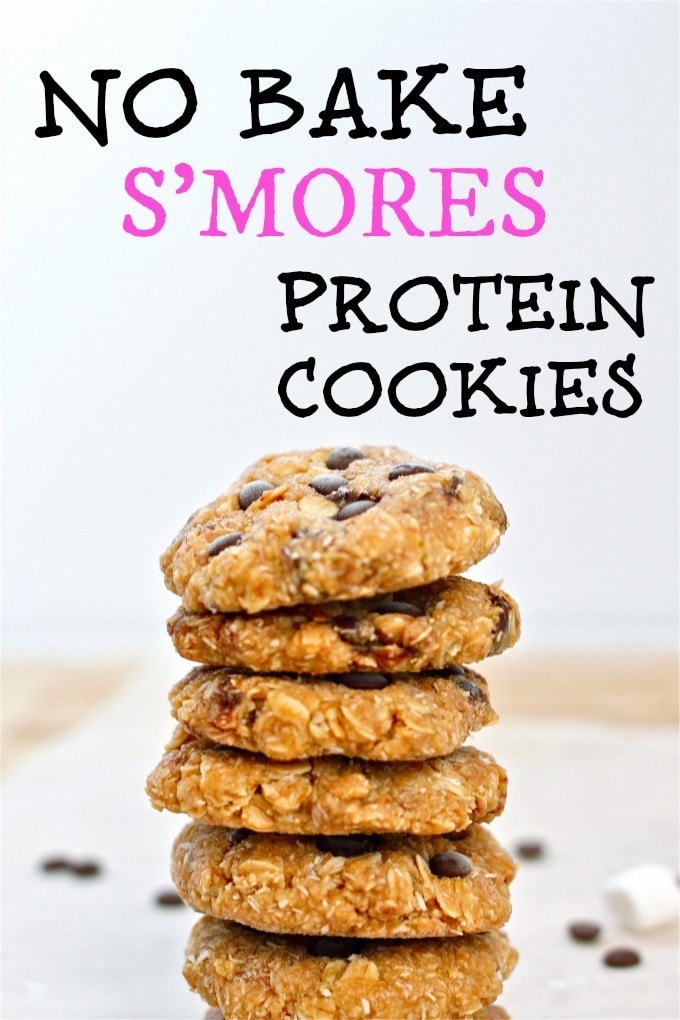 Spill it, Sundays will be continuing a Travel Recap theme so don't forget to recap a travel experience or vacation and join the Sunday fun!
Have you ever made S'mores?
Have you ever tried the Jelly Bellys toasted marshmallow flavour? Hands down, the best.
How many vegetables do you typically eat in a day?
Disclosure: This post may contain affiliate links. I may earn a small commission for my endorsement, recommendation, testimonial, and/or link to any products or services from this website.