These chicken meatballs are perfect any night of the week. The meatballs are super light, juicy, and bursting with the perfect amount of seasoning.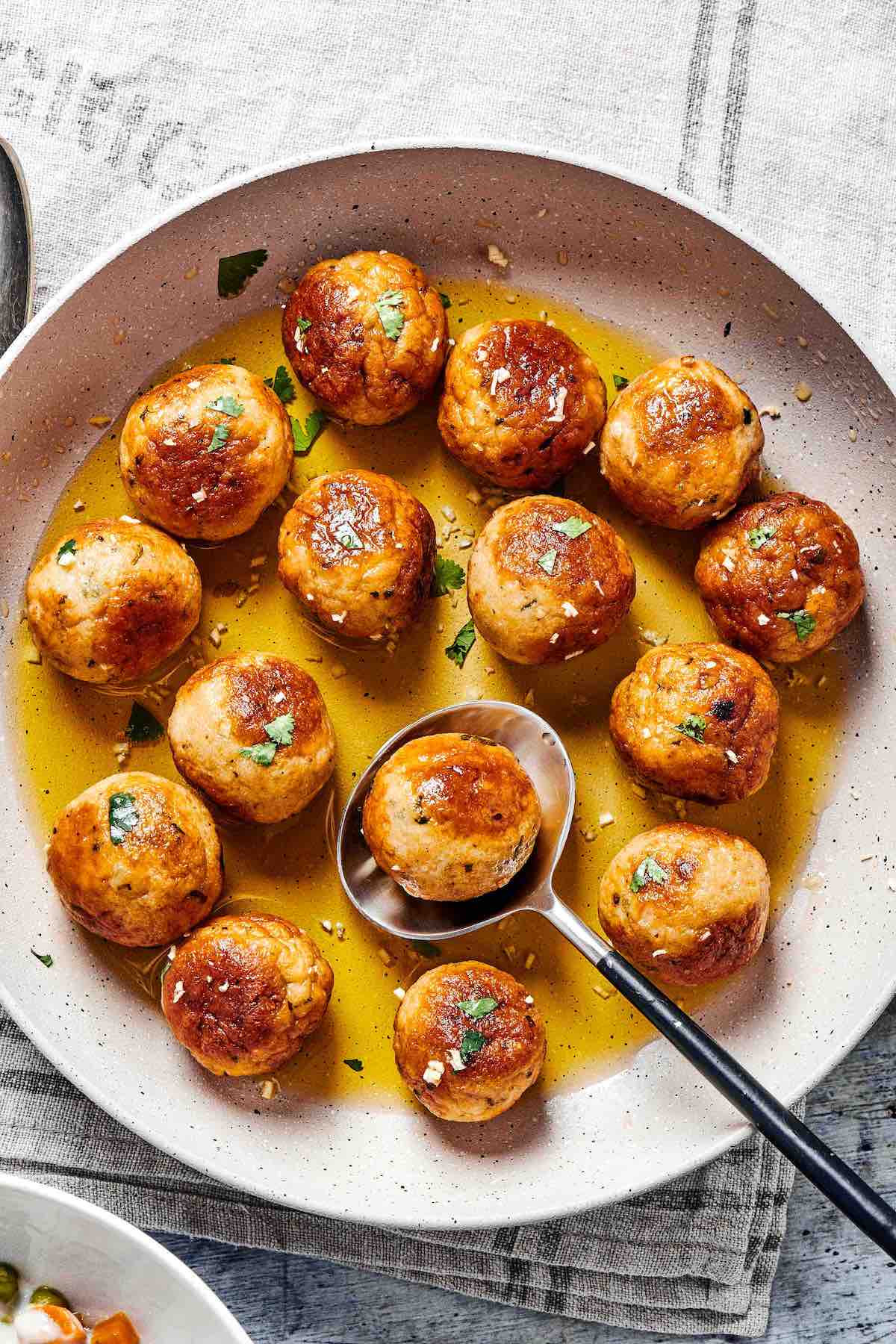 Meatballs are always a good idea, especially when they are made with chicken. Chicken may be the most versatile protein. The simple protein can be turned into burgers, cut into strips, or turned into a light and creamy main course.
This ground chicken meatball recipe is one that you are going to want to add to your main menu rotation. My family loves to make these baked chicken meatballs with a side of potato salad, over some cauliflower mashed potatoes or spaghetti squash. It's a healthy and light version of spaghetti and meatballs with flavors that are out of this world!
Table of Contents
Why this recipe works
This chicken meatball recipe was made by accident. I had leftover chicken breasts from making chicken parmigiana and wanted to use them a different way. To trick my family into something new, I added them to my food processor and turned them into ground chicken. The rest is history and these meatballs are a staple!
They are light and juicy. The ground chicken meatballs are baked in the oven, making them super light and juicy. Since they are not fried, they do not have any unnecessary grease dragging them down.
Packed with flavor. Each bite of these ground chicken meatballs is more flavorful than the next. The Italian seasoning combination gives the ground chicken a hearty flavor.
Quick and easy. The best thing about these chicken meatballs is that they can be ready in a flash. They are quick to prep and take under 20 minutes in the oven to bake.
This chicken meatball recipe mostly uses pantry staples. It allows me to make a great meal whenever I want. Here is everything you'll need.
Ground Chicken. If you can't find ground chicken, try ground turkey for a similar flavor. We often do this with our turkey meatballs too.
Eggs. Helps give the meatballs a hearty texture while baking.
Milk. Adds moisture to the meatballs. If you are dairy free, use your favorite dairy alternative instead.
Garlic. Gives a nice punch of flavor to the ground chicken.
Bread crumbs. If you are following a gluten-free diet, use gluten-free bread crumbs to get the same impact.
Italian seasoning. Gives the ground chicken flavor with hints of basil, oregano, thyme, and rosemary.
Garlic powder. Helps to balance out the Italian seasoning.
Salt and pepper. To season the ground chicken.
Dietary swap
Want to make these meatballs gluten-free and/or lower in carbs?
For gluten-free meatballs, swap out the bread crumbs for gluten-free bread crumbs and for low carb chicken meatballs, use almond flour or crushed up pork rinds.
How to make ground chicken meatballs
These tasty baked chicken meatballs will easily become a staple in your menu. Here's how you can make them.
Step 1: Prepare the pan and preheat the oven
Get the oven ready by preheating it to 200C/400F. While the oven is preheating, prepare a baking tray with a sheet of parchment paper. When this is done set the pan to the side.
Step 2: Mix all of the ingredients together
In a large mixing bowl, combine all of the ingredients together. Use a large spoon or rubber spatula to mix everything together to make sure the seasoning is well distributed.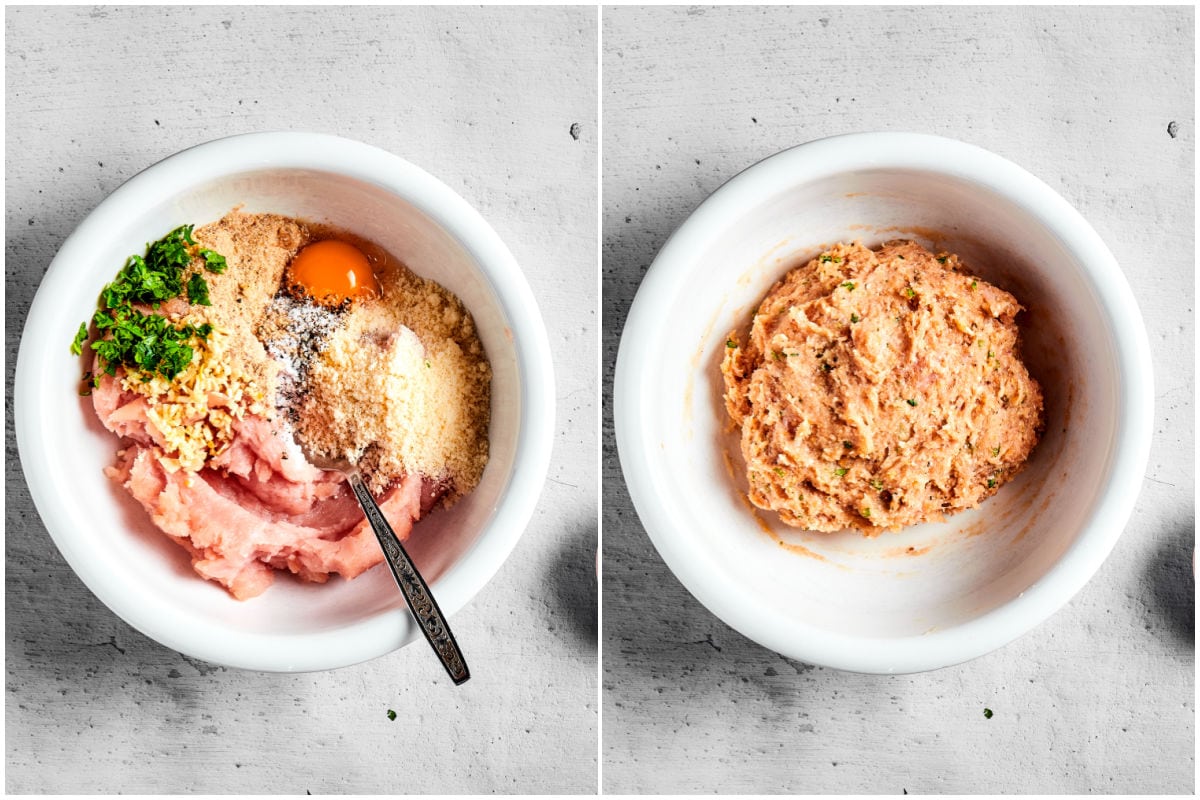 Step 3: Form the meatballs
Slightly wet your hands with warm water. This will make it much easier to roll out the meatballs. With wet hands, roll out the meatballs into small balls, about 1 tablespoon in size. Place them on the prepared tray as you roll them out.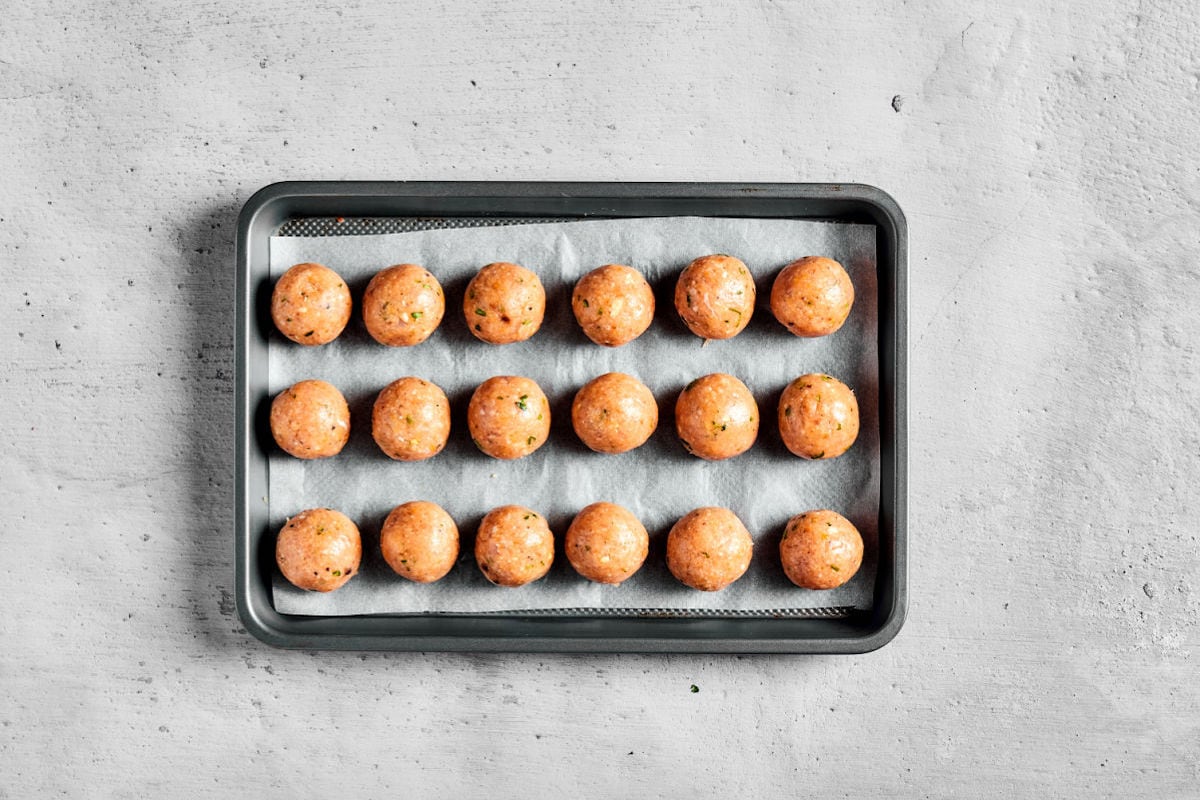 Step 4: Bake the meatballs
Place the tray of meatballs in the oven and bake for 15-17 minutes. The meatballs will look beige in color when done.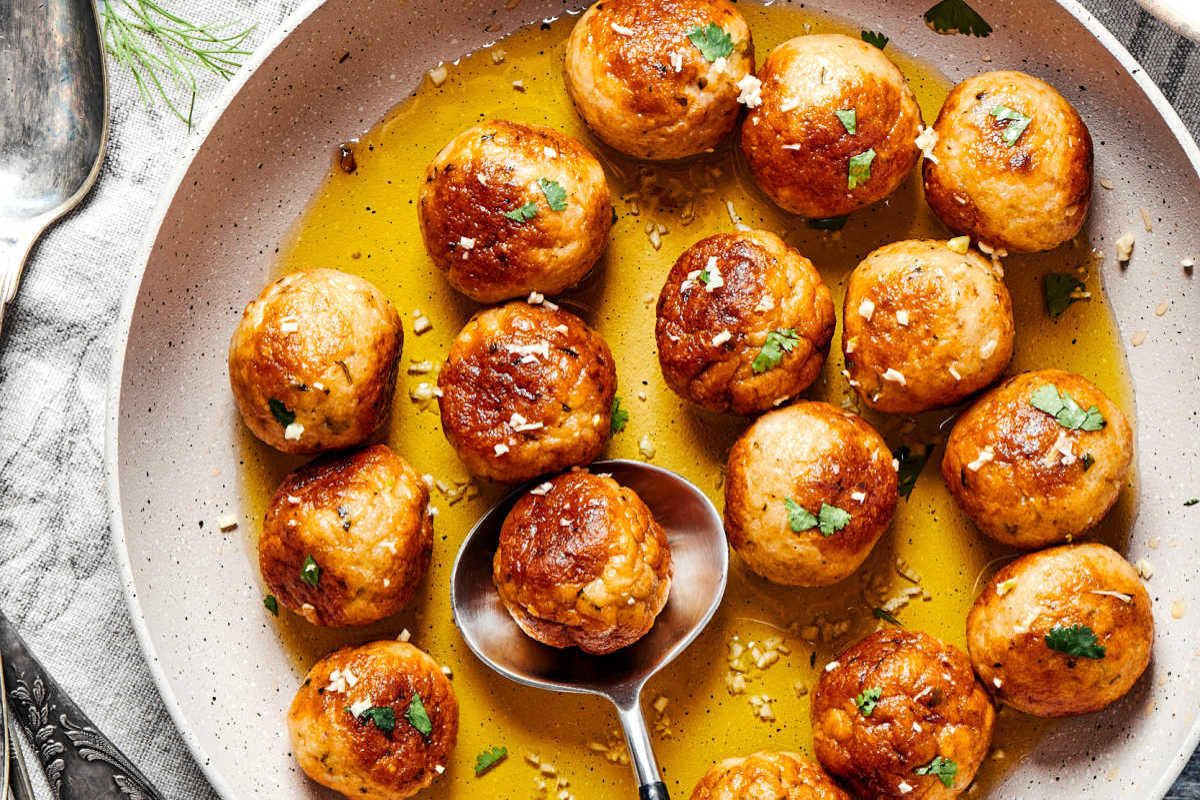 Flavor variations
These chicken meatballs follow a traditional recipe making them very customizable. I love to add these simple additions into the mix to switch up the meal.
Customize the spice blend! Want to go with a Mexican flavor profile? Sub taco seasoning for the Italian seasoning. Maybe you want to pair these meatballs with a stir fry. Add soy sauce or ginger into the mix.
Not a fan of chicken? Swap out the chicken for ground turkey for a similar-tasting meatball. The ground turkey is super lean and provides a ton of protein in the meatball dish.
Think out of the box when it comes to side dishes. Sure, you can serve these meatballs with traditional pasta and tomato sauce, or you can go with the healthy and low-carb option and pair the meatballs with spaghetti squash or zucchini noodles. Add different sauce options, too, like pesto.
Keep your hands wet. Having wet hands will make forming the meatballs so much easier. Slightly wet hands mean that the ground chicken will not stick to your hands and smoothly form into a ball.
Mix the seasoning evenly. When mixing the spices into the ground chicken, make sure they are all evenly distributed. There is nothing worse than biting into a bland meatball just because the seasoning wasn't distributed properly.
Preheat the oven. Don't stick the meatballs in the oven until it is at the proper temperature. This will ensure that your chicken meatballs cook evenly and won't be chewy and dense.
To store: Place any leftovers in an airtight container and keep them in the fridge for 4-5 days.
To freeze: Transfer the cooked meatballs to an airtight container or plastic bag and place them in the freezer. The meatballs will last in the freeze for 2-3 months.
To reheat: Place the meatballs on a baking sheet and place them in the oven at a low temperature. Make sure to cover the meatballs with foil so they will not dry out.
Meal prep tip
Low in calories and high in protein, chicken meatballs are a fantastic inclusion for your weekly meal prep. Double or triple this recipe and divide them up into five containers. Add some rice and green vegetables (we like broccolini and Brussels sprouts) and you have a healthy lunch for every weekday.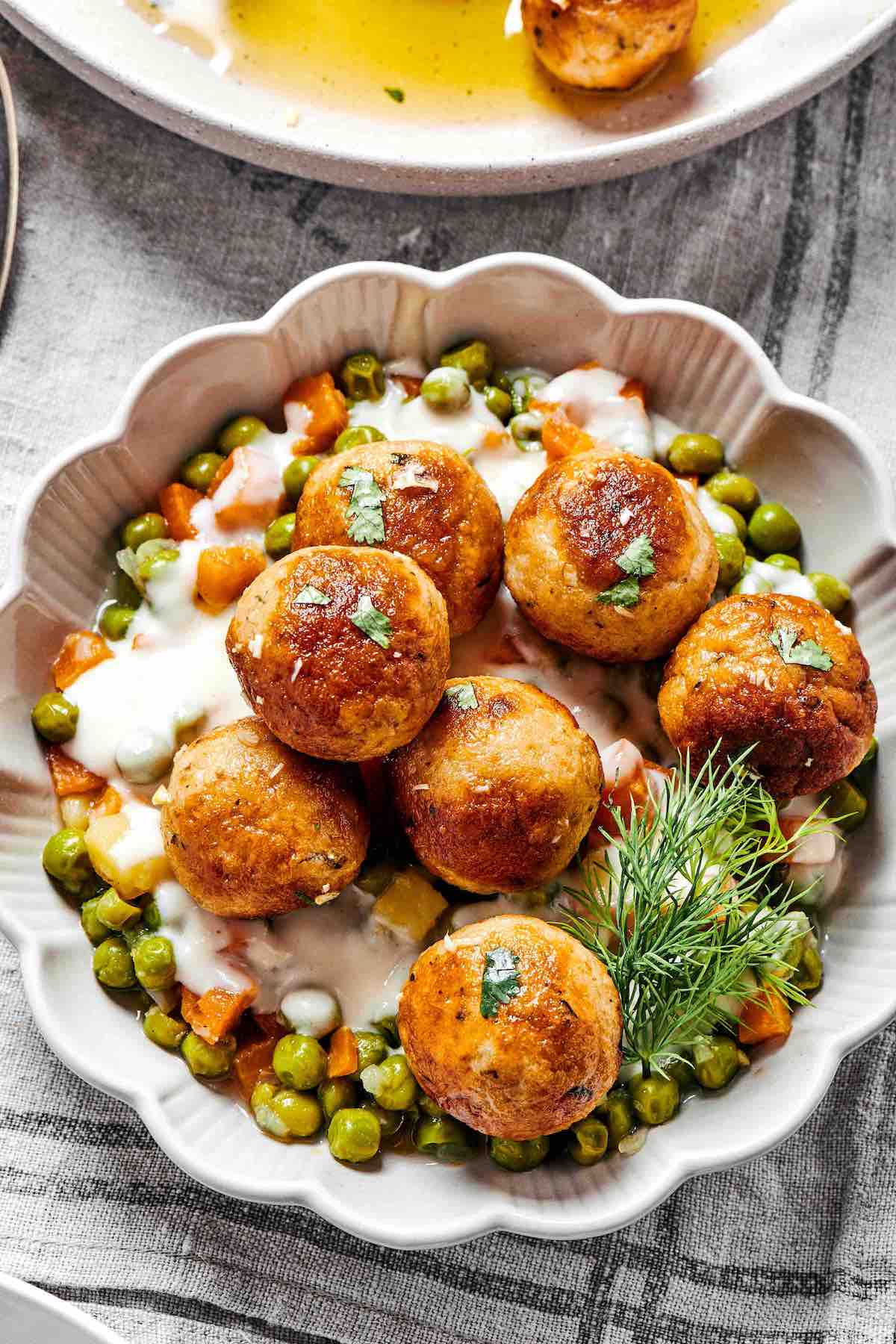 More meatball recipes to try out
All of these dishes will be a great option for a meal:
Why are my baked chicken meatballs tough?
If you find your chicken meatballs have a tough texture to them after they come out of the oven, you probably overmixed all the ingredients. You want to make sure everything is evenly incorporated without mixing the ground chicken too much.
Do I have to brown my meatballs before baking them in the oven?
No! Since these meatballs are baked they do not require any browning beforehand. If you want that slightly crispy texture, turn the meatballs halfway on the pan through baking.
How do you know when the chicken meatballs are ready?
The meatballs will be light beige in color when ready instead of the pink they were when placed in the oven. You can also check if the meatballs are done with an instant-read thermometer to see if they are 73C/165F.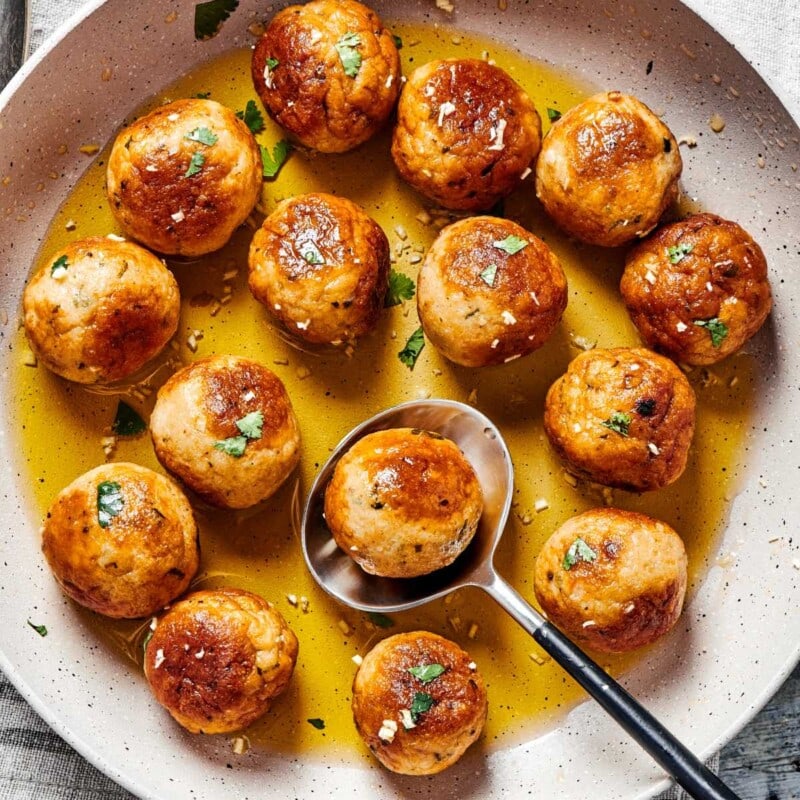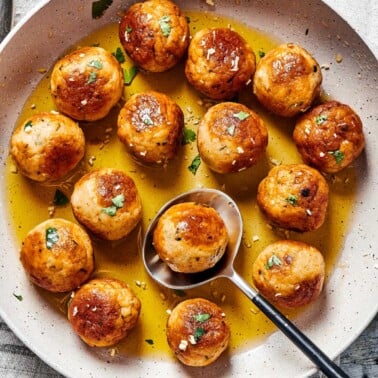 Chicken Meatballs
These ground chicken meatballs are light, juicy, and baked to perfection! These take less than 20 minutes to make and pair well with almost anything.
Ingredients
1

lb

ground chicken

2

large

eggs

1/4

cup

milk

2

cloves

garlic

minced

1

cup

bread crumbs

1/2

tablespoon

Italian seasoning

1/2

teaspoon

garlic powder

1/2

teaspoon

salt

1/4

teaspoon

pepper
Instructions
Preheat the oven to 200C/400F. Line a large baking tray with parchment paper and set aside.

In a mixing bowl, combine all the ingredients and mix well.

Using lightly wet hands, roll out 20 meatballs. Place them on the lined tray.

Bake the meatballs for 15-17 minutes.
Notes
TO STORE: Place any leftovers in an airtight container and keep them in the fridge for 4-5 days.
TO FREEZE: Transfer the cooked meatballs to an airtight container or plastic bag and place them in the freezer. The meatballs will last in the freeze for 2-3 months.
TO REHEAT: Place the meatballs on a baking sheet and place them in the oven at a low temperature. Make sure to cover the meatballs with foil so they will not dry out.
Nutrition
Serving:
1
meatball
Calories:
62
kcal
Carbohydrates:
4
g
Protein:
5
g
Fat:
3
g
Sodium:
123
mg
Potassium:
140
mg
Fiber:
0.3
g
Vitamin A:
29
IU
Vitamin C:
0.1
mg
Calcium:
21
mg
Iron:
1
mg
NET CARBS:
4
g
Disclosure: This post may contain affiliate links. I may earn a small commission for my endorsement, recommendation, testimonial, and/or link to any products or services from this website.