This keto beef and broccoli is a delicious restaurant style stir-fry that skips the carbs but keeps all the flavor! Ready in under 20 minutes and kid friendly!
The best keto broccoli beef
How do you make a Chinese stir-fry less boring? Make it taste like something you'd get at a Chinese restaurant.
As someone who LOVES Panda Express, I know their keto options are pretty much non-existent. I wanted to see if I could make their beef and broccoli keto. With a few minor changes, that is exactly what I did, and it's been a keto dinner staple.
Now, this isn't just any keto beef stir fry. It's made using a delicious sauce mix using both soy sauce and apple cider vinegar to hit all the taste buds. Broccoli is added at the end and cooked until just tender- No soggy vegetables here!
Ready in under 20 minutes and using simple ingredients, this truly tastes like classic Chinese take out!
Ingredients needed
This beef and broccoli stir fry is completely customizable based on your tastes. All you need is beef, broccoli, and some key sauces and seasonings. Here are the essential ingredients:
Flank steak. Sliced against the grain and it bite-sized pieces. I don't recommend pre-sliced strips, as they often discard the outer portions of the steak, which gives the stir-fry so much extra flavor.
Soy sauce OR liquid aminos. If you are gluten intolerant or have a soy allergy, use liquid aminos. It has the same flavor of soy sauce.
Lemon juice. Adds extra acidity, that holds the flavors into the beef and broccoli florets.
Coconut oil OR canola oil. To cook the meat in. Only a small amount will be used, as it is to balance out the sesame oil flavor.
Apple cider vinegar. Gives the beef some extra flavor, especially when paired with the soy sauce.
Minced garlic. Garlic from a jar is fine and is easier than mincing it yourself.
Salt and Pepper. To taste! I always add salt AFTER stir frying everything, as adding salt to your meat before frying can reduce the sodium absorption.
Toasted Sesame oil. The star ingredient that makes this beef and broccoli stir-fry better than any other out there! Use a very good quality sesame oil, as those have a very distinct flavor.
Broccoli. Fresh broccoli florets, chopped into bite-sized pieces.
How to make keto beef and broccoli
Keto broccoli beef is easy to make: the only thing you'll need to remember is if you use sirloin steak, marinate it for 30 minutes before adding it to the pan. Here is the basic idea of how to make broccoli beef (or see the recipe below for specifics):
Step 1- Season the steak
Add the sauce ingredients into a bowl and whisk together. Add the steak and mix well.
Step 2- Sear
Preheat a non-stick pan and add a tablespoon of the sesame oil. Once hot, pour the steak and half the sauce it is in, and pan fry for 4-5 minutes, until seared on both sides.
Step 3- Stir fry
Add the broccoli and stir fry into the beef mixture, for around 5 minutes, until slightly tender. Pour remaining sauce and sesame oil and reduce the heat and simmer for a further 10 minutes, or until broccoli is cooked.
Tips to make the best recipe
Slice your beef into even slices, so that the stir fry cooks evenly throughout.
Like the beef, it's best for your broccoli to be chopped in similar small pieces, for quick cooking.
If you use sirloin steak, we recommend marinating the beef for 30 minutes prior to frying.
For the best seared beef, make sure the pan is hot before adding the meat to it.
Beef Broccoli Variations
This recipe is so versatile, you can switch up the protein and vegetables to your taste!
Protein. Use sliced chicken breast, tofu, or even some shrimp.
Vegetables. Add onions, peppers, cauliflower, and even some fresh spinach.
Nuts and Seeds. Sprinkle some sesame seeds, cashews, or pumpkin seeds over the cooked stir fry.
Spices and seasonings. Add hot sauce, chili sauce, or red pepper flakes to add a spicy kick.
Storage instructions
To store: Leftovers can be stored in the refrigerator, in a covered container. The stir fry can be refrigerated for up to 1 week.
To freeze: Place the cooked and cooled stir fry in an airtight container and store it in the freezer for up to 6 months.
Reheating: Microwave portions for 30-40 seconds, until hot.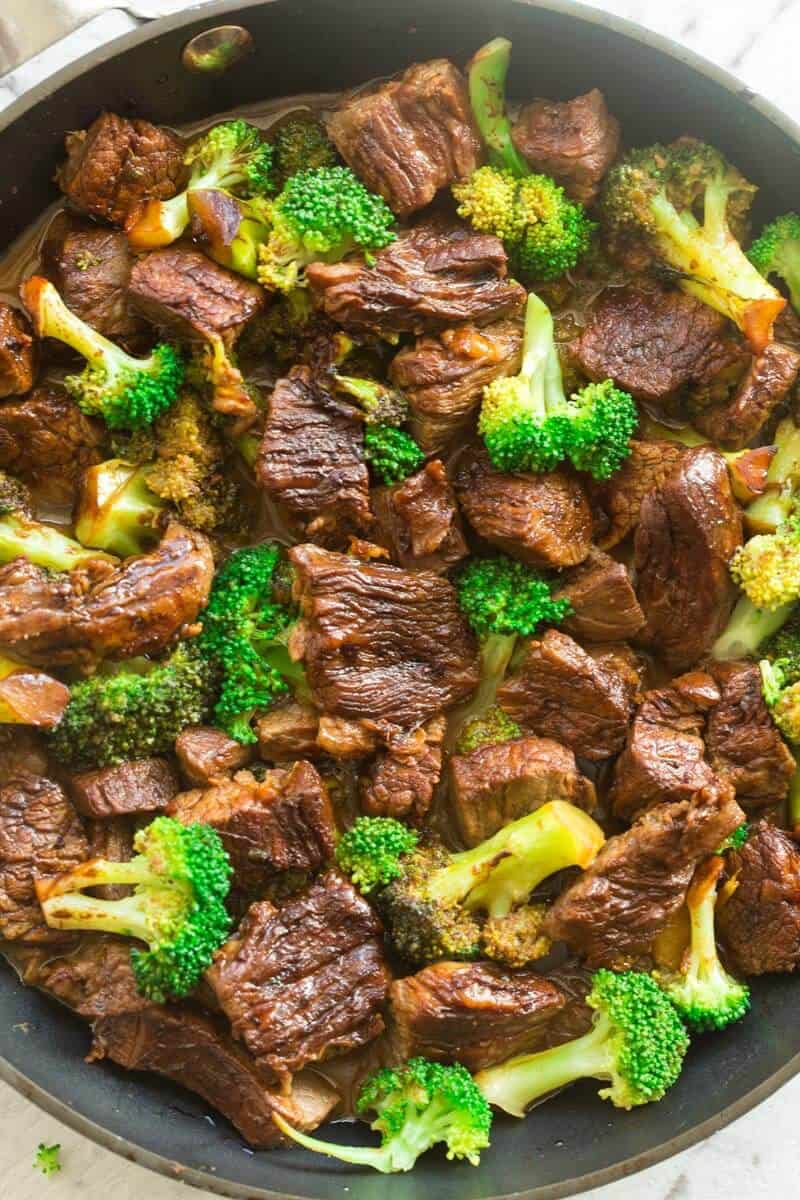 More keto stir fry recipes to try
Frequently Asked Questions
How many carbs are in beef and broccoli?
There are just 3 grams of net carbs per serving.
Can I use other cuts of beef?
 you can't find flank steak, you can also use sirloin or skirt steak. Like the flank steak, you want it sliced against the grain, and with visible fat removed. 

I don't recommend using leaner cuts of beef, otherwise, by the time the broccoli is cooked, your meat will be dry.
Does the broccoli need to be pre-cooked?
Cooked broccoli is best enjoyed crisp and tender, so pre-cooking it will result is soft and brittle broccoli. If the broccoli isn't cooked to your liking, you can continue to let it simmer on low until your desired texture.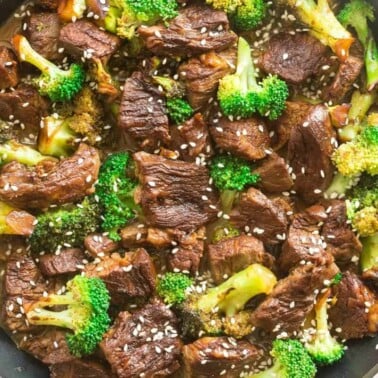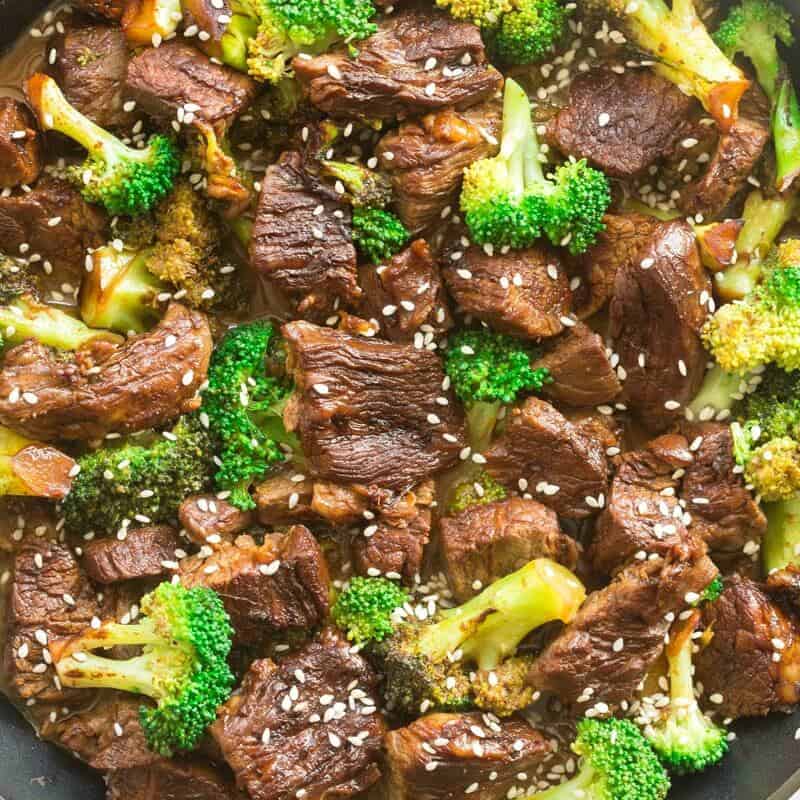 Keto Broccoli Beef Like Panda Express
This keto beef and broccoli is a delicious restaurant style stir-fry that skips the carbs but keeps all the flavor! Ready in under 20 minutes and kid friendly! 
Instructions
Slice the steak against the grain, in bite sized strips. Place in a mixing bowl.

In a small bowl, whisk together your coconut oil, soy sauce, minced garlic, and apple cider vinegar and mix well. Pour over the steak to ensure the sauce covers all the meat.

Heat a non-stick pan with one tablespoon of sesame oil. When hot, add your marinated steak and half the sauce it is in. Sear for 5 minutes, turning halfway through, for the steak to cook both sides.

Add the second tablespoon of sesame oil and add the broccoli and the rest of the sauce. Cook for 10 minutes, until the broccoli is tender. Reduce heat to low and continue simmering until the broccoli is cooked to your desired texture.
Notes
TO STORE: Leftovers can be stored in the refrigerator, in a covered container. The stir fry can be refrigerated for up to 1 week.
TO FREEZE: Freeze leftovers in the freezer, for up to 6 months. Be sure to keep them in either a whole portion or single portions, as they cannot be refrozen.
Nutrition
Serving:
1
serving
Calories:
235
kcal
Carbohydrates:
6
g
Protein:
26
g
Fat:
13
g
Sodium:
1771
mg
Potassium:
1141
mg
Fiber:
3
g
Vitamin A:
567
IU
Vitamin C:
82
mg
Calcium:
104
mg
Iron:
5
mg
NET CARBS:
3
g
Disclosure: This post may contain affiliate links. I may earn a small commission for my endorsement, recommendation, testimonial, and/or link to any products or services from this website.