This keto ramen has a flavorful broth and is loaded with delicious toppings, it's SO much better for you than instant noodles! Made with keto ramen noodles, it's filling, comforting, and takes less than 5 minutes to make.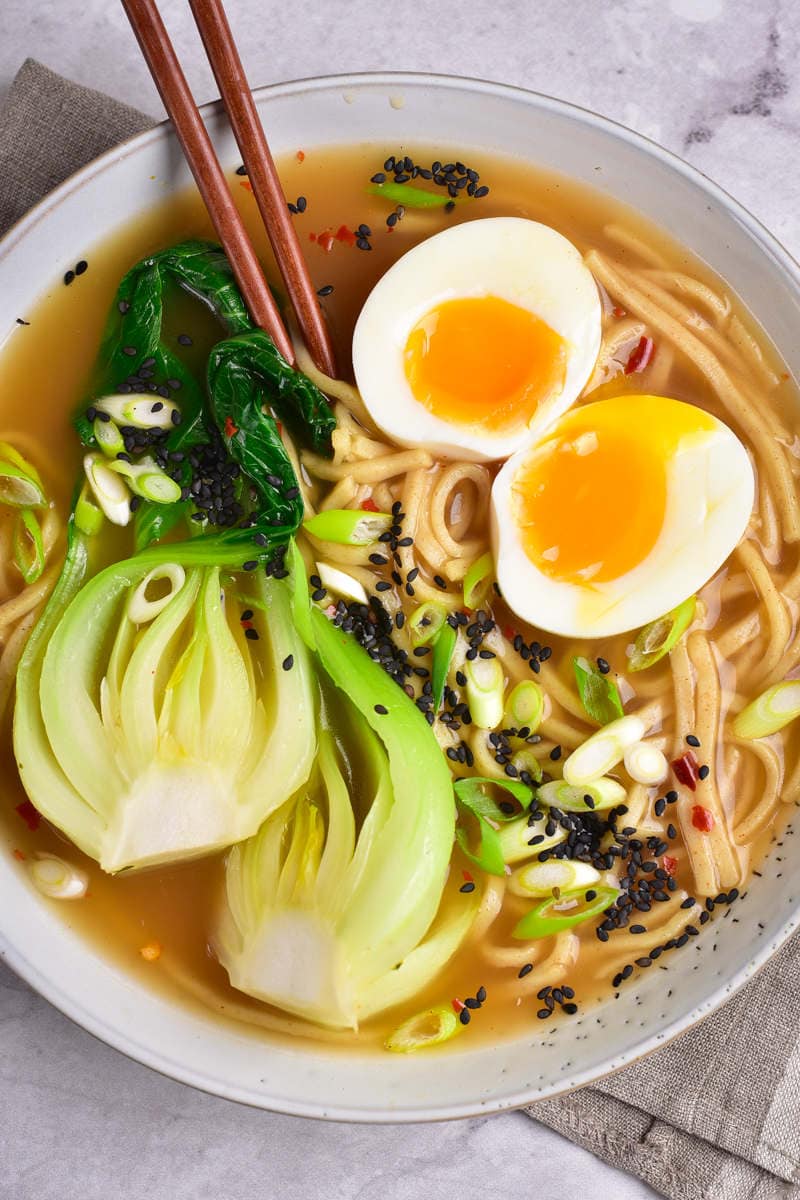 Keto Ramen Noodles
When it comes to easy and Asian-inspired keto dinners, my favorite recipes to make are stir fry, Pad Thai, and this keto ramen.
Like most kids who moved out of home for college, meals were often a struggle. While I did have a meal plan, most of the time I was too lazy to ever make it to the cafeteria. Instead, I survived on peanut butter and jelly sandwiches and instant ramen packets. The latter became an almost daily staple until I studied in Japan and tried actual ramen in a restaurant and never went back to the instant stuff again.
What is ramen?
Ramen is a traditional Japanese noodle soup. The soup is typically made with beef, chicken, or fish broth and is flavored with soy sauce. It often comes with a variety of toppings including soft boiled eggs, vegetables, and seafood.
While ramen is a popular dish in Japanese restaurants, it's also a popular quick meal, known as instant noodles or instant ramen noodles. This is usually a pre-cooked block of noodles that comes with a flavoring package. All you do is add boiling water to it and within seconds, you have a noodle soup.
Can I have ramen on keto?
As ramen and ramen noodles are primarily based on carbs, they are not suitable for a keto diet. Luckily, with a few smart tweaks and substituting the traditional wheat noodles for shirataki noodles, you can ramen while staying in ketosis.
This keto ramen recipe is inspired by the Shoyu style ramen, which uses soy sauce in its broth. While it doesn't taste as authentic as restaurant-style ramen, it is far superior to anything you'd find in those instant ramen packets! Now, this ramen may look incredibly fancy but I promise you, it all comes together in less than 5 minutes.
It looks and tastes like ramen, minus the carbs. What I love about this recipe is how easy it is to customize with your favorite vegetables and protein. Whenever I have wilted greens or some leftover chicken, I simply add it on top, and voila- A well-balanced meal.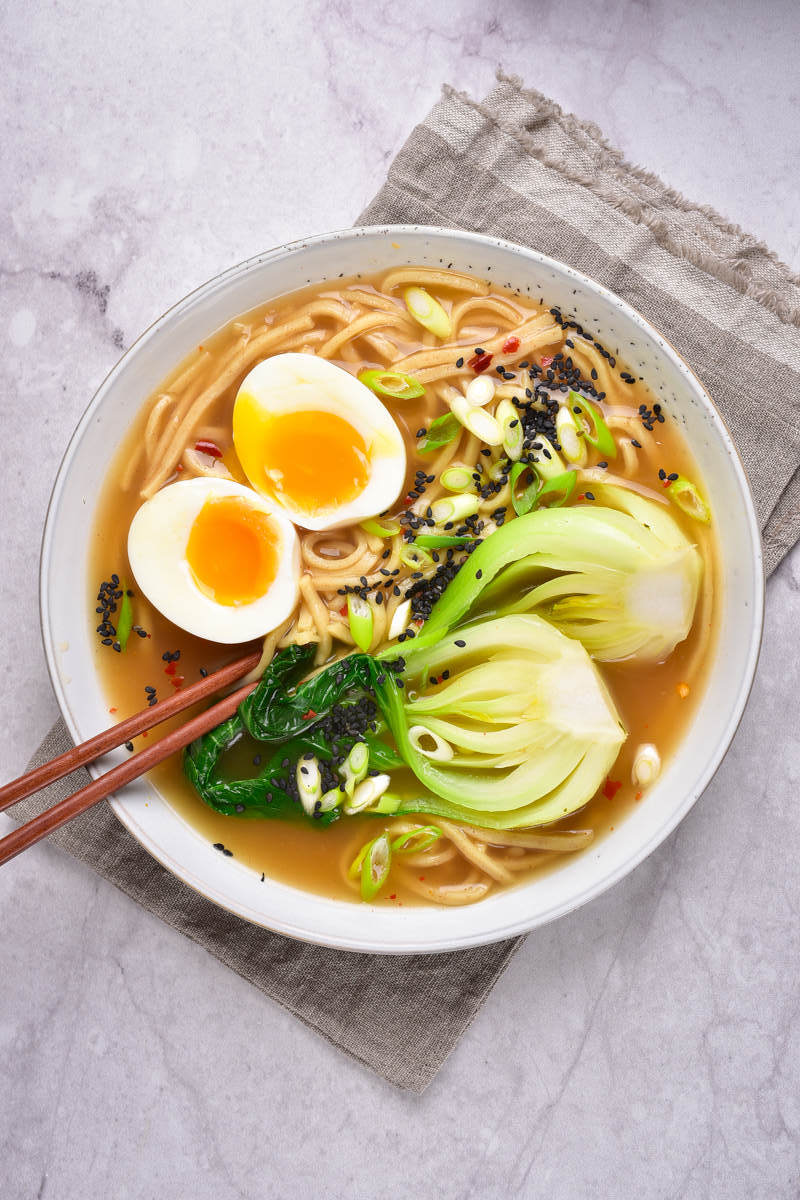 How do you make keto ramen noodles?
The Ingredients
Low carb ramen noodles– Shirataki noodles or miracle noodles are best for this dish. They resemble ramen noodles and hold onto the flavor of broth very well. Some brands may have a slightly fishy taste so be sure to rinse them in boiling water beforehand.
Chicken broth– Organic chicken broth with no added sugar or preservatives. You can also use vegetable stock if you'd like.
Soy sauce– Gives a lovely soy and umami flavor. Do not use a dark soy sauce, or else the flavor will be overpowering.
Chili powder– Japanese chilli powder, togoshari, is preferred. It's not as spicy as cayenne pepper or chilli powder, but gives the ramen a more authentic peppery kick. If you don't have any on hand, red pepper flakes or cayenne pepper can be used.
Toppings– Add your favorite ramen toppings! My favorite low carb options include a soft boiled egg, baby bok choy, and a sprinkling of sesame seeds.
The Instructions
Start by rinsing your shirataki noodles in boiling water, drain them, and set them aside. In a small saucepan, add the chicken broth and soy sauce and place it over medium heat. Once boiling, add the noodles and simmer for 2 minutes, before removing from the heat and stirring through the chili powder.,
Now, transfer everything into a large bowl, add your toppings, and serve immediately.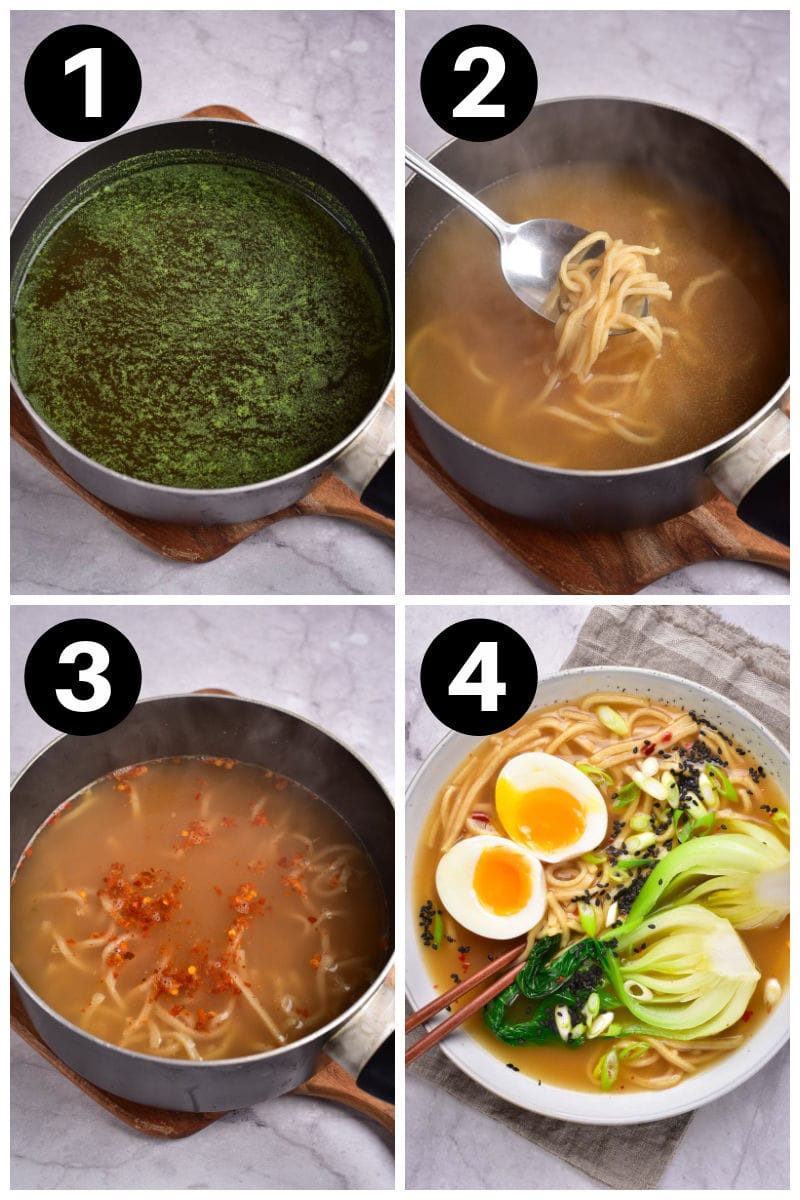 Flavor variations
Chicken ramen– Make the ramen as instructed but add some grilled chicken on top.
Beef ramen– Use beef broth and add some sliced beef tenderloin and drizzle some terriyaki sauce on top.
Miso ramen– Add 1 tablespoon of miso paste to the saucepan before bringing it to a boil. Once boiling, whisk the liquid well, to ensure it is fully immersed.
Cheddar cheese ramen– Reminicent of college room dinners, add 1-2 slices of American cheese and stir it through the ramen until melted.
Spicy ramen– Add some fresh or fried chilis and drizzle sriracha all over the top.
Storing and reheating low carb ramen
To store: If you make a double batch or a larger serving, leftovers can be stored in the refrigerator, covered, for up to 3 days.
To reheat: Microwave the ramen for 30-45 seconds or in a small saucepan until warm.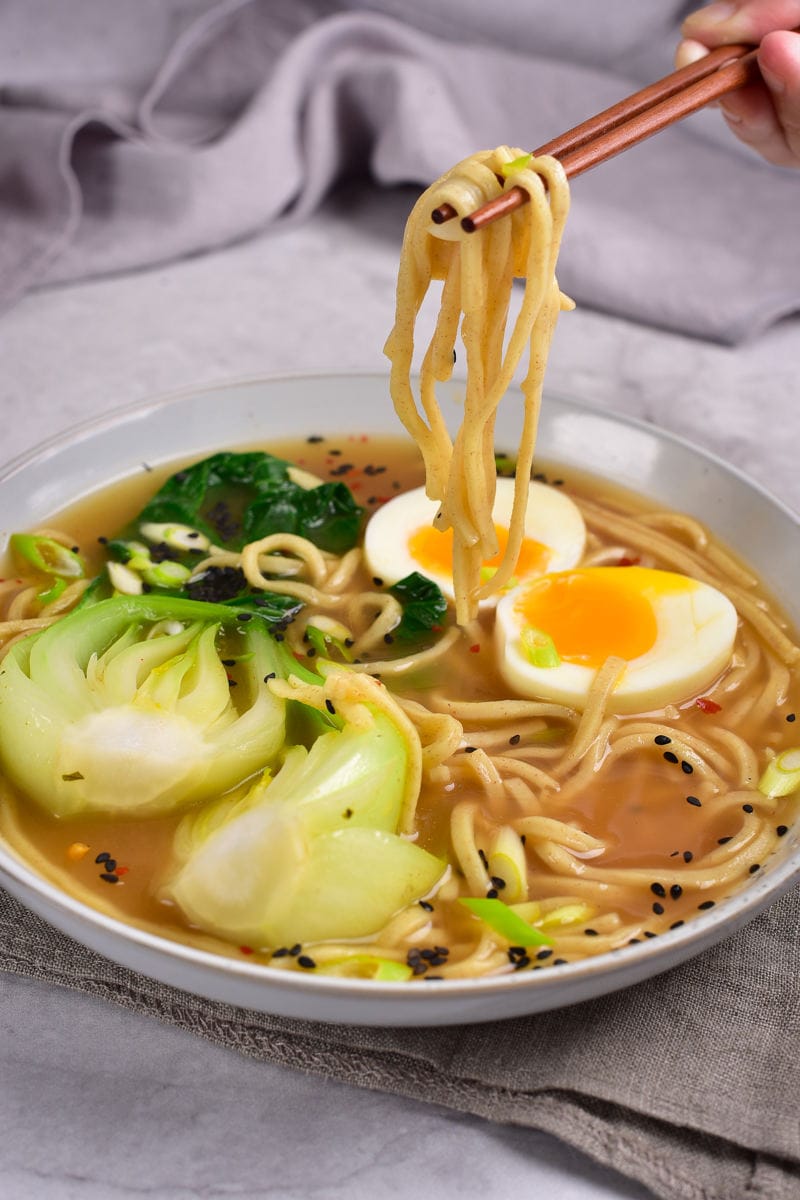 More easy keto dinner recipes to try
Frequently Asked Questions
Do ramen noodles have carbs?
Ramen noodles are wheat-based and thus are primarily made of carbs. Instant ramen packets typically contain around 60 grams of carbs and ramen from a restaurant can have up to 90 grams of carbs.
Are egg noodles carb free?
Egg noodles are not carb free. They contain slightly more protein than other noodles but their carb content is very similar.
HUNGRY FOR MORE? Subscribe to my newsletter and follow along on Facebook, Youtube, and Instagram for all of the latest updates.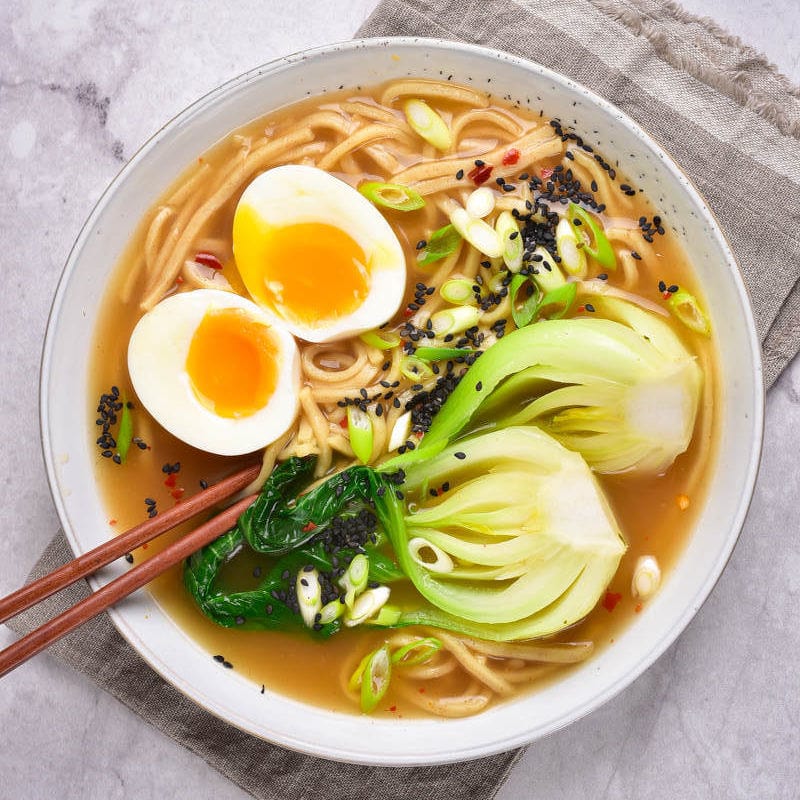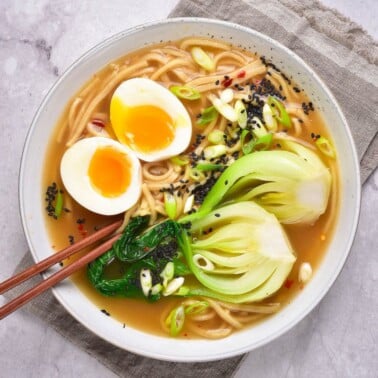 Keto Ramen
This keto ramen has a flavorful broth and plenty of toppings, it's so much healthier than instant ramen! Made with keto ramen noodles, it takes seconds to make!
Ingredients
1

packet

shirataki noodles

* See notes

3

cups

chicken broth

1

tablespoon

soy sauce

1

teaspoon

Togoshari

optional ** see notes
For the toppings
1

soft boiled egg

1/4

cup

baby bok choy

1

teaspoon

sesame seeds
Instructions
Drain your shirataki noodles and wash them with boiling water. Set them aside.

Combine the chicken broth and soy sauce in a small saucepan and bring to a boil. Add the noodles and boil for 3 minutes, before removing it from the heat. Add the Togoshari.

Transfer to a large bowl, top with the sliced soft-boiled egg, baby bok choy, and sprinkle with sesame seeds and sliced spring onions.
Notes
Nutritional information does not include the soft boiled egg.
* Or any zero calorie noodles.
** Togoshari is a Japanese mild chili powder. You can use cayenne pepper or omit it completely.
TO STORE: If you make a double batch or a larger serving, leftovers can be stored in the refrigerator, covered, for up to 3 days.
TO REHEAT: Microwave the ramen for 30-45 seconds or in a small saucepan until warm.
Nutrition
Serving:
1
serving
Calories:
65
kcal
Carbohydrates:
5
g
Protein:
3
g
Fat:
1
g
Sodium:
1812
mg
Potassium:
306
mg
Fiber:
3
g
Vitamin A:
1323
IU
Vitamin C:
38
mg
Calcium:
65
mg
Iron:
1
mg
NET CARBS:
2
g
Disclosure: This post may contain affiliate links. I may earn a small commission for my endorsement, recommendation, testimonial, and/or link to any products or services from this website.