This keto pad Thai looks and tastes like the famous Thai dish, minus the carbs! Made with shirataki noodles, they are a quick and easy dinner recipe!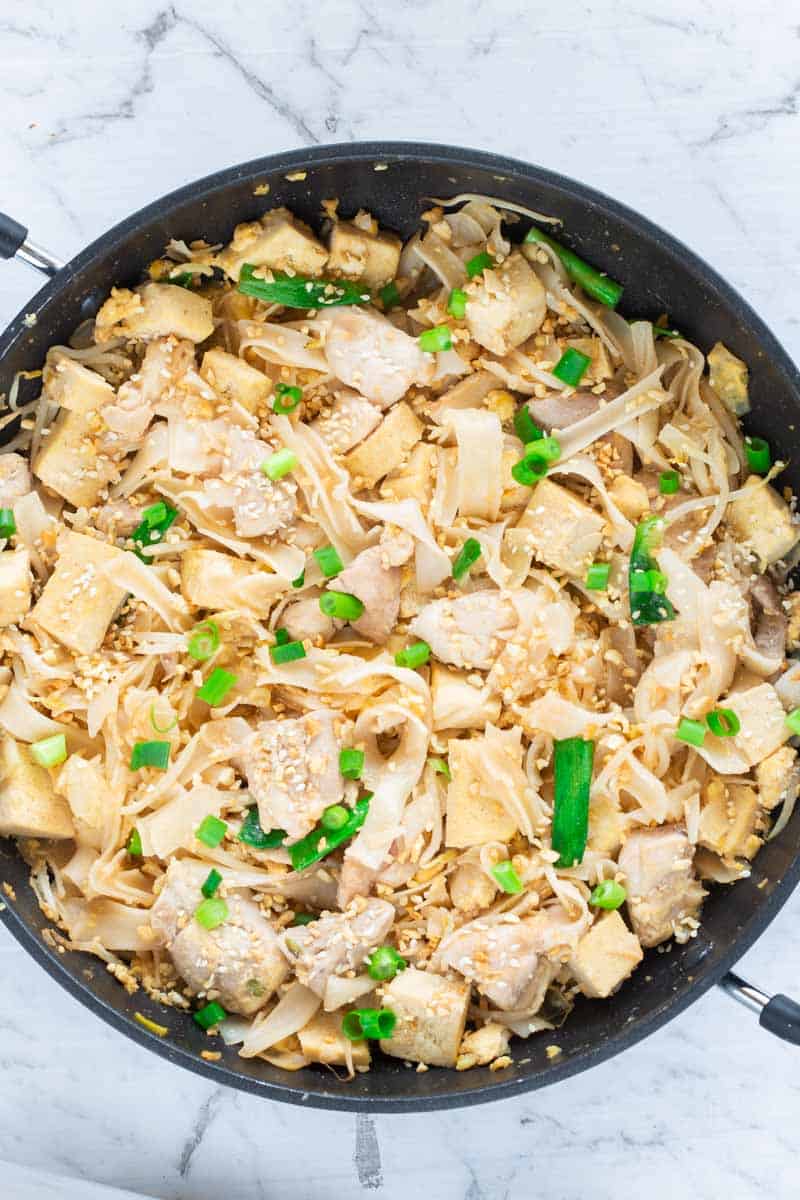 Keto Pad Thai
If there was one kind of takeout we enjoyed on a regular basis, it would have to be Thai food. I feel like Thai food is pretty much an Australian family staple. This doesn't surprise me, as the number of Australians who visit Thailand on a yearly basis is probably one of the highest in the world.
While we love ourselves some green curry or pandan chicken, nothing beats some delicious pad thai.
What is pad thai?
As the name suggests, Pad Thai is a traditional Thai noodle stir fry, made with a sweet and salty sauce and filled with chicken, shrimp, tofu, and/or eggs. They use flat rice noodles and come together in a pinch.
As rice noodles or noodles in general are not keto friendly, we'll be making this using shirataki noodles.
What are shirataki noodles?
Shirataki noodles, also known as miracle noodles, are a low carb and low calorie alternative to traditional noodles. They are made of glucomannan, a kind of fiber from the konjac root.
Shirataki noodles have been used in various forms throughout Japan and other parts of Asia for many years, in soups and stews. It's recently become popular in western countries, especially those watching their calories or carbs. The noodles look and feel like noodles, and can generally be used to replace pasta or noodles in many recipes.
If I'm making Italian style dishes, I prefer using homemade keto pasta or almond flour pasta, but for Asian-style recipes or stir-fries, shirataki noodles have been a game changer!
This keto pad thai recipe looks and tastes like the authentic dish, with a few changes to make them keto friendly! As someone who grew up eating Thai food at least once a week, this keto version truly does the original justice. It comes together in minutes and is full of delicious flavors- Sweet, spicy, crunchy, and fragrant.
The secret to the dish is having the most delicious keto pad thai sauce- The sauce holds onto the noodles and chicken, and will no doubt have you reaching for a second bowl!
Ingredients to make the best keto pad thai recipe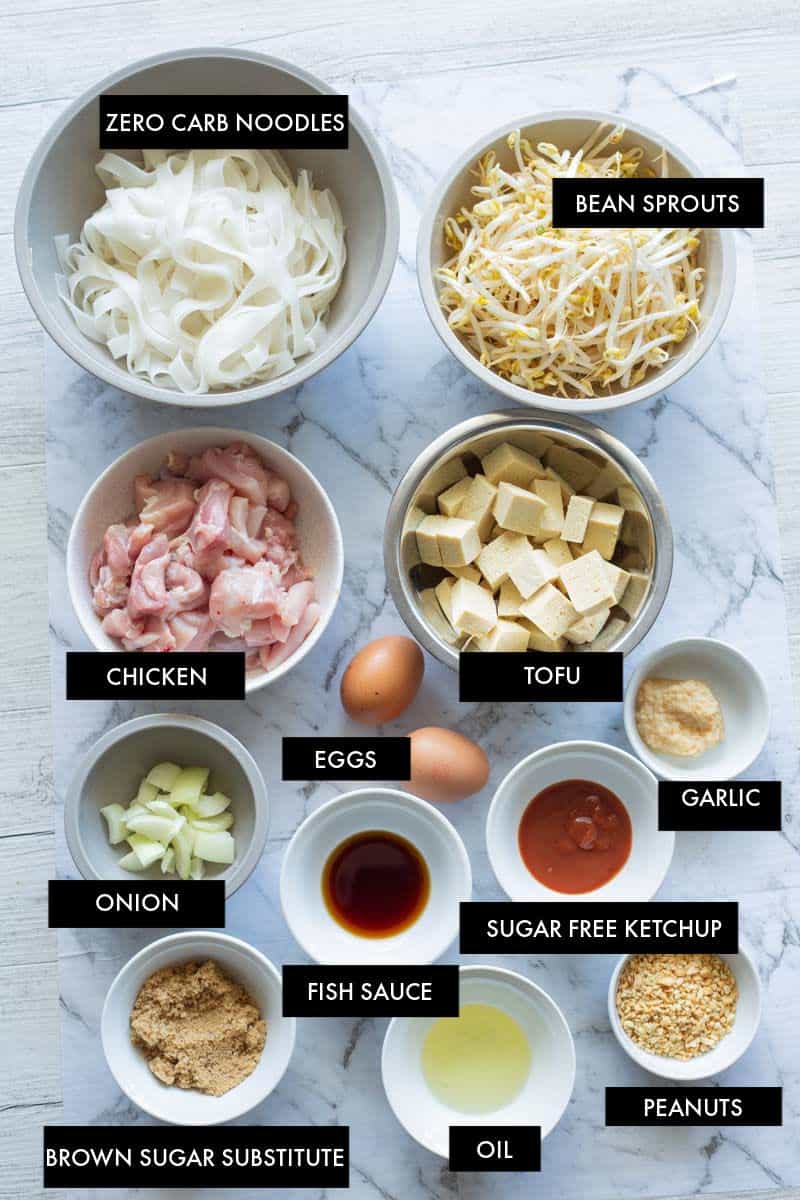 For the noodle stir fry
Shirataki noodles– There are several kinds of shirataki noodles out there, but the best ones for this recipe are the wok style or fettucini style. These versions are thicker and are most similar to traditional pad Thai noodles.
Oil– To pan fry everything! Use an oil with a high smoke point, like peanut or safflower oil.
Onions and garlic- Necessary for any Asian-inspired stir fry or noodle dish.
Chicken thigh (or breast!)– Skinless chicken thigh is the best, as it holds onto the sauce and other vegetables well, but chicken breast can easily be used too.
Eggs– You can't have a pad thai without some eggs fried through it!
Bean sprouts– Freshly bean sprouts (also known as mung bean sprouts). Most will be stir fried into the dish but reserve a handful to serve on top of the noodles- It gives it a lovely crunch!
Tofu– Optional, but highly recommended. Slice your tofu into small cubes so they cook quickly. Do not use soft or standard tofu, as it will break apart once tossed through the noodles.
Green onions– The stems will be used to serve and the stalks will be used IN the stir fry!
Peanuts– Unsalted and finely chopped peanuts.
For the keto Pad Thai sauce
Ketchup– Traditional pad Thai recipes call for tamarind paste. Not only is tamarind paste quite hard to find, but it is predominantly made of sugar! You can easily switch it out with sugar free ketchup without sacrificing the overall flavor!
Brown sugar substitute– Also known as keto brown sugar. If you don't have this on hand, any granulated sweetener can be used.
Fish sauce– A must for any good Pad Thai.
Soy sauce– Balances out the sweetness from the ketchup and sweetener!
How do you make a low carb pad thai?
1. Prepare the shirataki noodles! Remove them from their packet and remove the excess liquid. Add the shirataki noodles to a bowl and cover with boiling water. Let the noodles sit for 5 minutes before draining. Following this process will remove any potential fishy smell or taste.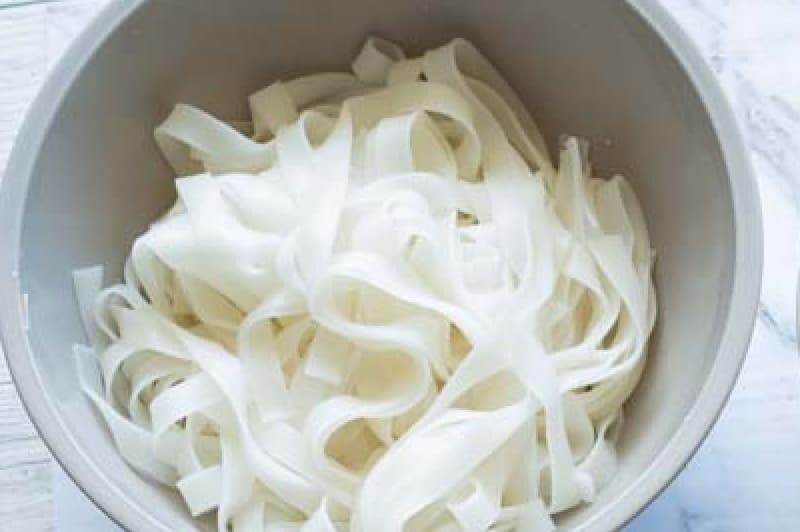 2. Prepare the pad thai sauce by whisking together all the ingredients.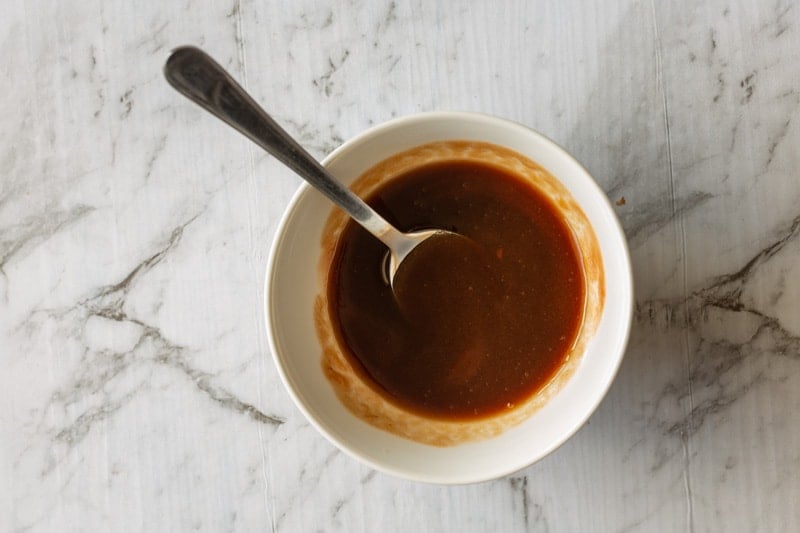 3. In a non-stick pan, cook the chicken, onion, and garlic until the chicken is no longer pink.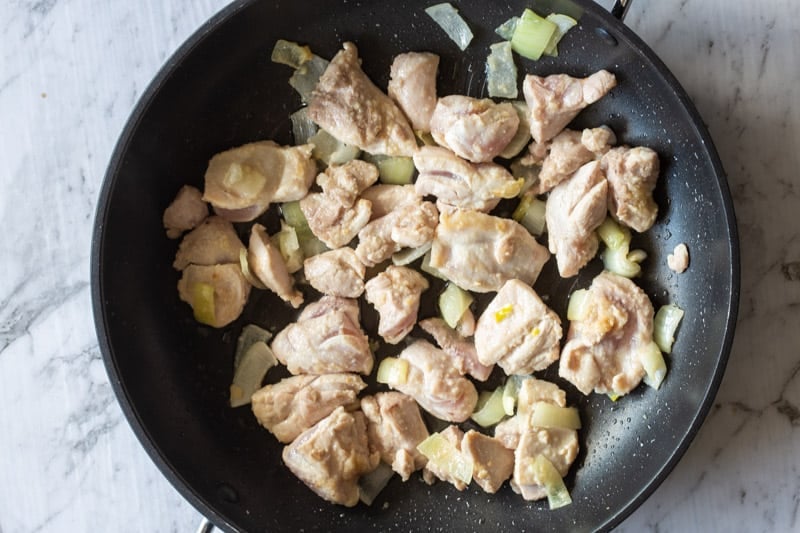 4. Push the chicken and onions to one side and add the eggs.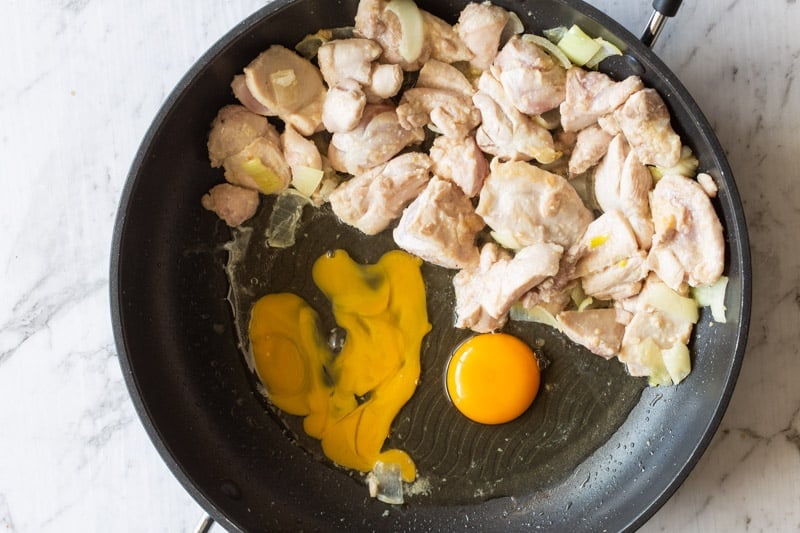 5. Add the bean sprouts, tofu, green onion stalks and mix well. Add the noodles and cook for 1-2 minutes. Pour the sauce over everything and cook for a further 3 minutes.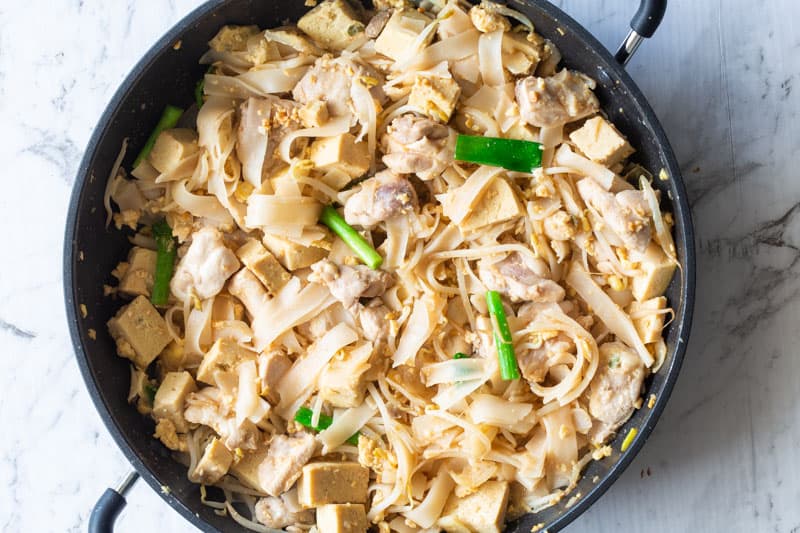 6. Sprinkle with the green onion stems, chopped peanuts, and sesame seeds. For a touch of sour flavor, drizzle some lime juice.
Dietary swaps and substitutions
Make it vegetarian. Omit the chicken and double the amount of tofu used. The carbs will still be super low and you'll be keeping the dish meat free!
Make it gluten free. Be sure the brand of shirataki or miracle noodles you use are certified gluten free.
Use veggie noodles. Use spiralized zucchini noodles or butternut squash noodles instead of shirataki noodles. If you use the butternut squash ones, let them sit in boiling water for 5 minutes before adding to the stir fry, so they aren't overly firm.
Switch up the protein. Shrimp is a fantastic alternative to chicken or even sliced beef.
Keep it authentic! If you don't mind some extra carbs or don't follow a keto diet, use traditional rice noodles and tamarind paste (instead of the ketchup).
Storing, freezing, and reheating tips
To store: Pad thai can be stored in the refrigerator, covered, for up to 5 days.
To freeze: Place leftovers in a shallow container (or single serving containers) and store in the freezer for up to 6 months.
Reheating: Either microwave for 30-40 seconds or reheat in a lightly oiled non-stick pan until sizzling and warm.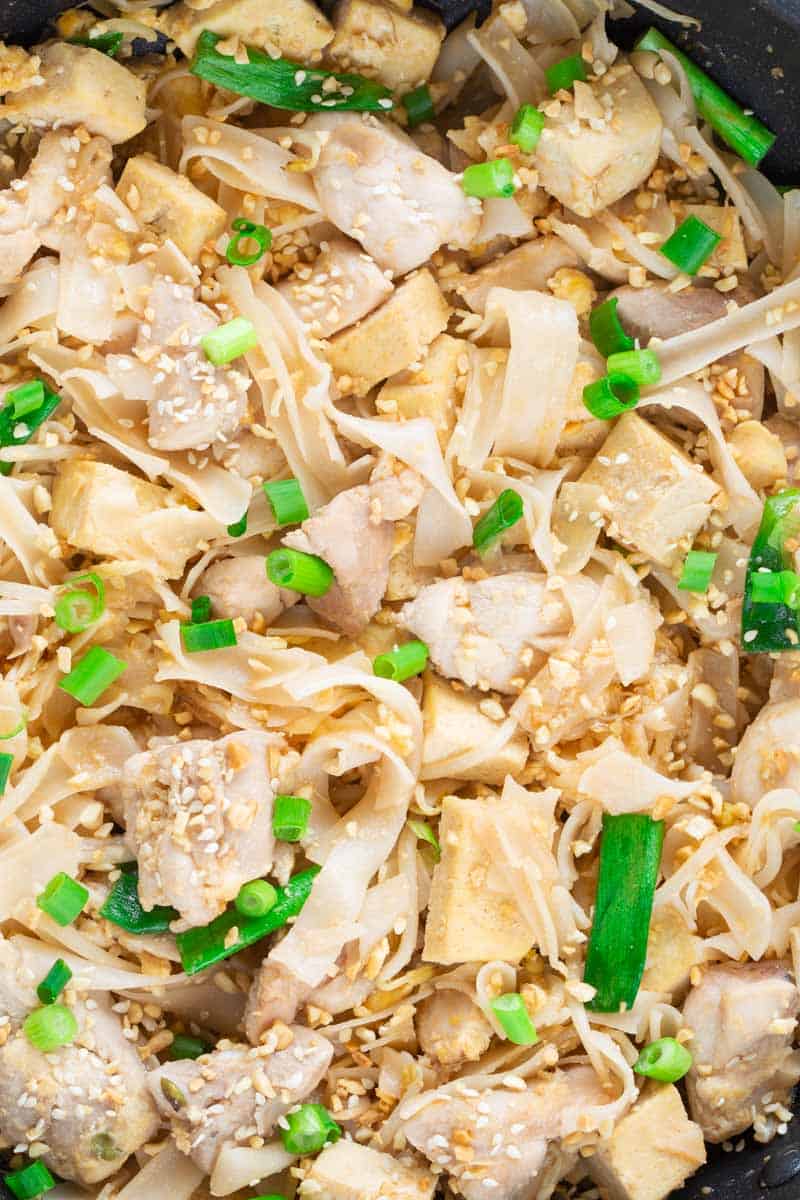 More easy keto dinner recipes to try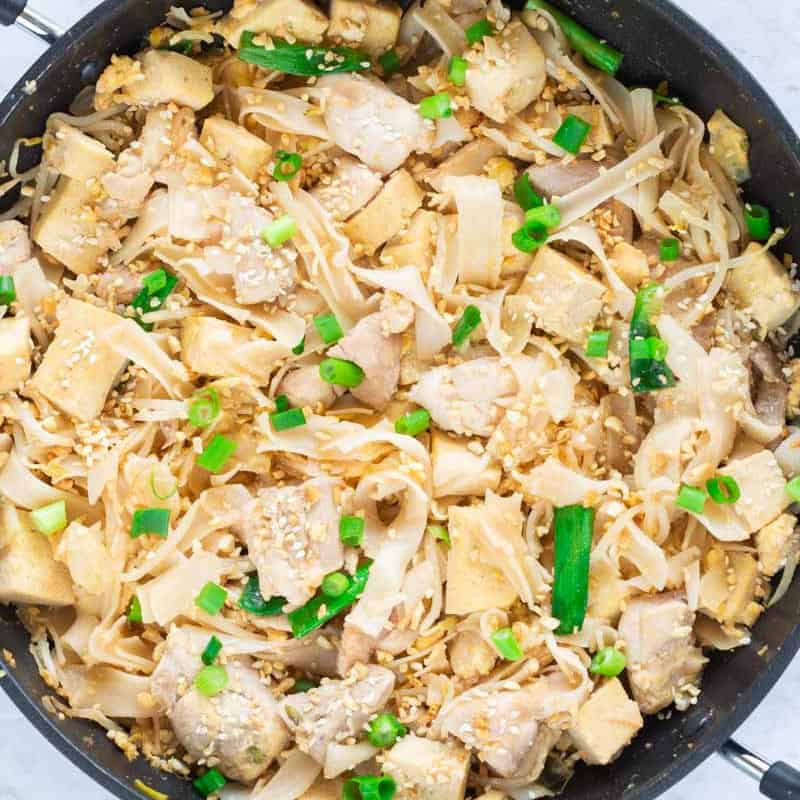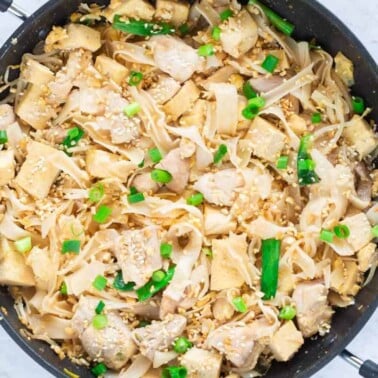 Keto Pad Thai
This recipe for a keto pad thai tastes like the authentic Thai dish, minus the carbs! Ready in 10 minutes, it's packed with chicken, tofu, and bean sprouts, all in a keto pad thai sauce!
Ingredients
1

400 gram package

Shirataki noodles

1

tablespoon

oil

1/2

large

onion

chopped

2

cloves

garlic

minced

1/2

lb

chicken thighs

chopped into bite sized pieces

2

large

eggs

1 1/2

cups

bean sprouts

1/4

block

firm tofu

chopped into small pieces, 100 grams

3

stalks

green onions

* See notes

3

tablespoon

peanuts

chopped
Instructions
In a large bowl, add your shirataki noodles and cover with boiling water. Let it sit for 5 minutes, before draining. Set it aside.

In a small bowl, whisk together the pad thai sauce ingredients.

In a non-stick pan, add the oil and place it over medium heat. Once hot, add the onion and garlic and fry for 1-2 minutes. Add the chicken and cook until no longer pink.

Push the chicken to one side and add the eggs. Whisk into the chicken. Add the bean sprouts, tofu, and green onion stems. Add the noodles and mix well, until combined.

Add the sauce over the top of everything and mix together, until the sauce covers the noodles and protein.

Remove the pad thai from heat and serve with sliced green onions and chopped peanuts.
Notes
* The stalks will be used in the stir fry and the stems will be chopped to sprinkle on top of the cooked pad thai.
TO STORE: Pad thai can be stored in the refrigerator, covered, for up to 5 days.
TO FREEZE: Place leftovers in a shallow container (or single serving containers) and store them in the freezer for up to 6 months.
TO REHEAT: Either microwave for 30-40 seconds or reheat in a lightly oiled non-stick pan until sizzling and warm.
Nutrition
Serving:
1
serving
Calories:
231
kcal
Carbohydrates:
8
g
Protein:
21
g
Fat:
13
g
Sodium:
1303
mg
Potassium:
391
mg
Fiber:
5
g
Vitamin A:
248
IU
Vitamin C:
9
mg
Calcium:
82
mg
Iron:
2
mg
NET CARBS:
3
g
Disclosure: This post may contain affiliate links. I may earn a small commission for my endorsement, recommendation, testimonial, and/or link to any products or services from this website.