Healthy 1 Minute Low Carb Chocolate Chip Muffin
A super light and fluffy and moist chocolate chip muffin mug cake which packs a protein punch and is low carb- It's also ready in under a minute! This healthy 1 Minute Low Carb chocolate chip muffin is also naturally gluten free, vegan, paleo and sugar free!

Over the past few months, I've felt a little stagnant with the recipes I've been sharing. Don't get me wrong- I'd never, ever post something just for the sake of it- In fact, you've probably noticed less posts going up recently, and that is the reason why. I've been in search of some form of inspiration or ideas to bring some challenges/fun back in the kitchen and I *think* I may have found it….in one of my mates!
If you've been a long-term reader on here, I've mentioned quite a few times that several of my friends compete in semi-professional and professional bodybuilding. In fact, it was because of them I shared these super fluffy pancakes– It was one of their 'go-to' breakfasts (and dinners, apparently) during their final weeks before they hit the stage.
One of my friends, Luke, is currently prepping for his next competition in February! After catching up with him last week, it was quite interesting to observe . Some of you might see from media outlets that the art/sport of bodybuilding can be quite physically, emotionally and mentally damaging. What might start out as a 'temporary' diet or lifestyle change can in actual fact, leave VERY long lasting repercussions- Obsessive thoughts, body image issues and even extreme levels of orthorexia or binge eating.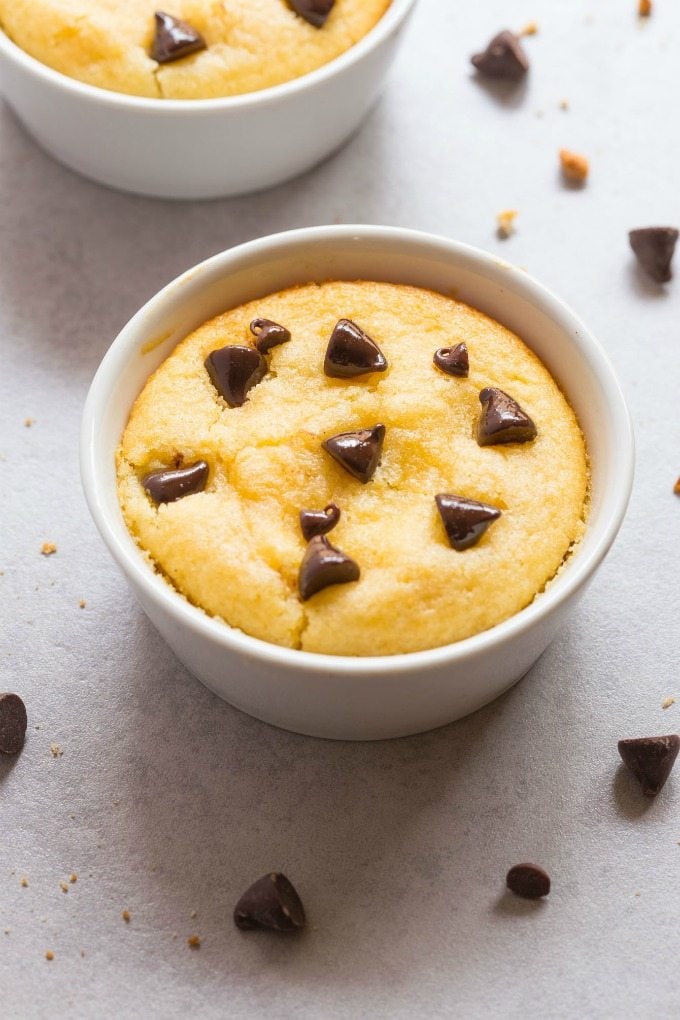 What I admire about my friends that have and continue to compete is that they really have a sensible and approach to it. I don't want to dive into it too much here, as I'm going to get Luke to share his diet, journey and other bits and bobs on it next week, but let's just say he will break MANY stereotypes out there.
Moving forward, I'm excited to see what I can come up with in the kitchen to add to his weekly meal prep- I'm going to narrow down his favorite sweet and savory recipes and give them a competition-friendly spin on them…without tasting like cardboard, having asparagus in it, or being grilled like a bird.
BOOM.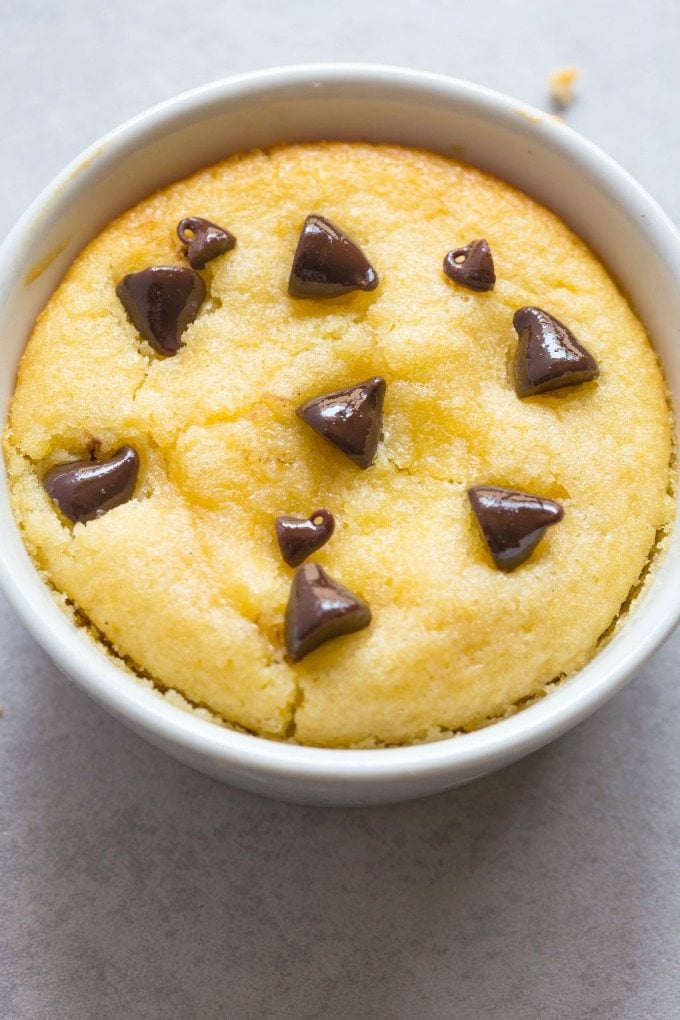 One thing I DO know is that he is a fan of are fluffy chocolate chip muffins. During our university days, we conveniently had a Mrs.Field's coffee shop directly opposite us. While their muffins don't hold a flame to their cookies (my GOD, their cookies), we had a mutual friend who worked there and would always fend off muffins to us. Being poor university students, we'd gladly accept and every Tuesday and Thursday mornings, before our Business Stats lectures (gross), we'd arrive with muffins in tow and our laptops ready to play Age of Empire take notes.
So while I wait for an extensive list of (manageable) foods, I'll kickstart with our mutual favorite- This healthy low carb chocolate chip muffin!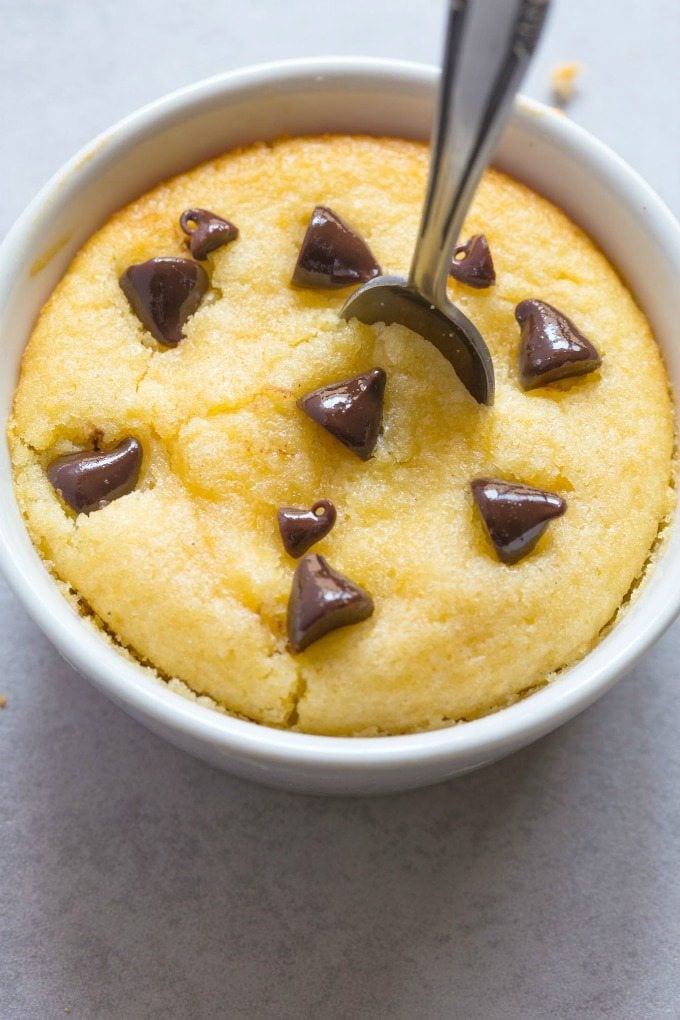 This healthy low carb chocolate chip muffin is light, fluffy and ready in less than one minute (but there is a tested oven option, too!)! Unlike traditional chocolate chip muffins, this differs considerably- It doesn't contain any grains, sugar, butter, oil, processed fillers or margarine, but you'd never be able to tell! Instead, we use a few smart swaps which, when put together, create something delicious and perfect for those watching their carbs, in competition prep or, well, if you are anything like me, want a(nother) excuse to add ice cream, extra chocolate chips or other bits and pieces on top. This fluffy one minute chocolate chip muffin is also suitable for most dietary lifestyles- It's naturally gluten free, vegan, paleo, sugar free, dairy free and grain free!
Let's talk ingredients quickly- As always, I've tested this using this casein protein powder, this vegan brown rice protein powder, and this paleo protein powder. I DO NOT recommend whey protein for this chocolate chip muffin, unless it's a blend. Based on my personal experience, it will result in a hockey puck.
I really recommend using Growing Naturals Vanilla Brown Rice Protein Powder with this recipe- It lends a fantastic, fluffy texture, and a delicious mild vanilla flavor!
HACK! If you want to keep this even lower carb, you can completely omit the coconut flour. It won't be fluffy, nor will it rise very much, but it will be super moist and gooey. However, I really wouldn't recommend using the oven option for this- It simply takes too long for it.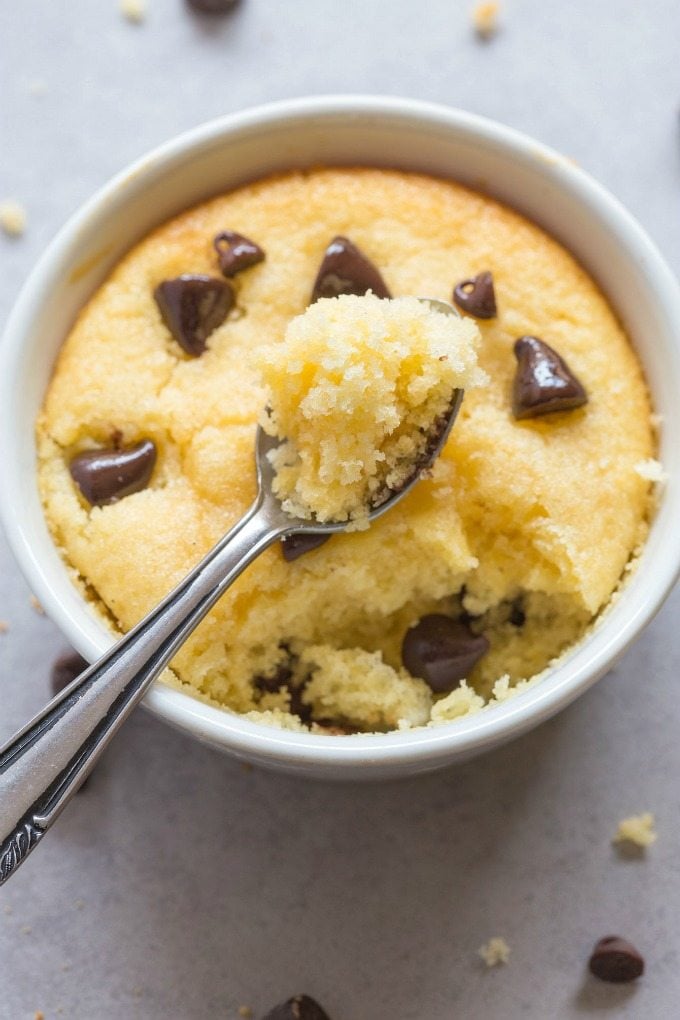 Make this healthy 1 Minute Low Carb Chocolate Chip Muffin and let's raise our carbs to kickstart this new fun experimenting…
Fitness prep style!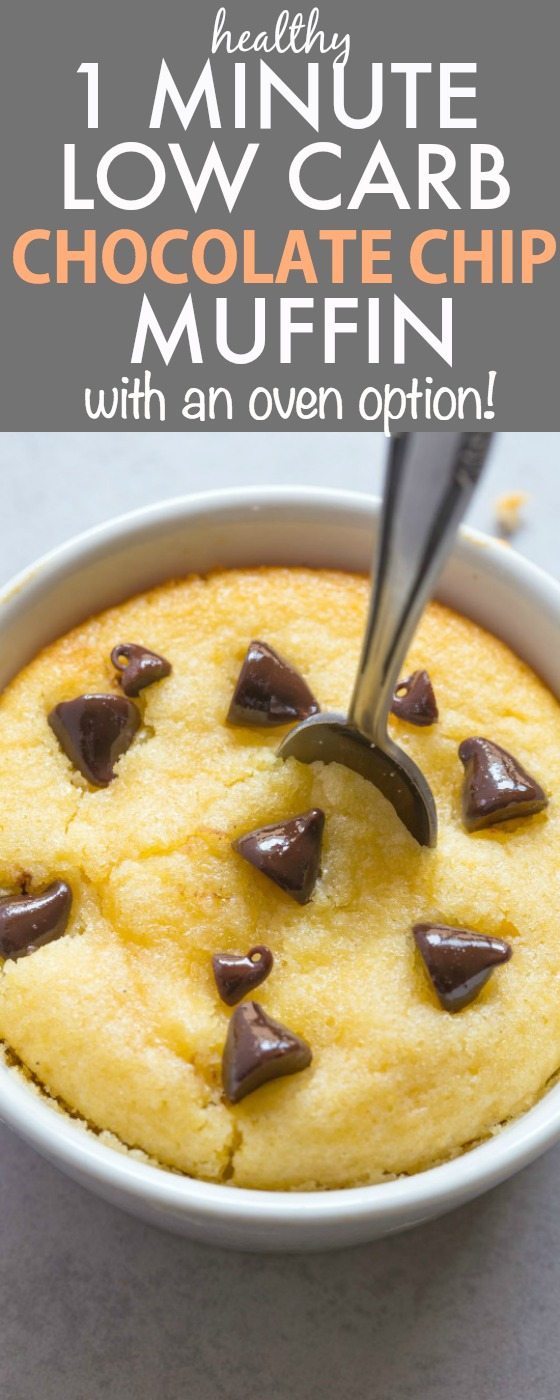 Healthy 1 Minute Low Carb Chocolate Chip Muffin
2016-11-12 00:27:41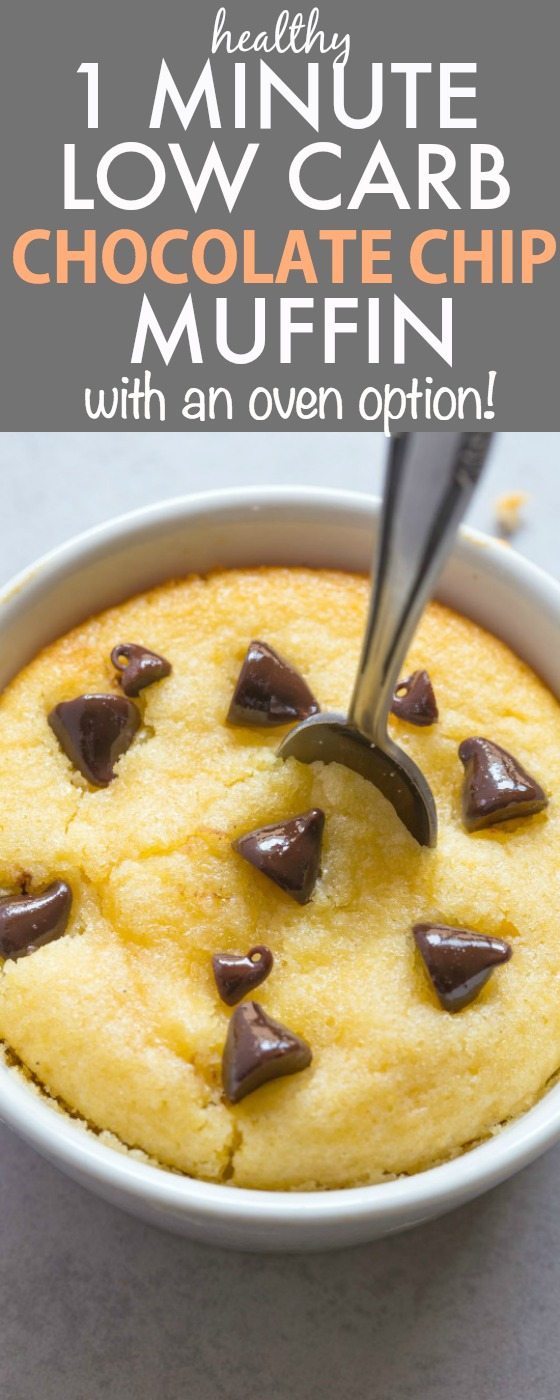 Serves 1
A super light and fluffy and moist chocolate chip muffin mug cake which packs a protein punch and is low carb- It's also ready in under a minute! This healthy 1 Minute Low Carb chocolate chip muffin is also naturally gluten free, vegan, paleo and sugar free!
Ingredients
1 scoop vanilla protein powder (32-34 grams)
1/2 tsp baking powder
1 T coconut flour
1 T granulated sweetener of choice
1 large egg OR 1/4 cup liquid egg whites (omit for vegan option- see notes below)
1/4 cup milk of choice (I used unsweetened almond)
1/4 tsp vanilla extract
1 tsp butter OR coconut oil, melted (optional, but adds a fluffier texture)
1-2 tsp chocolate chips, divided of choice
For the microwave option
Grease a microwave safe bowl with cooking spray and add the vanilla protein powder, baking powder, coconut flour and sweetener of choice and mix well.
Add the egg/whites and mix into the dry mixture. Add the milk of choice. vanilla extract and melted butter/coconut oil (if using) and half the chocolate chips- If batter is too crumbly, continue adding milk of choice until a very thick batter is formed. Top with remaining chocolate chips and microwave for 60 seconds, or until just cooked in the centre.
For the oven option
Follow as above, but bake in the oven for 12-15 minutes, depending on consistency desired- Muffin is cooked once a toothpick comes out 'just' clean from the center.
Notes
To keep this vegan, you won't need to add any flax/chia eggs or similar substitutes- Simply add a a little more milk until a thick batter is formed, prior to cooking.
The Big Man's World ® https://thebigmansworld.com/
More delicious low carb recipes? Gotcha covered!
When your pancakes resemble pillows, you know you've got yourself a winner!
Nothing beats a classic chocolate cake, low carb style!
A cookie dough dip purposely made low carb…go crazy on the dippers!
Just because Easter is over, doesn't mean candy eggs need to be MIA!
Oh, my savory tooth….this is a zucchini temptress!

This post is sponsored by Growing Naturals. Cheers, hugs and handshakes for supporting companies and brands which allow me to do what I'm passionate about every day, and continuing to make The Big Man's World possible.
Do you know anyone who has ever competed in a fitness/bodybuilding competition?
What stereotype do you associate with fitness competitors? Asparagus, chicken and egg whites (none of which my friend eats, HA!)
The Big Man's World is a participant in the Amazon Services LLC Associates Program, an affiliate advertising program. This means that if you click and make a purchase, TBMW receives a small commission, at no cost to you. Cheers, hugs, and handshakes for supporting TBMW!