Healthy 1 Minute Pumpkin Mug Cake
Just one minute is needed for this delicious pumpkin mug cake- Dense on the outside, fluffy on the inside, this healthy snack is gluten free, grain free, refined sugar free and paleo- With a vegan option too!
I love this time of the year.
Why? I love seeing the northern hemisphere go absolutely bonkers over pumpkin. You've seen it all- as soon as 'Summer' is officially over, you can already feel the carotene glow illuminating the air. Coffee shops chime in with pumpkin flavoured beverages, seasonal desserts and even to the point of chewing gum- pumpkin flavoured.
Here in Australia, pumpkin is not seasonally racist. (Yes, that is a new term).
Pumpkin isn't seasonally racist. Pumpkin in Australia is a pimp.
Wow, I can't believe I just wrote that. Sorry, it's true.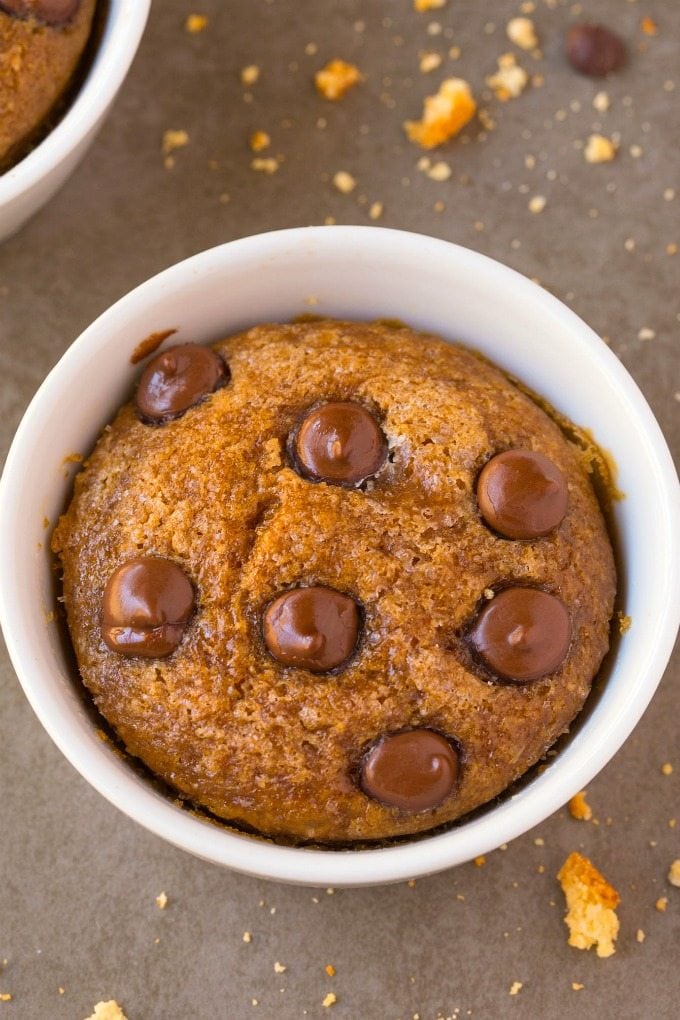 Why do I use that term with pumpkin in Australia? Because it's available all. Year. Round. Seriously. Growing up, it's pretty standard to have pumpkin as a side to your potatoes and steak or whenever there's a Sunday roast. It's a staple in vegetable lasagnes and a key feature of most curries.
However- very rarely is it used in anything non savoury. Ever.
I remember the first time I heard of pumpkin pie and thought it was some form of edible punishment. How could something which accompanied my roast chicken be able to taste decent in dessert form? I was fortunate to be in America during Thanksgiving and I made it imperative to try this infamous pie. I also ensured that there was a Dunkin' Donuts within walking distance so I could have a real dessert.
I tried the pie. I didn't love it. I didn't hate it. I still got a donut after (Boston Cream Donut….best).
However, I was impressed with the texture and how it could lend itself in sweet treats. Ever since then, I've embraced using pumpkin puree- in anything except pie. From pancakes to muffins, they've been a perfect way to add in a serving of vegetables, along with a texture for the ultimate baked good.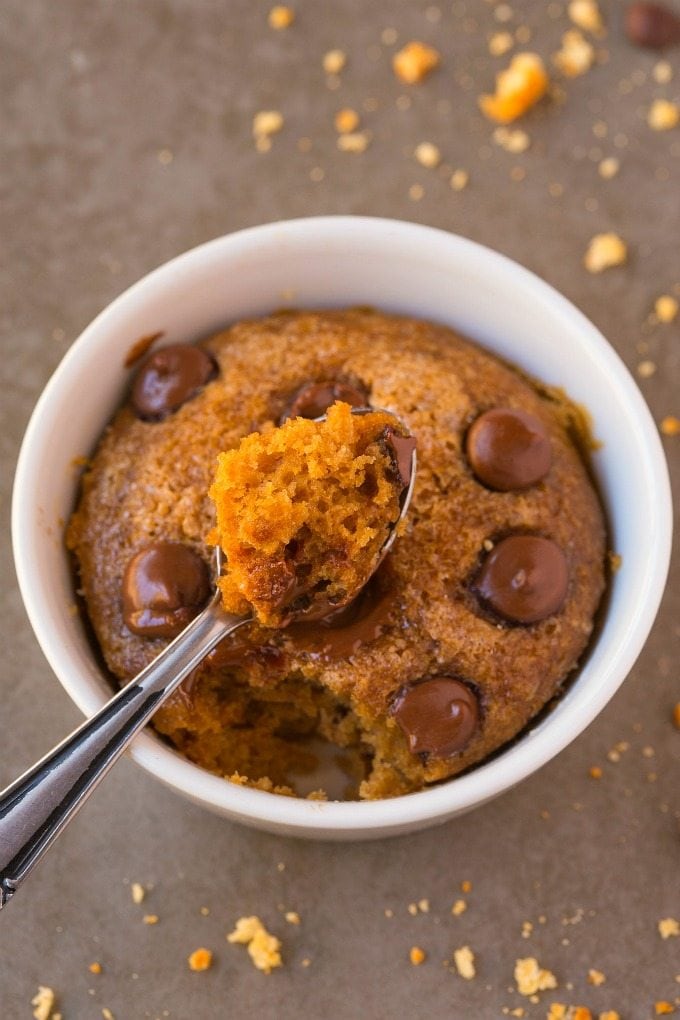 Besides being a key ingredient in this microwave English Muffin recipe, it also lends itself well to this new single serving creation- Pumpkin mug cake with some chocolate chips studded within. Dense on the outside, but extremely fluffy and light on the inside- and in honour of a recipe correlating to the northern hemisphere- It isn't like a southern hemisphere scone. No dense, thick biscuit like pastry. For all us Aussies out there who still can't fathom the thought of pumpkin in a sweet treat- you can't taste it. And if you're not a fan- this is single serving so it's not wasted. But trust me- it's pretty epic.
….maybe that is why many Australians have that natural tanned look. Or maybe it's just me.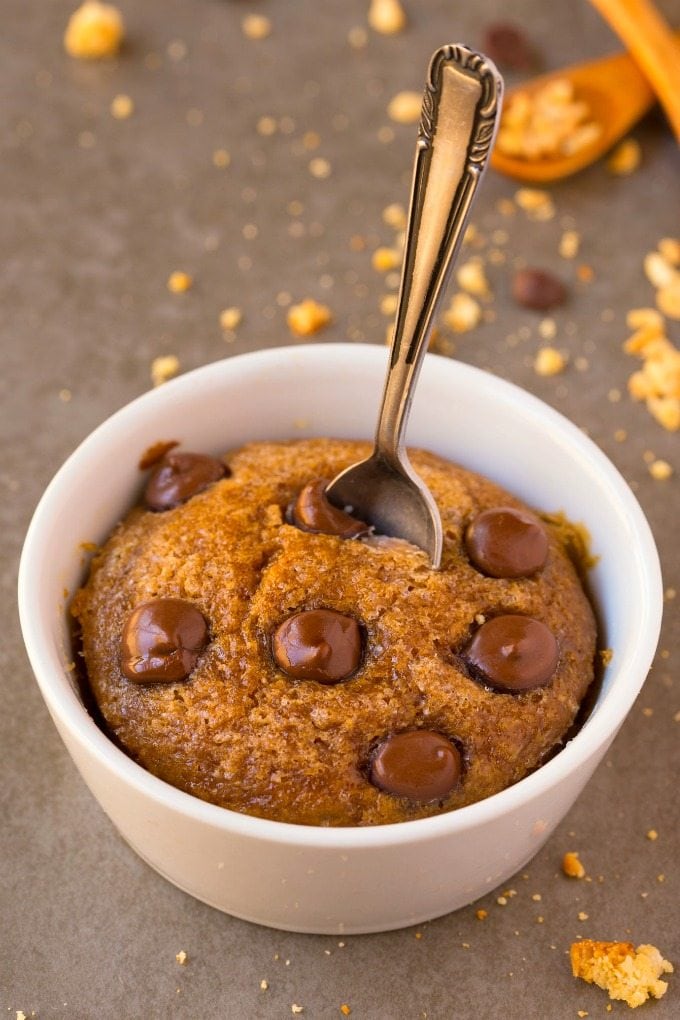 Want a try a delicious blueberry version of this mug cake? This healthy one-minute blueberry muffin will have you covered- Just see just how easy they are below!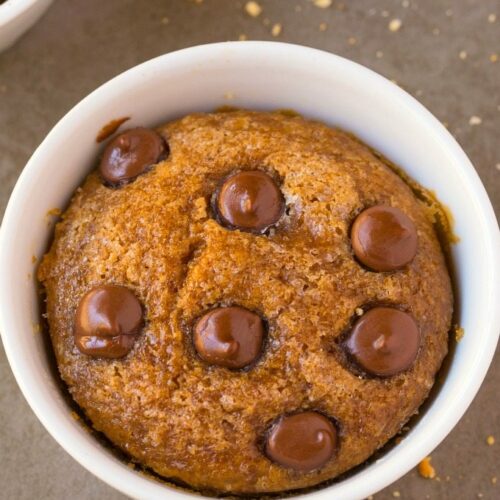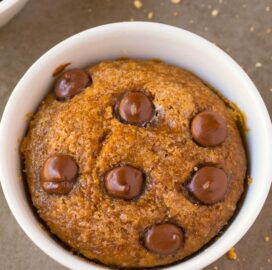 Healthy 1 Minute Pumpkin Mug Cake
A healthy scone ready in less than 3 minutes which is fluffy on the inside and dense on the outside- with hidden chocolate chips inside- Gluten free, Paleo and a vegan option!
Print
Rate
Ingredients
2

T

coconut flour

1

T

almond flour

can sub for GF or other flour

1/2

tsp

baking powder

1

T

coconut sugar

can sub for sweetener of choice*

1/4

cup

pumpkin puree

1

egg OR 1 large egg white

omit completely for vegan option

1-2

T

dairy free milk of choice

I used cartoned coconut milk

Cooking oil spray
Instructions
In a small mixing bowl, sift the almond flour and coconut flour. Add the baking powder, sea salt and coconut sugar and mix well.

Add the egg (if non vegan) and canned pumpkin and mix until fully incorporated. Stir in the chocolate chips.

Spray a small microwave safe bowl with cooking oil spray generously. Pour in the batter (and if you're being creative, try and make fancy swirl shapes like I did). Microwave for 2-4 minutes (depending on your microwave).

Remove from the bowl and allow to cool completely before digging in.
Notes
* Adjust to taste- I prefer a subtle sweetness.
** For a vegan option, use 1 flax egg- 1 T flax + 3 T water
I added cooking oil spray on top before microwaving- this is optional but gives it the shine and golden exterior.
If you don't have coconut flour, use any flour of choice but decrease the milk.
Have you had the two different kinds of scones before?
Do you prefer the 'British' style of scone or the 'American' scone?
Are you seasonally racist?