This keto creme brulee is low carb and sugar free, but you'd never tell. Made with just 4 ingredients, this show stopping keto dessert is perfect to serve at dinner parties and events!
When it comes to keto desserts to impress others, I love serving chocolate mousse pie, peanut butter cheesecake, and this low carb creme brulee.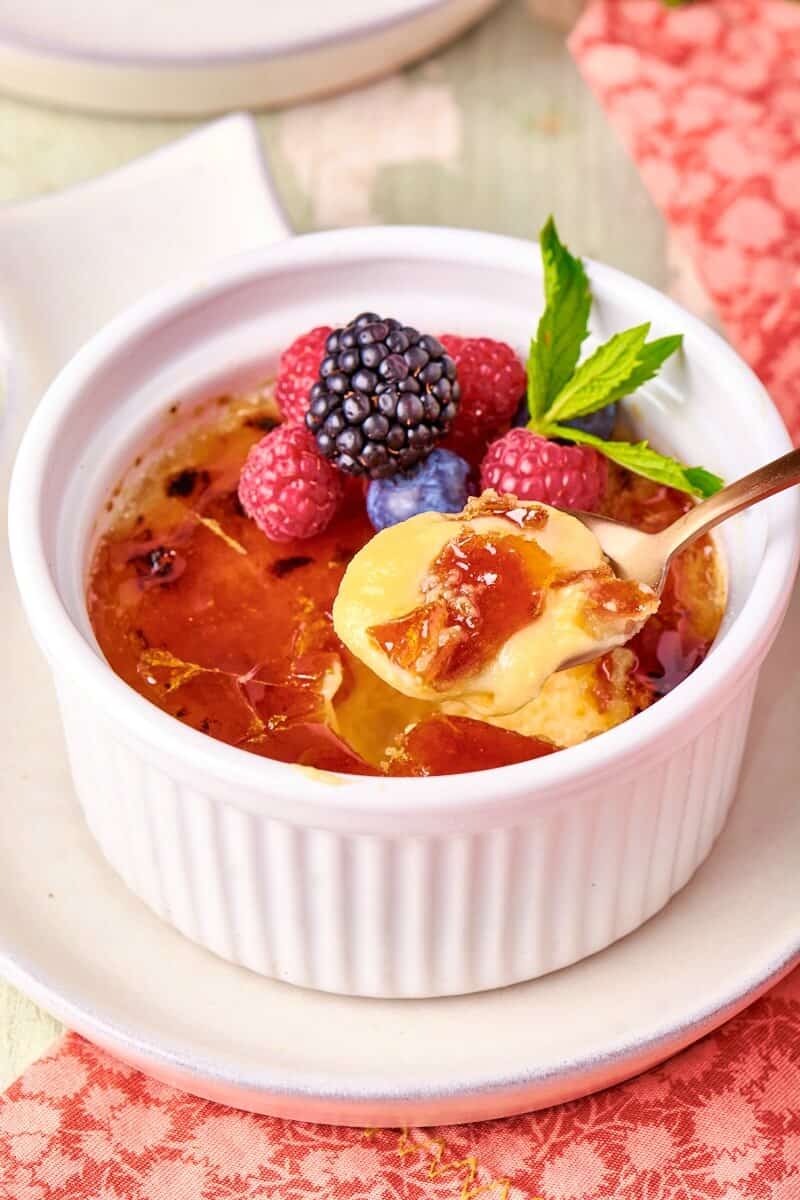 If there is one dessert I could eat for the rest of my life, it would be creme brulee.
Ironically, the first time I tried one was on an aeroplane, and it was the dessert offering. Although not the fanciest of places to enjoy one, I was obsessed with the taste and texture- silky smooth, creamy and with hints of vanilla throughout.
Over time, I experienced more delicious creme brulees, and soon it became my go-to dessert when dining out. It's no secret the best part of any creme brulee is breaking through the caramelized sugar and digging into the custard!
What is creme brulee?
Creme Brulee is a simple and delicious dessert that is a rich and creamy custard, topped with caramelized sugar. Also known as burnt cream, it's essentially a fancy, portioned custard dessert.
Traditionally made with egg yolks and sugar, I wanted to make a keto version.
With a few simple swaps, we had all the flavor and texture of traditional creme brulee, but completely sugar free!
How do you make keto creme brulee
Easy, elegant, and simple to prepare- This creme brulee is so easy to make, and requires no fancy gadgets. The hard part is waiting for the custard to set!
The Ingredients
Heavy cream– Also known as double cream or thickened cream.
Vanilla extract– Gives a lovely vanilla flavor.
Egg yolks– Use room temperature eggs, not refrigerated eggs.
Allulose– A sugar free sweetener that dissolves exactly like sugar does.
The Instructions
Start by preparing 6 ramekins, around 6 ounces each (170 grams). Grease them then place them in a casserole or deep baking dish and set aside. In a small saucepan, heat up your heavy cream until warm. While stirring regularly, whisk through your vanilla extract. When it begins to simmer, remove from the heat. In a mixing bowl, whisk together your egg yolks and granulated sweetener until combined.
Slowly, add your warm cream while continuing to mix. Once combined, distribute the mixture amongst the 6 ramekins. Next, fill the baking dish/casserole dish with boiling water, until it reaches halfway up the sides of the ramekins.
Bake at 150C/350F for 30-35 minutes. Transfer the creme brulees from the oven and let cool on a wire rack. Once cool, refrigerate for at least 2 hours. Once chilled, sprinkle 1-2 teaspoons of sweetener over the tops of each one and torch the tops, using a blowtorch, to caramelize them.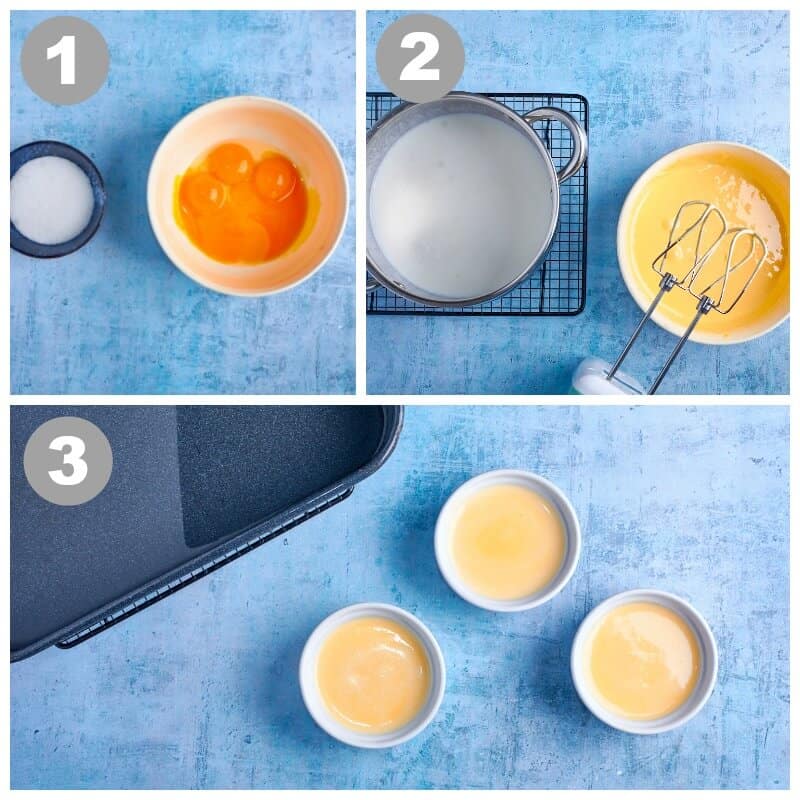 Can I make this dairy free (vegan)?
If you'd like a vegan creme brulee, follow the ingredients and directions below. It doesn't require ANY baking and is made with no eggs.
To make: 3 cups almond milk, 3/4 cup superfine sugar (caster sugar), 1/2 cup + 2 tablespoons cornstarch, 1 tablespoon vanilla extract.
In a high speed blender or food processor, add all your ingredients and blend well, until combined and smooth. Transfer to a saucepan and on medium heat, warm it up. Stir regularly, until it thickens. Transfer the mixture amongst 6 ramekins and refrigerate for at least 2 hours. Remove from the refrigerator and sprinkle extra caster sugar on top. Use a blowtorch to caramelize the tops.
Is creme brulee low in calories?
The nutritional information would depend on whether you make four portions, 6 portions, or 8 small portions.
After scrounging around, a typical creme brulee clocks in at around 220 calories, 18 grams of carbs, with 7 grams of sugar.
In my keto recipe, each serving yields just 2 grams of net carbs and NO sugar.
Unless you make mini portions, creme brulee will generally clock in around 220-250 calories per serving.
Tips for success
If you find your mixture having lots of bubbles, strain the mixture through a sieve. This will keep the texture silky and smooth.
Ensure the boiling water reaches halfway up the ramekins. Any more, and there is potential for overbaking them.
If you don't have a blowtorch, you can caramelize the tops by placing the set creme brulees in the oven for 10-15 minutes, for the tops to brown.
Creme brulee is best served at room temperature. Let the creme brulee sit at room temperature for 15-20 minutes, before adding the sweetener to caramelize the tops.
For a dairy free creme brulee, replace the heavy cream with dairy free double cream.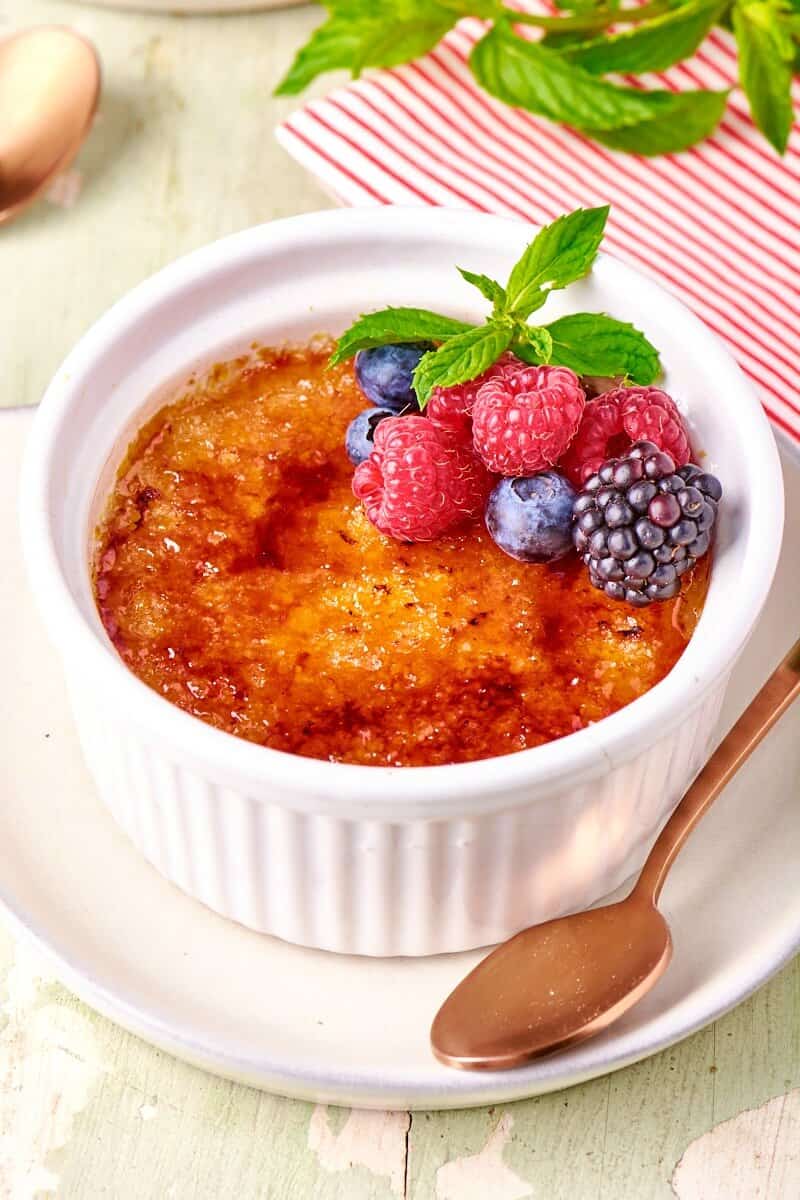 Creme Brulee Flavor Variations
Add some fun flavors to the original creme brulee base, for a little variety!
Lemon Creme Brulee– Add 1/2 teaspoon lemon extract to the custard, and add lemon zest on top.
Chocolate Creme Brulee– Try my chocolate creme brulee.  
Snickerdoodle Creme Brulee– Fold through cinnamon and sprinkle cinnamon sugar over the top.
Raspberry Creme Brulee– Fold through raspberries before baking, and serve with fresh raspberries.
Espresso Creme Brulee– Add espresso powder when mixing with the sugar, sprinkle cocoa powder and powdered sugar on top.
Storage instruvtions
To store: Creme brulee should always be stored in the refrigerator, and covered with plastic wrap. This ensures no extra moisture or water can seep into it. It will keep well for up for 2 weeks.
To freeze: You can freeze creme brulee to enjoy at a later time. Cover the creme brulees up, and keep in the freezer for up to 6 months. Thaw overnight in the fridge before enjoying it.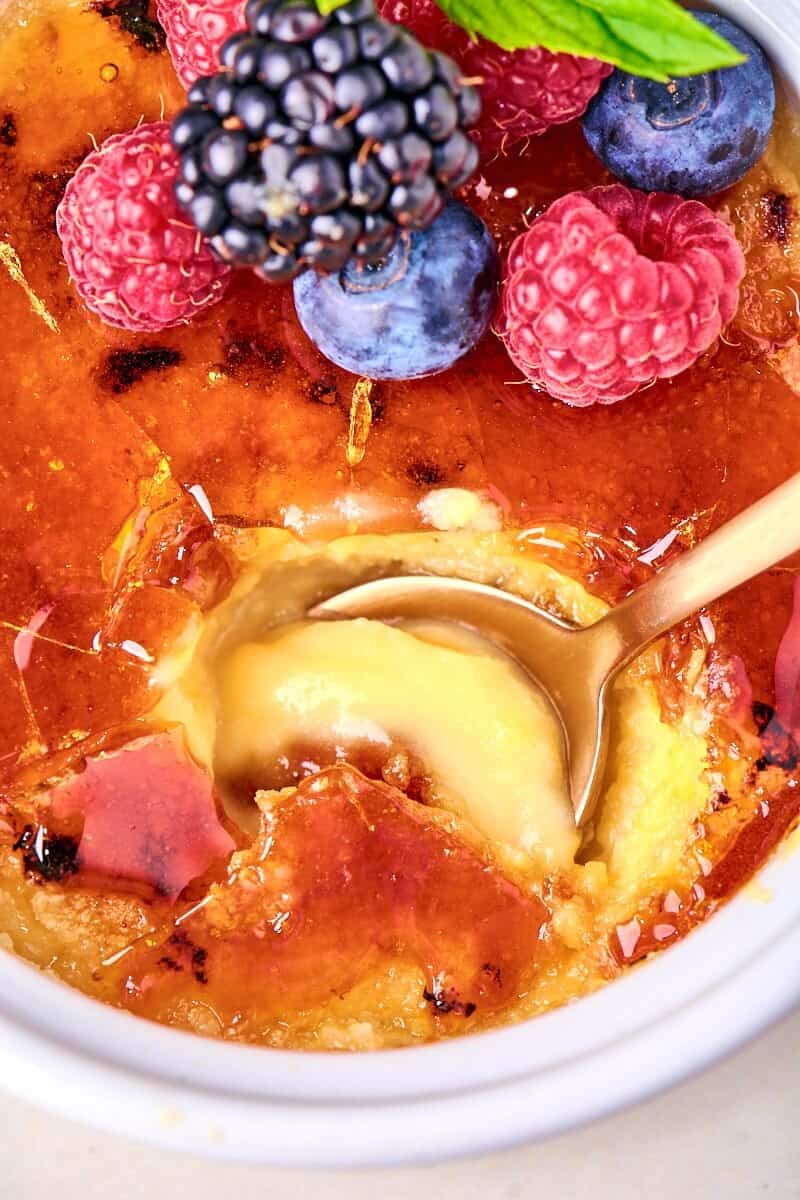 More Keto Desserts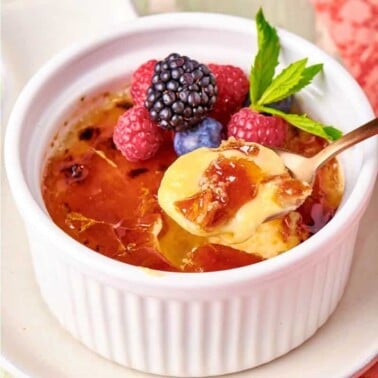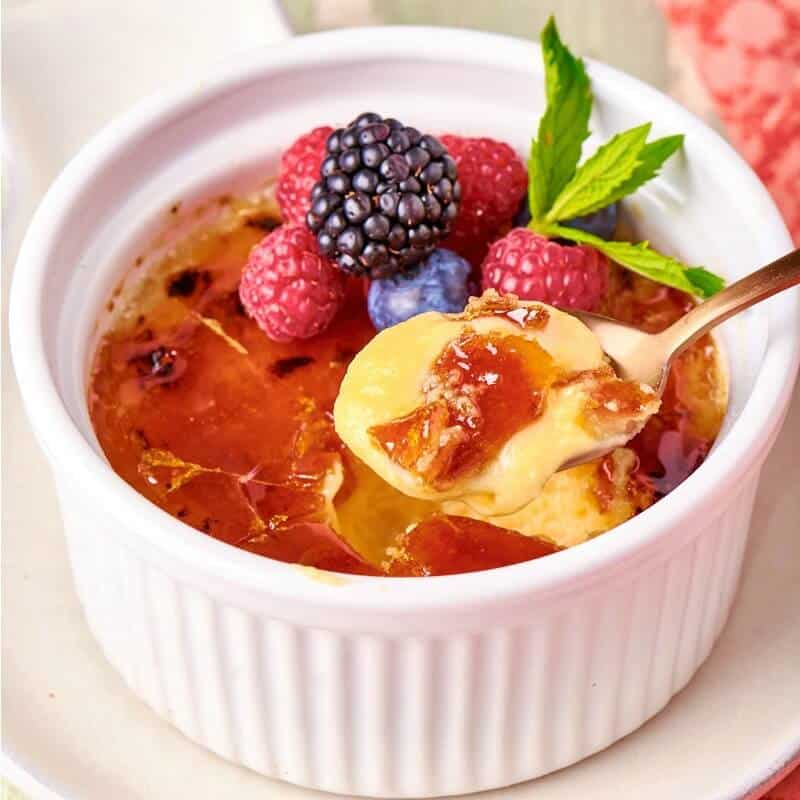 Keto Creme Brulee (4 Ingredients!)
This keto creme brulee recipe is silky smooth, creamy, and needs just 4 ingredients! Low carb, sugar free, and with a tested dairy free and vegan option!
Instructions
Preheat the oven to 150C/300F. Prepare six 6-ounce ramekins (170 grams) by greasing them up. Place them all in a deep dish or baking dish. Set aside.

In a small saucepan, add your heavy cream and on medium heat, heat it up until warm. Be sure to stir regularly. When it just begins to simmer, whisk through your vanilla extract and remove from the heat.

In a mixing bowl, add your egg yolks and sweetener and whisk together, until combined. Slowly add the heavy cream while continuing to whisk, until completely combined and smooth.

Distribute the creme brulee mixture evenly amongst the six ramekins. Pour boiling water into the baking dish until halfway up the sides of the ramekins.

Bake the creme brulees for 30-35 minutes. Remove from the oven carefully transferring to a wire rack to cool completely. Once cool, refrigerate for at least 2 hours, or overnight.

When set, remove the creme brulees from the refrigerator and let sit for 20 minutes. Top each creme brulee with 1-2 teaspoons of sweetener. Using a blowtorch, torch the tops of each creme brulee to caramelize.
Notes
Erythritol and granulated monk fruit sweetener are the only sweeteners I've tried successfully.
For the dairy free and vegan option, check the body of the post.
If you don't have a blowtorch, you can place the sugar-topped creme brulees in the oven for 10-15 minutes, to caramelize.
Creme Brulee is best enjoyed at room temperature.
Nutrition
Serving:
1
Creme Brulee
Calories:
293
kcal
Carbohydrates:
3
g
Protein:
4
g
Fat:
33
g
Sodium:
37
mg
Potassium:
75
mg
Fiber:
1
g
Vitamin A:
1370
IU
Vitamin C:
1
mg
Calcium:
70
mg
Iron:
1
mg
NET CARBS:
2
g
Disclosure: This post may contain affiliate links. I may earn a small commission for my endorsement, recommendation, testimonial, and/or link to any products or services from this website.