This avocado chocolate mousse is rich, thick, and creamy, no one will believe it's made with avocado! Naturally low carb and sugar free, this avocado mousse is made without dairy or eggs! 3 grams net carbs per serving.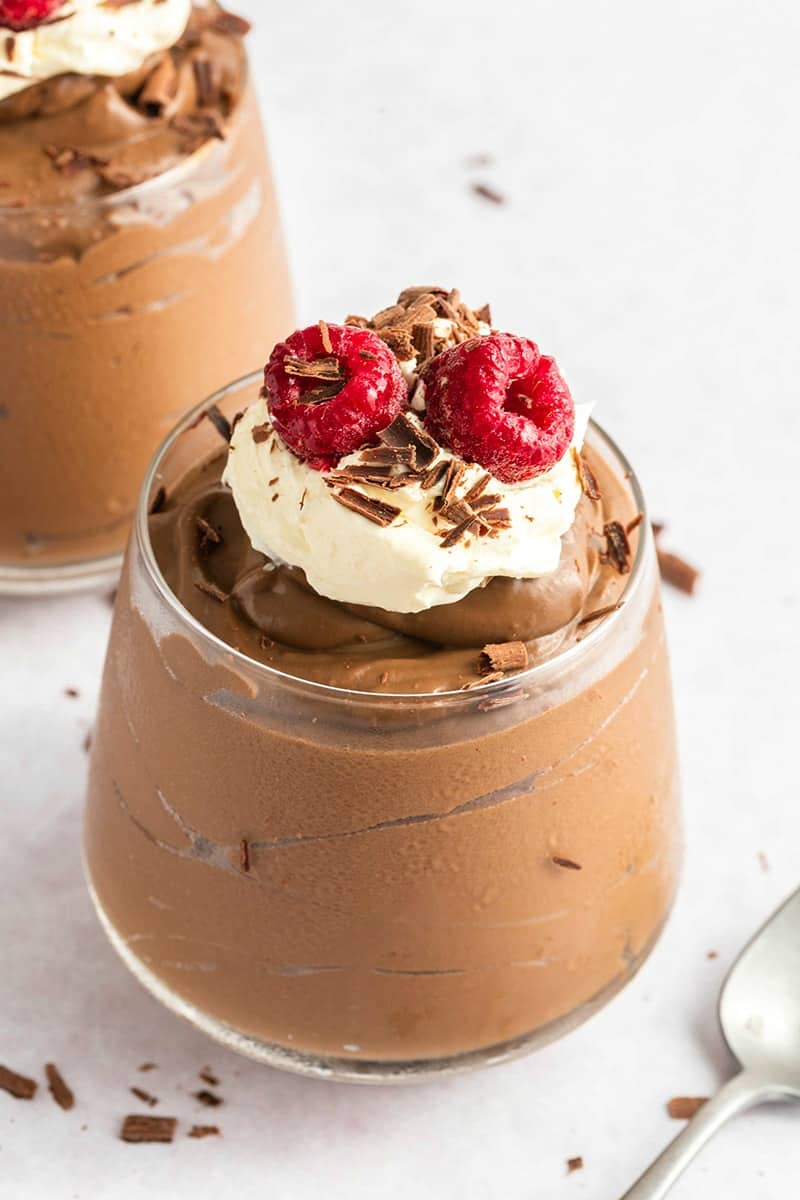 Avocado Chocolate Pudding
When it comes to unique ingredients in desserts, I love making zucchini chocolate cake, sweet potato cake, and this avocado chocolate mousse.
This recipe for avocado mousse happened by complete accident. I recently dined at a fantastic restaurant in the city that served what may very well be the best chocolate cake. It was moist and decadent, but the part that took it to the next level was the frosting. Oh man, this frosting was so thick and rich, I was so tempted to order another slice purely for the frosting!
Now, being the cheeky fella I am, I had to ask the chef how they made the frosting and was pleasantly surprised to hear that it was a mix of avocado, cocoa powder, and maple syrup! It baffled me, as there wasn't a trace of green or avocado in it whatsoever…and it was sweet!
I made the executive decision to recreate this frosting. Well stocked with a bunch of avocadoes, I busied myself in replicating the recipe. However, I soon became a little too invested, and wondered if I could make it a little thicker and richer, and transform the frosting into an actual dessert… either a pudding or a mousse!
By adding some thick coconut cream and adding real chocolate into the mixture, what was left was the most decadent and foolproof chocolate mousse I'd ever eaten.
Does this taste like avocado?
Like the avocado frosting, you won't even know there is any avocado in it. Instead of relying on butter and egg yolks for the rich and creamy texture, the avocado does ALL the work… while adding healthy fats and a dose of fiber! The double dose of chocolate (cocoa powder AND melted chocolate) really takes it up a notch.
Not only is this avocado mousse low carb and keto, but it's also completely dairy free!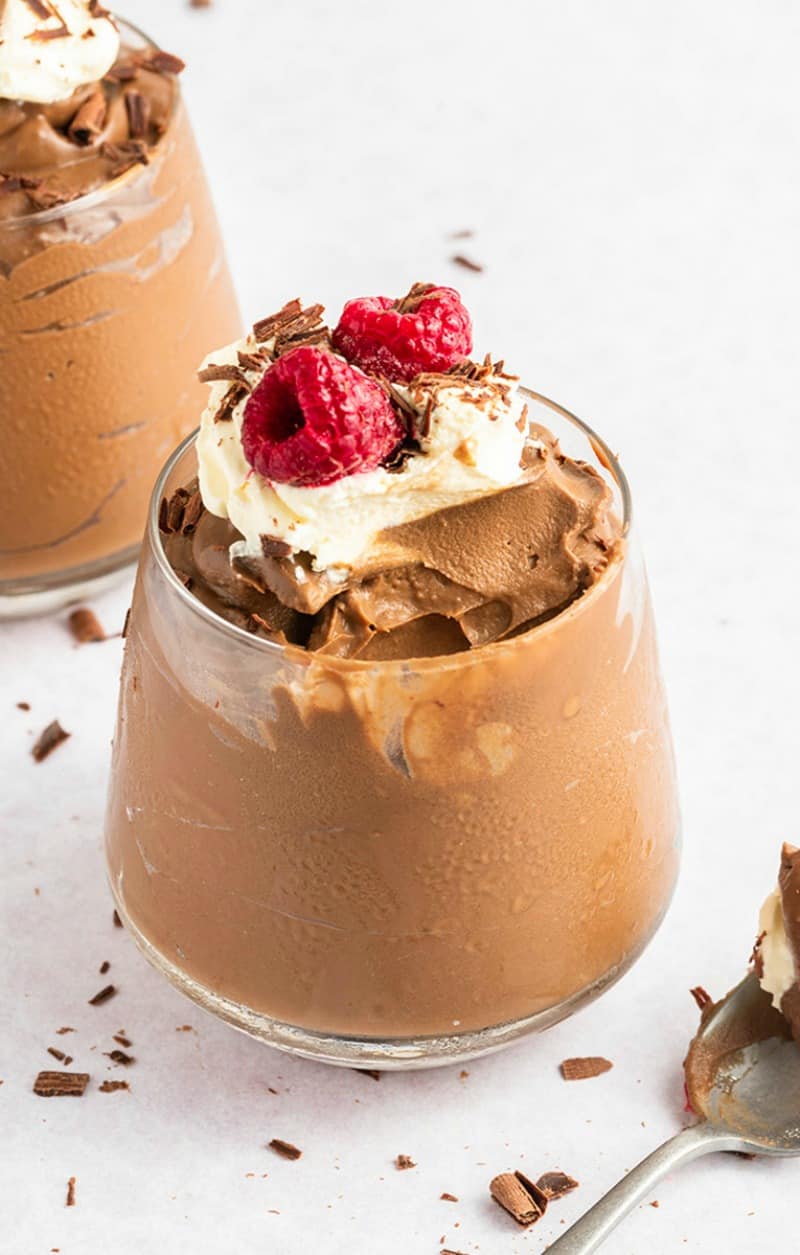 How do you make an avocado chocolate mousse?
The Ingredients
Avocado– Ripe and firm avocadoes.
Cocoa powder– Be sure to sift your cocoa powder first, to ensure no clumps remain. If you'd like a richer and darker chocolate mousse, use dark or black cocoa powder.
Maple syrup OR keto maple syrup– Sweetens the mousse! If you want this avocado chocolate mousse keto, use the keto maple syrup.
Coconut cream– Must be from a can! If you don't have coconut cream, you can use chilled canned coconut milk (full fat). Simply discard the liquid portion (use it for this smoothie) and use up the firm cream that has formed on top.
Chocolate– The secret ingredient to take this mousse to another level! Chop up your favorite chocolate bar (I love using Lindt 78% or higher- These are keto friendly!) and melt it either in the microwave or stovetop.
The Instructions
In a food processor or high speed blender (with ice blending capabilities), add your avocadoes and blend until smooth. Next, add the rest of the ingredients and blend until creamy and smooth. Distribute the mousse mixture amongst 6 glasses or ramekins and refrigerate for 30 minutes, before serving.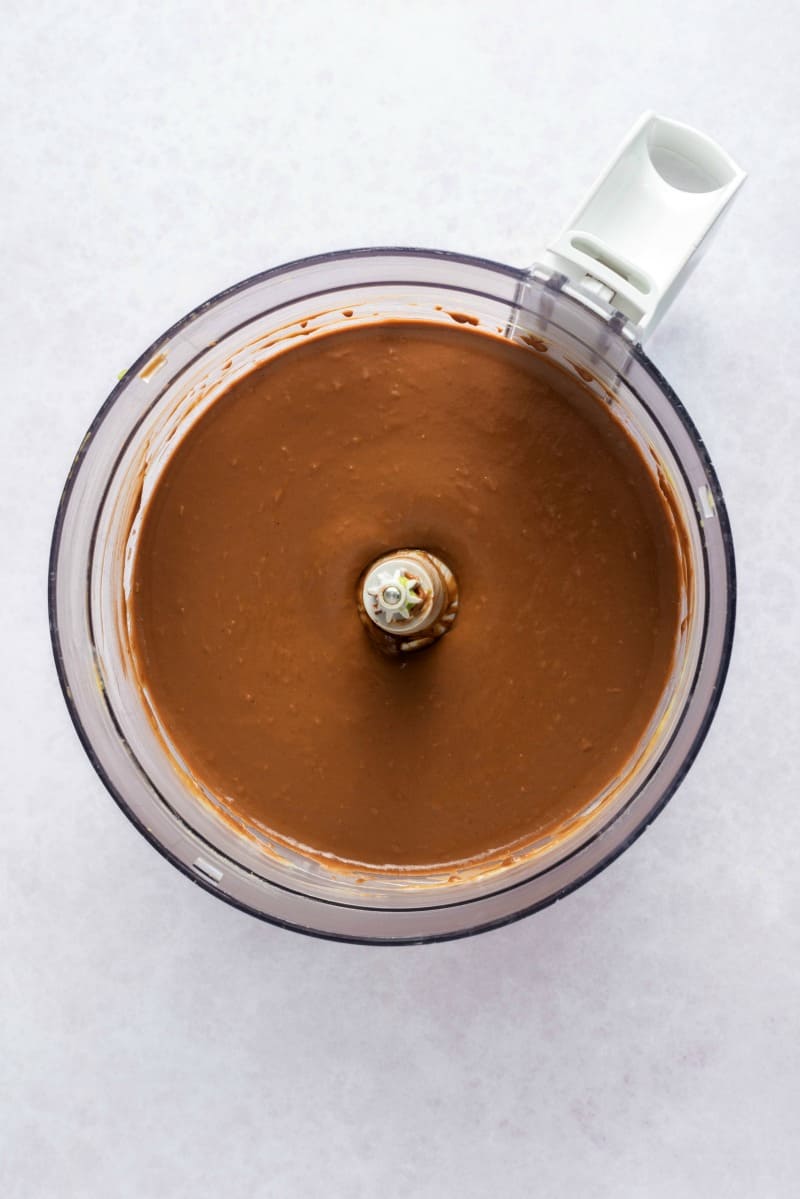 What is the difference between avocado mousse and avocado pudding?
While traditional chocolate mousse differs from chocolate pudding, it isn't the case for the avocado versions. Depending on where in the world you live, you will call this both pudding and a mousse!
Tips to make the best avocado chocolate mousse
You must blend the avocado first, before adding the rest of the ingredients. If you blend it all together, you risk mini chunks of avocado remaining in the mousse.
If you use a blender, be sure it has ice blending capabilities. We want all the ingredients to be well blended together!
While you can enjoy the mousse immediately, I recommend chilling it for at least 30 minutes, so that it firms up slightly.
For some added kick, add some cayenne pepper for a delicious chili chocolate mousse!
Storing and Freezing Mousse
To store: Leftover mousse should be stored in the refrigerator, at room temperature, for up to 1 week. Any longer, and you'll find that the mousse starts to form a film on top.
To freeze: You can store the mousse in the freezer for up to 6 months. However, it is highly recommended that you blend the thawed mousse before eating it, as the mousse often loses it's creaminess once frozen.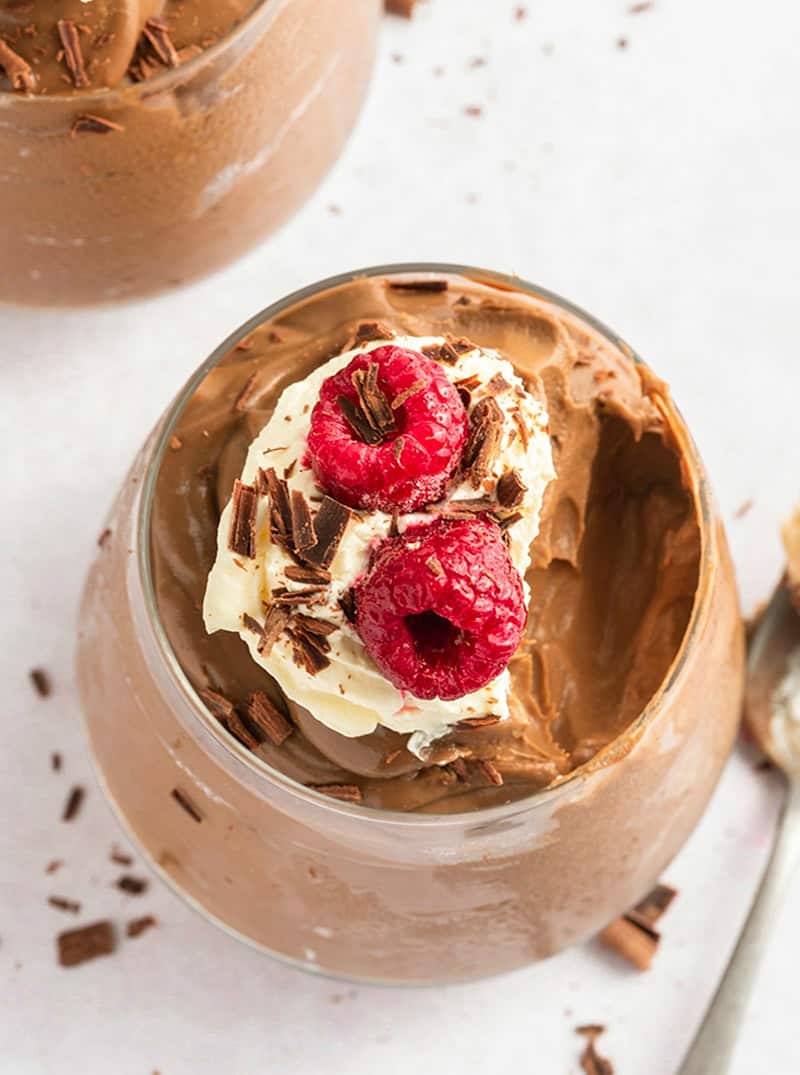 More keto chocolate desserts to try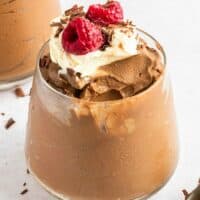 Chocolate Avocado Mousse
This avocado chocolate mousse is so rich and creamy, you won't believe it is made with just 5 ingredients! No egg yolks and no butter, this avocado pudding needs just one blender to make!
Print
Rate
Instructions
In a high speed blender or food processor, add your chopped avocado and blend until smooth.

Add the rest of your ingredients and blend until completely smooth and combined. Distribute the mousse amongst 4 glasses or serving dishes and refrigerate for at least 30 minutes, to firm up.
Key Recipe Equipment and Ingredients
Nutrition
Serving:
1
serving
|
Calories:
243
kcal
|
Carbohydrates:
11
g
|
Protein:
12
g
|
Fat:
24
g
|
Sodium:
6
mg
|
Potassium:
423
mg
|
Fiber:
8
g
|
Vitamin A:
98
IU
|
Vitamin C:
7
mg
|
Calcium:
13
mg
|
Iron:
3
mg
|
NET CARBS:
3
g