Healthy 3 Ingredient Sugar Free Almond Joy Cups
The infamous almond joy candy bar gets an easy, healthy makeover! These healthy sugar free almond joy cups need just three ingredients and needs no baking! They are naturally gluten free, vegan, dairy free, paleo, grain free and can be completely sugar free!

I've always been a 'Mound' candy lover for most of my childhood (we called it Bounty bars here). The excessively sweetened coconut, enrobed in milk chocolate was perhaps one of the most satisfying combinations. It wasn't until I experienced my first American Halloween , that I tried the infamous 'Almond Joy' bar.
Why did Almond Joy take over Mounds as my favorite candy?
I'll let my greedy side answer.
The single almond.
THE SINGLE ALMOND.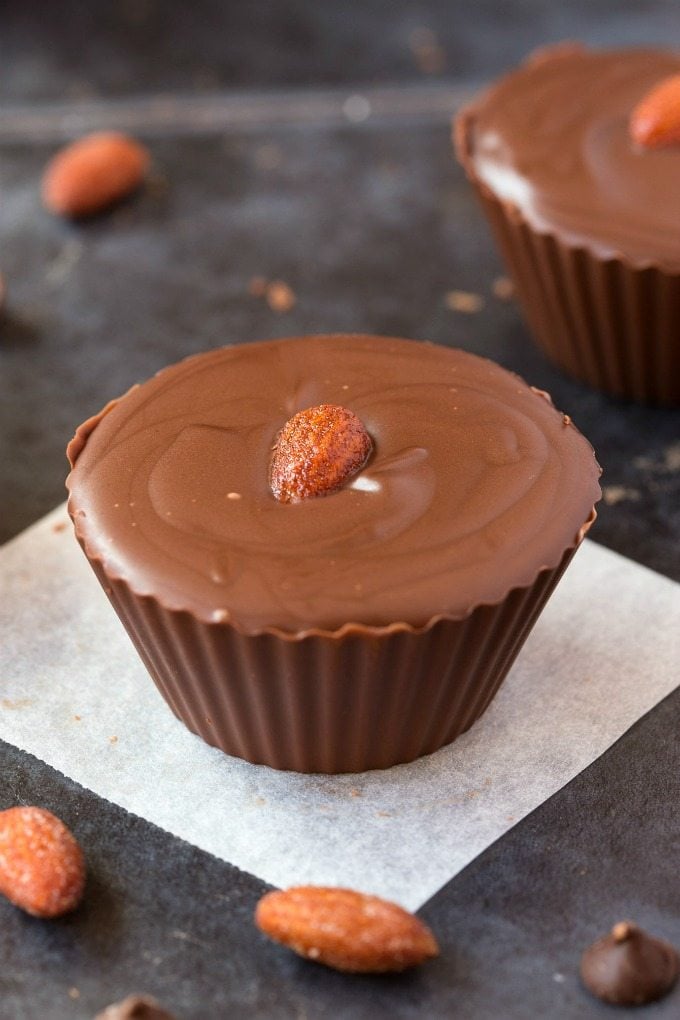 Pretty much, you get more bang for your buck when you pick an almond joy over a mound bar. I mean, even if you didn't like almonds, I'd still choose the almond joy. You could probably find someone to eat it for you, and it's on top, so you can remove it.
ANYWAY.
As I mentioned, I'm evidently greedy, so I have no qualms whatsoever eating the almond AND the bar itself too. However, it wasn't until I made my own copycat mound bars way back in 2014 that I realized just how easy they were…and healthy.
You guys, for a candy bar based primarily around coconut, I was kind of shocked that the first ingredient was corn syrup. Actually, I wasn't too surprised, as most candy bars usually have corn syrup, sugar or Beyonce as their first ingredient.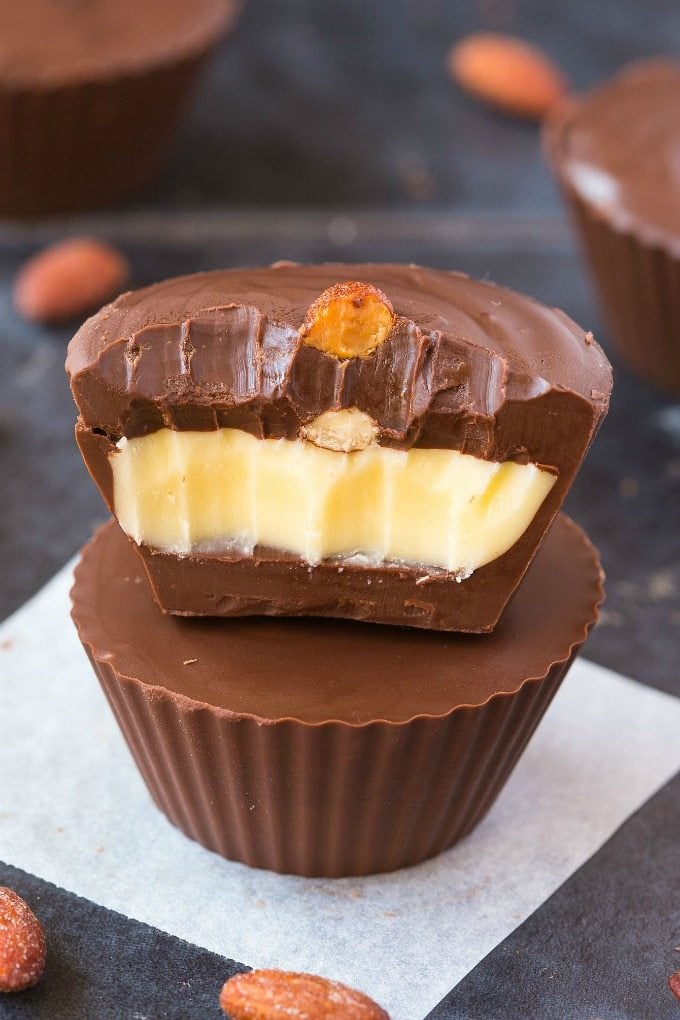 ANYWAY.
Have any of you ever tried corn syrup on its own before? If you haven't, you really aren't missing out on anything. It's pretty much like a sweet glue- Extremely sticky, extremely sweet and extremely nasty on oatmeal. I had the idea of adding it to oatmeal instead of maple syrup and let's just say a second bowl was made.
ANYWAY.
Seeing as how easy it was to make my original mound bars, I wanted to share an even easier (and fool proof) way to enjoy this delicious coconut/almond/chocolate hybrid. Early this year, I proclaimed that I'd be sharing a slew of recipes being made in the infamous muffin tin (oatmeal cups, granola cups, Nutella fudge cups, and s'mores cups!). I kind of got burnt out on it and as such, put some favorites up in the back burner for a later date. Case in point? These 3 Ingredient Almond Joy cups with a healthy twist!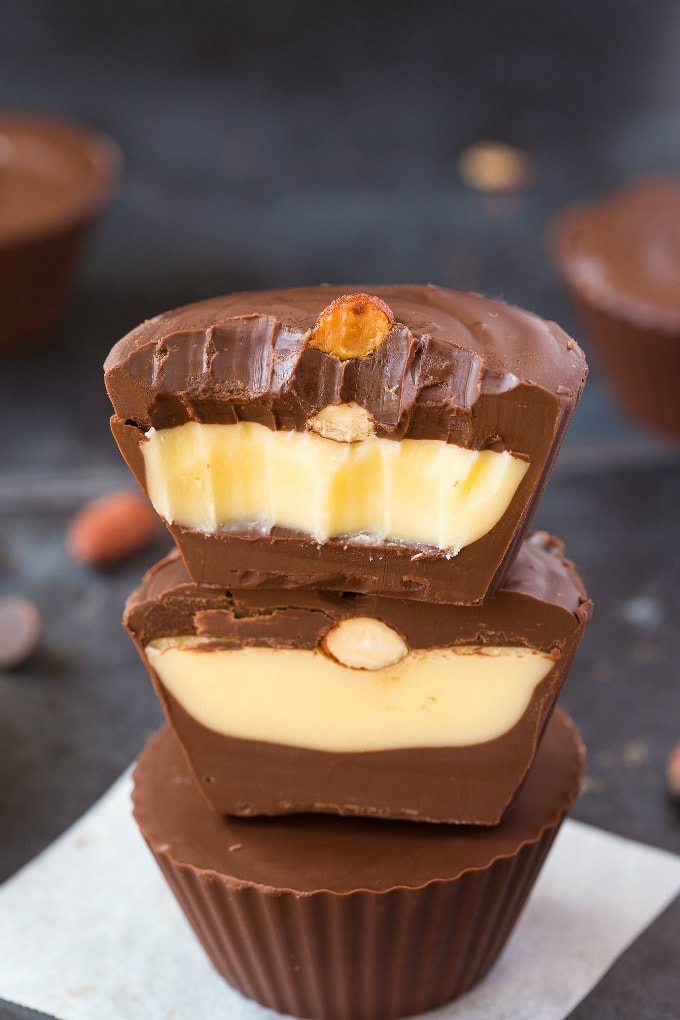 These healthy almond joy cups need just three ingredients and require no baking- They can also be made completely sugar free! Unlike the traditional candy bar, this version contains no sugar, no milk, no soy and no fillers! Instead, we'll be sticking to clean ingredients, ones which could either be bought or homemade, whichever is easier for you! Regardless of which option you choose, these healthy almond joy cups are naturally gluten free, vegan, dairy free, paleo, sugar free and grain free!
So how is it only three ingredients? I'll show you…layer by layer.
ZING.
Part 1- The chocolate part!
This is what you'll be beginning and ending with! Depending on your diet/lifestyle preference here, there are several options to choose from! Personally, I prefer using dairy-free chocolate chips or chocolate morsels. As I don't have a dairy intolerance, I sometimes also use these semi-sweet baking chips. This time, we'll be adding a new option, and one I've personally tested over the last couple of months- These sugar free baking chips!
In full disclosure, I've tried out 3 different brands of sugar free baking chips, and two of them were either too bitter, too sweet or resulted in a less than stellar texture once melted. I'm happy to say
Part 2- The coconut part!
Traditionally, the original candy bar uses shredded coconut. We'll be taking a shortcut here and using coconut butter! I LOVE coconut butter, and especially in this recipe- You melt it first and once you pour it into the chilled chocolate shells, they firm up beautifully. Once you thaw these out and bite into it, it's almost fudge like!
Because I use a significant amount of coconut butter, I alternate between the jarred variety and making my own using this method– This has resulted in the drippiest kind and works well in recipes or on its own!
Part 3- The almond part!
Because I wanted to incorporate the almond IN the cup (versus on top of the cup), I used blended unsalted almonds which resulted in tiny almond pieces. You can also use toasted slivered almonds or chopped almonds. I wouldn't recommend the whole ones- This would result in the cups open beforehand!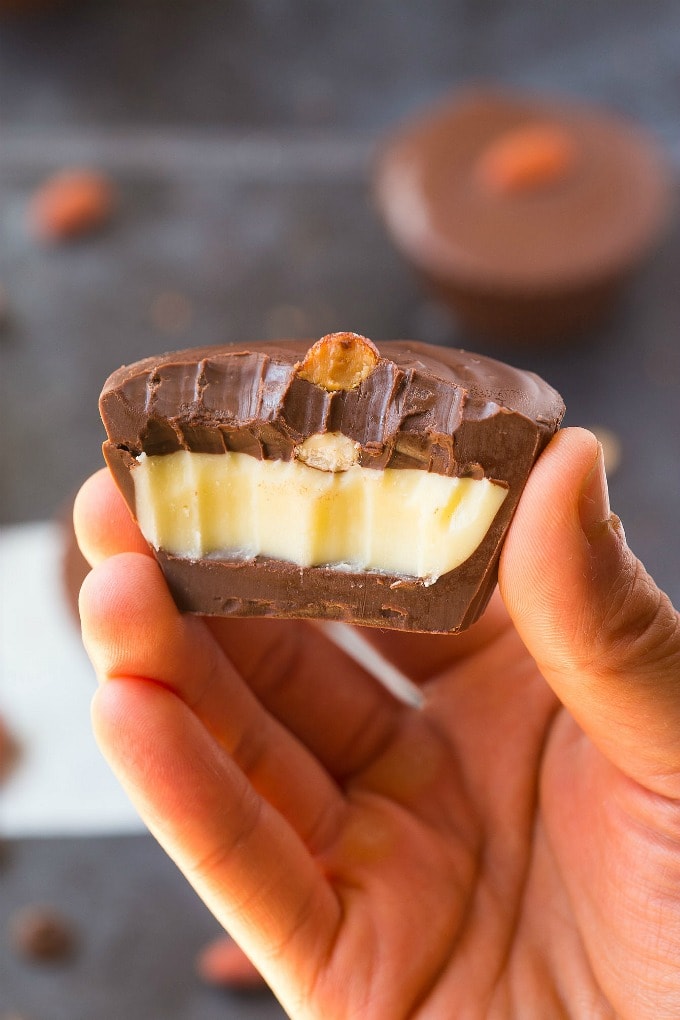 HACK! I've found that when using a different baking chocolate/chip brand (as opposed to the ones I regularly use), the chocolate coating can be stiff, especially to mold using muffin liners. To combat this, I'd recommend adding a dash of coconut oil when melting the chocolate, as this really helps the chocolate hold up and not result in an overly firm texture. Check out this recipe for the correct coconut oil to chocolate ratio.
Make these healthy 3 Ingredient Sugar Free Almond Joy Cups and never buy candy bars again.
Just kidding, but don't look at the ingredient list.
ZING.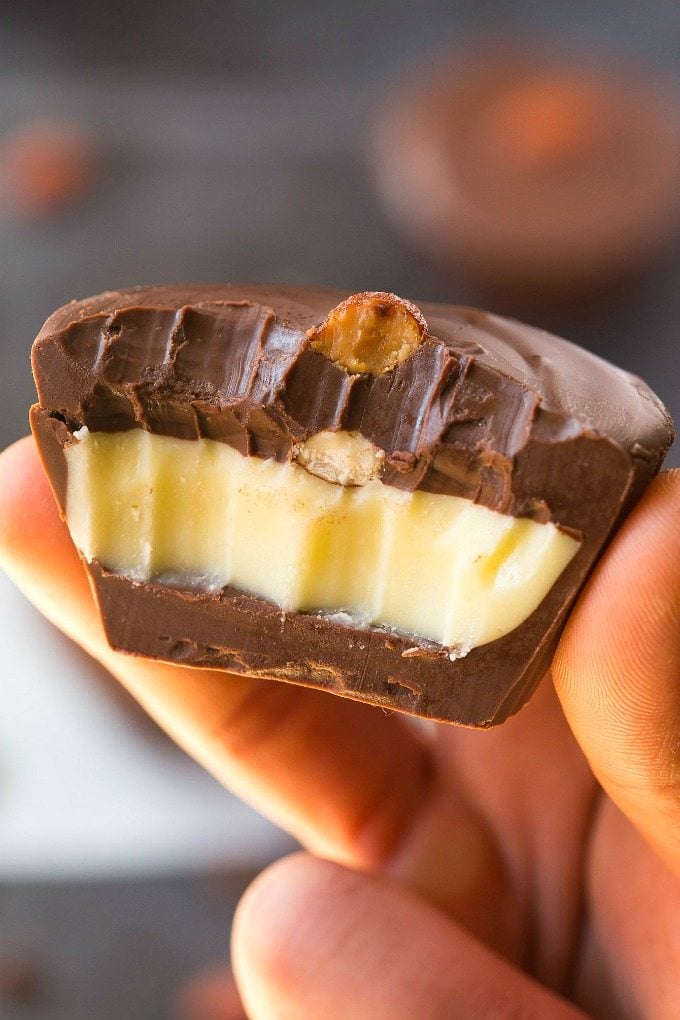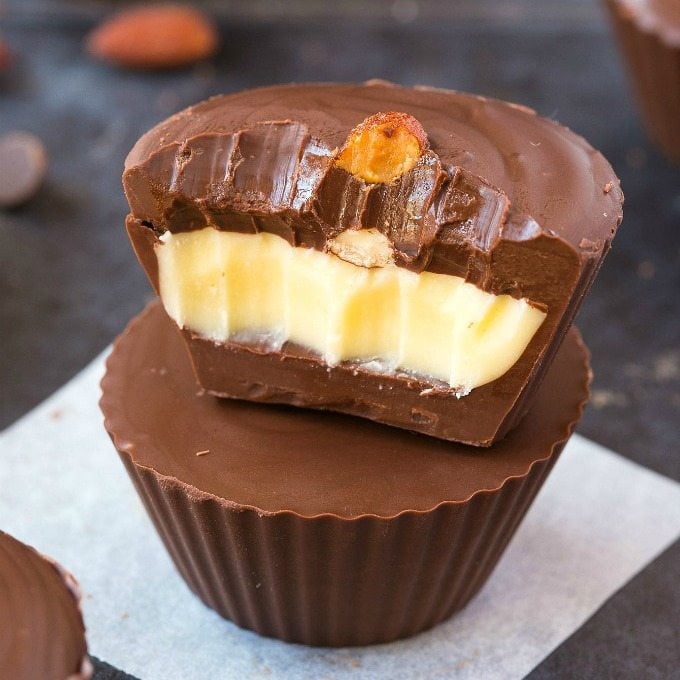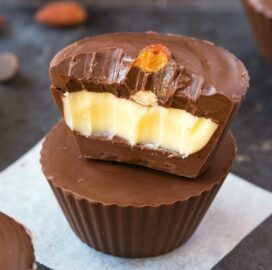 Healthy 3 Ingredient Sugar Free Almond Joy Cups
The infamous almond joy candy bar gets an easy, healthy makeover! These healthy sugar free almond joy cups need just three ingredients and need no baking! They are naturally gluten-free, vegan, dairy free, paleo, grain free and can be completely sugar free!
Print
Rate
Instructions
Line a mini muffin pan with 12 paper liners and set aside

In a microwave or stovetop, melt your chocolate chips (with optional coconut oil) until warm. Using a teaspoon, divide chocolate mixture amongst the 12 cups. Refrigerate for 20 minutes, or until hardened. Set aside the leftover chocolate for the topping.

Once firm, divide the coconut butter amongst the 12 cups, pressing down on each one. Distribute the crushed almonds amongst them all and place back in the refrigerator. Reheat the chocolate and once melted, distribute amongst the 12 cups. Refrigerate or freeze until firm and enjoy!
Notes
Keep cups in the refrigerator for the next texture! They are also freezer friendly.
Nutrition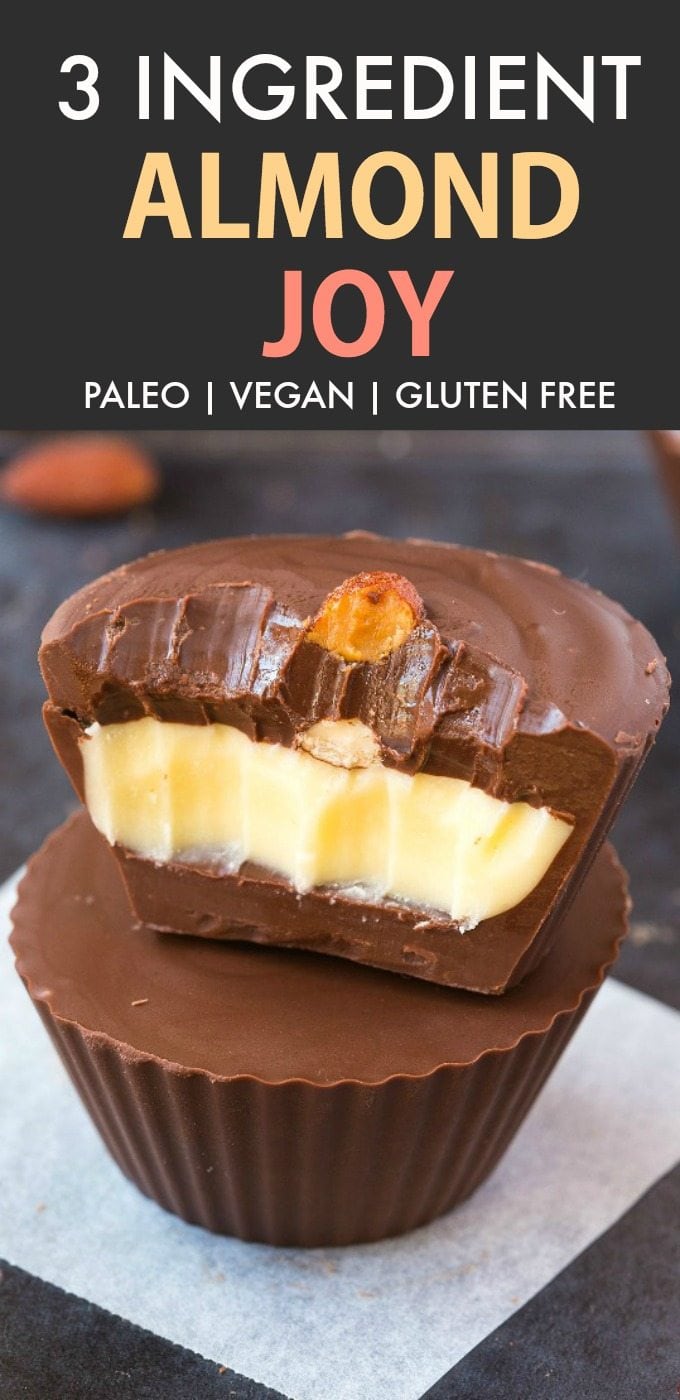 More delicious candy bar inspired recipes? Gotcha covered!
Start your breakfast with a bowl of candy…in oatmeal form!
Don't let the coconut be in power- Caramel wants in on the action too!
Remember when we used to buy boxed chocolate? Don't bother doing it after these!
Have you ever tried corn syrup?
Do you ever read the ingredient lists of candy bars?
The Big Man's World is a participant in the Amazon Services LLC Associates Program, an affiliate advertising program. This means that if you click and make a purchase, TBMW receives a small commission, at no cost to you. Cheers, hugs, and handshakes for supporting TBMW!