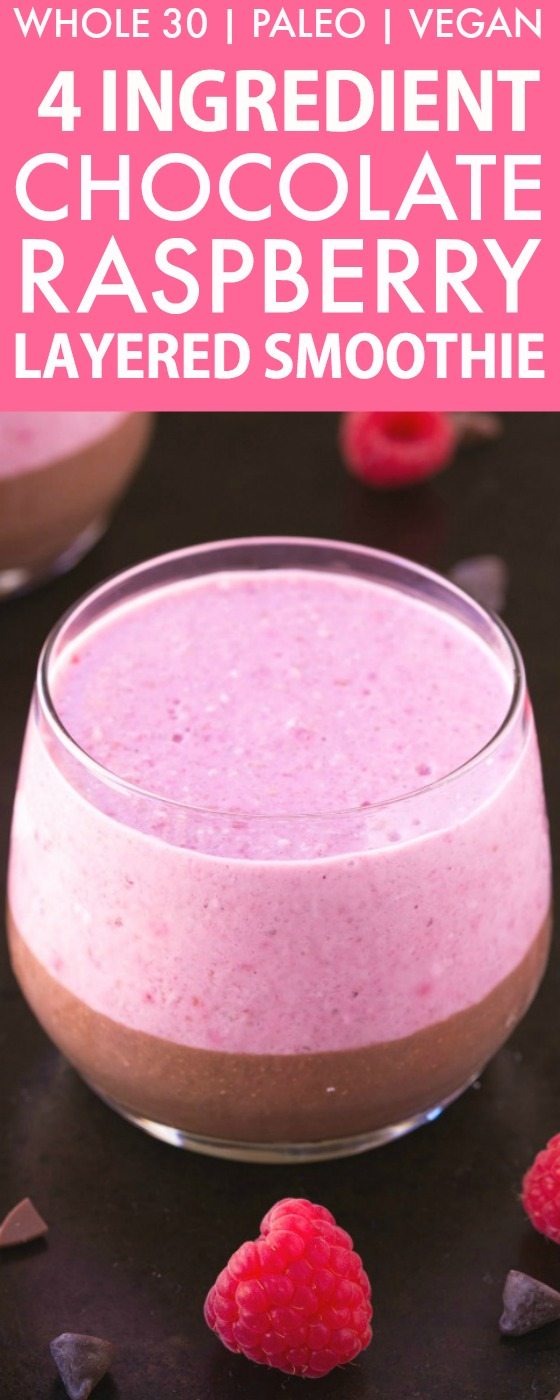 A thick, creamy and healthy 4 Ingredient Chocolate Raspberry Layered Smoothie! Protein and fiber packed, this breakfast shake is completely paleo, gluten free, vegan, dairy free, sugar free and whole 30 friendly!

The other week, I was skyping with my sister which as usual, ended in a debate.
We were trying to think of who we viewed as a villain during our childhood.
Although we have a 3 year age difference, we both grew up watching the same television shows and movies. I think my sister got it easy, as I remember my mom was extremely strict with what I was able to watch without adult supervision.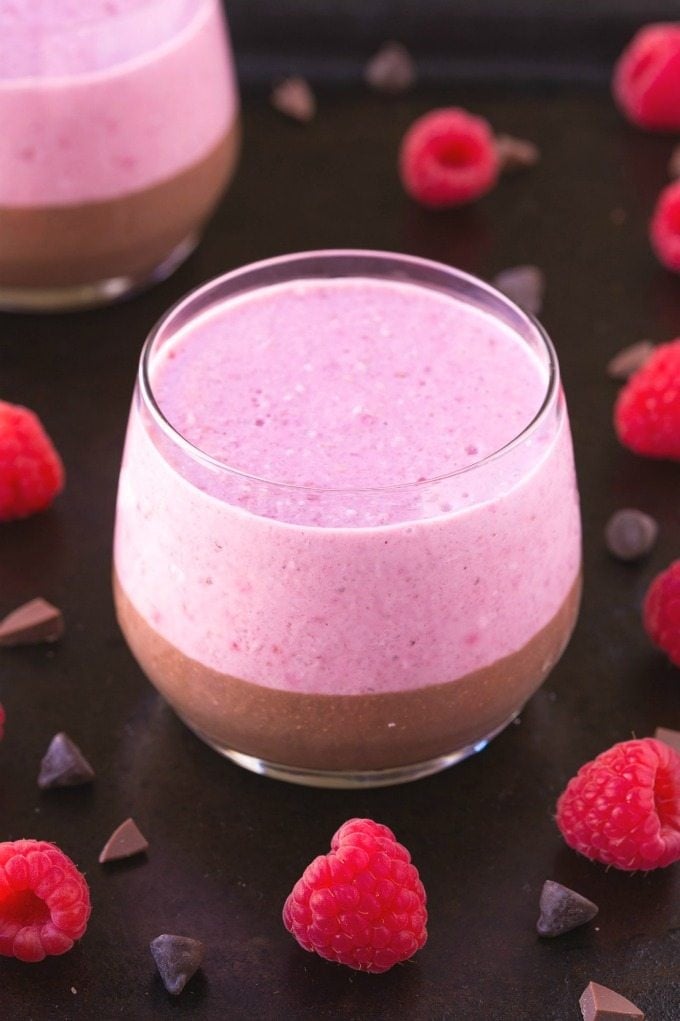 Anyway.
My sister started ranting off a list of possible villains-
Scar- The Lion King
Ursula- The Little Mermaid
The Joker- Batman
The glass slipper- Cinderella (Um… don't ask me what the innocent glass slipper did to fall under this category. Squash the step sister's left foot?)
Ginger Spice- The Spice Girls (She said it was evil of her to leave the group during their peak. Spice up your life)
To me, however, there was one villain who continues to haunt me to this day.
Meredith.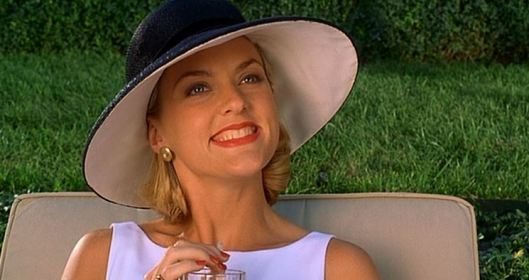 OH EM GEE MEREDITH FROM THE PARENT TRAP.
You guys, I still remember seeing this in the cinemas with Niki. We went with our older cousin and from the moment our eyes fell on her, you could tell she was the devil in human form. Like all good (and typical) movies, Nick Parker dumped her lizard infused mouth and ended with L.O.V.E….the song.
To this day, when I think of my mom scary things, I see her artificially morphed face and shivers go down my spine. Send me a ghost any day before you send MEREDITH my way.
Anyway.
Just needed to get this vital piece of information out of the way.
Before we jump into today's recipe, it's also Wednesday which means a full day of eats!
I'm more than halfway into the whole30 Challenge and it's gotten easier. Granted, it's been seamless, due to a ton of food prep. My breakfasts have all been smoothies or shakes (an easy way to get a load of fresh produce out of the way), and I've been eating many omelets and several recipes from here. I'm beyond stoked that ALL potatoes are included, as that has provided some variety too!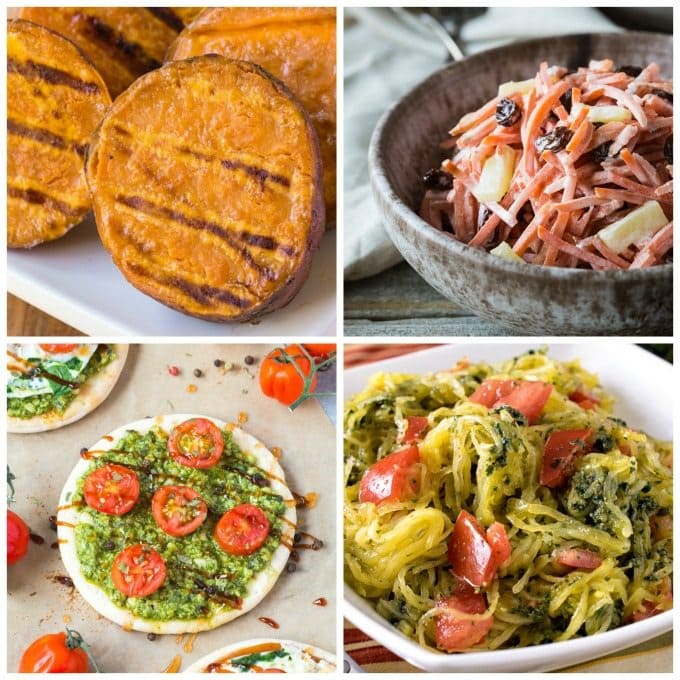 Breakfast- Unpictured breakfast smoothie, although I went a little heavy on the almond butter here. Lunch- A leftover breakfast pizza, with a few of these grilled beauties. Dinner was a boring omelet, topped with some of this salad. It was the best of both worlds- Sweet, savory and crunchy!
Now for today's recipe!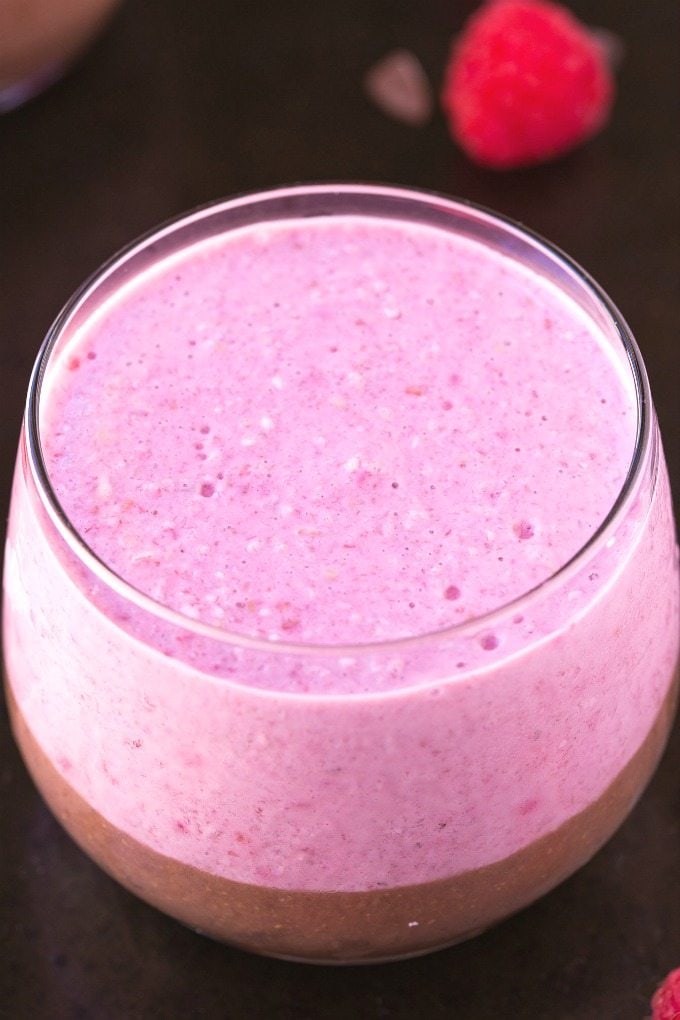 It's clear I'm a fan of the raspberry and chocolate combination. However, I have a very odd way of eating it. I'm not the biggest fan of chocolate and raspberries overly mixed together. What does that mean? It means that if cookies have chocolate and raspberries in them, I eat the chocolate pieces/chunks first, before eating the cookie with raspberries in them. The same goes for cakes too.
As mentioned earlier, I've been having smoothies for breakfast, because they are filling, easy and delicious. I wanted to have some raspberry/cacao action happening, but without them being mixed together. How do we combat this minor issue? One layer of a cacao spiked smoothie and one layer of a raspberry spiked smoothie- The best of both worlds!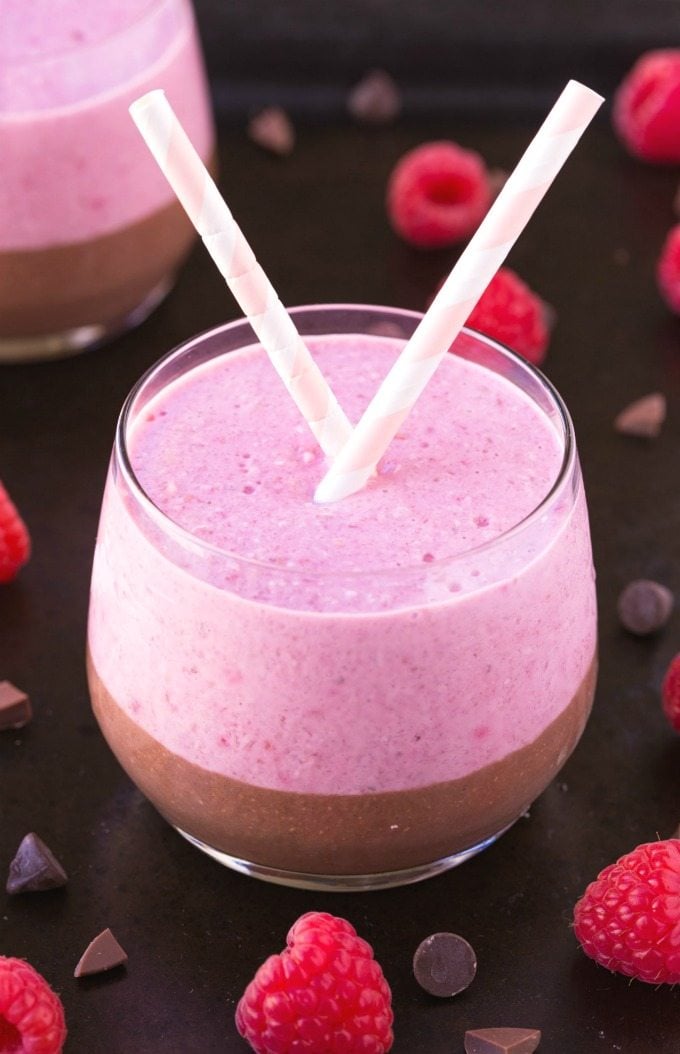 This healthy chocolate (cacao!) raspberry breakfast smoothie needs only four ingredients, and is thick, creamy and has two delicious layers! It may take a little extra prep (it is two layers), but it's totally worth it! It's filling, loaded with amazing textures and perfect to keep you satisfied all morning. Because of the ingredients used, this thick and creamy breakfast shake is naturally gluten free, vegan, grain free, paleo, dairy free and sugar free!
Let's talk the 'chocolate' layer in relation to the Whole 30- 100% cocoa powder is allowed on the Whole30, but it cannot be mixed with fruit or dates, to make a chocolate-esque dessert. As an alternative, I opted to use carob powder. Although some may claim that carob powder tastes like cocoa, I found it quite bitter and vastly different.
HACK! For those who want a thicker smoothie OR want to prep this in advance, throw in some extra chia seeds! I found when I did that, it thickened, especially when left in the fridge for several hours after making it (Thank you, FedEx, for wasting my morning).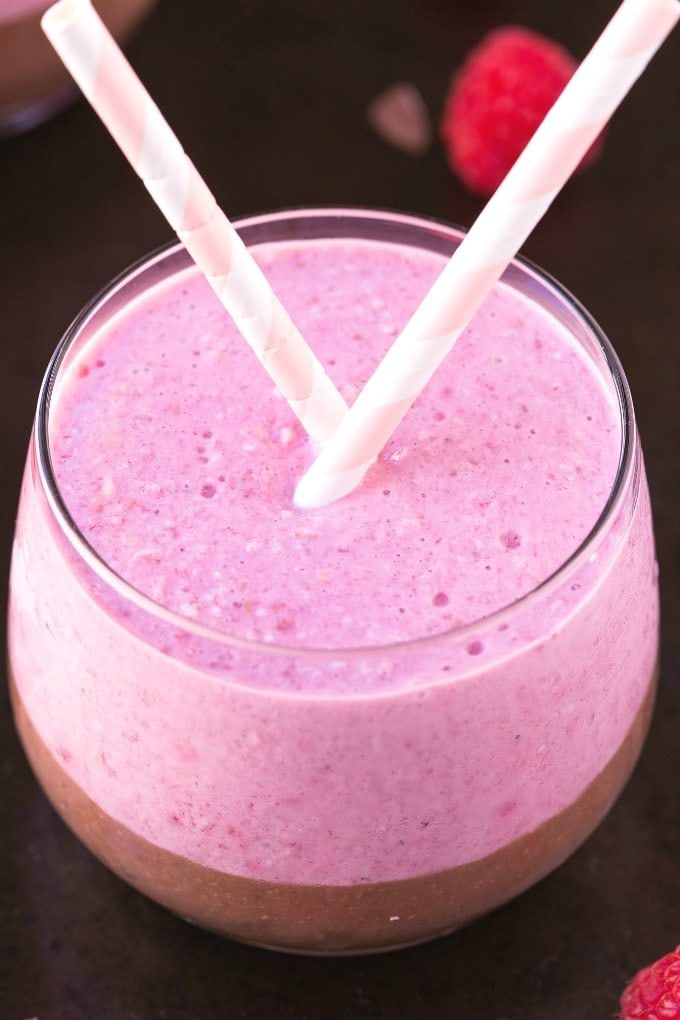 Make this healthy 4 Ingredient Chocolate Raspberry Layered Breakfast Smoothie and enjoy the best of both worlds, separately.
…or go hang out with Meredith.
*Shudders*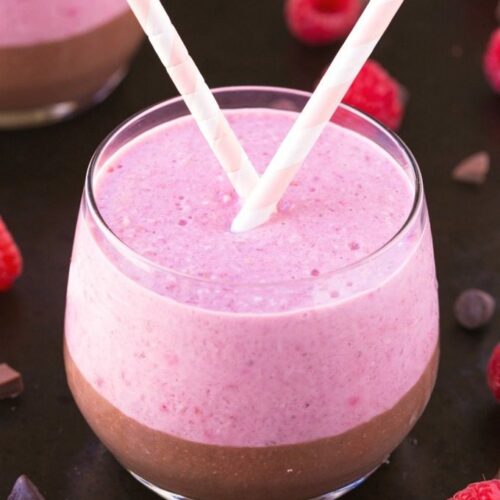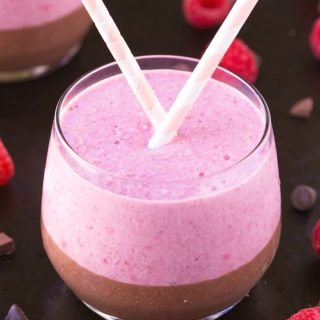 Chocolate Raspberry Smoothie
A thick, creamy and healthy 4 Ingredient Chocolate Raspberry Layered Smoothie! Protein and fiber packed, this breakfast shake is completely paleo, gluten free, vegan, dairy free, sugar free and whole 30 friendly!
Instructions
In a high-speed blender, add your first layer ingredients. Half the banana, half the milk, one tablespoon of nut butter and the carob powder. Blend then pour into a tall glass.

Rinse the blender and add the rest of the ingredients and blend until desired consistency. Top the raspberry layer on top of the carob layer.
Notes
* For a thicker smoothie, add an extra half banana
** Adjust accordingly- For a thicker smoothie, reduce the amount
*** Can sub for any nut or seed butter
**** Can sub for cocoa powder if not strictly whole30
Nutrition
Calories:
235
kcal
Carbohydrates:
31
g
Protein:
9
g
Fat:
11
g
Fiber:
9
g
NET CARBS:
22
g
More delicious smoothies? Gotcha covered!
3 Ingredient Breakfast Smoothie
Mixed Berry Breakfast Smoothie
Thick and Creamy Cinnamon Roll Smoothie
Disclosure: This post may contain affiliate links. I may earn a small commission for my endorsement, recommendation, testimonial, and/or link to any products or services from this website.