These brownie cookies are a simple yet elegant dessert that combines the fudgy richness of a brownie with the texture and shape of a cookie. 3 ingredients, no flour, and ready in minutes.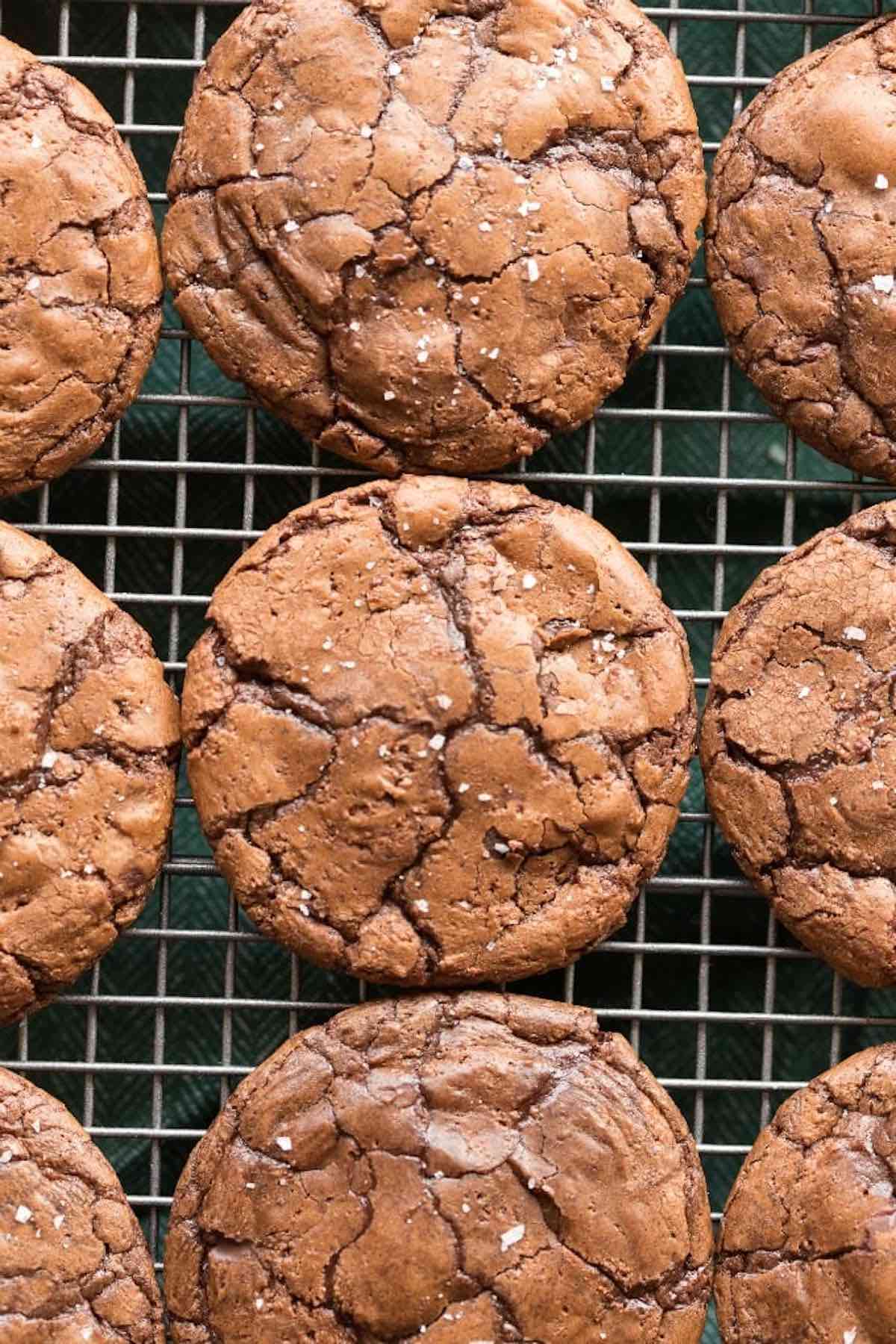 Brownies and cookies are two of my favorite kinds of desserts, so why not combine the two to create the ultimate hybrid dessert?
If you've never tried a brownie cookie before, the texture is like the crinkly tops of fudge brownies. They are delicate to bite into and melt in your mouth. The center is super fudgy and honestly, I may like these better than actual brownies!
Table of Contents
The best brownie cookies
These flourless brownie cookies are a dream come true for all my lazy brownie lovers. The recipe came by accident by when I was working on my flourless cake but the batter become too thick so I thought.. why not bake them as cookies and voila: these were born!
Only 3 ingredients. You need three staple ingredients to make cookies that have a rich chocolate flavor. Like no bake brownies, there is no flour, butter, or oil on the list.
Easy and quick. Not only does this recipe call for only three simple ingredients but it also takes only 20 minutes to make.
Perfectly fudgy. Made without flour, these cookies turn out fudgy and chewy like your favorite brownie (if you've tried flourless brownies before, you will adore these).
Unlike other brownie cookie recipes, my version skips the laundry list of ingredients and instead, uses three pantry staples to whip up. Here is what you will need.
Cocoa powder. I use Dutch process cocoa powder for these cookies. It is unsweetened, has a dark chocolate color, and a rich flavor.
Powdered sugar. The powdered sugar mixes well with cocoa powder and dissolves very easily in egg whites.
Egg whites. The main component of these flourless cookies. It helps the cookies hold their shape and gives them a nice chewy texture.
Substitution idea
If you can't tolerate eggs or follow a vegan diet, you can experiment by swapping out the egg whites for aquafaba or another egg substitute.
How to make brownie cookies
Making this brownie cookie recipe is certainly a lot easier than making a brownie. Here's how you make them.
Step 1 – Make the cookie dough
Start by mixing the cocoa powder with powdered sugar. Add the egg whites and whisk until a smooth batter remains. As you mix the egg whites, they will continue to break down and absorb more cocoa powder and powdered sugar. You should end up with thick and sticky butter. If it is still a little runny, add a tablespoon more cocoa powder.
Step 2 – Shape the cookies and bake
Use a 2-teaspoon cookie scoop to make uniform cookies. Release the scooped dough on a large baking sheet lined with parchment paper or a silicone mat. Leave 2 inches of space between the cookies as they will spread as they bake.
Bake the cookies in the oven preheated to 320F/160C degrees. Bake for 15 to 18 minutes or until the cookies are puffy and shiny.
Allow the cookies to cool on a baking sheet before you store them away.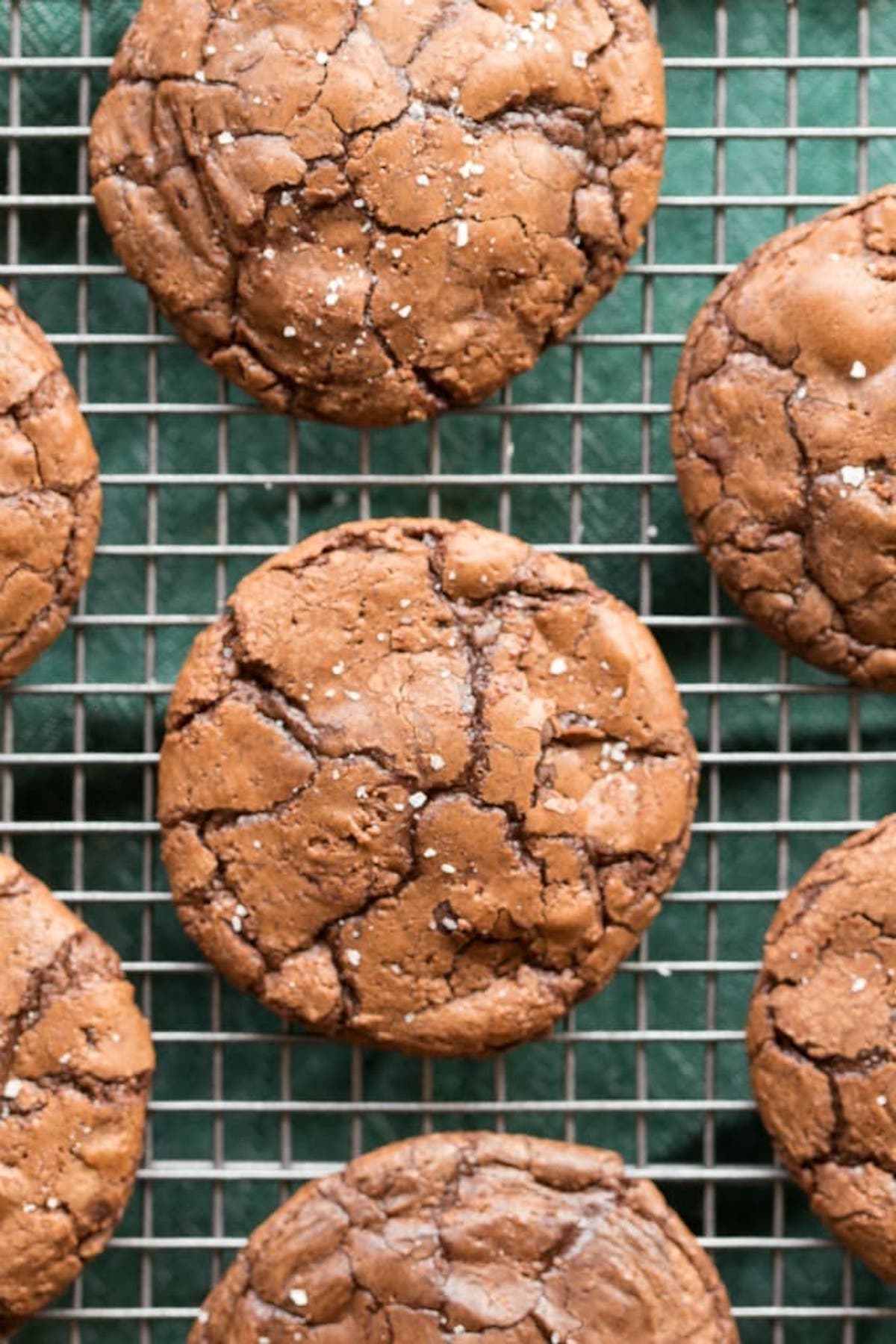 Don't use regular cocoa powder for this recipe. While the Dutch process and regular cocoa powder are interchangeable in most baking recipes, the latter doesn't work very well for these cookies.
Adjust the amount of cocoa powder. Depending on the size of the egg whites, you may need to add more or less cocoa powder.
Don't bake the cookies in an overly hot oven. Setting the oven temperature higher than 320 degrees will result in flat cookies.
Allow the cookies to cool completely before you remove them from the pan. Trying to remove the cookies while they are still hot may cause them to break.
If you have some dark or semi-sweet chocolate chips at hand, melt them and drizzle them over the cookies to create an even richer chocolate flavor.
To store: Transfer these flourless cookies into an airtight container or bag once they cool. Keep them at room temperature for up to a week.
To freeze: Freezing these cookies may not be the best idea as they will absorb moisture and soften as they thaw.
How many calories are in a brownie cookie?
There are 71 calories in one flourless brownie cookie which is considerably less compared to the calorie content of a piece of regular brownie.
Are these gluten free?
Yes! None of the ingredients contain any gluten so are suitable for a gluten free or celiac diet.
What is the secret of a good brownie cookie?
The secret to making perfectly fudgy brownie cookies is not overbaking or underbaking them. Choosing high-quality cocoa powder is also a key step for achieving an intense chocolate flavor.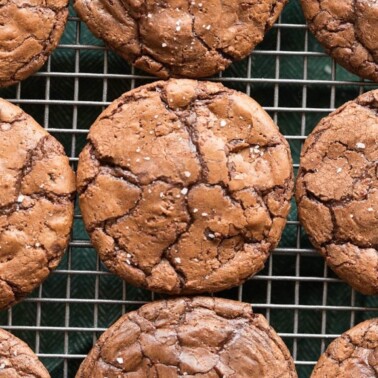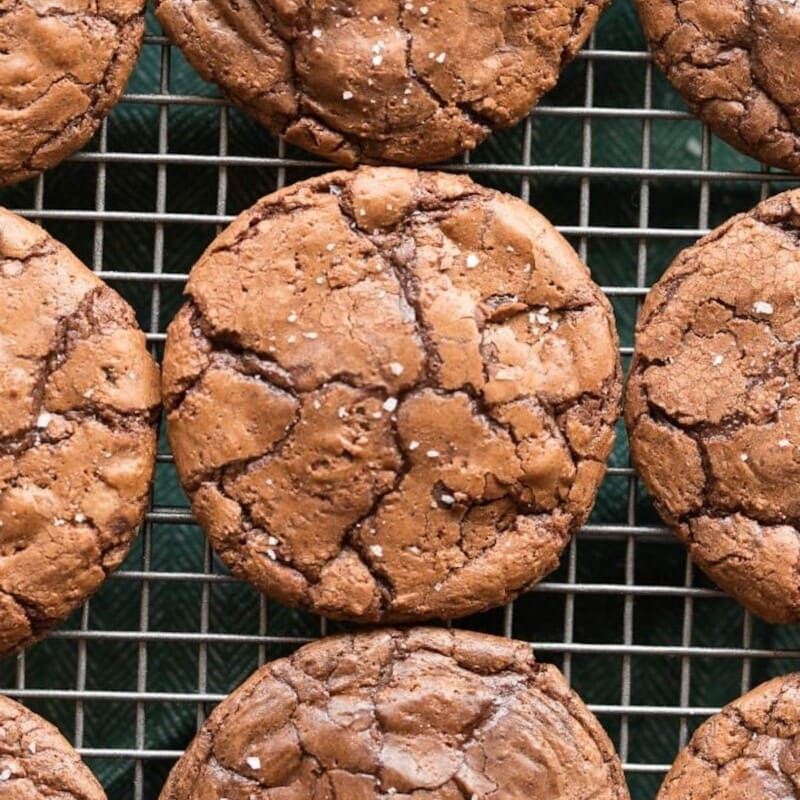 Brownie Cookies (3 Ingredients)
This 3 Ingredient brownie cookie recipe combines the rich, chocolatey flavor of a brownie with the satisfying crunch of a cookie. There is no flour or grains needed.
Instructions
Preheat the oven to 160C/320F. Line a large baking tray with parchment paper and set aside.

In a large mixing bowl, add the powdered sugar and cocoa powder and mix until combined.

Add your egg white and mix very well, until combined and smooth. If the batter becomes too thin, add a little extra cocoa powder.

Pour spoonfuls of cookie dough batter on the lined tray, 2-3 cm apart. Bake cookies for 10-12 minutes, or until the edges go slightly crisp.

Remove from the oven and allow to cool on the pan completely.
Notes
TO STORE: Transfer these flourless cookies into an airtight container or bag once they cool. Keep them at room temperature for up to a week.
TO FREEZE: Freezing these cookies may not be the best idea as they will absorb moisture and soften as they thaw.
Nutrition
Serving:
1
Cookie
Calories:
75
kcal
Carbohydrates:
19
g
Protein:
2
g
Fat:
1
g
Sodium:
11
mg
Potassium:
103
mg
Fiber:
2
g
Calcium:
8
mg
Iron:
1
mg
NET CARBS:
17
g
Disclosure: This post may contain affiliate links. I may earn a small commission for my endorsement, recommendation, testimonial, and/or link to any products or services from this website.