These healthy no bake sugar cookie bars are soft, chewy and loaded with holiday flavor but completely guilt-free- Even the protein packed frosting! Made with no butter, oil, flour or granulated sugar, these no bake sugar cookie bars are naturally gluten free, vegan, paleo, keto and low carb- They are also sugar free!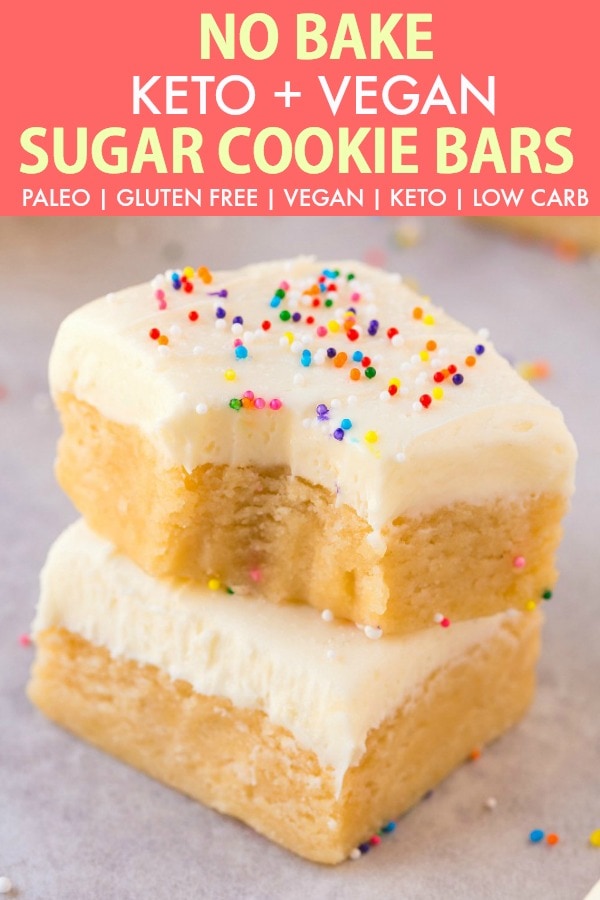 Keto Low Carb Sugar Cookie Bars
Welcome to the biggest oxymoron of the century.
A sugar cookie inspired recipe without any refined sugar.
Wham.
Bam.
Thank you, Ma'am.
Can we talk sugar cookies for a minute? Okay, good.
Growing up, during the holiday months, my sister and I would occasionally be gifted sugar cookies. Those days, they were delicious, plain cookies with a disgraceful hard artificial frosting…in pink. On the other hand, we had Niki who LOVED the pink frosting (with sprinkles!) but hated the cookie part.
In one of the rarest of occasions ever, we shared. I would eat the bottom cookie part and she would eat the frosting. It was a gloriously disgraceful sight.
Healthy Paleo Vegan Sugar Cookie Bars
Eventually, the sugar cookie phase left, mainly because my mum thought what my sister and I did was repulsive. She suggested I eat plain cookies instead (I recall she pointed to the fruit bowl…) and she told Niki that the tooth fairy had gone on vacation.
I think that scarred Niki for life.
If you've been a long-term reader here, you know that we don't do things the standard way here. As such, I've taken all the best bits of a sugar cookie and given it a healthy (NO) bake-over!
My intentions with today's recipe is to combine the best parts of a sugar cookie but give it a healthy makeover. As always, it has to taste pretty similar and just as easy to whip up!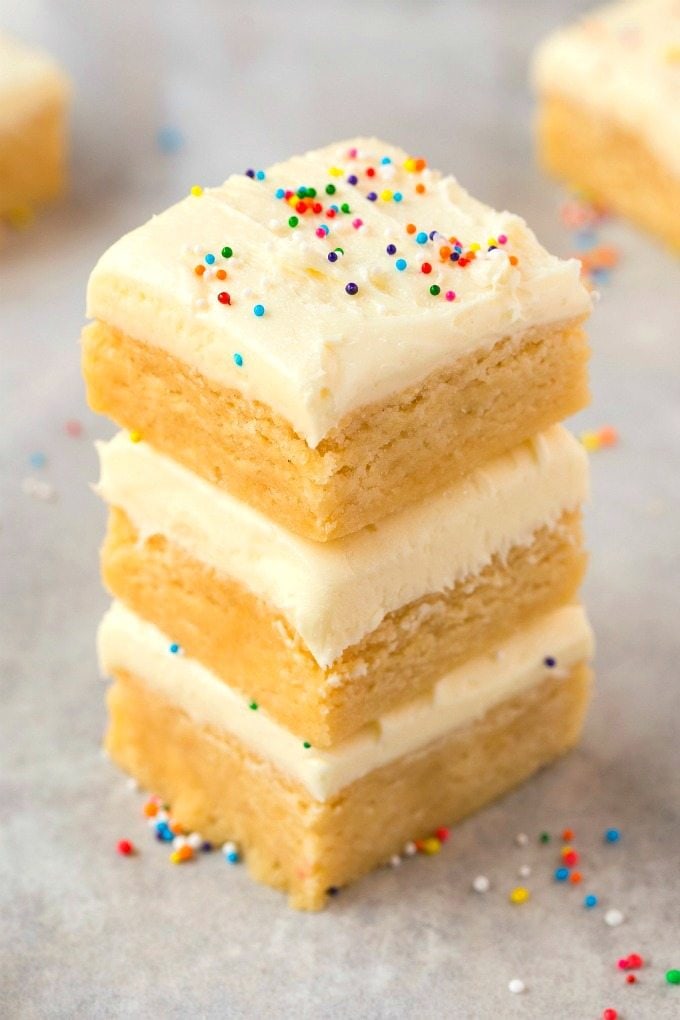 Let's compare the two…
A traditional sugar cookie- Soft and chewy vanilla flavored cookie with a hardened frosting with sprinkles. They are usually made with butter, flour, oil, MULTIPLE sources of sugar and an overly processed icing.
My sugar cookie twist? A delicious soft and chewy 'sugar' cookie base which requires to baking whatsoever, coupled with a thick vanilla cookie frosting which is completely healthy and packed with protein. My ingredients? Let's just say its a full 180 from what its traditional counterparts have!
Oh, and even though they are called 'sugar' cookies, there isn't an inch of the granulated white stuff in this.
Promise.
Instead, we use monk fruit sweetened maple syrup and granulated monk fruit for the sweetness- Both of these are super low carb and 100% sugar-free- they are also keto-friendly and vegan!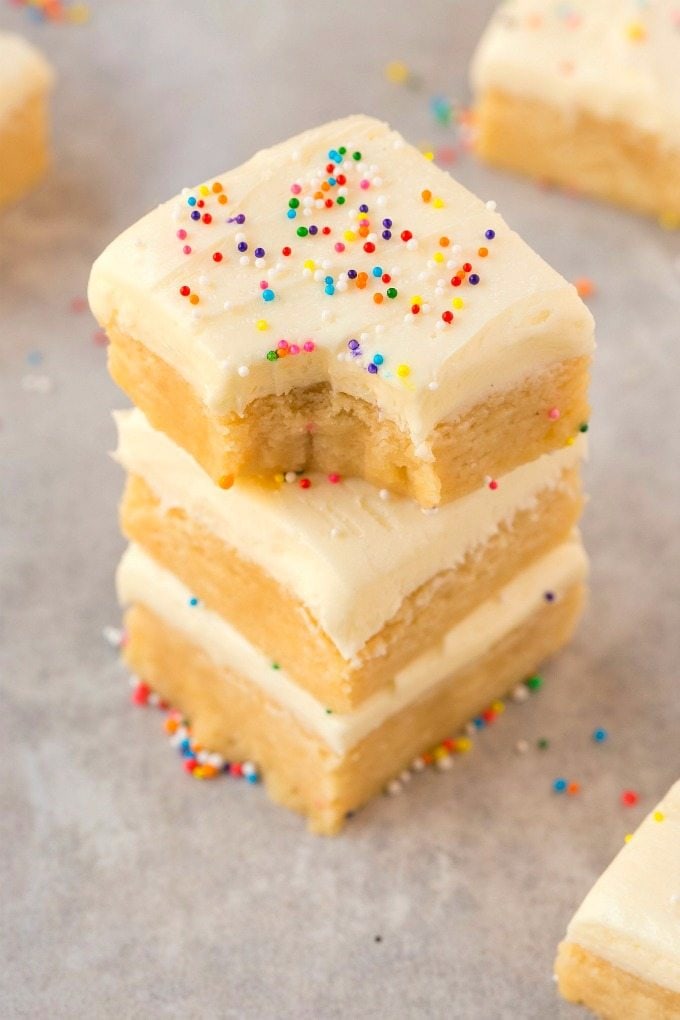 These healthy no bake sugar cookie bars have a thick, soft and chewy base, topped with a creamy protein packed frosting- They may look sinful but they are completely guilt-free! These sugar cookie bars are the perfect healthy twist on traditional holiday, Christmas, and festive treats, and make the perfect snack, dessert or anytime treat! Unlike traditional sugar cookies, these contain no butter, no oil, no grains, granulated sugar or any nasties- Although you'd never be able to tell!
I thank the use of coconut flour and smart swaps in the cookie base for achieving this! Bonus? They don't even need an oven- A simple one bowl recipe with barely any time needed from prep to plate! Depending on which option you choose Depending on which option you choose (and which frosting you use- This one is the vanilla protein frosting), this recipe is completely paleo, vegan, gluten free, sugar free, keto, dairy free and grain free!
It's the ultimate keto and vegan holiday dessert, perfect for Christmas, Thanksgiving or anytime really!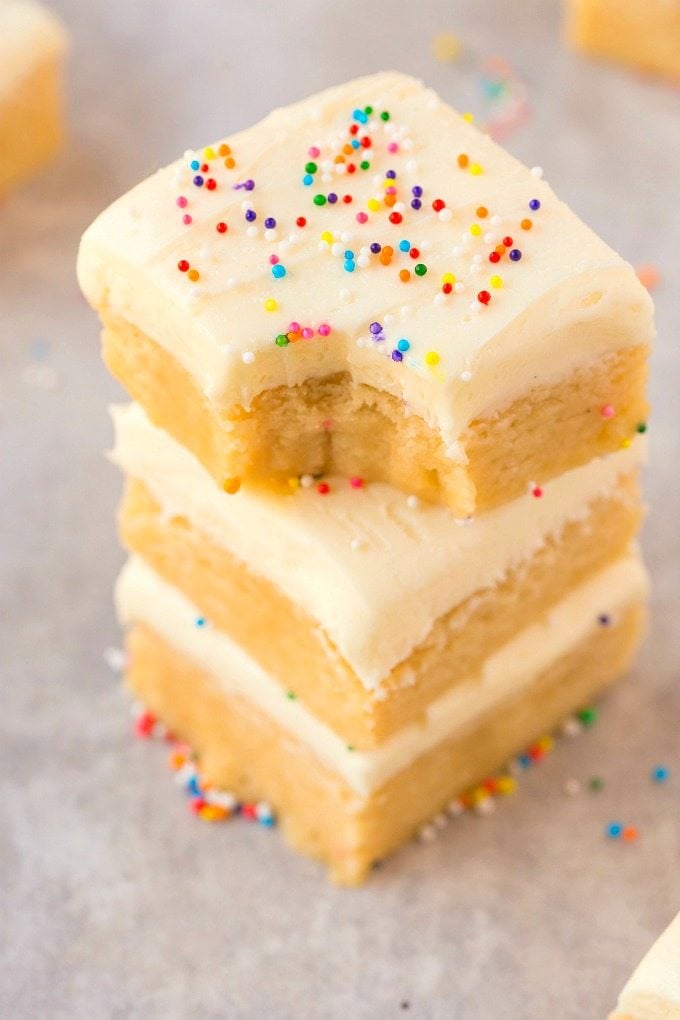 For the frosting, the one pictured here is using a protein frosting (check out this page for my tried and tested favorites), but for those who want a non-protein option, check out the coconut cream based alternatives! Or well, you could just frost it any way you like….
HACK! For those of you with nut allergies, I'd recommend swapping out the nut butter with either a sweetened sunflower seed butter or a soy nut butter. Using tahini or an unsweetened nut butter alternative leaves it a little bitter and oily.
Make these healthy no bake sugar cookie bars minus the sugar part (hello, oxymoron) and enjoy these on your own.
No artificial hardened frosting here.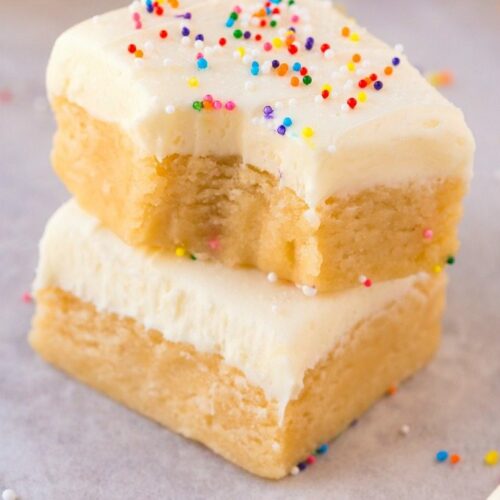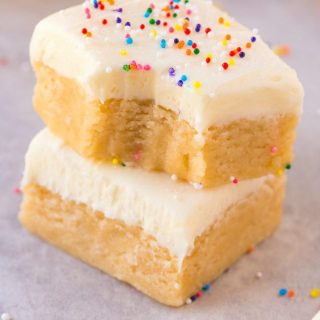 Healthy No Bake Sugar Cookie Bars (Keto, Low Carb, Paleo, Vegan)
These healthy no bake sugar cookie bars are soft, chewy and loaded with holiday flavor but completely guilt-free- Vegan, paleo, keto, sugar-free, low carb, dairy free.
Ingredients
For the sugar cookie base
For the coconut butter frosting
Instructions
For the sugar cookie base
Line an 8 x 8 inch baking pan with tin foil and set aside.

In a large mixing bowl, combine your flours, protein powder, cinnamon and granulated sweetener and set aside.

In a microwave safe bowl or stovetop, melt your cashew butter with the sticky sweetener of choice. Whisk in the vanilla extract and optional butter extract and pour into the dry mixture. Mix very well until fully incorporated. Using a tablespoon, add milk of choice until a very thick batter is formed.

Pour batter in the lined baking pan and press firmly in place. Sprinkle with the 1/2 teaspoon of granulated sweetener and optional sprinkles and refrigerate for at least 10 minutes, or until firm. Once firm, add frosting of choice and refrigerate for another 30 minutes to firm up before slicing.
To make frosting(s)
Combine all ingredients and use milk of choice to thin out until a very thick frosting is formed.
Notes
No bake sugar cookie bars should be kept refrigerated but can be frozen too.
These would be perfect to wrap individually and gift to others for a healthy holiday treat!
Nutrition
Serving:
1
Bar
Calories:
149
kcal
Carbohydrates:
10
g
Protein:
10
g
Fat:
5
g
Fiber:
6
g
Vitamin A:
200
IU
Vitamin C:
1.7
mg
Calcium:
20
mg
Iron:
0.7
mg
NET CARBS:
4
g
More delicious holiday inspired recipes? Gotcha covered!
Peppermint and chocolate = An underestimated combination!
Enjoy eggnog OUTSIDE the glass with these beauties!
Maple and pecan get married and the final result is fudge-d!
Drink your holidays…smoothie style!
A delicious warming drink in loaf form!

Disclosure: This post may contain affiliate links. I may earn a small commission for my endorsement, recommendation, testimonial, and/or link to any products or services from this website.