3 Ingredient Peanut Butter Granola Bars (No bake!)
Hands down, the most simple and easy no bake granola bar recipe made with just 3 healthy ingredients! These peanut butter granola bars are the perfect filling snack or wholesome dessert, and take 5 minutes to make!
3 Ingredient No Bake Peanut Butter Granola Bars Recipe made with oats, peanut butter, and maple syrup. Vegan, Gluten-Free, Refined Sugar Free.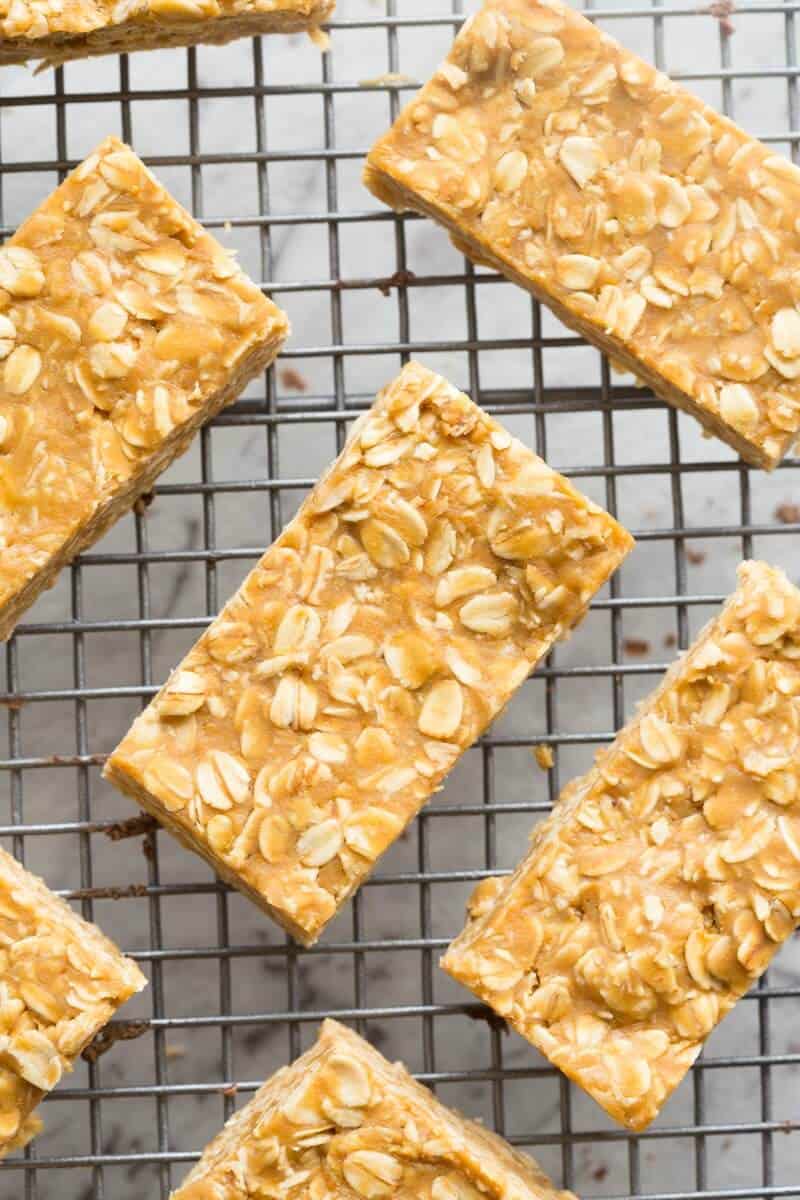 My go-to breakfast all throughout highschool always involved at least these 3 ingredients- oatmeal, peanut butter, and either maple syrup or honey.
While these days breakfasts are STILL very similar, my snacks seem to incorporate them too, in the form of this 3 ingredient no bake granola bars.
It's funny, as, throughout school and high school, I was NEVER a fan of packaged granola bars. My mum would always pack them for me and 9 times out of 10, they'd still be in my lunch box when I got home.
Now that I'm older and make an effort to have a wholesome, healthy and filling snack between meals, homemade peanut butter granola bars have become my go-to.
Peanut Butter No Bake Granola Bars in 5 Minutes!
When I say these bars are easy and simple to make, I'm not kidding you at all. They literally take 5 minutes to make, and it's the simple process of just mixing together your ingredients and waiting for them to firm up, either via the fridge or freezer.
They also are healthier than store-bought peanut butter granola bars, and use just 3 simple ingredients, with plenty of ingredient substitution ideas.
These bars have a soft and chewy texture, almost like a thick, portable piece of peanut butter cookie dough! They have a strong peanut butter flavor, and adequate sweetness, without being overpowering.
Vegan, gluten-free, dairy-free, and refined sugar free, they can easily be made nut-free, too. Packed with protein, fiber, and natural sweetness, who knew something so healthy and wholesome could be delicious too!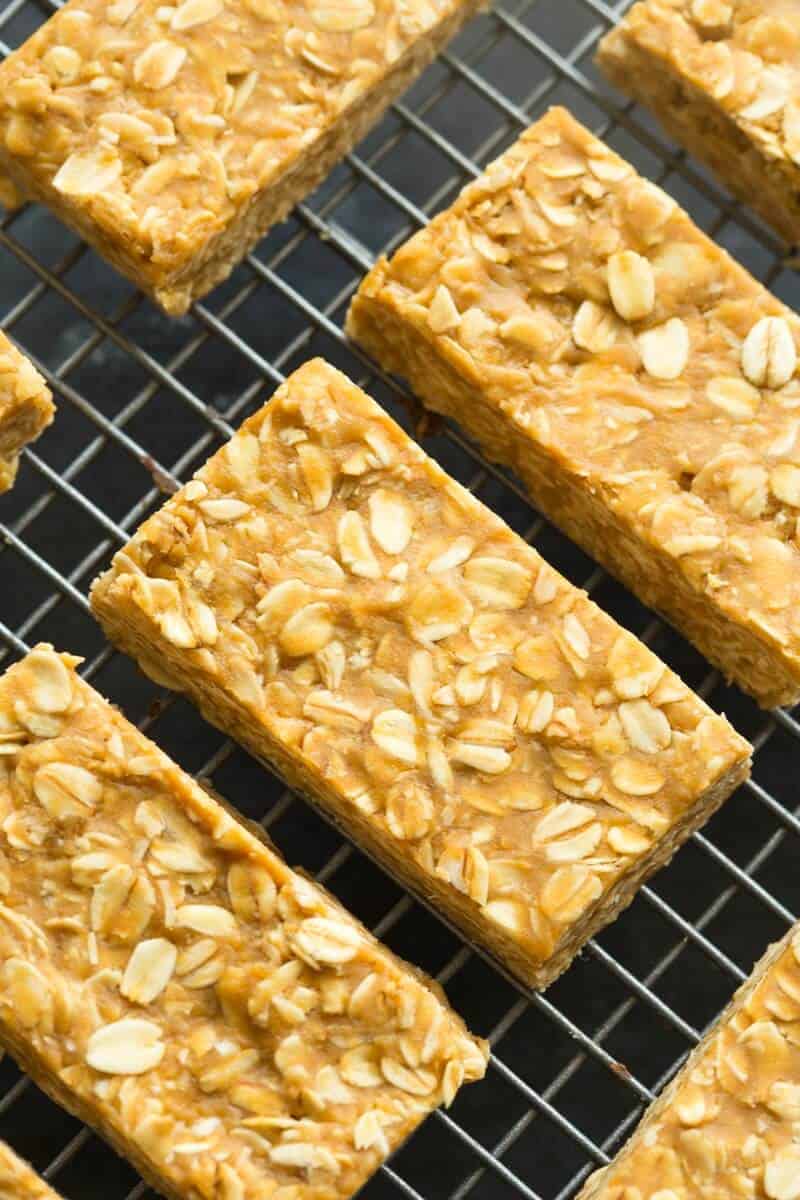 How to make 3 Ingredient No Bake Granola Bars
Making these no bake granola bars are ridiculously simple and follow a 3 step process
Melt your peanut butter and syrup

– Either use a microwave-safe bowl or saucepan. Heat up your syrup and peanut butter until warm. Whisk together.

Mix in the oats

– Combine all the ingredients and mix well.

Transfer to pan and refrigerate

– Transfer your mixture into a lined pan and spread out evenly. Refrigerate until firm.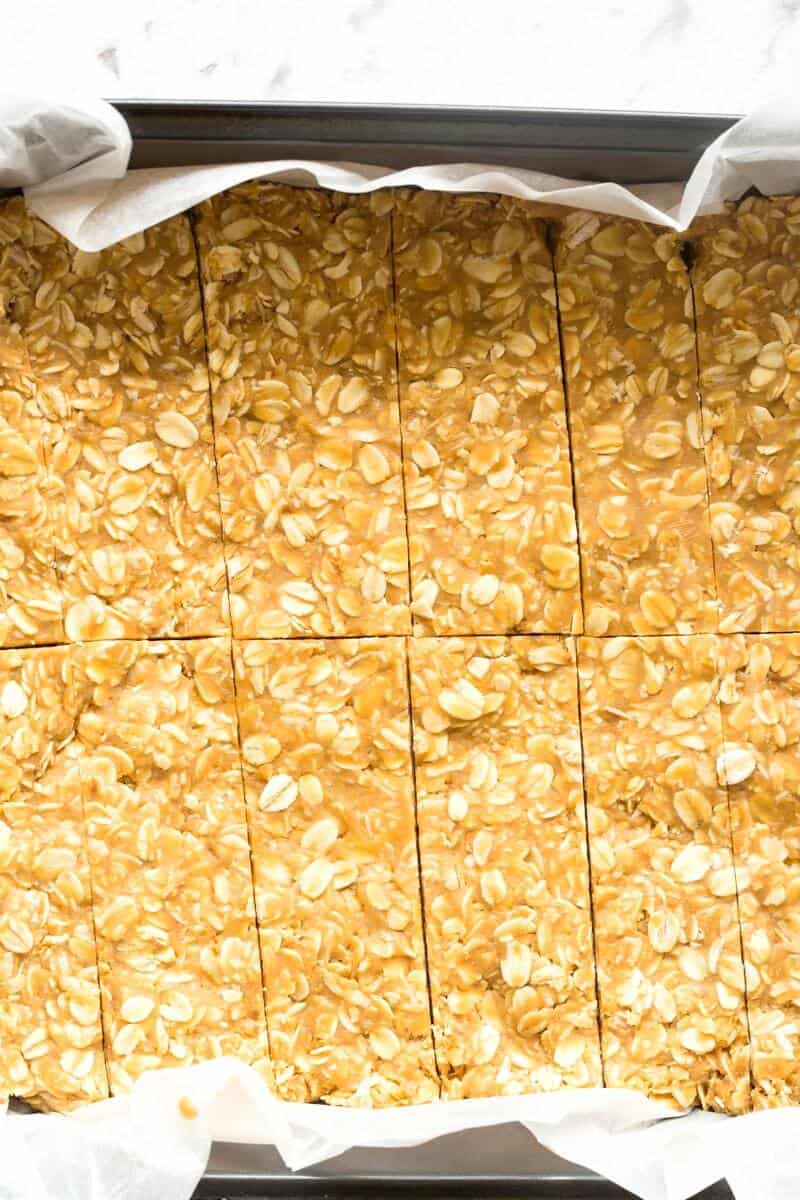 Ingredients and Substitution Ideas
Rolled Oats (Old fashioned oats)

– I used gluten-free oats, to ensure that they are gluten-free. You can use quick-cooking oats (instant oats) or oat bran, but I find those both lack the texture we want.

Peanut Butter

– I get it. Not everyone is a peanut butter lover like me, or is allergic. I've got you covered! Other nut-based spreads that work include

drippy almond butter

or

cashew butter

. If you'd like these no bake oat bars to be nut-free, use

smooth tahini

or smooth sunflower seed butter.

Maple Syrup

– Another vegan substitute for maple syrup is

agave nectar

. It isn't as sweet but would suffice. If you aren't strictly vegan, I recommend using

honey

. As a last resort, you can use

brown rice syrup

or

rice malt syrup

, but this isn't super sweet, and also will yield a more chewy bar.
Can I bake these granola bars?
I wouldn't try baking these bars, as while the ingredients are bakeable, the proportions used in them aren't developed to be baked!
You may enjoy oatmeal cookie bars, flourless peanut butter oatmeal cookies, or oatmeal breakfast bars instead.
How to make no bake granola bars stick together
My secret tip for ensuring no bake granola bars stick together is to microwave or heat up (on the stovetop) the peanut butter with syrup (or honey/agave).
Melting them together ensures a smooth, warm, and thin texture, making it easier to mix into bars. Once the bars have been refrigerated, they will be incredibly thick and sturdy!
Storing and Freezing bars
To store

: Place leftover bars in a sealable container and keep in the fridge at all times. They will remain fresh for at least 2 weeks.

To freeze

: Chill your bars and then freeze them, by placing them in a ziplock bag. They will keep well frozen for up to 6 months.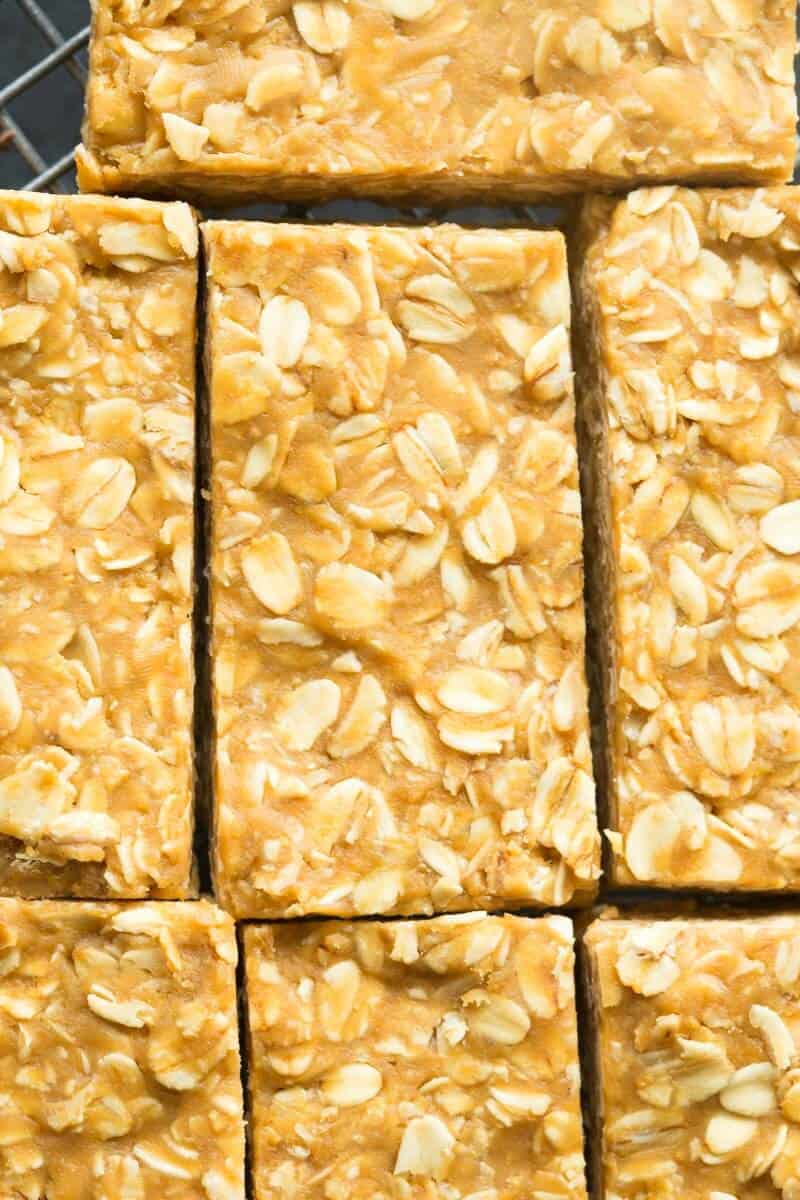 More Delicious No Bake Snacks you'll enjoy
WATCH HOW TO MAKE A SIMILAR RECIPE BELOW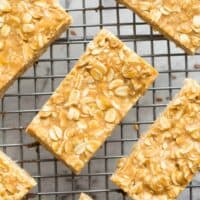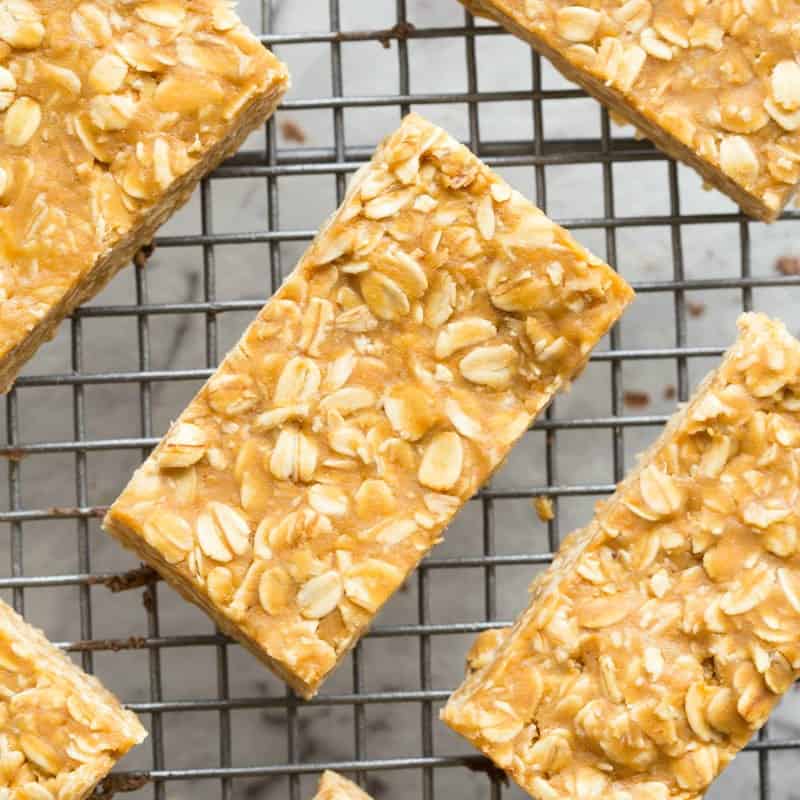 3 Ingredient No Bake Peanut Butter Granola Bars (Vegan, Gluten-Free)
Just 3 easy ingredients are needed to make these delicious, customisable no bake granola bars! Soft, chewy and ready in just 5 minutes, they are vegan, gluten-free, and dairy-free. The perfect lunch box snack or anytime healthy treat!
Print
Rate
Instructions
Line an 8 x 8-inch pan with parchment paper and set aside.

In a microwave safe bowl or stovetop, melt the peanut butter with syrup until combined.

Add the oats and mix well, until fully incorporated.

Transfer the mixture into the lined pan and press into it firmly. Refrigerate for at least 30 minutes, to firm up, before slicing into bars.
Notes
* Can use smooth almond butter, cashew butter, sunflower seed butter, or tahini instead.
** Can use agave nectar or honey (not strictly vegan) instead.
Key Recipe Equipment and Ingredients
Nutrition
Serving:
1
Bar
|
Calories:
98
kcal
|
Carbohydrates:
10
g
|
Protein:
4
g
|
Fat:
5
g
|
Sodium:
51
mg
|
Potassium:
122
mg
|
Fiber:
2
g
|
Calcium:
17
mg
|
Iron:
1
mg
|
NET CARBS:
8
g