These healthy flourless lemon blueberry muffins are super fluffy, loaded with blueberries and topped with a healthy iced lemon glaze which is naturally sweetened! Made without any dairy or oil, they are naturally paleo, vegan, gluten free, sugar free and protein packed!

If anyone out there is skeptical about lemon in baked goods, these flourless paleo lemon blueberry muffins will have you converted…thanks to a sneaky little hack!
With lemon or citrus infused cakes, muffins or desserts, I think there is a very fine line between too much lemon and the 'right amount'. I can recall numerous times where I've bitten into a lemon poppyseed muffin or lemon cake, only to be left bitterly disappointed- Pun intended. At the same time, I've enjoyed said muffins and cakes which have absolutely NAILED it.

MY OTHER RECIPES
To avoid any of this happening, I've decided to NOT include any lemon in the actual muffin but to lightly add to the healthy glazed icing/frosting/goodness on top of them! It's super easy and a small amount goes a long way- You can also taste test it while you make it giving it as much or as little lemon flavoring as you like! Thanks to the melted coconut butter, it takes seconds to whip up and beats a classic icing sugar style glaze often used on cakes or muffins!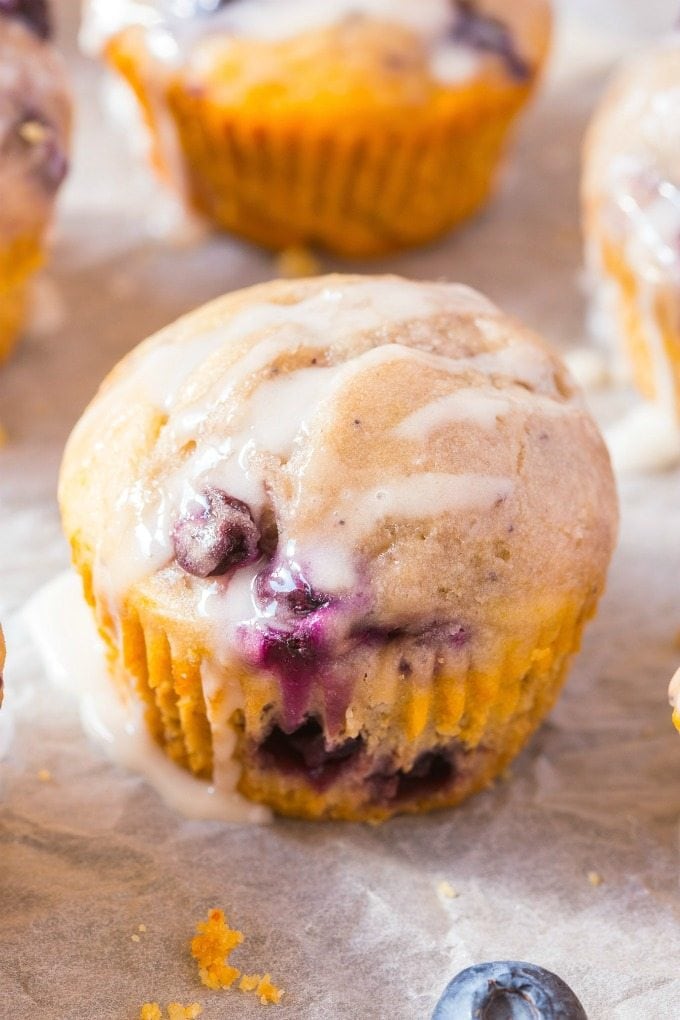 These muffins come with two options- The flourless route (this one is vegan, egg-free and gluten-free) or the classic paleo version (still gluten-free, but also grain-free too!). It's safe to say that these muffins are suitable for those following a vegan, gluten free, dairy free, sugar free, paleo, grain free and clean eating lifestyle!
For those who want to go the flourless route, it's a one blender method! To replace the wheat-based flour, we are using my favorite base- Rolled oats! You'll chuck this into the blender and grind it to a fine powder. Because we want to keep this egg-free (for my vegan friends), you'll add a flax egg instead. As we aren't using any butter or oil in this, we WILL be using unsweetened applesauce– It works really well to replace those fats, without sacrificing on any taste or texture.
However, we won't be omitting fats altogether! By adding some nut butter, seed butter or nut-free alternative, it will add that extra oomph, along with satisfaction, so no need for grabbing another two…or ten. (not that there would be anything wrong with that…). I recommend using smooth almond butter or cashew butter, as they are both mild and let the blueberries shine. If you have a nut allergy, sunflower seed or soynut butter are also great alternatives. You CAN use coconut oil, but it will no longer be oil-free!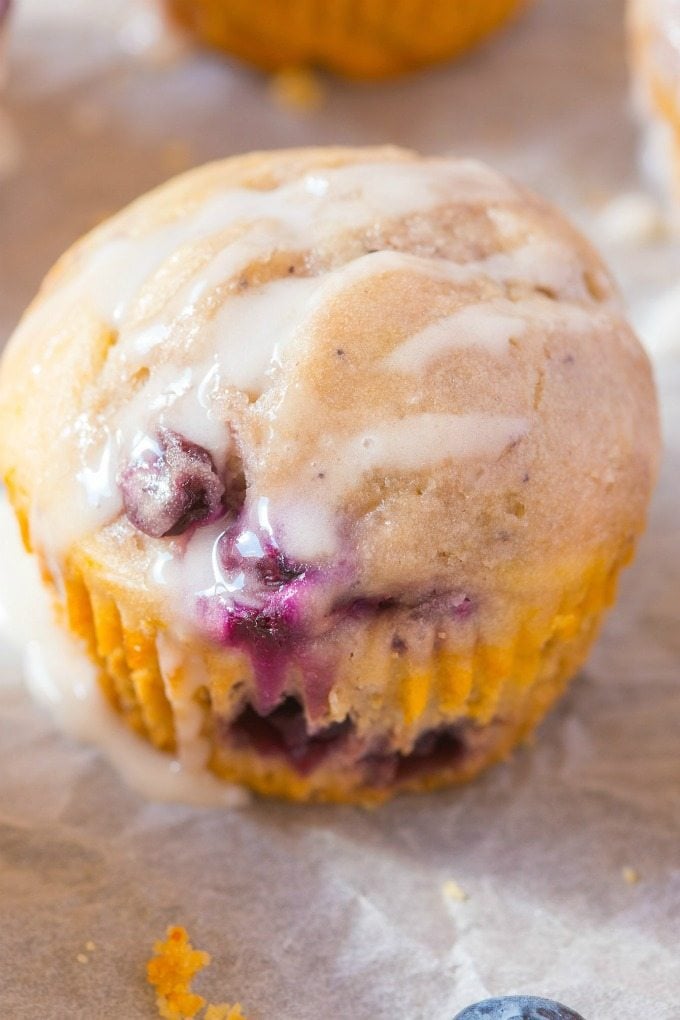 For my grain-free and paleo friends, it's an easy one-bowl method! It uses my favorite grain-free flour (or any flour, really!) coconut flour! Even though only a half cup looks like a tiny amount, it actually results in a proportion similar to the flourless one! You'll then add the eggs, softened grass-fed butter (a new ingredient I'm playing with), and finally the pure agave nectar (or you can use maple syrup or manuka honey). Stir, combine and pour into the muffin tin and VOILA!
When it comes to the fresh VS frozen debate, there are mixed teams. There are studies that show that the frozen kind are actually more nutritious, but honestly, I see them both on an even playing field. For the blueberry portion of the recipe, use whichever is most convenient for you. If you do opt to use the frozen kind, please make sure they are thawed, or it will make the batter quite thin.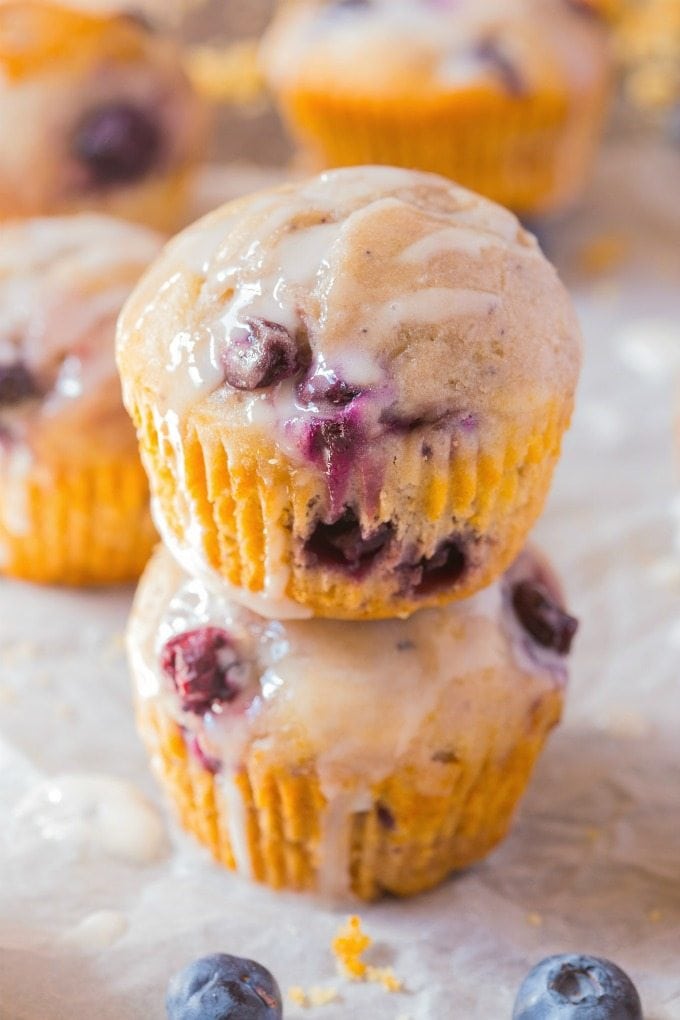 Breakfast, snack or healthy dessert? All of the above! These muffins aren't the kind of muffins which make you want to take a nap afterward (although I won't stand in your way if that is what you desire!). They are chock full of wholesome ingredients and fruits, and would totally make the perfect, balanced breakfast. They are also a great snack idea or even a healthy dessert- To even amp up the protein, you can crumble up the muffin in some yogurt!
Lemon skeptics, pucker up and get ready to have a new favorite muffin in town- A fluffy blueberry muffin base with a delicious iced lemon glaze- Healthy style!
Healthy Paleo Lemon Blueberry Muffins (Vegan, Gluten Free, Flourless)
These healthy flourless lemon blueberry muffins are super fluffy, loaded with blueberries and topped with a healthy iced lemon glaze which is naturally sweetened! Made without any dairy or oil, they are naturally paleo, vegan, gluten free, sugar free and protein packed!
Print Recipe
Ingredients
For the Flourless Option:
For the Paleo Option:
1/2

cup

coconut flour

1/2

tsp

baking powder

1/4

tsp

sea salt

1/2

tsp

cinnamon

4

large

eggs

1/2

tsp

vanilla extract

2

medium

overripe bananas, mashed

1/4

cup

agave nectar

can substitute for maple syrup or honey

1/3

cup

grass-fed butter, softened

1

cup

fresh or frozen blueberries
For the lemon glaze/lemon icing:
Instructions
To make the muffins:
Preheat your oven to 400 degrees Fahrenheit and grease a 10-12 count muffin tray or line them with muffin liners. Set aside.

For the flourless version, add all the ingredients, except for the blueberries in a blender and blend until combined. Transfer to a large mixing bowl.

For the paleo version, sift the dry ingredients into a large mixing bowl. In a separate bowl, combine your eggs, mashed bananas, softened butter, agave nectar and vanilla extract until fully incorporated. Add to the dry ingredients.

For both version, fold in the blueberries and transfer to the lined muffin tray/muffin tins. Bake the muffins for 18-20 minutes (paleo version) or 20-25 minutes (flourless version), or until a toothpick comes out clean.

Once cooked, let muffins cool in the pan for 5 minutes, before transferring to a wire rack to cool. Once cooled, drizzle iced lemon glaze over it.
To make the iced lemon glaze:
In a small mixing bowl, add your soften/melted coconut butter and whisk with all the ingredients until a silky texture remains. Drizzle over the cooled muffins.
Notes
Muffins are best to be kept covered and refrigerated- They are also freezer friendly. Only make the iced lemon glaze prior to dropping on the muffins, otherwise it will harden up.
Nutrition
More delicious muffins? Gotcha covered!
Healthy Flourless Sweet Potato Muffins
Healthy Flourless Carrot Cake Breakfast Muffins
Healthy 5 Ingredient Chocolate Chip Protein Muffins
Healthy Pumpkin Blender Muffins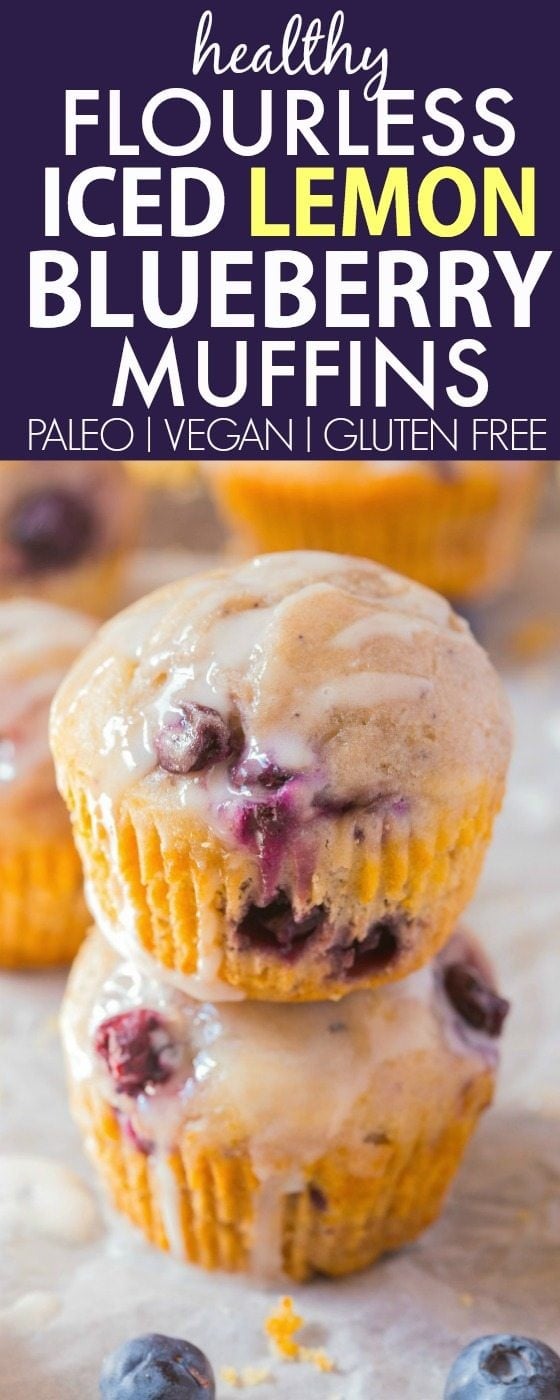 Have you ever had a negative lemon dessert experience?
The Big Man's World is a participant in the Amazon Services LLC Associates Program, an affiliate advertising program. This means that if you click and make a purchase, TBMW receives a small commission, at no cost to you. Cheers, hugs, and handshakes for supporting TBMW!