Healthy Warm Sticky Cinnamon Roll Smoothie
This thick, creamy and extremely comforting warm smoothie tastes just like a sticky cinnamon roll, but healthy! Packed with protein, fiber and naturally sweetened, this healthy warm sticky cinnamon roll smoothie is naturally gluten free, vegan, paleo, dairy free and refined sugar free!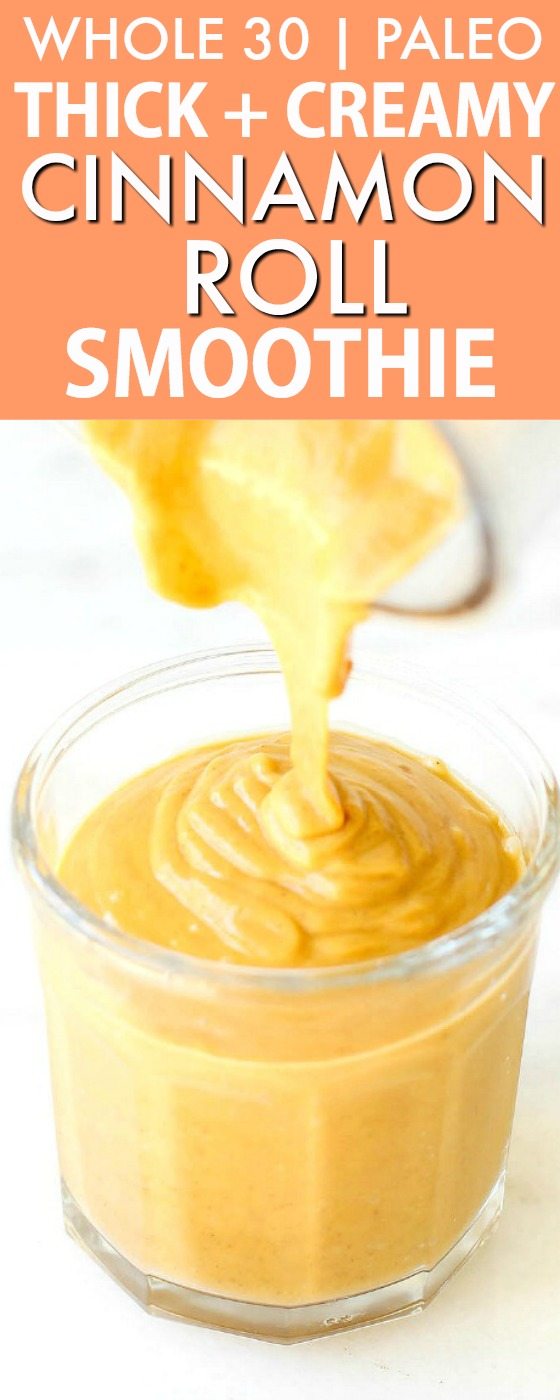 G'day guys- We're back with another post by the ever-talented Natalie.
Random/fun fact- One of my newly vegan friends has been stalking the interwebs and sent me a message of an ice cream cake we need to make.
"Arman, I just saw the most ridiculous vegan cake which you need to make for my birthday."
"Sure, send me the link. Although, If it has chickpeas in it, I will bring hummus instead."
Fortunate for the both of us, the link he sent me was Nat's epic creation- This Cotton Candy creation. Stay tuned for pictures, because this is happening. Saying that, I refuse to be judged for styling or creation. Mine might look like Barbie's nightmare.
Anyway, I'm excited for Nat's offering today- You guys have LOVED her previous creations, in particular recipes which are thick, creamy and enjoyed with a spoon- This rocky road ice cream and cookies and cream ice cream have been huge hits. While Fall is evidently in the air (and from the news, some places have seemed to have skipped it completely), Nat is sharing a warmer twist on her infamous creations today- This healthy warm, creamy, comforting and cozy sticky cinnamon roll smoothie!
***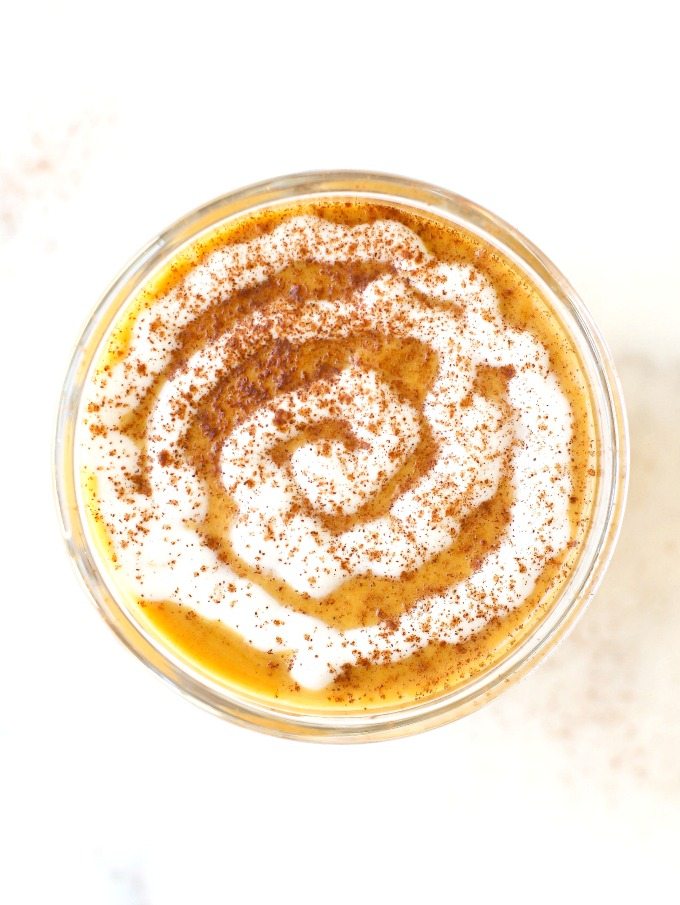 Smoothie, breakfast pudding, warm cinnamon-topped swirly scrumptiousness—it really doesn't matter what you call this sweet potato concoction. Semantics won't change the fact that it tastes like a coziness in a cup.
This recipe is forging into all sorts of unconventional smoothie making territory.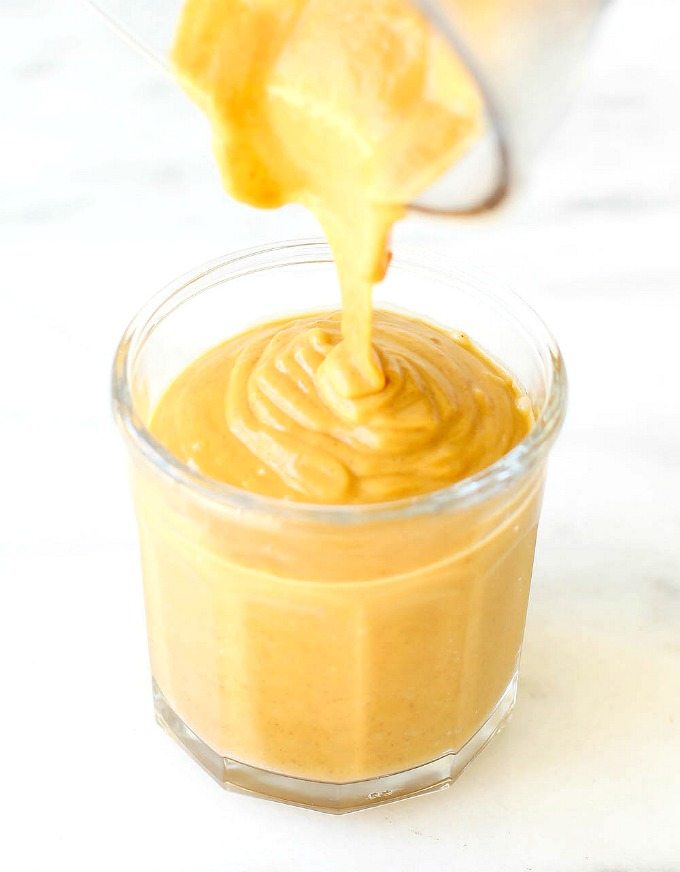 For starters, there is no banana involved. Instead, sweet potato brings the creaminess to this blender breakfast. About one half of a baked sweet potato is the perfect amount for a single serving of smoothie. You can bake it in the oven (if you are really patient), the microwave (if you are lazy like me), or use any leftover baked sweet potato that may be hiding in your fridge.
Sweet potatoes are somewhat sweet, but nowhere near cinnamon roll sweet. So to bump up the sweetness factor (and because I can't help but add some fruit to the mix) I added a few Medjool dates to the recipe. You could also use coconut sugar or maple syrup or really any sweetener you like. Or leave it out entirely and just enjoy the straight sweet potato flavor.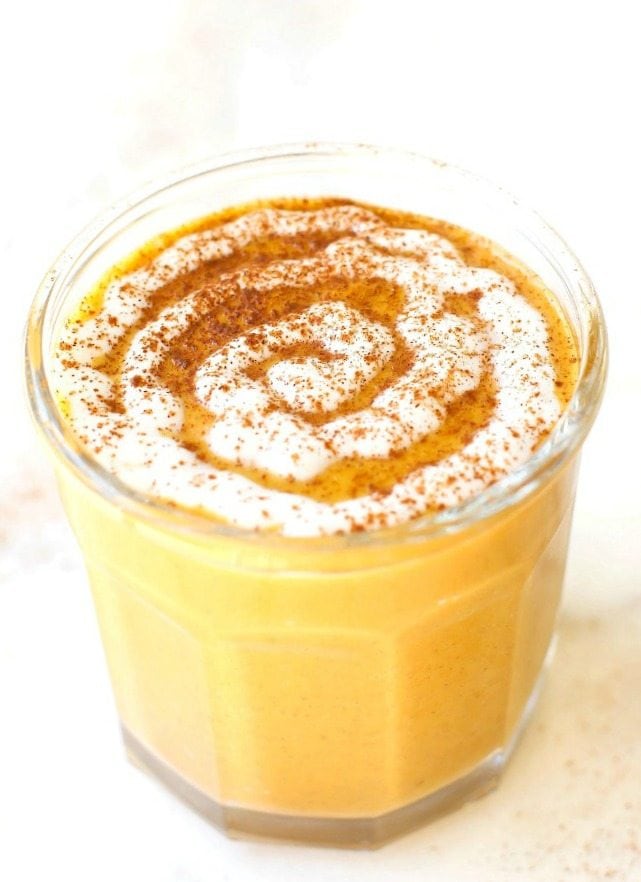 To make this cinnamon roll inspired smoothie extra seasonal and extra unconventional, the usual non-dairy milk of choice for blending has been replaced by heated non-dairy milk. So after blending, it is just the right degree of cozy.
It would be a crime to call this a cinnamon roll anything without lots of cinnamon and a swirl on top. So a heavy sprinkling of cinnamon and a coconut whipped cream swirl are the perfect finishing touches.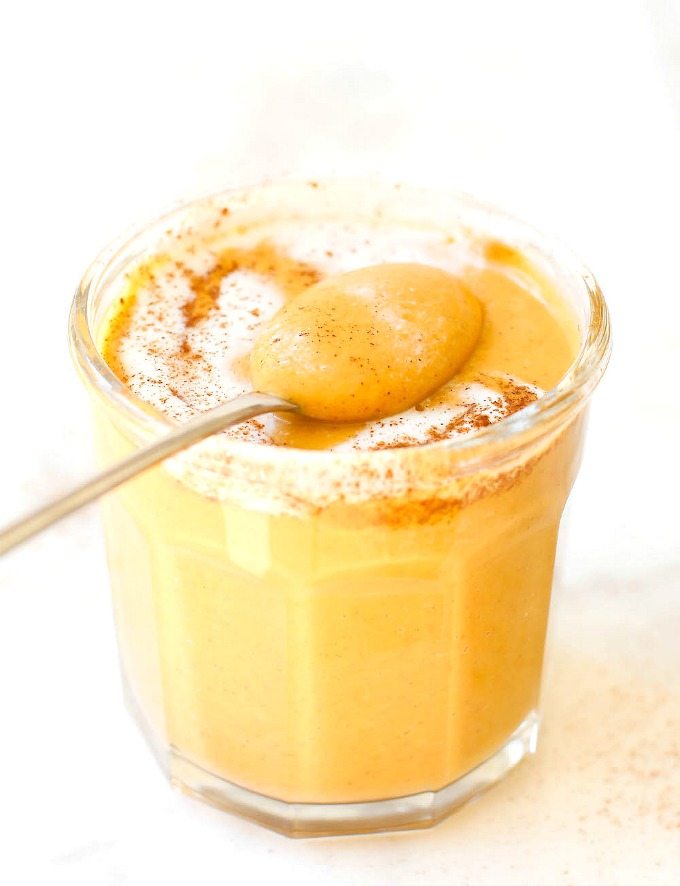 Creamy and comforting. Spiced and sweet. Spoon or straw. This beverage is a unique mix of good-for-you ingredients and delicious fall flavors.
And if the thought of a warm smoothie weirds you out entirely, just think of it like hot chocolate but without the chocolate. It all makes sense now, right?!
Editors note- Remember my sister's frame of mind with her ideal wedding cake?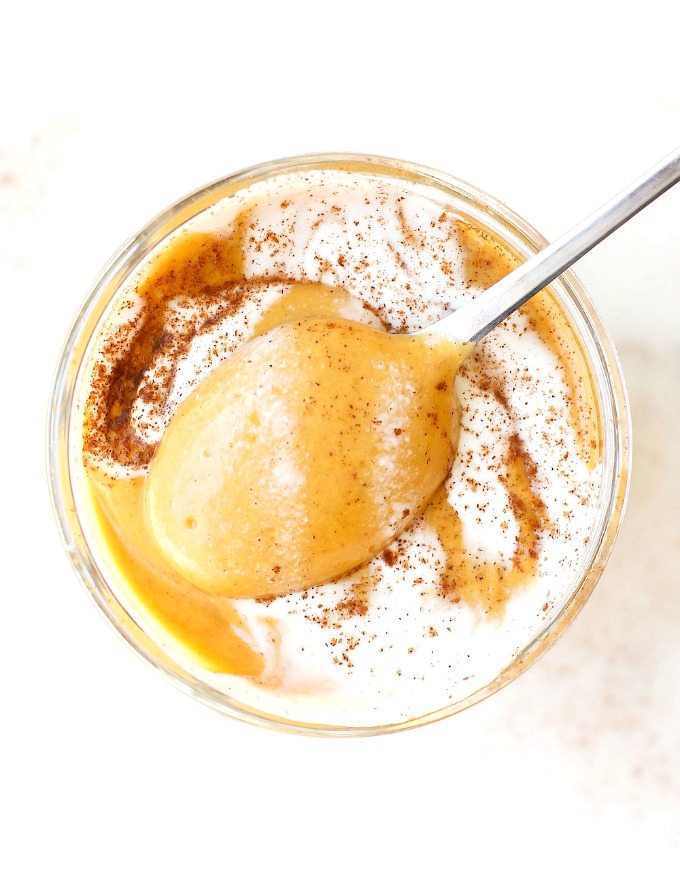 Editor's notes- Natalie mentioned how she used dates to sweeten it. I wanted to try it out without dates, so made one version with this stevia-based granulated sweetener and also with pure maple syrup. I chose to use both of these to try it with, as they are both mild tasting, and the latter really brought out the cinnamon roll flavor. Protein powder wise, I stand by this vegan brown rice protein powder, this casein protein powder, and this paleo protein powder. If you use the casein or vegan protein powder, you will need to blend for a little longer, as they are both considerably thicker than the paleo powder.
Instead of whipped cream, I opted for my usual sticky cinnamon roll style topping. This involves drippy coconut butter mixed with cinnamon and a dash of coconut sugar. This time, however, we did something different! As the smoothie is already warm, I added a spoonful of coconut butter and let it melt over the top. Once it was mostly melted, I topped it with a sprinkle of cinnamon/coconut sugar and BAM- Sticky cinnamon roll goodness!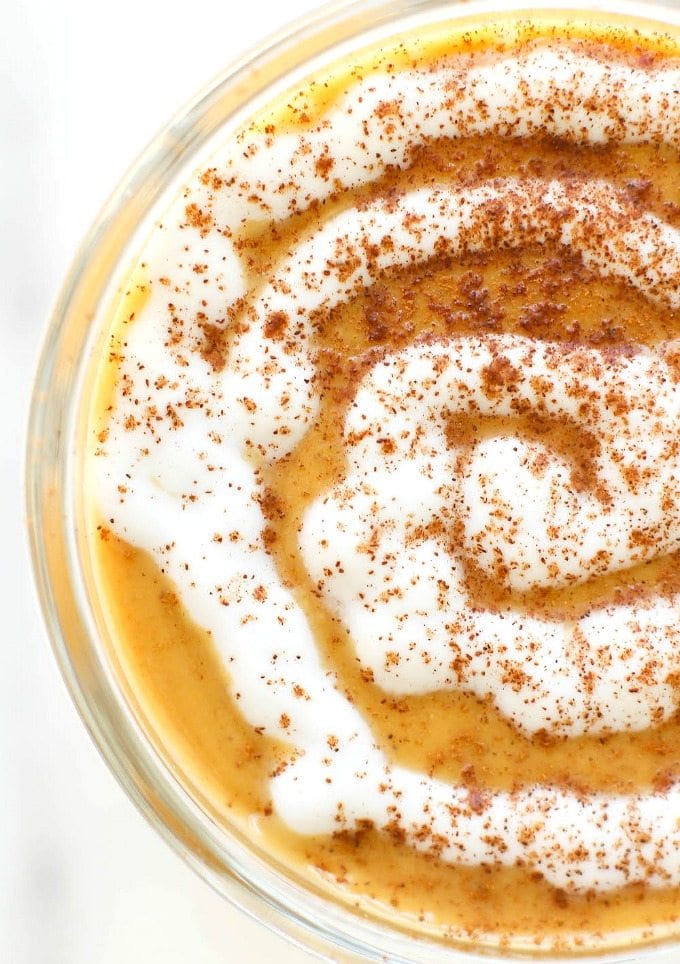 Make this healthy Warm Sticky Cinnamon Roll Smoothie and whether it's for breakfast, a snack or even brinner….
It's one thing. Comforting perfection.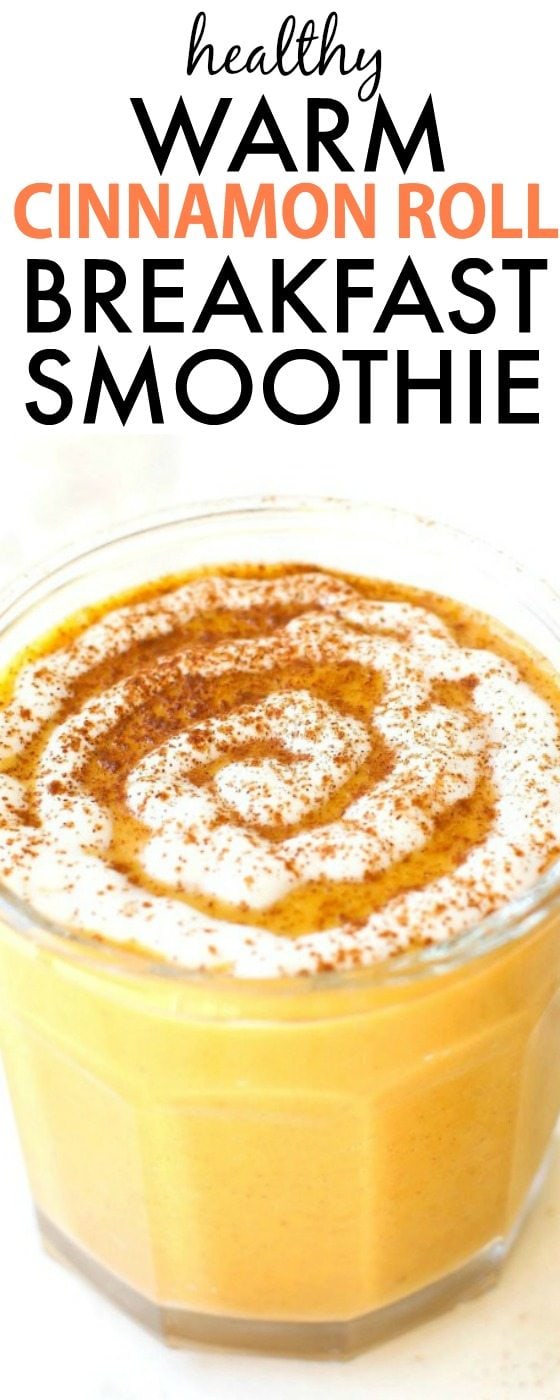 Healthy Warm Sticky Cinnamon Roll Smoothie
2016-09-30 23:56:15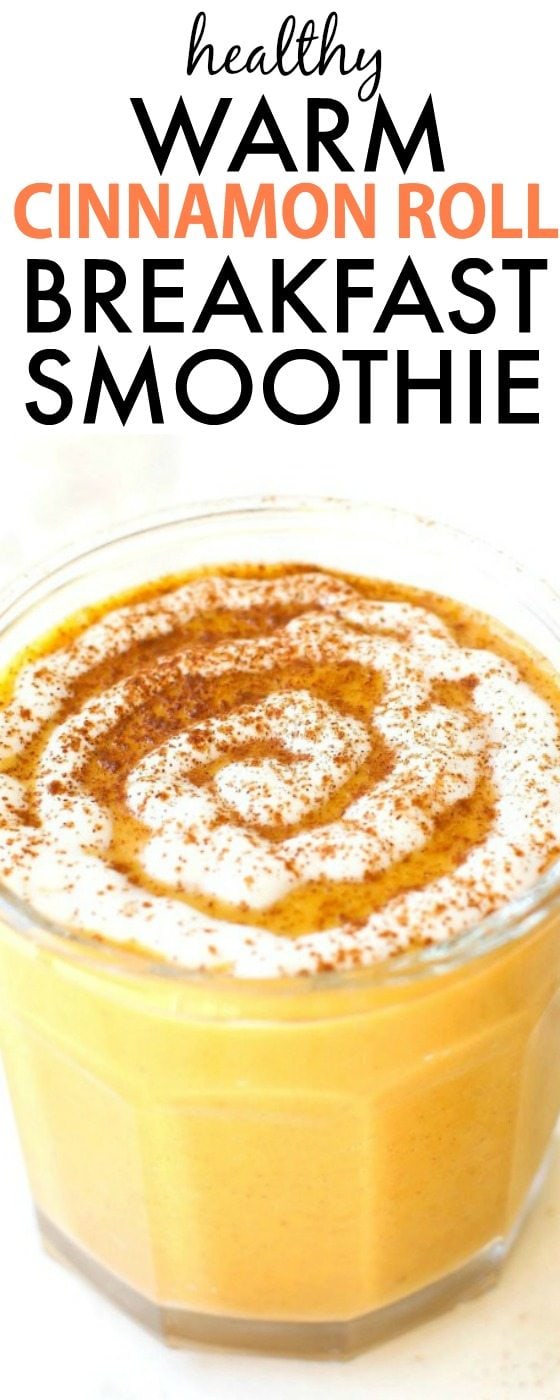 Serves 1
This thick, creamy and extremely comforting warm smoothie tastes just like a sticky cinnamon roll, but healthy! Packed with protein, fiber and naturally sweetened, this healthy warm sticky cinnamon roll smoothie is naturally gluten free, vegan, paleo, dairy free and refined sugar free!
Ingredients
1/2 of a baked sweet potato (peeling removed)
2-3 pitted Medjool dates or 1 T sweetener of choice
1/2 tsp cinnamon
1 scoop vanilla protein powder
1-1.5 cup non-dairy milk of choice
Coconut whipped cream and cinnamon for topping*
Instructions
Add the sweet potato, cinnamon, protein powder, and dates to a blender.
On the stove or in the microwave, bring the non-dairy milk to a boil.
Remove from heat. Add to the blender. Blend until smooth and thick.
Transfer to a glass, top with coconut whipped cream and cinnamon, enjoy!
Notes
* See above for sticky coconut butter option.
The Big Man's World ® https://thebigmansworld.com/

Friends, make sure you've connected with Natalie, not just on her blog but via social media- She can be found on Facebook, Twitter, Instagram, Youtube and Pinterest.
Ever put a sweet potato in a smoothie before?
Ever put a white potato in a smoothie? Not even kidding, there is a meat/potatoes heavy restaurant here that has a 'mashed potato sundae'.
The Big Man's World is a participant in the Amazon Services LLC Associates Program, an affiliate advertising program. This means that if you click and make a purchase, TBMW receives a small commission, at no cost to you. Cheers, hugs, and handshakes for supporting TBMW!