Enjoy all the flavors of a classic cinnamon roll with these high protein breakfast shake! Quick, easy and deceptively filling, this thick and creamy protein smoothie is completely sugar free, gluten free, low carb, paleo, vegan, dairy free and gluten free!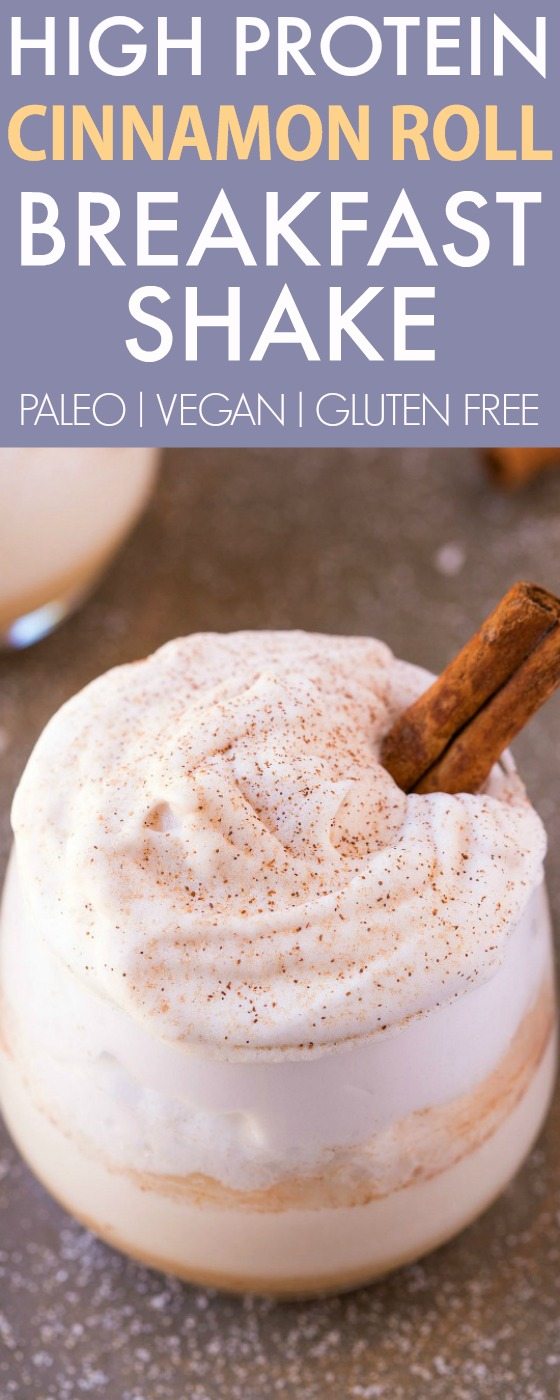 This cinnamon roll protein smoothie has been on repeat over the last 7 days and I have one thing to thank for it- F45 training.
For those of you who are unsure of what F45 is, it's physical torture a circuit like workout. As the name suggests, it goes for 45 minutes (except for Saturday, which goes for one hour) and is a mix of cardio, weights and core work. My favorite part is the names of the workouts- Renegade, Quarterbacks, Athletica, Romans, Firestorm and Hollywood.
I did Hollywood on Saturday and I did NOT feel like a million dollars or like a celebrity.
I felt dead and gross.
Wait, maybe the name is fitting.
Zing.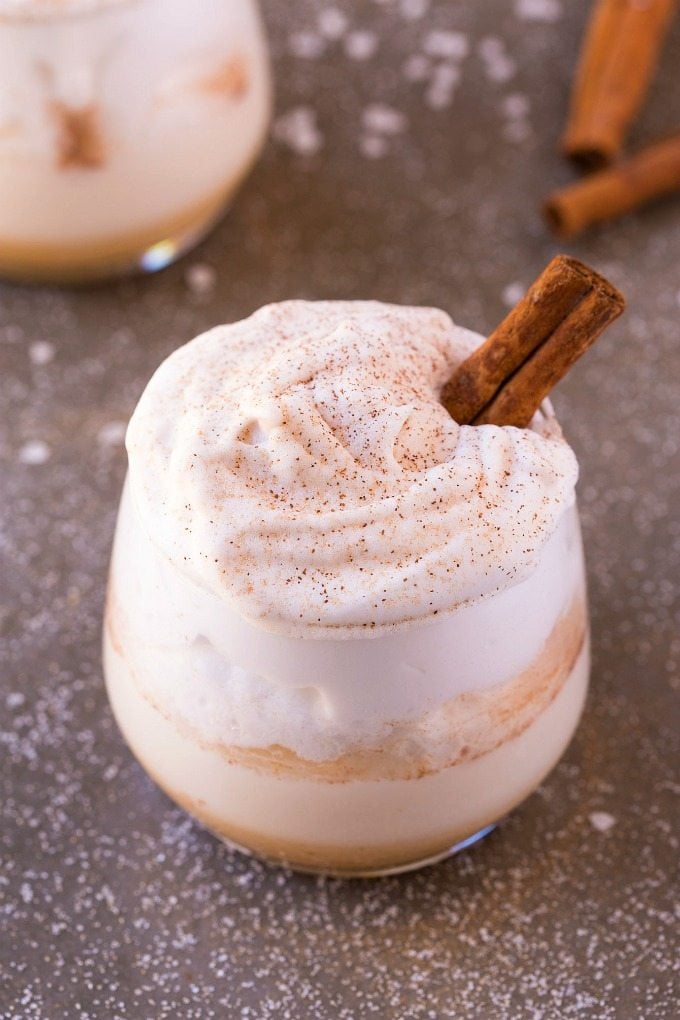 This cinnamon roll protein smoothie was supposed to be my breakfast after Saturday's "Hollywood" class, but let's just say the workout took it out me- What was supposed to be a Saturday lunch turned into a VERY early brunch.
No complaints.
ZING.
This healthy Cinnamon Roll Breakfast Shake is high protein, completely sugar free and can be made low carb with a few tweaks! Texture wise, it is thick, creamy and full of cinnamon flavor, with a creamy whipped topping on top, for something a little bit fancy! This protein smoothie is perfect for a filling and satisfying breakfast or the perfect post-workout snack to get you to brunch, lunch or dinner! Because of the ingredients used, it's completely paleo, vegan, gluten free, dairy free, grain free and low calorie!
Let's quickly chat key ingredients!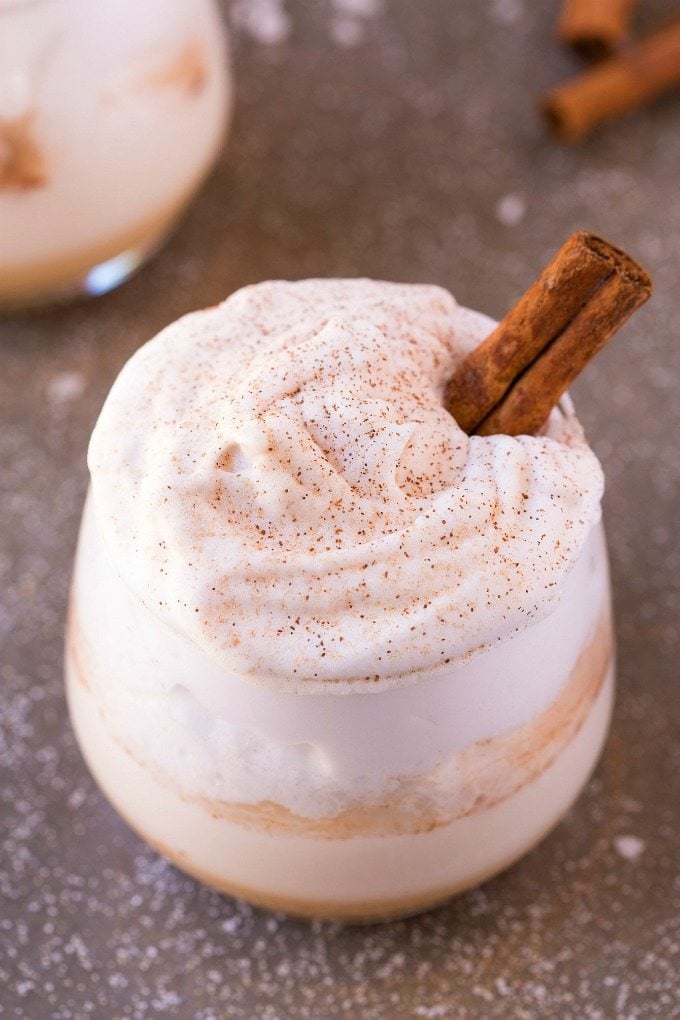 As this recipe is a high protein recipe, the protein powder is a key proportion. I've tried this with a new cinnamon bun protein powder, which compared to many other flavored protein powders, tastes legitimate! However, it is a casein blend, so my vegan and paleo friends won't be able to use this! As such, this brown rice vanilla protein powder, this vanilla casein protein powder and this vanilla paleo protein powder are all fantastic options. Furthermore, I've often spoken about how whey based protein powders are something I rarely use, as they become sticky and/or dry (in baked goods). This time, whey protein DOES work in this recipe! However, it still won't be as thick as the other protein powders.
Just saying.
To produce the 'cinnamon roll' flavor, you'll need to use a good quality FLAVORFUL cinnamon to it. Not all cinnamon is created equal, and some really have zero taste. My favorite cinnamon is without a doubt this Saigon Cinnamon which really comes out in recipes calling it for it! While it is a large canister, it is completely worth it! For satiety, the final key part of the protein shake is the nut butter! I prefer using cashew butter or almond butter, as they are mild tasting. Peanut butter works too, but it is very overpowering- Ensure you are a massive peanut butter fan if you do! For my friends with allergies, sunflower seed butter, soy nut butter and wow butter are all suitable alternatives too!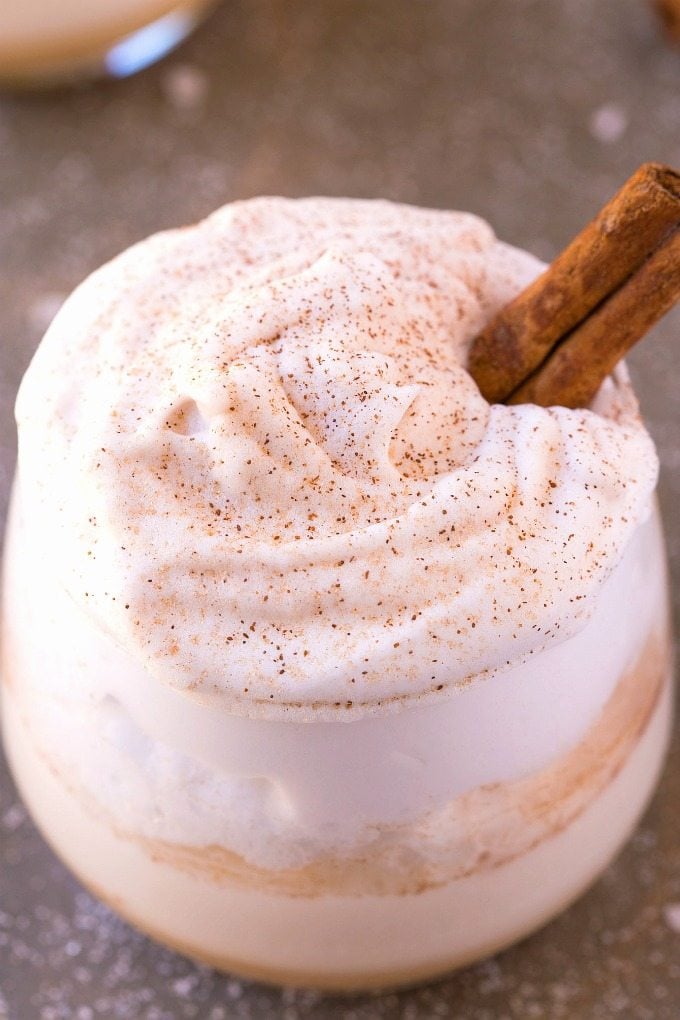 While most thick and creamy smoothies rely on frozen fruits, bananas, or oatmeal for texture, we'll be doing something a little different here- You can either use ice cubes or for some slow releasing carbs, some frozen pre-cooked sweet potato! This pairs really well with the cinnamon and also is mild tasting!
HACK! Don't want to use any protein powder? You can totally still enjoy this breakfast shake! Omit the protein powder, but ensure you use at least one full frozen banana (preferably two) or a full cup of frozen cooked sweet potato. As the protein powders are sweetened, ensure you add a tablespoon or two of your favorite granulated sweetener of choice!
Make this healthy protein shake meets protein smoothie meets breakfast and come join me for some F45 class.
Bring the blender.
Share this recipe on Pinterest
Love this Cinnamon Roll Protein Shake recipe?
Share it with the world on Pinterest.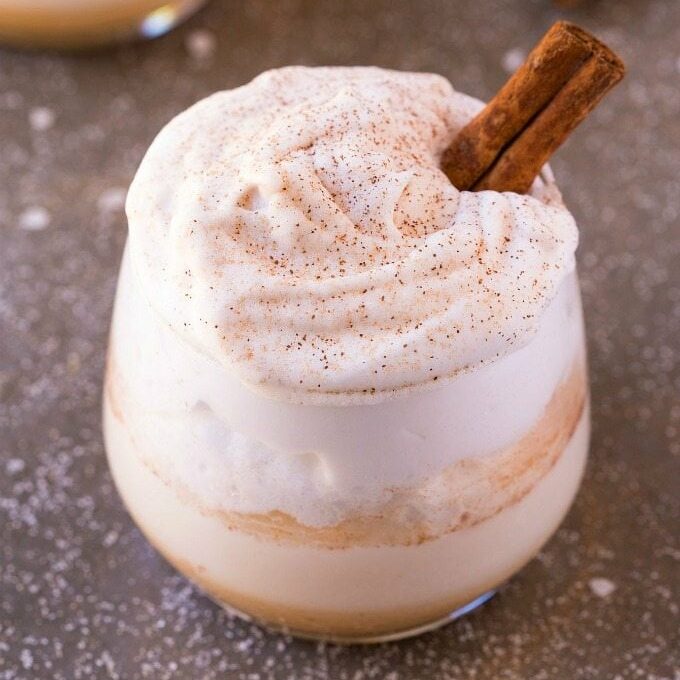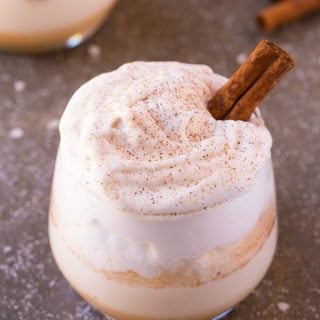 Cinnamon Roll Protein Shake
Enjoy all the flavors of a classic cinnamon roll with these high protein breakfast shake! Quick, easy and deceptively filling, this thick and creamy protein smoothie is completely sugar free, gluten free, low carb, paleo, vegan, dairy free and gluten free!
Instructions
In a high-speed blender, add your ice cubes, protein powder, cinnamon, granulated sweetener of choice (optional) and nut butter. Pour over your milk of choice. If using frozen banana/sweet potato, add now.

Blend until breakfast shake is thick and creamy. Pour into a tall glass and top with whipped topping of choice and a sprinkle of cinnamon.
Nutrition
Serving:
1
Smoothie
Calories:
125
kcal
Carbohydrates:
5
g
Protein:
12
g
Fat:
7
g
Sodium:
164
mg
Potassium:
121
mg
Fiber:
3
g
Calcium:
217
mg
Iron:
1
mg
NET CARBS:
2
g
More delicious smoothies meet protein shakes? Gotcha covered!
Healthy Low Carb Snickers Breakfast Shake
Healthy 3 Ingredient Banana Breakfast Smoothie
Healthy Layered Chocolate Raspberry Smoothie
Healthy 4 Ingredient Mixed Berry Breakfast Smoothie
Healthy Peppermint Patty Smoothie

Disclosure: This post may contain affiliate links. I may earn a small commission for my endorsement, recommendation, testimonial, and/or link to any products or services from this website.