These homemade keto bounty bars taste better than the original candy bar and need just 4 ingredients! This easy 5-minute recipe combined chocolate and coconut, and is a quick dessert which tastes like a Mound bar! Paleo, Vegan and Nut-Free!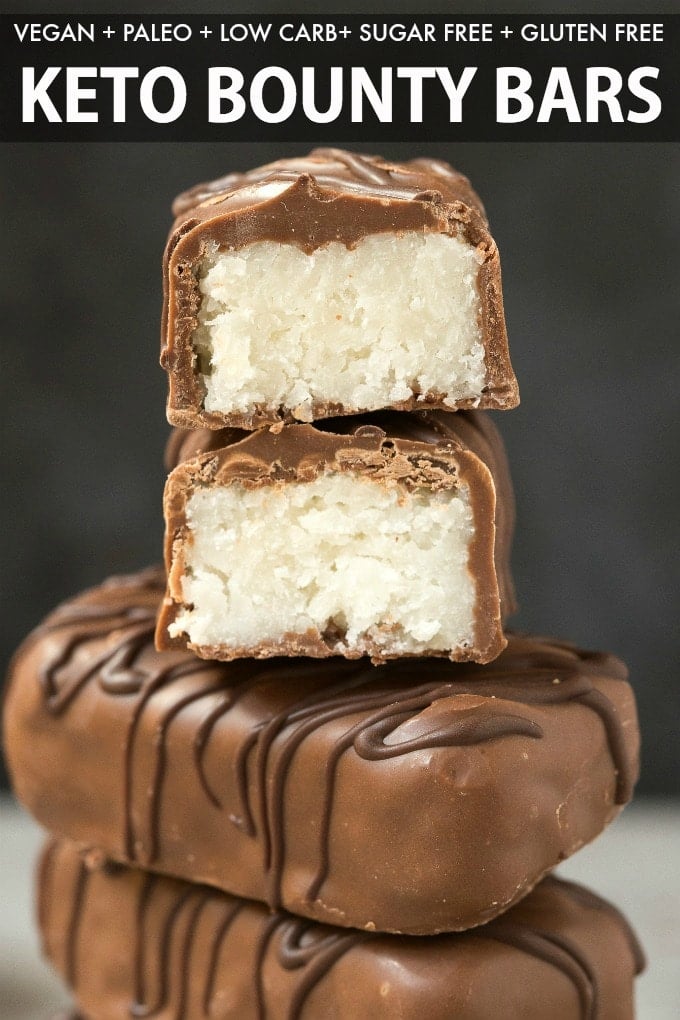 Homemade Bounty Bars
I am ALL about the low carb chocolate coconut recipes. I'm also all about the homemade candy bar copycat recipes.
It's no secret I love re-creating candy bars. We've had keto kit kat bars, keto Twix bars, and even a keto snickers.
It's also no secret that I love the chocolate and coconut combination- As seen in this chocolate coconut no bake bars recipe, truffles and even in coconut brownies.
It was only a matter of time before Bounty Bars made the picture!
I've made a paleo and vegan version of the popular bounty bar before, but not a keto version. Bonus? This recipe is also completely nut-free too!
When readers have asked me what a Bounty Bar is, I often assume they must be from the Northern Hemisphere.
Often referred to as Mounds Candy Bars, Bounty Bars are a thick and chewy coconut bar, covered in chocolate. In essence, Bounty Bars and Mound Bars are exactly the same!
Initially, I wanted to make my homemade bounty bars using coconut butter, but readers have mentioned in the past how difficult it is to find or make.
The texture of these homemade bounty bars is EXACTLY like the candy bar itself- The coconut filling is dense, slightly crumbly and slightly chewy.
Taste-wise, it's identical to what a normal bounty or mound bar would taste like- A sweet, coconut filling covered in chocolate!
To make my homemade keto bounty bars, you only need FIVE ingredients-
Shredded coconut flakes
Canned coconut milk
Keto Maple Syrup
Coconut Oil
Sugar Free Chocolate Chips
That's it!
SHREDDED COCONUT FLAKES
There are several kinds of shredded coconut flakes on the market. Generally speaking, they all can be used for the recipe, provided they are unsweetened.
The best kind of coconut to use would be shredded coconut flakes or macaroon style coconut flakes (often referred to as desiccated coconut).
These two kinds of coconut flakes have the best texture to ensure the bounty bars remain chewy and slightly crumbly. Any larger flakes, and you'll find it difficult to hold shape unless you compensate by adding more syrup.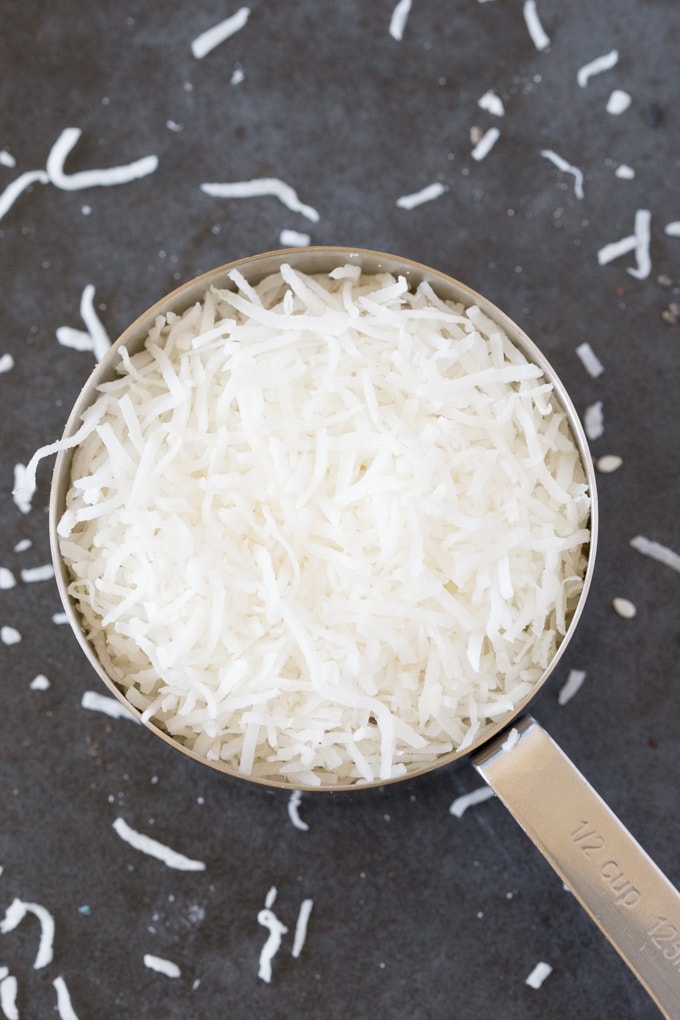 KETO MAPLE SYRUP
A syrup is highly recommended to be used, as it gives a subtle sweetness, but also helps hold the bars together better.
I use a keto maple syrup, which provides ample sweetness. It isn't overpowering and has a great, viscous texture.
SUGAR FREE CHOCOLATE CHIPS
Any sugar free chocolate chip brand can be used, provided they are suitable for your diet and have melting capabilities.
I use stevia-sweetened chocolate chips, which melt beautifully and have a great taste. A stevia sweetened chocolate bar can also be used to coat the coconut bars.
TIPS AND TRICKS FOR PERFECT HOMEMADE BOUNTY BARS
When making the coconut bars, work very quickly, in order to ensure the coconut oil doesn't start to separate.
It is best to use a high-speed blender or food processor to speed up the process, and also ensure the ingredients are fully combined. Mixing by hand is fine, but you'll find the bars to be a little more course.
Slice your coconut bars and place them in the freezer for 5 minutes, prior to dipping in the melted chocolate. This will ensure if you used a particular brand of shredded coconut which isn't as dense, it won't fall apart.
Store homemade bounty bars in the fridge, even though they keep at room temperature. This will ensure they maintain their shape and form. Enjoy homemade bounty bars at room temperature, as the coconut filling will have the best texture.
Keto bounty bars are freezer friendly and can last up to 6 months.
A quick and easy candy bar copycat, these homemade keto bounty bars will be your new favorite! Low carb, sugar free and ready in minutes, you have no excuses not to whip them up!

Share this recipe on Pinterest
Love this Homemade Keto Bounty Bars (Paleo, Vegan) recipe?
Share it with the world on Pinterest.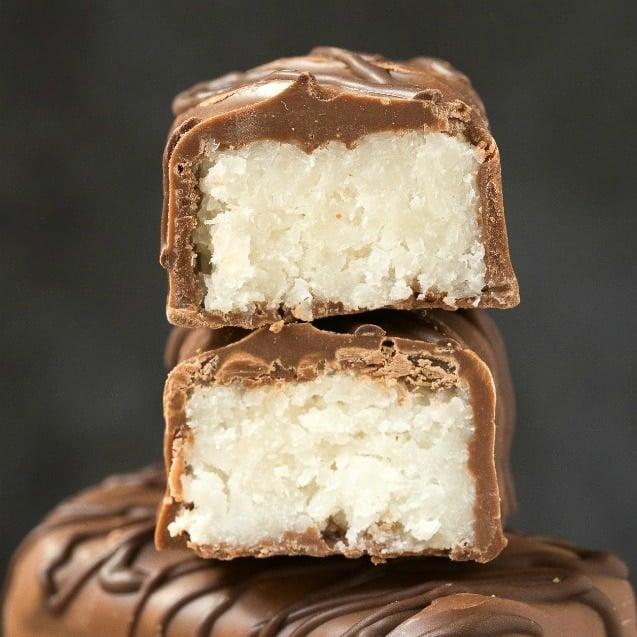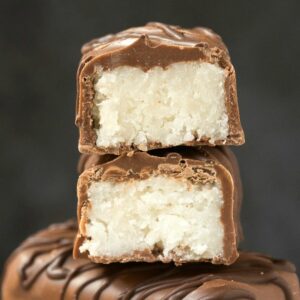 Homemade Keto Bounty Bars (Paleo, Vegan)
An easy candy bar copycat recipe for homemade bounty bars, made keto! Super low carb and sugar free, these homemade bounty bars (aka mounds bars) need 4 ingredients and take just 5 minutes! Paleo, Vegan, Gluten Free
Instructions
Line a 10 x 10-inch square pan with parchment paper and set aside.

In a high-speed blender or food processor (or large mixing bowl), blend all your ingredients, except for the chocolate, until a thick batter remains.

Pour the coconut batter into the lined pan and press firmly into place. Refrigerate until firm.

Once firm, cut your coconut bars up into 24 small bars or 12 larger ones. Place in the freezer.

Melt your chocolate chips of choice. Remove coconut bars from freezer and moving quickly, dip each bar in the melted chocolate until evenly coated. Once all the chocolate is used up, refrigerate the bounty bars until firm.
Notes
* Non-keto readers, feel free to sub this for pure maple syrup or agave nectar. Non-strict vegans can sub it for manuka honey.
** I prefer using canned coconut milk, as it is super thick. You can try another milk.
Homemade Keto Bounty Bars (Paleo, Vegan) can keep at room temperature but are best refrigerated. They are also freezer friendly, for up to 6 months.
Nutrition
Serving:
1
Bar
Calories:
168
kcal
Carbohydrates:
8
g
Protein:
3
g
Fat:
13
g
Fiber:
5
g
Vitamin A:
200
IU
Vitamin C:
1.7
mg
Calcium:
30
mg
Iron:
0.9
mg
NET CARBS:
3
g

Disclosure: This post may contain affiliate links. I may earn a small commission for my endorsement, recommendation, testimonial, and/or link to any products or services from this website.