Healthy Vegan Paleo Salted Caramel Fudge (Keto)
This healthy vegan paleo salted caramel fudge recipe needs just 5 minutes and 3 ingredients to make! It's smooth, creamy and made without condensed milk or butter. Instead, it uses cashew butter and coconut oil and sweetened with stevia. Keto, Sugar Free, Dairy Free.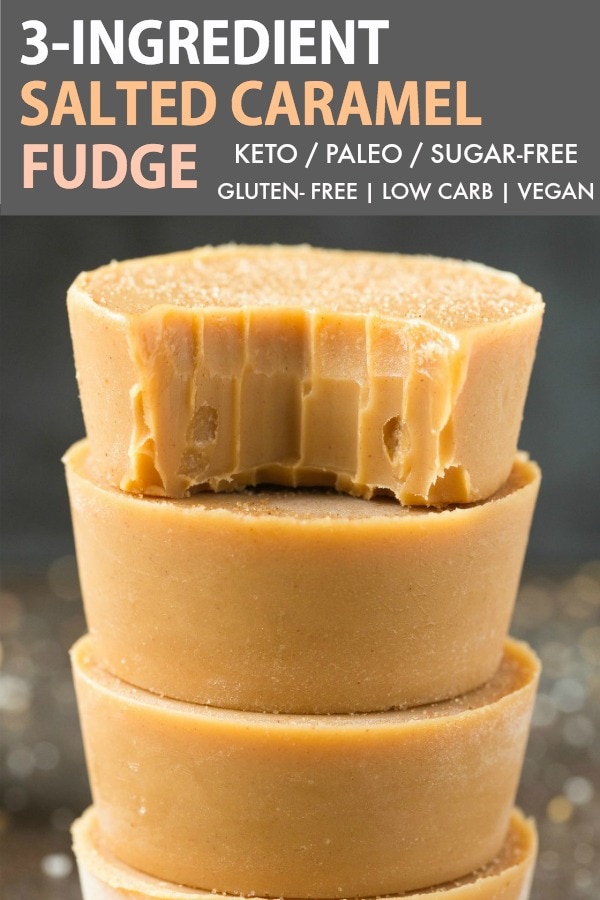 Dairy Free Vegan Salted Caramel Fudge
This post is sponsored by iHerb. Cheers, hugs and handshakes for supporting brands I adore with The Big Man's World ®
Fudge.
Hands down, one of my most favorite desserts of all time. However, something I'd eat on occasion, due to the unhealthy nature of it.
A few weeks ago, I tried a delicious refined sugar free fudge, thinking it was sugar free. While it was refined sugar free (no white sugar or high-fructose corn syrup), it was sweetened with dates.
I have no issues with dates (I adore them in fudgy brownie cookies, homemade brownie larabars, and raw flourless brownies), it definitely didn't follow a keto diet.
While dates do yield a caramel-like consistency, I wanted a keto-friendly and easier way to get my fix.
Enter iHerb and their range of groceries which could allow me to create a fool-proof creamy fudge made with NO sugar, NO condensed milk, and NO sugar.
I often use iHerb to stock up on nut butter, sticky sweeteners, and liquid stevias. I adapted one of my homemade fudge recipes to make one which had a salted caramel flavor!
With over 5,000 grocery products available, you have no excuses NOT to find something to fit your taste buds. Not only that, they ship to over 150 countries! Trust me, I've ordered from them in 5 different countries in 3 different continents.
Bonus? The customer service team can provide support and assist you in 10 languages.
How to make 5-minute fudge
This creamy, melt-in-your-mouth 5-minute fudge recipe needs just 3 ingredients and is completely dairy-free. It simply requires you to melt your three ingredients together and refrigerate or freeze until firm- That's it!
To make this creamy salted caramel fudge, you only need three ingredients-
A smooth nut or seed butter of choice
A sticky sweetener of choice
Coconut oil
Caramel stevia (optional)!
THE NUT OR SEED BUTTER OF CHOICE
The milder the nut or seed butter you use, the more prominent the salted caramel flavor would be.
I've tried this salted caramel fudge with a few varieties. For the best flavor, I would recommend using either cashew butter, smooth almond butter or for a nut-free alternative, sunflower seed butter.
These three nut/seed kinds of butter are super mild tasting, which really allows the salted caramel flavor to shine through.
Other nut or seed kinds of butter which work include smooth tahini and smooth peanut butter, but both these are quite overpowering, so I wouldn't recommend it unless you really enjoy either of these flavors.
THE STICKY SWEETENER
Paleo and vegan friends, you have two options here- Either pure maple syrup or agave nectar. The sweetness is mild tasting and works well to keep this recipe together.
Keto and sugar-free friends, this works with a monk fruit sweetened maple syrup– This is the only kind of sugar-free syrup I'd recommend using, as it has the consistency needed to hold this easy salted caramel fudge together.
COCONUT OIL OR COCONUT BUTTER
I used to think coconut oil and coconut butter were the same things. After attempting to eat an entire spoonful of coconut oil, thinking it was possible to consume it as though it were coconut butter, I realized how different they were.
Coconut oil is like any oil on the market- It's the oil which has been extracted from the coconut.
Coconut butter is blended coconut flesh, which produces a creamy, sweet spread.
You can technically use either in this recipe, but I find coconut oil gives it a better texture and really notes the salted caramel flavor.
The final ingredient is the English Toffee stevia, which is optional but highly recommended. It provides that extra caramel flavor to take it up a notch while giving it a little extra sweetness.
Please note that this is completely optional- There is already ample sweetness in the syrup used.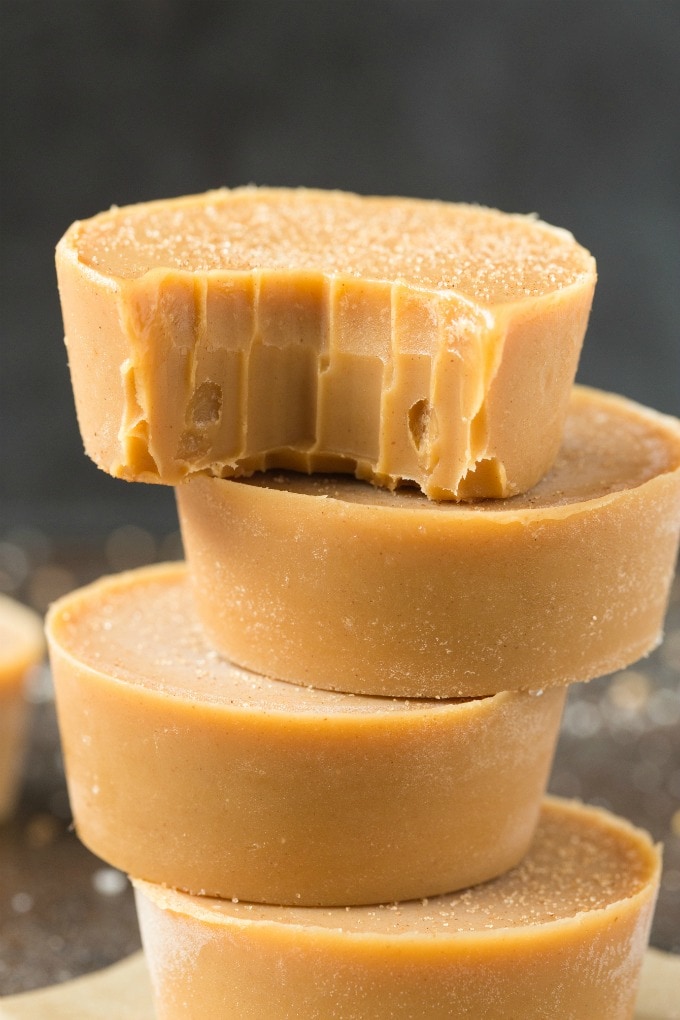 Something for YOU!
All customers can get a discount from their iHerb order and if you haven't ordered from them before, well…you get an extra $5 off, for all purchases over $40! Just click here and start loading up your basket with goodies!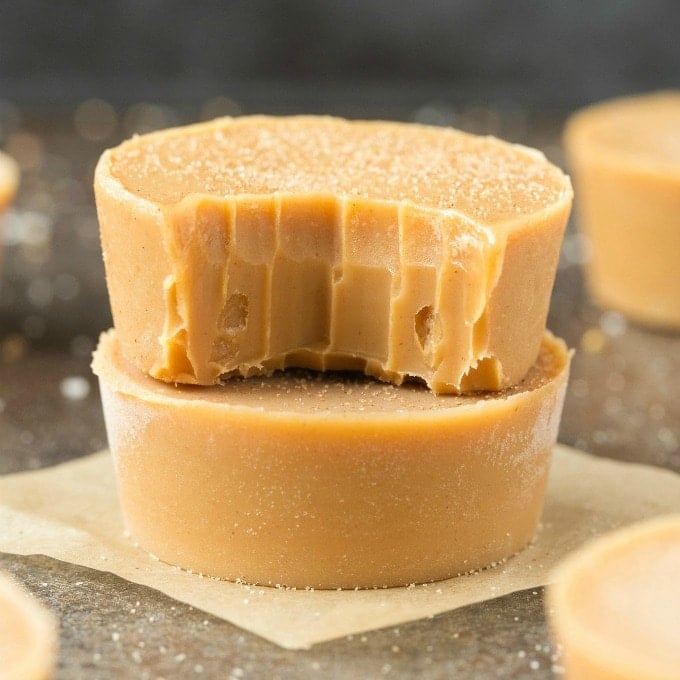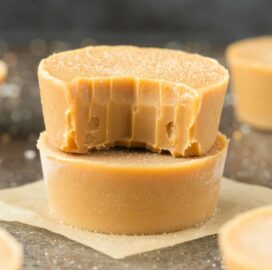 Healthy Vegan Paleo Salted Caramel Fudge (Keto)
An easy 5-minute recipe for smooth, creamy and healthy salted caramel fudge! Made with just 3 ingredients, it's naturally vegan, paleo, keto, and dairy-free! The perfect dessert or treat!
Print
Pin
Rate
Instructions
Line a 24-count mini muffin tin with muffin liners and set aside.

In a microwave-safe bowl or stovetop, combine all your ingredients. Heat until just melted.

Remove from heat and whisk very well, until a smooth, glossy texture remains. Add optional liquid stevia and mix once more.

Divide the fudge batter evenly amongst the lined muffin tray. Refrigerate for at least 30 minutes, until firm.
Notes
* Listed is pure maple syrup. For a keto option, use a monk fruit sweetened maple syrup.
Healthy Vegan Paleo Salted Caramel Fudge (Keto) should be kept refrigerated at all times. This fudge is also freezer friendly.
Nutrition
Serving:
1
Cup
|
Calories:
52
kcal
|
Carbohydrates:
4
g
|
Protein:
3
g
|
Fat:
5
g
|
Fiber:
3
g
|
Vitamin A:
100
IU
|
Vitamin C:
1.7
mg
|
Calcium:
10
mg
|
Iron:
0.5
mg
|
NET CARBS:
1
g