Smooth, creamy, melt in your mouth no bake protein fudge bars which need just 4 Ingredients! Quick, easy and the perfect snack, dessert or post workout treat, these healthy fudge bars are vegan, gluten free, dairy free, sugar free and flourless!


It's been a week since CLEAN SWEETS has hit the shelves and online retailers, and I'm still pinching myself that it has actually happened!
While the Clean Sweets Cookbook focuses on healthy, high-protein desserts for one, there are a handful of small batch recipes included too. One of those is these delicious 4 Ingredient Buckeye Balls (page 148). I wanted to do something a little different, and share a recipe from my cookbook with a twist- Share them in a different form, and one which had more than one serving!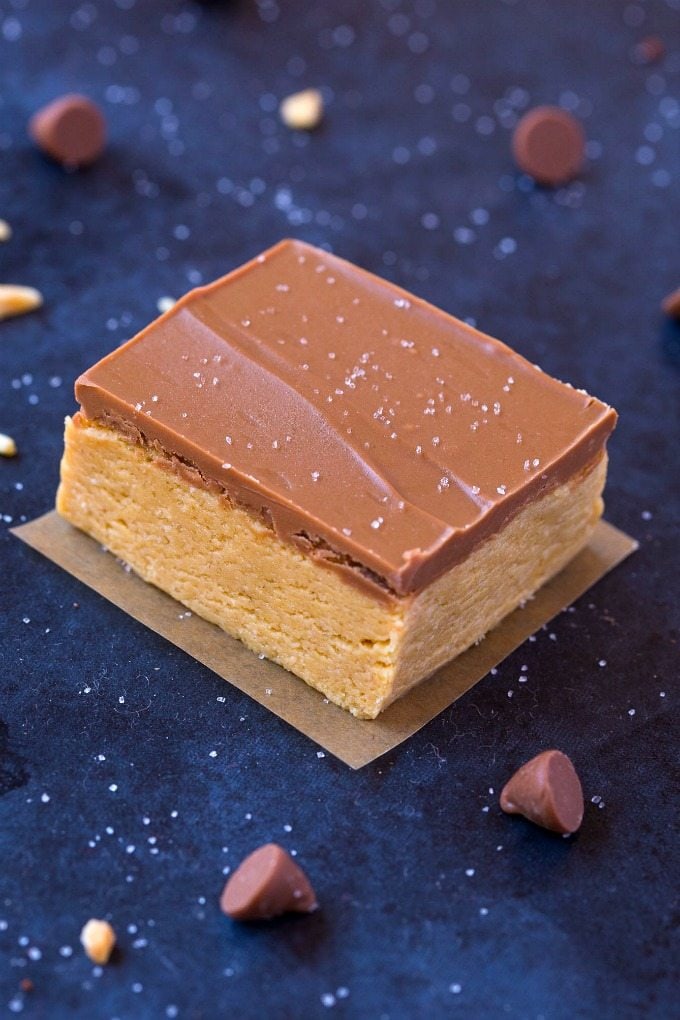 These healthy 4 Ingredient no bake protein fudge bars are one of my favorites- It combines some of my favorite recipes in one from the blog- No bake protein bars meets maple almond fudge meets deliciousness! They also use 4 easy ingredients and require zero baking, so it's the ultimate arman lazy person's recipe. Bonus? They can be enjoyed completely guilt-free, and would totally pass as a pre or post workout snack!
Smooth and creamy fudge which is good for you? This is exactly what this recipe entails. It has the taste and texture of traditional fudge, minus any of the butter, oil, flour or condensed milk. The texture can be changed based on your preferences too. For a melt-in-your-mouth fudge bar, enjoy at room temperature. For a chewier bar, enjoy directly for the freezer, and for the ultimate combination of both, enjoy from the fridge!
Traditional buckeye bars (are delicious) are generally based on peanut butter, sugar and a coating of chocolate. My version is a little different and a whole lot healthier for you! The buckeye balls from my cookbook include some of my favorite ingredients- cashew or peanut butter, ground oats, brown rice syrup, and some protein powder! This also makes this recipe suitable for those following a vegan, gluten free, dairy free, refined sugar free and sugar free diet!
Unless you are allergic to peanut butter, I DO recommend you use it, as this is what the classic inspiration is based around. However, if you aren't a fan of it or don't have any on hand, feel free to use cashew butter or almond butter. For my friends with allergies, sunflower seed butter or soy nut butter are great alternatives. In fact, I think I preferred the sunflower seed butter best. As for the color, just remember taste overrides beauty.
ZING.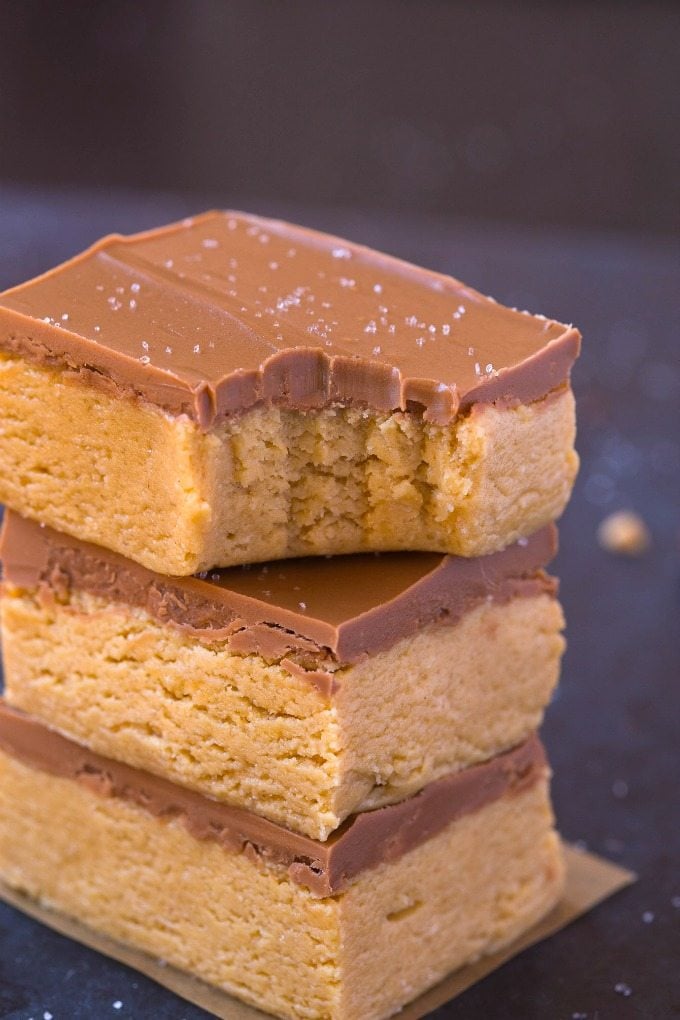 Brown rice syrup can be a hit and miss with some people, and I'm definitely in the hit category. I'm yet to find a sticky sweetener which holds things together like brown syrup does. If you don't have any on hand, I recommend pure maple syrup or agave nectar. Honey will work too, but it is VERY overpowering, just like peanut butter. If you don't use brown rice syrup, you will need to add an extra tablespoon of whichever sweetener you use, as it doesn't have the stickiness.
Want to keep this 100% sugar free? I have you covered! While I personally am not a fan of it, this DOES work with sugar-free maple syrup. The difference is that the protein fudge bars get softer when left at room temperature sooner than their refined sugar free counterparts!
4 ingredient no bake fudge bars are naturally high in protein, but you can add some vanilla protein powder to it to take it up a notch! Do not use a whey protein powder for it, otherwise, the bars won't form. If whey protein is all you have, feel free to use it, but don't leave it at room temperature, and consume from the freezer.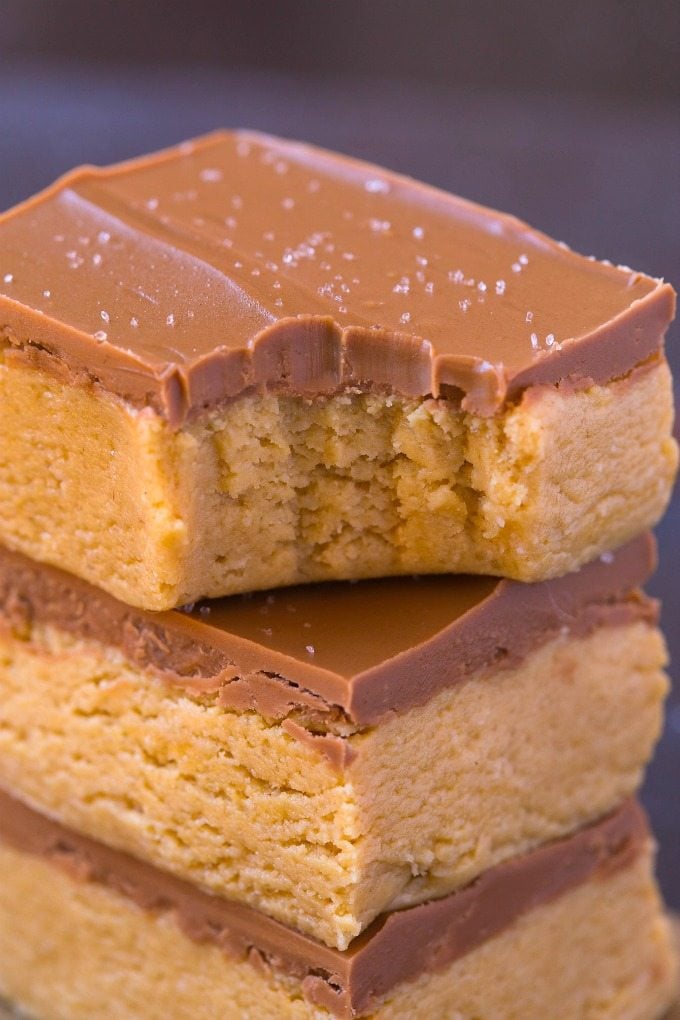 To say that the chocolate topping is optional would be blasphemy, but it is. These bars are super fudgy as they are, and honestly, don't even need the chocolate. However, we want to stay true to the cookbook and a classic buckeye, which covers the delicious peanut butter morsels. You can either use my favorite protein frosting, an easy coconut cream ganache (1 can full-fat coconut milk and 1 package of chocolate chips of choice), or simply melt your favorite chocolate bar over the top.
A healthy snack, after dinner dessert or even a pre or post workout treat, these protein fudge bars will be your new favorite!
4 Ingredient No Bake Protein Fudge Bars (Vegan, Gluten Free, Sugar Free) adapted from Healthy No Bake Buckeyes from CLEAN SWEETS- Simple, High-protein desserts for one, Arman Liew.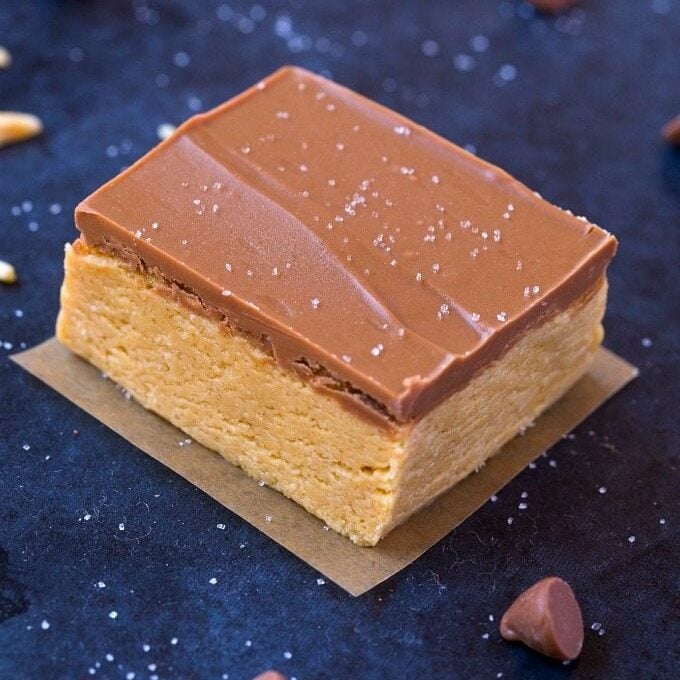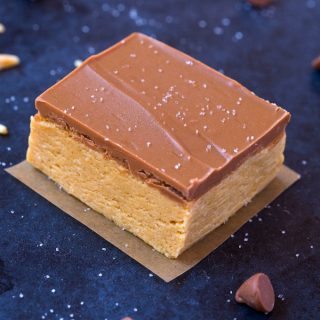 Protein Fudge
Smooth, creamy, melt in your mouth no bake protein fudge bars which need just 4 Ingredients! Quick, easy and the perfect snack, dessert or post workout treat, these healthy fudge bars are vegan, gluten free, dairy free, sugar free and flourless!
Instructions
Line an 8 x 8 inch loaf pan or cake tin with parchment paper and set aside.

In a mixing bowl, add your ground oats and vanilla protein powder and set aside.

In a microwave safe bowl or stovetop, combine your peanut butter with brown rice syrup and melt together. Whisk to ensure it is combined. Pour into the dry mixture and mix until fully incorporated. If batter happens to still be crumbly, add water/milk until a thick batter remains.

Pour batter into lined baking dish and press firmly into place. Refrigerate for at least 20 minutes to firm up. Once slightly firm, top with optional chocolate frosting and refrigerate for a further 40 minutes. Remove and cut into bars.
Notes
* If you use agave or maple syrup, increase the amount by a tablespoon
** Only necessary if batter is crumbly. It shouldn't be.
These flourless protein fudge bars need to be kept refrigerated, and are freezer friendly. For a super fudgy bar, enjoy at room temperature.
Nutrition
Serving:
1
Bar
Calories:
184
kcal
Carbohydrates:
12
g
Protein:
12
g
Fat:
10
g
Sodium:
112
mg
Potassium:
177
mg
Fiber:
2
g
Calcium:
30
mg
Iron:
1
mg
NET CARBS:
10
g
More delicious no bake snacks? Gotcha covered!
No Bake White Chocolate Raspberry Protein Bars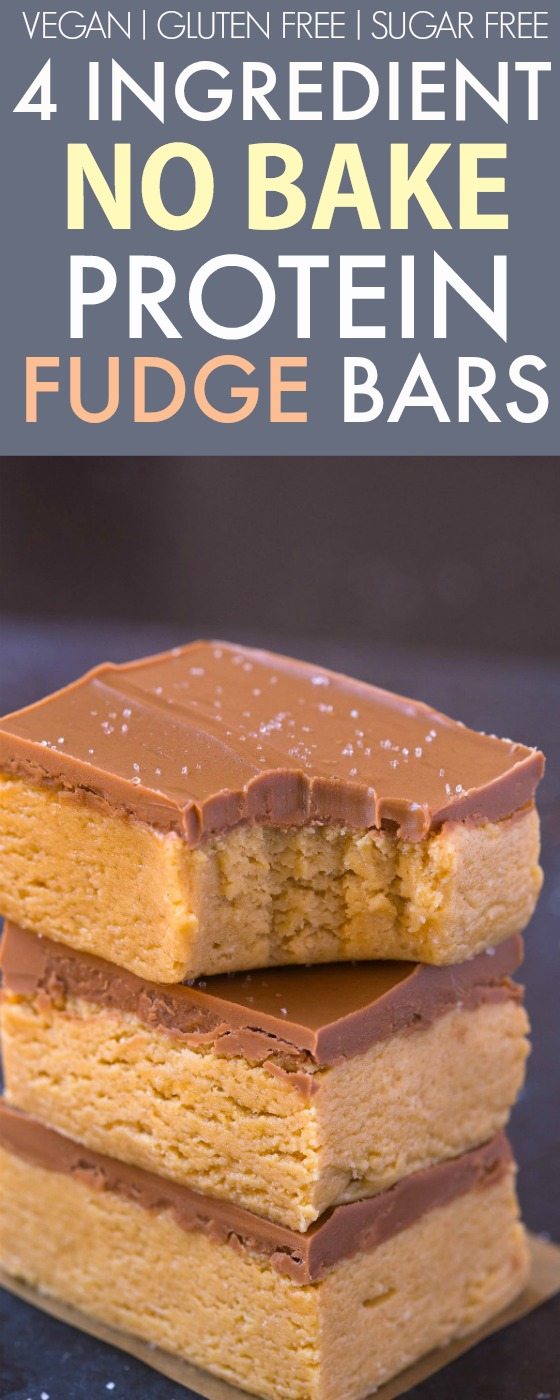 Disclosure: This post may contain affiliate links. I may earn a small commission for my endorsement, recommendation, testimonial, and/or link to any products or services from this website.