This protein bread is light, fluffy, and guaranteed to keep you full all day long. Made with only 6 ingredients, this simple gluten-free recipe is loaded with flavor AND has over 11 grams of protein per slice!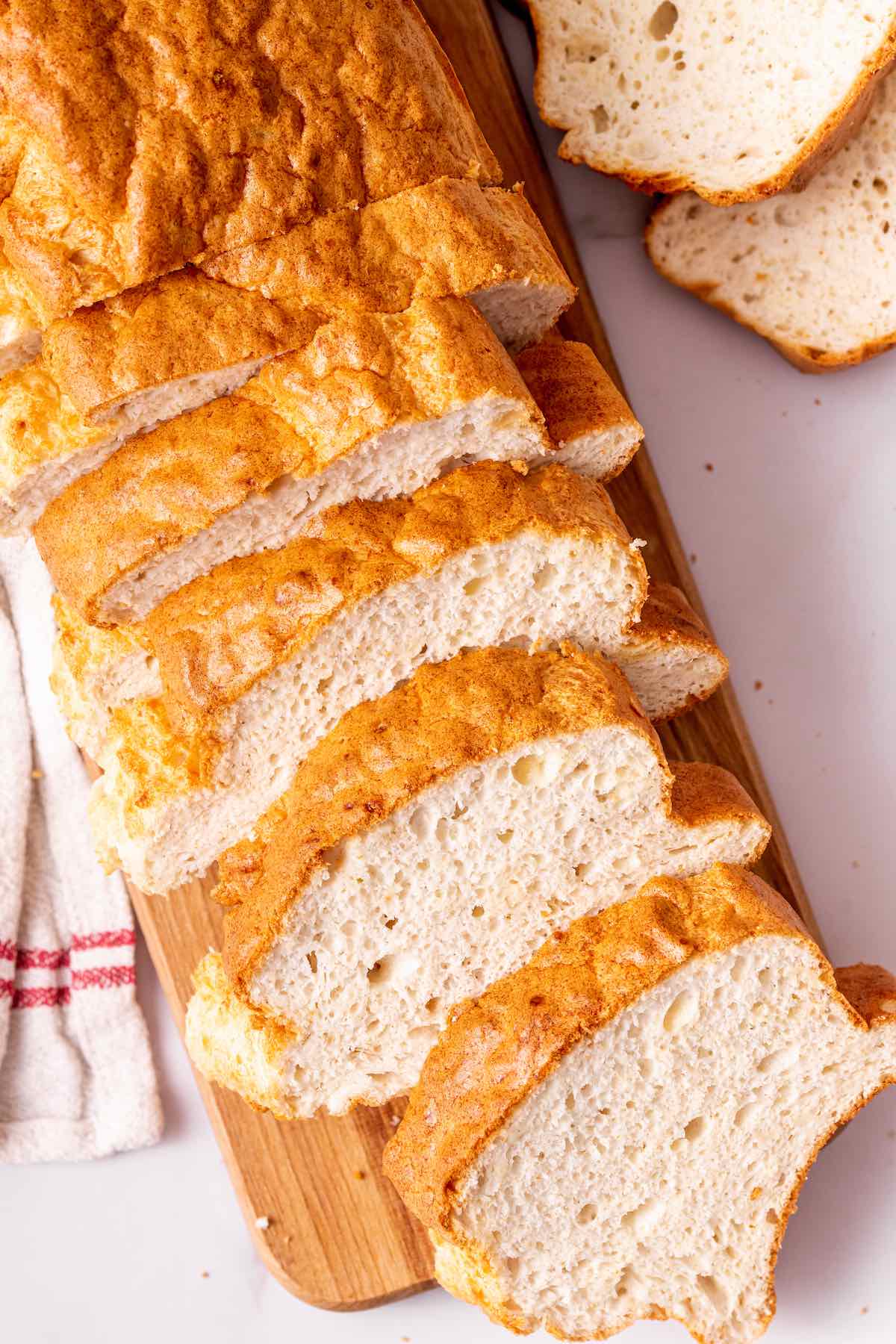 Adding protein to everyday foods is one of my secret hacks for fitting muscle-building nutrition into my daily diet.
Some of my favorite foods to add protein to are donuts, cheesecake, and banana bread. Since all those recipes are sweet treats, I made a more traditional bread recipe.
Table of Contents
What is protein bread?
Simply put, protein bread is made with every ingredient to increase protein. Unlike typical bread recipes, which use all-purpose flour, this recipe uses almond flour to make a gluten-free alternative that packs even more protein per serving.
In addition, both whey protein powder and psyllium husk powder are added for protein, fiber, and texture, making for a rich loaf of bread. The resulting recipe is super satisfying and can be used just as you would regular bread.
Why this recipe works
It's entirely gluten-free. None of the traditional bread ingredients are needed, making this a gluten-free alternative. You can even swap the whey powder for a nondairy alternative to make it dairy free as well.
It uses only one bowl. So cleanup is a breeze!
No yeast needed. No need to wait for the bread to rise. Just whip up the batter and toss it in the oven. It doesn't get any easier.
What I love most about this recipe is how you can't even tell it's loaded with protein. Some protein breads tastes bland and leaves a powdery texture, but this recipe has a nice crumb and fluffy interior. Your friends and family will never be able to tell this is anything other than a homemade bread recipe.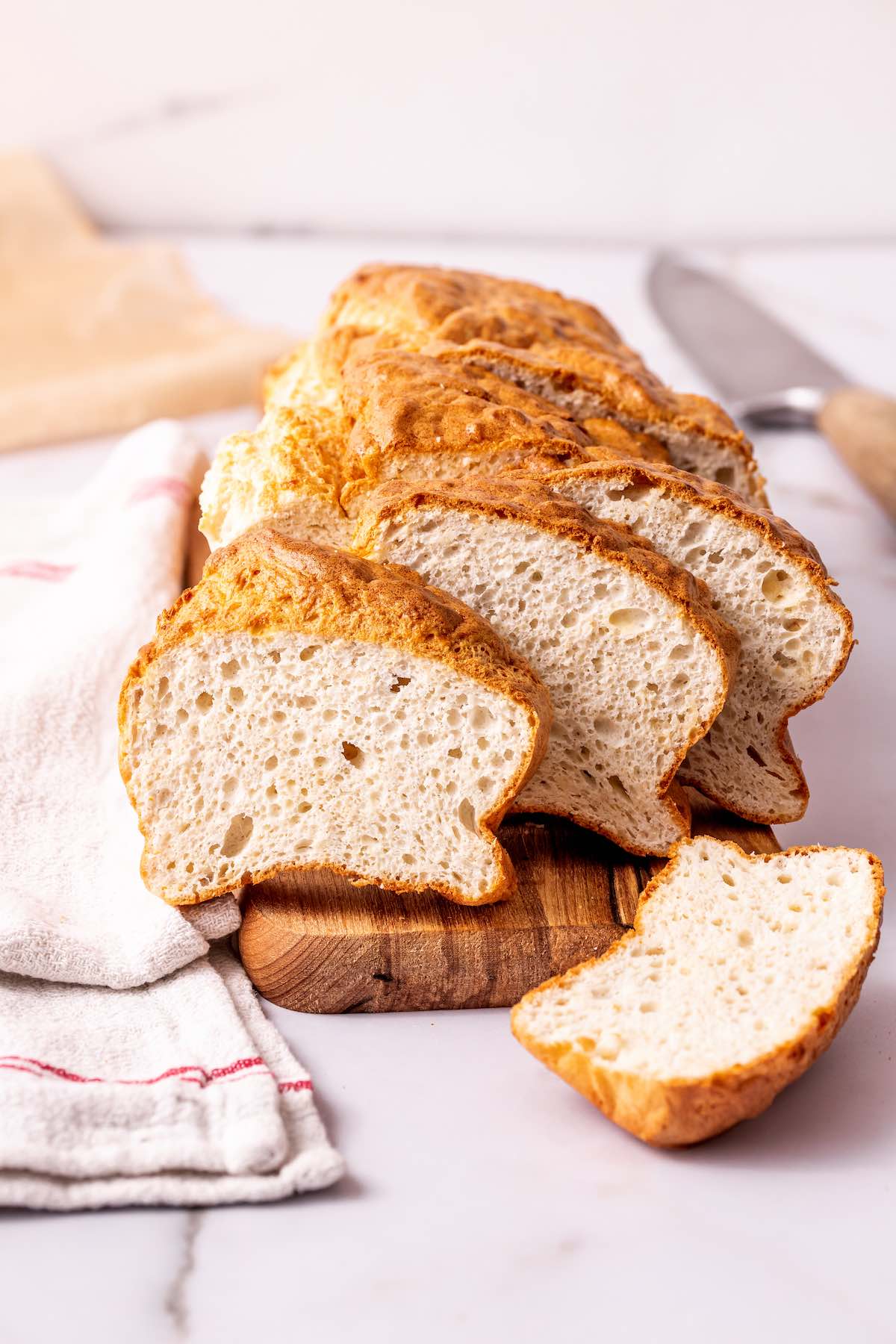 How to make protein bread
It's honestly just as easy as making regular bread.
Egg whites. 10 egg whites, to be specific. Use the egg yolks in this lemon curd.
Ingredient tip
Avoid using egg whites from a carton, as they have been heavily processed and sometimes can cause the bread to sink in the middle.
Salt. To add flavor.
Whey protein powder. I recommend unflavored since we're making a standard bread recipe. You can also swap whey for pea, soy, or brown rice protein.
Almond flour. Look for almond flour, not almond meal. If you don't have any, you can make your own.
Psyllium husk powder. This is a gluten-free substitute to help bind the ingredients and add elasticity.
Baking powder. To help the dough rise.
Step 1- Whisk the egg whites
First, preheat the oven to 160°C/320°F. Then, line a bread loaf tin with parchment paper and set aside.
As the oven preheats, grab a large clean and dry bowl and whisk the egg whites and salt until stiff peaks form. This should take around 5-7 minutes and can be done by hand, with a hand mixer, or with a standing mixer.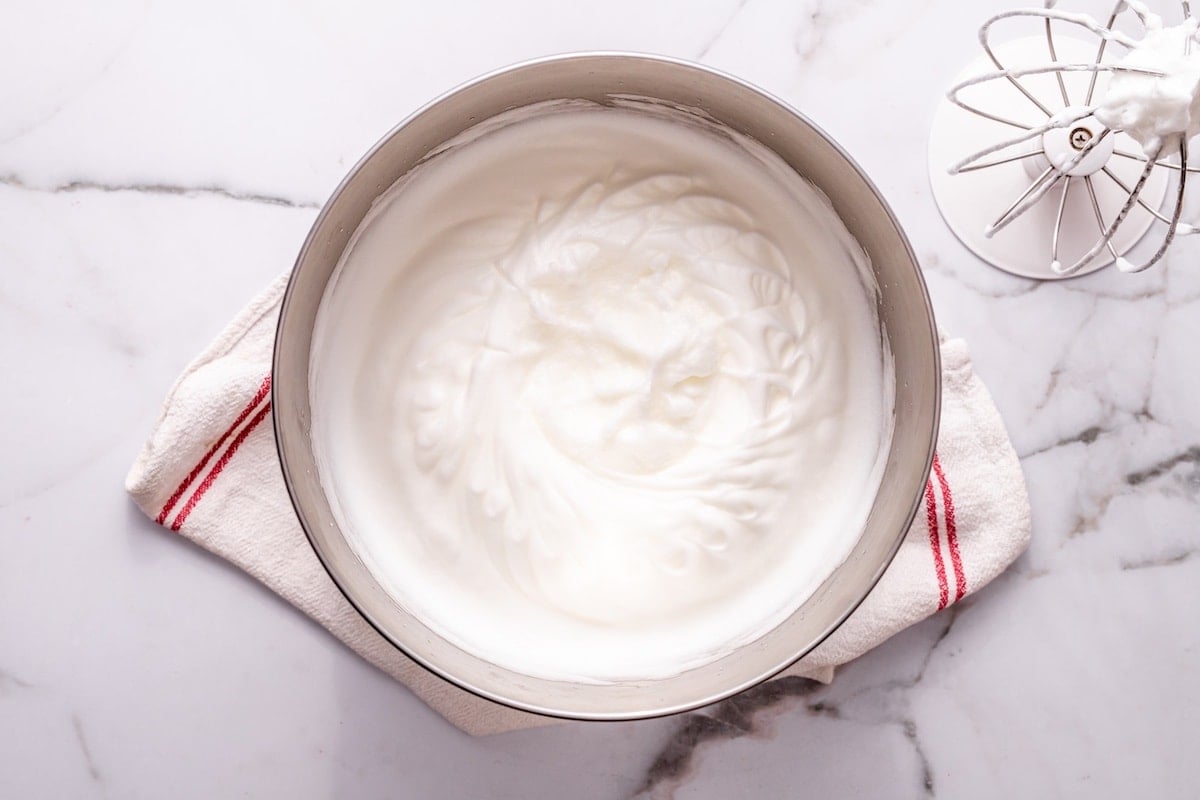 Step 2- Form the bread dough
Once you have stiff peaks, add the whey protein, almond flour, psyllium powder, and baking powder and gently whisk to combine.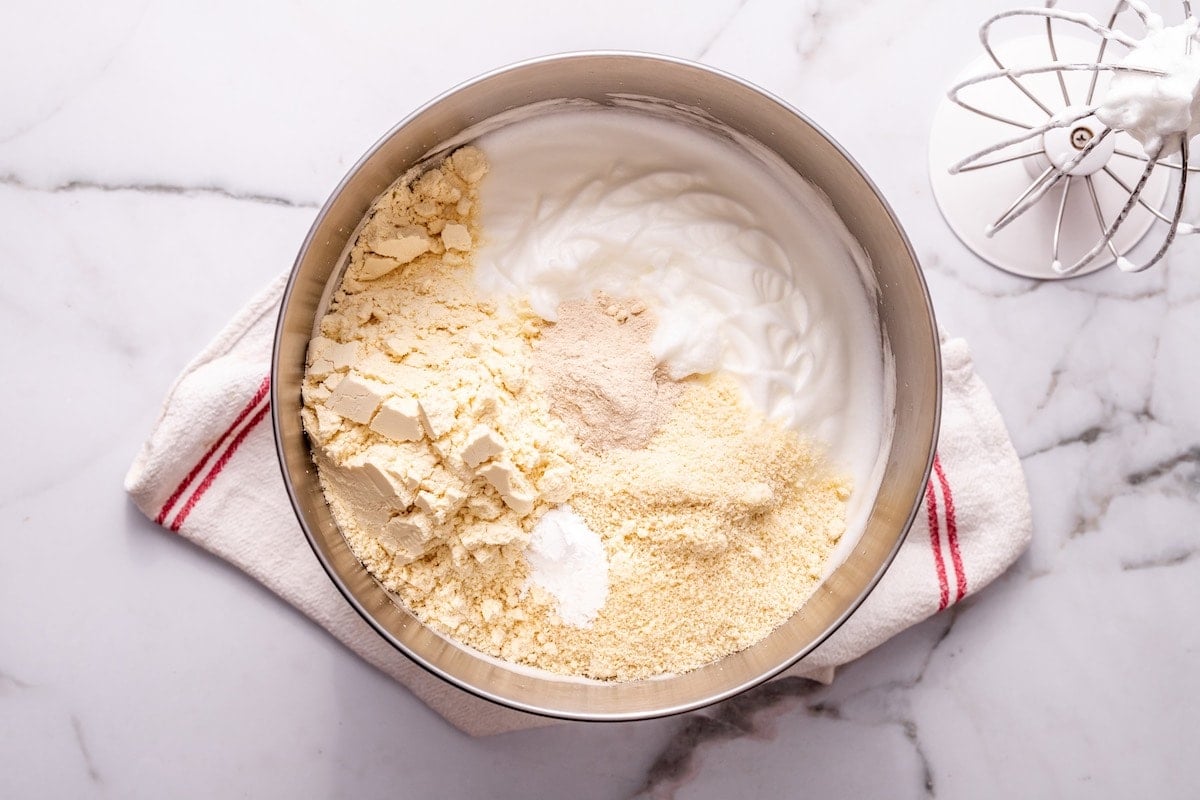 Step 3- Bake the bread
Now that you have a fully formed dough transfer it to the loaf tin using a spatula and carefully form it into an even shape.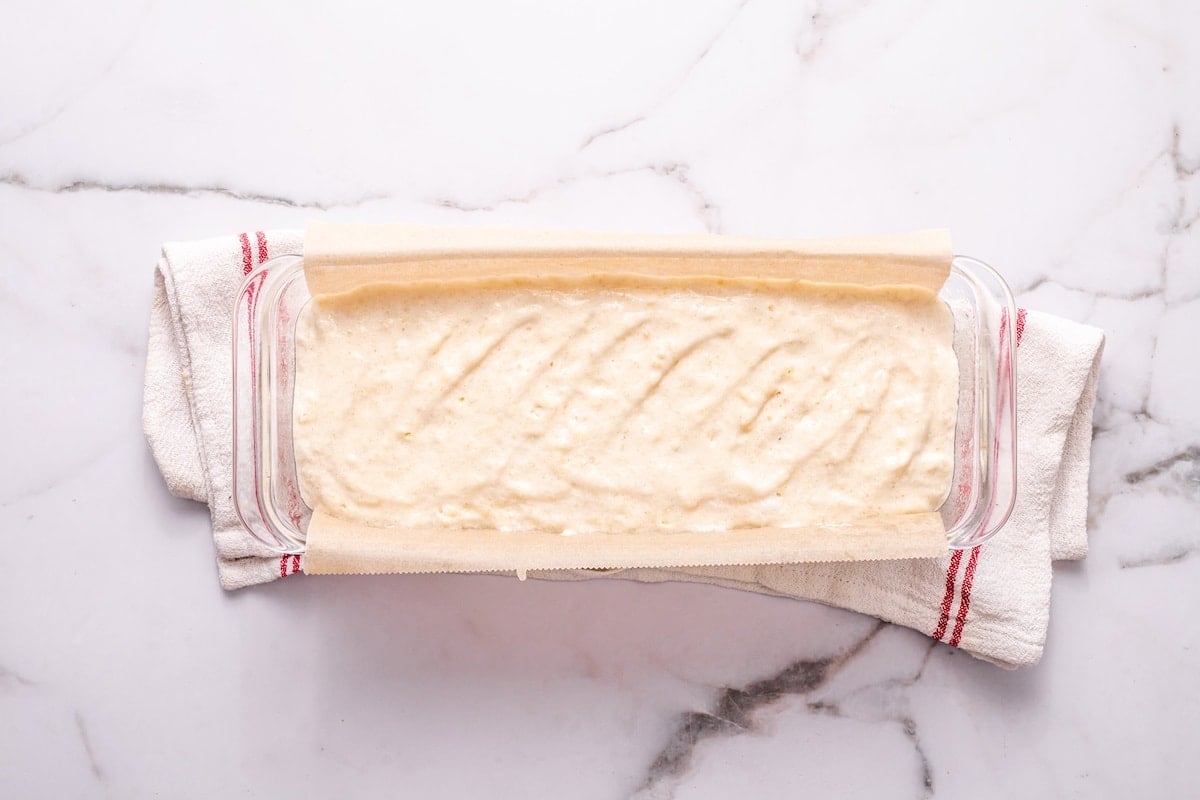 Bake the bread for 30 minutes, then turn the oven off and open the door slightly, just enough for the oven to cool.
IMPORTANT!
If you remove the bread from the oven right away, the change in temperature will cause the egg whites to deflate.
Step 4- Cool the bread and serve
Allow the bread to continue cooling in the partially open oven for 30 minutes, then remove it, slice, and serve as desired.
Don't overmix the dough. This can deflate the egg whites, which will make for dense and chewy bread.
Use room temperature eggs. They will whisk up faster than cold eggs.
Use an 8 x 4-inch loaf pan. This will allow the bread to rise and have a good texture.
Leave some parchment paper over the sides. About 1-2 inches will make removing the bread from the pan much easier.
Choose the right protein powder. It is important to use a high-quality protein powder to give your bread a good texture and flavor. Look for a protein powder with minimal ingredients and no added sugar.
Add fiber. To increase the nutritional value of your protein bread recipe, consider adding fiber-rich ingredients like chia seeds, flax seeds, or psyllium husk powder.
Let it cool completely. Allow the bread to cool completely in the pan before slicing it. This will help it maintain its shape and prevent it from crumbling or deflating.
What to serve with protein bread
The sky is the limit when it comes to enjoying your protein packed bread. Here are some ideas to get you started!
Storage instructions
To store: Store leftovers in an airtight container, in the refrigerator, for up to one week.
To freeze: Transfer cooled bread to an airtight container or freezer-safe bag and store it in the freezer for up to 3 months. Allow it to thaw overnight in the fridge before using.
To reheat: Slice and toast the bread as you would regular bread.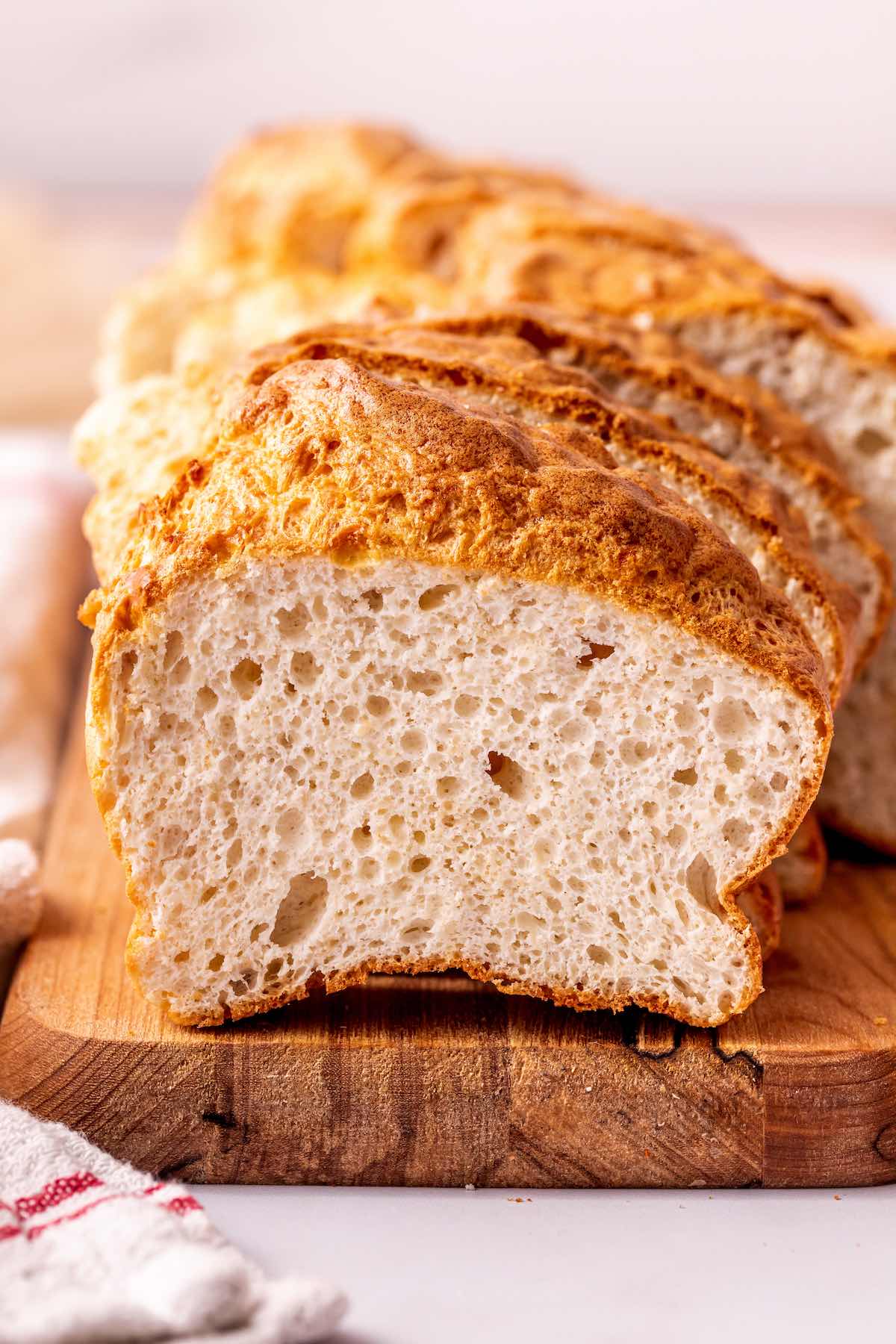 Frequently asked questions
What is the difference between normal bread and protein bread?
Simply put, protein bread is a way of making bread where every ingredient is geared towards adding more protein. From the flour choice to adding protein powder, the purpose is to add as much protein as possible.
How much protein is in homemade protein bread?
Protein bread has at least 11 grams of protein per slice. Serve it with nut butter or eggs to add even more protein.
Can I use whey protein powder to make protein bread?
Yes, whey protein powder can be used to make protein bread. However, be aware that whey protein powder can cause the bread to have a denser texture, so be sure not to overbake it.
Is protein bread gluten-free?
Protein bread is gluten-free as it is made with gluten-free ingredients like almond flour. Be sure to check the ingredients of your protein powder, as some may contain gluten.
Can I make protein bread without protein powder?
While protein powder is the key ingredient in protein bread, you can try making a protein bread recipe that uses other high-protein ingredients like almond flour, chickpea flour, or buckwheat flour.
Can I make protein bread without eggs?
While protein bread can be made using an egg substitute, it will lack the structure and appropriate bread-like texture that only eggs can create.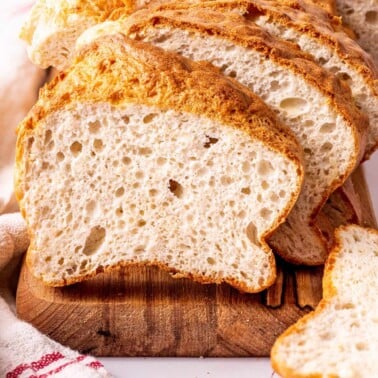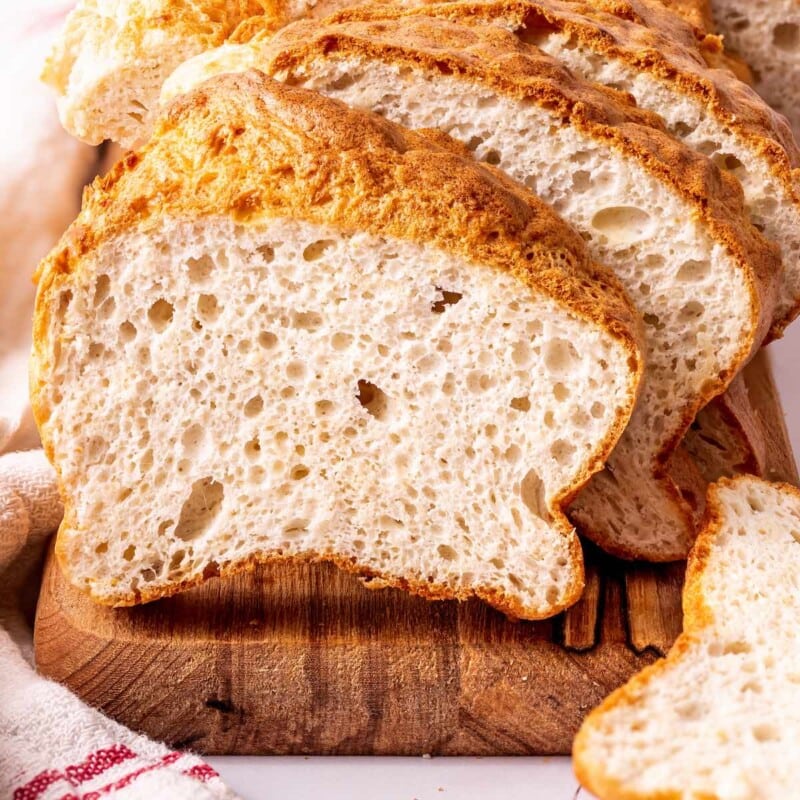 Protein Bread
Easy homemade protein bread that has a tender crumb and chewy and fluffy texture! It needs just 6 ingredients to make and toasts like real sandwich bread.
Ingredients
10

large

egg whites

1/4

teaspoon

salt

1

cup

whey protein powder

unflavored

1/2

cup

almond flour

1

tablespoon

psyllium husk powder

2

teaspoons

baking powder
Instructions
Preheat the oven to 160C/325F. Line a loaf pan with parchment paper.

In a large dry bowl, using a hand or stand mixer, whisk the egg whites with a pinch of salt until stiff peaks form, around 5-7 minutes.

Add in the whey protein, almond flour, psyllium, and baking powder and whisk on low until combined.

Transfer the mixture to the loaf tin using the spatula and form it an even and smooth shape.

Bake the bread for 30 minutes, then turn the oven off and open the door of the oven slightly, so the oven can cool the bread slowly.

After another 30 minutes of cooling, remove the bread from the oven and slice it for serving.
Nutrition
Serving:
1
slice
Calories:
80
kcal
Carbohydrates:
3
g
Protein:
11
g
Fat:
3
g
Sodium:
178
mg
Potassium:
72
mg
Fiber:
1
g
Vitamin A:
24
IU
Calcium:
80
mg
Iron:
1
mg
NET CARBS:
2
g
Disclosure: This post may contain affiliate links. I may earn a small commission for my endorsement, recommendation, testimonial, and/or link to any products or services from this website.