This keto panna cotta is a low carb and sugar free twist on the classic Italian dessert! 5 simple ingredients and ready in just 5 minutes, it's an elegant keto dessert! 2 grams net carbs per serving.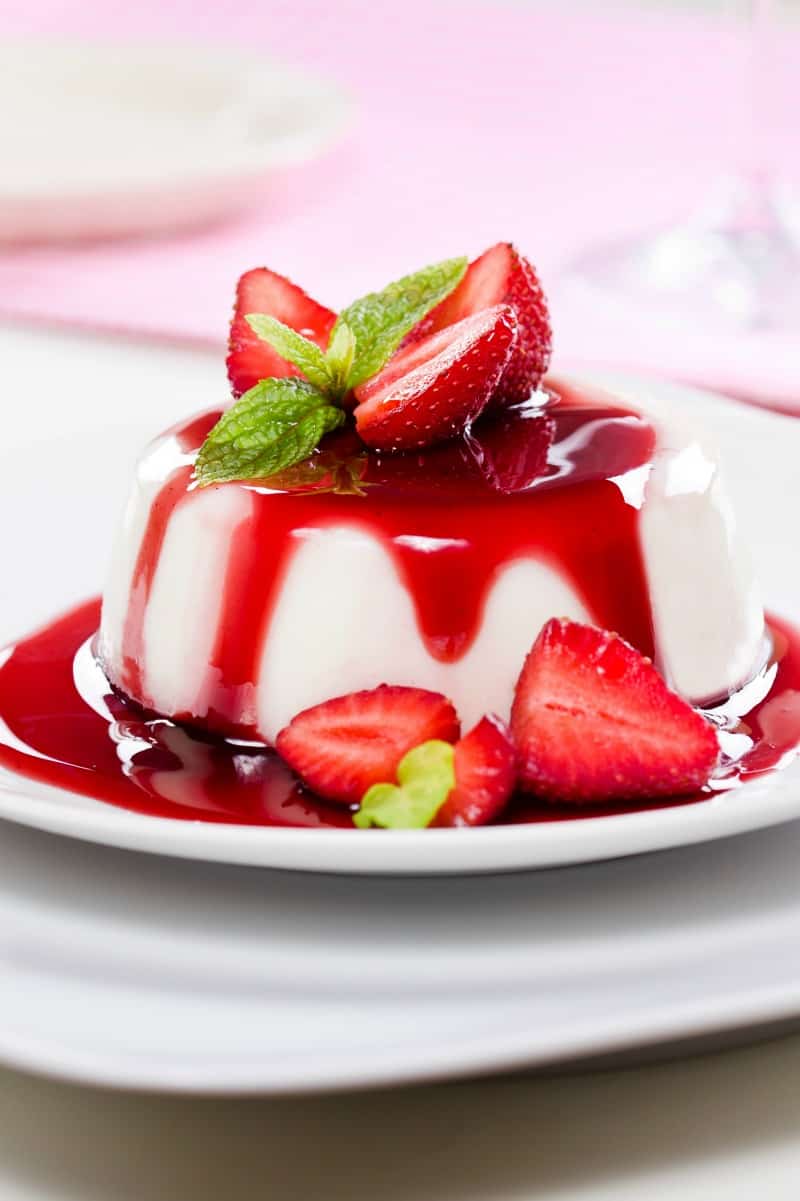 Keto Panna Cotta
When it comes to simple keto desserts, my favorite recipes to make are custard, creme brulee, and an elegant panna cotta.
Growing up, my mom never made a variety of desserts. 9 times out of 10, it would be some warm pudding or fruit based crumble. She'd make whatever was seasonally available, and it would always be served with either some custard or a scoop of ice cream. Whenever she was entertaining or want to make something a little bit special, she'd make her classic panna cotta.
What is a panna cotta?
Panna cotta is a traditional Italian dessert, made with a combination of sweetened cream, milk, and thickened with gelatin. Most often, it is vanilla flavored, but can also be adapted with other flavors too, like chocolate and coffee.
Now, except for the granulated sweetener, panna cotta is actually a keto friendly dessert. All that had to be done was to switch out the sugar for a keto sweetener and everything is sorted! The texture is slightly thick, smooth, and creamy. It's sweet and with a hint of vanilla, without being overpowering.
I served this at a family dinner party recently and NO ONE, especially my mom, could tell that this was low carb and sugar free- It tasted like the classic, if not better (just don't tell my mom!).
How do you make a keto panna cotta?
The Ingredients
Heavy cream– Also known as double cream or thickened cream. Avoid using light or reduced fat varieties, or else the panna cotta will not set.
Milk of choice– Use your favorite keto friendly milk. Unsweetened coconut milk, almond milk, and half and half are both great options.
Sugar substitute– Either monk fruit sweetener or erythritol.
Vanilla extract– Gives a little vanilla flavor and a must for any classic panna cotta.
Gelatin and cold water- Mixed together before adding to the other ingredients. It holds the dessert together.
The Instructions
Start by mixing together your gelatin with cold water and whisk gently, until combined. Set that aside to continue to thicken. Next, in a small saucepan, add your heavy cream, milk, sweetener, and vanilla extract. Turn the heat on medium and while stirring regularly, bring the mixture to a boil. Once boiling, reduce to very low heat and let it simmer for 2 minutes, before removing from the heat.
Now, stir in the gelatin mixture and whisk well, until combined. Transfer the panna cotta mixture amongst four 1 cup or eight 1/2 cup ramekins and let sit until the mixture has cooled down. Once cool, place the ramekins in the refrigerator, to firm up.
Once firm, use a slightly wet knife and circle the edge of the ramekin. Gently flip the ramekins onto a plate and enjoy.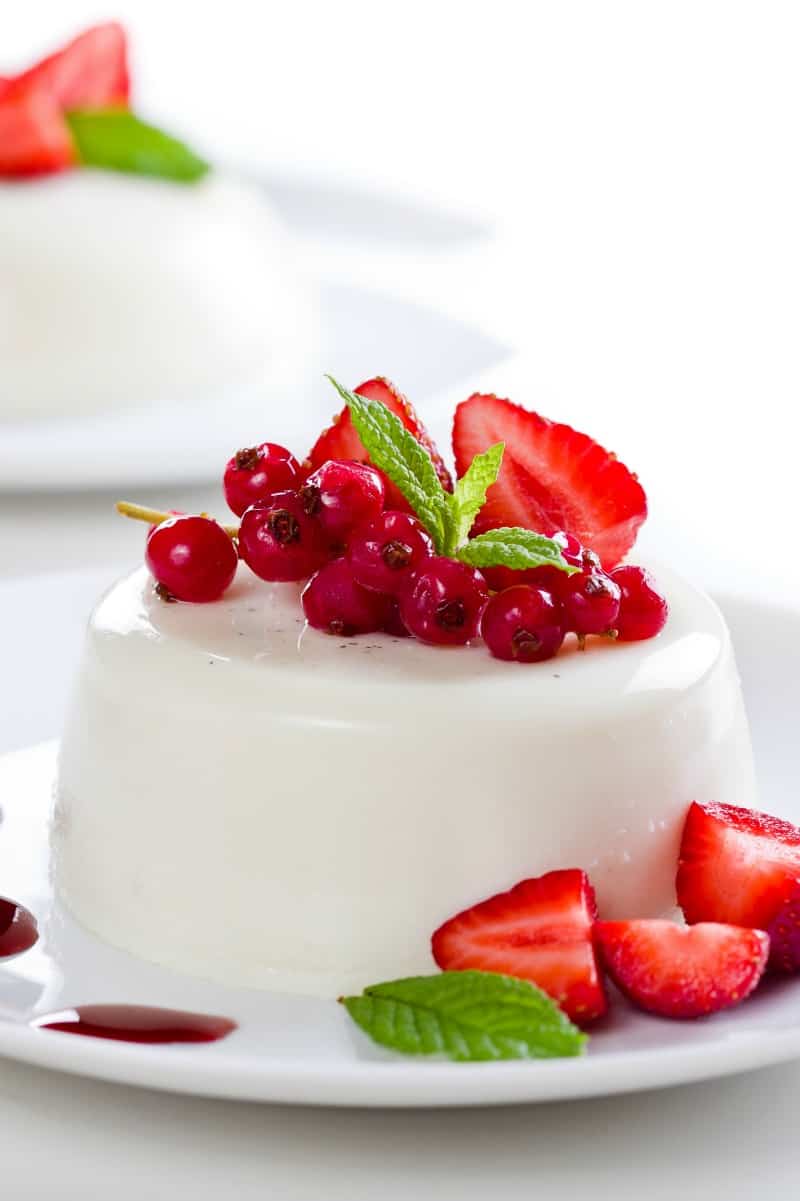 Tips to make the best recipe
Lightly grease your ramekins for easy removal.
If you'd like to make this dairy free, swap out the double cream for plant based double cream.
If you don't want to let the panna cotta set in ramekins, you can also use glass serving jars. This is a great way to serve them, especially if you'd like to layer them with some fresh berries or even a cookie base.
Serve panna cotta with some whipped cream, vanilla ice cream, or a drizzle of caramel sauce.
Flavor variations
While this dessert tastes delicious as it is, here are some fun flavor variations for you to also try!
Chocolate– Add 2 tablespoons of cocoa powder to the mixture.
Coconut– Swap out the vanilla extract for coconut extract. Serve with shredded coconut flakes.
Vanilla bean– Add 1 vanilla bean pod (de-seeded) into the mixture.
Espresso– Mix the gelatin with prepared cold coffee instead of water. Dust the finished dessert with a mixture of cocoa powder and sugar free powdered sugar.
White chocolate– Melt sugar free white chocolate and drizzle over the finished panna cotta. Alternatively, melt a layer of white chocolate into the bottom of the ramekin before pouring the mixture into it.
Storing and freezing panna cotta
To store: Leftover panna cotta can be stored in the refrigerator, covered, for up to 1 week.
To freeze: I do not recommend freezing this dessert, as it doesn't maintain the creamy and smooth texture.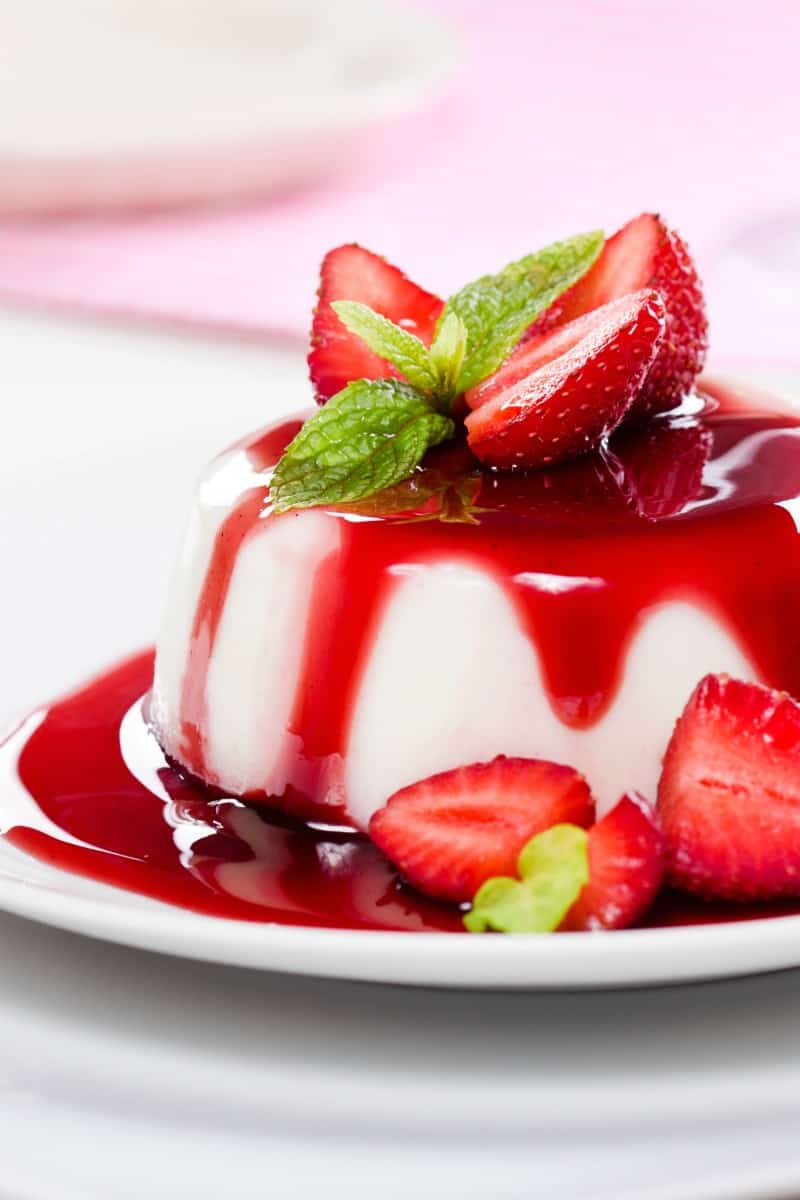 More easy keto dessert recipes to try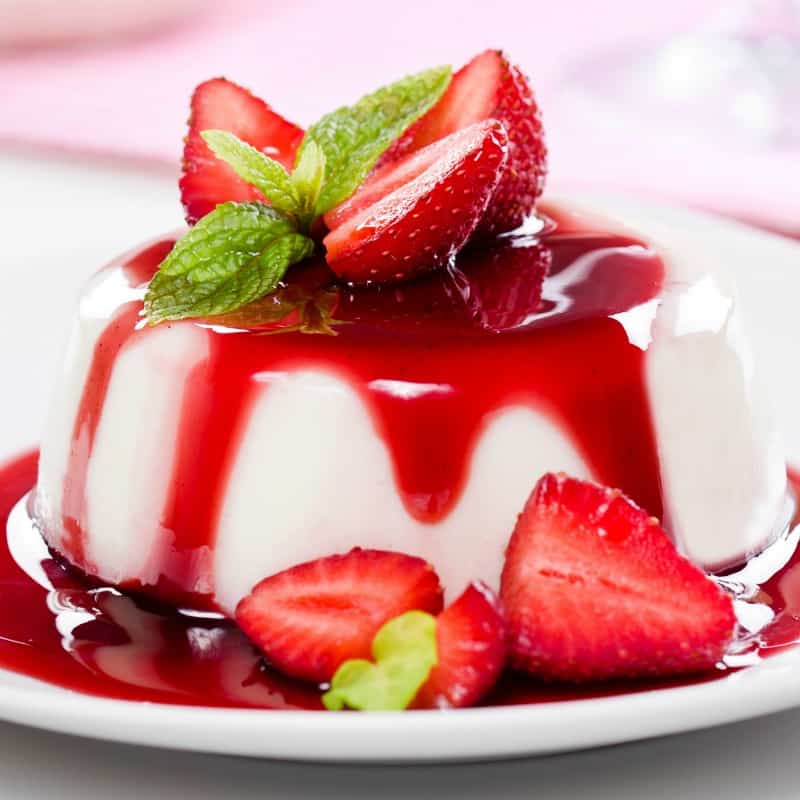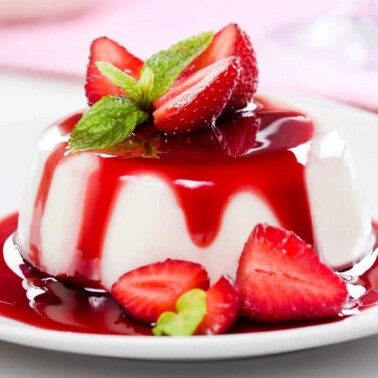 Keto Panna Cotta
This keto panna cotta is a low carb and sugar free take on the classic Italian dessert! Simple ingredients and ready in minutes!
Instructions
Lightly grease eight 1/2 cup or four 1 cup ramekins and set aside. In a small bowl, whisk together your gelatin with cold water. Let it sit to thicken.

In a saucepan, add the rest of your ingredients. On medium heat, while stirring regularly, bring to a boil. Once it begins to boil, reduce it to very low and let it simmer for several minutes, before removing from the heat.

Add the gelatine mixture into the saucepan and whisk very well, until combined and smooth. Distribute the panna cotta mixture amongst the ramekins and allow to cool to room temperature. Once cool, place them in the refrigerator for at least 4 hours, or overnight.

After the panna cotta has firmed up, remove the panna cotta from the refrigerator. Using a slightly wet knife, run it around the sides of the ramekin for easy removal. Turn the ramekins upside down onto a plate and serve.
Notes
TO STORE: Leftover panna cotta can be stored in the refrigerator, covered, for up to 1 week.
Nutrition
Serving:
1
Panna Cotta
Calories:
216
kcal
Carbohydrates:
3
g
Protein:
2
g
Fat:
22
g
Sodium:
65
mg
Potassium:
45
mg
Fiber:
1
g
Vitamin A:
875
IU
Vitamin C:
1
mg
Calcium:
76
mg
NET CARBS:
2
g
Disclosure: This post may contain affiliate links. I may earn a small commission for my endorsement, recommendation, testimonial, and/or link to any products or services from this website.