This keto trifle is an elegant and simple dessert made with a vanilla sponge cake, creamy custard, and low carb berries! Simple ingredients and easy to assemble, this is sure to impress! 3 grams net carbs per serving.
Low Carb Trifle
When it comes to keto Christmas desserts, my favorite desserts are peppermint bark, rum balls, and this easy homemade trifle.
I love entertaining during the festive season. It's the one time of the year where I'm guaranteed to see all my friends and family. 9 times out of 10, they'll be coming over for a long Christmas lunch or an evening of cheeses, dips, and of course, dessert. I never make just one kind of dessert though, because variety IS the flavor of life (especially with sweets). While I always make some form of cookies and a cake, I've recently been making a classic trifle.
What is a trifle?
A trifle is a classic English dessert, made with layers of sponge cake, jelly, custard, fruit, and topped with whipped cream. It's easily customizable and often enjoyed during an Australian or southern hemisphere Christmas!
Trifle was ALWAYS on my Christmas dessert table growing up, so I had to make a low carb version of it to share!
Now, this trifle may look incredibly fancy, but I promise you, it is one of the easiest desserts you'll ever make. All it requires is a simple prep of a few key parts and all you do is assemble it. It is creamy, thick, and smooth, and with plenty of berries throughout. It's sweet and with lovely vanilla and sweet berry flavor (from the jelly!), with hints of tartness from the fresh berries throughout.
With the holiday season in full swing, I can already see myself making this trifle over and over again- Not only is it SO easy to make and looks impressive, but it is so delicious to eat!
How do you make a keto trifle?
The Ingredients
Sugar free jello (jelly)– Traditional trifles use a raspberry or strawberry jelly, so use one of those flavors.
Vanilla cake– Instead of using store bought swiss roll sponge cakes (which aren't low carb), I sliced up my keto vanilla cake.
Milk of choice– I used unsweetened almond milk, but any milk can be used.
Berries– Use your favorite low carb berries, like raspberries, blueberries, and strawberries.
Custard– Homemade keto custard, blended with a stick blender to create a smooth filling.
Whipped cream– Keto whipped cream to top the trifle with.
The Instructions
Making this low carb trifle takes a few steps, but the assembly of it is so simple. Start by preparing each of the key parts of the trifle. Make your jelly, bake your custard, and prepare two keto vanilla cakes. Let them all bake/set before assembling the trifle together.
Once all the main components are ready, you can begin the assembly process. Chop your vanilla cake into large squares and set aside. Chop your jelly into bite-sized pieces. Transfer your custard into a mixing bowl and using a stick blender, blend your custard until it is smooth.
Now, you can layer up the trifle! In a large glass bowl (at least 10 cup capacity), place half the cake pieces at the very bottom. Drizzle around 2-3 tablespoons of the milk over the top of it. Next, add 1/4 of the berries, followed by half the jelly pieces. Next, pour have the blended custard over it. Repeat the same process, before topping with extra berries. Refrigerate the trifle for at least 6 hours to set. Once set, add whipped cream and serve.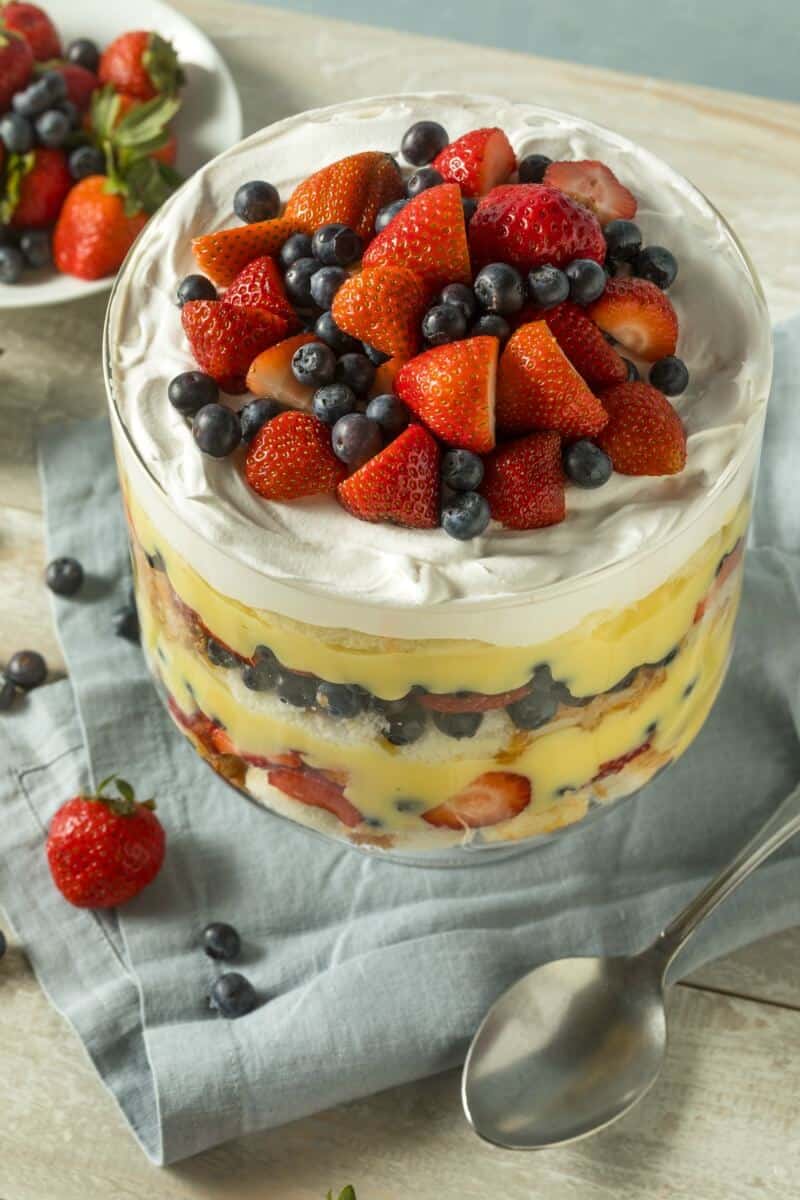 Tips to make the best trifle
I recommend preparing all the different components of the trifle at least a day in advance. Remember, the trifle needs at least 6 hours to set.
If you'd like a more fruit flavor overall, replace the milk with a sugar free juice or cordial.
Feel free to use a store bought keto cake, you are welcome to use that instead of the homemade version.
If you follow no specific diet, you can use traditional jelly, store bought sponge cake, instant custard and any whipped topping of choice.
How do you store and serve a trifle?
To store: Trifle should always be stored in the refrigerator, covered. It can keep well for up to 5 days. Avoid keeping it any longer, as the cake will become too soggy and the berries will spoil.
To serve: Serve this dessert chilled. As it already has multiple layers to it, there is no need to serve it with anything else. However, I do love adding a cheeky scoop of vanilla or coconut ice cream to it.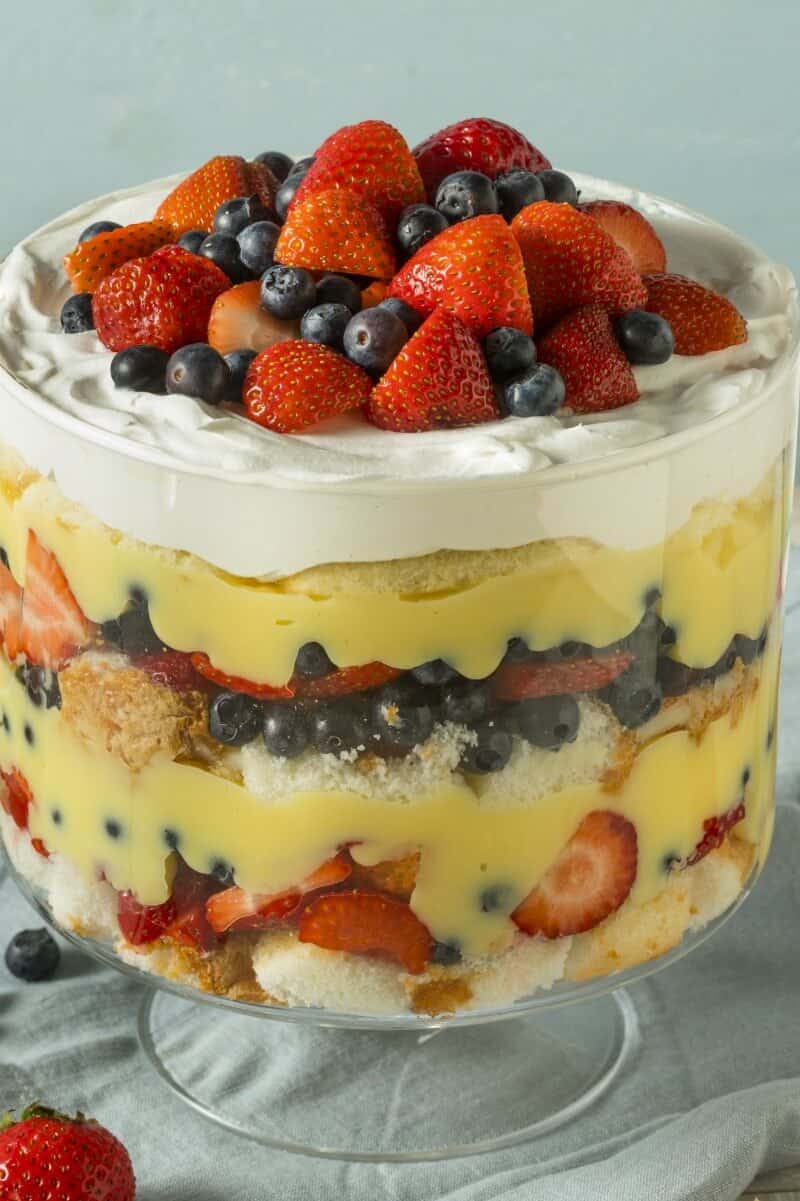 More keto Christmas desserts to try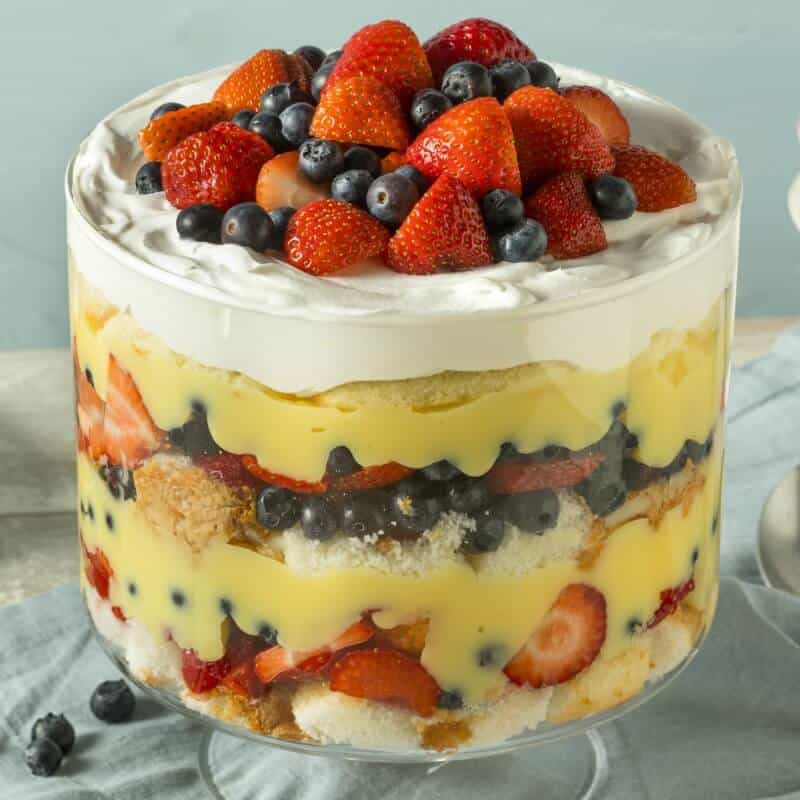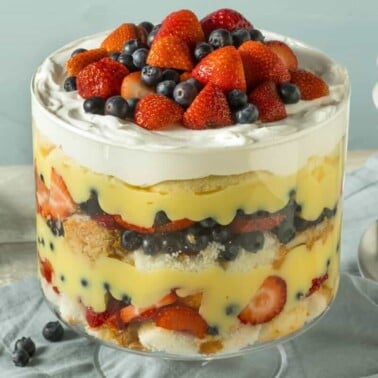 Keto Trifle
This keto trifle is a low carb Christmas dessert that is SO easy to make! No sugar or grains needed, it's own showstopping dessert!
Instructions
Prepare all your compenents of the trifle.

Chop your cakes into bite sized pieces, your jelly into small squares, and using a stick mixer, blend your custard until smooth.

Start layering your trifle. In a deep 10-12 cup glass bowl or trifle bowl, add half the chopped vanilla cake. Add 2 tablespoons of the milk and drizzle over the top. Add half the berries, followed by the sliced jelly, and half the custard. Repeat the process. Top with the whipped cream and extra berries.

Place your trifle in the refrigerator to set for at least 6 hours, or preferably overnight.

Keep trifle chilled until ready to serve.
Notes
* I used my homemade keto cake. You'll need two cakes for this trifle.
** You can bake the keto custard in one giant serving dish, as it will be blended once it is cooked.
TO STORE: Trifle should always be stored in the refrigerator, covered. It can keep well for up to 5 days. Avoid keeping it any longer, as the cake will become too soggy and the berries will spoil.
TO SERVE: Serve this dessert chilled. As it already has multiple layers to it, there is no need to serve it with anything else. Feel free to serve with ice cream for an extra special treat.
Nutrition
Serving:
1
serving
Calories:
146
kcal
Carbohydrates:
6
g
Protein:
1
g
Fat:
12
g
Sodium:
7
mg
Potassium:
28
mg
Fiber:
3
g
Vitamin A:
24
IU
Vitamin C:
1
mg
Calcium:
10
mg
Iron:
1
mg
NET CARBS:
3
g
Disclosure: This post may contain affiliate links. I may earn a small commission for my endorsement, recommendation, testimonial, and/or link to any products or services from this website.