This keto peppermint bark is a low carb twist on the classic holiday candy! 3 ingredients and no baking required. 3 grams net carbs per serving.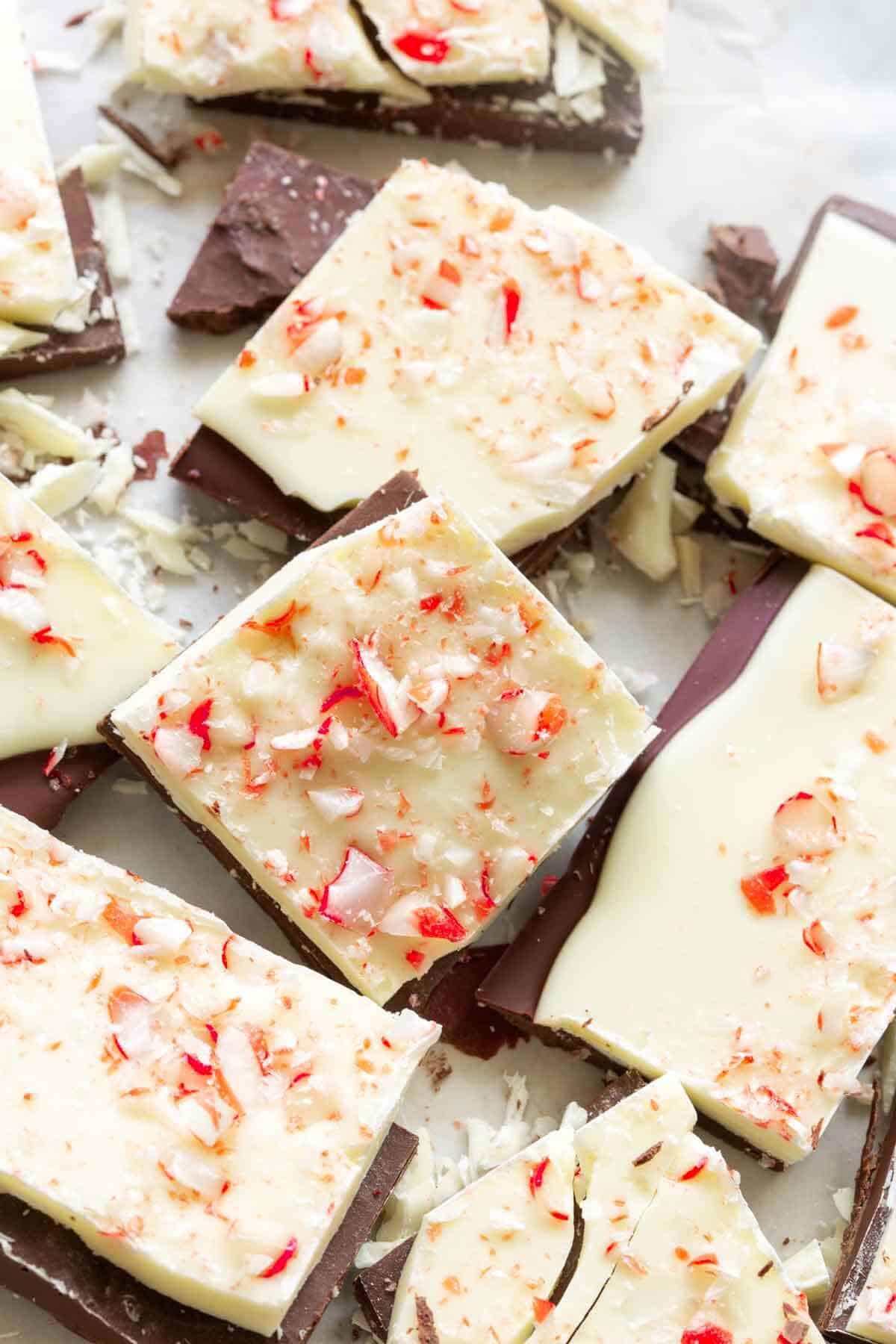 Keto Peppermint Bark
My Christmas traditions involve a few key things, but the most important one is savoring a container of The original Peppermint Bark from William Sonoma. There is something quite special about buying one of those gorgeous tins of bark from the store and breaking into it come December.
While this tradition is still happening (in fact, I'll be heading to William Sonoma tomorrow to pick up a box of them), I wanted to have a go at making my own, but with a keto twist.
Peppermint bark is essentially milk chocolate and white chocolate melted together, and infused with peppermint flavor. All I needed to swap out the chocolates for low carb varieties and voila- Homemade sugar free peppermint bark!
The texture of my homemade version ticks all the boxes- Crisp, smooth, and creamy. The flavor is sweet, with a subtle peppermint flavor, without being overpowering.
Now that I've made my own copycat version of William Sonoma's famous bark, I wonder if I should try their Peppermint bark cookies and hot chocolate next…
Ingredients to make sugar free peppermint bark
Here are the ingredients you'll need to make this peppermint bark. If you can't find keto white chocolate, you can simply make this a completely dark chocolate flavored bark. However, the peppermint flavor will be evident throughout.
Sugar free chocolate- Use either keto dark chocolate chips or milk chocolate chips. Alternatively, you can use a low carb chocolate bar, chopped finely.
Sugar free white chocolate– I used homemade keto white chocolate. Depending on where in the world you live, you may find some specialty grocery stores (like Wholefoods) or health food stores stocking them.
Peppermint extract– A must to give some peppermint flavor! Use this very sparingly, as a little goes a long way.
Sugar Free candy canes– Optional, but to add some festive color.
How do you make keto peppermint bark?
Dark Chocolate Layer: Start by lining an 8 x 8-inch square pan with parchment paper. In either a microwave safe bowl or small saucepan, heat up your chocolate until it is warm and melted. Whisk it together, and pour into the lined pan and use a rubber spatula to spread it out. Let the chocolate sit at room temperature for 15 minutes.
White Chocolate + Peppermint layer: Now, melt your white chocolate and once it is warm, whisk in your peppermint extract until combined. Carefully pour over the white chocolate into the lined pan, gently spreading it over the slightly cooled chocolate. If desired, sprinkle some crushed up sugar free candy canes on top.
Cool and break apart: Let the peppermint bark sit at room temperature for at least 30 minutes, before refrigerating it for a further 30 minutes. Once firm, break up into pieces.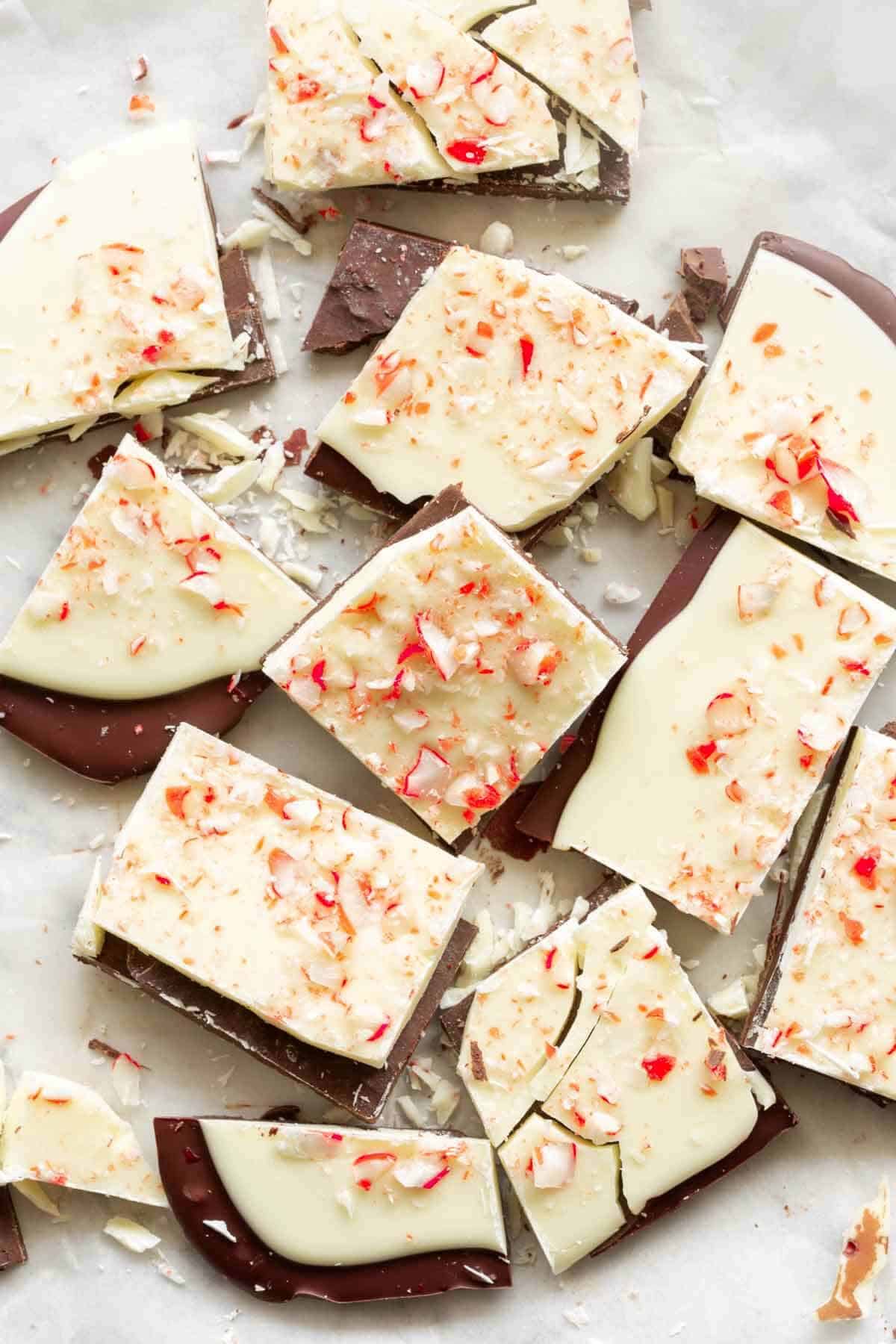 I'm not keto. Can I use standard chocolate?
Yes, if you don't follow a sugar free or keto diet, traditional dark chocolate, and white chocolate can be used. I recommend using chopped up chocolate bars instead of chocolate chips, as they melt much better.
Tips to make the best low carb peppermint bark
Do not refrigerate the bark until the very end. This ensures that there is no risk of the dark chocolate and the white chocolate separating.
Don't worry if the white chocolate starts to mix into the dark chocolate, it will still mostly be divided.
You WANT your bottom layer of chocolate to not be set when adding the white chocolate. Again, this helps avoid any potential separation.
Use peppermint extract, NOT mint extract. The latter has a very mild mint flavor, and too much of it can actually affect the texture of the white chocolate.
If you'd like unfirm pieces of bark, I found using a pizza slicer to be really effective.
How to store peppermint bark
To store: Peppermint bark can be stored at room temperature, in a ziplock bag or sealable container. The bark will keep well for up to 4 weeks.
To freeze: Place broken up bark in a ziplock bag and store in the freezer for up to 6 months.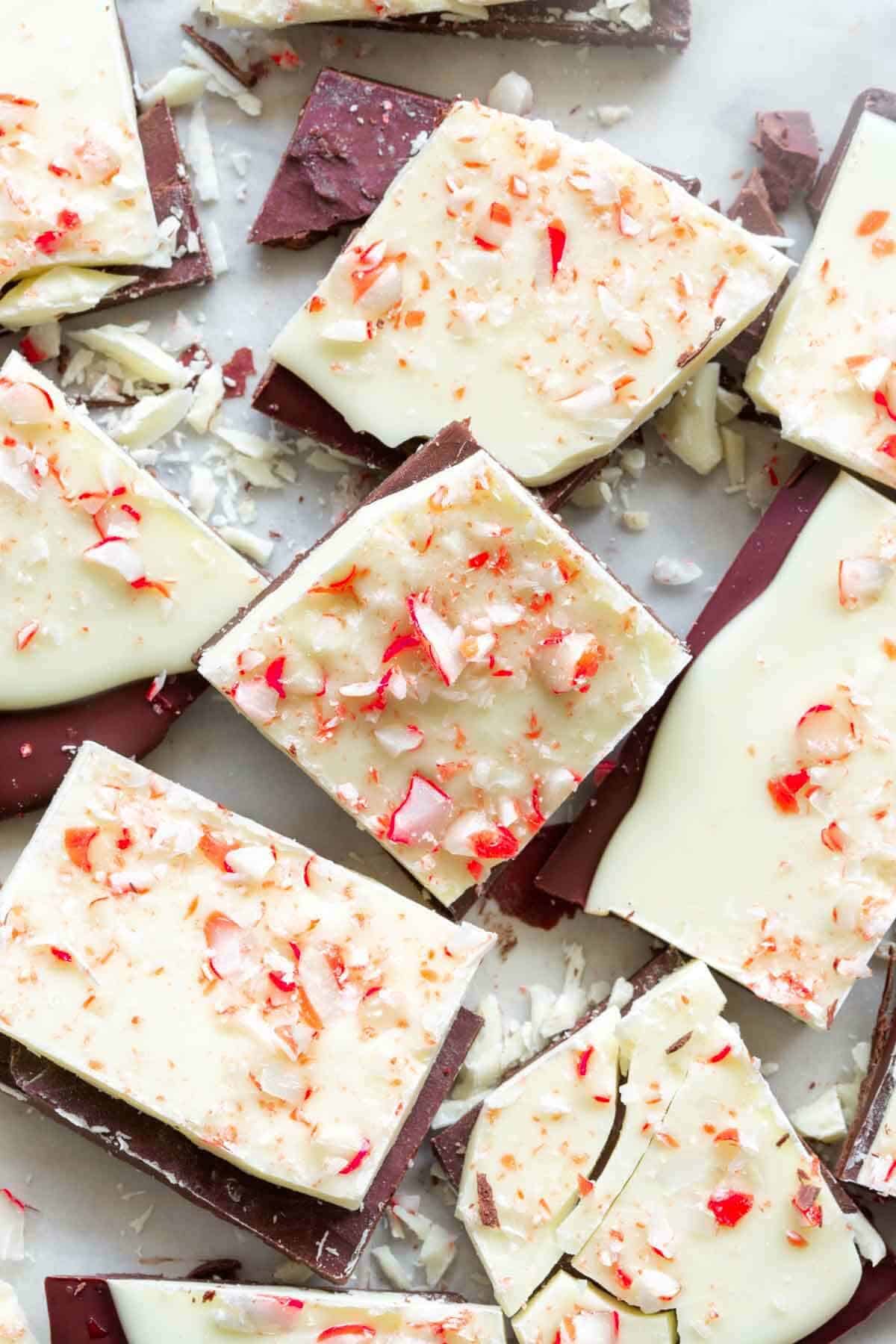 More Easy Candy Recipes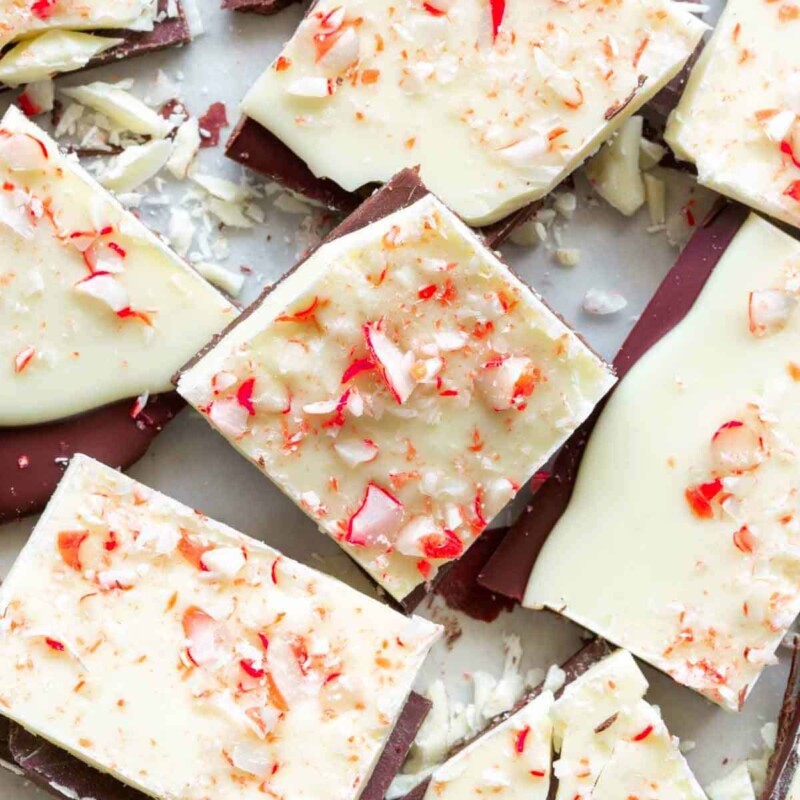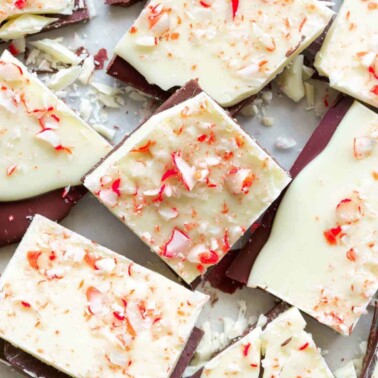 Keto Peppermint Bark
This keto peppermint bark is low carb Christmas candy made with just 3 ingredients! 100% sugar free and ready in 5 minutes!
Instructions
Line an 8 x 8-inch pan with parchment paper and set aside.

In a microwave safe bowl or stovetop, heat up your chocolate chips until melted. Pour into the lined pan and spread out using a rubber spatula. Let sit at room temperature for 20 minutes.

After 20 minutes, heat up the white chocolate chips until melted. Whisk in the peppermint extract and pour into the pan, on top of the cooling chocolate. Carefully spread it out over the top. If using candy canes, sprinkle over the top.

Let the peppermint bark sit at room temperature until firm. Alternatively, you can let it cool for 30 minutes, then refrigerate it for another 30 minute.
Nutrition
Serving:
1
serving
Calories:
132
kcal
Carbohydrates:
9
g
Protein:
3
g
Fat:
10
g
Sodium:
1
mg
Fiber:
6
g
Iron:
1
mg
NET CARBS:
3
g
Disclosure: This post may contain affiliate links. I may earn a small commission for my endorsement, recommendation, testimonial, and/or link to any products or services from this website.