An easy recipe for homemade keto kit kat bars loaded with low carb crispy cereal, seeds and nuts! Made with just 5 ingredients and ready in 5 minutes, this healthy candy recipe is a game changer!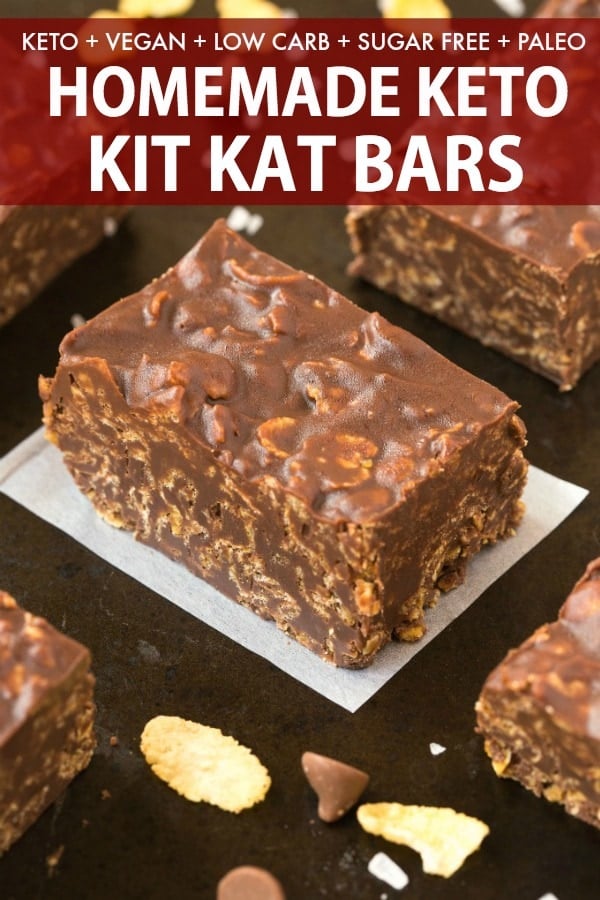 Keto Kit Kat Recipe
My homemade kit kat crunch bar recipe is what I like to call 'the showstopper.'
Not to toot my own horn, but for a homemade healthier alternative to the traditional kit kat bar, it is pretty epic.
Made with just 5 ingredients and taking less than 5 minutes to prepare, it's the refined sugar free and no bake dessert recipe which impresses everyone. Not to mention it actually tastes like a kit kat bar!
Since sharing that recipe, I've had request after request to make a keto kit kat candy bar recipe. While I've shared a similar keto crunch bar, I had to try it this way.
Until now!
Like my original homemade kit kat recipe, my keto version also needs just 5 ingredients and again, only takes 5 minutes. Not only is it super quick and easy to whip up, it's completely foolproof- You simply melt your ingredients together and pour it over your keto crunchy cereal, which gives it the kit kat texture!
Taste-wise, these keto kit kat bars taste like the real deal. The combination of chocolate, almond butter, and monk fruit maple syrup provides ample sweetness.
The texture of these kit kat bars is just as good. Crispy, crunchy but also easy enough to bite into- It really is insanely delicious.
Not only are these homemade healthy kit kat bars keto-friendly and sugar free, but they are also completely vegan and paleo, thanks to the lack of grains and dairy!
Keto Friendly Cereal Options
Initially, I planned on using my homemade keto puppy chow (aka muddy buddies) recipe. However, I found a store bought keto and vegan granola cereal, which was a much quicker and easier alternative.
Store bought options can be quite difficult to find, so you can replace the cereal with a mix of large flaked unsweetened coconut, mixed nuts, and mixed seeds. Granted, this will lose some of the 'kit kat' factors, but it will still have a fantastic texture.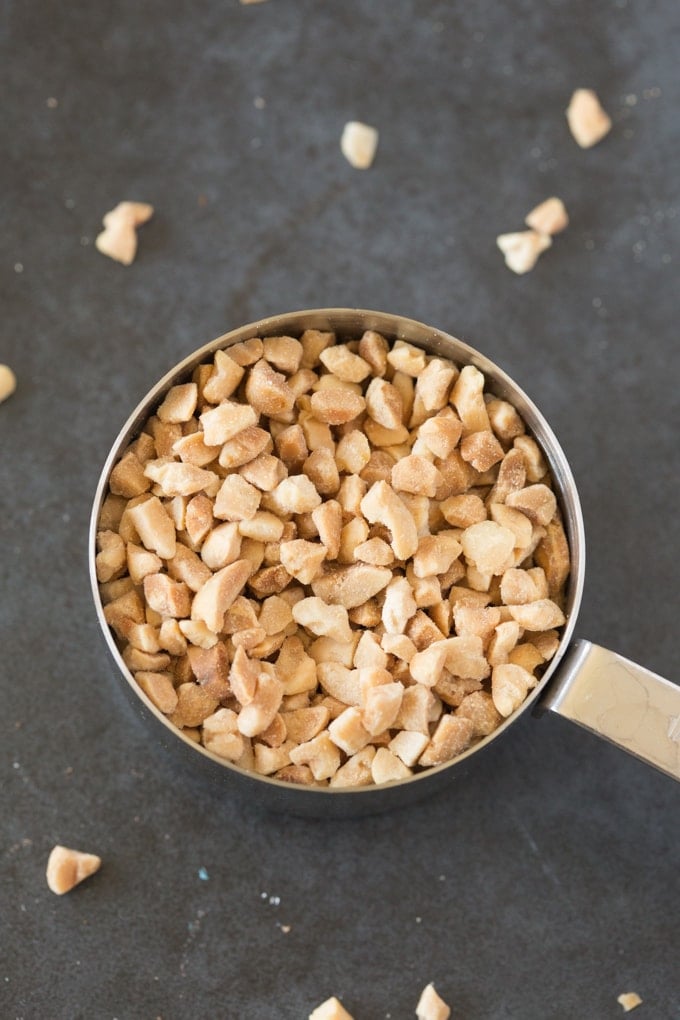 The Best Keto Sweeteners
There are several keto approved sweetener options for this recipe.
The best sweetener is monk fruit sweetened maple syrup. Using this will yield the absolute best texture, and you'll find the bars so much easier to cut up.
You could technically use a granulated keto sweetener (like monk fruit or swerve) but you'll find the bars more tough than creamy, and similar to chocolate bark.
Alternatively, you can simply omit the sweetener, as the chocolate chips are already pre-sweetened.
Keto Chocolate Chips
Lily's chocolate chips are stevia sweetened and keto approved chocolate chip brand, which melts beautifully and leaves no bitter aftertaste.
You can also use unsweetened baker's chocolate, but be sure to add several drops of liquid stevia to it, to provide sweetness.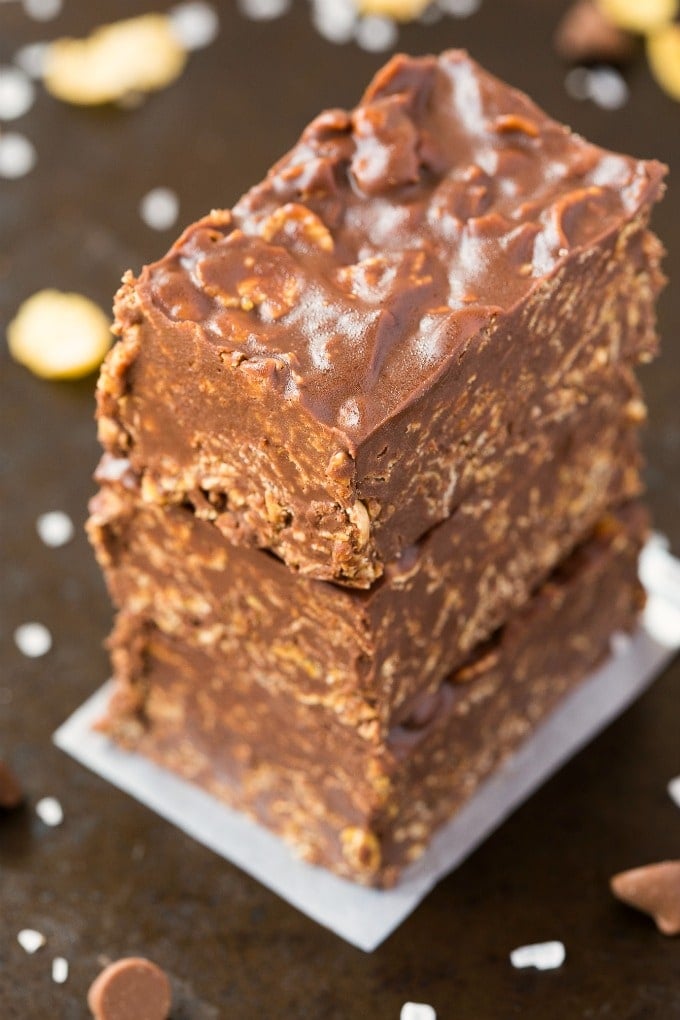 Ketogenic diet follower or not, these healthy keto kit kat bars don't discriminate- Everyone will love them and I promise they are so quick and easy, you'll never buy store bought again!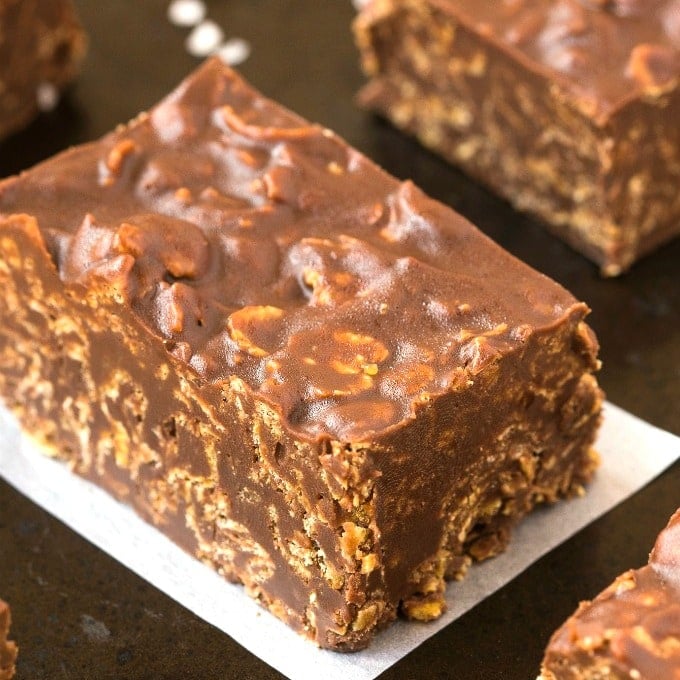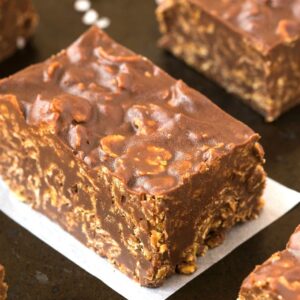 Healthy Homemade Keto Kit Kat Bars (Vegan, Paleo)
A game-changing ketogenic dessert recipe for healthy homemade kit kat bars! 5 minutes and 5 ingredients are needed to make this candy bar copycat! No dairy, no sugar and no grains whatsoever! Vegan and Paleo.
Instructions
In a large mixing bowl, add your keto granola, mixed nuts, and seeds and mix well. Set aside.

In a microwave-safe bowl or stovetop, combine your keto chocolate chips, sticky sweetener, coconut oil, and almond butter. Heat until melted.

Pour the melted chocolate mixture over the dry and mix until fully incorporated.

Pour the kit kat bar batter in a lined 10 x 10-inch pan. Using a spatula, spread out to an even layer. Refrigerate for at least 30 minutes, before slicing into bars.
Notes
* I used a monk fruit sweetened maple syrup.
Healthy Homemade Keto Kit Kat Bars (Vegan, Paleo) should be kept refrigerated. They can keep for up to 1 month. These bars are freezer friendly, for up to 3 months.
Nutrition
Serving:
1
Bar
Calories:
149
kcal
Carbohydrates:
4
g
Protein:
7
g
Fat:
12
g
Fiber:
2
g
Vitamin A:
300
IU
Vitamin C:
4.1
mg
Calcium:
40
mg
Iron:
1.1
mg
NET CARBS:
2
g

Disclosure: This post may contain affiliate links. I may earn a small commission for my endorsement, recommendation, testimonial, and/or link to any products or services from this website.