This healthy homemade sugar free hot chocolate cocoa mix is made using just three ingredients and no dairy! Easy, low calorie, low carb, and the perfect holiday gift, it's naturally gluten free, keto, vegan, paleo, dairy free and sugar free!

Last week we had a protein-packed hot chocolate mix.
This week? We skip the protein part (if you must, drink this with an omelet), and give it a sugar free AND a 3 ingredient makeover!
I've never been a fan of those instant hot cocoa or hot chocolate mixes. The ones I had tried were all 'just add water' kind, which perplexed me. Whenever I added cocoa powder and sugar to hot water, it looked like mud soup. The instant packets of hot chocolate, however, looked pretty much like a typical hot cocoa…minus the deliciousness factor.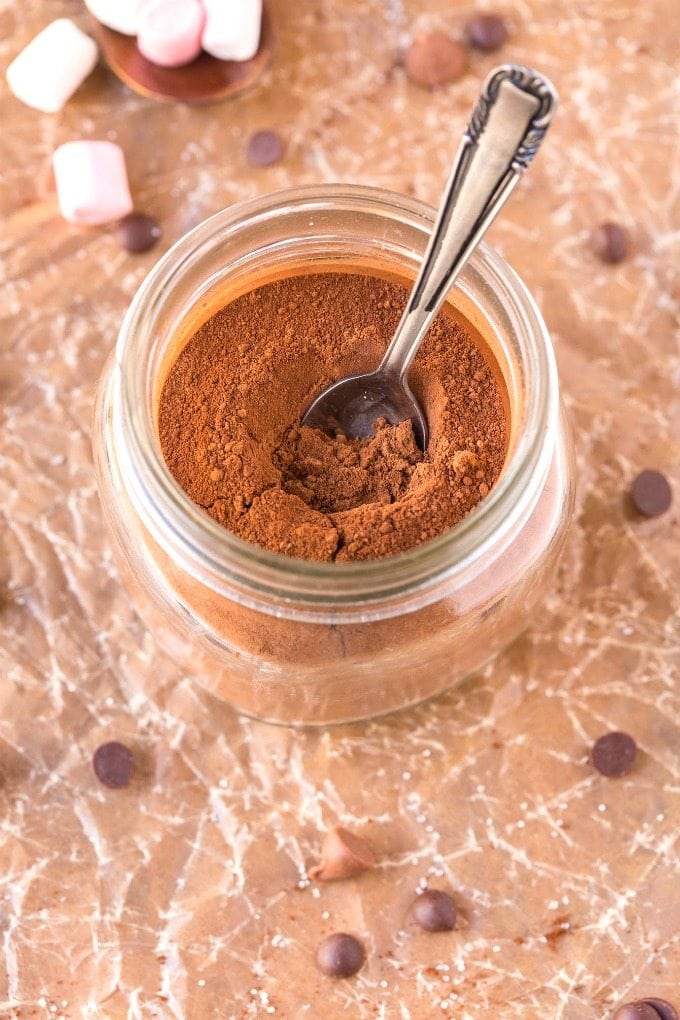 A reader recently asked me to recreate their favorite ("healthy") hot cocoa mix. I'd heard of the brand before, and have tried a couple of their 'indulgent' flavors before (thank you, hotel breakfast bars!). The diet one, however, was new to me. I purchased a box and gave it the official taste test- It was an easy 'just add water', mix and enjoy.
I'm not going to lie- It was pretty creamy, it mixed well and had a good chocolate flavor. However, it was INSANELY sweet and left with a weird taste in my mouth. I finished it all, before checking out what the actual ingredients were.
Packaged hot chocolate/cocoa Ingredients- Non-Fat milk, processed cocoa, calcium carbonate, modified whey, salt, less than 2% of; Carrageenan, acesulfame potassium, sucralose, natural and artificial flavors, milk, disodium phosphate, caramel color.
I'm not one to waste food, but the remaining 7 packages were left untouched.
Just kidding.
I wrapped it in some newspaper, with intentions of giving them to Niki.
Hi.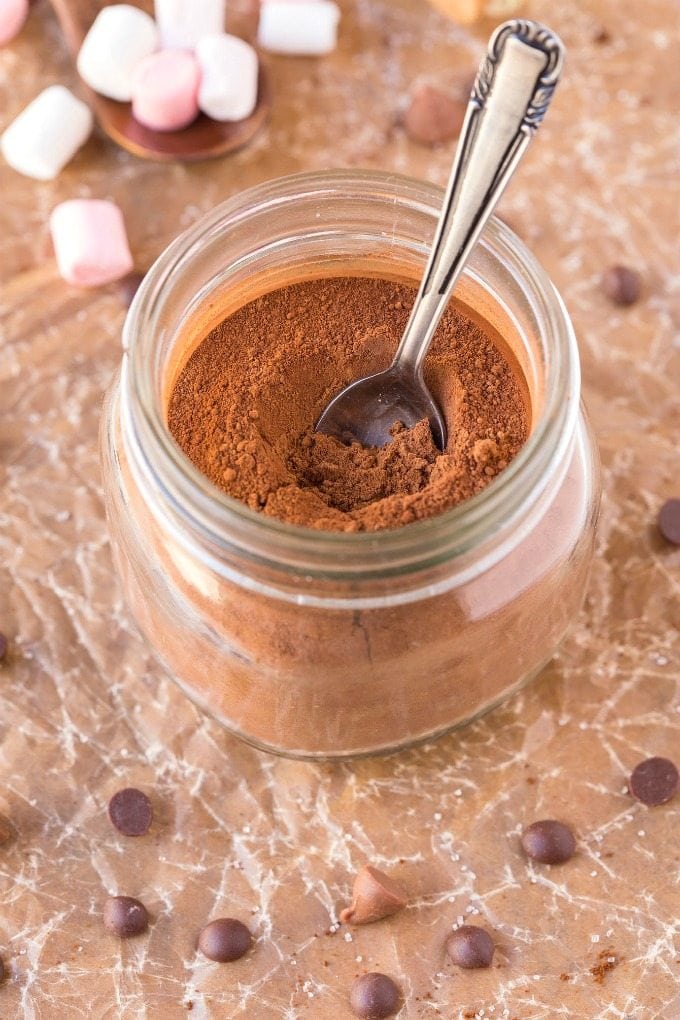 No wonder it was sickly sweet- It had sucralose in it! I'm not one to often use it in any of my recipes (except these candied almonds, but I gave them to a family friend who is diabetic and tolerates sucralose well) and as such, could really taste it. Not only that, but it was relatively creamy too, and all I added was water. The addition of non-fat milk 'powder' and…other stuff made sense.
I was game to recreate this, but with the least amount of ingredients, and ones which were easy enough to have on hand! The biggest issue I had was whether or not to include a milk powder or alternative. I tried a coconut based milk powder and it really didn't work as part of a mix (it did work fine on its own, though!). What did work was powdered creamer and powdered whole milk, but this leaves my vegan/dairy free friends unable to make it.
To rectify this dilemma, I simply made a sugar free hot chocolate/hot cocoa mix, with the option to add the milk/creamer powder (which is also not necessary), BUT instead of adding hot water, you add a warmed milk of choice to it!
Now? Nobody misses out!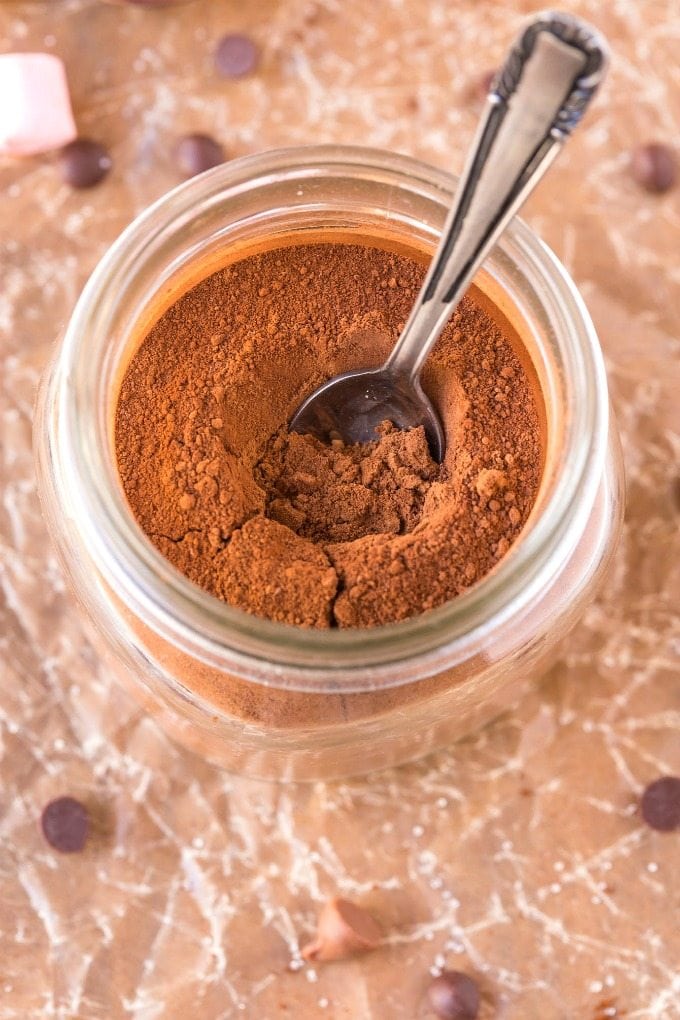 This healthy homemade sugar free hot chocolate mix is a quick and easy mix made with three easy ingredients! It is perfect for gifting, for those who want an instant hot beverage, and perfect for the festive holiday and Christmas season (especially for those healthy foodies!). Unlike packaged hot cocoa mixes, this version isn't based around powdered milk, sugar, artificial ingredients, sweeteners, or fillers. Instead, we'll be using a combination of cocoa powder, monk fruit sweetener (a granulated stevia blend which doesn't leave a bitter aftertaste) and a pinch of sea salt to bring out the sweetness! All that is needed is for the person to add their favorite milk/non-dairy beverage and BAM- Hot chocolate in minutes!
For those who enjoy a dark, rich chocolate taste, I'd recommend using a combination of dark cocoa powder and good quality dutch processed cocoa powder. If you are after a simple cocoa taste, stick to just a good quality cocoa powder. Because of the ingredients used, this healthy homemade sugar free hot cocoa mix is completely paleo, vegan, gluten free, grain free, dairy free and low calorie!
HACK! If you can tolerate artificial sweeteners well, you can swap out the monk fruit sweetener with any sucralose based sweetener. Sweeteners based around aspartame won't be a great option, as the sweetness in them tends to dissipate once heated. Alternatively, you could use a stevia blend (they tend to stay sweet when heated), however, make sure you use one without a bitter aftertaste and/or one you enjoy.
Just saying.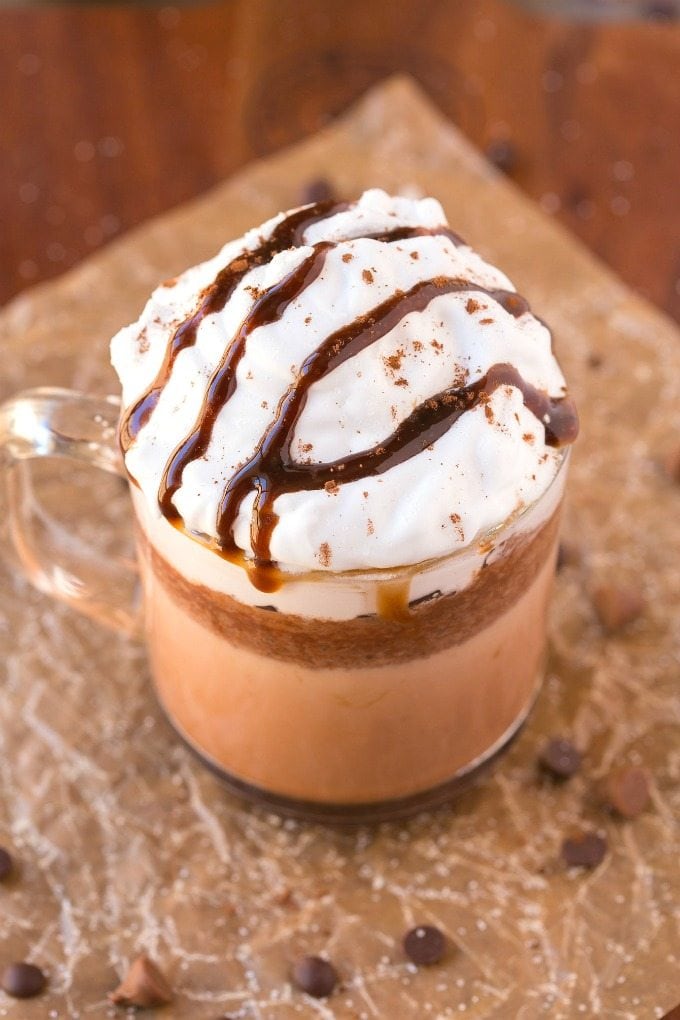 Make this healthy Sugar Free Homemade Hot Chocolate Cocoa Mix using three ingredients and make something to feel good about.
…and send Niki your packaged ones you have left.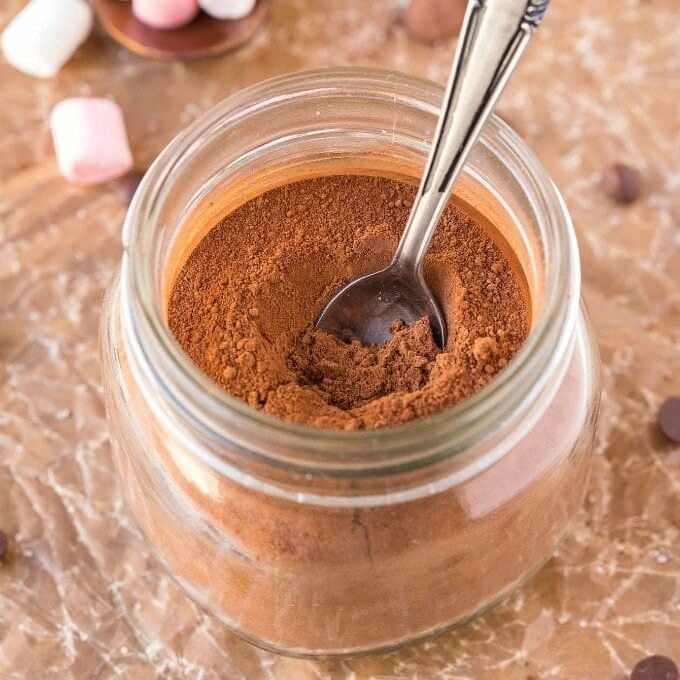 Healthy Homemade Sugar Free Hot Chocolate Cocoa Mix
This healthy homemade sugar free hot chocolate cocoa mix is made using just three ingredients and no dairy! Easy, low calorie and the perfect holiday gift, it's naturally gluten free, vegan, paleo, dairy free and sugar free!
Ingredients
1

cup

cocoa powder

I used a mix of dark and standard

1 1/4

cup

granulated sweetener of choice

I used a monk fruit sweetener

1

teaspoon

sea salt

1/4

cup

powdered creamer or powdered milk of choice

keto or paleo- use powdered coconut milk
Instructions
To make the mix
Combine all the ingredients in a mixing bowl and stir until combined. Transfer to a jar or airtight container.
To make a single cup of cocoa/hot chocolate
Add 2 tablespoons of dry mix (non creamer/milk version) to a large mug or cup. Add hot water and mix until completely dissolved. Add heated milk of choice and mix very well. Top with optional whipped topping and enjoy!
Notes
* If you use the version with powdered milk or creamer, use 3/4 cup warm milk instead.
Sugar free hot chocolate cocoa mix needs to be stored in an airtight container.
Nutrition
Calories:
104
kcal
Carbohydrates:
5
g
Protein:
2
g
Fat:
6
g
Sodium:
234
mg
Potassium:
131
mg
Fiber:
3
g
Sugar:
20
g
Calcium:
11
mg
Iron:
1
mg
NET CARBS:
2
g
More delicious DIY recipes for the holidays? Gotcha covered!
Have breakfast ready in an instant with this delicious DIY Protein Pancake Mix!
Candied nuts are delicious, even more so when they are completely sugar free too!
When your post workout shake can pass as a hot chocolate bevvy? You know you've got a winner!
Make your own vanilla extract instead of the store bought kind!
Use up all the apples and pour in jars and have everyone's toast covered…literally!

Disclosure: This post may contain affiliate links. I may earn a small commission for my endorsement, recommendation, testimonial, and/or link to any products or services from this website.