Soft, chewy and just like fudge, these no bake Tiramisu cookies are a sinfully nutritious snack between meals or even breakfast! Gluten free, dairy free, refined sugar free and with a paleo friendly option- All bases are covered for you to indulge in dessert for breakfast!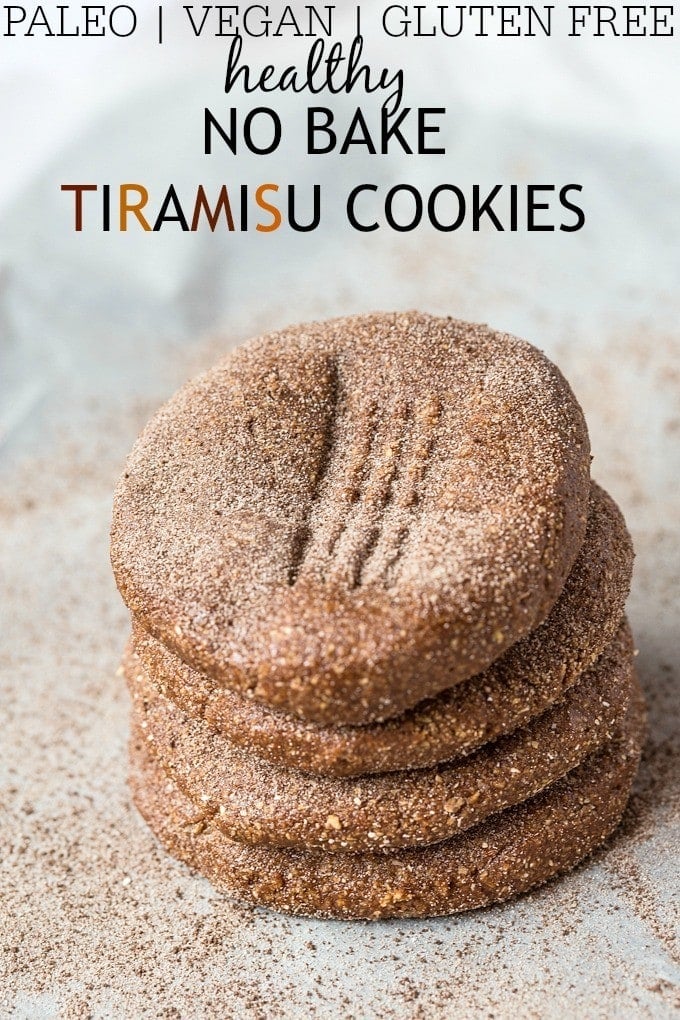 Before we jump in, I've got an exciting recipe collaboration coming at you Tuesday- Check this out for a teaser.
***
"When I go to America, I'm breaking up with Peanut Butter."
"…….Why?"
"Because. ALL the store bought nut butters are so expensive except for Peanut Butter. In America, almond butter is cheap like water."
Oh Arman. You silly, naive (latte complexioned) Australian.
I left my sister in a perplexed state after providing her with the benefits of being in America.
Me-Foodie products, $2 tacos on Tuesdays and saying the word herb with a silent 'h'.
Her- Shopping, margaritas in Soho, shopping, posing, shopping and posing.
Yep, we're siblings.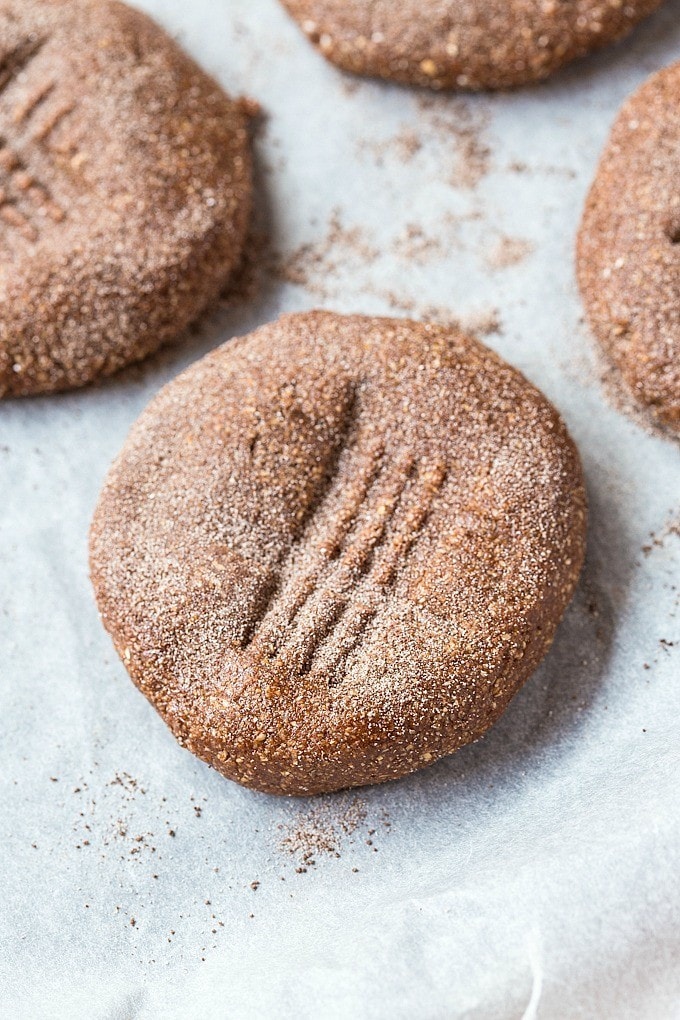 For the healthy foodie who lives anywhere besides America would know the pain- Forking over $10 for a tiny jar of nut butter and some even edging closer to $20 (Coconut butter, I'm looking at you). The notion of coming to America to get all my favourites at prices closer to what I pay for peanut butter back home seemed like a dream.
…Until I saw some of the prices here. While slightly cheaper (After taking into account the more powerful American dollar), there wasn't that much of a difference in price. Almond butter, cashew butter and well, any nut butter besides peanut butter must be on a vendetta to have a baseline price on a global level….just like Apple and their products.
Fail. Whale.
When the epic folk at Blue Diamond sent me their lightly salted and dark chocolate almonds, I knew the first thing I had to make (using my housemates food processor).
Almond butter.
Specifically, dark chocolate almond butter.
Bite me, expensive prices. (Please don't. I'm a naive latte toned Aussie).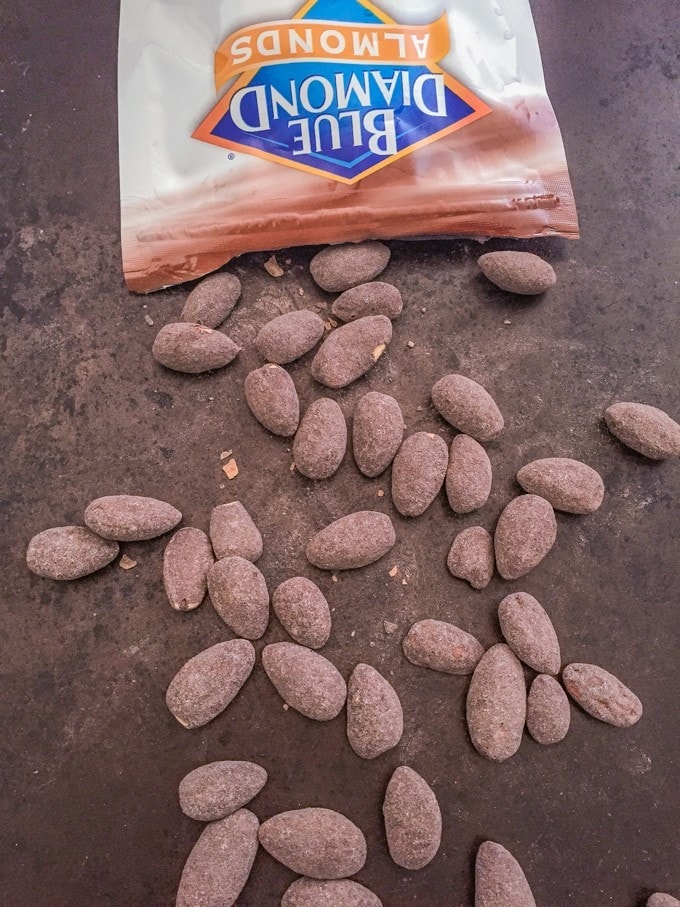 However, today's recipe isn't for the dark chocolate almond butter because that would be just silly. It would only take 1 line to write. Ingredients – Dark chocolate almonds. Method– Blend. There you go. Instead, we have these No Bake Tiramisu Cookies!
These No Bake Tiramisu Cookies look fancy, taste fancy but are so simple to whip up. They are a healthy breakfast choice or snack between meals. They take less than 10 minutes to whip up and can be eaten immediately or if your like me and taste and texture fan, refrigerated for 10-20 minutes to firm up.
Let's talk texture. Doughy, chewy, slightly dense and when eaten straight from the fridge, are just like a piece of a slightly soft fudge.
Let's talk taste. Rich, slightly bitter and with a nutty aftertaste, it's like eating dessert for breakfast. Well, with such healthy ingredients, it is perfectly acceptable- It's what I did yesterday! As with many of my recipes, I've also included a trialled and tested paleo friendly version (with necessary amendments) which taste just as good! I recommend this flour for the gluten free version and this flour for the paleo version!
Make these No Bake Tiramisu Cookies and do one better and use Blue Diamond Dark Chocolate Almonds (or any of their delicious almonds!) to make the nut butter too. It's worth it.
Warning- The almond butter is dangerous and may not even make it in the batter.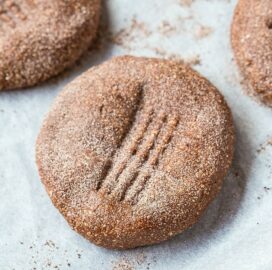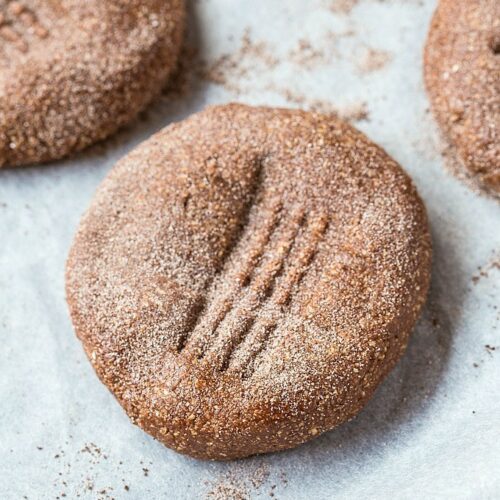 No Bake Tiramisu Cookies
Soft, chewy and just like fudge, these no bake Tiramisu cookies are a sinfully nutritious snack between meals or even breakfast! Gluten free, dairy free, refined sugar free and with a paleo friendly option- All bases are covered for you to indulge in dessert for breakfast!
Print
Rate
Ingredients
For the paleo version
1/2

cup

coconut flour

sifted (can sub for almond or cashew flour)

1

T

cocoa powder

1

T

espresso powder

or ground coffee powder

1/4

tsp

sea salt

1

scoop vanilla protein powder*

2

T

coconut palm sugar

optional

1/4

cup

almond butter

For a completely paleo version, use Blue Diamond slightly salted almonds to make nut butter

1/2- 1

cup+ dairy free milk

I used Blue Diamond Unsweetened vanilla**

Espresso powder

granulated sweetener of choice to dust
Instructions
Line a large plate with baking paper and set aside.

In a large mixing bowl, combine the flour, cocoa powder, espresso powder, sea salt, protein powder and mix well.

Stir through the almond butter and mix through dry mixture until very crumbly.

Using a tablespoon, add the unsweetened almond milk until a very thick dough is formed. Using your hands, form into palm sized cookie shapes and press firmly on the plate. Dust with extra cocoa, espresso and granulated sweetener and refrigerate for at least 10 minutes or consume immediately for a more soft cookie.
Notes
* Protein powder is optional. If omitting, adjust liquids accordingly.
** Depending on the flour and protein powder used, you may need more or less unsweetened almond milk. For the paleo version, I used over 1 1/4 cups.
The granulated sweetener is optional- If your protein powder is sweetened, omit.
These can be kept at room temperature but taste best when refrigerated.
On a no bake cookie bender? Who isn't? Check out these beauties.
No Bake Vanilla Cake Batter Cookies (Vegan, Gluten Free, Sugar Free)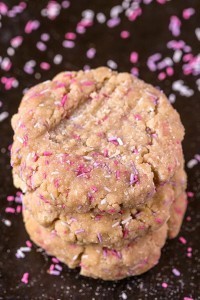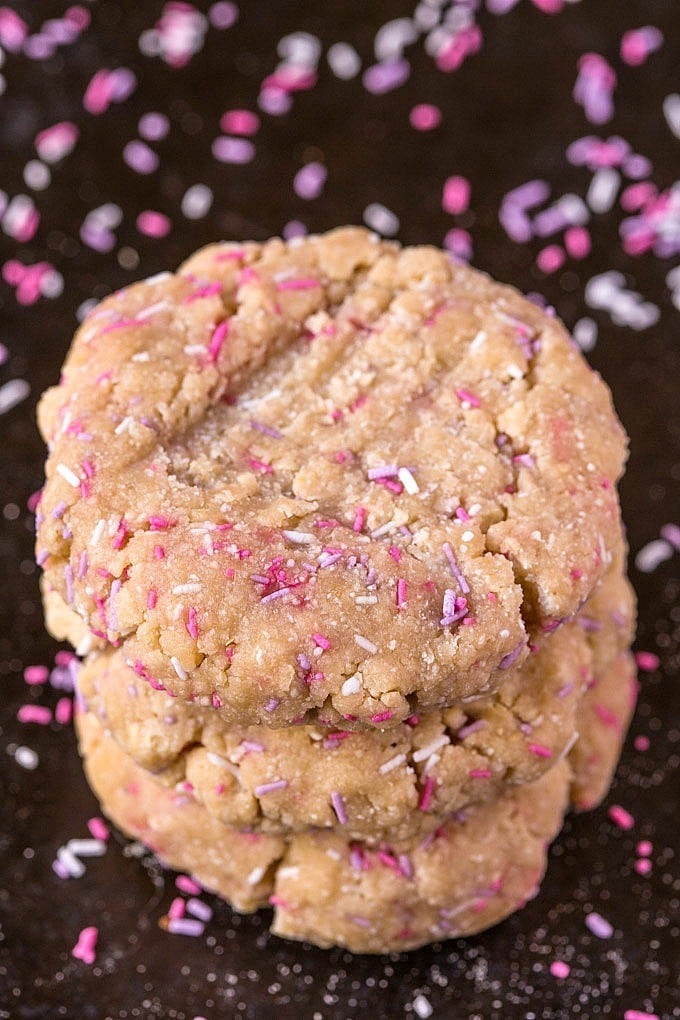 No Bake Triple Almond Cookies (Paleo, Vegan, Gluten Free)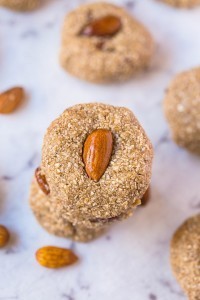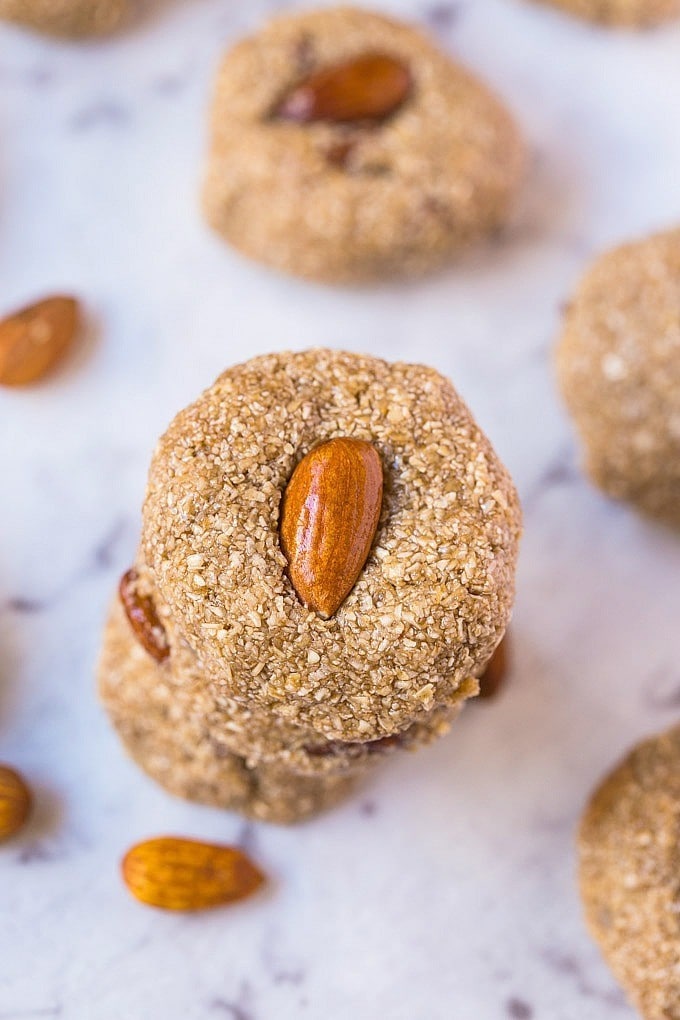 No Bake Peanut Butter Cup Cookies (Vegan, Gluten Free, High Protein)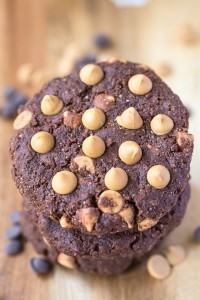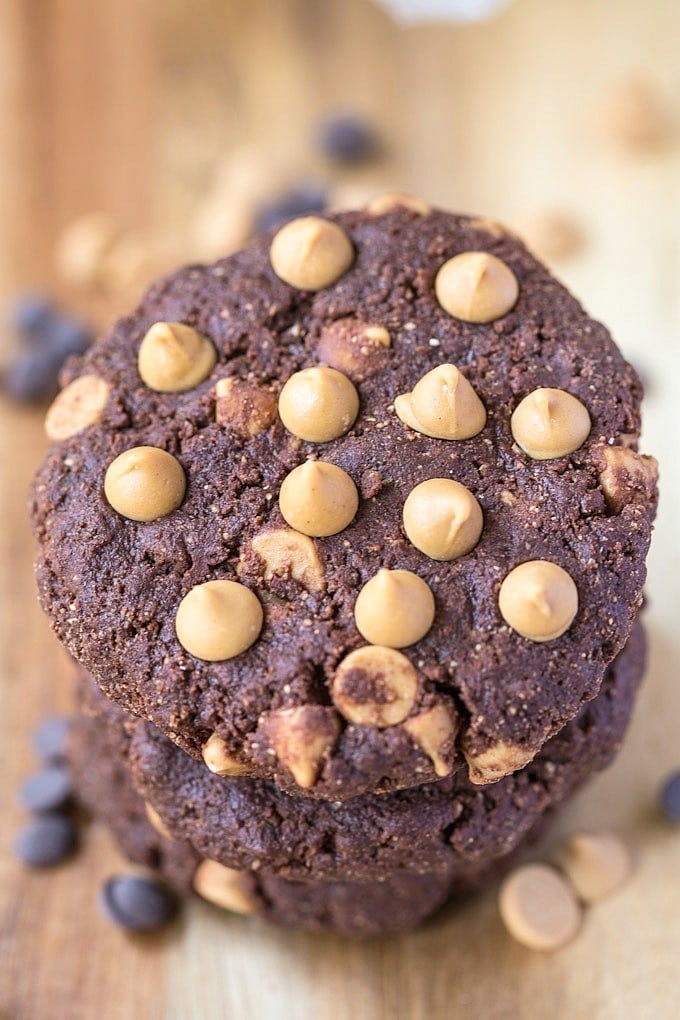 This post is sponsored by Blue Diamond Almonds. Cheers, hugs and handshakes for supporting companies and brands which help in making The Big Man's World continue to grow.
Do you make your own nut butters?
Most expensive consistent grocery item you buy?