Smashed Sweet Potato and Avocado Toast
Take your standard toast to the next level with this healthy smashed sweet potato and avocado toast! Thick, creamy and absolutely satisfying, top it on your toast of a choice for a delicious gluten free, paleo, dairy free and grain free breakfast, brunch or snack!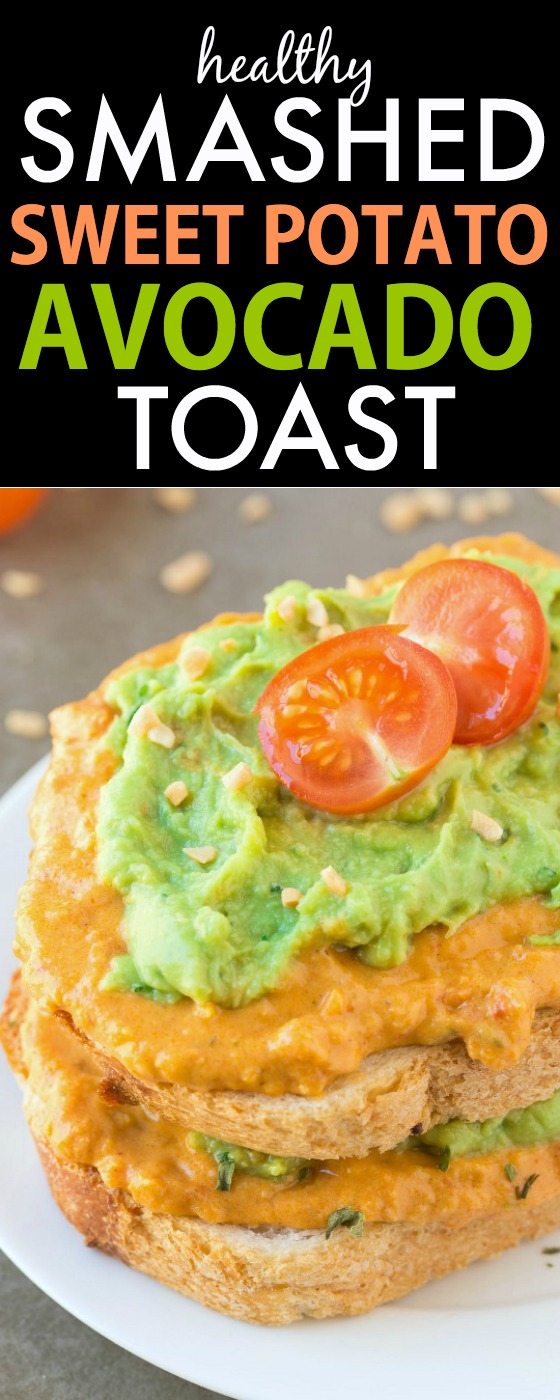 "There is the Australian cafe in the West Village. We should go grab our lunch from there and give you a taste of home!"
"Australian cafe? What makes it so Australian?"
"Oh! The Australian classic- Avocado toast!"
Having lived in Australia for… I don't know, over 20 years of my life, this was news to me. Australia invented avocado toast?
Regardless, I went with my friend to said cafe and besides the waitstaff and the addition of vegemite on the menu, it could have been any cafe out there. It really got me thinking about what exactly is an Aussie food classic?
A few months ago (ironically, also mentioned in this post), I went for brunch with some friends and we all enjoyed avocado toast…with a twist. On the menu was smashed pumpkin, avocado and feta toast. Safe to say, we all ordered it (a rarity amongst my friends- We usually all go for different basic options).
Was this eaten in an Australian cafe? Yes.
Was this eaten with my Australian born mates? Yes.
Was this invented by Australia? Yes….if we are all named 'Australia'.
Regardless of who 'invented' this OH SO AMAZING CONCEPT OF AVOCADO TOAST, the combination was pretty unique.
Before we jump into the post, it's Wednesday which means it's time to showcase a full day of eats! Granted, I semi-promised to share photos of my mum's homemade cinnamon rolls but the evil queen lovely lobster didn't make it. She did say, however, she would this weekend.
Mum, it's on the internet. You are making them.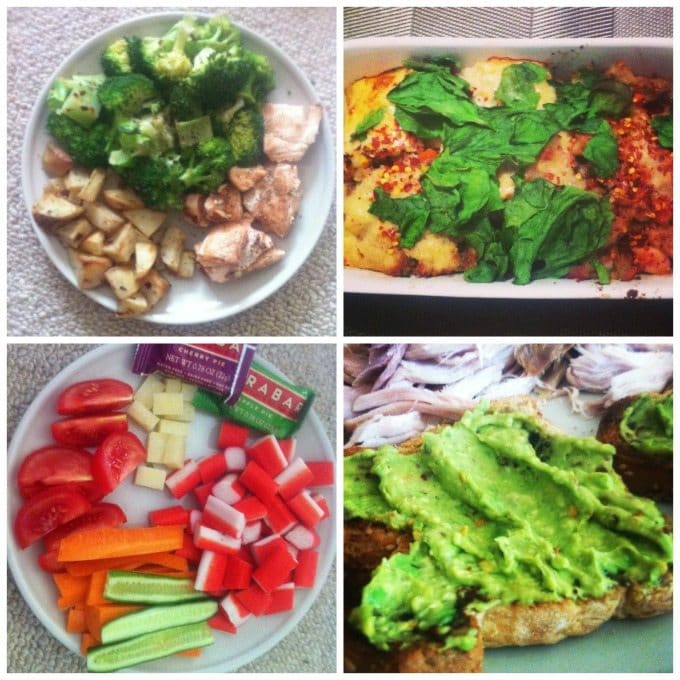 You guys, I need some applause (I just wrote applesauce).
I have been slacking with my greens SO bad- Dinners have been tofu and potatoes, take out. As for my other two main meals, it's been cookbook food aka sweet stuff. This week, I'm proud to have included multiple days of greens!
Breakfast- Avocado toast with scrambled eggs. Snack- Colorful stuff, cheddar, and two Larabar minis, which tasted like lies. Lunch- An experimental cheese, potato, and marinara bake. So delicious and so ugly. Dinner– Potatoes, green trees, and seared tofu.
While this was delicious, let's get into today's recipe, which gives your standard (non-Australian invented) avocado toast up a notch.
BOOM.
As part of my collaboration with Stubb's Bar-B-Q, I'm hoping to share unique and fun (and delicious) twists on recipes using their sauces and spice rubs. Today, I'm using their delicious Bar-B-Q spice rub which is hands down my own and my family's favorite Stubb's product. We use it on our grilled veggies, baked protein (Even baked tofu) and my sister even tops her baked sweet potatoes with them…before dipping them in the Bar-B-Q sauce.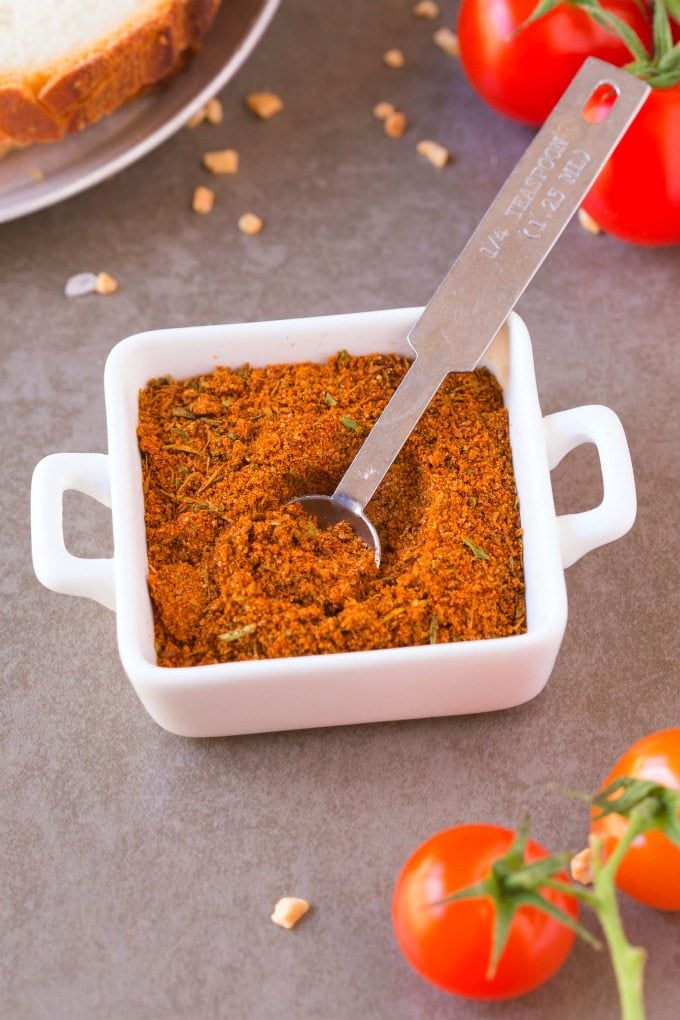 Today, I thought I'd do something a little different- Make a blender sweet potato 'dip' and smashed on toast, with avocado! It's a flavor and texture lovers dream- Thick, creamy and slightly spicy sweet potato spread on toast of choice and with a generous smashing of avocado– Bonus points if you go over the top with it! We'll be making it even more epic by sprinkling a dash more of the Bar-B-Q seasoning on top because as Iggy Azalea said- We're fancy.
As the toppings are naturally gluten free, vegan and paleo friendly, you just need to be wary of what kind of toast you use. It's totally up to you, but ensure one thing- It's thick and toasted. I've tried multiple vegan/gluten free breads and let's just say, there are MANY DUDS. I enjoy this brown rice version, which tastes great toasted. For my paleo friends, I'd recommend one of these 2-minute English muffins– They are thick, versatile and hold up beautifully. If you want some pumpkin action, these pumpkin English muffins can also be substituted.
HACK! Want to pimp up this already pimped up toast? I've got you covered! While the smashed sweet potato/avocado topping is pretty epic on its own, you can give it a protein boost with either of these choices- A poached egg, pesto and pine nuts or even some feta cheese.
Also note- The seasoning contains salt already, so I'd recommend NOT adding extra salt on top of it all.
Make this healthy SMASHED sweet potato and avocado toast and regardless of whom invented it, one thing is certain…
It's delicious.
REOW.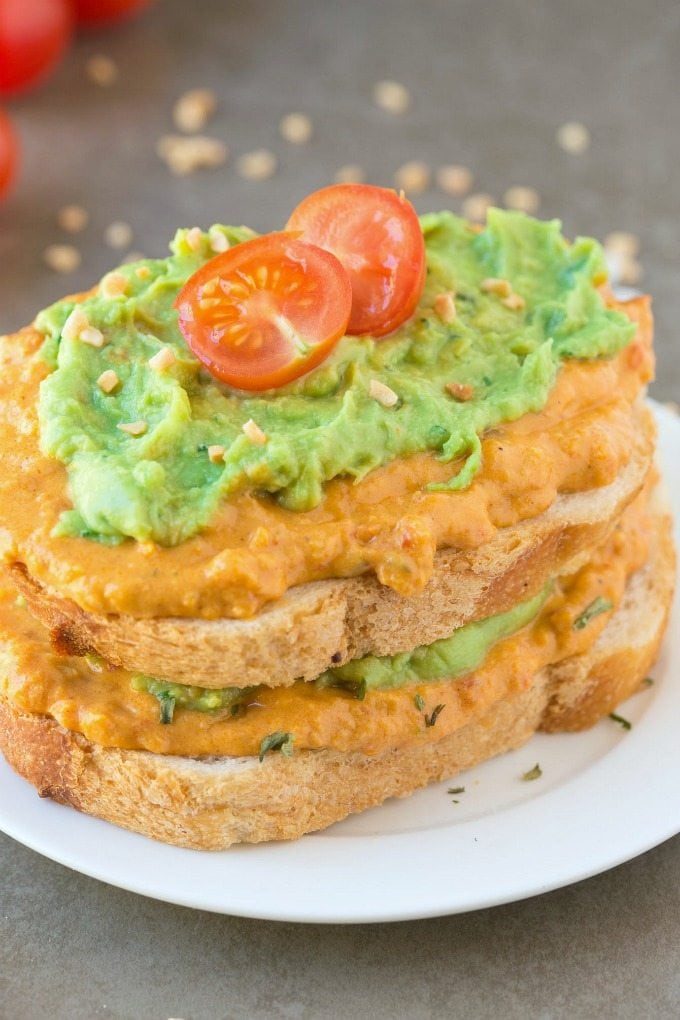 Healthy Smashed Sweet Potato Avocado Toast
2016-09-28 03:21:33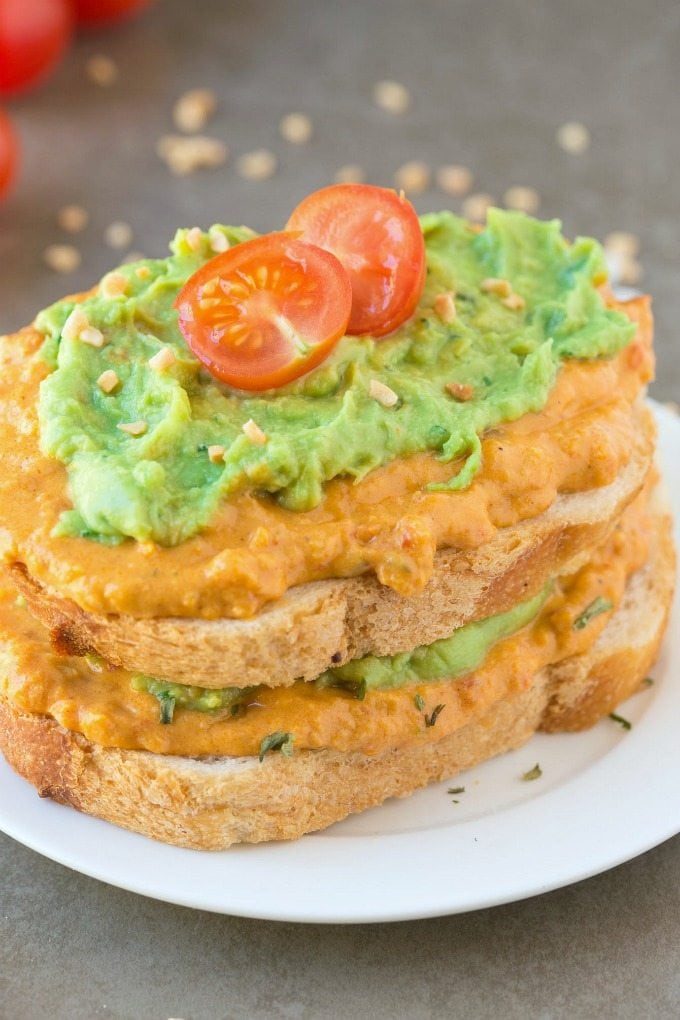 Serves 4
Take your standard toast to the next level with this healthy smashed sweet potato and avocado toast! Thick, creamy and absolutely satisfying, top it on your toast of a choice for a delicious gluten free, paleo, dairy free and grain free breakfast, brunch or snack!
For the smashed sweet potato spread
2 medium sweet potato, steamed and cooled
3 T Tahini
2 T olive oil*
1 tsp lemon juice
3 cloves garlic
1 T Stubb's Bar-B-Q Spice Rub
For the toast
4 slices of bread of choice
1/2 cup roughly mashed avocado/guacamole
Add-ons of choice (poached eggs, feta, pine nuts, pesto)
Blender method
Add the cooked sweet potato to a blender/food processor and blend for 1-2 minutes, until just pulsed. Add the rest of the ingredients and pulse slowly, until just combined.
Bowl method
Using a potato masher, mash the sweet potato very well. Add the rest of the ingredients and mix very well until fully incorporated. (The consistency using this method is much thicker).
To assemble toast
Toast slices of bread/make paleo English muffins.
Generously spread sweet potato spread onto each piece. Add 2 tablespoons of avocado to each slice and top with pepper/extra Bar-B-Q spice rub and optional add-ons and enjoy!
Notes
* If you use a larger sweet potato, add extra olive oil to reach desired consistency.
Sweet potato dip can be made in advance and refrigerated for up to 5 days. It's freezer friendly for up to a month.
The Big Man's World ® https://thebigmansworld.com/
YOUR TURN! Link up a FULL day of eats and let's get salivating!
How do you 'pimp up' a standard food option?
Is there a dish you'd associate with Australia?
This post is part of an ongoing partnership with Stubb's Legendary BAR-B-Q. Be sure to connect with them onInstagram, Twitter, Facebook and Pinterest. Cheers, hugs, and handshakes for supporting companies and brands which allow me to do what I'm passionate about every day and make The Big Man's World possible.