Best Ever Vegan Banana Bread (1 bowl, gluten free)
Tender on the outside, moist and fluffy on the inside, this is the BEST vegan banana bread recipe you'll ever make. One bowl, easy ingredients, and perfect banana bread every time.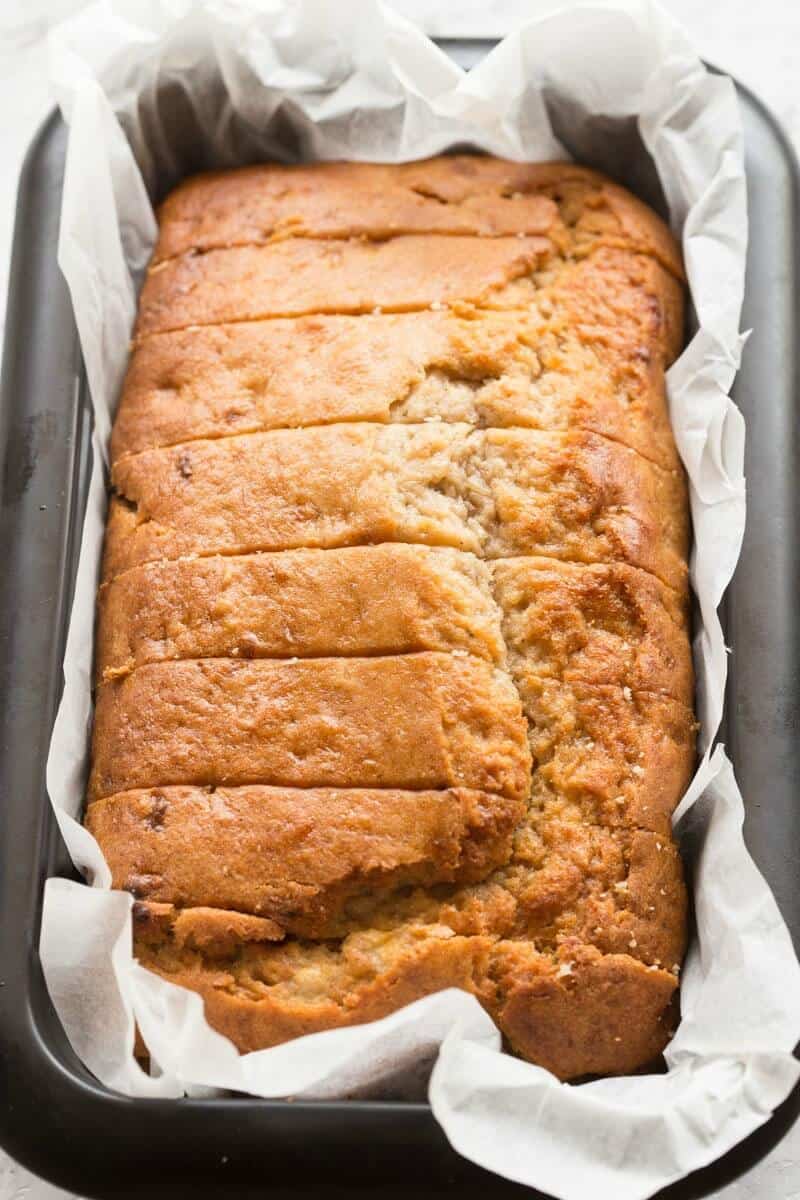 Gluten-Free Vegan Banana Bread
No margarine. There is no milk. Made without oil. No refined sugar.
Seriously, this banana bread is so delicious, you won't believe it is 100% eggless and dairy free.
It can also be made sugar free.
I've made this banana bread countless times, especially when I want something sweet and healthy for breakfast, or have some friends over for coffee.
This recipe is the PERFECT excuse to use up spotty bananas or if you are like me, purposely buying multiple bananas and letting them sit on the bench for several days to turn brown.
Vegan banana bread is SO good, even my non-vegan friends are obsessed with it- No one can tell it is made with no eggs!
Bonus? This banana bread is 100% gluten-free and CAN be made sugar free too.
WHY IS THIS THE BEST BANANA BREAD
I believe everyone needs to have a foolproof and easy banana bread recipe that can be made quickly, and always taste delicious.
This vegan banana bread fits the bill.
The texture of the vegan banana bread is everything a traditional banana bread has- Moist, fluffy and soft on the inside, yet incredibly tender on the outside. Even though it is made without eggs, it rises beautifully, thanks to the apple cider vinegar.
But how does it taste?
Well, as soon as you place the banana bread batter in the oven, your kitchen will immediately smell incredible. Once you let the banana bread cool and slice it and enjoy your first slice, you will become obsessed- Sweet, but not too sweet (it's naturally sweetened!), loaded with banana flavor, with hints of cinnamon.
Incredibly satisfying, it's a healthy way to satisfy the sweet tooth.
VEGAN BANANA BREAD INGREDIENTS
Easy wholesome and healthy ingredients- You probably have them all in your pantry right now!
Bananas– Mashed, overripe bananas are best, as they will yield a sweeter loaf.
Vegan butter– Gives the banana bread the rich buttery texture, without the need for any oil.
Vanilla extract– A must for delicious baked goods!
Unsweetened almond milk– Any plant-based or dairy-free milk will work- I prefer using unsweetened almond milk.
Apple cider vinegar– helps the bread rise and have a fluffy interior, without using eggs.
Gluten-Free or All-Purpose Flour– To keep it gluten-free, you can use gluten-free flour.
Granulated sweetener of choice- I've tried this recipe with white sugar, brown sugar, coconut palm sugar and monk fruit sweetener, a sugar free substitute. I recommend white or monk fruit sweetener (especially to keep it sugar free).
Baking soda– Like the apple cider vinegar, this helps the loaf rise.
Salt– Brings out the natural sweetness!
HOW TO MAKE THE VERY BEST VEGAN BANANA BREAD FROM SCRATCH
No fancy gadgets are needed to make this one bowl banana bread.
Step 1: You'll start by combining your dry ingredients in a large mixing bowl. Then, add the wet ingredients and mix those together, until fully incorporated.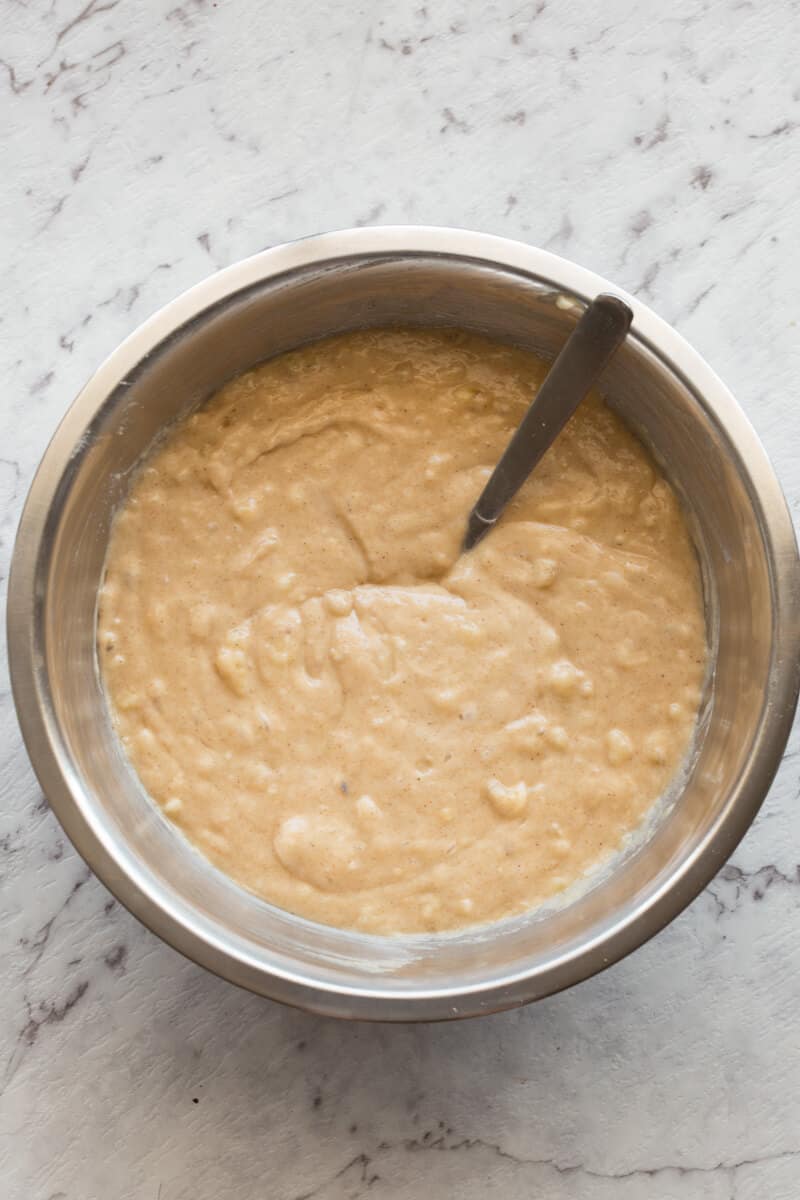 Step 2: Transfer your banana bread batter into a greased or parchment paper-lined loaf pan and bake for around 45 minutes, or until a skewer comes out clean from the center. I recommend allowing the banana bread to cool in the pan completely, before slicing and enjoying.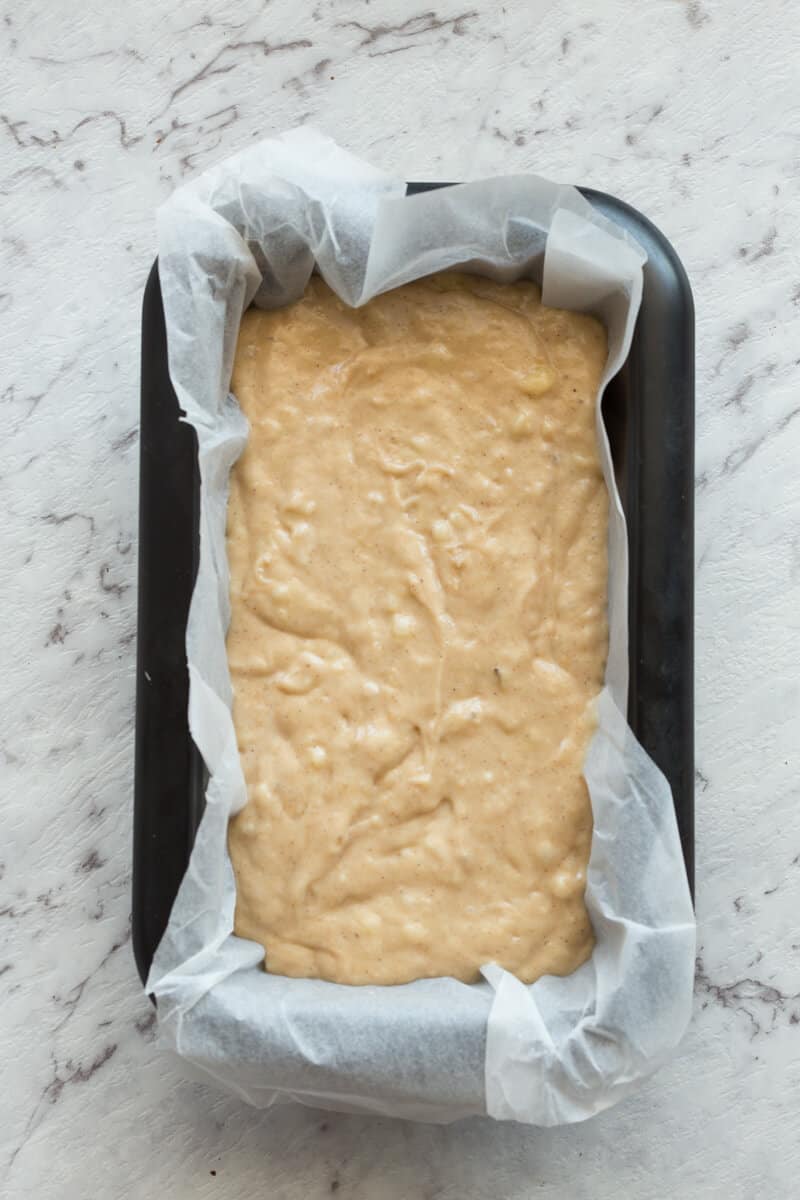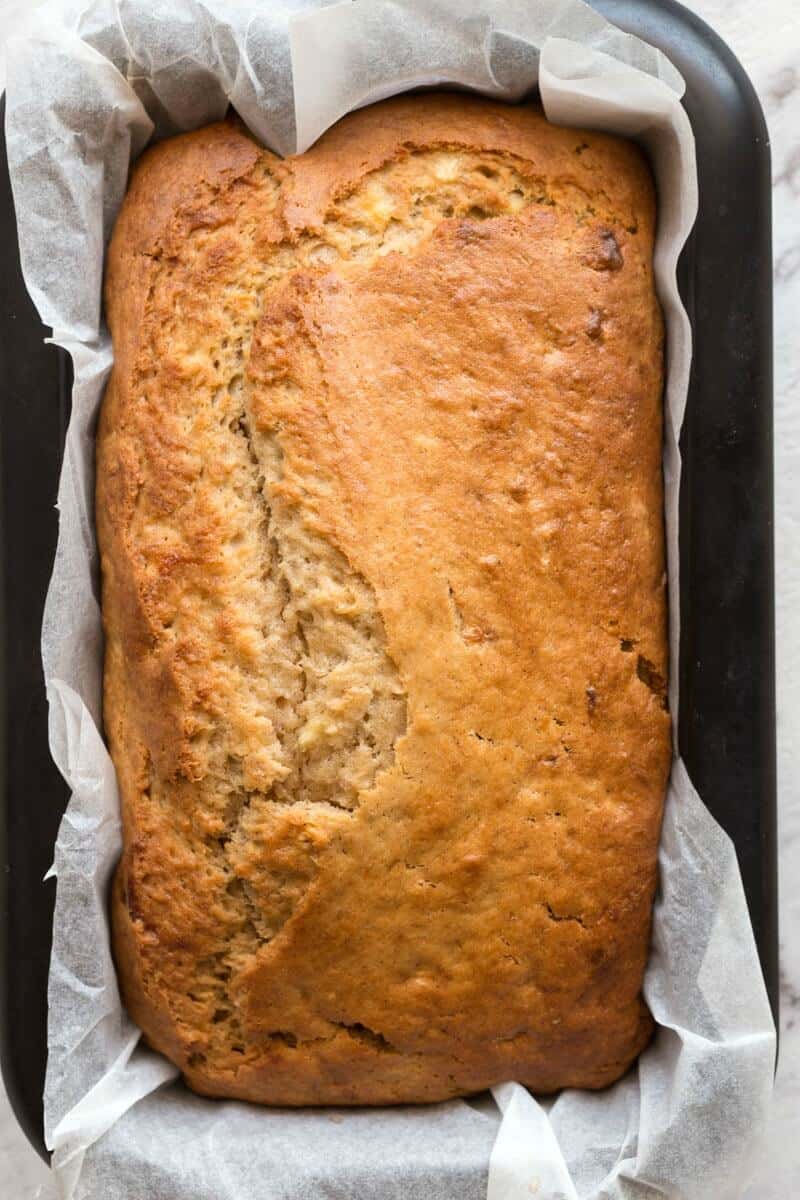 STORING BANANA BREAD
Storing banana bread: You have two options with storing the banana bread- room temperature or the fridge. Personally, I go through an entire loaf of banana bread within 2 days, so keep it at room temperature, covered.
However, if you prefer to enjoy the bread over a week, you MUST refrigerate it. Place it on a place and cover it with plastic wrap. This will keep the bread fresh for one week.
Freezing banana bread: This banana bread is freezer friendly, and can be stored in the freezer to enjoy at a later time. Frozen vegan banana bread will keep for 6 months.
Tip: Wrap individual slices of banana bread so you don't have to thaw out the entire loaf in one go. Do not refreeze it, as it will tend to spoil after.
Thawing frozen banana bread: Thaw banana bread at room temperature, or in the fridge overnight. If you prefer a warm slice of banana bread, I recommend either microwaving it (from room temperature) for around 45 seconds, or in a pre-heated oven for 10 minutes (180C/350F).
CAN I MAKE THIS GRAIN FREE OR PALEO?
This banana bread is naturally gluten-free, as it uses gluten-free flour. However, it is not grain-free or paleo.
If you follow a grain-free, paleo, low carb or sugar-free diet, I recommend this grain-free banana bread recipe (still vegan and gluten-free!).
VEGAN BANANA BREAD VARIATIONS
Banana Walnut Bread. Fold through 1/4 cup of chopped walnuts into the batter, and 1-2 tablespoons on top of it.
Blueberry Banana Bread. Gently toss 1/2 cup of fresh or thawed (from frozen) blueberries in 1/4 cup of flour, to avoid the blueberries sinking. Fold through the blueberries into the batter after all the other ingredients have been combined.
Chocolate Chip Banana Bread. Add 1/4 cup of vegan chocolate chips into the batter, and 1-2 tablespoons on top of the banana bread, once it has been transferred to the loaf pan.
Double Chocolate Banana Bread. Add 2 tablespoons of cocoa powder to the dry ingredients, add an extra tablespoon of milk to the wet ingredients, and fold through 1/4 cup of chocolate chips into the batter.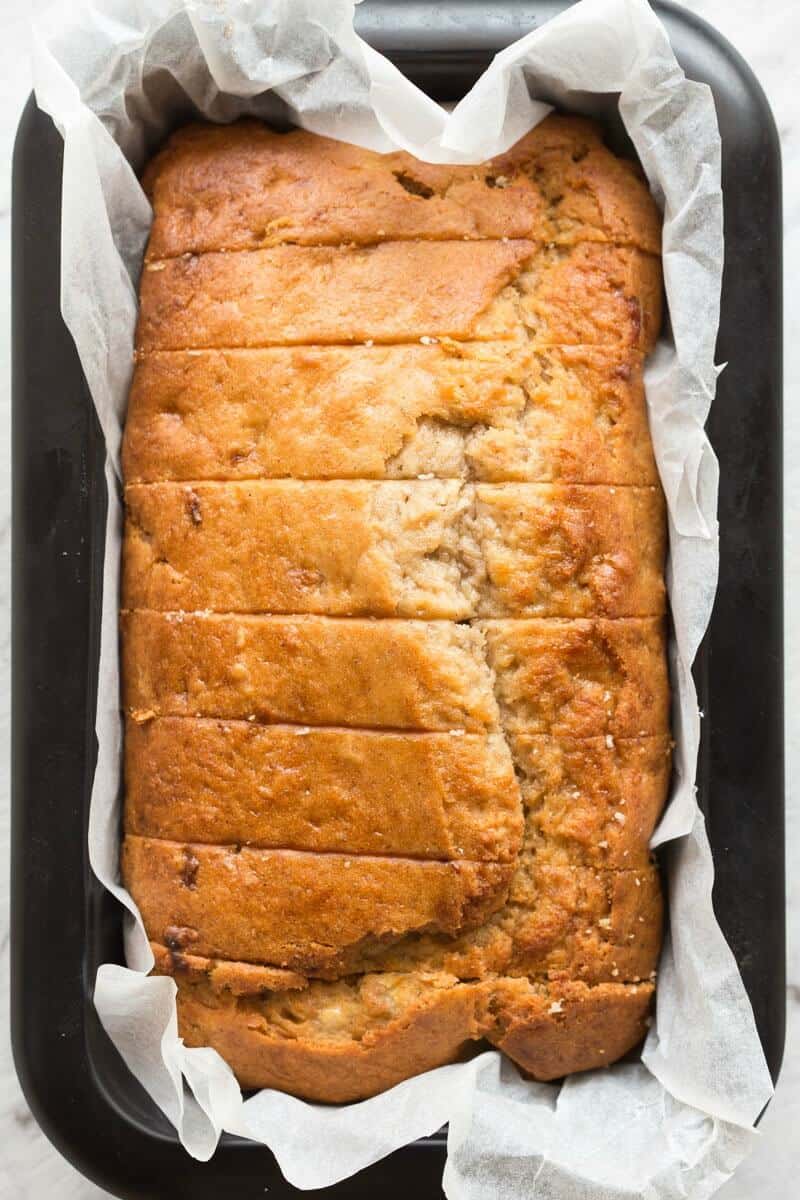 More of the BEST vegan recipes you'll love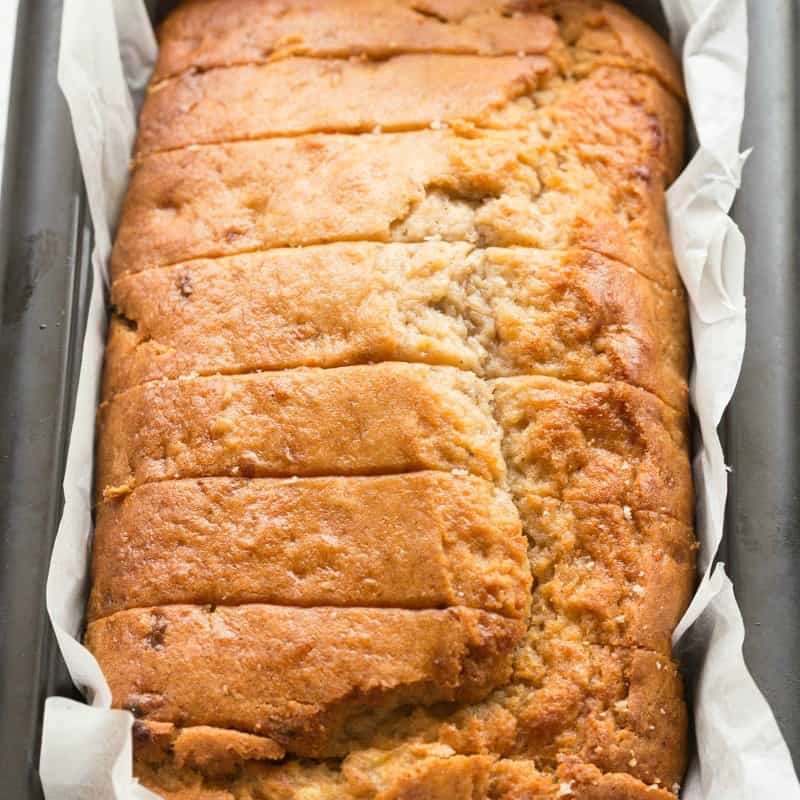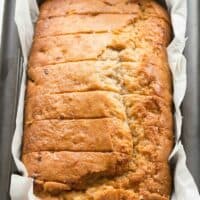 Vegan Banana Bread (1 bowl, gluten free)
The BEST recipe for a healthy and delicious vegan banana bread that just happens to be gluten free and refined sugar free too! Tender on the outside, moist and fluffy on the inside, it's a one bowl recipe that even non-vegans adore!
Print
Rate
Instructions
Preheat the oven to 180C/350F. Line a loaf pan with parchment paper and set aside.

In a large mixing bowl, add your mashed bananas, sweetener, softened butter and vanilla and whisk well, until combined and smooth. Add the rest of the ingredients and mix very well, until combined.

Pour the mixture into the lined loaf pan and bake for 60-70 minutes, or until a skewer comes out the center clean.

Allow banana bread to cool in the pan completely, before slicing up.
Notes
Banana bread is eggless, so you can remove it from the oven slightly earlier, but your banana bread will be super moist.
Key Recipe Equipment and Ingredients
Nutrition
Serving:
1
Slice
|
Calories:
150
kcal
|
Carbohydrates:
25
g
|
Protein:
2
g
|
Fat:
5
g
|
Sodium:
143
mg
|
Potassium:
18
mg
|
Fiber:
4
g
|
Vitamin A:
288
IU
|
Vitamin C:
5
mg
|
Calcium:
3
mg
|
Iron:
1
mg
|
NET CARBS:
21
g