4 Ingredient Paleo Nutella Cookies
Just FOUR ingredients are needed to make these paleo friendly 'nutella' cookies- 1 bowl, 10 minutes and you'll have chewy, delicious and healthy cookies ready! Paleo, gluten free and a vegan option too!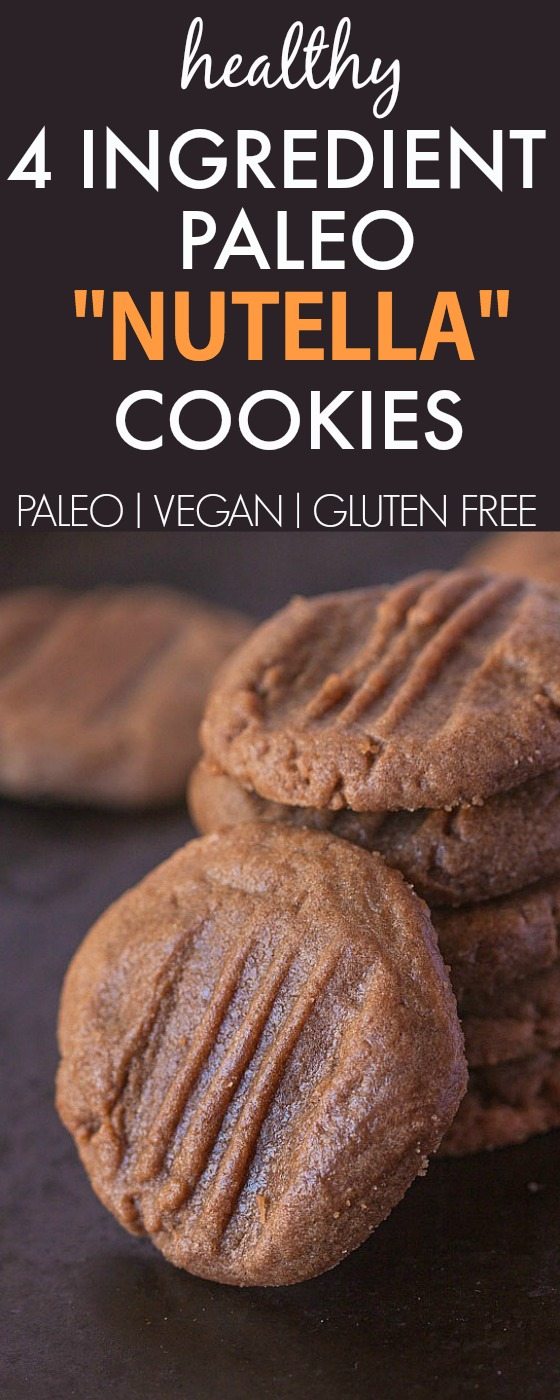 What is one food you claim your life would be incomplete with?
For my sister, it is Nutella. Slathered on toast, enrobed in crepes or most commonly, eaten off the spoon– give her a jar of Nutella and she'd be one happy chicken. (This depends on who gives it to her. If it's me, she expects it as standard and no positive response follows).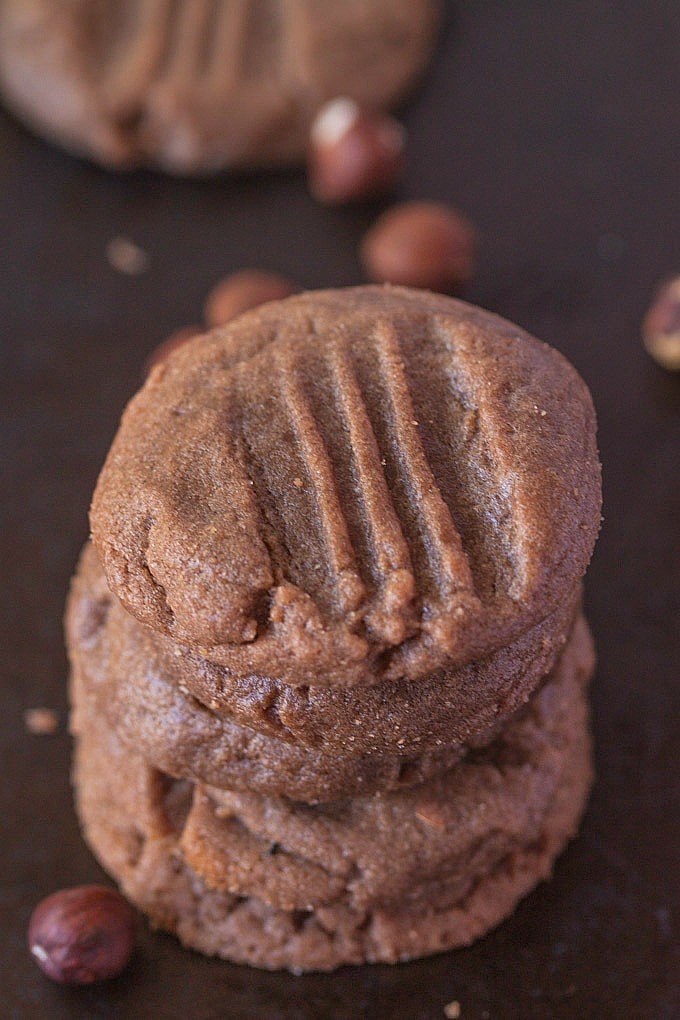 When she embarked on her 2 week paleo challenge (which yes, she did fail miserably), she proclaimed the one thing that would be her undoing would be Nutella. If you followed along with it, you'd know she actually didn't even eat Nutella once.
Being God the kind brother I am, I whipped out spectablend and blended hazelnuts until they turned into a creamy butter consistency ready. My intentions were to add the necessary extras to make her a paleo version of her favourite spread. I snapchatted (yes, a new term coined) her a picture and well…..let's just say she needs her mouth washed with soap due to the nature of her response.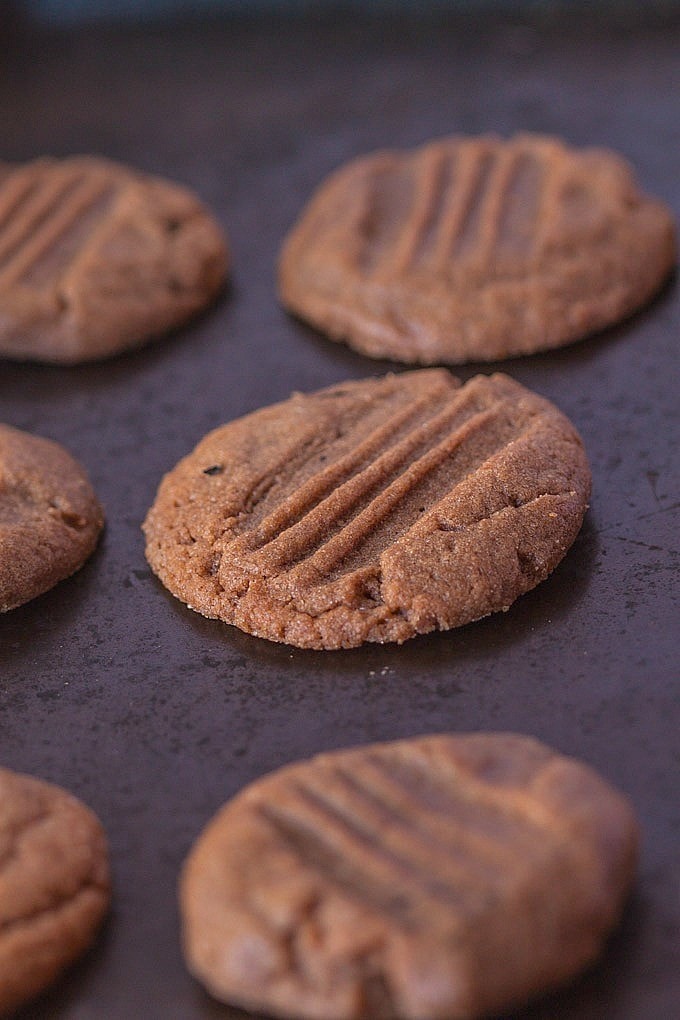 Yes. Hazlenut butter is not visually aesthetic but then again…how did she think Nutella looked like before it's chocolate makeover?
Seeing as she was repulsed, she refused to even try it out. Instead of jumping for joy at this new addition for myself to consume, I decided to use it in a Nutella inspired cookie- and then give them to her and then after she ate it, tell her what the base of it was. Friends, they didn't even last that long.
Based off my 3 ingredient grain free cookies, I switched the nut butter base and added cocoa powder and voila- 4 ingredient Paleo Nutella Cookies! With just four ingredients, these light, crispy cookies are ready in under 10 minutes and so simple to make. They are paleo friendly which makes them vegan, grain free and gluten free to boot.
There you have it. The food version of the ugly duckling story. The ugly duckling became a beautiful swan. The ugly hazelnut butter became a beautiful cookie.
Want to try a healthy Flourless Peanut Butter version of this made with NO eggs and NO sugar? Check out just how easy it is below!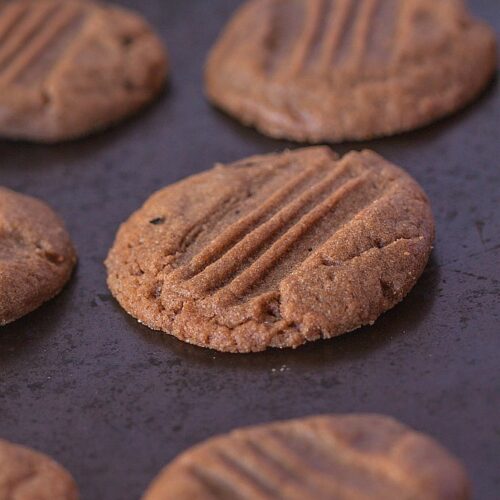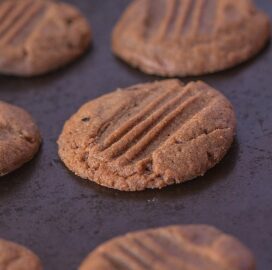 4 ingredient Paleo Nutella Cookies
A delicious, paleo friendly cookie- tastes like nutella and with just four ingredients- ready in under 10 minutes!
Print
Rate
Ingredients
2

cups

raw hazelnut butter*

2

cups

coconut sugar

2

large eggs

for Vegan option, use 2 'flax' eggs- 2 T flax and 6 T water

1/4- 1/2

cup

cocoa powder

sifted
Instructions
Preheat the oven to 180 degrees Celsius.

In a small bowl, whisk the eggs until frothy. In a large mixing bowl, combine the hazelnut butter, coconut sugar, sifted cocoa powder and eggs (or pre mixed flax eggs). Mix very well until fully incorporated.

Place golf ball sized cookie dough on a lined baking tray. Press down on each cookie gently with a fork. Sprinkle sea salt over the cookies and place in the oven. Bake in the oven for 7-10 minutes, or until just golden brown. Remove from the oven (cookies should still be soft) and allow to cool completely on the tray. Cookies will firm up.
Notes
Even though the cookies may seem undercooked, they firm up quite well and maintain a chewy texture
* If you use almond butter, add an extra egg. Do not use sweetened packaged nut butters as they won't form.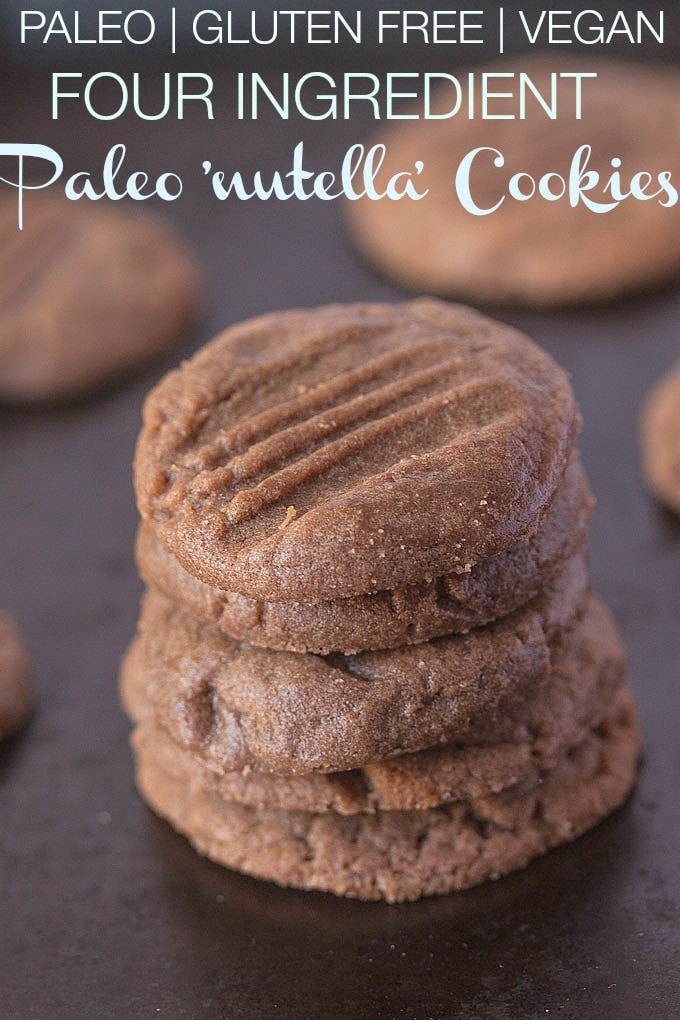 Hope you have a great start to the weekend- see you SUNDAY for the meal round ups for the coming weeks– This weekend it's Breakfast Round up #2! Come swing by and link up a theme related recipe!

Did you eat nutella from the jar growing up?
What is something you claim your life is incomplete with?
How do you make hazelnut butter sexy?