Crispy Flourless Peanut Butter Cookies
Just one bowl, FOUR ingredients and TWELVE minutes is all you'll need to whip up these crispy, flourless peanut butter cookies! Gluten free, grain free and with a vegan option, they will give the infamous chewy cookies a run for their money!

The texture favouritism. We all have it.
Some like their cookies chewy and soft.
Some like their cookies under-baked.
Some don't even like cookies which have already entered the oven. That's okay.
Some don't even like cookies. I'm not sure I could be friends with those people.
Just kidding. I'm greedy and that just means for cookies for me.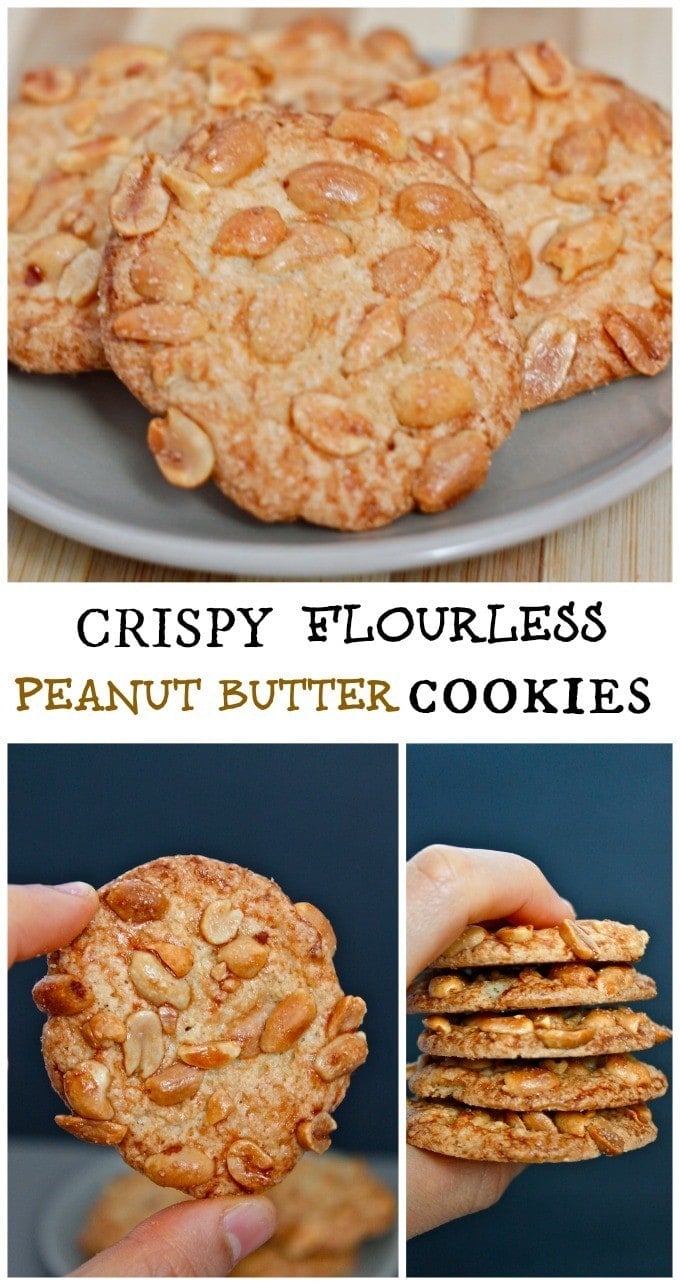 On my recent trip to Melbourne, I had a long discussion with mum about recipes, food and where the damn wooden spoon is that she chased me with. We somehow got onto the topic of cookies and how I apparently favoured the crispy kind growing up.
Now THAT was news to me– I always thought that nothing would come close to the chewy, almost under baked cookies which my all-time favourite cookie is famous for. It couldn't be true.
Mum used to make a big batch of classic peanut butter cookies and add salted peanuts on top before baking them- and unlike how I treat cookies these days- would not remove them from the oven when slightly underdone to firm up- she'd wait until they were actually golden brown on top and then remove and cool.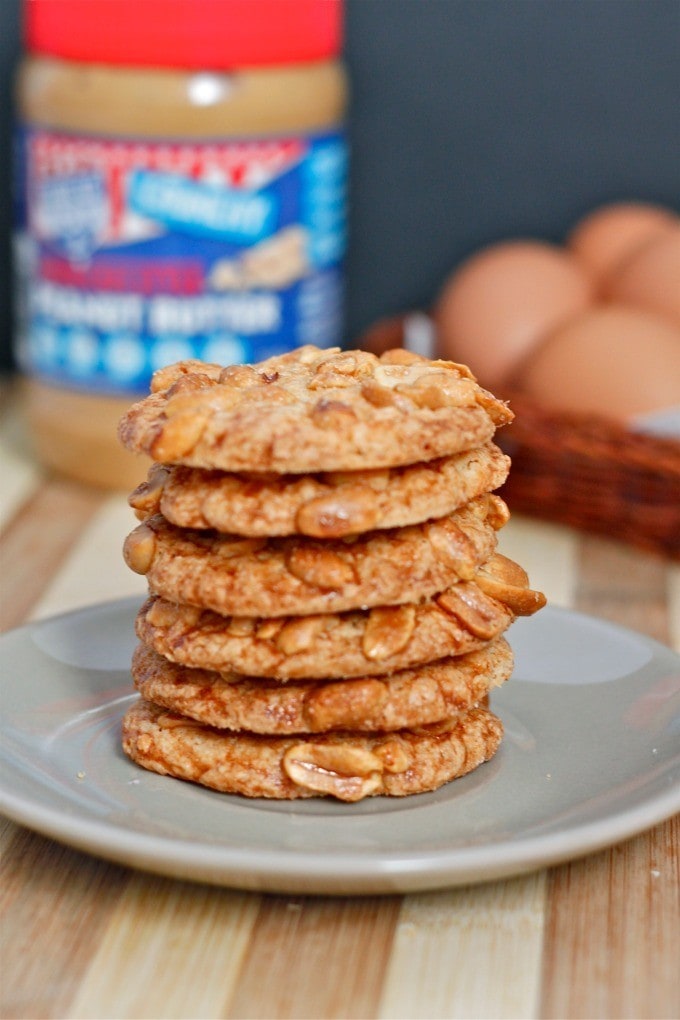 I did some maths.
Undercooked cookies + removing from oven + allowing to cool = soft and chewy cookies.
Slightly undercooked cookies + removing from oven + allowing to cool = chewy, dense cookies.
Completely cooked cookies + removing from oven + allowing to cool = rocks.
Or so I thought.
Remember when I was stubborn goat? Well that is clearly a character trait. I could not fathom ever preferring the crispy cookies over the soft, chewy ones.
I asked mum to prove it.
She told me to jump in a lake try it out myself when I was back home.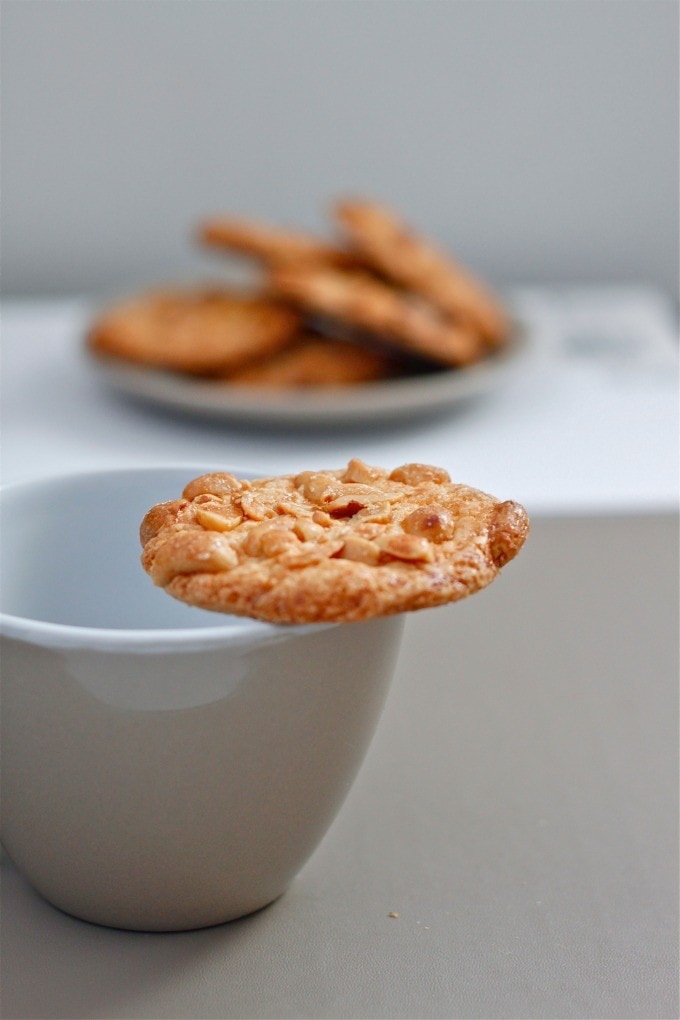 So that's what I did. Made her 'go to' recipe (which I featured on here already) with the added tweaks and kept them in there to it's full golden glory and you know what- It wasn't half bad.
Scrap that, they were damn delicious. These cookies were light, crispy and made the perfect partner for a cup of coffee. Add an extra 2 minutes to the original recipe and they produced these golden perfection. Add the sea salt on top and it's sweet, salty, moreish and well…..yum.
Mum- I take it back.
Crispy Flourless Peanut Butter Cookies
A light and crispy peanut butter cookie which takes less than 15 minutes from prep to plate...or baking tray. Vegan, gluten free and crispy perfection!
Print
Rate
Ingredients
2

cups

crunchy peanut butter

can sub for another nut butter

2

cups

of coconut sugar

can sub for standard white sugar

2

large eggs

for a vegan option, use 2 flax eggs- 2 T flax + 1/4 cup + 2 T water

1

cup

of salted peanuts

chopped roughly

sea salt
Instructions
Preheat the oven to 180 degrees Celsius. In a small bowl, whisk the eggs until frothy. In a large mixing bowl, combine the nut butter, coconut sugar and eggs. Mix very well until fully incorporated.

Place golf ball sized cookie dough on a lined baking tray. Press down on each cookie gently with a fork. Evenly distribute the chopped, salted peanuts on top of each cookie. Sprinkle sea salt over the cookies and place in the oven. Bake in the oven for 12-15 minutes, or until golden brown. Remove from the oven and allow to cool completely on the tray.
Notes
Cookies should already be quite firm once removed from the oven- this is key for the crispy texture.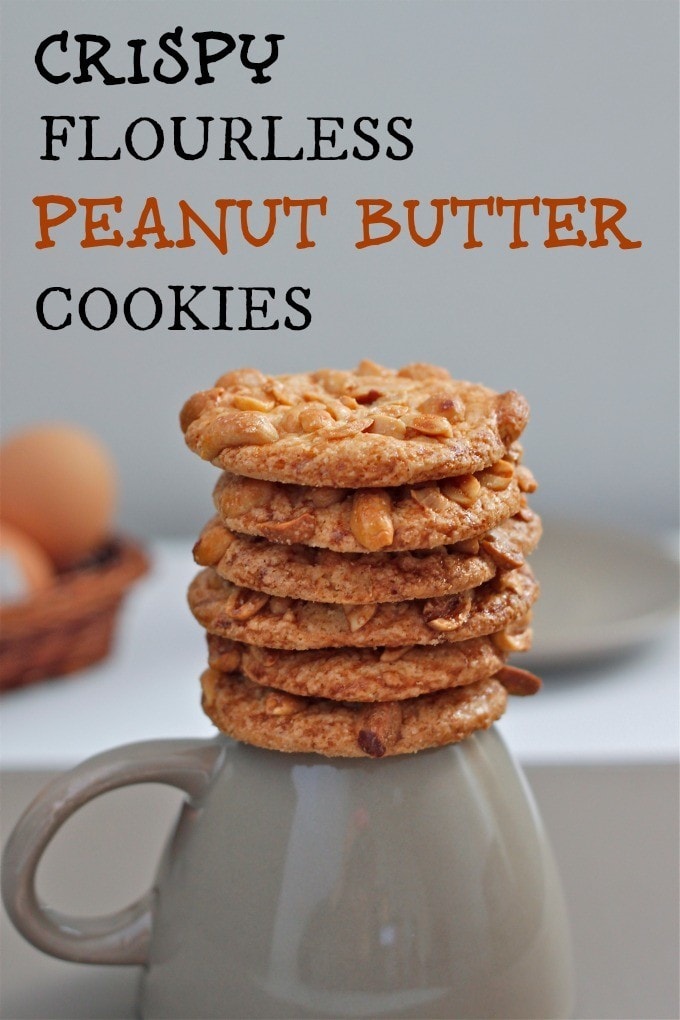 How do you like your cookies?
Do you have foodie discussions with your families?
Salted, raw, dry roasted…nuts. What's your favourite?