Ready in under 15 minutes, this chicken schnitzel recipe features tender fillets under a coating of crispy golden breadcrumbs. Pair it with some German potato salad for an authentic and hearty meal.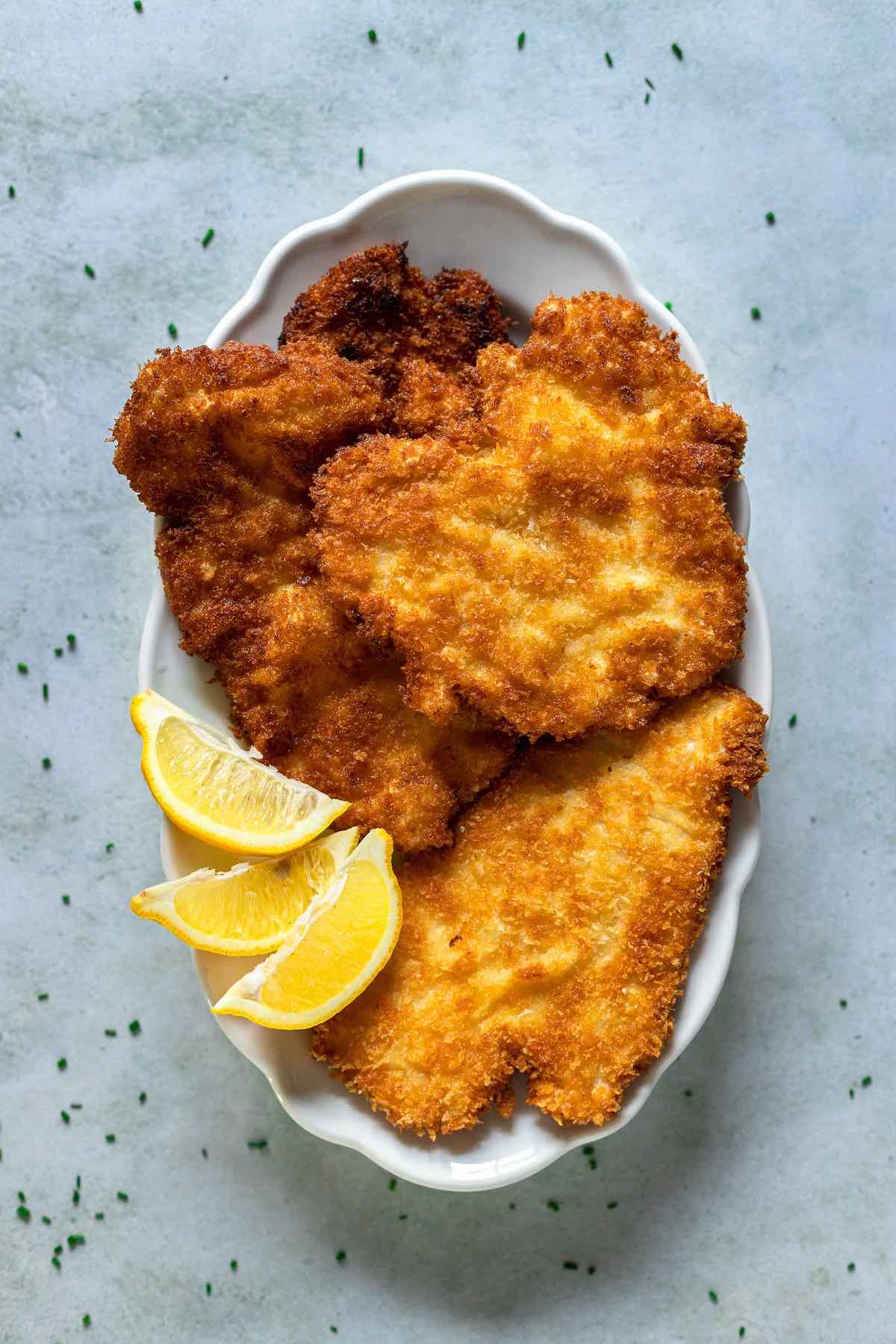 If you've made our chicken katsu or spicy chicken sandwich before, you are bound to love chicken schnitzel. They all share similar qualities, but this European version takes fried chicken to another level!
What is chicken schnitzel?
Schnitzels are essentially a thin cut of meat that has been breaded and fried to make it crispy. While there is veal, pork, and eggplant schnitzel, the most common is made with chicken breast fillets.
Why this recipe will be a dinnertime staple:
Only 6 ingredients. You only need seven everyday ingredients to make one of the most famous European dishes.

Ready in less than 10 minutes. As the chicken fillets for schnitzel are very thin, they take only a few minutes to cook.

Freezer-friendly. You can bread as many chicken fillets as you like and freeze them for later.
What I love about this recipe is just how versatile it is! Leftovers are great in a sandwich or over a salad, and even sliced up on a pizza!
What is chicken schnitzel made from?
Honestly, this recipe calls for very basic ingredients. Besides the chicken, eggs, and a few pantry staples, there isn't much else that goes into it. Here is what you'll need:
Chicken. Chicken schnitzel is made with boneless and skinless chicken breasts. Cut the chicken breasts diagonally to get thinner cuts.
Flour. Dredging chicken fillets in flour help get rid of any extra moisture and achieve crispy results. Flour also helps the egg mixture adhere to the chicken.

Eggs. Dipping the chicken in beaten eggs ensures that the breadcrumbs don't fall off.

Breadcrumbs. The final coating provides the crispiness of the schnitzels.

Oil. To fry the chicken fillets. Any neutral-flavored cooking oil will work.

Salt and pepper. To taste.
How to make it
Making perfectly crispy chicken schnitzels is easy if you follow three easy steps. Ready to cook some up?
Step 1- Pound the chicken
Cut skinless and boneless chicken breasts in half diagonally. Place the fillets between saran wrap and pound them until the chicken breasts are ¼ inch thick.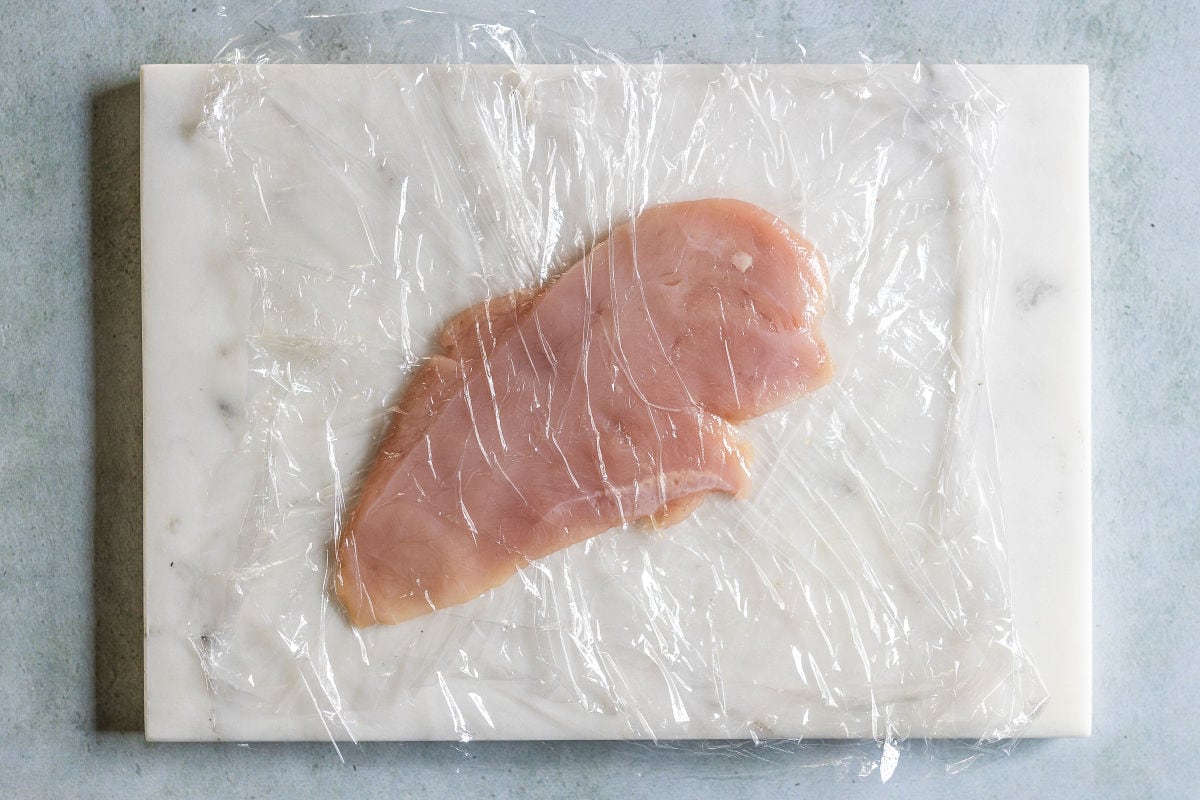 Step 2- Bread the chicken fillets
Get three shallow bowls. In one bowl, mix flour with salt and black pepper. crack the eggs in the second bowl and give them a good whisk. Add the bread crumbs to the last bowl.
Dip each chicken fillet in the flour mix, followed by the eggs, and the bread crumbs.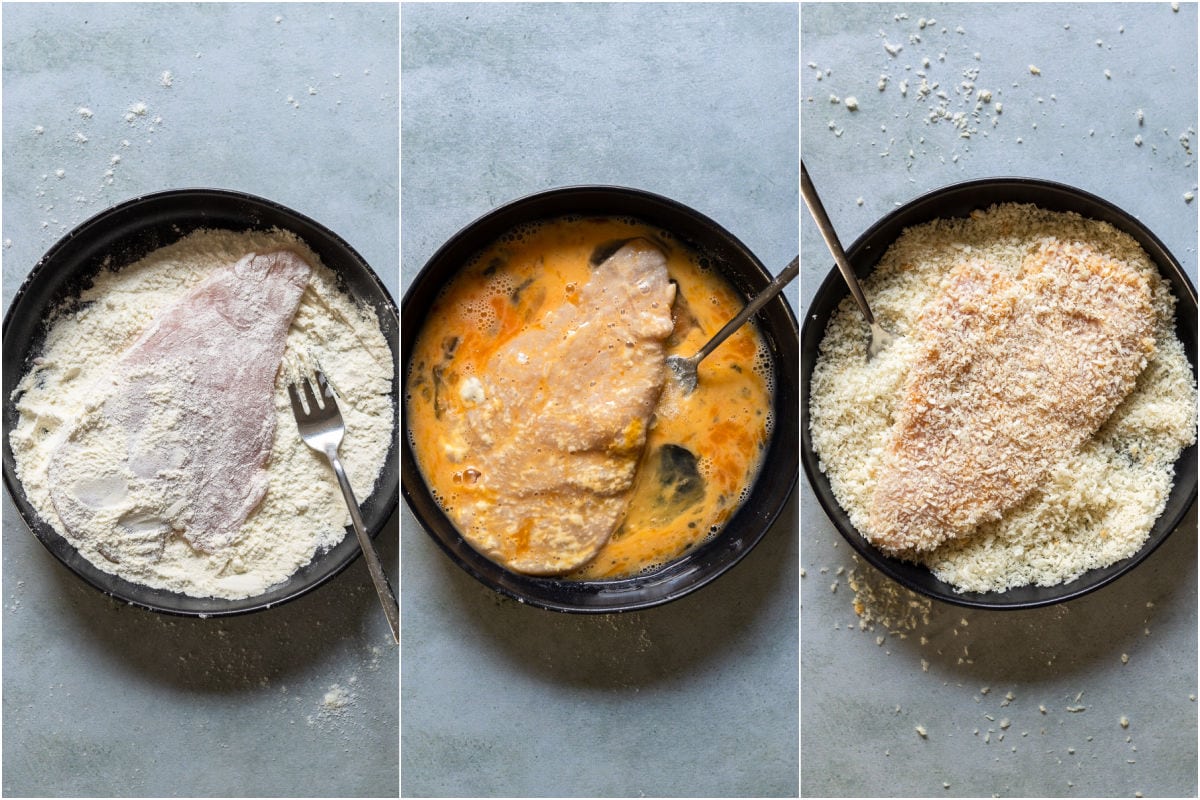 Step 3- Fry and serve
Add cooking oil to a non-stick pan. Once hot, fry the breaded chicken fillets for 4 minutes per side until golden brown.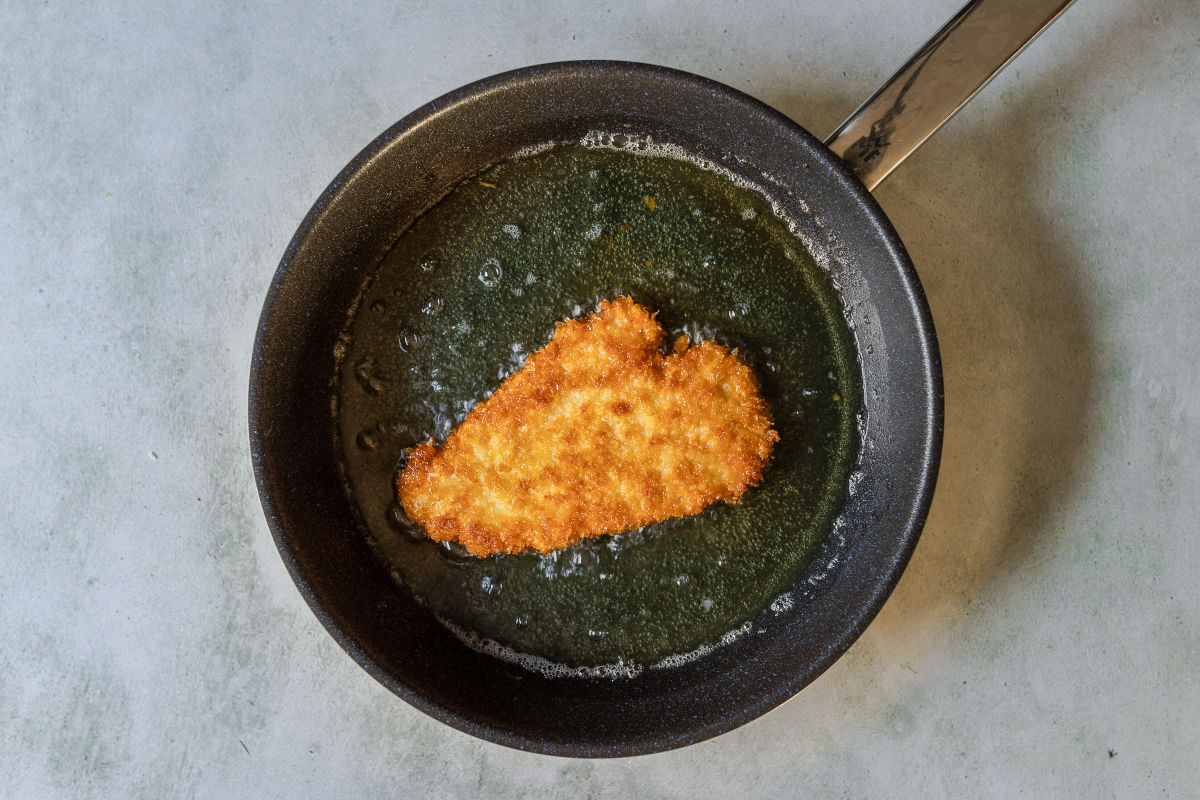 Remove the schnitzels from the pan and place them on a wire rack to get them extra crispy.
Can I bake Schnitzel?
If you'd prefer to bake the chicken instead of frying it, you can certainly do that instead.
Simply place the breaded chicken on a lined baking sheet and bake at 180C/350F for 25-30 minutes, flipping halfway through.
Tips to make the best recipe
Don't put freshly fried chicken schnitzels on paper towels. While paper towels absorb the extra oil, they tend to make the schnitzels slightly soggy.

Mix a tablespoon of mustard with the beaten eggs or brush it on the chicken fillets before seasoning them. This will give the schnitzels a mild mustardy kick.

Bake these chicken schnitzels if you want to avoid extra fat and calories. Bake them at 425F degrees for 6 minutes per side.

Don't skimp on salt and pepper. Season the fillets generously on both sides to avoid bland chicken.
Storage instructions
To store: Place leftovers in an airtight container in the fridge for up to 3 days.
To freeze: While uncooked chicken schnitzels freeze better, you can freeze them cooked too. Wrap each schnitzel in food wrap and freeze for up to 3 months.
To reheat: Whether you have had them in the fridge or in the freezer, the best way to reheat schnitzels is by using the oven. Don't reheat chicken schnitzels in the microwave to prevent them from getting soggy.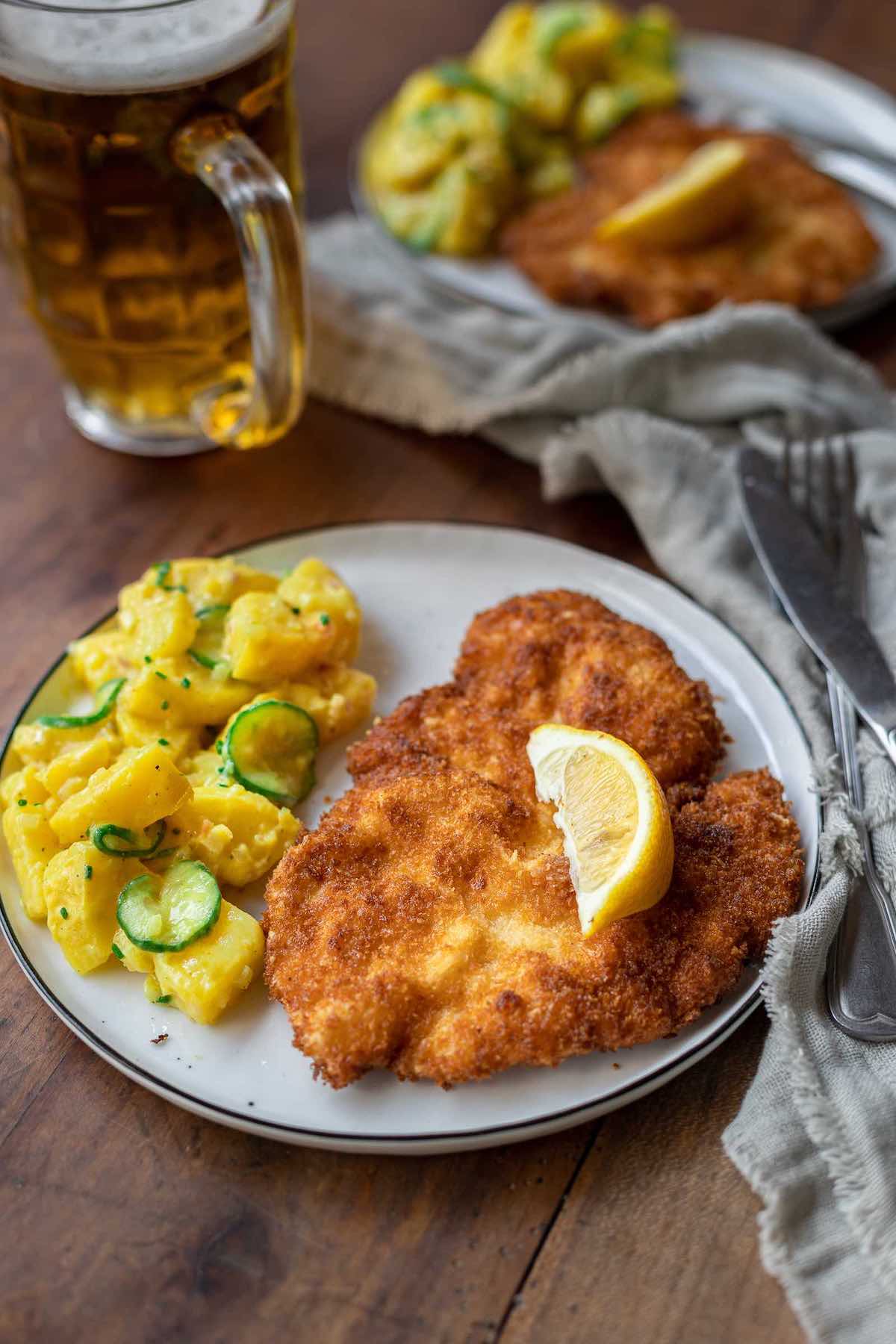 What goes with chicken schnitzel?
You have an array of options when it comes to side dishes for chicken schnitzel. Here are a few ideas for your next meal.
Frequently asked questions
Is schnitzel just fried chicken?
Schnitzel is not just reserved for chicken; pork, veal, and even eggplant all work well using this method. Compared to standard fried chicken, chicken schnitzel is crispier, moister in the middle, and less greasy. 
What makes schnitzel a schnitzel?
The cut of meat and the preparation technique are the two things that make schnitzel a schnitzel. A schnitzel is made from a boneless cut of meat that is pounded thin, then breaded and fried to create a crispy coating.
Are chicken schnitzels pre-cooked?
While there are some brands that simply require quick microwaving, most will need to be oven-baked or pan-fried before consumption.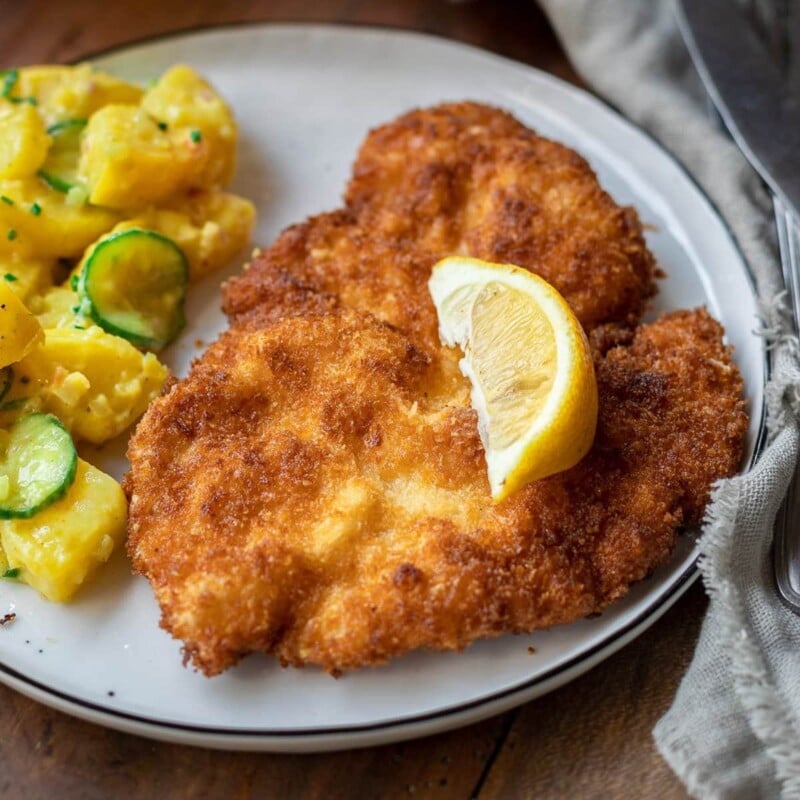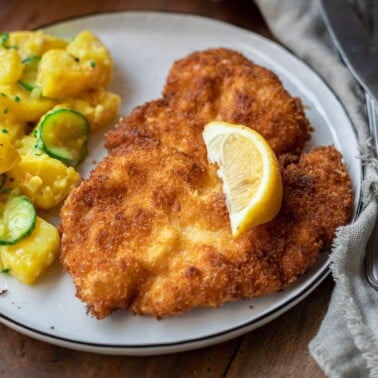 Chicken Schnitzel
Ready in under 10 minutes, this chicken schnitzel recipe features tender breast fillets under a coating of crispy golden breadcrumbs. Perfect for a quick and easy dinner. 
Ingredients
Instructions
Place the chicken breasts between saran wrap and pound into 1/4 inch thickness.

Add the flour, salt, and pepper in one bowl, eggs in another bowl, and the bread crumbs in a third bowl.

Moving quickly, dip the chicken in the flour mix, followed by the eggs, and then the bread crumbs. Shake off the excess from each breast.

Add oil to a non-stick pan. Once hot, fry the chicken for 8 minutes, flipping halfway through. Remove the chicken once golden brown. Place the chicken on a wire rack for maximum crispiness.
Nutrition
Serving:
1
schnitzel
Calories:
198
kcal
Carbohydrates:
21
g
Protein:
18
g
Fat:
4
g
Sodium:
415
mg
Potassium:
281
mg
Fiber:
1
g
Vitamin A:
108
IU
Vitamin C:
1
mg
Calcium:
48
mg
Iron:
2
mg
NET CARBS:
20
g
Disclosure: This post may contain affiliate links. I may earn a small commission for my endorsement, recommendation, testimonial, and/or link to any products or services from this website.