This chocolate caramel tart is a simple and delicious no bake tart filled with vegan caramel and topped with a chocolate ganache. A showstopping dessert that looks impressive but needs just 4 ingredients.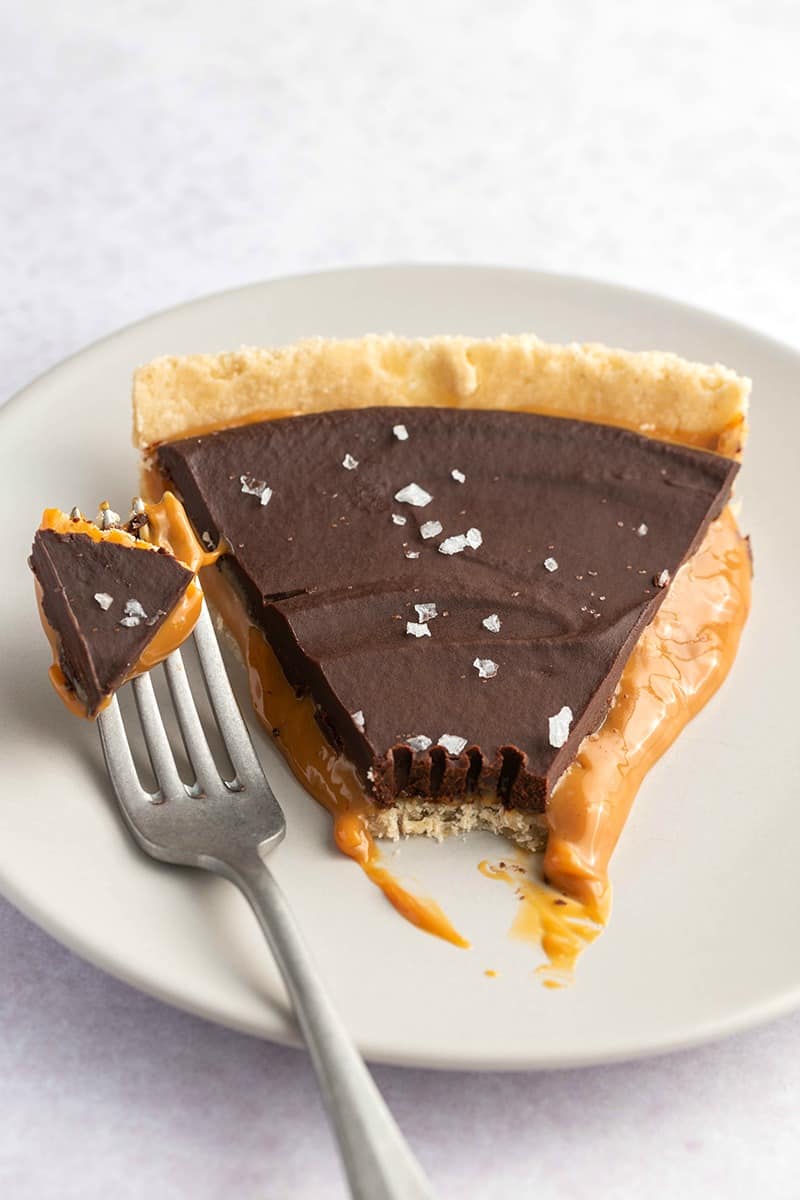 Chocolate Caramel Tart
When it comes to no bake desserts, I love whipping up a no bake cheesecake, chocolate tart, and this salted caramel chocolate tart.
Whenever I attend dinner parties or events, I always raise my hand to bring the dessert. My friends consider me to be the dessert king, and due to that reputation, I always have to mix things up. While I used to alternate between a cake or some brownies, I've recently started including tarts in my dessert arsenal.
I've been meaning to share a caramel tart recipe for quite some time now. I went through a phase of salted caramel desserts, but never in the form of a tart. A friend of mine
Now, this caramel chocolate tart looks impressive and fancy, but I promise you it is SO easy to make and requires no baking whatsoever.
No dairy, no refined sugar, and no eggs are needed, but you'd never tell. The filling texture is smooth, rich, and creamy, and the crust is sweet and buttery. The ganache is rich and dark and balances the sweetness of the caramel perfectly.
I served this at a recent dinner party and NO ONE believed the tart to be dairy free and made using just 4 ingredients– They thought I'd spent all day in the kitchen preparing it!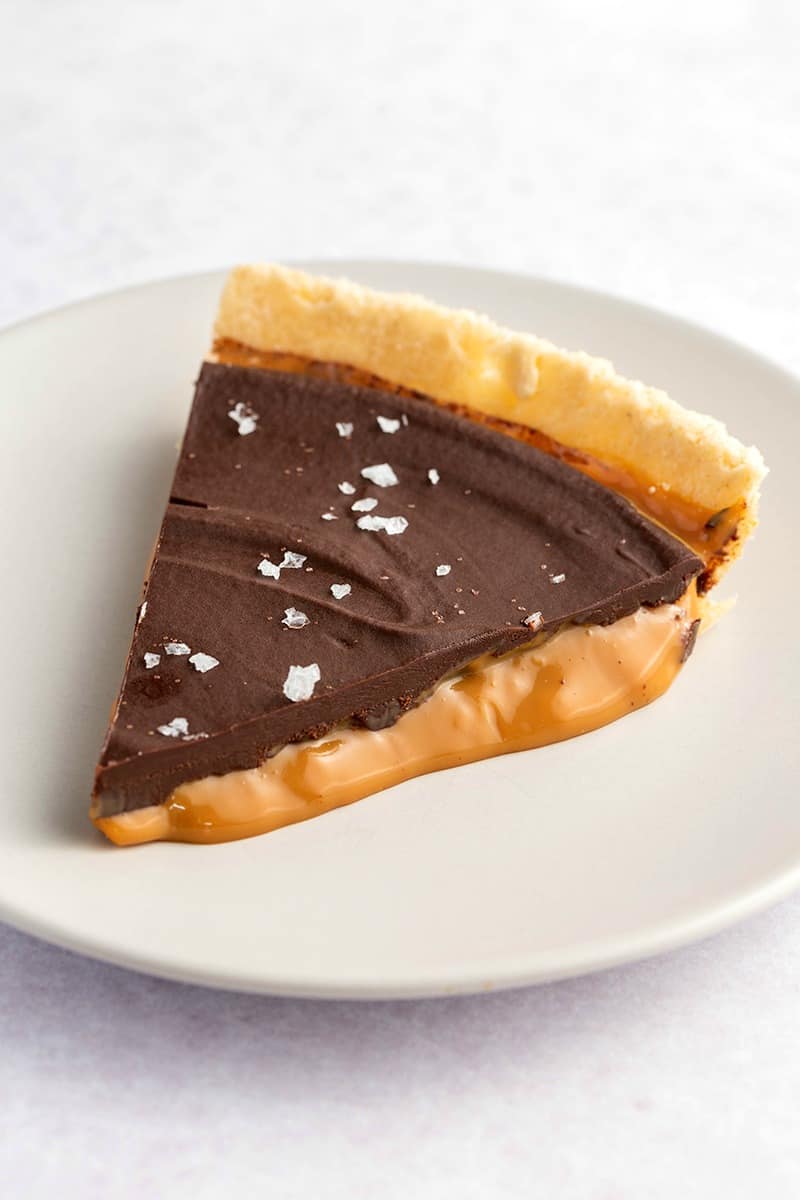 Ingredients to make this recipe
These are the ingredients you'll need to make this caramel tart. There are a few substitutions that can be made. I used vegan and gluten free alternatives, but if you don't follow any specific diet, you can use traditional versions of them all.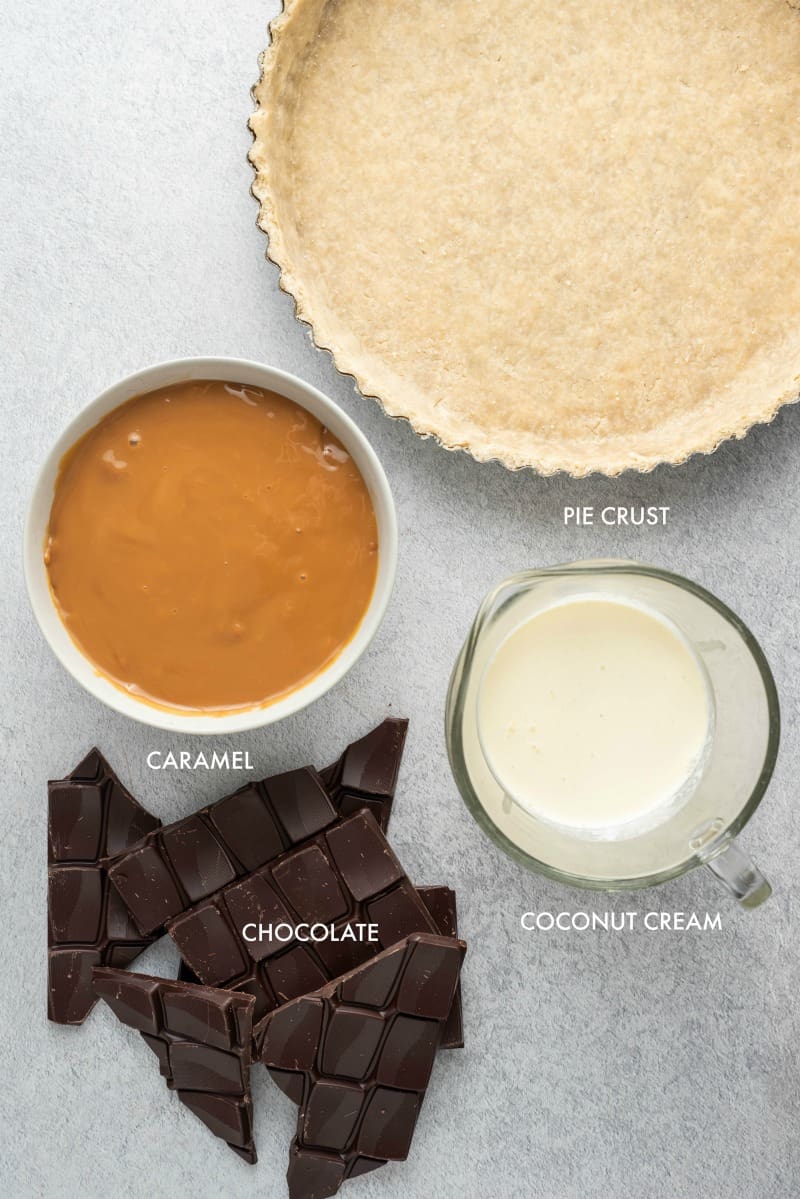 Pie crust of choice– Any 9-inch pie crust can be used. See my tips below for a simple graham cracker crust.
Caramel sauce– You want your caramel to be gooey and rich, almost like a dulce de leche. I used a homemade caramel, which needs just one ingredient to make.
Coconut cream– Full fat coconut cream, and it must be from a can. This mimics heavy cream or thickened cream, minus the dairy!
Chocolate– Any chocolate can be used! I recommend chopping up your own chocolate bar, as it yields a richer and smoother texture. It will also melt much better.
Salt– Flaky salt to sprinkle on top.
How do you make a caramel tart?
Start by preparing your pie crust, before you begin layering up the caramel and chocolate. Once the pie is in the pan, pour your caramel filling to cover the entire bottom of the tart. Place the tart in the refrigerator while you preparer the chocolate. In a small saucepan or microwave safe bowl, heat up your coconut cream until warm. Add your chopped chocolate and let it sit for 2 minutes, to start to melt. Gently whisk the chocolate into the warm cream until thick, smooth, and glossy. Finally, remove the tart from the refrigerator and pour the chocolate ganache over the top. Refrigerate once more, to firm up.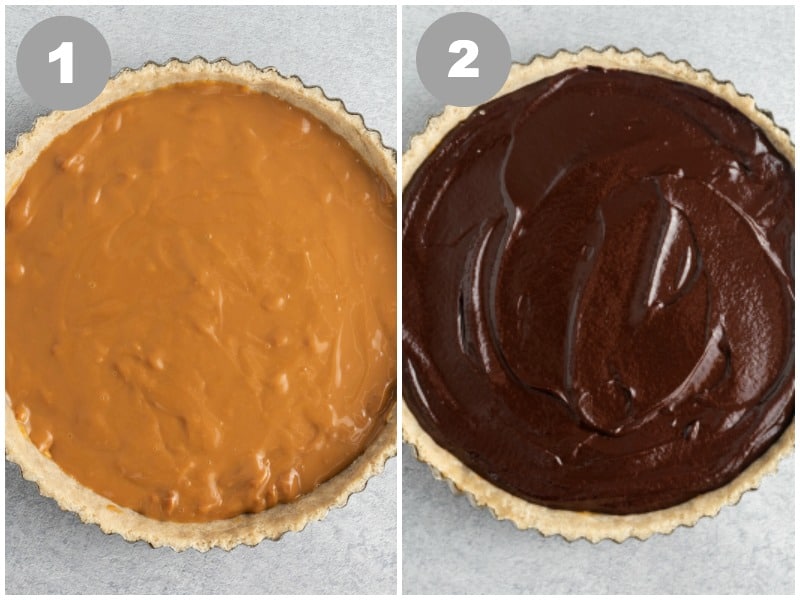 Tart crust ideas
You can use a store bought crust or another homemade crust of choice. Alternatively, you can make this simple graham cracker crust. Just be sure to use gluten free graham crackers or another plain cookie of choice.
To make: 2 1/4 cups graham cracker crumbs, 1/2 cup sugar, and 1/2 cup + 1 tablespoon butter (or vegan butter).
Combine all the ingredients together, until a crumbly texture remains. Transfer the mixture into a 9-inch pie or tart pan and press into place. Refrigerate for an hour, to firm up.
Tips to make the best salted caramel tart
If you don't make this caramel, be sure the one you use is thick and gooey. If it is weak or watery, you'll find the pie crust become soggy and the filling to be limp.
Do not use reduced fat coconut cream or coconut milk- neither of those has a thick texture to help form a creamy ganache.
If you have a coconut allergy, you can replace the coconut cream with either heavy cream or double cream.
Serve this caramel tart with a scoop of vanilla ice cream or coconut ice cream, to take it up a notch!
How to store the caramel tart
To store: Chocolate caramel tart should always be stored in the refrigerator, covered, for up to 2 weeks.
To freeze: Place slices of the tart in a sealable container and store in the freezer for up to 6 months. Thaw the tart overnight in the refrigerator.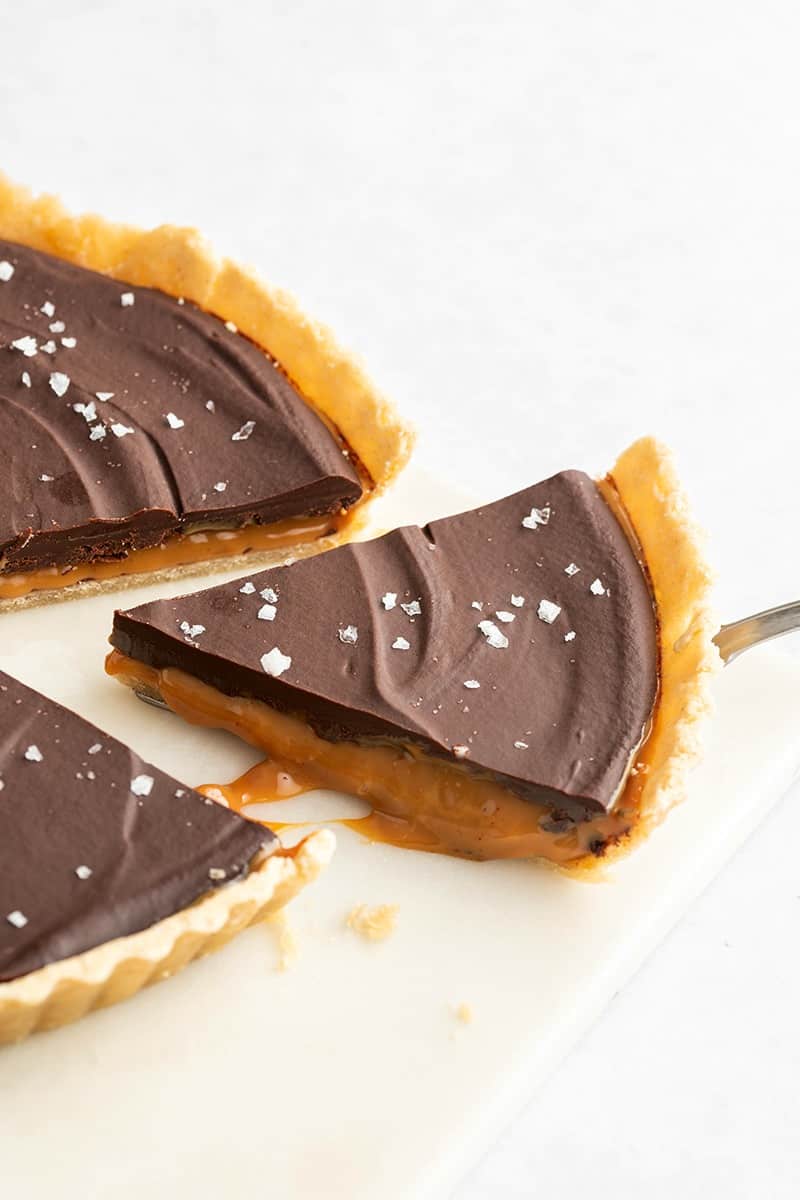 More vegan desserts to try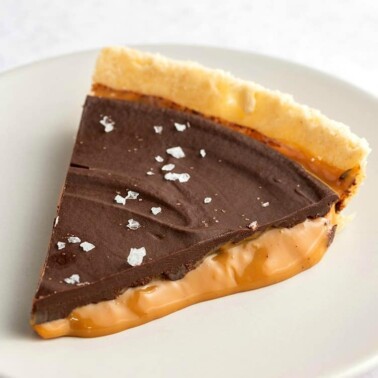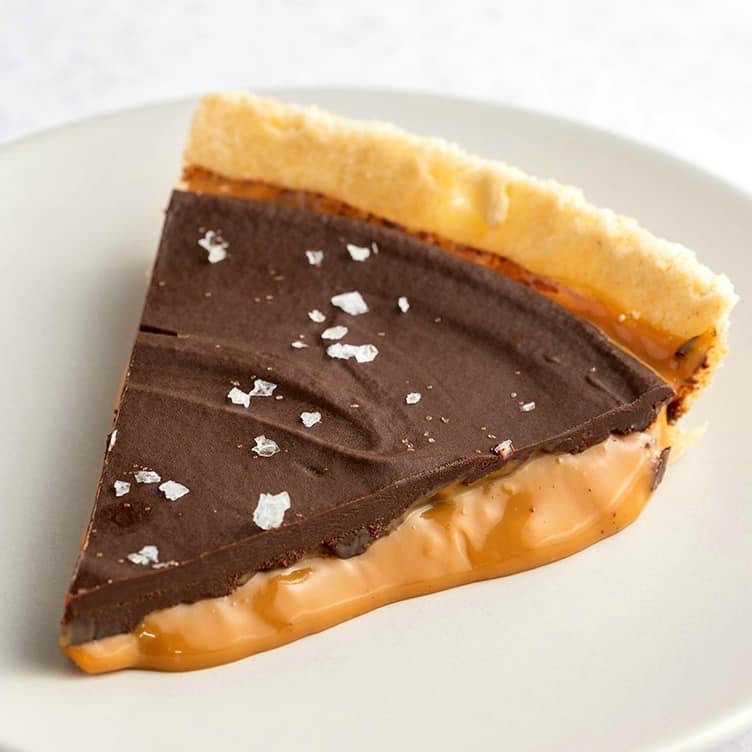 Salted Caramel Tart
This chocolate caramel tart is made with just 4 ingredients and requires NO baking! A smooth and gooey caramel topped with a vegan chocolate ganache!
Instructions
Prepare the pie crust or store bought pie crust.

Spread the caramel sauce all over the bottom of the pie crust, covering the bottom generously. Refrigerate for 30 minutes, to firm up.

In a microwave safe bowl or small saucepan, heat up your coconut cream until warm. Once warm, remove from the heat and add the chopped chocolate. Let the chocolate sit for 2 minutes, before whisking into the cream to form a ganache. Let sit for 5 minutes, before pouring over the caramel tart. Refrigerate for at least 2 hours.

Once firm, top with salt and serve.
Notes
* See my post for a homemade graham cracker version. Any 9-inch pie crust can be used.
TO STORE: Chocolate caramel tart should always be stored in the refrigerator, covered, for up to 2 weeks.
TO FREEZE: Place slices of the tart in a sealable container and store in the freezer for up to 6 months. Thaw the tart overnight in the refrigerator.
Nutrition
Serving:
1
Serving
Calories:
193
kcal
Carbohydrates:
35
g
Protein:
1
g
Fat:
9
g
Sodium:
180
mg
Potassium:
75
mg
Fiber:
2
g
Vitamin A:
34
IU
Vitamin C:
1
mg
Calcium:
21
mg
Iron:
1
mg
NET CARBS:
33
g
Disclosure: This post may contain affiliate links. I may earn a small commission for my endorsement, recommendation, testimonial, and/or link to any products or services from this website.