A quick and easy keto mug cake recipe which tastes like a cinnamon roll! Made with no coconut and no almond flour, it's a flourless cinnamon cake with a delicious sugar free glaze! Vegan and oven option included.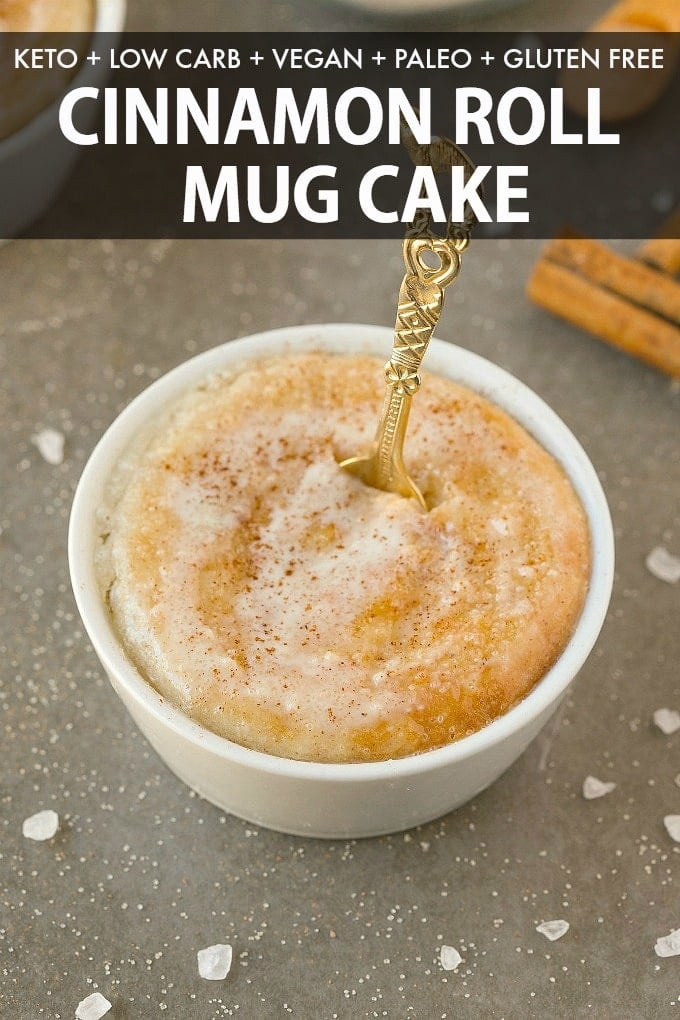 Keto Cinnamon Roll Mug Cake
When it comes to single serve recipes, mug cakes and cakes in mugs are my all-time favorite.
We've had some delicious mug cakes here, including this brownie mug cake, chocolate raspberry cake, and even this vanilla mug cake.
It's time for it to get the cinnamon roll makeover.
I've already shared a cinnamon roll mug cake recipe on here, but this recipe is vastly different.
I wanted to create an even easier mug cake, made without coconut flour or almond flour, and with minimal ingredients. The downside of many keto mug cake recipes is that they require one of the two flours.
My new version doesn't need either of those. In fact, it is 100% flourless!
In terms of texture, it is super fluffy and light but is super moist in the center.
Taste-wise, it really is like a gooey, cinnamon roll. Sweet, cinnamon flavored cake topped with a gooey, sweet cinnamon frosting!
Not only is this cinnamon roll mug cake 100% keto, paleo and gluten-free, it also comes with an eggless and vegan option! Bonus? It is also 100% nut-free!
To make this flourless cinnamon roll mug cake, you only need SIX ingredients-
Tahini
Keto granulated sweeteners
Cinnamon
Baking Powder
Egg
Coconut Butter
That's it!
TAHINI AND ALTERNATIVES
Using tahini was my preferred nut-free spread. If you aren't a fan of tahini and still want this mug cake to be nut-free, feel free to use sunflower seed butter or wow butter.
If you don't have a nut allergy, almond butter and cashew butter will work, although the latter doesn't yield a fluffy keto mug cake.
Of course, peanut butter works well too, but it will not be nut-free or paleo friendly if you do opt for this.
KETO SWEETENERS
A keto approved sugar substitute needs to be used, both for the mug cake and the icing.
I prefer using either monk fruit sweetener or swerve. You can use any other granulated sweetener of choice, but be sure you enjoy the taste, as some can be quite bitter or metallic.
COCONUT BUTTER
A healthy glaze/frosting on the cinnamon roll mug cake takes it up a notch, and really gives it a true, cinnamon roll like flavor.
Melted coconut butter works beautifully, especially when mixed with a little cinnamon.
HOW TO MAKE THIS RECIPE VEGAN
To make this cinnamon roll mug cake vegan and eggless, you'll just need to replace the egg with the following combination-
1/4 cup of flour (any works- wholewheat, white, rice flour or even a gluten-free flour blend)
1/4 cup of milk of choice (coconut milk, almond milk, rice milk etc)
Using this replacement will ensure it is light, fluffy, yet moist on the inside!
OVEN INSTRUCTIONS
The easiest way to make this mug cake is to use a microwave, and it won't take longer than 2 minutes. However, not everyone uses a microwave or has access to one.
You can use a conventional or toaster oven to make this mug cake. Simply pour your mug cake batter in an oven-safe ramekin and bake for 12-15 minutes, at 175F/350C, or until a toothpick comes out just clean.
TIPS AND TRICKS FOR THE PERFECT KETO CINNAMON ROLL MUG CAKE
Using a microwave-safe cereal bowl or deep dish ramekin works better than making the cake in the mug. It cooks more evenly, and even quicker.
Ensure you lightly grease your dish used, to avoid the cake sticking to it.
For a quick frosting fix, as soon as the mug cake is freshly made and hot, add a tablespoon or two of coconut butter and let it melt on top.
The mug cake batter shouldn't be prepped in advance, and should always be made fresh. You can, however, bake it, then enjoy it at a later time.
If you'd like to make several in advance, these mug cakes keep well refrigerated, for up to 3 days. They are also freezer friendly, for up to 2 months.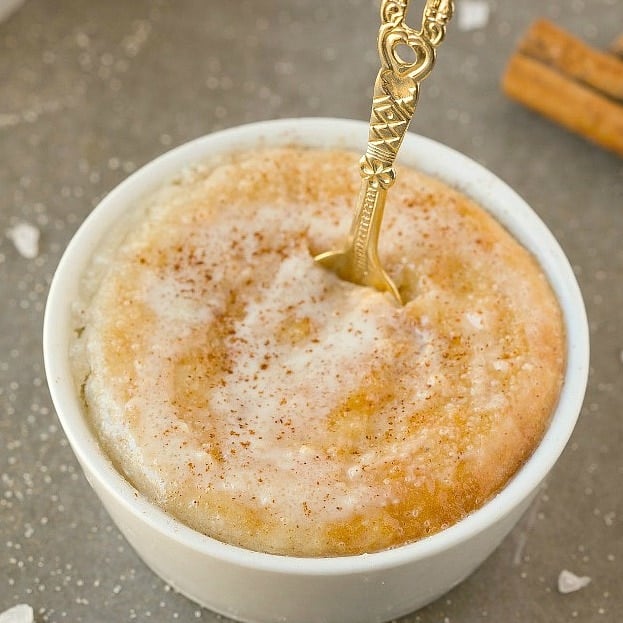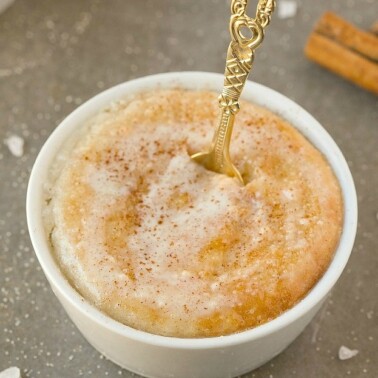 Keto Cinnamon Roll Mug Cake (Paleo, Vegan)
An easy recipe for a keto mug cake which tastes just like a cinnamon roll! Fluffy and light on the outside, it's moist on the inside and takes just 1 minute to whip up- No flour, no sugar and vegan option too! Paleo, Gluten Free, Dairy Free.
Ingredients
For the eggless and vegan option
Instructions
Grease a microwave-safe bowl and set aside.

In a small mixing bowl, whisk all your ingredients, except for your coconut butter, very well, until smooth.

Pour the batter in the greased bowl and microwave for 1-2 minutes, or until just cooked. Remove and add the coconut butter, sprinkle with extra cinnamon and enjoy!
Oven instructions
Preheat the oven to 175C/350F. Follow instructions as above, but pour the batter in an oven-safe ramekin. Bake for 12-15 minutes, or until just cooked. Remove, top with coconut butter and enjoy!
Notes
* I used a monk fruit sweetener. Any granulated sweetener of choice will work.
** This will not be super sweet- Feel free to add more, to taste.
*** If the batter is to dry, add more milk.
Keto Cinnamon Roll Mug Cake (Paleo, Vegan) should be eaten fresh, but can be made in advance and enjoyed later. It can be kept refrigerated for up to 2 days and is freezer friendly for up to 2 months.
Nutrition
Serving:
1
cake
Calories:
260
kcal
Carbohydrates:
8
g
Protein:
4
g
Fat:
20.1
g
Fiber:
4
g
Vitamin A:
200
IU
Vitamin C:
1.7
mg
Calcium:
30
mg
Iron:
0.5
mg
NET CARBS:
4
g

Disclosure: This post may contain affiliate links. I may earn a small commission for my endorsement, recommendation, testimonial, and/or link to any products or services from this website.