This baked halibut is a healthy, tasty dish you can have prepared and on the table in just 15 minutes! All you need is some simple seasoning and a hit of citrus.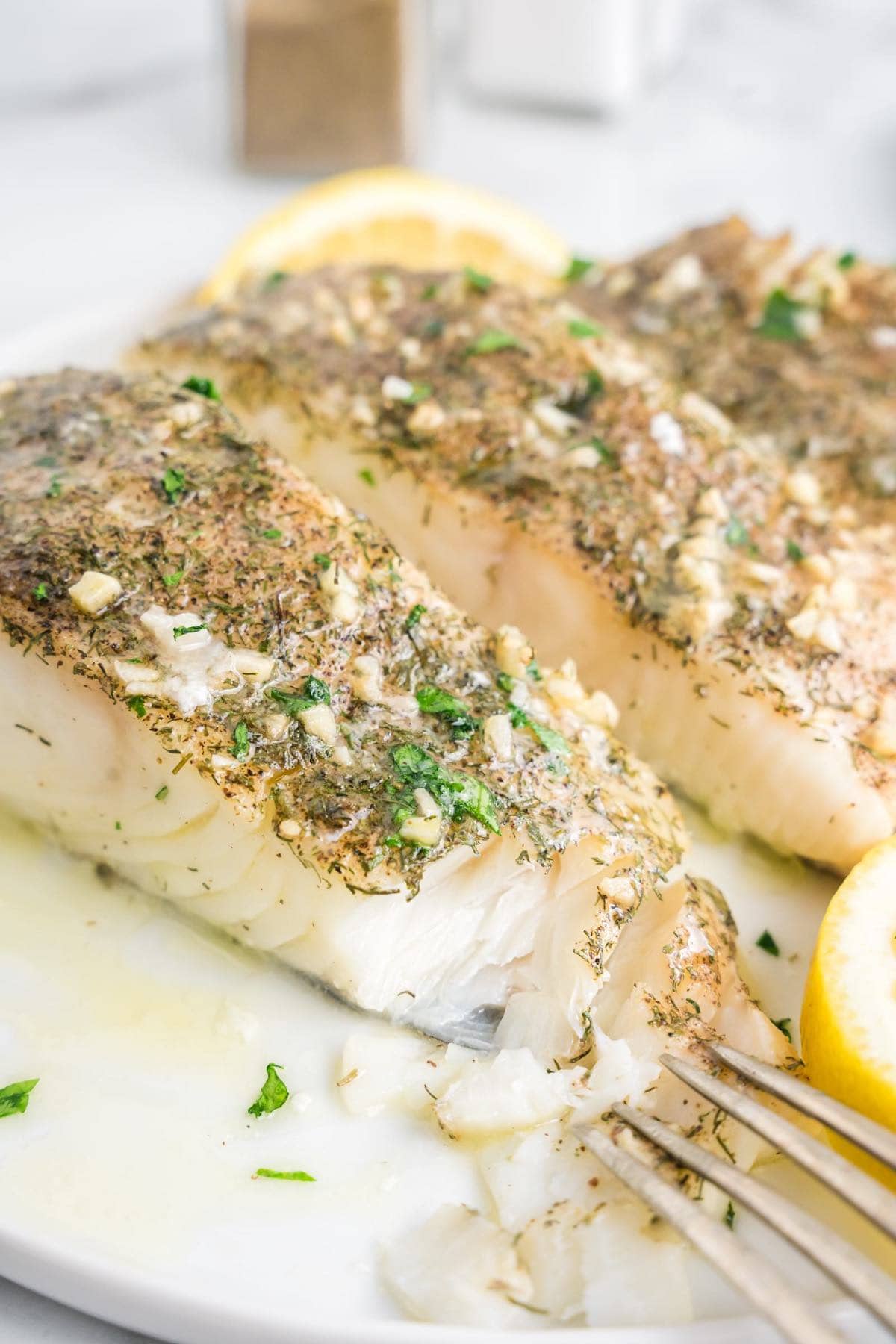 Cooking with halibut is such a joy. It's a delectable flat fish with delicate flesh that doesn't need a lot of extra ingredients to make it shine. All you need is some salt and pepper and the essential addition of lemon to bring out the flavor of this wonderful fish.
When it comes to halibut recipes, We like to fry, air fry, and even grill it but baking it really brings out the flavor and natural sweetness of the fish.
Table of Contents
The Best Halibut Recipe
Baking any fish is a healthy option that results in some incredibly flaky and delicious fish. Like our baked haddock, salmon, and whole branzino, halibut can be baked into something truly delicious.
It's fast and easy- The prep for this dish is so quick, and the cooking time is only 12 minutes, so it's something nutritious and delicious that you can whip up in no time.
Simple ingredients- This dish doesn't require obscure ingredients or fancy cooking equipment. All you need is some simple flavor, your halibut fillets, and a basic baking dish, and you are well on your way to dinner.
Healthy- Halibut, like many fish, is packed full of essential vitamins and minerals. It is also high in protein and low in fat.
We especially love whipping up this dish on a busy weeknight when you want something tasty without too much stress over the prep. It is also an easy but impressive option to make when you have guests.
Halibut- This recipe works with both skin-on and skinned fillets.
Substitution idea
Don't have halibut on hand? You can easily substitute other mild white fish like hake, cod, or tilapia.
Butter and garlic- The lemon and garlic butter is poured over the fish and infuses their flavor into the fish during cooking. It also doubles as a sauce when it's done.
Seasoning- Salt and pepper season the fillets before they're covered in lemon and garlic butter.
Lemon- For a zing of citrus that goes so well with fish. The lemon is present in the butter, but slices are also placed in the baking dish. This gives the fish something to rest on to stop them from drying out.
Herbs- The dried dill is rubbed onto the fish along with the salt and pepper. Fresh parsley serves to finish off the dish before you tuck in.
How to Make Baked Halibut
The halibut fillets are seasoned with salt and pepper before being laid on top of some lemon slices and doused in mouthwatering lemon and garlic butter. Then all that's left is to bake them to tender perfection.
Step 1- Season the Fish
Pat dry the halibut fillets before rubbing them with salt, pepper, and dried dill.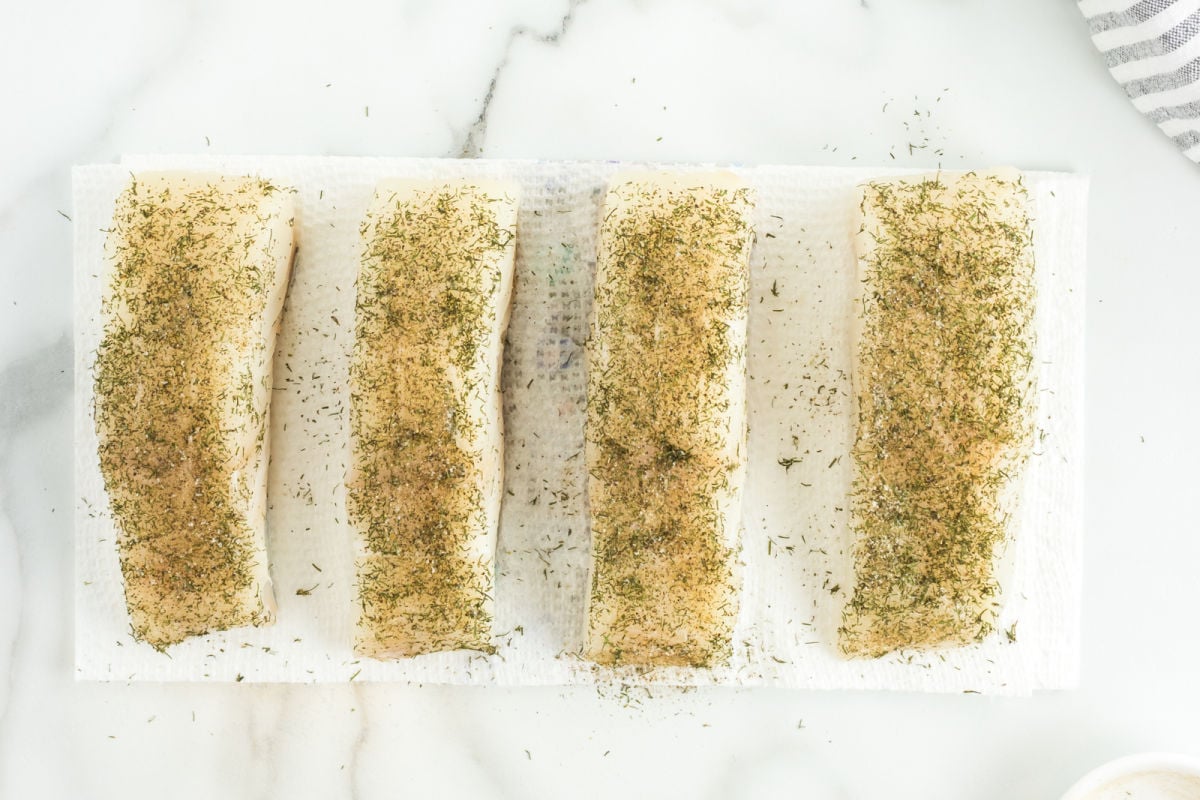 Step 2- Make the Butter
Whisk together the melted butter, lemon juice, and minced garlic in a small bowl.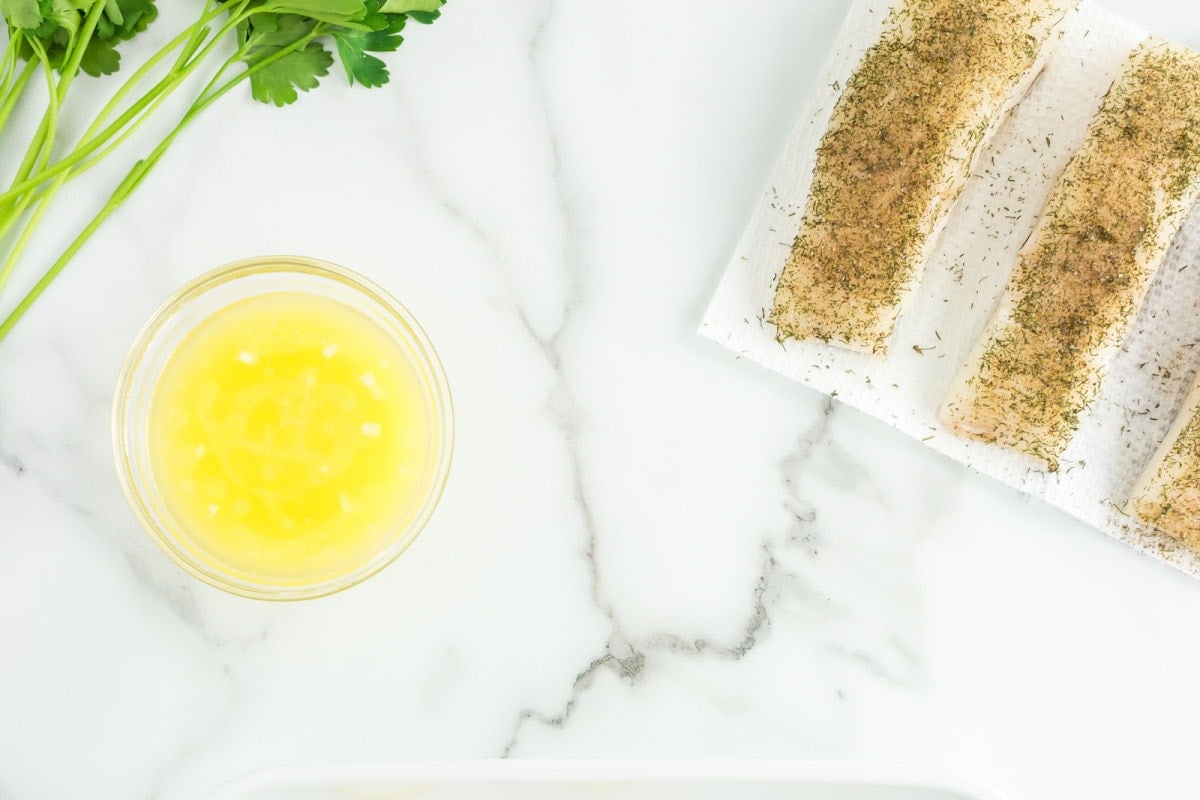 Step 3- Prepare the Baking Dish
Lay the lemon slices on the bottom of the baking dish and lay the halibut fillets on top. Pour the butter mixture over the fillets.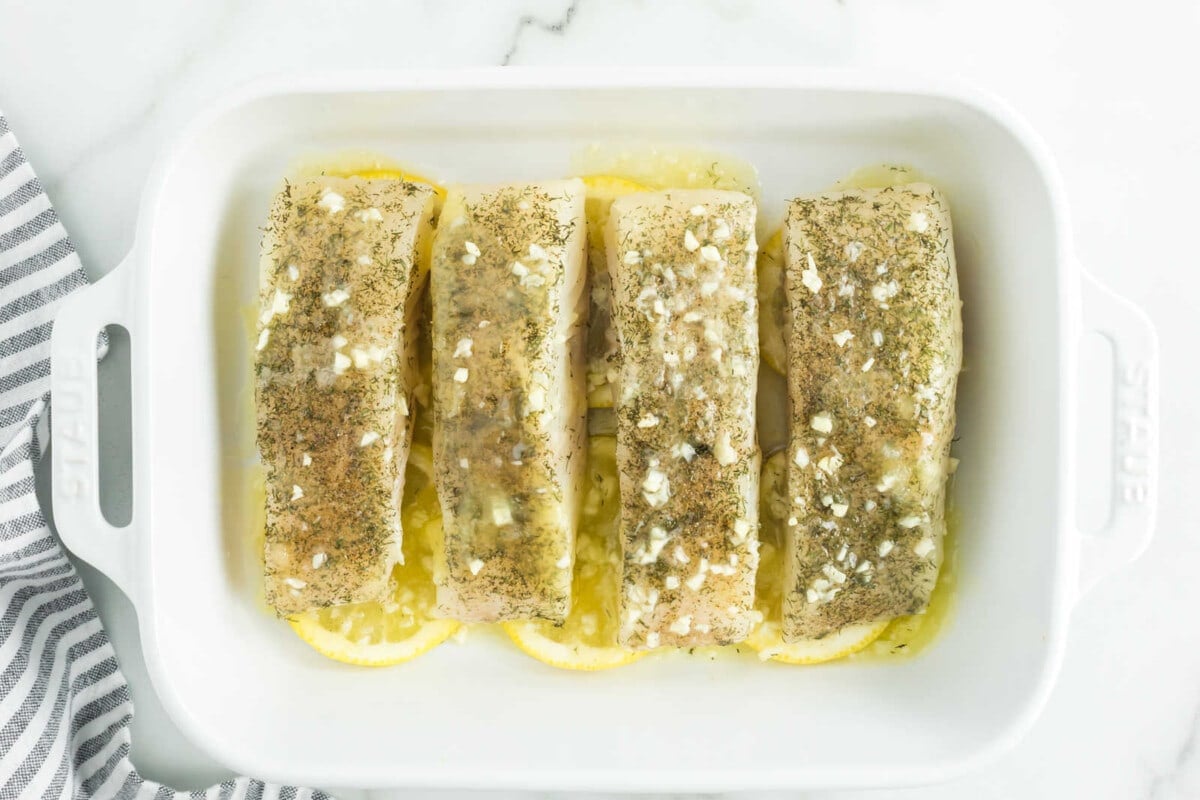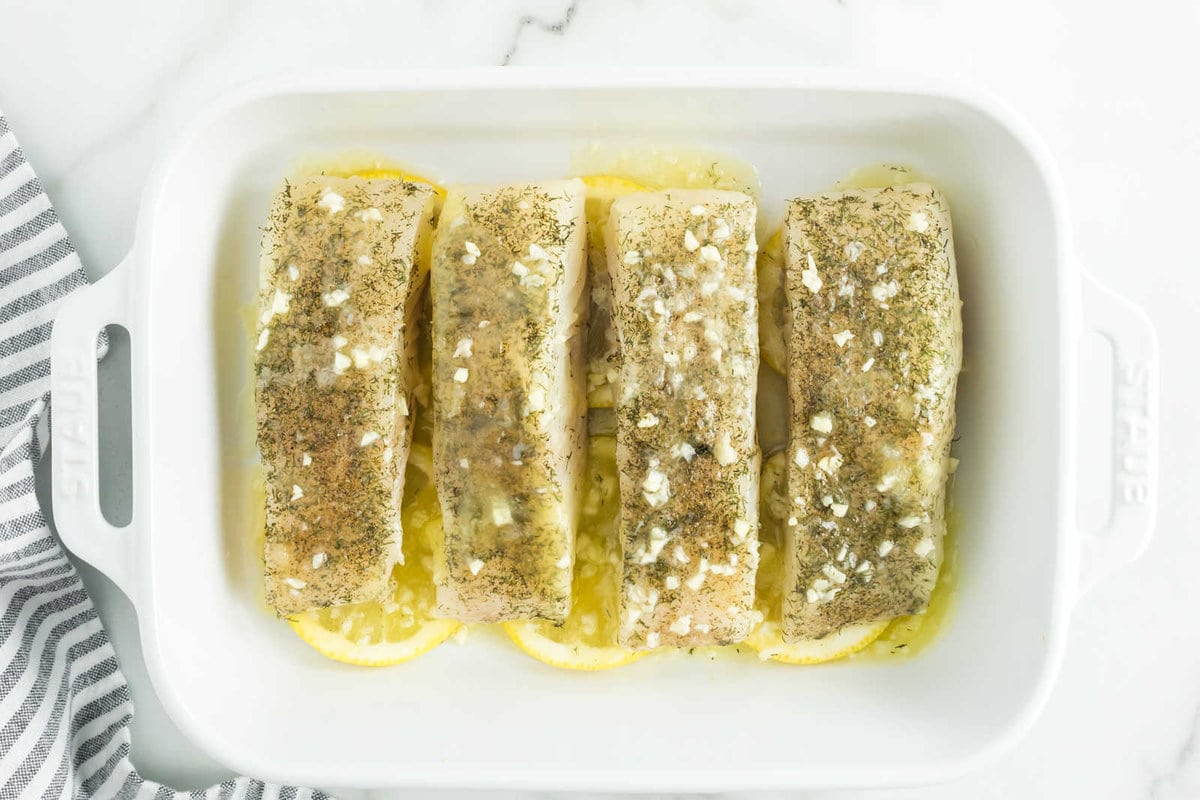 Step 4- Bake and Serve
Bake for 12-15 minutes until the fish is cooked through and flaky. Serve with the lemon, garlic butter, and a sprinkle of fresh parsley.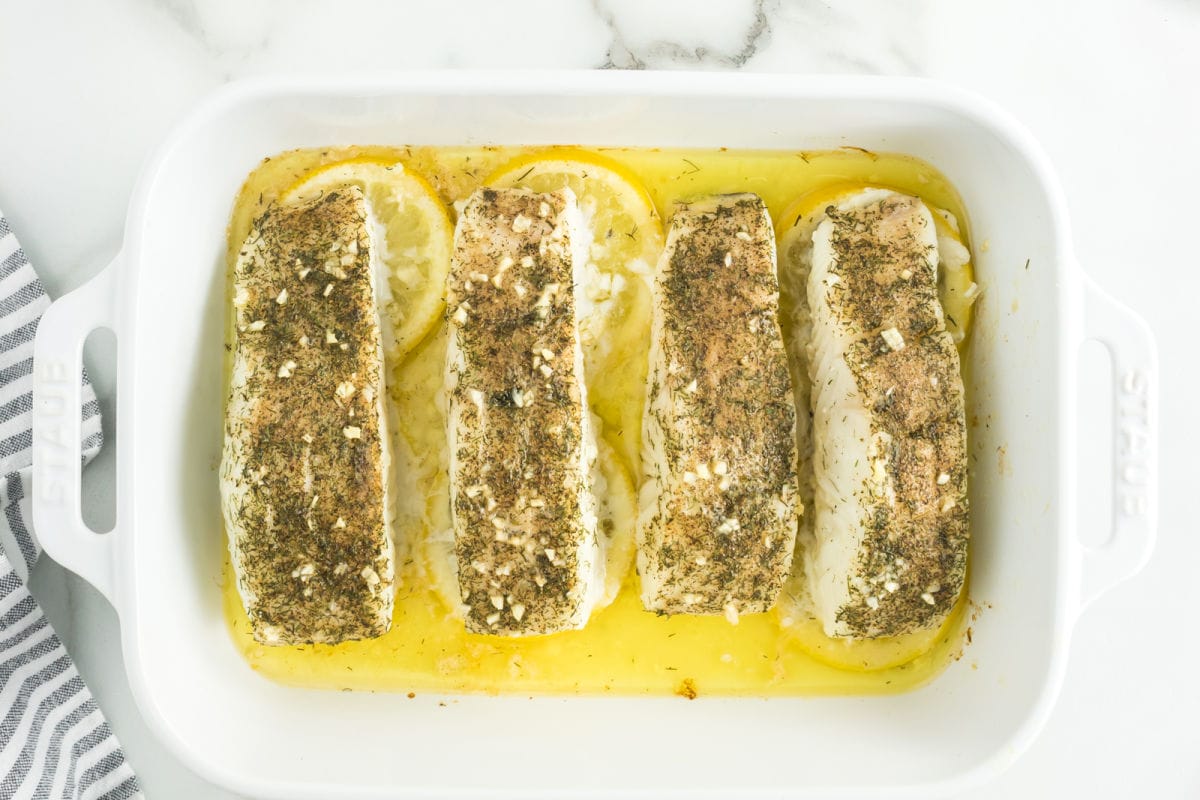 Use frozen fillets- You don't need to worry about using fresh fish every time. Defrost the frozen halibut fillets in the fridge overnight, and make sure to get rid of any excess liquid on the surface of the fillets before seasoning.
Pan fry instead- It is possible to pan-fry your halibut if you prefer this. We suggest using a little olive oil to fry them and preparing the lemon and garlic butter separately.
Get the cooking time down- The key to cooking fish is getting the cooking time right. This may vary from oven to oven, so take careful note of how long you cook your fillets to get them perfectly soft and juicy.
What to Serve With this dish
Halibut is a versatile fish that goes with many different sides. We like to have a choice of vegetables and a starch like potatoes.
Storage Instructions
To store: Any leftovers can be placed in an airtight container and refrigerated for up to 3 days.
To reheat: Place in the oven at 200 C/400 F and gently heat through for a few minutes.
We do not recommend freezing the leftovers as cooked halibut does not thaw out very well.
Leftover ideas
Our favorite way to use leftover fish is to flake up the fillets, mix them with some potato and make them into fish cakes (like our salmon or tuna croquettes).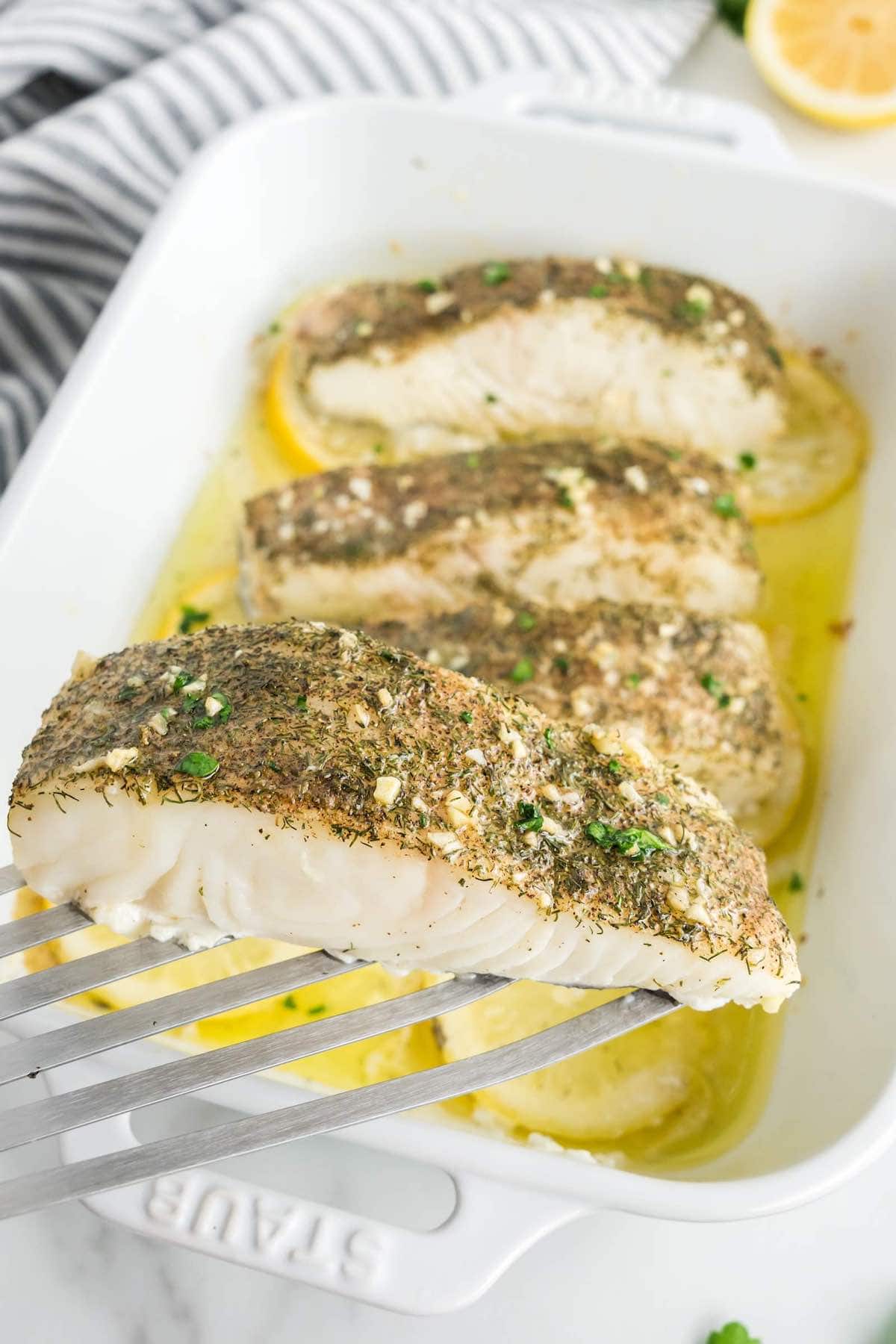 More white fish recipes to try
We absolutely love cooking seafood around here, and here are some of our favorites to try:
More seafood recipes to try
Is baked halibut healthy?
Although this recipe uses butter, it is still considered a healthy way to prepare halibut. Baking means that there is no added oil, which makes it much healthier than traditional pan frying.

Halibut is a very healthy fish high in protein and contains essential vitamins and minerals. This flatfish is high in selenium, magnesium, niacin (vitamin B3), and omega-three fatty acids.
Is this recipe gluten-free?
Yes, this recipe is completely gluten-free. It is also very low in carbs.
Do I need to cover the baking tray with foil?
It is not necessary to cover the halibut as it bakes. Foil usually serves to trap in extra heat and prevent the dish from drying out. Since halibut is so light and the cooking time is quick, there is no need to use foil.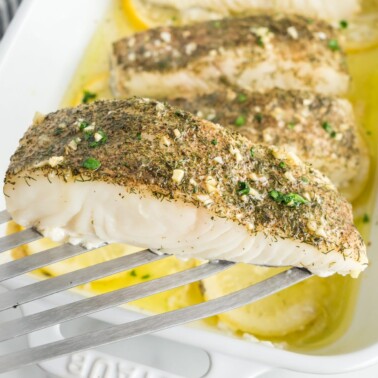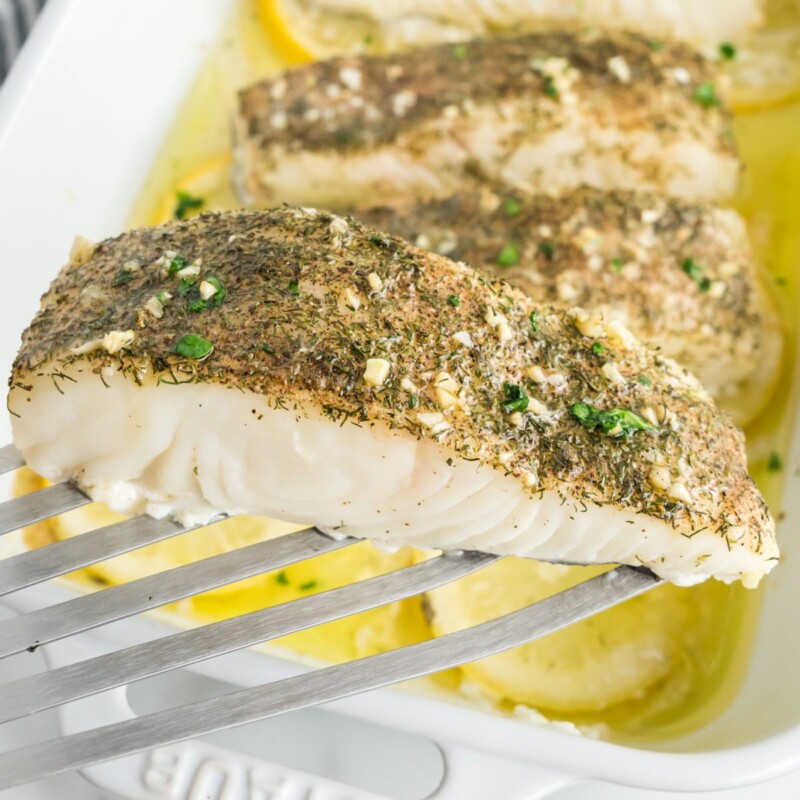 Baked Halibut
This halibut recipe is baked to perfection and yields tender and flaky fish every single time. It uses simple seasonings and cooks up in under 20 minutes.
Ingredients
Instructions
Preheat the oven to 200C/400F.

Pat dry the halibut fillets and season them with salt, pepper, and dried dill.

Whisk together the melted butter, lemon juice, and minced garlic.

Place the lemon slices at the base of a small baking dish. Add the seasoned halibut fillets on top and drizzle the lemon butter mixture over the top.

Bake for 12-15 minutes, before removing from the oven and sprinkling with fresh parsley. Drizzle the pan juices over the top.
Notes
TO STORE: Any leftovers can be placed in an airtight container and refrigerated for up to 3 days.
TO REHEAT: Place in the oven at 200 C/400 F and gently heat through for a few minutes.
Nutrition
Serving:
1
halibut fillet
Calories:
212
kcal
Carbohydrates:
2
g
Protein:
32
g
Fat:
8
g
Sodium:
452
mg
Potassium:
776
mg
Fiber:
0.5
g
Vitamin A:
300
IU
Vitamin C:
9
mg
Calcium:
23
mg
Iron:
0.5
mg
NET CARBS:
2
g
Disclosure: This post may contain affiliate links. I may earn a small commission for my endorsement, recommendation, testimonial, and/or link to any products or services from this website.