3 Ingredient Chocolate Ice Cream (Paleo, Vegan, Gluten Free)
Healthy 3 Ingredient No Churn Chocolate Ice Cream made with frozen bananas, almond butter, and cocoa powder! Smooth, creamy and ready in 5 minutes, this chocolate banana ice cream is the best healthy ice-cream recipe! Paleo, Vegan, Gluten Free and Dairy free.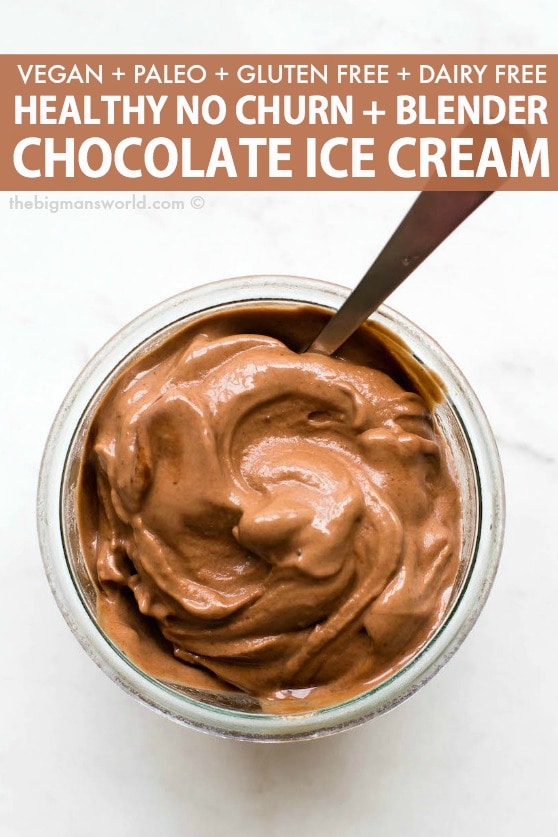 Chocolate Banana Ice Cream
I'm going to tell you a secret. I'll give you five minutes to run to your blender and whip up some chocolate soft serve made with bananas also known as banana ice cream.
One of my most popular and most shared and made recipes here are these 3-ingredient flourless brownies. They've been shared by various online and print publications and been a savior for those in various dieting and health conscious communities. It inspired me to conjure up a single-serve version of it, which has been warmly welcomed too.
However, none of this would have come about if it weren't being interrupted in the midst of making this healthy banana bread. I had some overripe bananas to use up so thought I'd just make some banana ice cream.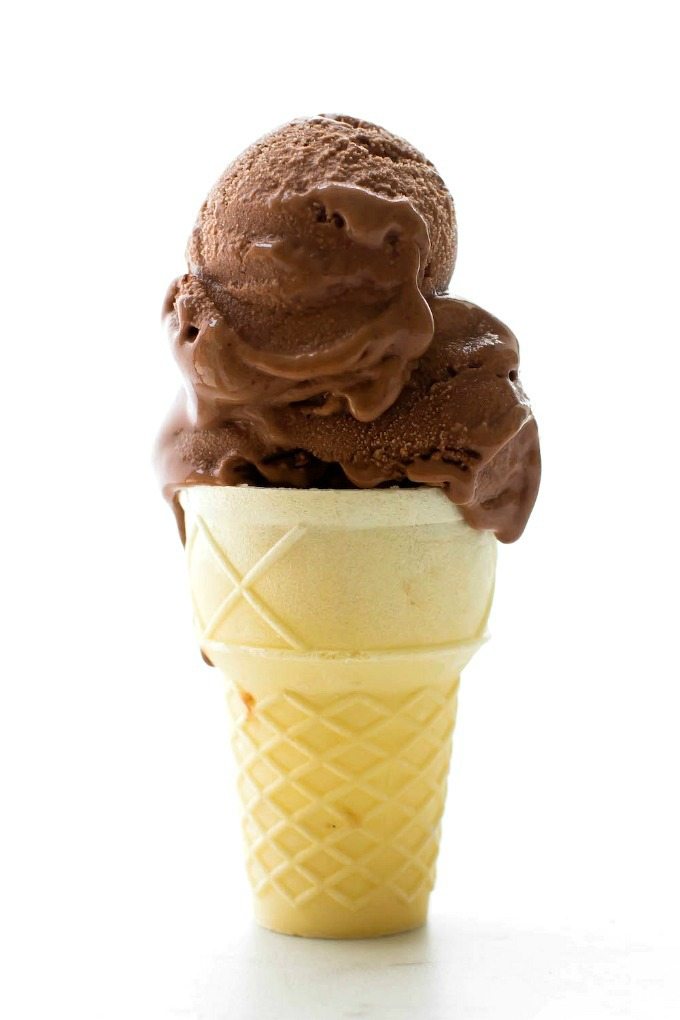 What is nice cream?
For those who don't know what banana 'ice cream' is, it is simply blending up frozen bananas until a soft serve or 'ice-cream' like texture remains.
While it doesn't really replace frozen yogurt or ice cream, its a naturally sweetened and healthier alternative, with a similar texture. I mean, it's just frozen fruit blended up!
Vegan Peanut Butter Banana Chocolate Ice Cream
On this day, I wanted a chocolate spiked version, so added some cocoa powder to it, along with a big spoonful of peanut butter, because I didn't want to be hungry two seconds later.
What was left with a smooth, creamy and chocolate-y dessert which was 100% naturally sweetened!
How to make healthy chocolate ice-cream with 3 ingredients
This healthy chocolate ice cream needs just THREE Ingredients and less than 2 minutes to whip up. You don't even need to have an ice cream maker on hand to enjoy this- This is made in the blender or can be made in a food processor.
Unlike traditional ice cream, it is completely dairy free and sugar free! This means it is also suitable for those following a vegan, gluten-free, paleo and low-calorie lifestyle!
All you need to do is add the frozen banana pieces, peanut butter, and cocoa powder to a blender and voila- You'll be left with smooth, creamy and delicious chocolate ice cream!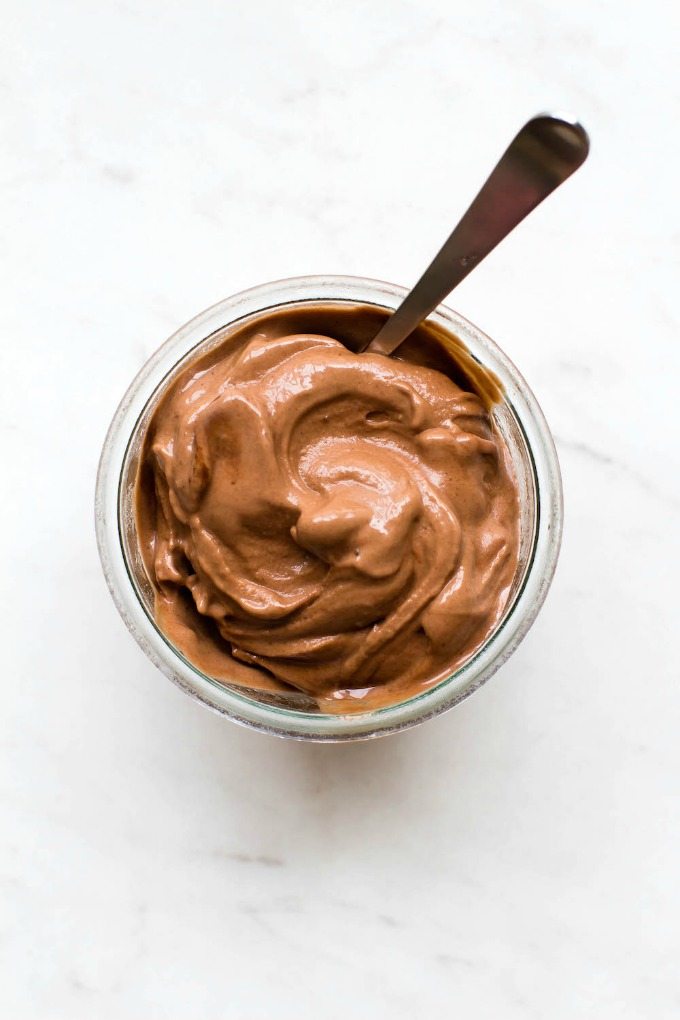 No churn chocolate Ice Cream Ingredients
Besides frozen bananas, the two other key ingredients are good quality cocoa powder and nut or seed butter.
Cocoa Powder
When I say 'good quality' cocoa powder, I really mean it. Using a cheaper, poorer quality cocoa powder will result in the ice cream being clumpy and chalky, and without it evenly dispersing. For those wanting a rich, darker flavor, I recommend using half dark cocoa powder.
Peanut Butter or Alternative
Peanut butter is traditionally a favorite, especially when paired with bananas and chocolate. However, I would recommend you use almond butter, as it really changes the texture, especially if you go the scoopable ice cream route. For some reason, it becomes even creamier, easier to scoop and the closest resemblance to ice cream.
Saying that peanut butter is fine if that is all you have on hand. For those with nut allergies, sunflower seed butter or soy nut butter would be the best alternatives.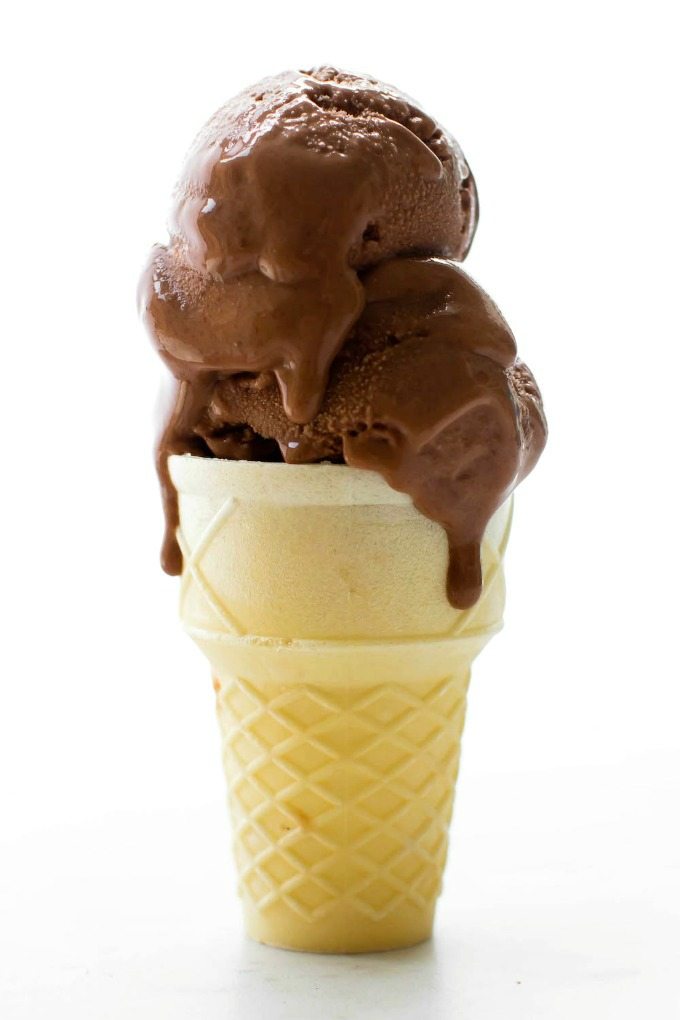 Best Blenders to make no-churn ice cream
I've tried making this healthy chocolate ice-cream using various blenders and here are my recommendations-
Vitamix
Hands down, my favorite blender to use is my Vitamix. It's powerful and easy to clean and doesn't require much power to combine all the ingredients.
It also yielded the creamiest chocolate banana ice cream.
Ninja
Similar in terms of power to the Vitamix, I also love using my Ninja blender. It tends to be a little more cumbersome to clean, but it's worth it to enjoy a super creamy and smooth ice cream.
Nutribullet
Although not my favorite of the 3, the nutribullet certainly works well. Be sure that your frozen banana pieces are chopped in smaller pieces, to ensure the blade can pulse them well.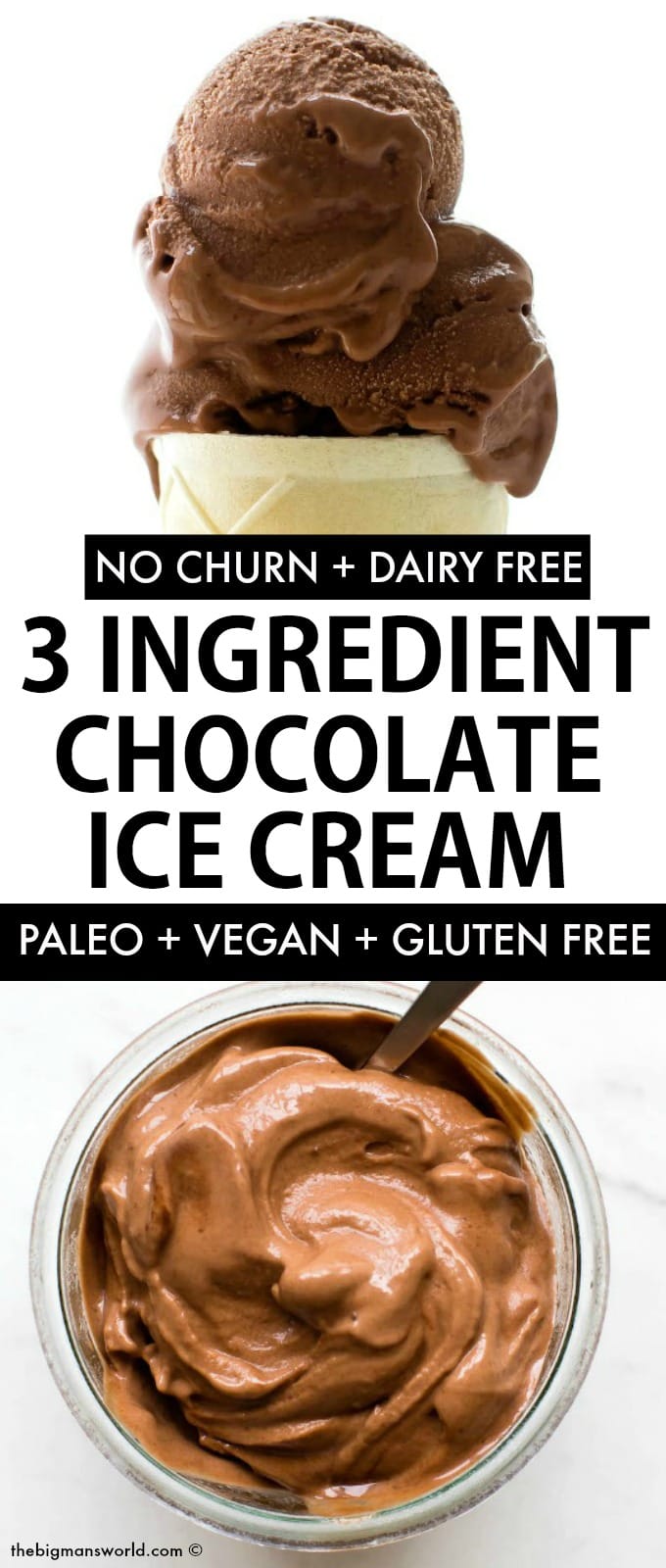 More healthy ice-cream recipes
Watch the step-by-step video BELOW!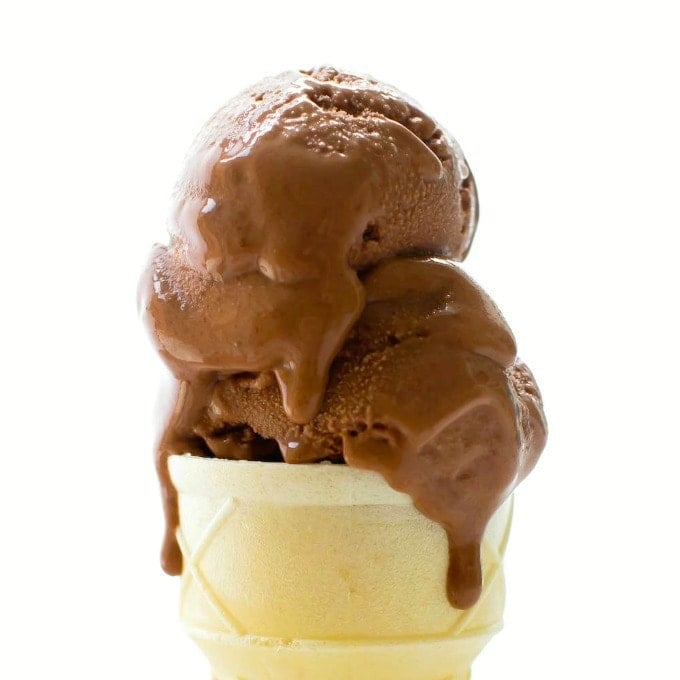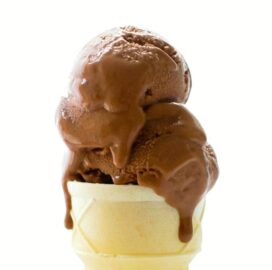 Healthy 3 Ingredient No Churn Chocolate Ice Cream
Healthy 3 Ingredient No Churn Chocolate Ice Cream or referred to as banana 'nice cream' is a guilt-free recipe for all frozen dessert fans! Made in a blender, this smooth, creamy and delicious ice cream is completely paleo, vegan, dairy free, gluten free, low calorie and sugar free!
Print
Pin
Rate
Instructions
For the soft serve ice cream version
In a high-speed blender or food processor, add your frozen bananas and blend for 10 seconds to lightly break apart. Add your almond butter and cocoa powder and blend until just blended.

Transfer to a bowl and enjoy soft serve style.
For the hard scoop ice cream version
Place a small loaf pan in the freezer.

In a high-speed blender or food processor, add your frozen bananas and blend for 10 seconds to lightly break apart. Add your almond butter and cocoa powder and blend until all ingredients are just blended.

Transfer chocolate ice cream to the loaf pan. To ensure it doesn't become too icy, lightly mix your ice cream ever 20-30 minutes for the first hour.

Thaw for 10-15 minutes before eating. Lightly wet an ice cream scoop before scooping the ice cream into a bowl.
Notes
For a sweeter ice cream, feel free to add 1 tablespoon of maple syrup, agave nectar or coconut syrup.
Nutrition
Serving:
1
serving
|
Calories:
159
kcal
|
Carbohydrates:
17
g
|
Protein:
4
g
|
Fat:
10
g
|
Fiber:
4
g
|
Vitamin A:
150
IU
|
Vitamin C:
1.7
mg
|
Calcium:
20
mg
|
Iron:
0.5
mg
|
NET CARBS:
13
g